---
(PRELIMS & MAINS Focus)
---
O. Chidambaram Pillai
Open in new window
Syllabus
In News: The Prime Minister, paid tributes to freedom fighter V. O. Chidambaram Pillai on his birth Anniversary.
About V. O. Chidambaram Pillai
Vallinayagam Olaganathan Chidambaram Pillai (VOC) was born 5th September 1872 to an eminent lawyer Olaganathan Pillai and Paramyee Ammai in Ottapidaram, Tirunelveli district of Tamil Nadu.
VOC graduated from Caldwell College, Tuticorin. Before beginning his law studies, he worked for a brief period as the taluk office clerk.
His tussle with the judge forced him to seek fresh pastures at Tuticorin in 1900.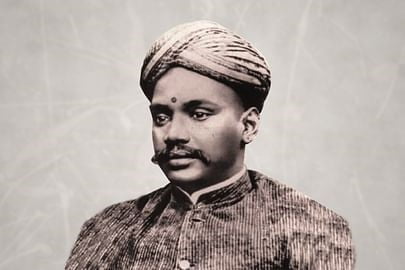 Entry in Politics:
VOC entered politics in 1905 following the partition of Bengal.
Towards the end of 1905, VOC visited Madras and was drawn closer to the Swadeshi Movement.
VOC was drawn towards Ramakrishna Mission and came into contact with Subramania Bharati and the Mandayam family.
It was not until the arrival of VOC at Tuticorin that the Swadeshi movement in Tirunelveli district began to gather force and momentum.
Role Played in Freedom Movement:
By 1906, VOC won the support of merchants and industrialists in Tuticorin and Tirunelveli for the idea of establishing a Swadeshi merchant shipping outfit by the name of the Swadeshi Steam Navigation Company (SSNCo).
He established many institutions like Swadeshi Prachar Sabha, Dharmasanga Nesavu Salai, National Godown, Madras Agro-Industrial Society Ltd and Desabimana Sangam.
VOC was aided in his efforts by a number of Tirunelveli-based lawyers, who formed an organisation called the Swadeshi Sangam, or 'National Volunteers'.
The nationalist movement acquired a secondary character with the beginning of the Tuticorin Coral Mills strike (1908).
Even prior to Gandhiji's Champaran Satyagraha (1917), VOC took up the cause of the working class in Tamil Nadu, and thus he is a forerunner to Gandhiji in this respect.
VOC, along with other leaders, resolved to take out a mammoth procession on the morning of 9th March 1908 to celebrate the release of Bipin Chandra Pal from jail and to hoist the flag of Swaraj.
Writings: Meyyaram (1914), Meyyarivu (1915), Anthology (1915), Thirukural with literary notes of Manakudavar (1917), Tholkappiam with literary notes of Ilampooranar (1928), Autobiography (1946).
Death: V.O.C died on 18th November 1936 in the Indian National Congress Office at Tuticorin as was his last wish.
Source: Pib.Gov
Previous Year Question
Q.1) Consider the following pairs: (2017)
Radhakanta Deb — First President of the British Indian Association
Gazulu Lakshmi Narasu Chetty — Founder of the Madras Mahajana Sabha
Surendranath Banerjee — Founder of the Indian Association
Which of the above pairs is/are correctly matched?
1 only
1 and 3 only
2 and 3 only
1, 2 and 3
---
Mohenjo-daro
Open in new window
Syllabus
In News: The recent spell of heavy rains and floods that ravaged large parts of Pakistan's Sindh province has also taken a heavy toll on the archaeological site of Mohenjo-daro.
The calamity has pushed the archeological site – situated on the bank of the Indus river – to the "brink of extinction".
Pakistan's Department of Archaeology has said that Mohenjo-daro might be removed from the world heritage list, if urgent attention towards its conservation and restoration is not given.
The administration has banned the entry of tourists to the place.
Many streets and sewerage drains of the historical ruins have been badly damaged due to the floods. However, the work of removing the sediments deposited due the flooding is still underway.
Mohenjo-daro
A 5000-year-old archaeological site located about 80-km off the city of Sukkur.
It comprises the remnants of the ancient Indus Valley Civilisation.
Mohenjo-daro, which means 'mound of the dead', was one of the oldest cities of the world.
The ruins of the city remained undocumented for around 3,700 years, until 1920, when archaeologist RD Banerji visited the site.
It is on the right bank of the Indus River.
Buildings
The Great Bath is the most well-known structure of Mohenjo-Daro. It is a 612 metre long brickwork masterpiece.
The greatest construction of the Mohenjodaro period has been discovered: a granary. This granary consists of 27 chambers of various sizes and shapes.
Another important structure at Mohenjodaro is the Assembly Hall, which is a square pillared hall measuring 90X90 feet. Scholars agree that this pillared hall served as a social meeting place.
Notable artefacts
Artefacts like ivory, lapis, carnelian, and gold beads, as well as the baked-brick city buildings, demonstrate the city's richness and prominence.
One of the most fascinating figures from the IVC is the sculpture titled 'Mother Goddess'.
The Priest-King is a steatite sculpture of a tiny man figure discovered at Mohenjo-daro, a destroyed Bronze Age city.
Dancing Girl is a prehistoric bronze sculpture created in lost-wax casting around 2300–1750 BC at Mohenjo-daro.
The Pashupati Seal, for which the term "so-called" is often used, is a steatite seal.
The depiction of a sitting, cross-legged, presumably ithyphallic person surrounded by animals was discovered on a seal found at the site.
Some academics see the image as a yogi, while others see it as a three-headed "proto-Shiva" who rules over the animals.
Decline of Mohenjodaro
The evidence implies that Mohenjo-daro saw many severe floods of unusual depth and duration, owing not only to the approaching Indus.
But also to structural uplifts between Mohenjo-daro and the sea, which caused the Indus drainage to pond back.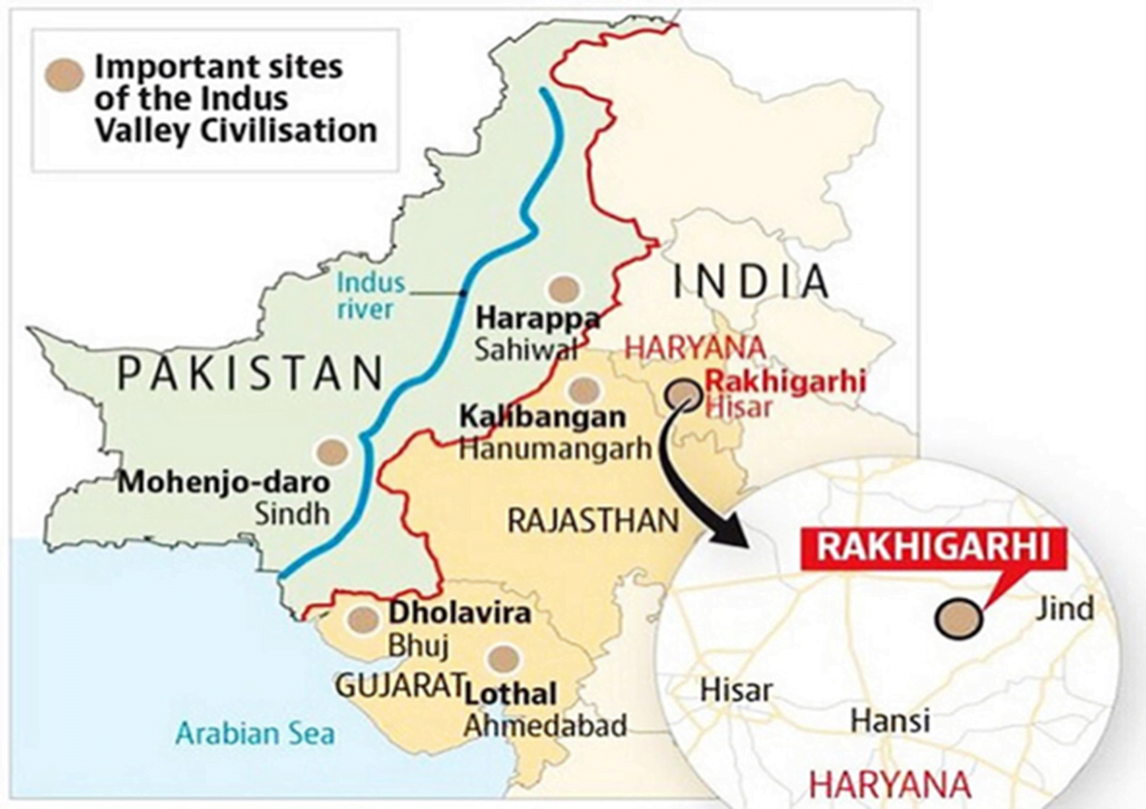 Can the sites be removed from the World Heritage List?
Yes, sites can be removed from the List.
Arabian Oryx Sanctuary in Oman: Removed in 2007, after concerns over poaching and habitat degradation
Liverpool – Maritime Mercantile City' (UK) – One of the world's major trading centres in the 18th and 19th centuries – famous for its pioneering dock technology, transport systems and port management.
Elbe Valley in Dresden, Germany: After the construction of the Waldschloesschen road bridge across the Elbe river.
Source: Indian Express
Previous Year Question
Q.1) Which one of the following ancient towns is well-known for its elaborate system of water harvesting and management by building a series of dams and channelizing water into connected reservoirs?(2021)
Dholavira
Kalibangan
Rakhigarhi
Ropar
---
Status Report on India's External Debt 2021-22
Open in new window
Syllabus
Prelims – Current Affairs
In News: The External Debt Management Unit (EDMU) in the Department of economic Affairs, Ministry of Finance, has released 28th edition of the Status Report on India's External Debt 2021-22.
Findings
India's external debt, at US$ 620.7 billion as at end-March 2022, grew by 2% over US$ 573.7 billon as at end-March 2021.
While 2% of it was denominated in US dollar, Indian rupee denominated debt, estimated at 31.2%, was the second largest.
External debt as a ratio to GDP fell marginally to 19.9 per cent as at end-March 2022 from 21.2 per cent a year ago.
Foreign currency reserves as a ratio to external debt stood slightly lower at 97.8% as at end-March 2022 than 100.6 per cent a year ago.
The long-term debt estimated at US$ 499.1 billion, constituted the largest chunk of 80.4 per cent, while the short-term debt, at US$ 121.7 billion, accounted for 19.6 per cent of the total.
Commercial borrowings (CBs), NRIs deposits, short-term trade credit and multilateral loans together accounted for 90% of the total external debt.
As at end-March 2022, sovereign external debt (SED) amounted to US$ 130.7 billion, increasing by 17.1 per cent over the level a year ago, reflecting the additional allocation of SDRs by the IMF during 2021-22.
SDRs rose to US$ 22.9 billion from US$ 5.5 billion as at end-March 2021.
FPI holding of G-Sec, on the other hand, slid to US$ 19.5 billion from US$ 20.4 billion a year ago.
Non-sovereign external debt, estimated at US$ 490.0 billion as at end-March 2022, posted a growth of 6.1 per cent over the level a year ago.
CBs, NRI deposits, and short-term trade credit accounted for about 95 per cent of non-sovereign debt.
In a cross-country perspective, India's external debt is modest, occupying 23rd position globally. In terms of various debt vulnerability indicators, India's sustainability was better than the Low-and-Middle Income Countries (LMICs) as a group and vis-à-vis many of them individually.
Source: Pib.Gov
Previous Year Question
Q.1) Consider the following statements: (2019)
Most of India's external debt is owed by governmental entities.
All of India's external debt is denominated in US dollars.
Which of the statements given above is/are correct?
1 only
2 only
Both 1 and 2
Neither 1 nor 2
---
PM SHRI Yojana
Open in new window
Syllabus
Prelims – Current Affairs
In News: On the occasion of National Teachers' Day, the Prime Minister announced a new initiative – PM SHRI Schools (PM ScHools for Rising India).
About PM SHRI
This is a new centrally sponsored scheme for upgradation and development of more than 14500 Schools across the country by strengthening the selected existing schools from amongst schools managed by Central Government/ State/ UT Government/ local bodies.
PM SHRI Schools will showcase all components of the National Education Policy 2020 and act as exemplar schools and also offer mentorship to other schools in their vicinity.
Along with qualitative teaching, learning and cognitive development, it also aims to create holistic and well-rounded individuals equipped with key 21st century skills.
Pedagogy adopted in these schools will be more experiential, holistic, integrated, play/toy-based, inquiry-driven, discovery-oriented, learner-centred, discussion-based, flexible and enjoyable.
Focus will be on achieving proficiency in learning outcomes of every child in every grade.
Assessment at all levels will be based on conceptual understanding and application of knowledge to real life situations and will be competency-based.
These schools will be equipped with modern infrastructure including labs, smart classrooms, libraries, sports equipment, art room which is inclusive and accessible.
These schools shall also be developed as green schools with water conservation, waste recycling, energy-efficient infrastructure and integration of organic lifestyle in curriculum.
They will provide leadership in their respective regions in providing high-quality education in an equitable, inclusive and joyful school environment that takes care of the diverse background, multilingual needs, and different academic abilities of children and makes them active participants in their own learning process as per the vision of NEP 2020.
Source: Pib.Gov
Previous Year Question
Q.1) What is the purpose of 'Vidyanjali Yojana'? (2017)
To enable the famous foreign educational institutions to open their campuses in India.
To increase the quality of education provided in government schools by taking help from the private sector and the community.
To encourage voluntary monetary contributions from private individuals and organizations so as to improve the infrastructure facilities for primary and secondary schools.
Select the correct answer using the code given below:
2 only
3 only
1 and 2 only
2 and 3 only
---
Wikipedia and Editing Rights
Open in new  window
Syllabus
Prelims – Science & Technology
In News: Cricketer Arshdeep Singh's Wikipedia page was distorted following India's loss to Pakistan in the Asia Cup match.
He had dropped Asif Ali's catch in the 18th over of the match, leading to internet trolls calling him a "Khalistani".
His Wikipedia page too was edited to reflect the same.
Who can edit Wikipedia pages?
There is an 'edit' button on Wikipedia articles next to subheads, and anyone can click on it to reach a version of the page where they can make changes.
While it is not necessary to have a Wikipedia account to make changes, those with registered accounts get some benefits.
What happens once you have made a change?
Whatever changes you make will be immediately visible to everyone. However, there are certain safeguards.
Wikipedia has page histories, so along with the latest version, the previous version will exist too, available to both readers and editors.
Wikipedia editors monitor what is happening across the site on a page that lists all the most recent changes, and they will revert to the older version if the latest change is erroneous or malicious.
The website also uses bots to weed out wrong or misleading information.
Can Wikipedia trace anonymous users?
If you are making changes anonymously, your IP address will tell Wikipedia who you are.
If you change your IP address and come back, the kind of articles you choose, patterns of editing, etc. will still lead Wikipedia editors to you.
What happens to those who add misinformation/troll?
Wikipedia will undo your changes, and in some cases, block you from editing.
For this, there is a warning process of up to five stages. One or more of these stages can be skipped if the user is understood to be "acting in bad faith."
A semi-protected or fully protected page can be edited only by accounts that meet certain account age and activity thresholds or administrators respectively.
Source: The Indian Express
---
Preventive Detentions
Open in new  window
Syllabus
In News: Preventive detentions in 2021 saw a rise of over 23.7% compared to the year before.
Over 1.1 lakh people were placed under preventive detention, according to the latest crime statistics released by the National Crime Records Bureau.
Of these, 483 were detentions under the National Security Act, of which almost half (241) were either in custody or still detained as of the end of 2021.
A total of over 24,500 people placed under preventive detention were either in custody or still detained as of the end of last year — the highest since 2017 when the NCRB started recording this data.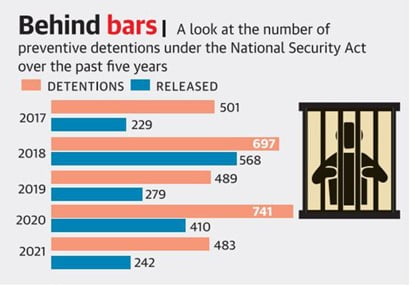 What constitutes Preventive Detention?
It is the imprisonment of a person with the aim of preventing him from committing further offences or of maintaining public order.
Preventive detention can however be made only on four grounds –
Security of state
Maintenance of public order
Maintenance of supplies and essential services and defence
Foreign affairs or security of India
Constitutional Provisions
Article 22 (3)– If a person is arrested or detained under preventive detention, then the protection against arrest and detention under Article 22 (1) and 22(2) shall not be available.
A detainee under preventive detention can have no right of personal liberty guaranteed by Article 19 or Article 21.
To prevent reckless use of Preventive Detention, certain safeguards are provided in the constitution:
A person may be taken to preventive custody only for 3 months at the first instance.
The detainee is entitled to know the grounds of his detention.
The detaining authorities must give the detainee the earliest opportunities for making a representation against the detention.
Extensive use of provision
Among other laws under which the NCRB has recorded data on preventive detentions are the Goonda Act (State and Central) (29,306), Prevention of Illicit Traffic in Narcotic Drugs and Psychotropic Substances Act, 1988 (1,331), and a category classified as "Other Detention Acts", under which most of the detentions were registered (79,514).
Several laws like the Unlawful Activities (Prevention) Act is also used for making preventive detentions.
District magistrates and the police also often make preventive detentions to control law and order in emerging communal clashes or clashes between any two communities — even when it might not always lead to public disorder.
According to Section 151 of the Code of Criminal Procedure, the police are empowered to make preventive arrests if they believe they must do so to prevent the commission of "any cognisable offence".
This detention can be extended beyond 24 hours if required "under any other provisions of this Code or of any other law".
Recently the Supreme Court, while setting aside the preventive detention order issued, had observed that
These powers accorded to the State were "exceptional" and that since they affect the liberty of an individual, they should be used sparingly.
The court had also noted that these powers should not be used to control ordinary law and order problems.
Goondas' Act and concerns:
The Goondas Act is meant to be invoked against habitual offenders, but in practice it is often used for a host of extraneous reasons.
The police tend to use it to buy themselves more time to investigate offences and file a charge sheet. At times, it is used merely to send out a "tough message".
Source: The Hindu
---
The ban on conversion therapy for the LGBTQIA
Open in new  window
Syllabus
Prelims – Current Affairs
Mains – GS 1 (Society); GS 2 (Governance)
Context: The National Medical Commission (NMC), the apex regulatory body of medical professionals in India, has written to all State Medical Councils, banning conversion therapy, and calling it a "professional misconduct based recent order of the Madras high court.
Background:
The Madras High Court called for a ban on the conversion therapy of the LGBTQIA+ community in its recent S Sushma V. Commissioner of Police case. It also demanded legal action against those who practise it.

Conversion therapy is the pseudoscientific practise of trying to change an individual's sexual orientation. In this therapy, psychological, physical, or spiritual interventions will be carried out for the members of the LGBTQIA+ community to change them heterosexual.
LGBTQIA+ refers to Lesbian, Gay, Bisexual, Transgender, Queer, Intersex, asexual.

The order coincided with the celebration of pride month in June. Since 1969, pride month is celebrated across the globe to recognise the significance of the LGBTQIA+ community.
What is conversion therapy? What are the risks?
Conversion or reparative therapy is an intervention aimed at changing the sexual orientation or gender identity of an individual with the use of either psychiatric treatment, drugs, exorcism and even violence, with the aim being to make the individual a heterosexual.
According to the American Academy of Child and Adolescent Psychiatry (AACAP), the interventions under conversion therapy are provided under the false premise that homosexuality and diverse gender identities are pathological.
Why Conversion therapy of the LGBTQIA+ should be banned?
First, it would be a significant step in the fight against homophobia. The continued persistence of the therapy entrenches the false belief that non-heterosexual orientations are somehow unnatural or immoral.
Second, the move will erode the misguided and unscientific notion that sexuality can be altered through external intervention. The ban will concretise the notion that homosexuality is not a mental illness.
Third, the practice is already banned in many liberal countries while many more are about to ban it.

For instance, the UK took a pledge to outlaw conversion therapy in May 2021. Further, the practice is already banned in Germany, Canada, Malta, Australia, and the United States.

According to AACAP and other health experts, conversion therapy poses the risk of causing or exacerbating mental health conditions, like anxiety, stress and drug use which sometimes even lead to suicide.
Fourth, the patients are also subjected to various forms of physical and emotional abuse in the therapy. This includes physical abuse, food deprivation, and homophobic insults.

A study by UN's independent expert on gender violence and discrimination found that 98% of people undergoing conversion therapy experience lasting damage. This includes depression, anxiety, permanent physical harm, and loss of faith.
In extreme situations, patients are unable to handle the stress and anguish which eventually induces them to end their lives. In May 2020, a 21-year queer (Anjana Harish) committed suicide in Goa post-conversion therapy.
Way Forward:
The government must undertake the following steps to protect the LGBTQIA+ community:

Ban conversion therapy of the LGBTQIA+ involving minors as they cannot consent to any such procedure.
Ban advertising conversion therapy in order to reduce its prevalence and decreasing its social acceptability.
Impose professional sanctions against medical practitioners who engage in conversion therapy of the LGBTQIA+ community.
The Indian Government has taken some positive steps like decriminalising consensual homosexual sex under Sec-377 of the Indian Penal Code. However, there is no explicit law banning conversion therapy in India. The latest Mental Healthcare Act also implicitly allows the therapy with the patient's consent.
Must Read: Challenges Faced by LGBTIQ+ Community
Source: The Hindu
---
India – Pakistan Relations
Open in new  window
Syllabus
Prelims: Current Affairs
Mains: GS 2 (International Relations)
Context:
With Shehbaz Sharif as new Prime Minister of Pakistan, there have been signs of a thaw in India-Pakistan relations.
Current poor economic conditions characterised by high inflation, sliding (Pakistani) rupee, dwindling foreign exchange reserves and a mounting debt burden and failed attempt to stem extremism and terrorism has ruined the condition further.
In this scenario let us understand the complex bilateral ties between India and Pakistan.
Historical background:
Indo-Pak relations have been defined by the violent partition of British India in 1947, the Jammu & Kashmir conflict and the numerous military conflicts fought between the two nations.
Since their independence, the two countries have fought three major wars, as well as one undeclared war, and have been involved in numerous armed skirmishes and military standoffs.
The Kashmir conflict is the main centre-point of all of these conflicts with the exception of the Indo-Pakistan War of 1971 and the Bangladesh Liberation War, which resulted in the secession of East Pakistan (now Bangladesh).
Since the early 1980s, relations between the two nations have grown increasingly sour, particularly after the Siachen conflict, intensification of the Kashmir insurgency in 1989, Indian and Pakistani nuclear tests in 1998, 1999 Kargil War, 2001 Indian Parliament attack, 2007 Samjhauta Express bombings, the 2008 Mumbai attacks, the 2016 Pathankot attack and the 2019 Pulwama attack resulted in a severe blow to the ongoing India–Pakistan peace talks.
Security issues:
Cross-border Terrorism: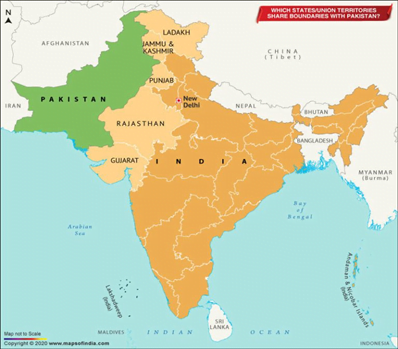 Terrorism emanating from territories under Pakistan's control remains a core concern in bilateral relations.
Pakistan has yet not brought the perpetrators of the Mumbai terror attacks 2008 to justice in the ongoing trials, even after all the evidence have been provided to them.
Based on attacks in India and involvement of the neighbouring country, the Indian Army had conducted surgical strike at various terrorist launch pads across the Line of Control, as an answer to the attack at the army camp in Uri, Jammu and Kashmir.
India had again hit back over the cross-border terror attack on the convey of Indian security forces in Pulwama by carrying out a successful airstrike at a training camp of JeM in Balakot, Pakistan.
Kashmir Issue:
Due to political differences between the two countries, the territorial claim of Kashmir has been the subject of wars in 1947, 1965 and a limited conflict in 1999 and frequent ceasefire violations and promotion of rebellion within the Indian side of Jammu and Kashmir.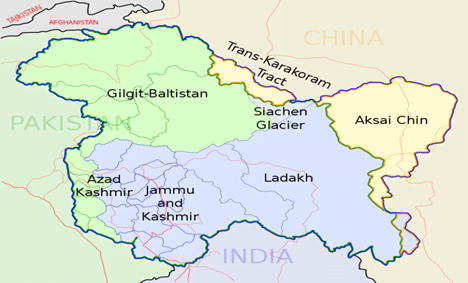 The then princely state remains an area of contention and is divided between the two countries by the Line of Control (LoC), which demarcates the ceasefire line agreed post-1947 conflict.
Siachen Glacier:
Most of the Siachen Glacier is disputed between India and Pakistan.
Under the Shimla Agreement of 1972, the Siachen was called barren and useless. This Agreement also did not specify the boundary between India and Pakistan.
Following the success of Operation Meghdoot, the Indian Army obtained the area at a higher altitude and Pakistan army getting a much lower altitude. Thus, India has a strategic advantage in this region.
Following the 2003 armistice treaty between the two countries, firing and bombardment have ceased in this area, though both the sides have stationed their armies in the region.
Trade and Commerce:
India had accorded Most Favoured Nation status to Pakistan in 1996. Pakistan cabinet decision to reciprocate remains unimplemented.
In August 2012, India announced reduction of 30% in its SAFTA Sensitive List for non-Least Developed Countries of SAFTA [including Pakistan], bringing down tariff on 264 items to 5% within a period of three years.
In the aftermath of cross border terror attack in Pulwama, India withdrew Most Favoured Nation Status to Pakistan.
India also hiked customs duty on exports from Pakistan to 200% on 16 February 2019. Subsequently, as part of its unilateral measures, Pakistan suspended bilateral trade with India on 7 August 2019.
The Indus Waters Treaty governs the rivers that flow from India into Pakistan.
Water is cited as one possible cause for a conflict between the two nations, but to date issues such as the Nimoo Bazgo Project have been resolved through diplomacy.
People to People Relations:
Fishermen and other civil prisoners who are believed to be Indian nationals were in the custody of Pakistani authorities.
India suggested to Pakistan to revive the mechanism of the Joint Judicial Committee which looks into humanitarian issues of fishermen and prisoners in each other's custody.
The visit to religious shrines between India and Pakistan is governed by the Bilateral Protocol on Visits to Religious Shrines signed between India and Pakistan in 1974. The protocol provides for three Hindu pilgrimage and four Sikh pilgrimage every year to visit 15 shrines in Pakistan while five Pakistan pilgrimage visit 7 shrines in India.
The case of Kulbushan Jadhav, a retired Naval officer arrested nears the Iran-Pakistan border in Baluchistan region by the Pakistani establishment.

As there were repeated denials of the Consular Access, India approached the International Court of Justice (ICJ) at Hague where it put forward the argument that Vienna Convention was being violated as the Consular Access was denied.
The ICJ has asked Pakistan to stay the execution of Jadhav and the matter is sub judice.
Cultural links:
India and Pakistan, particularly Northern India and Eastern Pakistan, to some degree have similar cultures, cuisines, and languages due to common Indo-Aryan heritage which span through the two countries and throughout much of the northern subcontinent which also underpin the historical ties between the two.
The Government of India in 2018 formally conveyed to the Government of Pakistan that it would initiate the Kartarpur Corridor on the Indian side and urged Pakistan to build a corridor with suitable facilities in its territory.
Cricket and hockey match between the two have often been political in nature.
In tennis, Rohan Bopanna of India and Aisam-ul-Haq Qureshi of Pakistan have formed a successful duo and have been dubbed as the "Indo-Pak Express".
China as anchor:
Stoutly refusing to open up trade with India, Pakistan has looked to other economic and commercial partners among whom China is by far the most important.
The security relationship was the anchor of the China-Pakistan ties. Now, Pakistan hopes that China will offer its assistance to transform its economy.
It looks to the mechanisms under the China-Pakistan Economic Corridor (CPEC) to play a crucial role through connectivity, port development, power production and other investments.
Attempts for engagement:
India has followed a consistent and principled policy towards Pakistani.: in keeping with its "Neighbourhood First Policy", India seeks normal neighbourly relations with Pakistan.
South Asian Association for Regional Cooperation (SAARC) and the initiatives taken by the association will start to hold more relevance as the same has not lived up to its expected potential as the elephant in the room during any summit is sour in the India-Pakistan relationship.
Composite Dialogue Framework, which was started from 2004 onwards, excluded, some of the contentious issues between the two sides had resulted in good progress on a number of issues.
Delhi-Lahore Bus service was successful in de-escalating tensions for some time.
On 7 August 2019 Pakistan took unilateral actions to downgrade diplomatic relations with India in an attempt to present an alarming picture of bilateral ties to the world.
Recently, the 'Ufa 'Agreement' was made during the meeting of the National Security Advisors of both nations at Ufa, Russia.
However, despite all the initiatives, there is always a breakdown in talks. Thus, more needs to be done for developing peaceful relations. With India and Pakistan both being two Nuclear States, any conflict can lead to a question mark on the existence of the subcontinent as well as the entire planet, especially with the border being 'live' almost all the time.
Source: The Hindu
---
 Baba's Explainer -IMF's staff-level agreement with Sri Lanka
IMF's staff-level agreement with Sri Lanka
Syllabus
GS-2: India and its neighbourhood
GS-2: Important International institutions, agencies and fora- their structure, mandate.
GS-3: Economic challenges
Context: The International Monetary Fund (IMF) on September 1 announced a staff-level agreement with Sri Lanka, months after the island nation's economic crisis intensified this year, following a serious Balance of Payments problem.
---
Daily Practice MCQs
Daily Practice MCQs
Q.1) Consider the following literary works:
Tholkappiam
Meyyaram
Meyyarivu
The above mentioned are related to which of the following freedom fighter?
Gazulu Lakshmi Narasu Chetty
Tiruppur Kumaran
Dheeran Chinnamalai
O. Chidambaram Pillai
Q.2) What is the purpose of ''PM ScHools for Rising India (PM SHRI) ?
It is a centrally sector scheme.
PM SHRI Schools will showcase all components of the National Education Policy 2020.
Select the correct answer using the code given below:
1 only
2 only
Both 1 and 2
Neither 1 nor 2
Q.3) Which Article of the Constitution of India protects people who have been arrested or detained?
Article 21
Article 16
Article 22
Article 24
---
Comment the answers to the above questions in the comment section below!!
ANSWERS FOR '6th September 2022 – Daily Practice MCQs' will be updated along with tomorrow's Daily Current Affairs.
---
ANSWERS FOR 5th September

 

– Daily Practice MCQs
Answers- Daily Practice MCQs
Q.1) – c
Q.2) – d
Q.3) – c
For a dedicated peer group, Motivation & Quick updates, Join our official telegram channel – https://t.me/IASbabaOfficialAccount
Subscribe to our YouTube Channel HERE to watch Explainer Videos, Strategy Sessions, Toppers Talks & many more…