---
(PRELIMS & MAINS Focus)
---
Submarine Vagir
Syllabus
Prelims – Science and Technology
Context: Recently the fifth Scorpène-class conventional submarine, Vagir, was delivered to the Navy.
About Submarine Vagir: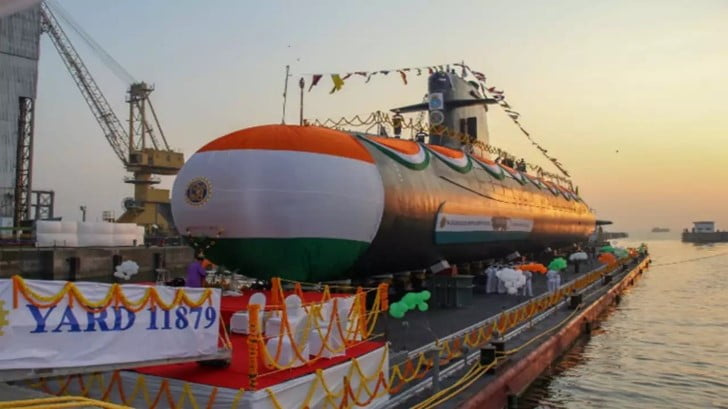 INS Vagir (S25) is the fifth submarine of the first batch of six Kalvari-class submarines for the Indian Navy.
It is a diesel-electric attack submarine based on the Scorpène class, designed by French naval defence and manufactured by Mazagon Dock Limited.
The submarine inherits its name from INS Vagir (S41) which served in the Navy from 1973–2001, and was named after a species of sandfish.
Kalvari class:

The Kalvari class is a class of diesel-electric attack submarines based on the Scorpène-class submarine being built for the Indian Navy.
The class and submarines take their names from the first submarines inducted in the Indian Navy.

The Sixth and last of the Scorpène-class submarines, Vagsheer, was launched into water in 2022 and is expected to be delivered to the Navy by 2023-end.
The first submarine, INS Kalvari, was commissioned in 2017, the second INS Khanderi in 2019, the third INS Karanj in 2021 and the fourth INS Vela in 2021.
Source: Indian Express
---
National Test House (NTH)
Syllabus
Context: Recently National Test House (NTH) will set up testing facilities for EV batteries and charging systems at its Mumbai and Kolkata centres.
About National Test House:
It is also known as Government Test House.
It was established in 1912 in Calcutta by the then Railway Board.
To cater to the needs of the Indian Railways by import substitution
It is headquartered at Kolkata.
It provides link between industrial research and manufacture of finished products under rigid quality control.
It has 6 regional offices at Kolkata, Mumbai, Chennai, Ghaziabad, Jaipur and Guwahati.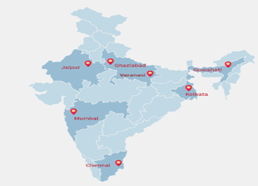 Functions of NTH:
Test and evaluation of materials, products, equipment's, modules, system and sub-system in practically all branches except pharmaceutical and arms & ammunitions.
Calibration in Electrical and non-electrical measurements.
Test and Certification of Welders.
Assist Bureau of Indian Standards in formulation of National Standards.
Assist National Accreditation Board for Testing & Calibration Laboratories [NABL] in accreditation of Testing & Calibration Laboratories in the country.
World class scientific laboratory system is being established by NTH for ease of users.

It introduced fully digital Laboratory Management Information System (LIMS).
Consumers can test their samples through courier from any part of country.

Microbiology laboratory at Guwahati branch of NTH.

It will test drinking water and spices.
Tansformer testing facility" at Jaipur, Rajasthan Tto support Gati Shakti.
Source: Indian Express
Previous Year Questions
Q.1) With reference to the 'Banks Board Bureau (BBB)', which of the following statements are correct? (2022)
The Governor of RBI is the Chairman of BBB.
BBB recommends for the selection of heads for Public Sector Banks.
BBB helps the Public Sector Banks in developing strategies and capital raising plans.
Select the correct answer using the code given below:
1 and 2 only
2 and 3 only
1 and 3 only
1, 2 and 3
---
Asian Giant Tortoises
Syllabus
Prelims – Environment and Ecology
Context: Recently 10 Giant Asian Tortoise were soft released into protected area of Intanki National Park in Nagaland for conservation.
About Asian Giant Tortoises (Manouria emys):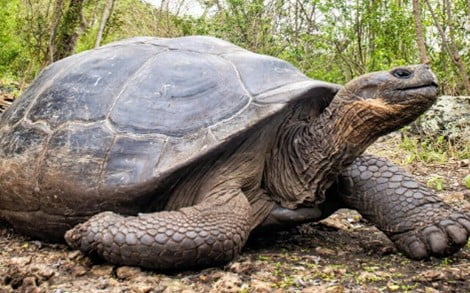 It comprised of two subspecies: Manouria emys phayrei and Manouria emys emys.
They are the largest tortoises in mainland Asia.
It is the only tortoise that lays its eggs above ground in a nest, which the female constructs of leaf litter.
Habitat:
Evergreen Forest, dry evergreen forest including bamboo forest.
They are native to South Asia found in Bangladesh, India, Indonesia, Malaysia, Myanmar, Thailand and Singapore (Extinct).
In India, the Nengpui Wildlife Sanctuary, North Cachar Hills and Nongkhyllem Wildlife Sanctuary have wild populations in less disturbed habitats.
Conservation Status:
IUCN Red List: Critically Endangered
CITES: Appendix II.
Wildlife (Protection) Act of 1972: Schedule IV
Threats:
Over exploitation and unsustainable use for consumption and trade of meat resulted into species on the verge of being extinct.
Total 507 live specimens in seven shipments are seized from illegal trade during 2000-2015.
It is threatened by shrinking habitat availability as lowland and mid-elevation evergreen forests are degraded.
These are lost through logging, clearing for agriculture, forest fires, and hydroelectric dams and reservoirs and associated infrastructure.
Organised large bamboo-cutting in forests impact the tortoises by removing a prime food resource.
Ethnic violence is a regional issue, and resettlement sites tend to be located in forest areas.
Conservation Efforts:
Nagaland and non-profits Turtle Survival Alliance and Wildlife Conservation Society conducted soft release of the juvenile tortoises to rewild the species.
Soft release: It is a process of gradually releasing captive-raised species into the wild.

It helps the species to develop site fidelity among released individuals and eventually develop the habit to live in the vicinity of the release closure.

The Joint Asian Giant Tortoise Recovery Project was started in 2017 with the Nagaland Zoological Park (NZP) and Turtle Survival Alliance (TSA).
Nagaland zoological park has the highest number of Asian Giant Tortoise with 110 hatching from 13 adults.
Long term programme includes creating awareness in local communities to make them participate in conservation.
Source: DownToEarth
Previous Year Questions
Q.1) In which of the following regions of India are you most likely to come across the `Great Indian Hornbill' in its natural habitat? (2016)
Sand deserts of northwest India
Higher Himalayas of Jammu and Kashmir
Salt marshes of western Gujarat
Western Ghats
---
Centre of Excellence scheme of AYURSWASHTHYA Yojana
Syllabus
AYURSWASTHYA Yojana:
Under Ministry of Ayush
Central Sector Scheme
From the Financial Year 2021-22
Two components (i) AYUSH and Public Health (PHI) and (ii) Centre of Excellence (CoE)
Started by merging two erstwhile schemes of this Ministry namely (i) Scheme of Grant-in-Aid for Promotion of AYUSH Intervention in Public Health Initiatives and (ii) Scheme for assistance to AYUSH organizations (Government / Non-Government Non-Profit) engaged in AYUSH Education/ Drug Development & Research / Clinical Research etc. for upgradation to Centre of Excellence (CoE).
Objectives of CoE component:
To support establishment of advanced/ specialized AYUSH medical health unit in reputed AYUSH and Allopathic institutions both in Government and Non-Government sector.
To support creative and innovative proposals for establishment and upgradation of both functions and facilities of reputed institutions to strengthen competencies of AYUSH professionals in education technology, research & innovation and such other fields necessary for promotion of AYUSH at national as well as international level.
To support creative and innovative proposals for prestigious organizations which have well-established buildings and infrastructure, and wish to work for AYUSH systems to the level of Centre of Excellence.
Features of CoE:
Financial assistance is provided to eligible individual organizations/institutes for establishing and upgrading their functions & facilities and/or for research & development activities in AYUSH.
The maximum admissible financial assistance is Rs.10.00 crores for maximum period of three years.
There is no provision for State/UT-wise sanction/allocation of funds
Health care services i.e. preventive, promotive, curative and palliative health care services are provided by the grantee organizations/institutions all over the country as per the objectives of the projects including Economical Weaker Section of the society as per scheme guidelines.
No organization/institute of Puducherry is supported under erstwhile Centre of Excellence scheme and Centre of Excellence component of AYURSWASTHYA Yojana.
There is provision to support AYUSH institutions/organizations for their up-gradation to the level of Centre of Excellence.
Source: PIB
---
Maritime Anti-Piracy Bill 2022
Syllabus
In News: Parliament has passed the Maritime Anti-Piracy Bill 2022 with Rajya Sabha approving it.
In 2014 to 2022, 19 incidents of piracy happened in which 155 Indian crew members were involved.
More than 90 percent of trade taking place by sea routes
Aim:
Strengthen India's credentials as a partner with other countries to make the world more piracy free.
Provide an effective legal instrument to combat maritime piracy, not only in India's territorial waters in the Exclusive Economic Zone but also on the high seas.
Enhance India's global credentials and strengthen maritime security.
About the bill:
The Bill defines piracy as any illegal act of violence, detention, or destruction against a ship, aircraft, person, for private purposes, by the crew or passengers of a private ship or aircraft.
The Bill enables Indian authorities to act against piracy on the high seas.
It applies to the sea beyond the Exclusive Economic Zone(EEZ)
EEZ is beyond 200 nautical miles from India's coastline.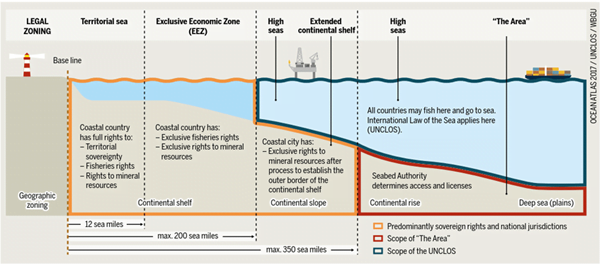 Source: NewsOnAir
---
Arecanut
Syllabus
In News: A Lok Sabha member from Shivamogga district in Karnataka, urged the Centre to levy a hefty import duty on arecanut to check falling prices in the domestic market.
In September 2022, the central government allowed the import of 17,000 tonnes of green (fresh) arecanut from Bhutan without minimum import price (MIP).
Crop loss – About 35-40 per cent of the crop has been affected in 2022 – highest crop loss since 2013
About Arecanut: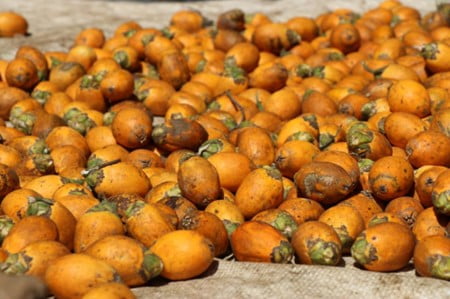 The cultivation of arecanut is mostly confined to 28º north and south of the equator.
It grows well within the temperature range of 14ºC and 36ºC and is adversely affected by temperatures below 10ºC and above 40ºC.
Arecanut is capable of growing in a variety of soils
June – December is found to be the optimum.
Its production:
Karnataka produces around 80 per cent of the country's arecanut,
Arecanut is considered a horticulture crop in Karnataka, a commercial crop at the national level and a dry fruit at an international level.
Average yield of different varieties of arecanut vary between 10-20 quintals per acre (0.4 hectare).
MIP on arecanut was first introduced in 2012 to restrict unabated import and prevent entry of inferior quality arecanut into the Indian market, thereby destabilising the domestic prices.
In the last three years, import of arecanut has taken place mostly from Sri Lanka and Indonesia.
However, this time 17,000 tonnes is being allowed to be imported from Bhutan alone.
Threats:
Large areas under the crop have been damaged by yellow leaf disease, blast disease and fruit rot disease, especially in Shivamogga, Dakshina Kannada and Chikkamagaluru districts.
Minimum Import Price (MIP):
MIP is the rate below which no imports are allowed.
Imports without MIP or at low rates threaten the domestic prices and lead them to crash.
Source: DTE
---
Formation of Fog
Syllabus
Mains – GS 1 (Geography) and GS 3 (Environment and Ecology)
Context: Recently, dense fog has enveloped north-western India, including Delhi, Punjab, Haryana, parts of Uttar Pradesh, and parts of Rajasthan.
About Formation of Fog: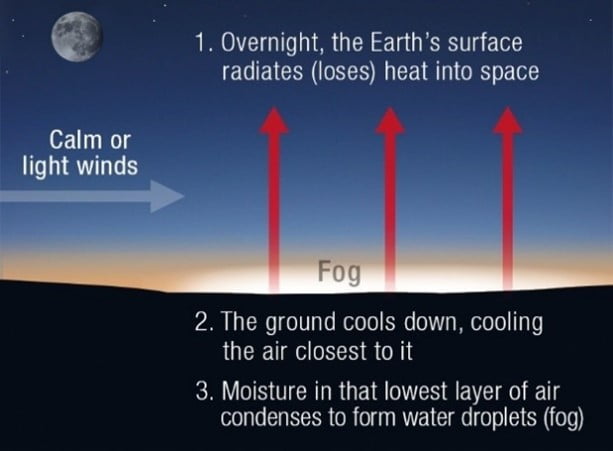 Formation:
With the land surface cooling down at night, the air close to the surface also cools down.
Since cooler air cannot hold as much moisture as warm air, the water vapour in the air condenses to form fog.
Fog begins to form in the early hours of the morning, when the temperature is at its lowest.
Favourable Conditions:
The presence of moisture and a fall in the temperature are key factors for the formation of fog.
Fog can have "high spatial variability", and its intensity can depend on factors like humidity, wind, and temperature.
Areas near water bodies, for instance, may see denser fog because of the higher humidity.
The Indo Gangetic Plain is most vulnerable to fog occurrences, with major, weeks-long spells of dense fog in the months of December and January.
Types of fog
Advection fog is larger in scale for both area covered and duration.

It forms when warm, moist air passes over a cool surface, causing water vapour to condense.
It occurs where warm tropical air meets cool ocean water.
If wind blows in right direction, sea fog is transported over coastal land areas.

Valley fog is formed due to mountains preventing dense air from escaping.

Fog gets trapped at bottom of valley which lasts for several days.

Freezing fog is result of liquid droplets freezing on solid surfaces.

It occurs at Cloud-covered mountaintops.

They are not found in Indo Gangetic Plain.
Conditions Favouring Fog over North-western India
Decreasing Temperature:
Temperatures have begun to dip over north-western India.
Recently, Delhi recorded the lowest minimum temperature of the season so far — 6 degrees Celsius.
Cold wave conditions, in which the minimum temperature is significantly lower than normal, have been recorded recently over Punjab, Haryana, and parts of Rajasthan.
Dense Fog:
The fall in temperature along with moisture and light winds over the Indo Gangetic Plain has resulted in dense fog over the region.
Effect of Western disturbances:
Western disturbances, which are storms that originate in the Mediterranean Sea, bring moisture-bearing winds to northwest India.
This can result in increased moisture levels over the region.
In the absence of western disturbances, local moisture sources like water vapor from rivers and soil moisture can also cause fog.
Link between Pollution Levels and Fog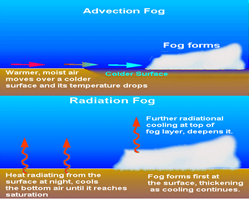 More Fog at Polluted Places:
According to the India Meteorological Department (IMD), Delhi being more polluted, records more fog days compared to others.
Fog increases Pollution:
As temperature declines, local wind speed also falls. The inversion layer comes down and vertical mixing reduces.
This results in fog formation and particulate matter hangs on the boundary layer, increasing pollution levels.
Recently, Delhi recorded a spike in pollution levels with AQI in the 'severe' category.
Rapid Growth of Pollutants:
Advection fog episodes last longer and secondary particulate formation then begins leading to rapid build-up of pollutants.
Source: Indian Express
Previous Year Questions
Q.1) Consider the following statements:
High clouds primarily reflect solar radiation and cool the surface of the Earth.
Low clouds have a high absorption of infrared radiation emanating from the Earth's surface and thus cause warming effect.
Which of the statements given above is/are correct? (2022)
1 only
2 only
Both 1 and 2
Neither 1 nor 2
Q.2) Why are dewdrops not formed on a cloudy night? (2019)
Clouds absorb the radiation released from the Earth's surface.
Clouds reflect back the Earth's radiation.
The Earth's surface would have a low temperature on cloudy nights.
Clouds deflect the blowing wind to ground level.
---
Compensatory Afforestation Fund Management and Planning Authority (CAMPA)
Syllabus
Mains – GS 1(Governance) and GS 3 (Environment and Ecology)
Context: Recently, the Union government said that Funds from Project Tiger as well as the Compensatory Afforestation Fund Management and Planning Authority (CAMPA) were used to finance the project to bring African cheetahs to India.
About CAMPA Funds:
Establishment in 2004, the Ministry of Environment and Forests constituted the Compensatory Afforestation Fund Management and Planning Authority (CAMPA) to oversee and manage the Compensatory Afforestation Fund (CAF) as directed by the Supreme Court.
CAMPA Act or Compensatory Afforestation Fund Act is an Indian legislation that seeks to provide an appropriate institutional mechanism, both at the Centre and in each State and Union Territory,

to ensure expeditious utilisation in efficient and transparent manner of amounts released in lieu of forest land diverted for non-forest purpose which would mitigate impact of diversion of such forest land.
Objectives of CAMPA:
The Funds are meant to promote afforestation and regeneration activities as a way of compensating for forest land diverted to non-forest uses.
National CAMPA Advisory Council has been established with the following mandate:

Lay down broad guidelines for State CAMPA.
Facilitate scientific, technological and other assistance that may be required by State CAMPA.
Make recommendations to State CAMPA based on a review of their plans and programmes.
Provide a mechanism to State CAMPA to resolve issues of an inter-state or Centre-State character.
About Project Tiger:
It is a Centrally Sponsored Scheme launched in 1973.
It has the aim of ensuring that the population of Bengal tigers is well-maintained in their natural habitats, this project continues to do everything possible to protect and save the tiger.
Tiger protecting force:

The government has also set up a tiger protecting force that ensures there is no poaching of any kind or any human-tiger conflict.
This invariably will help in preventing tigers from being extinct.

Increasing the number of tigers:

In 2006, surveys suggested that the number of tigers was just 1,411 which was a cause of concern worldwide.
In over a decade, India has seen a consistent rise in the number of tigers.

Tiger Reserves:

There are 53 tiger reserves across 18 Tiger Range States in India.
Objectives of Project Tiger:
To ensure that any factor leading to the reduction of tiger habitats is limited.
Any damages done to these habitats should be repaired so that the ecosystem is balanced
Maintain a viable tiger population.
Significance:
Tiger is an umbrella species which ensures viable populations of other wild animals (co-predators, prey) and forest, thereby ensuring the ecological viability of the entire area and habitat, which also ensures the water and climate security of the region.
India has 80 per cent of the world's tiger population.
A viable tiger population is one which has 80-100 tigers with a minimum of 20 breeding females, with a sex ratio skewed towards females.
Notification of Tiger Reserves:
Proposal is obtained from the State.
In-principle approval is communicated from the National Tiger Conservation Authority, soliciting detailed proposals under section 38V of the Wildlife (Protection) Act, 1972.
The National Tiger Conservation Authority recommends the proposal to the State after due diligence.
The State Government notifies the area as a Tiger Reserve.
About Conservation Assured | Tiger Standards:
CA|TS is a tool or a comprehensive system that will provide a reference point to evaluate the existing management effectiveness of tiger conservation within integrated landscape planning, and ensure that benefits from these efforts are optimised.
About Project Cheetah:
The introduction of cheetahs in India is being done under Project Cheetah.
It is the world's first intercontinental large wild carnivore translocation project.
Coexistence approach:

India has opted for this approach.
It is even more unique because this is the first-time cheetahs will be reintroduced in an unfenced protected area (PA).

Significance of Coexistence approach:

The Coexistence approach is considered more favourable by social scientists.
Fencing has proven to be a valuable tool in eliminating cheetahs' tendency to range over wide distances in South Africa and Malawi, thus allowing for population growth.
The core conservation area of Kuno National Park is largely free of anthropogenic threats.

Challenges associated with Coexistence approach:

Kuno National Park will be more challenging, as it is not enclosed / fenced.
There have been no successful cheetah reintroductions into unfenced systems.
Anthropogenic threats to cheetah survival include snaring for bush meat and retaliatory killings due to livestock depredation.
This would place them at the risk of human-related mortality including snaring and retaliatory killings by livestock farmers.
Way Forward:
CAMPA funds are meant for restoration of forests, particularly the ones that have been diverted for industrial purposes.  There have been demands that this money should be given to Gram Sabhas so that they can be financially empowered to restore forests. Indigenous and forest-dwelling communities' country-wide are struggling for sustainable finance. Thus, these funds should be used to empower them.
Source: DownToEarth
---
DNA technology Regulation Bill
Syllabus
Mains  – GS 3 Science and Technology
Context:
In April 2022, The Ministry of Science and Technology (MST) announced the draft DNA Technology (Use and Application) Regulation Bill.
With the recent introduction of the new Digital Personal Data Privacy Bill removing differences between sensitive personal data and personal data and adding to it the nuance of only governing digital data, privacy has become a popular concern.
While stakeholders have enquired about the expansion of DNA use across the justice system, the MST has yet to confirm such plans.
DNA Technology Regulation Bill:
The Bill creates an umbrella databank for multiple purposes
It aims to set up DNA data banks across the country and DNA laboratories for testing and storing DNA profiles and use these for case resolution in crimes (primarily sexual assault).
It includes training over 20,000 investigation officers, prosecution officers, and medical professionals to collect forensic evidence in cases of sexual assault using standardised sexual assault evidence collection kits.
Preceding the draft, there was no specific legislation in India to outline the guidelines on DNA collection, storage and use in law enforcement. However, DNA evidence was covered under Section 45 of the Indian Evidence Act 1872 under 'scientific evidence.'
The Bill has not introduced DNA evidence into the Indian legal system.
However, DNA profiling is used in law enforcement have been seen in India since Kunhiraman vs Manoj, 1991, on proof of paternity.
It aims to address the existing gap in regulating the use of biological sample evidence
It also covers offences under special laws such as The Immoral Traffic (Prevention) Act, 1956; The Medical Termination of Pregnancy Act, 1971; The Scheduled Castes and the Scheduled Tribes (Prevention of Atrocities) Act, 1989, amongst others.
Challenges of the bill:
Data bias: The Bill lists civil matters where lawful procedures can use DNA profiling.
The application areas cover controversial disputes relating to pedigree, issues pertaining to reproductive technologies, immigration or emigration, and issues relating to establishing national identity.
Enhancing discrimination against the groups it claims to protect. For example, The Immoral Traffic (Prevention) Act discriminates against transsexual people who cannot access formal employment and are thus consigned to sex work and solicitation.
Lack of privacy and dignity of individuals: The photographic forensic data is used in combination with other digitised data and lack of collection guidelines within this regulation is a concern.
DNA can reveal sensitive information used to criminalise a community and disclose information on ancestry, feeding into social discrimination.
Insecurity over DNA laboratories hosting data –  biases in artificial intelligence, algorithms it monitors, and the policies that use these,
Data storage: It is unclear how the Bill intends to regulate data storage in such DNA laboratories.
Lacunae in design: Incongruity in the Bill's understanding of DNA evidence as biological samples to further include photographic forensic samples.
The integration of photographic or video material in this legislation has created an unnecessary caveat in how this evidence can be collected, stored, and used, especially since such samples may go against privacy requirement.
Biases in law enforcement:
Much like automated policing, where crime is registered in higher numbers because of the increased surveillance and dispatch of police officers, the results of DNA database categorisation are often inaccurate due to unequal testing of certain disadvantaged communities over others.
Facial Recognition Technology (FRT) used in law enforcement also displays these biases, aside from previously mentioned privacy concerns, churning up inaccurate outcomes (in one case, 138 out of 140 faces were misidentified by an FRT)
Accuracy of DNA evidence – Lack of standardised analysis in hair, fibre and different crime scene samples can lead to wrongful convictions.
For example, fingerprint analysts often alter their conclusions on prints and identification with additional and incremental information on prints.
Issues of injustice: A single DNA profile might be mistakenly generated when samples from multiple people are combined or collected from a crime scene.
Partial profiles can match many more people than complete profiles.
Full profiles may also match a person other than the guilty individual.
These outcomes are further complicated by different rates of DNA shedding, contamination issues, investigator biases etc., all of which still need to be fully addressed by the legislation in question.
Others – DNA profiles will likely include virtually everyone since DNA is left at the crime scene before and after the crime by several persons who may not have been involved in the crime.
Suggestions:
Individual privacy – use of DNA Technology Bill should not depend on launching a personal data protection bill and, in its absence, should create further clarifications on privacy guidelines.
Reliability – In addition, to make DNA profiling more reliable, the account must be enhanced with specific guidelines to address the use of DNA technology in combination with other tools used in the justice system to avoid a future miscarriage of justice.
Role of stakeholders – The document needs to define how different stakeholders will apply the legislation in the aforementioned areas.
Role of judiciary – The Bill highlights the need for court approval in civil matters, consent of individuals in criminal investigations, and identifying missing persons.
Consent–  the Bill still needs to outline the necessary consent requirements for use in civil cases, taking agency away from those who may be involved in civil disputes.
Accountability – With regard to video evidence, FRT, linkages of forensic data to surveillance systems need immediate oversight as lack of accountability can add to existing concerns on privacy.
Holistic evidence – DNA evidence can place suspects at the location of the crime; this, in isolation, is not enough to mandate their conviction. Thus, other evidence, such as geotagged evidence, mobile records etc., will be needed to approach the case holistically.
In addition, the combination of digital and biological data digitised and maintained on a database further induces privacy concerns.
Way forward:
Thus, if combined with existing data biases in law enforcement, the DNA profiling bill can contribute to data that can be misused for caste-based or community profiling in the country, especially in cases where minority groups are disproportionately criminalised.
The eventual extension of DNA profiling in other cases beyond sexual assault can be included as part of changes.
Source: ORF online
---
Practice MCQs
Daily Practice MCQs
Q.1) Consider the following statements:
Exclusive Economic Zone (EEZ) extends up to 200 nautical miles from the territorial waters.
The Maritime Anti-Piracy Bill applies to the High Seas.
Which of the statements given above are correct?
1 only
2 only
Both 1 and 2
Neither 1 nor 2
Q.2) With respect to "Minimum Import Price (MIP)", consider the following statements:
Under WTO rules, MIP is regarded as non-tariff trade barriers.
MIP is the rate below which no imports are allowed.
Imports without MIP threaten the domestic prices and lead them to crash.
Which of the statements given above are correct?
1 and 3 only
2 and 3 only
1 and 2 only
1, 2 and 3
Q.3) With reference to India's biodiversity, consider the following statements:
Asian Giant Tortoises (Manouria emys) are critically endangered as per IUCN red list.
Project Tiger is a Centrally Sector Scheme launched in 1973.
There are 55 tiger reserves across 18 Tiger Range States in India as of December 2022.
India has 80 per cent of the world's tiger population.
Which of the statements given above is/are correct?
1 and 2 only
2 and 3 only
1 and 4 only
1 and 3 only
Comment the answers to the above questions in the comment section below!!
ANSWERS FOR ' 22nd December 2022 – Daily Practice MCQs' will be updated along with tomorrow's Daily Current Affairs.st
---
ANSWERS FOR 21st December

 

– Daily Practice MCQs
Answers- Daily Practice MCQs
Q.1) – c
Q.2) – b
Q.3) – b
For a dedicated peer group, Motivation & Quick updates, Join our official telegram channel – https://t.me/IASbabaOfficialAccount
Subscribe to our YouTube Channel HERE to watch Explainer Videos, Strategy Sessions, Toppers Talks & many more…