---
(PRELIMS & MAINS Focus)
---
International Financial Services Centres Authority (IFSCA) and the Council on Energy, Environment and Water (CEEW)
Syllabus
Context: Recently the International Financial Services Centres Authority (IFSCA) and the Council on Energy, Environment and Water (CEEW) have signed a Memorandum of Understanding (MoU) for mutual assistance and cooperation in the area of sustainable finance.
About IFSCA: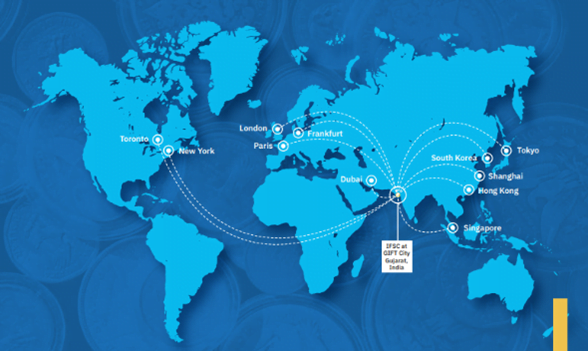 The IFSCA is a statutory authority established under the International Financial Services Centres Authority Act, 2019 ("IFSCA Act") with a mandate to develop and regulate the financial products, financial services, and financial institutions in the International Financial Services Centres ('IFSC').
It headquarters is at Gujarat International Finance Tech (GIFT) City, Gandhinagar in Gujarat.
It is India's maiden international financial services centre.
Composition of the Authority (9 members):
Chairperson
One Member each to be nominated by:
Reserve Bank of India (RBI),
Securities Exchange Board of India (SEBI),
Insurance Regulatory and Development Authority of India (IRDAI) and
Pension Fund Regulatory and Development Authority (PFRDA)
Two members to be dominated by the Central Government.
Two other whole-time or full-time or part-time members
Services an IFSC can provide:
Fund-raising for individuals, corporations and governments.
Asset management and Global Treasury management
Global tax management and cross-border tax liability optimization
Risk management operations such as insurance and reinsurance.
Merger and acquisition activities among Trans-national corporation
About CEEW:
The Council on Energy, Environment and Water (CEEW) is one of Asia's leading not-for-profit policy research institutions.
The Council uses data, integrated analysis, and strategic outreach to explain – and change – the use, reuse, and misuse of resources.
It prides itself on the independence of its high-quality research, develops partnerships with public and private institutions, and engages with the wider public.
In 2021, CEEW once again featured extensively across ten categories in the 2020 Global Go To Think Tank Index Report.
The Council has also been consistently ranked among the world's top climate change think tanks.
Source: PIB
Previous Year Question
Q.1) "Rapid Financing Instrument" and "Rapid Credit Facility" are related to the provisions of lending by which of the following:           (2022)
Asian Development Bank
International Monetary Fund
United Nations Environment Programme Finance Initiative
World Bank
---
Sand battery
Syllabus
Context: Recently a Finland based company came up with sand-based battery to provide clean energy solution for Europe's energy crisis. It is currently operational at town of Kankaanpaa in Finland.
About Sand Battery: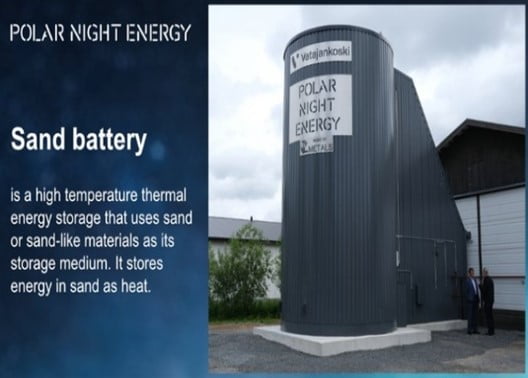 It is a type of energy storage device that uses sand or sand-like materials as the storage medium.
Sand is a very effective medium for storing heat and loses little over time.
The sand is charged with electricity and then discharged to produce power.
Its purpose is to work as a high-power and high-capacity reservoir for renewable energy.
Sand batteries can help to increase the use of renewable energy by allowing excess/surplus energy produced from renewable sources to be stored and used at a later time.
Key Features: The sand battery has three major interconnected components:
Steel silo: It contains 100 tonnes of sand where the heat is stored.
Electric air heater: Resistors are used in regular ovens and an air-to-water heat exchanger.
Heat Exchanger: It has a mechanical pipe and water.
Sand stores the heat at around 500 Celsius (the same process that makes electric fires work).
Sand is at the core and very far from the boundary so the heat stored in the core does not easily get lost

It can last days or weeks.

Reservoir is so well-insulated from the outer environment that it can retain temperatures up to 600 degrees Celsius and prevent heat losses over time.
It can store up to 8 megawatt-hours of energy as heat.
Working conditions: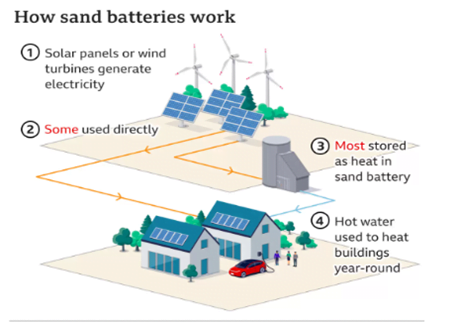 It receives electricity from grid through cheaper renewable sources like solar and wind.
Electricity is converted to heat and transferred to sand.
Air is blown via a fan through the curricular pipe system inside the silo.
It will enter the electric air heater, where it becomes hot with the help of a resistor located inside.
Hot air will be circulated by air-to-water heat exchanger through metal structure (pipes).
There's no direct contact between air and water.
Hot water is discharged into district heating system.
It circulates in close loop from the heat exchanger to the customer and back.
Energy is stored as heat which is used to heat homes or to provide hot stream and high temperature process heat to industries that are often fossil-fuel dependent.
Source:  DownToEarth
---
Muhammad Iqbal
Syllabus
Context: Recently complaint has filed by Vishwa Hindu Parishad (VHP) against principal of government school and shiksha mitra for hurting religious sentiments by recitation of the prayer 'Lab Pe Aati Hai Dua' written by Muhammad Iqbal.
About Muhammad Iqbal: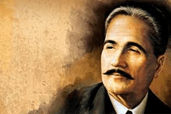 He was born to a family with Kashmiri Pandit ancestry that had embraced Islam in the 17th century.
He was born in Sialkot, Punjab (now in Pakistan).
He was commonly referred to as Allama (title given to Islamic scholars).
As a lawyer he appeared at the Lahore High Court in several cases.
He was knighted by King George V who gave him the title of "Sir" in 1922.
He died in Lahore at the age of 60 years.
His tomb is located in Hazuri Bagh in Lahore.
Political career and Ideology:
In his later life, he came across the idea of a separate nation for Muslims.
He was influenced by Muhammad Ali Jinnah's vision of a separate nation of Pakistan.
He was regarded as the ideological founder of the nation in Pakistan.
Prominent works:
He wrote the Urdu ghazal 'Sare Jahan se Achccha Hindostan Hamara'.
His first book, Asrár-I Khudí (The Secrets of the Self), was published in 1915
It was followed by Ramuz-e-Bekhudi (The Mysteries of Selflessness) in 1918

These are regarded as the base for his poetic philosophy.
Source: Indian Express
Previous Year Question
Q.1) With reference to Madanapalle of Andhra Pradesh, which one of the following statements is correct? (2022)
Pingali Venkayya designed the tricolour Indian National Flag here.
Pattabhi Sitaramaiah led the Quit India Movement of Andhra region from here.
Rabindranath Tagore translated the National Anthem from Bengali to English here.
Madame Blavatsky and Colonel Olcott set up headquarters of Theosophical Society first here.
---
PRAKASHmay '15th Enertia Awards 2022'
Syllabus
In News: NHPC won 'Best Globally Competitive Power Company of India – Hydropower and Renewable Energy Sector' in recognition of its leadership in the hydropower sector with a gross asset class renewable energy capacity of more than 7000 MW, for more than 5000 MW of projects under construction and an ambitious 7000 MW plus plan for Solar capacity addition.
Renewable Energy Sector
Renewable energy will comprise 90 per cent of global electricity capacity expansion in the next five years and much of it will be in India, according to a new study by the autonomous intergovernmental organisation, International Energy Agency (IEA).
China, the European Union and the United States will be three other geographies contributing majorly to this upward trend besides India. This is primarily owing to the favourable policies and market reforms in all four.
Renewable energy's installed power capacity will grow to 2,400 gigawatts (GW) between 2022 and 2027.
In India
With the addition of 145 gigawatt (GW), India is forecast to almost double its renewable power capacity over 2022-2027.
Solar photovoltaic (PV) accounts for three-quarters of this growth, followed by onshore wind with 15 per cent and hydropower providing almost all the rest.
Two policy measures that India has adopted to promote domestic manufacturing in the solar PV sector include the PLI scheme and raising import duties on modules – are expected to meet the growing demand of the renewable energy industry and help in the diversification of supply chains in the long term.
Hybrid auctions are expected to be an increasingly important growth driver as the penetration of wind and PV technologies in India's power system grows and grid integration challenges emerge.

Hybrid projects refers to innovative combinations of solar and wind power at a site. It can include solar, wind, and battery or pumped hydro storage. Bundling coal with renewables is also another option.
Storage will play a key role in the hybrid project, particularly to overcome the intermittency of RE and enhance grid balancing.

Clean energy transitions are driving down the costs of energy storage technologies, expected to reduce further with an increase in scale and innovations.
Policy changes in the wind energy sector were also made to accelerate the transition to renewables. In July 2022, the Indian government suspended reverse bidding in wind auctions.
Currently, the government is considering closed-envelope submissions which could raise tariffs for wind energy and make it a more competitive market.
Higher renewable purchase obligations, and specify targets for wind, hydro, and other renewable energy sources (solar, bioenergy), should further encourage power utilities (DISCOM) to procure renewable energy.
Wind energy is a different ball game compared to solar because the good sites are only located in coastal states. Even within a coastal state, there are tier 1, tier 2, and tier 3 sites depending on the wind intensity, according to the expert.

Raising the capability of DISCOMs to procure more renewable energy will be crucial to achieving faster growth.
Improving the financial performance of DISCOMs and increasing penalties for non-compliance with renewable purchase obligations should limit delays in signing PPAs with auction winners, making developers and investors more willing to undertake new utility-scale projects.
In addition, offering DISCOMs financial and regulatory incentives to increase rooftop PV deployment in their grids should encourage them to attract tens of millions of potential prosumers by facilitating investment, thereby tripling main-case distributed PV deployment for 2022-2027.
News Source: PIB
---
Minimum Support Prices (MSP) for copra season 2023
Syllabus
In News: The Cabinet Committee on Economic Affairs, CCEA has approved Minimum Support Prices for copra for 2023 season.
The MSP for fair average quality of milling copra has been fixed at 10 thousand 860 rupees per quintal.
MSP for ball copra has been fixed at 11 thousand 750 rupees per quintal.
This is an increase of 270 rupees per quintal for milling copra and 750 rupees per quintal for ball copra over the previous season.
Minimum Support Prices (MSP)
The MSP is the rate at which the government purchases crops from farmers, and is based on a calculation of at least one-and-a-half times the cost of production incurred by the farmers.
The Commission for Agricultural Costs & Prices (CACP) recommends MSPs for 22 mandated crops and fair and remunerative price (FRP) for sugarcane.

CACP is an attached office of the Ministry of Agriculture and Farmers Welfare.

The mandated crops include 14 crops of the kharif season, 6 rabi crops and 2 other commercial crops.
In addition, the MSPs of toria and de-husked coconut are fixed on the basis of the MSPs of rapeseed/mustard and copra, respectively.
Support prices generally affect farmers' decisions indirectly, regarding land allocation to crops, quantity of the crops to be produced etc
MSP assures farmers agricultural income besides providing a clear price signal to the market
The major objectives are to support the farmers from distress sales and to procure food grains for public distribution.
The government declares MSPs for crops, but there's no law mandating their implementation 
MSP is devoid of any legal backing. Access to MSP isn't an entitlement for farmers. They cannot demand it as a matter of right.
The Centre currently fixes MSPs for 23 farm commodities based on the CACP's recommendations —

7 cereals – paddy, wheat, maize, bajra, jowar, ragi and barley
5 pulses – chana, arhar/tur, urad, moong and masur
7 oilseeds – rapeseed-mustard, groundnut, soyabean, sunflower, sesamum, safflower and nigerseed
4 commercial crops – cotton, sugarcane, copra and raw jute
Factors for Recommending the MSP:
The CACP considers various factors while recommending the MSP for a commodity:
Cost of production
Changes in input prices
Input-output price parity
Trends in market prices
Demand and supply
Inter-crop price parity
Effect on industrial cost structure
Effect on cost of living
Effect on general price level
International price situation
Parity between prices paid and prices received by the farmers
Effect on issue prices and implications for subsidy
Source: News on AIR
---
Cuetlaxochitl: The story of America's Christmas Eve shrub
Syllabus
Context: The cuetlaxochitl, meaning "flower that grows in residues" in the Aztec language, became the Christmas Eve flower of modern times as well as a top-selling potted plant is a story replete with patents, a market monopoly and a leaked trade secret that finally undermined one American family's control of the business in the 1990s after a nearly 100-year run.
The Story – A case of Biopiracy?
The poinsettia is a case study of what breeding skills combined with business acumen can achieve in a setting of intellectual property rights (IPRS). Where the people and the region that nurtured the plant for centuries and inspired its link with Christmas did not share the benefits of its commercialisation?
Cuetlaxochitl growers could not compete with the likes of the Ecke Ranch firm (the Ecke family's horticulture genetics company), and were unable to export to a lucrative market. Instead, they became growers for the American company.
In 1828 when Poinsett brought the shrub to the US and distributed it to his friends, there was no Convention on Biological Diversity (CBD). In any case, the US is still the only major country that is not a party to CBD.

It traces its origins to the Rio summit of 1992
It is a multilateral treaty ratified by 196 countries for "the conservation of biological diversity, the sustainable use of its components, and the fair and equitable sharing of the benefits arising from the utilization of genetic resources."
Its overarching goal is to encourage actions that will lead to a more sustainable future.
It includes – Cartagena Protocol and Nagoya Protocol

On the other hand, the big boost to the US poinsettia industry came from the Plant Patent Act of 1930.
Apart from patent systems in individual countries, there have been systematic initiatives at the behest of plant breeders to create strong protection for their varieties — at the cost of farmers. The most significant of these is the International Union for the Protection of New Varieties of Plants or UPOV, a treaty created outside the UN to provide a regulatory system for protecting plants.

An intergovernmental organization with headquarters in Geneva (Switzerland).
UPOV was established by the International Convention for the Protection of New Varieties of Plants.
The Convention was adopted in Paris in 1961 and it was revised in 1972, 1978 and 1991.
UPOV's mission is to provide and promote an effective system of plant variety protection, with the aim of encouraging the development of new varieties of plants, for the benefit of society.
In the case of a variety protected by a breeder's right, the authorization of the breeder is required to propagate the variety for commercial purposes. The breeder's right is granted by the individual UPOV members.
Only the breeder of a new plant variety can protect that new plant variety. It is not permitted for someone other than the breeder to obtain protection of a variety.
There are no restrictions on who can be considered to be a breeder under the UPOV system: a breeder might be an individual, a farmer, a researcher, a public institute, a private company etc.
India is not a member.

Since it denies farmers any rights, such as the freedom to reuse farm-saved seeds and to exchange them with their neighbours, which is a tradition in this country of poor farmers.
With the World Trade Organization's all-encompassing IPR agreement on Trade-Related Aspects of Intellectual Property Rights (TRIPS) coming into force, India had the choice of either joining UPOV or to formulate a sui generis system that granted protection to breeders' rights while keeping farmers' interests uppermost.
The result was the Protection of Plant Varieties and Farmers Rights Act of 2001 (PPV&FRA), which balances the interests of both while encouraging innovation in new varieties. The legislation recognizes the contributions of both commercial plant breeders and farmers in plant breeding activity and also provides to implement TRIPs in a way that supports the specific socio-economic interests of all the stakeholders including private, public sectors and research institutions, as well as resource-constrained farmers.
India has faced pressure constantly to join UPOV. The standoff with PepsiCo, which attempted to enforce its IPR on two of its registered potato varieties that are used to make its branded wafers, has not helped India's case that it was compliant with global norms on protecting breeders' rights.

In 2018, multinational PepsiCo began intimidating potato growers in Gujarat for violating its IPR, claiming that the farmers were using its variety illegally.
Following massive protests by farmers and a strong campaign by farming activists, the authority overseeing the implementation of PPV&FRA was last year forced to revoke PepsiCo's registrations, which had another six years to go.
This has opened India to further pressure, the latest from the EU, which is negotiating an ambitious Free Trade Agreement (FTA) with India and is demanding that India join UPOV.
Source: Down to Earth
---
International Arbitration Centre
Syllabus
In News: The New Delhi International Arbitration Centre (Amendment) Bill was passed by the Rajya Sabha on 14th December 2022.
The Bill renames the New Delhi International Arbitration Centre as the India International Arbitration Centre.
The original Act requires the NDIAC to strive to facilitate the conduct of international and domestic arbitration and conciliation. The Amendment Bill expands this to include conduct of other forms of alternative dispute resolution.
Background
Setup in 2019 under the provisions of New Delhi International Arbitration Centre (NDIAC) Act, 2019
Objectve: For better management of arbitration in India.
The Act declared NDIAC as an institution of national importance.
Replaced the International Centre for Alternative Dispute Resolution (ICADR), an existing institution established in the year 1995.
Objectives
Promoting research, providing training and organizing conferences and seminars in alternative dispute resolution matters.
Providing facilities and administrative assistance for the conduct of arbitration, mediation and conciliation proceedings.
Maintaining a panel of accredited professionals to conduct arbitration, mediation and conciliation proceedings.
Key Functions
Facilitating conduct of arbitration and conciliation in a professional, timely and cost-effective manner; and
Promoting studies in the field of alternative dispute resolution.
Composition: The NDIAC will consist of seven members including:
A Chairperson who may be a Judge of the Supreme Court or a High Court, or an eminent person with special knowledge and experience in the conduct or administration of arbitration;
Two eminent persons having substantial knowledge and experience in institutional arbitration;
Three ex-officio members, including a nominee from the Ministry of Finance and a Chief Executive Officer (responsible for the day-to-day administration of the NDIAC);
A representative from a recognized body of commerce and industry, appointed as a part-time member, on a rotational basis.
Term and Superannuation
The members of NDIAC will hold office for three years and will be eligible for re-appointment.
The retirement age for the Chairperson is 70 years and other members is 67 years.
Finance and Audit
The NDIAC will be required to maintain a fund which will be credited with grants received from the central government, fees collected for its activities, and other sources.
The accounts of the NDIAC will be audited and certified by the Comptroller and Auditor-General of India.
Institutional Support
The NDIAC will establish a Chamber of Arbitration which will maintain a permanent panel of arbitrators.
Further, the NDIAC may also establish an Arbitration Academy for training arbitrators and conducting research in the area of alternative dispute resolution.
The NDIAC may also constitute other committees to administer its functions.
India as an International hub of Arbitration
India is the fifth biggest economy in the world, yet we are not the international hub of arbitration, while small countries and cities have emerged as major centres for arbitration.
Presently, places such as Singapore, London and Hong Kong are the preferred centres for arbitration.
NDIAC can provide arbitration awards at more affordable charges in comparative to those centres.
Alternative Dispute Resolution (ADR) Mechanisms
ADR is a mechanism of dispute resolution that is non adversarial, i.e. working together co-operatively to reach the best resolution for everyone.
ADR can be instrumental in reducing the burden of litigation on courts, while delivering a well-rounded and satisfying experience for the parties involved
Arbitration: The dispute is submitted to an arbitral tribunal which makes a decision (an "award") on the dispute that is mostly binding on the parties.
Mediation: In mediation, an impartial person called a "mediator" helps the parties try to reach a mutually acceptable resolution of the dispute.
Arbitration and mediation have a long history in India.

Recently they have acquired prominence across the world as methods of dispute resolution.

Alternative dispute resolution methods are beneficial to the parties due to various reasons

low-cost speed
more control over timelines and process
autonomy of parties
a more comfortable environment
a non-adversarial nature
Source: The Indian Express
---
Digital India Programme
Syllabus
Mains – GS 2 (Governance)
Context: The Digital India Programme has made the country digitally empowered in the area of technology and innovation.
About the Digital India programme:
Digital India is a flagship programme of the Government of India with a vision to transform India into a digitally empowered society and knowledge economy. The programme was launched on July 1, 2015 by Hon' Prime Minister Shri Narendra Modi.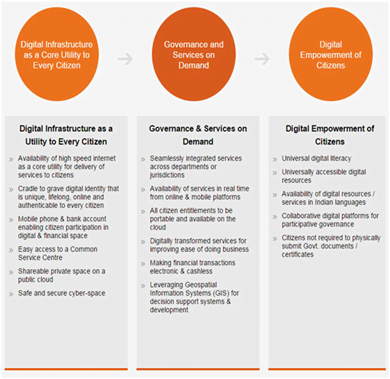 Outcomes of the programme:
Digital India has considerably reduced the distance between the Government and citizens.
It has also helped in the delivery of substantial services directly to the beneficiary in a transparent and corruption-free manner.
In the process, India has emerged as one of the pre-eminent nations of the world to use technology to transform the lives of its citizens.
Significance of the Digital India campaign
Transparency: The transparency that has come due to Digital India has eliminated corruption at various levels adversely affecting the poor and the middle class.
Direct Benefit Transfer: In the last eight years, more than Rs 23 lakh crore has been transferred through Direct Benefit Transfer (DBT) to beneficiaries.
The trio of Jan Dhan, Mobile and Aadhaar, or JAM: It has provided maximum benefit to the poor and the middle class.
Ending corruption: The Digital India campaign has helped save Rs 2.25 lakh crore from falling into the wrong hands in the past eight years.
Eliminating middle-men: Digital India has saved money for the common man by ending the network of middle-men
Digital India helped the government tackle the crisis arising out of the Covid pandemic: CoWin and Aarogya Setu are two mobile applications that helped provide 200 crore vaccine doses.
Ending digital divide: Digital India has also helped bridge the digital divide that exists between rural and urban India.
Challenges:
Gender gap: Indian women are 15 per cent less likely to own a mobile phone and 33 per cent less likely to use mobile internet services than men.

Women constitute only one-third of internet users in India.

Skewed penetration: Among states, Maharashtra has the highest internet penetration, followed by Goa and Kerala, while Bihar has the lowest, followed by Chhattisgarh and Jharkhand.
India's global rank: According to the UN's e-participation index (2022), which is a composite measure of three important dimensions of e-government, namely provision of online services, telecommunication connectivity and human capacity, India ranks 105 out of 193 nations.
Online safety: According to a survey, more than half of young women have experienced violence online, including sexual harassment, threatening messages and having private images shared without consent.

Women's rights defenders and female journalists were targeted for abuse more than most.

Inadequate artificial intelligence: The third threat comes from badly designed artificial intelligence systems that repeat and exacerbate discrimination.
Key initiatives undertaken by MeitY under the Digital India programme:
Aadhaar: Aadhaar provides 12 digits biometric and demographic-based identity that is unique, lifelong, online and authenticable.

It has also given statutory backing through The Aadhaar (Targeted Delivery of Financial and Other Subsidies, Benefits and Services) Act, 2016.
Over 135.5 crore residents have been enrolled.

Unified Mobile Application for New-age Governance (UMANG): For providing government services to citizens through mobile. More than 1668 e-Services and over 20,197 bill payment services are made available at UMANG.
Common Services Centres: CSCs are offering government and business services in digital mode in rural areas through Village Level Entrepreneurs (VLEs).

Over 400 digital services are being offered by these CSCs.
So far, 5.21 Lakh CSCs are functional (including urban & rural areas) across the country.

Unified Payment Interface (UPI): It is the leading digital payment platform. It has onboarded 376 banks and has facilitated 730 crore transactions (by volume) worth Rs 11.9 lakh crore.
Digi Locker: Digital Locker provides an ecosystem with the collection of repositories and gateways for issuers to upload the documents in the digital repositories.

Digital Locker has more than 13.7 crore users and more than 562 crore documents.

e-Sign: e-Sign service facilitates instant signing of forms/documents online by citizens in a legally acceptable form.
MyGov: It is a citizen engagement platform that is developed to facilitate participatory governance. Presently, over 2.76+ crore users are registered with MyGov.
MeriPehchaan: National Single Sign-on (NSSO) platform called MeriPehchaan has been launched in July 2022 to facilitate/provide citizens ease of access to government portals.
Jeevan Pramaan: Jeevan Pramaan envisages digitizing the whole process of securing the life certificate for pensioners.
Pradhan Mantri Gramin Digital Saksharta Abhiyaan (PMGDISHA): The Government has approved the scheme to usher in digital literacy in rural India.
Way Forward:
Need of the hour is to establish an empowered entity needs to be set up which is accountable for quality and timeliness to design and construct digital highways, and their rural branches, and ensure their optimum utilisation by sharing the infrastructure. Digital skills, required today both for life and for livelihoods, must be imparted on a war footing by transforming government digital literacy programmes into skilling missions, and expanding outreach, including through the private sector.
The Social media sites can use their "algorithm power" to proactively tackle the issue of safety. Thus, the government needs to strengthen laws that hold online abusers to account, and the public to speak up whenever they witnessed abuse online.
Source: The Hindu
---
Building Disabled Friendly Infrastructure
Syllabus
Mains – GS 2 (Governance)
Context: Recently, a Lok Sabha Member of Parliament (MP) reached the Parliament in a wheelchair and flagged the issue of poorly equipped support infrastructure available to people with disabilities in India.
About Persons with Disabilities(PwDs):

PwD means a person with long term physical, mental, intellectual or sensory impairment which, in interaction with barriers, hinders his full and effective participation in society equally with others.
The rights of persons with disabilities Act, 2016 recognizes 21 types of disabilities including low vision, Leprosy cured persons, etc.
One billion people, or 15% of the world's population, experience some form of disability, and disability prevalence is higher in developing countries.
Current statistics in India
According to the Census 2011 about 2.68 Cr persons (2.21% of the total population) are 'disabled' of which 56% are males and 44% are females.
Majority (69%) of the disabled population resided in rural areas.
Only around 55% (1.46 Cr.) are literates.
Only 36% of the total PWDs are workers.
More than 50% of the children with multiple disabilities or with mental illness never attended educational institutions
Constitutional provisions with regard to PwDs:
Article 41 of the constitution states that the State shall make effective provisions for securing right to work, to education and to public assistance in cases of unemployment, old age, sickness and disablement, within the limits of its economic capacity and development.
The subject of 'relief of the disabled and unemployable is specified in the state list of the Seventh Schedule of the constitution.
Legal Provisions:
Rehabilitation Council of India Act, 1992 provided monitoring the training of rehabilitation professionals and personnel, promoting research in rehabilitation and special education.
National Trust for the Welfare of Persons with Autism, Cerebral Palsy, Mental Retardation and Multiple Disabilities Act,1999.
Rights of Persons with Disabilities Act, 2016
Reservation for the PwDs in government jobs increased from 3% to 4%.
Right to free education for every child (6 to 18 years of age) with benchmark disability.
Provision of 5% reservation in seats in Government and Government aided higher educational institution.
Issues and Challenges Involved:
Social and attitudinal issues: Stereotyping like many people consider PWDs unhealthy because of their impairments.

Thus, PwDs have to face stigma, prejudice, and discrimination at multiple levels.

Lack of enforcement and Implementation: Despite many legal provisions, schemes and initiatives to improve the condition of PwDs the implementation has been a major issue.

Most buildings in India are not disability-friendly, despite the government of India, under the Accessible India Campaign, instructing all ministries to make their buildings accessible to persons with disabilities.
Similarly, the quota of reservation for PwDs in government jobs and higher education institutions under Rights of Persons with Disabilities Act has not been implemented and the majority of these posts are vacant.

Accessibility challenges: Design and construction of indoor and outdoor facilities can prevent them from going to school and hospitals, shopping, etc.

As per estimates, only 5-15% of people who require assistive devices and technologies have access to them.

Communication challenges: Experienced by people who have disabilities that affect hearing, speaking, reading, writing, and/or understanding.
Cycle of Poverty and disability: Poor health and nutrition can lead to various types of disability.

Equally, the onset of disability can have an adverse effect on education, employment, etc. resulting in higher rates of poverty.
Government Initiatives to augment disabled friendly infrastructure
The National Education Policy (NEP), 2020: The NEP has provision of "Barrier-free access to education for all children with disability" and emphasis on

Imparting knowledge and to train faculties on teaching children with specific disabilities.
To provide barrier-free education to children with disability as per the RPWD Act 2016.

Sugamya Bharat Abhiyan: A nationwide major campaign to achieve universal access that will enable persons with disabilities to have access to equal opportunity and live independently and participate fully in all aspects of life in an inclusive society.
Deendayal Disabled Rehabilitation Scheme: Under this scheme, NGOs are provided with financial assistance to provide various services to persons with disabilities, such as special schools, vocational training centers, and community-based rehabilitation.
Assistance to Disabled Persons for Purchase / fitting of Aids and Appliances (ADIP): The Scheme aims at helping the disabled persons by bringing suitable, durable, scientifically-manufactured, modern, standard aids and appliances within their reach.
Accessible India Campaign (AIC): A case of failed enforcement
In December 2015, the Government of India launched the Accessible India Campaign (AIC) to make the built environment, ICT ecosystem and transport facilities more disabled-friendly.
There is an implementation gap in the AIC which has led to the failed purpose of the campaign.
For Example:
Section 45 of the Rights of Persons with Disabilities Act, 2016 [RpwDA] mandates to make all public buildings (government buildings plus buildings run by the private sector used for public) accessible to persons with disabilities within 5 years of implementation of such rules.
These rules called the Harmonised Guidelines and Space Standards for Barrier Free Built Environment for Persons with Disabilities and Elderly Persons, issued by the Ministry of Housing and Urban Affairs, were notified in June 2017.
The five-year time period expired in June 2022.
However, it is widely reported that this deadline has been breached and most of the buildings remain inaccessible to disabled.
Way Forward:
Make every new building accessible before it is granted an Occupancy Certificate (under RpwDA).
The relevant provisions of the Harmonised Guidelines and Standards for Universal Accessibility in India, 2021 can be integrated into local bye-laws and state planning laws.
The local Municipal authorities have local knowledge and can enforce these provisions with ease.
Setting up of accessibility committee by the parliament to tasked with delivering recommendations in a time-bound fashion on making every aspect of the Parliamentary process more disabled-friendly.
Central and state level procurement laws and policies must incorporate accessibility criteria in public procurement of physical, digital and transport infrastructure.
The Department of Empowerment for Persons with Disabilities (Department) has released the Sugamya Bharat app to enable persons with disabilities to report any building that is inaccessible.
There are many deficiencies in the app that should be rectified so as to enable a well-meaning intervention to realize its full potential.
Source:Indian Express
---
Baba's Explainer – Minimum Tax on Big Businesses
Minimum Tax on Big Businesses
Syllabus
GS-2: International Institutions
GS – 3: Economy, Globalisation and Challenges
Context: Members of the European Union agreed in principle to implement a minimum tax of 15% on big businesses.
Last year, 136 countries had agreed on a plan to redistribute tax rights across jurisdictions and enforce a minimum tax rate of 15% on large multinational corporations.
---
Practice MCQs
Daily Practice MCQs
Q.1) Consider the following:
Cost of production
Changes in input prices
Input-output price parity
Trends in market prices
Which of the above are considered while recommending Minimum Support Price by the Commission for Agricultural Costs & Prices (CACP)?
1 and 3 only
2 and 4 only
1 2 and 4 only
All of the above
Q.2) Consider the following statements regarding International Union for the Protection of New Varieties of Plants (IUPNVP):
It is an intergovernmental organization with headquarters in Geneva (Switzerland).
India is a member country.
The Convention was adopted in Paris in 1961 and it was revised in 1972, 1978 and 1991.
Which of the statements given above are correct?
1 and 2 only
1 and 3 only
2 and 3 only
1 2 and 3
Q.3) Consider the following statements regarding Council on Energy, Environment and Water (CEEW):
CEEW) is one of Asia's leading not-for-profit policy research institutions.
The Council uses data, integrated analysis, and strategic outreach to explain and change – the use, reuse, and misuse of resources.
Which of the statements given above is/are correct?
1 only
2 only
Both 1 and 2
Neither 1 nor 2
Comment the answers to the above questions in the comment section below!!
ANSWERS FOR ' 24th December 2022 – Daily Practice MCQs' will be updated along with tomorrow's Daily Current Affairs.st
---
ANSWERS FOR 23rd December

 

– Daily Practice MCQs
Answers- Daily Practice MCQs
Q.1) – c
Q.2) – a
Q.3) – a
For a dedicated peer group, Motivation & Quick updates, Join our official telegram channel – https://t.me/IASbabaOfficialAccount
Subscribe to our YouTube Channel HERE to watch Explainer Videos, Strategy Sessions, Toppers Talks & many more…