---
(PRELIMS & MAINS Focus)
---
iNCOVACC
Syllabus
Prelims – Science and Technology
Context: Ramping up its anti-Covid measures amid a surge in cases in other countries, mainly China, the Government has added Bharat Biotech's intranasal vaccine Incovacc to its vaccination programme as a mix-and-match, or heterologous, booster dose.
About Incovacc: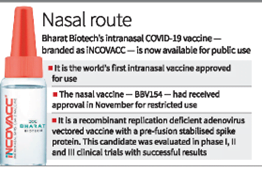 Incovacc is the world's first intranasal vaccine to be approved as a booster dose.
iNCOVACC, co-developed by Bharat Biotech and the U.S.-based Washington University, was approved in November for 'restricted emergency use' for those aged 18 or older.
The nasal vaccine is approved both as a primary dose and a heterologous booster.
Unlike Covaxin, which is an inactivated coronavirus injected along with an adjuvant, iNCOVACC is an adenovirus-vectored vaccine with a "prefusion stabilised spike protein", which is more like the technology employed in the Covishield vaccines.
Advantages: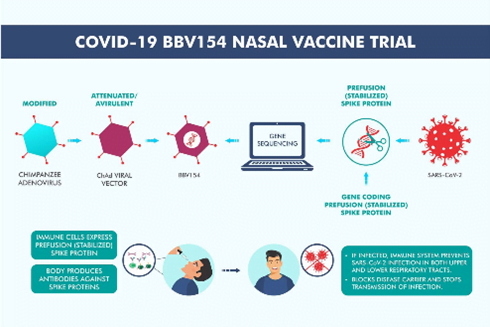 It promises to become an important tool in mass vaccinations during pandemics and endemics.
It is easy to administer as it is non-invasive and does not require trained health care workers.
It also eliminates needle-associated risks such as injuries and infections, has higher compliance and is scalable as far as manufacturing is concerned.
The sprays don't need to be refrigerated.
Source: Indian Express
Previous Year Questions
Q.1) In the context of vaccines manufactured to prevent COVID-19 pandemic, consider the following statements:
The Serum Institute of India produced COVID-19 vaccine named Covishield using mRNA platform.
Sputnik V vaccine is manufactured using vector based platform.
COVAXIN is an inactivated pathogen based vaccine.
Which of the statements given above are correct? (2022)
1 and 2 only
2 and 3 only
1 and 3 only
1, 2 and 3
Q.2) Consider the following statements in respect of probiotics :
Probiotics are made of both bacteria and yeast.
The organisms in probiotics are found in foods we ingest but they do not naturally occur in our gut.
Probiotics help in the digestion of milk sugars.
Which of the statements given above is/are correct? (2022)
1 only
2 only
1 and 3
2 and 3
---
Raktsey Karpo Apricot, Tandur Red Gram and Alibag White Onion – newly added GI Tags
Syllabus
Context: Adding to the present collection of GIs, 03 new items from various states of India such as Tandur Redgram of Telangana, Raktsey Karpo Apricot of Ladakh, Alibag White Onion of Maharashtra have been given the coveted GI Tags.
About Raktsey Karpo Apricot:
Raktsey Karpo, from family of apricot, packed with vitamins and low on calories is rich in sorbitol – a natural glucose substitute that can be consumed by diabetics.
The oil from its seed is known to relieve back aches and joint pain.
These apricots are grown organically as individual on trees or in clusters without using any chemical fertilisers.
In Ladakh, it is locally known as 'Chuli'.
The native apricot genotypes of Ladakh possess unique characteristics, such as high TSS (Total dissolved solids) content, late and extended flowering and fruit maturity, and white seed stone phenotype.
It is classified into two broad categories based on kernel taste and stone color.

Khante: Fruits with bitter kernels.
Nyarmo: Fruits with sweet kernels.

They are further divided into two sub-groups based on seed stone color.
Raktsey Karpo (Rakstey means seed, karpo means white): Fruit with white seed stone is called.
Raktsey Nakpo or Nyarmo (black seeded): Fruit with brown seed stone.
It is being promoted under One District One Product for Kargil (Ladakh).
In India, it is grown in Jammu and Kashmir, Himachal Pradesh, Uttarakhand and to a limited extent in North Eastern Hills.
Tree can tolerate winter temperatures as cold as −30 °C or lower if in healthy sate.
About Tandur Red Gram of Telangana: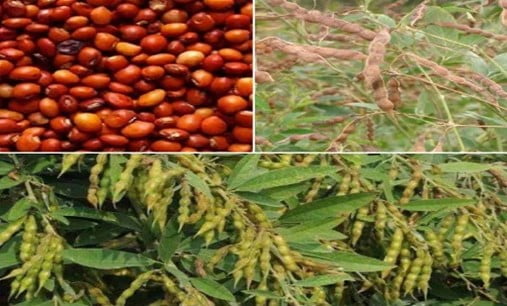 It is a local variety of pigeon pea which is mainly grown in the rainfed areas of the Tandur and nearby places in the state.
As per the researchers, the fertile deep black soil with clay minerals specifically in Tandur Region along with huge limestone deposits can be attributed to the specific quality traits of Tandur Redgram.
It contains about 24 percent protein, which is almost three times that of cereals, and is popularly known for its very good taste, and better cooking quality.
About Alibag White Onion of Maharashtra: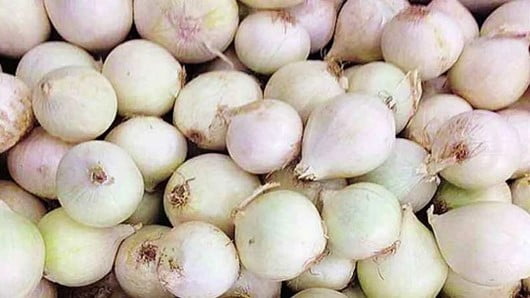 It is known for its unique sweet taste, no-tear factor, and medicinal properties.
The soil of Alibaug taluka has low sulphur content and its geo-climatic conditions make it unique compared to other white onion-producing areas.
White onions are an excellent source of antioxidants that contain more than 25 different types of flavonoids which lowers the risk of developing chronic diseases like diabetes, cancer, and heart disease.
Source: NewsOnAir
---
Pradhan Mantri Formalisation of Micro Food Processing Enterprises (PMFME) Scheme
Syllabus
Context: Minister of State for Food Processing Industries have informed that the total amount of Centre's Share of credit-linked subsidy provided under the PMFME Scheme is Rs.110.86 crore.
About the PMFME scheme:
Pradhan Mantri Formalisation of Micro food Processing Enterprises (PMFME) Scheme was launched under the 'Aatmanirbhar Bharat Abhiyan' and 'Vocal for Local' campaigns, to provide technical, financial and business support to micro food processing units in the country.
The government intends to provide direct financial and technical assistance to about 200,000 micro food processing units under this scheme.
Objectives of the scheme:
Credit access to existing micro food processing businesses, Farmer Producer Organisations (FPOs), co-operatives, and Self-Help Groups (SHGs), for technology upgradation
Assistance to 200,000 existing micro food processing units to transform them into organised units, by strengthening their marketing & branding, and integrating the supply chain with formal units
Increased access to shared services, such as storage, incubation facilities, and packaging.
Professional and technical support for food processing entrepreneurs.
Proper training and research to individual or group owned food processing enterprises.
The PMFME Scheme has adopted the One District One Product approach.

Under this approach, the state identifies and selects a food product for the district, that could be a perishable agricultural crop, such as cereals, or a food product that is largely produced in the district.
Source: PIB
---
Antarctica's emperor penguins
Syllabus
Context: Greater conservation efforts are needed to protect Antarctic ecosystems, and the populations of up to 97 per cent of land-based Antarctic species could decline by 2100 including emperor penguins if we don't change tack, a new research has found.
About Emperor Penguin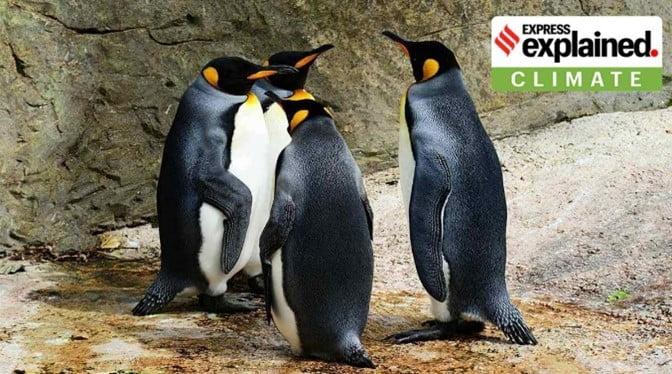 The emperor penguin is the tallest and heaviest of all living penguin species and is endemic to Antarctica.
Like all penguins, it is flightless.
Its diet consists primarily of fish, but also includes crustaceans.
While hunting, the species can remain submerged around 20 minutes.
It is the only penguin species that breeds during the Antarctic winter.
The lifespan is typically 20 years in the wild, although observations suggest that some individuals may live to 50 years of age.
IUCN status: Near threatened
Source:Indian Express
Previous Year Question
Q.1) Certain species of which one of the following organisms are well known as cultivators of fungi? (2022)
Ant
Cockroach
Crab
Spider
---
GaN Nanostructures
Syllabus
Prelims – Science and Technology
In News Researchers in Bengaluru's Jawaharlal Nehru Centre for Advanced Scientific Research (JNCASR), an autonomous institute under DST, have shown for the first time infrared light emission and absorption with GaN nanostructures.
GaN nanostructures:
It is a widely used material for blue light emission like Blue LEDs
It is one of the most advanced semiconductors.
It is already used in visible and ultraviolet light with LEDs and laser diodes
Now, for the first time a new method to confine and absorb infrared (IR) light with GaN nanostructures has been developed.
Technology used: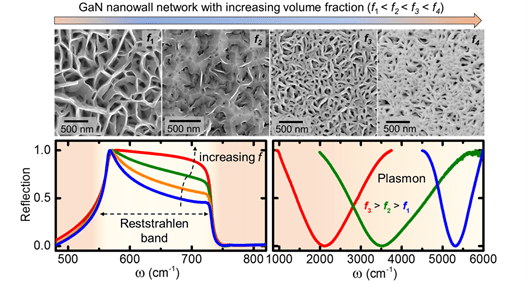 A scientific phenomenon called surface polariton excitations in GaN nanostructures leads to light-matter interactions at IR spectral range.
Surface polaritons are special modes of electromagnetic waves traveling at the interface of a conductor and an insulator such as air.
By altering the morphology and shape of the nanostructures, they are also able to excite plasmon polaritons in GaN, which results in extending the light-matter coupling to further reaches of the electromagnetic spectrum.
Surface polaritons are quasi-particles which have both light and matter characteristics.
To grow these GaN nanostructures, the researchers utilized a specialized material deposition instrument called molecular beam epitaxy.
This instrument uses ultra-high vacuum, like the conditions of outer space.
This instrument grows high-quality material nanostructures with dimensions about 100000 times smaller than the width of a human hair.
Applications:
It can help develop highly efficient infrared absorbers, emitters, and modulators that are useful in defense technologies, energy technologies, imaging, sensing, and so on.
Polaritonic technologies have attracted a wide range of applications, such as secure high-speed light-based communication (LiFi), next-generation light sources, solar energy converters, quantum computers, and waste-heat converters.
In the last 25 years, blue LED with GaN has changed our world significantly.
The infrared surface polariton excitations can be translated to many other semiconductors as well.
Source: PIB
Previous Year Questions
Q.1) With reference to carbon nanotubes, consider the following statements: (2020)
They can be used as carriers of drugs and antigens in the human body.
They can be made into artificial blood capillaries for an injured part of human body.
They can be used in biochemical sensors.
Carbon nanotubes are biodegradable.
Which of the statements given above are correct?
1 and 2 only
2, 3 and 4 only
1,3 and 4 only
1,2,3 and 4
---
Species Hybridization
Syllabus
In News: In 2022, we have the first observational evidence of mixed-species association between the two threatened primate species Phayre's langur (Trachypithecus pileatus) and capped langur (Trachypithecus phayrei), in fragmented forest patches of northeast Bangladesh.
Earlier conjecture:
Scientists initially thought that interbreeding among the two groups was more isolated to a particular place and time — specifically, when they encountered each other in western Eurasia shortly after modern humans left Africa.
This idea stemmed from the fact that the genomes of modern humans from outside Africa are only about 2 per cent Neanderthal, on average.
New findings:
Multiple interbreeding happened between Neanderthals and the ancestors of modern humans across Europe and Asia than scientists and dilutive effects might have occurred.
This is because Neanderthal ancestry is 12 to 20 per cent higher in modern East Asians compared to modern Europeans.
This could be due to following reasons:
One is that East Asians happen to have interbred more with Neanderthals.
Of the multiple ancestral populations of Europeans, one had very little Neanderthal ancestry, diluting the overall Neanderthal contribution.
Denisovans contributed to the modern human gene pool at least twice, leaving behind two distinct genetic components — one mostly in Papuan and Australian aboriginal populations, the other primarily in East Asian populations.
Probable reasons why Neanderthal DNA was purged from modern human genomes:
Neanderthal DNA was of less benefit to modern humans as their environments changed over time
harmful mutations were more common in Neanderthals due to inbreeding.
Hybridization:
Mixed-species association can result in the production of hybrid offspring in the wild.
Hybridisation – means a breakdown of species isolation mechanisms
Traditional belief about hybridisation – is essentially unnatural, and hence unwelcome.
Today, with rapid strides in science, it may be worthwhile to reconsider the biological importance of hybridisation, a naturally occurring and ubiquitous process, unsullied by value-laden human prejudices.
Methodology:
Scientists developed computer simulations that modelled how DNA would get shared during a range of numbers of encounters between modern humans and Neanderthals. Then, they looked into which models best fit modern human genetic databases
Source: DTE
---
J&K Land Grants Rules
Syllabus
Prelims – Polity and Governance
In News: The J&K Lieutenant Governor's administration notified fresh land rules under J&K Land Grant Rules-2022 and replaced the J&K Land Grants Rules-1960, which dealt with the special rules to grant government land on lease in erstwhile State of J&K.
Previous rules:
Prime locations such as Srinagar, Jammu, Gulmarg and Pahalgam were opened up for construction of hotels, commercial structures and residential buildings in the past.
These land laws were considered as the backbone of J&K's upper middle class and allowed a new chain of hotels and commercial structures to come up in prime locations.
Need for amendment:
Because the previous land laws were "regressive".
The present land holders just paid ₹5 to enjoy profit from  ₹100 crore property.
New rules:
Leases of current land owners will not be extended in case of expiry.
Expired leases shall not be renewed and shall stand determined.
lease period has been reduced to 40 years (earlier 99 yrs.)
Outgoing lease holders to evict properties or else face evictions.
An expert committee will enlist all properties where lease had ended.
It will be e-auctioned afresh.
The rules open bidding to "any person legally competent under Section 11 of the Indian Contract Act, 1872."
These rules deem a person or an entity in default of Government Revenue accrued to the government under J&K Land Grant Act, 1960 or Government convicted under Prevention of Money Laundering Act, 2002 shall not be eligible for participation in the auction.
According to now-repealed land laws, no such land shall be granted on lease to the person, who is not a permanent residence of the State; except where the Government, for the reasons to be recorded, relax this restriction in the interest of industrial or commercial development or in the favour of a registered charitable society.
Uses of leased lands:
Education, healthcare, agriculture, tourism, skill development and development of traditional art, craft, culture and languages.
For hydro-electric projects, stadiums, playgrounds, gymnasiums or other recreational purposes.
For self-employment or for housing purposes of ex-servicemen, war widows and the families of martyrs, one who has sacrificed his life in the line of duty.
For facilities of migrant workers, buildings and other construction workers.
Impact of new rules:
Hundreds of properties will open for fresh auction, where outsiders could also participate.
Tourist hotspots Gulmarg, Pahalgam, Srinagar and Jammu's Patnitop will go up for auction.
Concerns and oppositions:
Opposition contends that the first right to these lease properties "belongs to those who were already settled here".
Bringing rich outsiders to buy prime property in J&K may be at the cost of local businesses and their interests
No local could participate in the e-auction given the conditions business houses were in due to the uncertain situation of the past 30 years.
Only millionaires from outside will buy these properties and the locals, who hold these properties currently, will be forced to sell their personal properties, including houses, to repay loans raised on these properties.
Kashmir's two key traders' bodies, the Jammu Kashmir Hoteliers Club (JKHC) and the Chamber Of Commerce Industry Kashmir (CCIK), said J&K's economy would come to a grinding halt and urged the L-G to reconsider the decision.
All the stakeholders are sons of soil and the matter should be looked into through the prism of humanity and personally.
Source: The Hindu
Previous Year Questions
Q.1) With reference to land reforms in independent India, which one of the following statements is correct? (2019)
The ceiling laws were aimed at family holdings and not individual holdings.
The major aim of land reforms was providing agricultural land to all the landless.
It resulted in cultivation of cash crops as a predominant form of cultivation.
Land reforms permitted no exemptions to the ceiling limits.
---
New technology can create jobs reduce unemployment
Syllabus
Mains – GS 2 (Governance)
Context: India is implementing big way of emerging technologies such as 5G, artificial intelligence, autonomous systems, blockchain, cloud and quantum computing, digital mechanisms etc. to improve the living conditions of its people.
However, several international agencies highlight reduction in job opportunities due to innovative technologies that can replace human labor.
Employment Situation in India:
Data from the Centre for Monitoring Indian Economy (CMIE) show that 19 lakh people had lost their jobs in August 2021 alone; of this, 10 lakhs were from the industrial sector.

In July, eight lakh people in this sector lost their jobs.

The World Bank has calculated that the industrial sector, which contributed 18 per cent to India's GDP in 1995, is now contributing only 13 per cent.

In other countries, such as China moved the largest number of workers from farms to factories and became a manufacturing hub in the world.

In India, CMIE statistics reveal that employment in agriculture, which accounted for 35 per cent of total employment in 2017-18, increased to 39.5 per cent in 2020-21.
Due to Covid, many industrial units have closed down and pressure on agriculture has increased. As a result, incomes in villages are falling and the purchasing power is weakening.
Positive Impact of new technologies:
Agriculture Sector:
Using Artificial Intelligence (AI) and Internet of Things (IoT), farmers can improve their yield and reduce asymmetries.
It will result in increasing their income.
Financial Sector:
Application of new tech will formalize the economy so it will be easier for government to track financial activity till the last mile.
This record will help to finance existing unorganised manufacturing and traditional sector at nominal rate.
It will help to reduce their cost of production and deliver their products at a competitive rate.
It will enhance their income, the multiplier effect of which will lead to more employment opportunities.
Telecom Sector:
It has wide range of new opportunities for new tech including its 5G services across the country.
It will generate significant employment for the youth as per the projection of Telecom Sector Skill Council.
Manufacturing Sector:
Using advance robotics auto manufacturing can be done easily.
Although still it will require professional, skilled and semi-skilled labour in India.
Travel and Tourism Sector:
It can be enhanced using blockchain technology coupled with innovative digital strategies and apps.
It can create positive disruption for allied sectors such as medical and virgin tourist destinations.
Other sectors:
Cloud computing in Information and Communication Technology (ICT) offers flexibility for greater collaboration with work teams, better control of documents, work from anywhere environment leading to increase in productivity, and innovation offering positive externalities and employment across the sector.
Legal sector is witnessing application of disruptive technologies giving employment opportunities for ICT and data analytics professionals.
Micro-technologies, especially in digital banking, connectivity and transport services may improve labour productivity.
Challenges associated with new technologies:
Agriculture Sector: Most of the labour force in India is in agriculture traditionally and new tech will disrupt their wages.
Construction Sector: It may not witness adoption of advanced technologies as it may not be able to compete with the cheap labour available
Unemployment in transition phase: During the shift from traditional to new tech jobs in between many people will lose their employment due to not having proper guidance.
Unskilled Workforce: To acquire employment in new tech requires specific skilled person.

In India mostly people are working in unorganised sector are unskilled or not familiar with the technology.
Startup ecosystem in India:
It is world's third largest startup ecosystem.
It has more than 60,000 startups across 642 districts.
It has generated 65 unicorns across various industries.
Unicorn: A startup company with value over 1 billion USD.
These startups are specialized in emerging technologies such as in fintech, e-commerce, supply chain logistics, internet and software services and ed-tech.
It provides scope for entrepreneurial ventures and self-employment.
Indirectly it will result in to employment generation in the country.
It may witness substantive shift from wage employment to self-employment adding to the formal sector.
Suggestive measures:
There is need for government to carry out upskilling programs for skill development.
Proper management of work force transition is required.
It is required that currently employed go under training or re-training to get comfortable with new technologies.
It is also required to develop skills such as empathy, imagination or creativity, which will underpin jobs in more social sectors.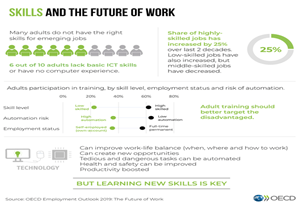 Way Forward:
According to various study reports, the educated unemployment in India is mainly due to factors which include, among other things, information asymmetries, lack of guidance for suitable jobs, etc., which indeed may get resolved through online tools and platforms as also flexible working environment.
India has comprehensively reviewed its regulatory, policy, and legal framework, enabling it to be one of the best 'ease of doing business' destinations. This, along with its cheap and educated manpower, may be favourable for building micro supply chains within India paving the way for the country to become a global manufacturing hub.
Thus, the new technological developments will bring challenges, but they also present an opportunity for us to upskill our workforce in order to emerge as a foreign investment destination and grow Indian startups for economic growth.
Source:   The Hindu
---
Performance of Welfare schemes
Syllabus
Context:
Union Minister for Agriculture and Farmers Welfare, Shri Narendra Singh Tomar has said that the ambitious scheme of the One Nation-One Ration Card across the country has brought a lot of relief to the poor.
Various other schemes such as One Nation-One Ration Card, distribution of fortified rice, targeted public distribution and other schemes of the Center are being extended to all the beneficiaries
India has also improved its Ease of doing business ranking among 190 countries in the EODB Report 2020, from 134th position in 2013 to 63rd, i.e. a jump of 71 ranks.
Pradhan Mantri Garib Kalyan Ann Yojana (PMGKAY):
Launched in March 2020 to ameliorate the hardships faced by the poor due to economic disruption caused by the COVID-19 Pandemic and to minimize its impact on food security
Distribution of additional free-of-cost foodgrains (Rice/Wheat) to about 80 Crore National Food Security Act (NFSA), Antyodaya Anna Yojana (AAY) & Priority Households (PHH) beneficiaries at the scale of 5 Kg per person per month
The 7th Phase (October-December, 2022) is ongoing
Achievements:
the Central Government has provided free food grains to the poor, worth Rs 3.90 lakh crore, the government has made a record purchase of Rs 2.75 lakh crore on MSP in 2021-22
1118 LMT foodgrains have been allocated to States/UTs so far, with an expenditure of over Rs.3.90 lakh crore.
One Nation-One Ration Card scheme:
Launched in aug 2019, aimed at portability of ration cards, piloting in 4 states.
Achievements:
Till now the scheme has been rolled out in all 36 States/UTs, which includes about 80 crore NFSA beneficiaries i.e. about 100 percent of the country's NFSA population.
More than 93 crore portability transactions have been registered under the scheme, in which more than 177 LMT food grains have been distributed.
During the year 2022, 39 crore portability transactions were done in 11 months, in which more than 80 LMT food grains have been distributed including inter-state and intra-state portability transactions of NFSA and PMGKAY.
Fortified rice scheme:
To increase the nutritional value of rice and its scop, fortified rice to be provided under all government schemes covering ICDS, PM Poshan and Targeted Public Distribution System (TPDS)
The implementation of the second phase started from April 2022 and the third phase will start from the year 2023-24
Achievements:
Under ICDS and PM Poshan, 17.51 lakh metric tonnes of fortified rice has been distributed and States have taken 16.79 LMT rice.
Achievements of NFSA and TPDS:
100 percent NFSA ration card/beneficiary data has been digitized in all States/UTs.
Details of 19.5 crore ration cards covering about 80 crore beneficiaries are available on the transparency portal of the States/UTs.
More than 99.5 per cent ration cards are linked with Aadhaar (at least one member of the household).
99.8% (5.33 lakh out of 5.34 lakh) Fair Price Shops are being automated with the use of electronic point-of-sale devices for transparent, assuring distribution of subsidized food grains to the beneficiaries.
Achievements of MSP:
Total procurement of food grains (including wheat, paddy and pulses) was 759.44 lakh tonnes in the year 2014-15, which has increased to 1345.45 lakh tonnes in 2021-22.
Paddy procurement in Kharif has increased to 759 LMT in 2021-22 (an increase of 60%).
There has been an increase of 132 percent in the procurement price in eight years (now the total value is about Rs 1.5 lakh crore).
Rabi procurement was 251 LMT in 2013-14, which has increased to 433.44 LMT in 2021-22 (73 percent increase).
In the year 2015-16, 78.3 lakh farmers were benefited from the procurement of food grains, which increased to 194 lakh (number of farmers) in the year 2021-22.
13 lakh tonnes of coarse grains have also been procured in 7 states during the year.
Achievements of sugar industry:
It is an important agro-based industry, involving 5 crore sugarcane farmers.
The annual production is about Rs 1,40,000 crore.
In the sugar season 2021-22, India has exported more than 110 LMT sugar and has become the largest producer and second largest exporter of sugar in the world.
Out of total cane price arrears of Rs 1,18,271 crore for the sugar season 2021-22, Rs 1,14,981 crore has been cleared to the farmers, thus more than 97% cane arrears have been cleared.
Regarding ethanol blending plan in petrol, the government has set a target of 10 per cent blending of fuel grade ethanol with petrol by 2022 and 20 per cent blending by 2025.
The existing capacity of ethanol production in the country (till 31.10.2022) has jumped to 925 crore litres.
Challenges of food programmes:
Identification of beneficiaries – The 80-crore cap on NFSA beneficiaries and state ration card quotas are based on 2011 census data.
Given the projected increase in population since then, about 10 crore eligible people are being excluded from the NFSA's safety net.
In its June 2021 judgement, the Supreme Court directed that the Centre and State should continue providing foodgrains to migrants whether or not they had ration cards.
FCI stock – While the stock position of foodgrains in the FCI godowns was very comfortable in 2020, the situation has altered now.
There might be a crisis if there is no proper planning and management.
As of September 2022, including the estimated rice from unmilled paddy and millets, stocks are just over 60 million tonnes, while the buffer norm for October is about 30 million tonnes.
The usual requirements for NFSA and other requirements are about 60 million tonnes per year, and added to this PMGKAY would require about 12 million tonnes more
There are apprehensions about paddy production
Dietary diversity – While the PDS contributes to providing some cereal security, from the point of view of ensuring nutrition, it is also important to improve people's consumption of other food items such as pulses and edible oil.
Burden on exchequer – As the economy is also reviving and the OMSS [or open market sale scheme] is doing well, extension of scheme can be given a second thought.
Data inconsistency –
A case study by Microsave Consulting, funded by the Bill & Melinda Gates Foundation conducted in 88 districts showed an "average of 94% households have received the free ration on monthly basis"
However, A survey by the Centre of Sustainable Employment at the Azim Premji University, showed only 27% of the eligible households reported receiving the full benefits under PMGKAY
Implementation issues – example in Delhi, distribution has not started in any ration shop.
Way forward:
According to UN-India, there are nearly 195 million undernourished people in India, which is a quarter of the world's hunger burden.
Also, roughly 43% of children in India are chronically undernourished. Further, India ranks 68 out of 113 major countries in terms of food security index 2022.
Hence, there is immense significance in such food programs. However, focus must be to build permanent capacity of the population to ensure food security.
Source: PIB
---
Anti-conversion laws
Syllabus
Mains – GS 2 Polity and Governance
Context:
There was a long standing demand in Uttarakhand for strict action against forced conversions.
Following this, the Uttarakhand government introduced the Uttarakhand Religion Freedom Amendment Bill in the Assembly.
Since 2017, five states, all led by Bharatiya Janata Party governments, have either passed new anti-conversion laws or updated existing ones.
The new versions of the laws put in place stricter punishments and newer grounds for restricting conversions, such as conversion "by marriage" – where a person who adopts another faith to enter into a marriage would be deemed to have been forcibly converted.
Uttarakhand Freedom of Religion (Amendment) Act:
It amends the prevalent Freedom of religion Act of 2018 and imposes a fine of Rs. 50,000 on any person who tries to convert the other through "misrepresentation, force, undue influence, coercion, allurement or by any fraudulent means."
It also makes it a cognisable and non-bailable offence with a minimum prison term of 3 years that can be extended up to 10 years.
As per the new law, the convict will have to even pay Rs. 5 lakhs to the victim.
History of Conversion laws in India:
The Orissa Freedom of Religion Act, 1967 – It is the first such law in the country and prohibits conversion from one religion to the other by "force or inducement or by fraudulent means".
The Arunachal Pradesh Freedom of Religion Act, 1978 (never enforced) – The law says that "no person shall convert or attempt to convert, either directly or otherwise, any person from one religious faith by the use of force or by inducement or by any fraudulent means nor shall any person abet any such conversion".
Those converting and those performing the conversion need to send an intimation within a prescribed period to the DM, or may face a punishment of one year or with fine that go up to thousand rupees or both.
Gujarat Freedom of Religion Act, 2003; Gujarat Freedom of Religion (Amendment) Bill 2006 – The law prescribes punishment of three years for forced conversion, with a fine of up to Rs 50,000.
In cases involving a woman, minor, Scheduled Caste (SC)/ Scheduled Tribe (ST), the fine can go up to one lakh rupees. Prior permission from the DM is required and it is a cognisable offence.
Chhattisgarh Religion Freedom (Amendment) Act, 2006 –It provides a three-year jail term and penalty up to Rs.20,000 or both. The law makes it mandatory for a person who wants to convert to get approval 30 days in advance from the DM. The DM will have the authority to reject or accept the application after examining the case.
Challenges of conversion laws:
Freedom of conscience – The petitioners argued that restrictions on conversion contravened their fundamental rights since Article 25(1) of the Constitution should include the right to convert under the word 'propogation'.
However, the court held that Article 25 does not give the right to convert but only "to transmit or spread one's religion by an exposition of its tenets".
Judicial criticisms – In 1977, a five-judge upheld the constitutionality of India's first two anti-conversion laws: the Orissa Freedom of Religion Act, 1967 and Madhya Pradesh's MP Dharma Swatantrya Adhiniyam, 1968.
But the verdict in this case, Stainislaus vs State of Madhya Pradesh, has been criticised by constitutional experts because the court held that this right does not include voluntary conversions.
Burden of proving that the conversion was 'lawful' lies on the person who 'caused' the conversion. This provision ignores the opinion of those who converted and the focuses only on the "converter.
Substance over form: It is also difficult to ascertain whether a religious conversion is truly conducted solely for the purpose of marriage.
Watering down provisions – In 2021, both the Gujarat and Allahabad High Courts have watered down the provisions relating to inter-faith marriages in the anti-conversion laws of their states.
Pending matters – The constitutional validity of the anti-conversion laws in at least four states – Uttar Pradesh, Uttarakhand, Himachal Pradesh and Madhya Pradesh – has been pending before the Supreme Court since February 2021.
Vagueness in laws: The UP ordinance law is criticised for the ambiguous terms used like "undue influence", "coercion", "allurement or marriage" for specifying the grounds for criminalising conversions.
Human rights – Several petitions have been filed before several High Courts challenging anti-conversion laws.
Suggestions:
Some High Courts have ruled in favour of more checks during conversions and inter-faith marriages.
In December 2020, the Uttarakhand High Court held that the notice to the district magistrate prior to conversion for marriage is compulsory.
Courts have also regulated conversions – In 2017, in the absence of a law on the subject, the Rajasthan High Court laid down guidelines on conversions and inter-faith marriages
The court said that anyone who wishes to convert should provide information to the district authorities before conversion and that a marriage can only be solemnised if adequate notice is given to the authorities.
Adequate groundwork – Anti-conversion laws must be backed by a concrete study on the ground-realty of such forced conversions.
Upholding diversity – It is the duty of the state to enable and facilitate inter-faith/inter-caste marriages – Allahabad HC ruling on Special Marriages Act is a step in the right direction
Way forward:
Justice Swaminathan said the physical violence starts with psychological violence and psychological violence comes from the violence embedded in the propaganda.
Hence, we need to be sensitive in matters of religion and conversion.
Any challenge to conversion laws would require the Supreme Court to relook at its Stainislaus judgment while also taking the right to privacy judgment into account.
Source: The Hindu
---
Practice MCQs
Daily Practice MCQs
Q.1) With reference to GaN nanostructures, consider the following statements:
They have recently been applied to visible light and ultraviolet light emissions.
They are excellent semiconductors but cannot work for infrared light.
Which of the statements given above is/are correct?
1 only
2 only
Both
Neither
Q.2) Consider the following statements: As per the J&K Land Grants Rules:
Properties in the State will open for fresh e-auction, where outsiders could also participate.
The lease period has been increased to 99 years.
Which of the statements given above is/are correct?
1 only
2 only
Both 1 and 2
Neither 1 nor 2
Q.3) Consider the following pairs:
GI Tag                                                          State
Raktsey Karpo Apricot                         Arunachal Pradesh
Tandur Red Gram                                  Tamil Nadu
Alibag White Onion                               Maharashtra
How many pairs given above is/are correctly matched?
One pair only
Two pairs only
All three pairs
None
Comment the answers to the above questions in the comment section below!!
ANSWERS FOR ' 26th December 2022 – Daily Practice MCQs' will be updated along with tomorrow's Daily Current Affairs.st
---
ANSWERS FOR 24th December

 

– Daily Practice MCQs
Answers- Daily Practice MCQs
Q.1) – d
Q.2) – b
Q.3) – c
For a dedicated peer group, Motivation & Quick updates, Join our official telegram channel – https://t.me/IASbabaOfficialAccount
Subscribe to our YouTube Channel HERE to watch Explainer Videos, Strategy Sessions, Toppers Talks & many more…