In News: In a bid to promote the business around basmati rice, the Food Safety and Standards Authority of India (FSSAI) notified standards for basmati rice based on parameters such as average size of grains and their elongation ratio after cooking, to be enforced from August 1, 2023.
It has set the maximum limits for moisture, amylose content, uric acid, damaged grains and presence of non-basmati rice.
About the standards:
The standards are applicable to brown basmati rice, milled basmati rice, parboiled brown basmati rice and milled parboiled basmati rice.
Aim – To establish fair practices in trade of basmati and to protect consumer interest
To ensure the basmati rice sold in the market has the characteristic fragrance identified with this variety and is free from artificial fragrances and colouring.
Basmati Rice: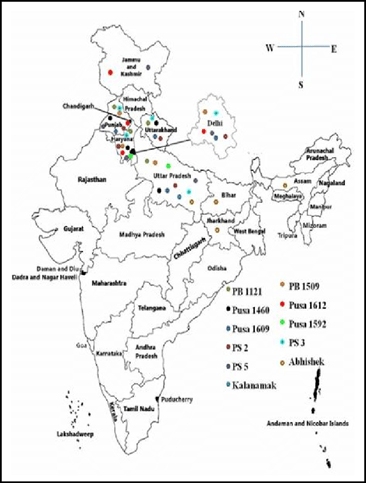 Basmati rice is cultivated in the Himalayan foothills of the Indian subcontinent.
The specific agro-climatic conditions, processing techniques such as harvesting and ageing are said to make this rice unique.
In India, rice grown in specific parts of Punjab, Haryana, Himachal Pradesh, Delhi, Uttarakhand, Uttar Pradesh and Jammu & Kashmir can be labelled as basmati.
Basmati rice is exported out of India and had an annual forex earning of Rs 25,053 crore during 2021-22.
India accounts for two-thirds of the global supply of basmati rice
Basmati rice is just one of the thousands of rice varieties available in India. However, this fragrant rice has invited the most controversy.
In 2020, India's application for a geographical indication tag recognised in the European Union market was put on hold after Pakistan opposed the move.
A patent contested in 2000 by Centre for Scientific and Industrial Research (CSIR), (India's premier science and industry organisation) said the term 'basmati' could be used only for rice grown in India and Pakistan.
In 2001, a final decision ensured that the US company could no longer use basmati in their name.
GI Tag:
A GI tag is primarily given to an agricultural, natural or a manufactured product (handicrafts and industrial goods) originating from a definite geographical territory.
Typically, such a name conveys an assurance of quality and distinctiveness, which is essentially attributable to the place of its origin.
GI tag in India is governed by Geographical Indications of Goods (Registration & Protection) Act, 1999. It is issued by the Geographical Indications Registry (Chennai).
This tag is valid for a period of 10 years following which it can be renewed.
Benefits of GI Tag:
It provides legal protection to Indian Geographical Indications thus preventing unauthorized use of the registered GIs by others.
It promotes economic prosperity of producers of goods produced in a geographical territory.
The GI protection in India leads to recognition of the product in other countries thus boosting exports.
Food Safety and Standards Authority of India (FSSAI):
Aim:
FSSAI has been created for laying down science based standards for articles of food and to regulate their manufacture, storage, distribution, sale and import to ensure availability of safe and wholesome food for human consumption.
About:
It is an autonomous, statutory body established under the Food Safety and Standards Act, 2006 (FSS Act).
The Act aims to establish a single reference point for all matters relating to food safety and standards, by moving from multi- level, multi-departmental control to a single line of command.
Ministry: Ministry of Health & Family Welfare.
It comprises a Chairperson and twenty two members out of which one – third are to be women.
The Chairperson of FSSAI is appointed by the Central Government.
The primary responsibility for enforcement is largely with the State Food Safety Commissioners.
Source DTE
Previous Year Question
Q.1) With reference to pre-packed items in India, it is mandatory to the manufacturer to put which of the following information on the main label, as per the Food Safety and Standards (Packaging and Labelling) Regulation, 2011? (2016)
List of ingredients including additives
Nutrition information
Recommendations, if any, made by the medical profession about the possibility of any allergic reaction
Vegetarian/non-vegetarian
Select the correct answer using the codes given below:
1, 2 and 3 only
2, 3 and 4 only
1, 2 and 4 only
1 and 4 only
For a dedicated peer group, Motivation & Quick updates, Join our official telegram channel – https://t.me/IASbabaOfficialAccount
Subscribe to our YouTube Channel HERE to watch Explainer Videos, Strategy Sessions, Toppers Talks & many more…