IASbaba's Daily Current Affairs – 20th October, 2016
INTERNATIONAL
TOPIC: General Studies 2

India and its neighbourhood- relations.
Bilateral, regional and global groupings and agreements involving India and/or affecting India's interests
Effect of policies and politics of developed and developing countries on India's interests, Indian diaspora.
Important International institutions
Taking forward India-Myanmar relation
Fading relevance of SAARC
In recent months before Uri Attack, India was considering various measures to deal with dismal role of SAARC.
SAARC had been inefficient in its objectives- promoting economic integration, developing transportation and energy corridors and promoting cooperation to deal with terrorism.
The main obstacle of SAARC has been Pakistan which sought to use the platform to undermine India's influence in South Asia, while aggressively seeking to secure China's admission to it.
However, post Uri attack, by securing support of Afghanistan, Bangladesh, Bhutan, Sri Lanka and Maldives in refusing to participate in the forthcoming SAARC summit in Islamabad, India has shown that it means business when it comes to dealing with terrorism.
Looking the other way
India has encouraged in promoting economic and anti-terrorism cooperation with its ASEAN partners as well as with eastern side SAARC partners- Nepal, Bhutan and Bangladesh.
It was observed that very little attention was paid to utilising the BIMSTEC group which is organisation of all the eastern SAARC members across the Bay of Bengal — India, Nepal, Bhutan, Bangladesh, Sri Lanka — with ASEAN members Myanmar and Thailand.
Thus, drawing inspiration from previous BRICS summit hosted by Brazil and Russia, where partner-nations from Latin America and the Shanghai Cooperation Organisation were invited to attend BRICS, India also invited the BIMSTEC partners. The leaders of BIMSTEC met BRICS leaders at the 8th BRICS summit held in Goa.
Hence, Pakistan was prevented from undermining India's diplomacy across its eastern neighbourhood and made BIMSTEC the primary organisation for regional outreach.
A quadrilateral India-Sri Lanka-Maldives-Seychelles corridor across the western Indian Ocean can reinforce the effort of developing outreach in Indian Ocean.
India requires a policy for regional containment of Pakistan by complementing these efforts with an India-Iran-Afghanistan economic partnership.
This will make Pakistan realise that in its efforts to deny India connectivity across its western neighbourhood and damaging India's economic partnerships with its eastern neighbours, only it will be marginalised.
Thus, marginalising Pakistan in South Asian regional forums till it mends its ways should be the salient feature of India's policy to promote regional economic cooperation.
The Myanmar focus
Myanmar plays a salient role across India's eastern shores. In this new strategic setting, India has to pay more attention to its relation with Myanmar. India has to be more cooperative and evoke trust for better bilateral relations.
It is known that Myanmar has sought to take relations forward but there is unhappiness over the insensitivity India showed by undertaking cross-border strikes against NSCN(K) separatists on Myanmar's soil, without prior approval from that government.
It shouldn't be forgotten that for over two decades Myanmar has cooperated with India in counter-terrorism operations on their soil against armed separatist groups from India.
Thus, India needs to reciprocate more appropriately.
India has to develop deeper economic and social ties with Myanmar. Unlike Afghanistan and Sri Lanka where India has considerable progress in infrastructural development, it has a deplorable record in executing development projects in Myanmar.
More active and cooperative bilateral relation
The first official visit of Myanmar State Counsellor Aung San Suu Kyi has been hailed by PM as an opportunity to give a further boost to the full range bilateral relationship.
In the context of India's Act East Policy, it is meaningful to examine this as an intent to infuse a sense of urgency in India's efforts to realise the full potential of this critical bilateral partnership.
However, intent apart, the reality is that bilateral trade between India and Myanmar has been woefully below potential.
Though India categorises the $1.57-billion trade in 2014-15 with Myanmar as a reflection of India being the "fourth largest trade partner" with Myanmar, but a rough comparison with China shows true picture.
The trade between Myanmar and China is $9.5 billion in the first ten months of 2015-16. In addition, China invested $15.418 billion in 115 projects, making it the biggest investor in Myanmar.
While India is still pledging to enhance its engagement in the agriculture, power, renewable energy and power sectors, the Chinese are already financing new ports, highways and dams in Myanmar. Thus, there is good amount of Chinese control even in the financial sector in Myanmar.
There has been repeated emphasis on improving connectivity across India's eastern borders by a trilateral "friendship highway" through Myanmar to Thailand. Sadly, the work has been tardy on this highway.
The rebuilding of roads between Manipur-Mandalay-Thailand could be the centrepiece for tourist traffic but once again, the poor project implementation and many restrictions and procedures made roads hardly utilisable.
One of the unique features of our border with Myanmar has been that tribals living on both sides can travel freely across it.
However, it has been heard that India is planning to fence the international border. This move is opposed from the CMs of the four bordering States: Nagaland, Manipur, Mizoram and Arunachal Pradesh.
Fencing should be limited and not affect the free movement of tribals. Rather it should be undertaken primarily to prevent the rapidly growing and illegal imports of Chinese products from across the India-Myanmar border.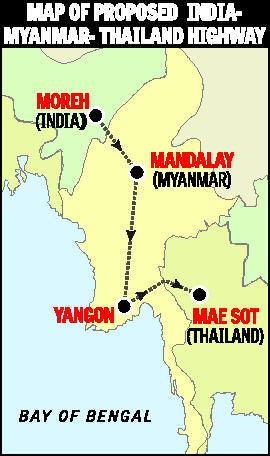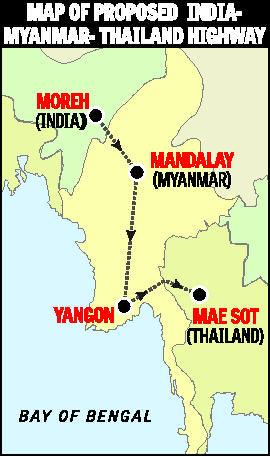 Picture Credit: http://www.thehindu.com/multimedia/dynamic/01471/TH_31_Highway_col__1471900e.jpg
Conclusion and way forward
China is more visible in Myanmar because it came forward to help Myanmar when it was an international outcast under the military junta. So, India clearly has vast ground to cover if it has to prove its relevance to a democratic regime that seems keen to strike a balance of power between its two giant neighbours.
Myanmar is also worried of the excess Chinese influence on its economy as well as demography. This is visible as 50% of Mandalay's population is today Chinese and learning Mandarin has become an essential job requirement for the young population.
Against this backdrop, India's expression of intent to strengthen partnership has to be backed by encouraging Indian businesses to invest in Myanmar, open hospitals and facilitate pharmaceutical exports further, besides improving transportation facilities.
The two sides have signed three agreements to boost cooperation in power, banking and insurance sectors, besides deciding to step up ties in areas of oil and gas, agriculture, renewable energy and health care.
Also close coordination to ensure security in the areas along border, and sensitivity to each other's strategic interests, will help both neighbours.
India has to give utmost importance to enhancing the ties with Myanmar as it is its doorway to larger South East Asian nations as well as moderating Chinese influence in the region.
Connecting the dots:
India has other neighbours to look forward to, to counter Pakistan's negative influence in the region. In the light of this, examine the importance of India-Myanmar relation.
Chinese influence in the South Asian countries has to be moderated and many countries see India as a capable competitor. Do you agree? Explain
INDIAN HERITAGE AND CULTURE
TOPIC:
General Studies 1
Indian culture will cover the salient aspects of Art Forms, Literature and Architecture from ancient to modern times.
Salient features of Indian Society, Diversity of India.
General Studies 2
Important International institutions, agencies and fora- their structure, mandate.
World Heritage and India's World Heritage List
Heritage is our legacy from the past, what we live with today, and what we pass on to future generations. Our cultural and natural heritage are both irreplaceable sources of life and inspiration.
The United Nations Educational, Scientific and Cultural Organization (UNESCO) seeks to encourage the identification, protection and preservation of cultural and natural heritage around the world considered to be of outstanding value to humanity. This is embodied in an international treaty called the Convention concerning the Protection of the World Cultural and Natural Heritage, adopted by UNESCO in 1972.
UNESCO's World Heritage mission is to
Encourage countries to sign the World Heritage Convention and to ensure the protection of their natural and cultural heritage;
Encourage States Parties to the Convention to nominate sites within their national territory for inclusion on the World Heritage List;
Encourage States Parties to establish management plans and set up reporting systems on the state of conservation of their World Heritage sites;
Help States Parties safeguard World Heritage properties by providing technical assistance and professional training;
Provide emergency assistance for World Heritage sites in immediate danger;
Support States Parties' public awareness-building activities for World Heritage conservation;
Encourage participation of the local population in the preservation of their cultural and natural heritage;
Encourage international cooperation in the conservation of our world's cultural and natural heritage.
The Criteria for Selection
To be included on the World Heritage List, sites must be of outstanding universal value and meet at least one out of ten selection criteria.
The World Heritage Committee, the main body in charge of the implementation of the Convention, has developed precise criteria for the inscription of properties on the World Heritage List and for the provision of international assistance under the World Heritage Fund.
Selection criteria
To represent a masterpiece of human creative genius;
To exhibit an important interchange of human values, over a span of time or within a cultural area of the world, on developments in architecture or technology, monumental arts, town-planning or landscape design;
To bear a unique or at least exceptional testimony to a cultural tradition or to a civilization which is living or which has disappeared;
To be an outstanding example of a type of building, architectural or technological ensemble or landscape which illustrates (a) significant stage(s) in human history;
To be an outstanding example of a traditional human settlement, land-use, or sea-use which is representative of a culture (or cultures), or human interaction with the environment especially when it has become vulnerable under the impact of irreversible change;
To be directly or tangibly associated with events or living traditions, with ideas, or with beliefs, with artistic and literary works of outstanding universal significance. (the committee considers that this criterion should preferably be used in conjunction with other criteria);
To contain superlative natural phenomena or areas of exceptional natural beauty and aesthetic importance;
To be outstanding examples representing major stages of earth's history, including the record of life, significant on-going geological processes in the development of landforms, or significant geomorphic or physiographic features;
To be outstanding examples representing significant on-going ecological and biological processes in the evolution and development of terrestrial, fresh water, coastal and marine ecosystems and communities of plants and animals;
To contain the most important and significant natural habitats for in-situ conservation of biological diversity, including those containing threatened species of outstanding universal value from the point of view of science or conservation.
World Heritage Convention of 1972
The World Heritage Convention of 1972, adhered to by 192 countries, aims to protect cultural and natural heritage across the world.
There are presently 1,052 World Heritage sites in 165 countries, of which 814 are cultural sites, 203 natural and 35 mixed; 55 more properties are on the "in danger" list.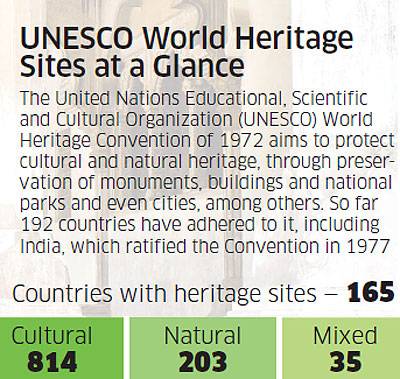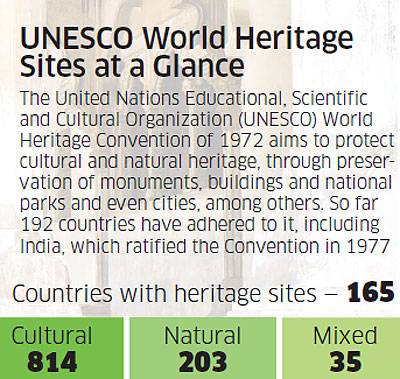 Picture Credit: http://img.etimg.com/photo/54757433/1.jpg
The WHC, however, has received flak for its bias toward Europe and North America, with these two regions being home to nearly half of all World Heritage sites.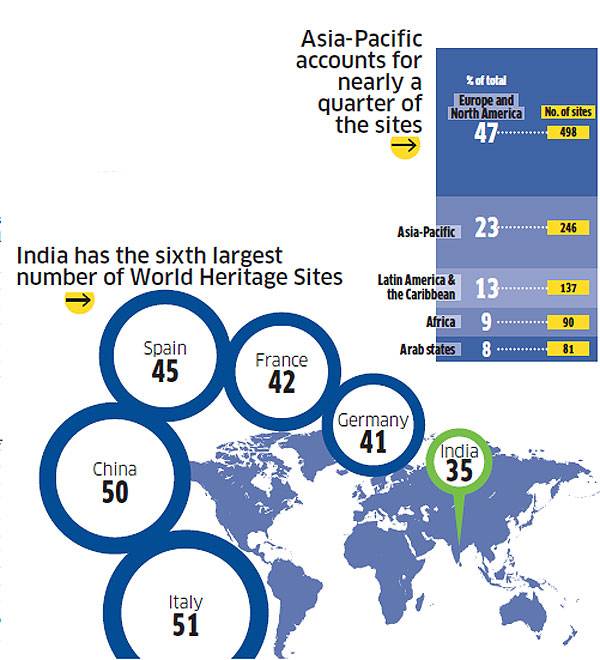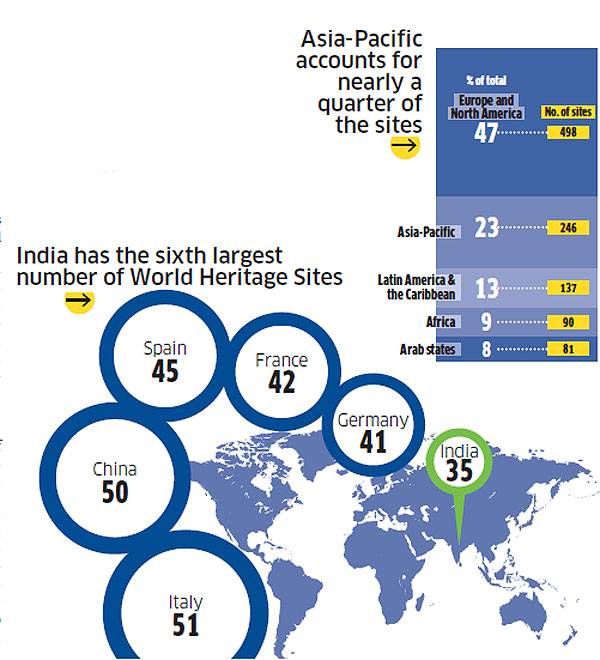 Picture Credit: http://img.etimg.com/photo/54757466/1.jpg
India's World Heritage Sites
India, which ratified the Convention in 1977, has 27 cultural World Heritage sites, seven natural sites and one mixed site. Among the cultural properties are the Taj Mahal, the monuments of Hampi, the churches and convents of Goa, Jaipur's Jantar Mantar and the Mountain Railways of India, which include the Darjeeling, Nilgiri, and Kalka-Shimla railway networks.
Natural sites include the Sundarbans in West Bengal, the Kaziranga and Manas National Parks in Assam, and the Western Ghats. Sikkim's Khangchendzonga National Park, which was included this year, is the sole mixed site. While there are four times as many cultural sites in India as natural, the latter are much larger in area. India has the sixth largest number of World Heritage sites. Italy is on top with 51 sites.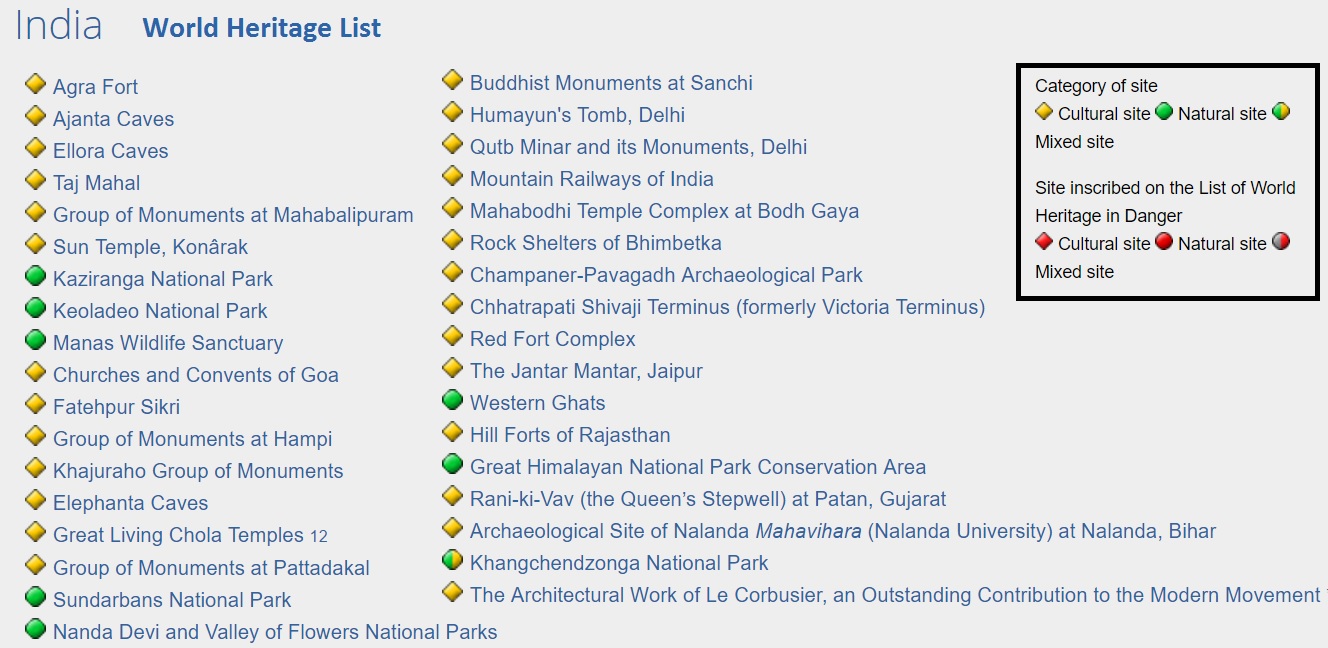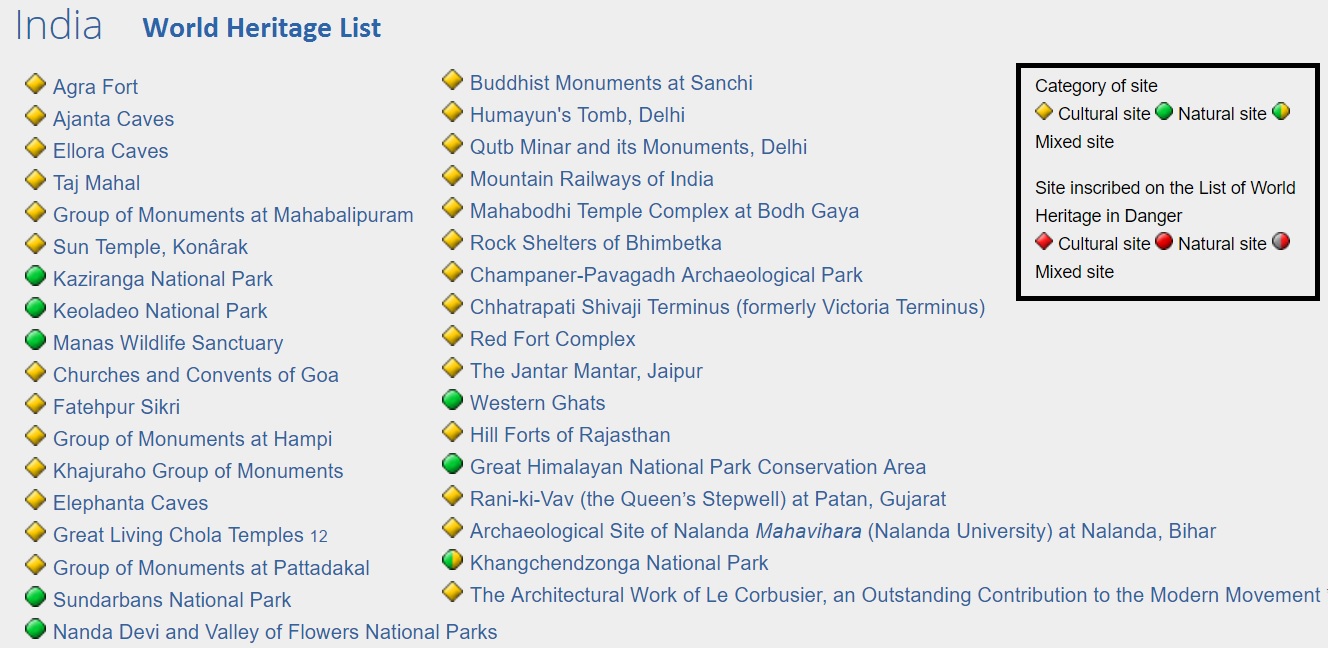 P.S. Tomorrow's DNA will be on "Why monuments would be worse off without the World Heritage status" and related issues.
Connecting the dots:
Does UNESCO inscription play a significant role in tourism destinations performance? Also discuss the UNESCO's role in relation to protecting the world heritage site.
MUST READ
The bonding in Benaulim
Britain's Indian litmus test
Dams close to glacial lakes in Himalayas under flood threat
No relook into allocation of Krishna water: Tribunal
MGNREGA 2.0: Modi to spend a record Rs 60,000 crore
Electing to recall
High on rhetoric, low on tact
Common knowledge and counter-strikes
Towards a global regime on drones
Are grain procurement shocks inflationary?
The climate change conundrum
For a dedicated peer group, Motivation & Quick updates, Join our official telegram channel – https://t.me/IASbabaOfficialAccount
Subscribe to our YouTube Channel HERE to watch Explainer Videos, Strategy Sessions, Toppers Talks & many more…