IASbaba's Daily Current Affairs (Prelims + Mains Focus)- 15th May 2018
---
(PRELIMS+MAINS FOCUS)
---
Cauvery issue
Part of: GS Prelims and Mains II – Inter-state relations and Centre-States relations
In News:
Centre has submitted a draft Cauvery water management scheme in the Supreme Court.

The draft scheme proposes for an implementing authority to solve the issue.

But in a situation where the riparian States of Karnataka, Tamil Nadu, Kerala or the Union Territory (UT) of Puducherry do "not cooperate", the authority would turn to the Centre for help. In that case, the decision of the Centre "in the matter will be final and binding on all parties concerned."

In other words, the Centre will have the final say in inter-State disputes over Cauvery water. The decision of the Centre will be "binding."
Note: We shall cover this topic once the draft scheme is accepted.
---
Place in news: GAZA STRIP
Part of: GS Prelims and Mains II – International Affairs
Key Pointers:
In previous articles, we had covered important strategic place –

Golan heights

Today, we will cover Gaza Strip

UPSC had asked Prelims question on Golan Heights, we can expect a question on Gaza Strip
About Gaza Strip:
The Gaza Strip is a small Palestinian territory, located along the Mediterranean coast between Egypt and Israel. Palestinians are ethnic Arab and majority Muslim. It is deeply impoverished, kept in isolation by the Israeli military and ruled by Hamas, an anti-Israeli terrorist group.

Israelis and Arabs have been fighting over Gaza on and off, for decades. It's part of the wider Arab Israeli conflict. (Link:

https://iasbaba.com/2016/12/iasbabas-daily-current-affairs-29th-december-2016/

)
Below pic says it all –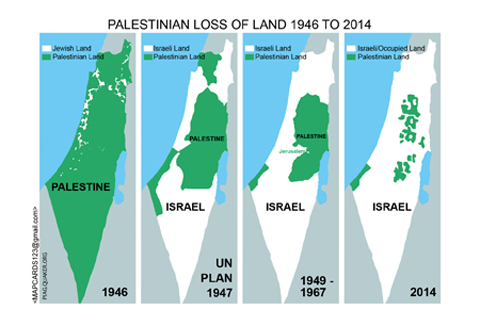 Pic link: https://www.fosna.org/sites/default/files/FrontMap_2014_72.jpg
Important Value Additions:
According to the recently released United Nations report both Israel and Palestinian militants have committed war crimes during last year's (2014) Gaza war, which has led to unprecedented devastation and human suffering.

Israel has denied the allegations. However, Hamas has welcomed the report as this can further their process to International Criminal Court (ICC).
Observe figure and identify the following –
Gaza borders both Israel and Egypt

Gaza touches Mediterranean Sea

Palestine controlled

Dead Sea

West Bank

Golan Heights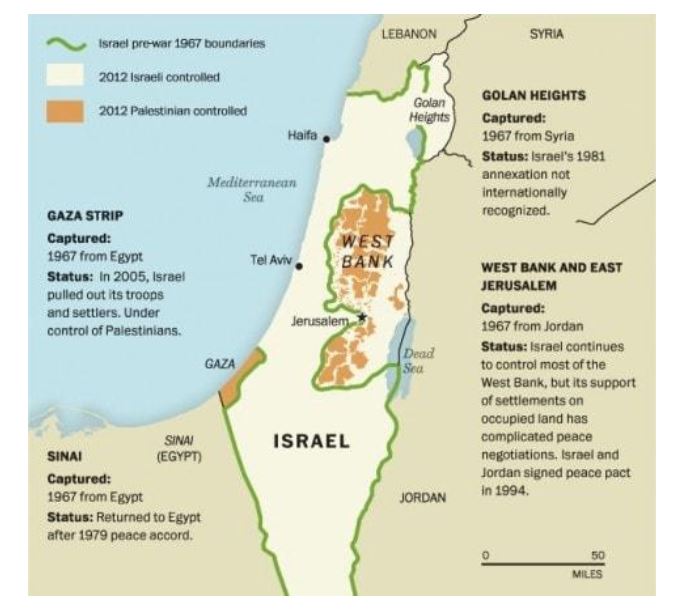 Pic link: https://img.washingtonpost.com/wp-apps/imrs.php?src=https://img.washingtonpost.com/blogs/worldviews/files/2012/11/w-ObamaMideast.jpg&w=480
Do you know?
The Rafah Border Crossing or Rafah Crossing Point is the sole crossing point between Egypt and Gaza Strip. It is located on the Gaza–Egypt border, which was recognized by the 1979 Israel–Egypt Peace Treaty.
---
Gender Bias leading to excess deaths: Lancet Global Health
Part of: GS Mains II – Welfare
Key pointers:
According to Lancet Global Health journal –
There have been 2,39,000 "excess deaths" per year of girls under the age of five in India.

29 out of 35 States and Union Territories in the country contributed to this mortality.

Around 22% of the overall mortality burden of under-five females is therefore due to gender bias

Problem is most pronounced in northern India, where the four largest States in the region, Uttar Pradesh, Bihar, Rajasthan, and Madhya Pradesh, accounted for two thirds of the total excess deaths of females under five.

The worst affected areas were all rural, agricultural areas with lower levels of education, high population densities, low socio-economic development and high levels of fertility.

Many deaths of females under five were partly due to unwanted child bearing and subsequent neglect.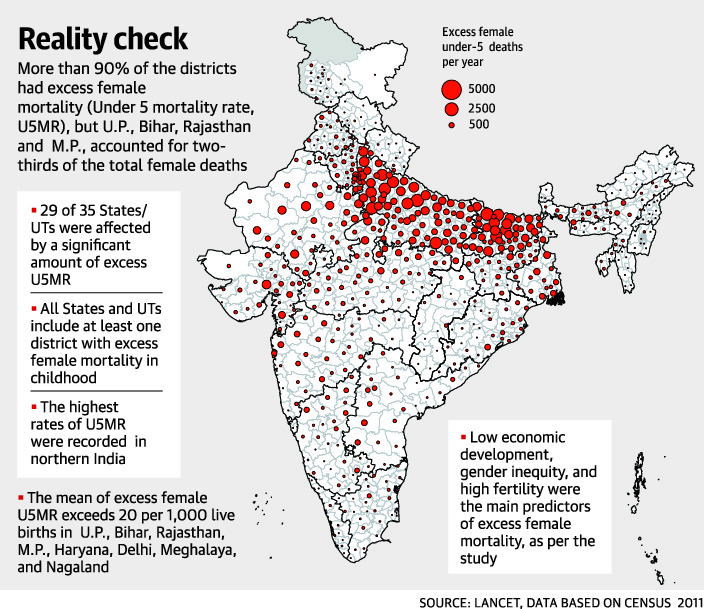 Pic link: https://d39gegkjaqduz9.cloudfront.net/TH/2018/05/15/DEL/Delhi/TH/5_07/6fdc528f_2101786_101_mr.jpg
Article link: Gender bias caused 'excess' deaths of girls under 5: Lancet study
---
More tests required for GM mustard: regulator
In news:
The Centre has demanded more tests for genetically modified mustard, a year after clearing the crop for "commercial cultivation."

GEAC has said that GM Mustard should undergo further tests which include – field demonstration of 5 acres at 2-3 different locations with a view to generate additional data on honey bees and other pollinators and honey, and on soil microbial diversity.
Do you know?
Dhara Mustard Hybrid (DMH -11),

the transgenic mustard in question, had been developed by a team of scientists at Delhi University, led by former Vice-Chancellor Deepak Pental under a government-funded project.
Important Value Additions:
About GEAC:
Genetic Engineering Appraisal Committee is the apex regulator of genetically modified crops.

GEAC is constituted in the Ministry of Environment and Forests and Climate Change (MoEFCC) under 'Rules for Manufacture, Use, Import, Export and Storage of Hazardous Microorganisms/Genetically Engineered Organisms or Cells 1989', under the Environment Protection Act, 1986.

GEAC is responsible for approval of activities involving large scale use of hazardous microorganisms and recombinants in research and industrial production from the environmental angle

The GEAC is also responsible for approval of proposals relating to release of genetically engineered organisms and products into the environment including experimental field trials (Biosafety Research Level trial-I and II known as BRL-I and BRL-II)
Article link: More tests required for GM mustard: regulator – NATIONAL – The Hindu
---
Person in News: E.C.G. Sudarshan
Part of: GS Prelims
In news:
Ennackal Chandy George Sudarshan, popularly known as E.C.G. Sudarshan, who made path-breaking discoveries in the realm of

quantum optics

died aged 86 in Texas.

He was recommended for the Nobel Prize nine times , but never awarded.

Professor Sudarshan made significant contributions to the field of theoretical physics — optical coherence, tachyons, quantum zeno effect, open quantum system, spin-statistics theorem, non-invariance groups, positive maps of density matrices and quantum computation, to name a few.
Contributions ignored
Professor Sudarshan also developed a quantum representation of coherent light later known as

Sudarshan-Glauber representation

.

Roy J. Glauber was awarded 2005 Nobel Prize

for the contribution to the quantum theory of optical coherence. Scientists in India and abroad had then observed that the Nobel Committee had ignored the contribution of Professor Sudarshan, who justly deserved to share the coveted award.
Article link: Eminent physicist Sudarshan dead – The Hindu
---
(MAINS FOCUS)
---
NATIONAL
TOPIC:
General Studies 2:
Government policies and interventions for development in various sectors and issues arising out of their design and implementation.
General Studies 3:
Conservation, environmental pollution and degradation, environmental impact assessment
Climate Change Talks (Bonn Meeting): Key Issues
Background:
2018 is an important year for making progress on the Paris Agreement (PA). The PA was discussed at the climate meeting called the Conference of Parties (COP-21) to the UN Framework Convention on Climate Change (UNFCCC) in December 2015. It entered into force in November 2016. Bonn meeting:
A two-week-long meeting was recently concluded in Bonn (April 30-May 10) where the operational guidelines for implementing the PA were to be discussed and agreed upon by all parties.
This meeting was the 48th session of the UNFCCC Subsidiary Body for Implementation (SBI) and Subsidiary Body for Scientific and Technological Advice (SBSTA), referred to as SB48.
Expectations from the Bonn meeting:
A common, consistent framework of how each country would define and measure its commitments.

Proposals for how action taken could be monitored, accounted for and kept transparent while providing some level of flexibility.
The barriers:
1st Barrier- The Scope of the rulebook:
Developing countries want them to cover mitigation targets, adaptation and the means of implementation for the NDCs.

Developed or rich countries would like the rulebook to be limited to mitigation, the reduction of greenhouse gases.
Adaptation:
Since most countries require adaptation programmes in a warming world and need support to implement their national targets, it is essential that these be included too.
The "means of implementation":
These are about financial support and technology transfer to build capacity in poorer countries and have always been contentious. At various sessions and discussions on climate change, this issue has turned out to be a deal breaker.
At the Copenhagen summit, it was agreed that from 2020, rich countries would provide a minimum of $100 billion each year to poor and developing countries. There is little sign that these funds will be available.

The discussion on finance has changed direction towards: how to increase the number of donors who will provide funds; which countries should perhaps be excluded from these funds; and whether these funds are a part of or distinct from the official development assistance, and so on.
According to the principle of common but differentiated responsibilities of the UNFCCC, while actions need to be ambitious to limit warming, providing support is essential for equitable action.
2nd Barrier- Loss and damage (L&D) related issues:
L&D is a means to provide assistance to poor countries that experience severe impacts from climate change but have contributed very little to the greenhouse gases responsible for the warming and its effects.
This is a very important issue for the least developed countries and for small islands, which are already experiencing the brunt of sea level rise.
There has been little progress on the funds that could be used to support L&D.
Result of the Bonn meeting:
Participants could not come to an agreement on any significant issue and thus have not produced a draft document to guide full implementation of the PA.

With insufficient progress towards goals, another interim meeting has been proposed in Bangkok ahead of COP-24 in Katowice, Poland, in December 2018.
Even if the current NDCs are implemented, the world would be on track to be warmer by about 3°Celsius.
The discussions at Bangkok in early September are therefore crucial and continue the incomplete task from this Bonn meeting.
The UN is also expected to release the report on the impacts from a 1.5°C warming around the same time.
The path ahead:
A good draft on the rulebook ought to be ready before the COP. Ideally, these guidelines should help countries develop ambitious targets for the next level of the Nationally Determined Contributions (NDCs).

There should also be a regularised and dependable flow of funds from rich countries so that climate action can be implemented in developing nations. Countries can then develop along a path of sustainable development that is low carbon and inclusive of poor and other marginalised communities.
Conclusion: Involving the youth
Given the lack of consensus on various issues after more than two decades of intense climate talks, pressure from youth, especially in rich countries, is vital. Unless they remind governments and the public of the responsibilities of their countries towards mitigation, adaptation and support for means of implementation, keeping global warming under reasonably safe levels for humankind could be impossible.
Connecting the dots:
There exists lack of consensus on various issues after more than two decades of intense climate talks. What are these issues? Discuss in detail.
---
(TEST YOUR KNOWLEDGE)
Model questions: (You can now post your answers in comment section)
Q.1) Consider the following statements
West Bank is more close to Mediterranean Sea while Gaza Strip is far

Gaza strip is more close to Mediterranean Sea than Dead sea

West Bank is close to Dead Sea than Mediterranean Sea

Gaza Strip is close to Dead Sea than Mediterranean Sea
Identify the correct statement/s
1 and 4

2 and 3

1 and 3

2, 3 and 4
---
Q.2) The Genetic Engineering Appraisal Committee is constituted under the
Food Safety and Standards Act, 2006

Geographical Indications of Goods (Registration and Protection) Act, 1999

Environment (Protection) Act, 1986

Wildlife (Protection) Act, 1972
---
Q.3) Rafah Crossing Point is the crossing point between
Egypt and Gaza Strip

Jordan and Syria

Kuwait and Iraq

Lebanon and Israel
---
Q.4) Consider the following statements with respect to Genetic Engineering Appraisal Committee (GEAC)
It is under the Ministry of Science and Technology

It is the apex body for approval of activities involving large scale use of hazardous microorganisms and recombinants

It is responsible for approval of proposals relating to release of genetically engineered organisms and products into the environment including experimental field trials
Which of the following statements is/are correct?
1 and 2

1 and 3

2 and 3

All of the above
---
MUST READ
Towards a ceasefire
What the Kathua rape means?
Creating jobs for women in the renewable energy sector
America's new powerplay in Tehran
How MPs and MLAs can meet voter expectations?
Reality check for 'fastest growing' economy
Why the Indian family is a great institution?
For a dedicated peer group, Motivation & Quick updates, Join our official telegram channel – https://t.me/IASbabaOfficialAccount
Subscribe to our YouTube Channel HERE to watch Explainer Videos, Strategy Sessions, Toppers Talks & many more…