IASbaba's Daily Current Affairs [Prelims + Mains Focus] – 26th June 2018

IASbaba's Daily Current Affairs (Prelims + Mains Focus)- 26th June 2018
---
(PRELIMS+MAINS FOCUS)
---
India- Seychelles: Assumption island project
Part of: GS Prelims and Mains II – International Relations; India and the World
Key pointers:
We had earlier read that – Seychelles National Assembly has refused to ratify the naval base that India has been planning to build on Assumption to provide a foothold in the western Indian Ocean.

Seychelles believe allowing Indian Naval Military base would infringe on the country's sovereignty.

After meeting Seychelles President Danny Faure, PM Modi announced that both the countries will continue to work together for the welfare of each other.

However, it is not clear how both sides would take the project forward in the absence of a parliamentary ratification.
Highlights:
Seychelles President Danny Faure met PM Modi in India
India has announced grant of $100 million Line of Credit to Seychelles for the purchase of defence hardware. (especially to build its maritime capacity)

Cooperation in carrying out hydrographical studies of the maritime region

Exchange of necessary oceanic maps between two sides

India gifted a Dornier aircraft to Seychelles.
Background:
Diplomatic ties were established with Seychelles after its independence in 1976

Seychelles is a small island country in the Indian Ocean comprising a group of 115 small island

It has a population of 87,000

Seychelles is a multi-ethnic and multi-lingual society comprising of people of French, British, Indian, Iranian and Chinese descent.

The country's strategic importance traces back to the Napoleonic era when Britain gained control over this island which straddled the trade route to the East Indies.
Defence Relation
Seychelles has high strategic importance due to its proximity to global shipping and commerce lanes. It serves as a vital base to fight sea-terrorism and piracy.

In 1986, India had executed

'Operation Flowers are Blooming'

in Seychelles, when on a request by then-President Rene, Prime minister Rajiv Gandhi instructed then Indian Chief of Naval Staff to dispatch the frigate

INS Vindhyagiri

to avert a coup.

In 2009, on the request of Seychelles, India dispatched naval ships to patrol its exclusive economic zone and guard it against piracy. India has also helped Seychelles' armed forces in capacity building.

In 2014, Indian Naval Ship

INS Tarasa

was gifted to Seychelles to help it improve its maritime security.

Now, India gifted a

Dornier aircraft

to Seychelles.
---
(MAINS FOCUS)
---
SOCIAL ISSUE/HEALTH
TOPIC: General Studies 2:

Issues relating to development and management of Social Sector/Services relating to Health, Education, Human Resources.
Government policies and interventions for development in various sectors and issues arising out of their design and implementation.
Tackling Malnutrition through effective dietary diversity
About:
From 22nd June DNA article , we know that –
UN's Sustainable Development Goals 2018 report highlighted that – after a prolonged decline, world hunger appears to be on the rise again.

There was a reduction in the rate of undernourishment since the year 2000 but it has registered a worrying increase in 2016. (Observe in fig below)

Conflict and Climate Change (drought and disasters) are among the key factors causing this reversal in progress.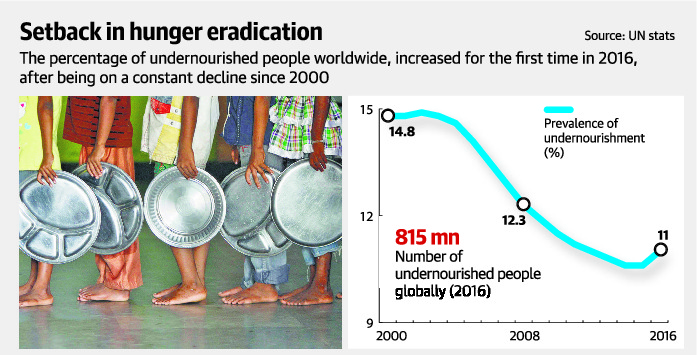 Pic link: https://d39gegkjaqduz9.cloudfront.net/TH/2018/06/22/DEL/Delhi/TH/5_07/8b3b8f35_2190471_101_mr.jpg
Other facts highlighted by the report:
One in four children is still affected by stunting.

Impact of the economic downturn, many violent conflicts, fall in commodity export revenues, and failure of agriculture owing to drought and floods are all making food scarce and expensive for many.
All these represent a setback to all countries trying to meet the Sustainable Development Goal on ending hunger and achieving food security and improved nutrition.
Status in India:
India's efforts at improving access to food and good nutrition are led by the National Food Security Act.

There are special nutritional schemes for women and children operated through the States.

In spite of such interventions, 14.5% of the population suffers from undernourishment, going by the UN's assessment for 2014-16.

Wasting rates have increased from 16.5% to 25.6%, according to recent National Family Health Survey (NFHS)

Underweight rate (36%) has remained static in the last 10 years.

At the national level, 53% of women are anaemic, Health Ministry data show.

Institutions such as the State Food Commissions have not made a big difference either.

According to NFHS 2015-16, every second tribal child suffers from growth restricting malnutrition due to chronic hunger.
All this shows that the Centre and State governments are woefully short on the commitment to end undernourishment.
Question arises whether government policies are ill-conceived?

Whether PDS is efficient?

Is PDS able to play better role in bringing about dietary diversity for those relying on subsidised food.

What is the role played by rations in shaping household and nutritional security?
The way ahead:
A critical aspect of nutrient adequacy is "diet diversity", calculated by different groupings of foods consumed with the reference period ranging from one to 15 days.
It is recommended that each person should have diverse diet of at least eight food groups, that include: cereals, roots and tubers; legumes and nuts; dairy products; flesh foods; eggs; fish; dark green leafy vegetables; and other fruits and vegetables.
But reports highlight that majority of children had food from only two/three of the eight food groups.

NITI Aayog study also found that families below the poverty line consumed more cereals and less milk compared to the affluent. Complementing rice and wheat with more nutritious food items should be the goal.
This low dietary diversity is a proxy indicator for the household's food security too as the children ate the same food cooked for adult members.
It is time the government looks at the root cause of the issue and finds a sustainable solution for tackling malnutrition. This is possible only when the state focusses on inclusive development by creating employment opportunities for the marginalised which would improve their purchasing power, diversify their diet and, in turn, reduce malnutrition.
Connecting the dots:
Rate of undernourishment in Indian children

has registered a worrying increase in 2016

. In fact, even well fed children suffer from chronic undernourishment due to severe lack of diet diversity. Do you agree? In light of this statement, examine the need for reforms in government policies and dietary patterns.
---
NATIONAL/ECONOMY
TOPIC:
General Studies 2:
Government policies and interventions for development in various sectors and issues arising out of their design and implementation.
General Studies 3
Indian Economy and issues relating to planning, mobilization of resources, growth, development and employment.
Inclusive growth and issues arising from it.
Uniquely Placed Northeast
Introduction:
The 15th Finance Commission (FC) is in the process of figuring out a fair formula for the distribution of net tax proceeds between the Union and the States, and among States.
The below article deals with how 14th FC missed to consider Northeast states as an unique entity while adopting its formula based tax devolution approach and challenges faced by Northeast due to the missed approach.
The author compares 13th and 14th FC methodology and suggests for few reforms in upcoming 15th FC, which can help special category status to develop in an equitable and efficient manner.
About 14th Finance Commission recommendations:
We know that,
The 14th FC had adopted a

formula-based tax devolution approach

, apart from grants-in-aid for local bodies, disaster relief, and post-devolution revenue deficit grants.

The share of devolution to the States was

enhanced to 42% from 32%

, which gave the States considerable flexibility.

However, it dispensed with sectoral grants for elementary education, the forest sector and renewable energy sector, among others.

No State-specific grants were recommended

. The assumption was that a higher level of devolution would offset other requirements.
The devolution formula, therefore, is central to the approach of resource transfers.
The 14th FC accorded 27.5% weight to the population (of which 17.5% was of the 1971 population), 15% to area, 7.5% to forest cover and 50% to income distance.

Larger States with larger populations have a greater requirement of resources. Income distance was adopted as a proxy for fiscal capacity, and forest cover was given weightage for the first time, underscoring ecological benefits.
Northeast: A distinct entity
The Northeast represents a distinct entity for developmental planning and has a special category status.  

Low levels of human development indices, a low resource base, and poor connectivity and infrastructure pose a different challenge which must be taken into account in the devolution formula.

Central Ministries earmark 10% of their allocations for the Northeast. By the same logic, 10% of tax proceeds could be earmarked for vertical devolution to the region.

With a number of centrally sponsored schemes being rolled out the obligation of State share is huge, adding to revenue expenditure. Sometimes the real burden (as in the case of Sarva Shiksha Abhiyan) is far more than the mandated 10%.

Many centrally sponsored schemes are discontinued midway, and the burden of employee salaries falls on the States.

Maintenance of assets, such as rural roads under the Pradhan Mantri Gram Sadak Yojana, require huge expenditure, especially in hilly States. (A 20% cost disability was allowed by the 13th FC while allocating grants for road maintenance.)
Did 14th Finance Commission miss something?
The 13th FC acknowledged the different position of the Northeast while arriving at the formula for horizontal devolution. Its twin guiding principles were equity and efficiency.

It accorded 47.5% weight to fiscal capacity distance.

Per capita GSDP was taken as a proxy for fiscal capacity, but States were divided into two groups, general and special category States, given that the average tax to GSDP ratio was higher for the former.

Three-year per capita GSDP was computed separately in these two groups, weighted means of tax to GSDP ratio obtained, and per capita tax revenue was assessed for each State.

Fiscal distance was thereafter calculated on estimated per capita revenue with reference to the highest State, which was then multiplied by the 1971 populations to arrive at the share of each State.
There was much merit in this approach, which was in contrast to the 14th FC which used per capita GSDP as an indicator of fiscal capacity uniformly for all States.
The revision of the base year to 2011-12 by the Central Statistics Office from 2004-05 also has created complications.
Arunachal Pradesh, for instance, saw a sudden spike in per capita GSDP. This was primarily on account of the fact that 73% of the GSDP was calculated on the allocation method as compared to 34% earlier.

This saw a jump in gross value added in mining, construction, electricity, etc., even with a negligible industrial base.
The Northeast also bears a disproportionate burden of natural disasters every year on account of rainfall.
The 14th FC disaster relief grants bore no correlation with vulnerability but were ad hoc extrapolations of previous allocations.

The disaster vulnerability index is highest for the Northeast; this needs to be factored in while allocating grants. (which the 14

th

FC missed to do)

The region also has the highest forest cover and represents the largest carbon sink nationally. Allocating 10% for forest cover would encourage States to preserve the forests.
Terms of Reference of the 15th FC
The Terms of Reference of the 15th FC also mention performance-based incentives based on improvements in GST collection, Direct Benefit Transfer rollout, etc. This would definitely infuse a spirit of competition.
However, the performance of the Northeastern States must be benchmarked with other Northeastern States so that apples are not compared with oranges. The challenge for the Commission, as one member said, is "to strike a balance between those who need and those who perform".
Connecting the dots:
The Central assistance after the recommendations of 14th Finance Commission does not augur well with the reality of North Eastern State. Do you agree? What is your stand on this issue?

The recommendations of the Fourteenth Finance Commission and the implementation of GST have transformed centre-state relations in India. Do you agree? Examine.
---
(TEST YOUR KNOWLEDGE)
Model questions: (You can now post your answers in comment section)
Q.1) India had proposed to build Military infrastructure on 'Assumption Island'. Where is Assumption Island located?
Indian Ocean

Red Sea

Arctic Ocean

South China Sea
---
Q.2) Consider the following statements with reference to Indian Ocean Rim Association for Regional Co-operation (IOR-ARC)
It is the only pan-Indian Ocean grouping.

All countries in Indian Ocean are its members.

Its headquarters are located in Seychelles.
Which of the statements given above is/are correct?
1 only

1 and 2

2 and 3

1, 2 and 3
---
Q.3) Assumption Island was in news recently. It is concerned with which of the following?
China's new naval base near Horn of Africa

Joint Military Exercise of the ASEAN members

Somalian Pirates took over the island

None of the above
---
Q.4) Operation Cactus is associated with
Maldives

Seychelles

Mauritius

Congo
---
Q.5) From the below statements about Finance Commission, identify the incorrect statement:
It is a quasi-judicial body.

They hold office for such period as specified by the President in his order.

It is required to make recommendations to the Parliament on the distribution of the net proceeds of taxes to be shared between the Centre and the states, and the allocation between the states, the respective shares of such proceeds.

None
---
Q.6) Which among the below is not a non-constitutional body?
National Development Council

Central Information Commission

Central Vigilance Commission

Finance Commission
---
MUST READ
At the crossroads: on mob violence
Reduce, segregate: On plastic ban
Through A Wider Lens
Does India need a financial policy committee?
Using agriculture to tackle the water crisis