UPSC IAS 2020: INTEGRATED LEARNING PROGRAMME (ILP) ONLINE-2020, All India Prelims Test Series (AIPTS) 2020- Surprising Features (ADMISSIONS OPEN!)

---
---
There is no Deadline to join ILP or All India Prelims Test Series
---
OLD USERS OF ILP/AIPTS- 15% DISCOUNT FOR ILP 2020-

Click Here
---
UPSC IAS 2020: INTEGRATED LEARNING PROGRAMME (ILP) ONLINE-2020, All India Prelims Test Series (AIPTS) 2020- Surprising Features (ADMISSIONS OPEN!)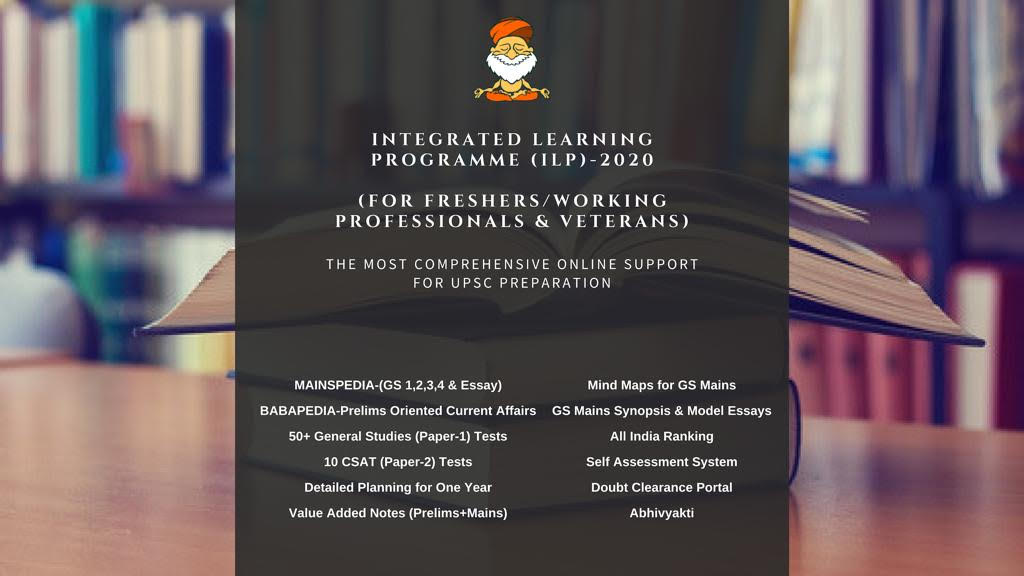 Better and Bigger with Surprising New features this Year (ILP -2020)!!!

"Achievers don't do different things, they do things differently"
---
Integrated Learning Programme (ILP) OFFLINE -2020 Offline Classroom Programme- ADMISSION OPEN –

Click Here
---
Dear Friends,
Yes!! The wait is finally over! The wait for the most reliable, effective and affordable programme for UPSC  2020 preparation – ILP 2020.
Let us begin by thanking all of you who have made ILP a grand success beginning from the year 2016. The years 2018 and 2019 is a monument year for IASbaba for two reasons.
One, way back in 2015 we had said that ILP would stand out as the most comprehensive tool for UPSC preparation and yes now most of you would have realised the same in 2018.
Two, when the storm brews and brews strong, its IASbaba who has been standing tall!
200+ selections in the span of just three years (2016, 2017, 2018) including Ranks 4, 5, 6 and 9 in TOP 10. 100+ selections in ILP alone. This year as well, we have many Ranks from ILP.
You can check this year's result here- Click Here
And our offline classroom program which has delivered and built as the most trusted in the whole of the South! People working in regular organisations and attending our weekends batches have cleared the exam!
That's why IASbaba is the smartest tool around!!
Hundreds of time we have told students not to depend on mere last minute tools, some compilations or series (which UPSC tracks) and blindly trust them and finally end up in the ditch. Aspirants fail to realise that it is not the last minute miracle but consistent effort throughout the journey. It is the process that is important. It is the process that is sustainable. And yes ILP is that!!
And this is not a mere coincidence, we have done it year on year from the day of our genesis. Year on Year ILP has proven to be the indestructible tool!!
---
Hitting the bull's eye year after year:
In the last three years, ILP has been bang on target with a hit ratio of more than 65%, a figure remarkably high keeping in mind the unpredictable nature of UPSC. With a knack of getting it right ILP has become a reliable name:
---
Hear from the Topper's – the instrumental role that ILP played in their Success. 
---
---
---
See what our current followers have to say about ILP Programme: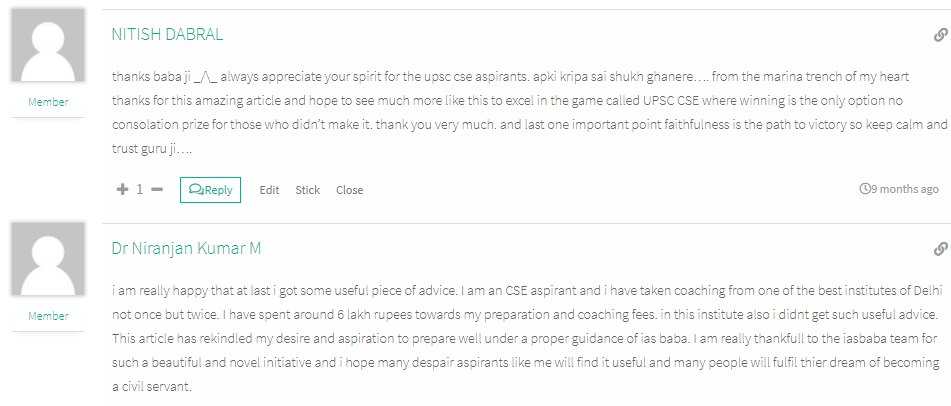 ---
So many good things are going to end this year! The series of superheroes films from the Marvel universe reached its finale with Avengers Endgame. The Game of Thrones saga is going to complete its trip in another two episodes. The much loved Star Wars series is also going to end its 42 years long journey this year. Well, that's the law of nature. Everything good comes to an end but leaves an impression that stays forever. What has been so striking about these cinematic marvels is that with each passing year, they set the benchmark higher, generated more and more anticipation, enlarge their fan base, got loved by millions of audiences. That is what is excellence- the desire to do better and better without any sense of complacency.
Something similar is happening to us as well. When the Integrated Learning Programme (ILP) was first launched in 2015, we were overwhelmed by the faith and support bestowed upon by our followers. That gave us the push to do even better. With each passing year, we have improved ILP, introduced unparalleled features and in return our support base has grown manifold. Each year, we generate a lot of anticipation, receive thousands of mails and get appreciation from hundreds of candidates. Like all good things, ILP has been able to leave its unparalleled mark in the ecosystem of UPSC preparation. ILP as a  tool of civil services preparation is not only unique but also necessary to have. Let us see how.
We are all living in a competitive world. While there are many reasons for the stiff competition that exists everywhere, we can't afford to overthink it. We need a committed vision, a dedicated mindset and sincere efforts to succeed in different walks of life. One such walk of life for the young generation of India is the coveted civil services. With the opportunities, powers and perks on offer, the civil services attract a substantial number of aspirants. In fact for a measly 700-800 seats, lakhs of aspirants appear in the civil services examination. It translates into a success rate of merely 0.15-0.16%! No other prominent examination has such a low success percentage. Despite such low rates of success, the number of aspirants is actually increasing. There are numerous examples of well settled, highly paid individuals leaving their jobs and preparing for civil services. It only shows the ever-increasing popularity of civil services and the associated rise in competition.
What is the best way to face this competition? The answer, of course, is- hard work! But is that enough? Hard work is necessary but never a sufficient factor for success in civil services. What one needs is SMART work. What does smart work mean? Try to understand this. Smartness is a paradigm that is changing everything around us. Smart solutions are changing the way we live. Take for example the spectrum of mobile applications that we use. These smart apps help us to order food, book a cab, request home cleaning, hire consultants, read books online, listen to music or watch films anywhere anytime and so on! These changes have been so rapid that the present generation of kids don't even realise the way in which even the smallest of our needs took so much time and efforts to be met. The key idea here is that with "smartness" being the buzzword, the preparation for civil services can't be left untouched. Unfortunately, the domain of civil services preparation could hardly integrate the smartness paradigm within its fold. The age-old traditional ways and means of preparation have been failing the candidates. Novelty and innovation were missing from this field.
IASbaba takes pride in the fact that we revolutionised the paradigm of civil services preparation by introducing the Online Integrated Learning Programme (ILP)– our flagship online initiative that is smart, accessible, affordable and highly effective. In the three years of ILP, we have become an integral part of numerous success stories. ILP was launched with a vision to enable a candidate sitting in the remotest corner of the country to have a shot at Rank 1 in the civil services examination. With ILP, an internet connection, an electronic data device and the determination to work hard are what one needs to taste success in UPSC. We are delighted that we have been able to positively transform the ecosystem of civil services preparation with ILP.
But what makes ILP so special? How is it different from other initiatives? How does it increase your chances in civil services examination? Well, the answer is simple! ILP acts as your longtime partner in preparation, ever ready and capable to help you at each stage of your preparation- day by day, hour by hour. It reduces your efforts, micromanages your time in the most productive way and allocates your attention in a well-defined priority. It makes your preparation planned, seamless and enjoyable!
---
As every Year, this year too there are Surprises – we are coming up with 3 ONLINE Programmes:
---
ILP-VETERANS
ILP-FRESHERS
ALL INDIA PRELIMS TEST SERIES
---
BASIC FEATURES OF ILP PROGRAMME 
Integration of prelims, mains and interview preparation:

Smartness is to integrate your preparation in a common string of theme based understanding of concepts. ILP has been designed minutely to meet this need. You will prepare for concepts in entirety keeping in mind the needs and orientation required for each stage of the examination.

Detailed Study Plan:

Those who fail to plan, plan to fail. ILP does the planning for you in the most systematic and logical way. The plans are made to keep you on track as well on your toes. In the plan, you will get pointwise coverage of the syllabus, sources to refer and focus areas.

Comprehensive Value Add Notes (VAN):

With our value add notes (VAN), you will be able to declutter the complexity of UPSC syllabus. The VANs are high-quality specialised reading materials to give you an edge over your competitors. VANs have been designed intelligently to give separate prelims and mains focus pointers to make your understanding seamless and smooth. You need not look beyond sources other than the standard ones and our VAN.

Babapedia for comprehensive current affairs coverage: All your current affairs woes will be gone with

Babapedia (PRELIMS)

– one of its kind compendium of current affairs. It gets updated on a daily basis. You will never be required to do the drudgery of note making for current affairs. The only thing required of you is to log into your ILP account every morning and go through the precise and crisp current affairs notes updated daily on Babapedia! Isn't that awesome?
Mainspedia

(Mains Data hub)

: One of its kind platform (New Feature this Year) for Mains Answer Writing Skills; best data organisation and usage for examination. It is arranged and organized into various subtopics for all the contemporary aspects related to Paper 1, 2, 3 and 4. Under each topic, various subsections will be created and it will be updated regularly for you to have the best material/data at one place. You can keep making your own notes taking inputs from the data updated in Mainspedia on a regular basis. Mainspedia will have inputs from all possible contemporary issues and from all possible resources like newspapers, government websites etc.
Abhivyakti (The social media of ILP) for query resolution and discussions:

Each year we have a vibrant and engaging ILP community. Abhivyakti gives the ILP members a platform to get their queries addressed by IASbaba and peers and also initiate discussions/debates on important issues. You can shift your attention away from the time-wasting online forums that take away the sheen from your preparation.

Prelims mock tests with detailed solutions:

High-quality tests with detailed solutions will help you keep a track on your preparation. You will also get the chance to compete with thousands of sincere aspirants from the ILP community.

Mains mock tests with detailed synopsis:

What makes ILP even more special is the integration of mains mocks. With the VAN and mains mocks with detailed synopsis, your mains preparation will always be on track.

Essay guidance and many more:

We always strive to deliver more than we promise. You will be getting many surprises during your engagement with ILP.
---
ILP 2020 – Veterans
Considering the importance of aspirants who are not fresher or beginner, we have modified the ILP-Planning to suit aspirants who fall under this category. Note that content and quality-wise, there will be no difference between ILP-Veterans or Freshers. The only difference will be in approach and planning. Content delivery and focus will vary accordingly.
DETAILED STUDY PLAN-MICRO PLANNING OF SYLLABUS
It is a detailed plan covering the Prelims & Mains Syllabus which will take care of your overall preparation in the form of planned targets, sources to refer and introspective tests.
This is the heart and soul of ILP-2020 that needs to be followed with utmost sincerity.
Sources- The sources to be referred have been kept to the minimum. It has been done to prevent a candidate from wasting their precious time in going through the repetitive and irrelevant sources available in the market.
Revision- Due consideration has been given for Revision that will help to consolidate what you have learnt in a week's time. Since the process is long and intensive, the lack of revision can be fatal. Therefore, we have given adequate room for revision and consolidation.
VALUE ADD NOTES (VAN)- MAINS & PRELIMS
MIND MAPS FOR MAINS
MAINSPEDIA (MAINS DATAHUB) – ONE OF ITS KIND PLATFORM FOR MAINS ANSWER WRITING SKILL, BEST DATA ORGANIZATION & USAGE FOR EXAM.

BABAPEDIA

– PRELIMS CURRENT AFFAIRS
ABHIVYAKTI (THE SOCIAL MEDIA OF ILP)
PRELIMS TEST- 40 General Studies Tests and 10 CSAT Tests.

IASbaba is known for its quality coverage and it is a testimony that we have been able to HIT the bull's eye in Prelims and Mains both over the period of last 4 years. The closeness and exact repetition of Questions from our Tests needs no mention.
The Prelims Tests are designed carefully and with a lot of efforts to match the standards set by UPSC.
Through these tests, the candidates will be able to gauge their performance and standing on a regular basis.
Detailed solutions will be provided after the tests. Detailed Solution Techniques to Decipher the Correct Answer (Elimination Technique).
Since the scores and ranks will be displayed after every test, one can clearly monitor his/her progress in a continuous manner.
All India Ranking and Detailed Assessment of your performance based on Subject Areas will be provided so that one can introspect the strength and weaknesses in their preparation level.

REVISION TEST AND FULL MOCK TESTS

Tests intended to make the candidates revise the previously covered topics shall be posted on a regular basis along with detailed solutions, scores and ranking (as per the given Plan)

CSAT TESTS-10 FULL MOCKS
MAINS MOCKS AND SYNOPSIS- Before and after Prelims (More than 35 in numbers). Note that ILP does not include Mains Answer Evaluation. For Evaluation, interested aspirants can join our C2C Mains Answer Evaluation Programme which will start in November 2019. Till then consolidate your preparation through ILP and Mainspedia. Along with that, you can participate in our flagship TLP programme also.
ESSAY GUIDANCE- MODEL ESSAY & MAINSPEDIA CONTENT
NOTE- Post-Prelims Plan for Mains will be provided once UPSC finalize the Examinations Dates
AFTER MAKING PAYMENT ONLINE
It will take a few hours to login once you make an online payment.
You will receive a Receipt/Mail with Login Details
Do not worry it may take 2-3 hours time since it is automated.
You can always mail for any technical issue on given email ID (below)
Login URL- ilp2020.iasbaba.com
Go through the ILP 2020- Veterans- Detailed Course Plan Document, Mainspedia Document and Topic Listing Document.   
---
ILP 2020- Freshers
Considering the importance of aspirants who are fresher or beginner, we have modified the ILP-Planning to suit aspirants who fall under this category. Note that content and quality-wise, there will be no difference between ILP-Veterans or Freshers. The only difference will be in approach and planning. Content delivery and focus will vary accordingly.
DETAILED STUDY PLAN-MICRO PLANNING OF SYLLABUS
It is a detailed plan covering the Prelims & Mains Syllabus which will take care of your overall preparation in the form of planned targets, sources to refer and introspective tests.
This is the heart and soul of ILP-2020 that needs to be followed with utmost sincerity.
Sources- The sources to be referred have been kept to the minimum. It has been done to prevent a candidate from wasting their precious time in going through the repetitive and irrelevant sources available in the market.
Revision- Due consideration has been given for Revision that will help to consolidate what you have learnt in a week's time. Since the process is long and intensive, the lack of revision can be fatal. Therefore, we have given adequate room for revision and consolidation.
VALUE ADD NOTES (VAN)- MAINS & PRELIMS
MIND MAPS FOR MAINS
MAINSPEDIA (MAINS DATAHUB) – ONE OF ITS KIND PLATFORM FOR MAINS ANSWER WRITING SKILL, BEST DATA ORGANIZATION & USAGE FOR EXAM.

BABAPEDIA

– PRELIMS CURRENT AFFAIRS
ABHIVYAKTI (THE SOCIAL MEDIA OF ILP)
PRELIMS TEST- 52 General Studies Tests and 10 CSAT Tests.

IASbaba is known for its quality coverage and it is a testimony that we have been able to HIT the bull's eye in Prelims and Mains both over the period of last 4 years. The closeness and exact repetition of Questions from our Tests needs no mention.
The Prelims Tests are designed carefully and with a lot of efforts to match the standards set by UPSC.
Through these tests, the candidates will be able to gauge their performance and standing on a regular basis.
Detailed solutions will be provided after the tests. Detailed Solution Techniques to Decipher the Correct Answer (Elimination Technique).
Since the scores and ranks will be displayed after every test, one can clearly monitor his/her progress in a continuous manner.
All India Ranking and Detailed Assessment of your performance based on Subject Areas will be provided so that one can introspect the strength and weaknesses in their preparation level.

REVISION TEST AND FULL MOCK TESTS

Tests intended to make the candidates revise the previously covered topics shall be posted on a regular basis along with detailed solutions, scores and ranking (as per the given Plan)

CSAT TESTS-10 FULL MOCKS
MAINS MOCKS AND SYNOPSIS- Before and after Prelims (More than 35 in numbers). Note that ILP does not include Mains Answer Evaluation. For Evaluation, interested aspirants can join our