---
(PRELIMS + MAINS FOCUS)
---
Part of: GS Prelims and GS-III – Economy; Infrastructure
In news
The first of the five seaplane services in Gujarat will be inaugurated on October 31, the birth anniversary of Sardar Vallabhbhai Patel.

It shall connect Sabarmati River in Ahmedabad to the Statue of Unity in Kevadia in Narmada district.

Ministry

: Union Ministry of Civil Aviation.

Other spots

: Dharoi dam (Mehsana district) to connect Ambaji and Shatrunjay dam (Bhavnagar district) and Tapi in the next phase.

The Airports Authority of India (AAI) had requested state governments of Gujarat, Assam, Andhra Pradesh and Telangana and the administration of Andaman & Nicobar to propose potential locations for setting up water aerodromes to boost the tourism sector.
Impact it will have on the environment
The water aerodrome is not a listed project/activity in the Schedule to the Environmental Impact Assessment Notification, 2006 and its amendments. 

However, the Expert Appraisal Committee was of the opinion that the activities proposed under the water aerodrome project may have a similar type of impact as that of an airport.

In its proposal seeking environmental clearance, the Director of Aviation, Government of Gujarat, had expressed fears of environmental impact during the stage of construction. 

Also, according to the state government, during seaplane operations, there will be turbulence created in the water while takeoff and landing of seaplanes which will lead to more mixing of oxygen in the water having a positive impact on the aquatic ecosystem near seaplane operations 
Do you know?
A seaplane is a fixed-winged aeroplane designed for taking off and landing on water.

It offers the public the speed of an aeroplane with the utility of a boat.

There are two main types of seaplane: flying boats (often called hull seaplanes) and floatplanes.

Seaplanes by multiple airline carriers are operational in countries like the Philippines, Canada, Australia, the United States, etc.

In India, Jal Hans, a commercial seaplane service based in the Andaman and Nicobar Islands was launched as a pilot project on 30 December 2010 by the Ministry of Civil Aviation.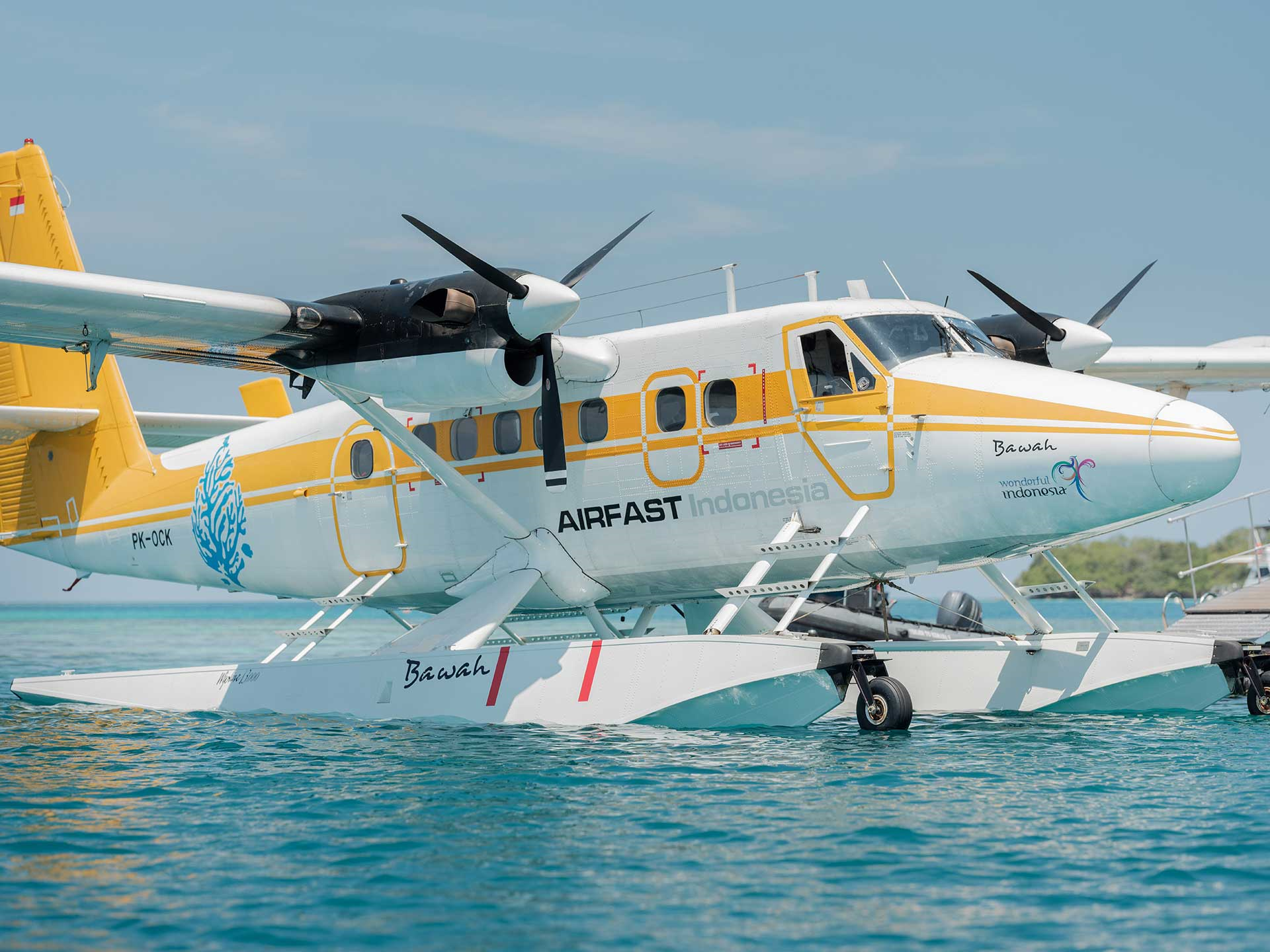 ---
Part of: GS Prelims and GS-II – Hunger; Policy and governance
In news
Global Hunger Index report was recently released.

Published by:

Jointly by the International Food Policy Research Institute (IFPRI), Concern Worldwide, and Welthungerhilfe (WHH) 

India:

94

th

rank among 107 countries

It continues to be in the "serious" hunger category.

However, it has made some progress, particularly since the enactment of National Food Security Act.

Bangladesh:

75

th

rank

Myanmar:

78th rank

Pakistan:

88th rank

Nepal:

73

rd

rank and 

Sri Lanka:

64

th

rank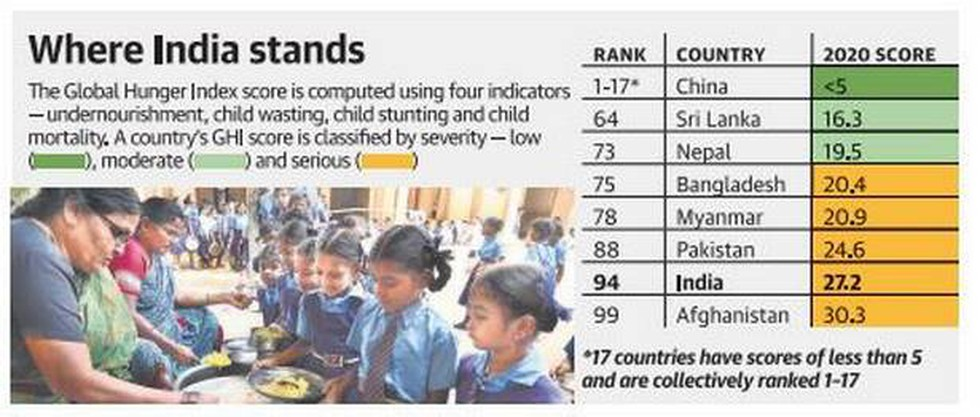 Key takeaways
Last year, India's rank was 102 out of 117 countries.

The neighbouring countries of Bangladesh, Myanmar and Pakistan too were in the "serious" category.

They ranked higher than India in 2020's index.

Nepal and Sri Lanka are in "moderate" hunger category.

Undernourished

: 14% of India's population 

Stunting

: 37.4% among children under five 

Wasting:

17.3% 

Under-five mortality rate:

3.7%
Do you know?
The GHI is calculated by using a three-step process. 

The indicators used are percentage of undernourished population, percentage of children under five years suffering from wasting and stunting, and child mortality.
---
Part of: GS Prelims and GS-III – Defence & Security
In news
BRAHMOS, the supersonic cruise missile was successfully test fired from Indian Navy's indigenously-built stealth destroyer INS Chennai, hitting a target in the Arabian Sea.

BrahMos Aerospace is an India-Russia joint venture, produces the supersonic cruise missile that can be launched from submarines, ships, aircraft, or from land platforms.



Key takeaways
---
Part of: GS Prelims and GS-II – Policies; schemes
In news
Nine States and Union Territories have been selected by the Sports Ministry for upgradation to Khelo India State Centre of Excellence (KISCE).
Key takeaways
States and UTs selected

: Andhra Pradesh, Chhattisgarh, Chandigarh, Goa, Haryana, Himachal Pradesh, Puducherry, Tripura and J&K.

The centres have been selected based on their past performances, quality of infrastructure, management and sports culture in the State.

The overall number now stands at 24 KISCEs from 23 States and UTs.

The assistance to these centres will be provided in the form of bridging the gaps in sports equipment, high performance managers, coaches, sports scientists and technical support.
---
Part of: GS Prelims and GS-II – International Relations
In news
Recently, Israel and Bahrain have formally established diplomatic relations after signing the US brokered deal in Bahrain's capital Manama.

The two countries are now expected to open embassies.

Bahrain is now the fourth Arab country in the Middle East – after the UAE, Egypt and Jordan – to establish diplomatic Relations with Israel.



Important value additions
Bahrain is a sovereign state in the Persian Gulf.

The island nation comprises a small archipelago made up of 40 natural islands and an additional 51 artificial islands, centred around Bahrain Island which makes up around 83% of the country's landmass.

The country is situated between the Qatari peninsula and the north eastern coast of Saudi Arabia, to which it is connected by the 25-kilometre King Fahd Causeway.

The capital and largest city is Manama.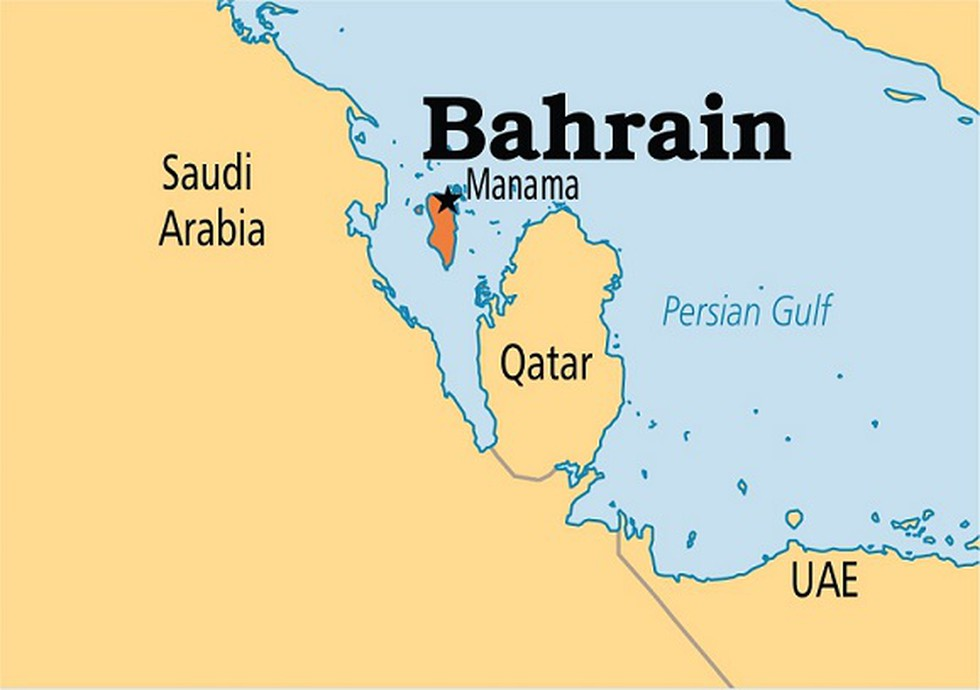 ---
Miscellaneous
Originalism
US Supreme Court nominee Amy Coney Barrett had recently described originalism as her legal philosophy.
It means interpreting the country's Constitution as per the intentions of USA's 18th-century founding leaders.

In legal philosophy, this theory prescribes that while resolving disputes, judges should interpret the constitution as it was understood at the time it was ratified, irrespective of whether they personally agree or disagree with the outcome of a case decided this way.

The legal philosophy which is said to be the opposite of originalism is 'living constitution' or 'modernism'.

This theory, supported by likes of the late Justice Ginsburg, believes that the constitution should be updated with times to encompass changing societal needs.
Slinex-20
The Eighth Edition of annual Indian Navy (IN) – Sri Lanka Navy (SLN) bilateral maritime exercise SLINEX-20 is scheduled off Trincomalee, Sri Lanka from 19 to 21 October 2020.
SLINEX-20 aims to enhance inter-operability, improve mutual understanding and exchange best practices and procedures for multi-faceted maritime operations between both navies.
---
(MAINS FOCUS)
---
POLITY/ GOVERNANCE
Topic: General Studies 2:

Challenges associated with Judiciary & executive
Judicial Accountability
Context: Recently, Andhra Pradesh Chief Minister Y.S. Jagan Mohan Reddy has stirred a hornet's nest by writing to the Chief Justice of India (CJI) complaining about Supreme Court(SC) judge Justice N.V. Ramana.
What were the allegations levelled in the letter?
Mr. Jagan said that Justice Ramana was a legal adviser and additional advocate-general in the previous government of the TDP.

AP CM has alleged that SC judge Justice N.V. Ramana (next in line to become CJI as per seniority) had been influencing the sittings and posting of cases in the State High Court.

AP CM has also cited instances of how matters important to the opposition Telugu Desam Party had been 'allocated to a few judges' and that some High Court judges are hostile to his government & deliberately striking down his government orders

In effect, he has

accused many judges of misconduct, corruption and political bias.

 

In view of the above, the Chief Minister urged the Chief Justice of India to consider initiating steps to ensure that the State's judicial neutrality was maintained.
How are allegations of misconduct against judges dealt with? 
The Constitution protects the independence of judges of the High Courts and the Supreme Court by making them removable only through a long process of impeachment. 

However, not all forms of misconduct will warrant impeachment. There could be other kinds of impropriety too. 

There are times when serious complaints of this sort are received, and the CJI is called upon to examine them. 

Since 1997, judges have adopted an 'in-house procedure' for inquiring into such charges.
When was the procedure adopted? 
After Justice J.S. Verma took over as CJI in 1997, he circulated among judges a document called 'Restatement of Values of Judicial life'. This was a set of principles containing the essential elements of ideal behaviour for judges. 

The Full Court passed a resolution that an 'in-house procedure' would be adopted for action against judges for acts of commission or omission that go against these values. 

A five-judge committee was constituted to come up with a procedure. Its report was adopted on December 15, 1999. It was made public in 2014.
How does the in-house procedure work? 
When a complaint is received against a High Court judge, the CJI should decide if it is considered frivolous or if it is serious and "directly related to the merits of a substantive decision in a judicial matter".

If it is serious, the CJI should get the judge's response. He may close the matter if he is satisfied with the response. 

If a deeper probe is considered necessary, both the complaint and the judge's response, along with the CJI's comments, are recorded for further action.

After considering the High Court's Chief Justice, the judge involved (accused of Political bias) and the complaint (here AP CM), the CJI, if deemed necessary, forms a three-member committee.

If a Supreme Court judge faces such a charge, the in-house panel will comprise three Supreme Court judges. 

The inquiry the three-member committee holds is of the nature of a

fact-finding mission and is not a formal judicial inquiry

involving examination of witnesses. The judge concerned is entitled to appear before it.
What happens after the probe is done? 
If the committee finds substance in the charges, it can give two kinds of recommendations. One, that the misconduct is serious enough to require removal from office, or that it is not serious enough to warrant removal.

In the former case, the judge concerned will be urged to resign or seek voluntary retirement. 

If the judge is unwilling to quit, the Chief Justice of the High Court concerned would be asked to withdraw judicial work from him. 

The President and the Prime Minister will be informed of the situation. This is expected to clear the way for Parliament to begin the process of impeachment. 
How will the CM's complaint be handled? 
The complaint by the Andhra Pradesh Chief Minister will have to be examined by the CJI from the perspective of whether it can be rejected as baseless, or it requires a deeper investigation.

In details annexed to his letter, Mr. Reddy has cited several writ petitions in which adverse orders were passed against his regime. 
Consequences of this controversy
Impacts Democratic Functioning:

  Such type of confrontation and mistrust between two organs of State is not conducive for smooth working of Democracy. The ultimate victim will be the common man who will be bereft of better governance

Politicization of Judiciary:

The serious accusation by a sitting Chief Minister brings out to the foreground the weakness of Judiciary. Similar kind of charges might be levelled by opposition parties when it comes to power. All these leads to politicization of the Institution of Judiciary.

Integrity of SC Judges is doubted:

Every judgement delivered the judges involved in this controversy will be questioned which is not good even from Institutional perspective

Legitimacy of the institution at stake:

Such type of allegations and counter allegation will create doubts in minds of Public about the ability to get justice from Formal system. As a result, people will tend to fall back on undemocratic informal judicial systems like

Khap Panchayats.
Judiciary's Grievance Redressal Mechanism tested:

How the CJI & SC is going to handle this case will set a precedent to deal with misconduct of Judges in future. If the process is not robust, fair & transparent then the calls for greater executive control on Judiciary will increase (Judicial Standards and Accountability Bill)
Connecting the dots:
National Judicial Appointments Commission

Judicial Standards and Accountability Bill
---
ECONOMY / GOVERNANCE/ INTERNATIONAL
Topic: General Studies 3:

Indian Economy and issues relating to planning, mobilization, of resources, growth, development and employment. 
Context:  In 2020 U.S. economists Paul Milgrom and Robert Wilson won the Nobel Economics Prize for their work on commercial auctions, including for goods and services difficult to sell in traditional ways such as radio frequencies
What is auction theory?
Auction theory is a branch of economics that deals with, as the name suggests, auctions. 

Auctions are important to economists because they are the most widely used and also the most efficient mechanism to allocate scarce resources. 

 In particular, auction theory deals with the various ways in which auctions can be designed to improve seller revenues, increase benefits to consumers, or even achieve both these goals at the same time.
How is it relevant?
Throughout history, countries have tried to allocate resources in various ways. 

Some have tried to do it through political markets, but this has often led to biased outcomes. For Ex: The rationing of essential goods worked in State-controlled economies. People who were close to the bureaucracy and the political class came out ahead of others. 

Lotteries are another way to allocate resources, but they do not ensure that scarce resources are allocated to people who value it the most.

Auctions, for a good reason, have been the most common tool for thousands of years used by societies to allocate scarce resources. 

When potential buyers compete to purchase goods in an auction, it helps sellers discover those buyers who value the goods the most. 

Further, selling goods to the highest bidder also helps the seller maximise his or her revenues. So,

both buyers and sellers benefit from auctions.

Whether it is the auction of spectrum waves or the sale of fruits and vegetables, auctions are at the core of allocation of scarce resources in a market economy.
What are the criticisms levelled against auctions and what are the economists contribution?
Issue of Winner's Curse
The most common one is that auctions can lead buyers to overpay for resources whose value is uncertain to them. 

This criticism, popularly known as the

'winner's curse',

is based on a study that showed how buyers who overpaid for U.S. oil leases in the 1970s earned low returns. Dr. Wilson was the first to study this matter. 

The rational bidders may decide to underpay for resources in order to avoid the 'winner's curse', and Dr. Wilson argued that sellers can get better bids for their goods if they share more information about it with potential buyers
Auction formats
Economists traditionally working on auction theory believed that

all auctions are the same

when it comes to the revenues that they managed to bring in for sellers. The auction format, in other words, did not matter. 

This is known as the 'revenue equivalence theorem'. 

But Dr. Milgrom showed that the auction format can actually have a huge impact on the revenues earned by sellers.

The most famous case of an auction gone wrong for the seller was the spectrum auction in New Zealand in 1990.

In what is called a 'Vickrey auction', where the winner of the auction is mandated to pay only the second-best bid, a company that bid NZ$1,00,000 eventually paid just NZ$6 and another that bid NZ$70,00,000 only paid NZ$5,000.

In particular, Dr. Milgrom showed how Dutch auctions, in which the auctioneer lowers the price of the product until a buyer bids for it, can help sellers earn more revenues than English auctions. 

In the case of English auctions, the price rises based on higher bids submitted by competing buyers. But as soon as some of the bidders drop out of the auction as the price rises, the remaining bidders become more cautious about bidding higher prices.
Real world Contribution of Economists through better auction model
Dr. Milgrom and Dr. Wilson, however, are most popular for their contribution towards devising new, real-world auction formats. 

The

combinatorial auctions

designed by the duo, for instance, have been used to sell complex goods such as spectrum as bundles, instead of as individual units. 

Earlier, governments

sold spectrum rights

on a piecemeal basis, which made it unappealing to companies which demanded spectra in a bundle. 

This led to private speculators earning billions in the secondary market by reselling spectrum, while the government was starved of revenues that it could have easily earned with better auction design.
Conclusion
The contributions of Dr. Milgrom and Dr. Wilson have helped governments and private companies design their auctions better. 

This has, in turn, helped in the better allocation of scarce resources and offered more incentives for sellers to produce complex goods.
Connecting the dots:
Nudge Theory – 2017 Economics Nobel Prize winner
---
(TEST YOUR KNOWLEDGE)
---
Model questions: (You can now post your answers in comment section)
Note: 
Correct answers of today's questions will be provided in next day's DNA section. Kindly refer to it and update your answers. 

Comments Up-voted by IASbaba are also the "correct answers".
Q.1 Which of the following Arab countries have established diplomatic relations with Israel recently? 
UAE 

Egypt 

Saudi Arabia 

Bahrain 
Select the correct code: 
1, 2 and 3 only 

3 and 4 only 

1, 2 and 4 only 

1 and 2 only
---
Q.2 Bahrain is an island situated between: 
Qatar and Saudi Arabia 

Yemen and Saudi Arabia 

Turkey and Syria 

Kuwait and Iraq
---
Q.3 Global Hunger Index 2020 was recently released. Consider the following statements:
India is placed under serious hunger category. 

India's rank has deteriorated since last year. 
Which of the above is or are correct? 
1 only 

2 only 

Both 1 and 2 

Neither 1 nor 2 
---
ANSWERS FOR 17th October 2020 TEST YOUR KNOWLEDGE (TYK)
---
Must Read
On Centre borrowing for States:
On India's low ranking on nutritional indices:
About New Legal Framework for Contract Farming:
For a dedicated peer group, Motivation & Quick updates, Join our official telegram channel – https://t.me/IASbabaOfficialAccount
Subscribe to our YouTube Channel HERE to watch Explainer Videos, Strategy Sessions, Toppers Talks & many more…