---
(PRELIMS + MAINS FOCUS)
---
Part of: GS Prelims and GS -III – Economy 
In news
India's Gross Domestic Product (GDP) contracted by 7.3% in 2020-21, as per report released by the Central Statistical Office.

GDP growth in 2019-20, prior to the COVID-19 pandemic, was 4%.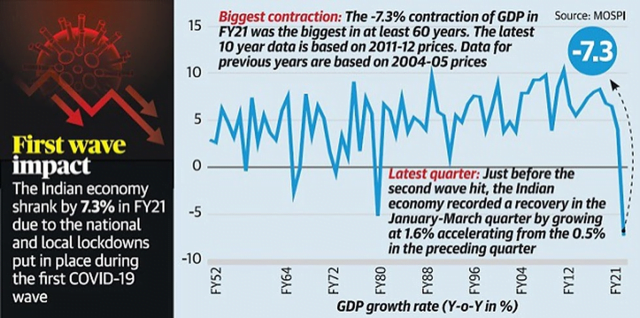 Key takeaways 
The Gross Value Added (GVA) in the economy also shrank 6.2% in 2020-21, compared to a 4.1% rise in the previous year.

Only two sectors showed positive GVA growth — agriculture, forestry and fishing (3.6% positive growth), and electricity, gas, water supply and other utility services ( 1.9% positive growth).

Sharpest decline:

Trade, hotels, transport, communication and broadcasting-related services (-18.2%), followed by construction (-8.6%), mining and quarrying (-8.5%) and manufacturing (-7.2%).
Important value additions 
Gross domestic product (GDP)

is a monetary measure of the market value of all the final goods and services produced in a specific time period.

In economics,

gross value added

(GVA) is the measure of the value of goods and services produced in an area, industry or sector of an economy.
---
Part of: GS Prelims and GS -III – Economy 
In news
Horticulture Cluster Development Programme (CDP) was launched recently.
Objective:

To ensure holistic growth of horticulture, 
Launched by:

Ministry of Agriculture
Key takeaways 
In a pilot phase, the programme will be implemented in 12 horticulture clusters covering 11 States/UTs. 

It is a central sector programme.

Implemented by:

National Horticulture Board (NHB) of the Ministry of Agriculture and Farmers' Welfare.

Aim:

Growing and developing identified horticulture clusters to make them globally competitive.

The programme will benefit about 10 lakh farmers. 

It is expected to attract an investment of Rs. 10,000 crore when implemented in all the 53 clusters. 

It will address all major issues including pre-production, production, post-harvest management, logistics, marketing and branding.
Important value additions 
Horticultural crops include:
Tree, bush and perennial vine fruits;

Perennial bush and tree nuts;

Vegetables (roots, tubers, shoots, stems, leaves, fruits and flowers of edible and mainly annual plants);

Aromatic and medicinal foliage, seeds and roots (from annual or perennial plants);

Cut flowers, potted ornamental plants, and bedding plants (involving both annual or perennial plants); and

Trees, shrubs, turf and ornamental grasses propagated and produced in nurseries for use in landscaping or for establishing fruit orchards or other crop production units.
Related articles
ADB, India sign $10 million loan to support horticulture in Himachal Pradesh
---
Part of: GS Prelims and GS -III – Sci and Tech
In news
IIT Ropar, Punjab has developed "AmbiTAG"- India's first indigenous temperature data logger for cold chain management.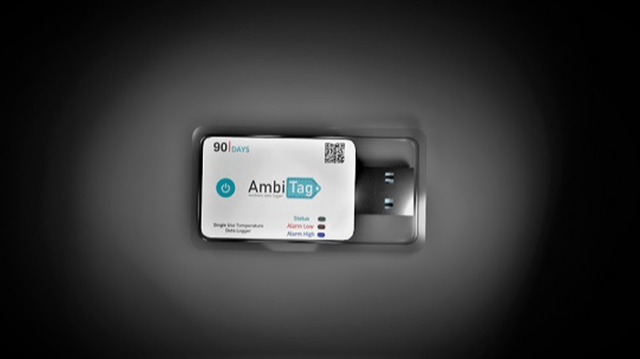 Key takeaways 
AmbiTag is a first-of-its-kind IoT device that records real-time ambient temperature during the transportation of perishable products, vaccines and even body organs and blood.

That recorded temperature further helps to know whether that particular item transported from anywhere in the world is still usable or perished because of temperature variation.

This information is particularly critical for vaccines including Covid-19 vaccine, organs and blood transportation.

It is Shaped as a USB device.

AmbiTag continuously records the temperature of its immediate surroundings from -40 to +80 degrees in any time zone for a full 90 days on a single charge.

The device has been developed under Technology Innovation Hub – AWaDH (Agriculture and Water Technology Development Hub) and its Startup ScratchNest.

AWaDH is a Govt of India project. 
---
Part of: GS Prelims and GS-II – Polity and Governance 
In news
Maratha community is brought under Economically Weaker Section (EWS) quota in Maharashtra.
Key takeaways 
It made it possible for the State government to extend the benefit of the EWS quota to the Marathas.

As per the government resolution, a person fulfilling the criteria for EWS would be eligible for 10% reservation in educational institutes, barring minority institutes.

This would also be applied for State government recruitment.

The reservation would be above the existing reservation
---
Miscellaneous
Place in news: Rwanda
Rwanda was in the news recently.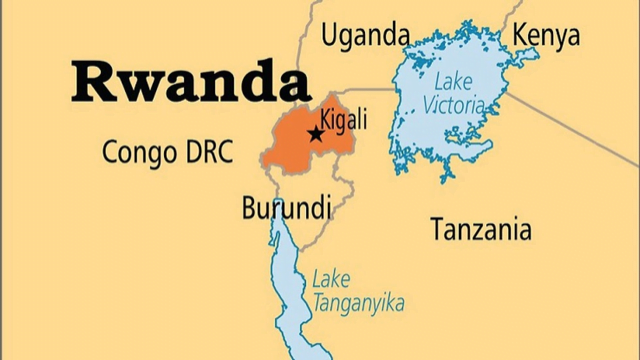 French President Emmanuel Macron asked for forgiveness for his country's role in the 1994 Rwandan massacre in which about 8,00,000 people, mostly ethnic Tutsis, were killed.

Rwanda is a landlocked country in the Great Rift Valley, where the African Great Lakes region and East Africa converge. 

Capital:

Kigali.

Rwanda is bordered by Uganda, Tanzania, Burundi, and the Democratic Republic of the Congo (see the map). 
---
 (Mains Focus)
---
INTERNATIONAL/ SOCIETY
Topic:

GS-2: Effect of policies and politics of developed and developing countries.
Context: Days after China's census data showed population growth slipping to its slowest rate since the 1950s, the country has announced it will now allow three children per married couple — five years after it first relaxed its controversial one-child policy to two.
China's one-child policy, which had been enforced by then-leader Deng Xiaoping in 1980, had remained in place until 2016
How well did China's one-child policy work?
Population growth impeding economic growth:

China embarked upon its one-child policy in 1980, when the Communist Party was concerned that the country's growing population, which at the time was approaching one billion, would impede economic progress.

Multi-pronged implementation

: One child policy, which was implemented more effectively in urban areas, was enforced through several means, including incentivising families financially to have one child, making contraceptives widely available, and imposing sanctions against those who violated the policy.

Initial Success

: Chinese authorities have long hailed the policy as a success, claiming that it helped the country avert severe food and water shortages by preventing up to 40 crore people from being born.

Criticisms of One Child Policy

: However, the one-child limit was also a source of discontent, as the state used brutal tactics such as forced abortions and sterilisations. It also met criticism and remained controversial for violating human rights, and for being unfair to poorer Chinese since the richer ones could afford to pay economic sanctions if they violated the policy.

Tool of Social Control

: Additionally, China's rulers have been accused of enforcing reproductive limits as a tool for social control. The Uighur Muslim ethnic minority, for example, has been forced to have fewer children to restrict the growth of their population.

Skewed sex ratio

: Due to the policy, while the birth rate fell, the sex ratio became skewed towards males. This happened because of a traditional preference for male children in the country, due to which abortion of female foetuses rose and so did the number of girls who were placed in orphanages or abandoned.

Problem of faster ageing

: Experts have also blamed the policy for making China's population age faster than other countries, impacting the country's growth potential. India's population, for instance, will start ageing from the middle of this century onwards.
Did relaxing the one-child policy help?
From 2016, the Chinese government finally allowed two children per couple

to arrest the rapid fall in population growth

However, the policy change that did little. China's 2020 census data, released earlier this month, shows the country's rate of population growth falling rapidly despite the 2016 relaxation.

Last year, 1.2 crore babies were born in China, down from 1.465 crore in 2019 — a fall of 18% in one year. 

The country's fertility rate has now dropped to 1.3, far below the replacement level of 2.1 necessary for each generation to be fully replenished.

The United Nations expects

China's population to begin declining after 2030

, but some experts say this could happen as early as in the next one or two years. 

By 2025, the country is set to lose its '

most populous' tag to India,

which in 2020 had an estimated 138 crore people, 1.5 per cent behind China.
Why do many remain skeptical about the three-child policy?
Experts say relaxing limits on reproductive rights alone cannot go a long way in averting an unwanted demographic shift.
Economic Factors

: The main factors behind fewer children being born, they say, are rising costs of living, education and supporting ageing parents. The problem is made worse by the country's pervasive culture of long working hours. 

Cultural Shift

: There has also been a cultural shift during the decades in which the one-child policy remained in force, with many couples believing that one child is enough, and some expressing no interest in having children.
Q. Should India also adopt China's method of controlling its population?
---
(TEST YOUR KNOWLEDGE)
---
Model questions: (You can now post your answers in comment section)
Note:p
Correct answers of today's questions will be provided in next day's DNA section. Kindly refer to it and update your answers.

Comments Up-voted by IASbaba are also the "correct answers".
Q.1 Who releases data of national income in India?
NSSO

CSO

NITI Aayog

None of the following
---
Q.2 Which of the following does not come under horticulture crops?
Vegetables roots

Aromatic plants

Potted ornamental plants

Maize
---
Q.3 Consider the following statements regarding AmbiTag:
Real-time ambient temperature during the transportation of perishable products

It was recently developed by the scientists of the USA
Which of the above is or are correct? 
1 only 

2 only 

Both 1 and 2 

Neither 1 nor 2 
---
ANSWERS FOR 31st May 2021 TEST YOUR KNOWLEDGE (TYK)
---
Must Read
On New IT rules and its impact on WhatsApp:
On Caste based violence against women:
About resilient healthcare system:
For a dedicated peer group, Motivation & Quick updates, Join our official telegram channel – https://t.me/IASbabaOfficialAccount
Subscribe to our YouTube Channel HERE to watch Explainer Videos, Strategy Sessions, Toppers Talks & many more…