---
(PRELIMS + MAINS FOCUS)
---
Part of: GS Prelims and GS- II –  Population and associated issues
In news Nagaland Chief Minister has sought to reduce fears over an exercise similar to Assam's National Register of Citizens. 
What is Register of Indigenous Inhabitants of Nagaland?
The RIIN will be the master list of all indigenous inhabitants of the state.

Objective: 

To prevent outsiders from obtaining fake indigenous certificates for seeking jobs and benefits of government schemes.

The RIIN will be prepared after an extensive survey with the help of a village-wise and ward-wise list of indigenous inhabitants based on official records.

It will be prepared under the

supervision of each district administration.

No fresh indigenous inhabitant certificate will be issued after the RIIN is completed except for children born to the State's indigenous inhabitants who will be issued indigenous certificates along with birth certificates. The RIIN database will be updated accordingly.

The RIIN will also be

integrated with the online system for Inner-Line Permit

, a temporary document non-inhabitants are required to possess for entry into and travel in Nagaland.

The entire exercise will be monitored by the Commissioner of Nagaland. In addition, the state government will designate nodal officers of the rank of a Secretary to the state government.
Progress
The State government, through a notification on June 29, 2019, had decided to update the

Register of Indigenous Inhabitants of Nagaland (RIIN)

with

December 1, 1963 (

(the day Nagaland attained statehood)

, as the cut-off date for the inclusion

of people in it. 

The exercise was put on hold after opposition from various quarters, which

demanded that the cut-off date be changed to April 28, 1977

, when the government laid down the criteria for issuing indigenous inhabitant certificates to the residents.
Concerns
Exclusion

: The exercise is feared to leave out certain Nagas and non-Nagas for their eventual eviction or denial of opportunities.

The non-indigenous Nagas could be treated as "illegal immigrants"

Loss of Property
News Source: TH
---
Part of: GS Prelims and GS – III – Space; Science and Tech
In news: The Japan Aerospace Exploration Agency, or JAXA, plans to launch an explorer in 2024 to land on Phobos, a Martian moon, to collect 10 grams of soil and bring it back to Earth in 2029 (ahead of the United States and China)
Key details 
Soil on Phobos is likely to be a mixture of material from the moon itself and material from Mars that was spread by sandstorms.

Significance:

Collecting samples from multiple locations on Phobos could provide a greater chance of obtaining possible traces of life from Mars.

Scientists also hope to learn about the evolution of the Martian biosphere.
Do you know?
Earlier missions
Two other NASA landers are also operating on Mars — 2018's InSight and 2012's Curiosity rover. 

Currently, following mission are exploring Mars:

Three from the U.S. – Odyssey, MAVEN, Mars Reconnaissance Orbiter, Mars 2020 (Perseverance Rover & Ingenuity Helicopter)

Two from Europe – Exo Mars, Mars Express

One from India – Mangalyaan

One from China – Tianwen-1 (orbiter & rover) 

One from UAE – Emirates Mars Mission, Hope Spacecraft
News Source: TH
---
Part of: Prelims and GS – II – Important International institutions, agencies
In news External Affairs Minister has announced the rollout of a situational awareness platform in partnership with the UN — 'UNITE Aware' — to help enhance the safety of UN peacekeepers. 
What is UNITE AWARE?
UNITE AWARE is a mobile tech platform developed by India to provide

terrain-related information

to the

UN peacekeepers

so as to ensure their safety. 

It is being developed in partnership with the UN Department of Peacekeeping Operations and the Department of Operational Support. 

India has spent 1.64 million USD for this project.

This initiative is based on the expectation that an entire peacekeeping operation can be visualized, coordinated, and monitored on a real-time basis. 
What is peacekeeping? 
The United Nations Peacekeeping operations are policing and peacebuilding actions carried out by the UN to bring order and stability in wartorn nations.

Every peacekeeping mission is

authorized by the Security Council.
Composition

:

Peacekeeping forces are

contributed by member states on a voluntary basis

.

UN peacekeepers (often referred to as Blue Berets or Blue Helmets because of their light blue berets or helmets) can include soldiers, police officers, and civilian personnel.

Civilian staff of peace operations are international civil servants, recruited and deployed by the UN Secretariat.

UN Peacekeeping is guided by

three basic principles

:

Consent of the parties.

Impartiality.

Non-use of force except in self-defence and defence of the mandate.
Do you know?
The top 5 providers of assessed contributions to United Nations Peacekeeping operations for 2020-2021 are:

United States (27.89%).

China (15.21%).

Japan (8.56%).

Germany (6.09%).

United Kingdom (5.79%).
News source: TH
---
Part of: GS Prelims and GS- II – Government policies and interventions
In news Recently, during BRICS (Brazil, Russia, India, China and South Africa) meet, India proposed that NDB's (New Development Bank) scope be expanded to strengthen Social Infrastructure besides promoting industry.
Social Infrastructure includes the construction and maintenance of facilities that support social services such as healthcare, education, and housing.

India is the chair of the BRICS grouping for 2021.
What is New Development Bank?
It is a multilateral development bank jointly founded by the BRICS countries at the 6th BRICS Summit in Fortaleza, Brazil in 2014.

It was formed to support infrastructure and sustainable development efforts in BRICS and other underserved, emerging economies for faster development through innovation and cutting-edge technology.

It is headquartered

at Shanghai, China.

In 2018, the NDB received observer status in the United Nations General Assembly, establishing a firm basis for active and fruitful cooperation with the UN.

Objectives

:

Fostering development of member countries.

Supporting economic growth.

Promoting competitiveness and facilitating job creation.

Building a knowledge sharing platform among developing countries.

To fulfill its purpose, the Bank supports public or private projects through loans, guarantees, equity participation and other financial instruments.
Major Projects funded by NDB in India:
It has committed funding to a number of major infrastructure projects in India, including the Mumbai Metro rail, Delhi-Ghaziabad-Meerut Regional Rapid Transit System and many Renewable Energy projects.

The NDB has so far approved 14 Indian projects for an amount of nearly USD 4.2 billion.

In 2020, India announced a 1 billion USD loan pact with NDB to boost rural employment and infrastructure.
News source: IE
---
Miscellaneous
New species of cascade frog discovered in Arunachal Pradesh
Researchers have discovered a new species of cascade frog from Arunachal Pradesh

Team of Indian and American biologists name it Amolops adicola after the Adi hills, the abode of

Adi tribes. 

It is a predominantly brown colour frog, with a size ranging roughly between 4 cm and 7 cm.

Cascade frogs are named so because of their preference for small waterfalls or cascades in flowing hill streams, for which they have developed certain morphological features such as expanded digit tips and extensive foot webbing that makes them adapt to strong water currents.

The Adi Tribes

are subsistence farmers who live in the foothills of the Himalayas in the far north east of India. Their home is in Arunachal Pradesh 

The tribe divides into two main divisions – the Bogum and Onai – each of which is subdivided. 

There is a highly developed system of democracy and all major decisions in a village are taken by the Kebang (village council) only after full consultation with all members of the tribe.
News Source: TH 
---
(News from PIB)
---
Part of: GS Prelims and Mains GS-II- Governance
In news: Recently, The Cabinet Committee on Economic Affairs (CCEA), chaired by the Prime Minister has approved a revival package of Rs.77.45 crore for revival of North Eastern Regional Agricultural Marketing Corporation Limited (NERAMAC), 
On the same day, the Union Cabinet also approved the National Mission on Edible Oils – Oil Palm (NMEO-OP) as a new Centrally Sponsored Scheme with a special focus on the North east region and the Andaman and Nicobar Islands. 
About NERAMAC
NERAMAC is a central Public Section Enterprises under the administrative control of Ministry of Development of North Eastern Regional (MDoNER). 

NERAMAC was set up to support farmers/producers of North East getting remunerative prices for their produce and thereby bridge the gap between the farmers and the market and also to enhance the agricultural, procurement, processing and marketing infrastructure of the North-eastern Region of India.

Its objective is to undertake development and marketing of horticultural products within and outside the north eastern region and the supply of inputs, tools, equipment etc. required for the development of horticulture and agro-based industries.

The revival of NERAMAC will ensure remunerative prices to the farmers and provide better farming facilities and training to the farmers of the North Eastern Region.
About National Mission on Edible Oils – Oil Palm (NMEO-OP)
NMEO-OP was set up with the special emphasis on India's north-eastern states and the Andaman and Nicobar Islands due to the conducive weather conditions in the regions, under which

oil palm farmers will be provided financial assistance and will get remuneration under a price and viability formula

.

Its objective is to achieve self-reliance in edible oil by reducing import dependency of palm oil, thereby benefitting oil palm farmers & create employment generation.

The Mission aims to increase the area under cultivation for Oil Palm by an additional area of 6.5 lakh hectare (ha.) thereby reaching the target of 10 lakh hectares in the next 5 years
Do You Know? 
India is the largest edible oil importer in the world and imports 133.50 lakh tonnes costing 80 thousand crores.

Mizoram is ranked among the top 5 cultivators of Oil Palm in the country and its Farmers already have significant Oil Palm cultivation experience.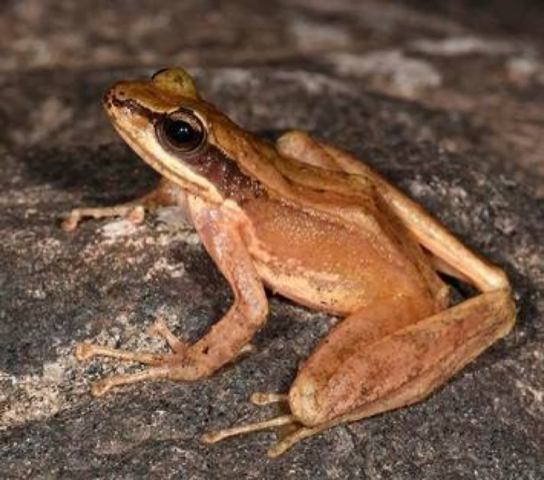 News Source: PIB
---
Part of: GS Prelims 
In news: Defence Research & Development Organisation (DRDO) has developed an Advanced Chaff Technology to safeguard fighter aircraft of the Indian Air Force (IAF) against hostile radar threats.
The technology has been given to the industry for production in large quantities to meet the annual rolling requirement of the Indian Air Force.

Defence Minister has lauded DRDO, IAF and the industry for indigenous development of this critical technology, terming it as one more step of DRDO towards 'AatmaNirbhar Bharat' in strategic defence technologies. 
Chaff technology:
Chaff is an electronic countermeasure technology used by militaries worldwide to protect naval ships, aircraft or other sensitive targets from radar and radio frequency (RF) guiding mechanisms of the enemy missile.

Chaff

 is

 composed of many small aluminium or zinc coated fibres

 stored on-board the aircraft in tubes. In case the aircraft feels threatened by any radar tracking missiles, chaff is ejected into the turbulent wake of air behind the plane.

The chaff deployed in the air reflect as multiple targets for the missile guidance systems, thus

misleading the enemy radars or deflecting adversary missiles

.

The purpose is

 

to confuse radar-guided or infrared-guided anti-aircraft missiles fired so that they could be diverted.

The importance of this technology lies in the fact that very less quantity of chaff material deployed in the air acts as decoy to deflect enemy's missiles for ensuring safety of the fighter aircraft.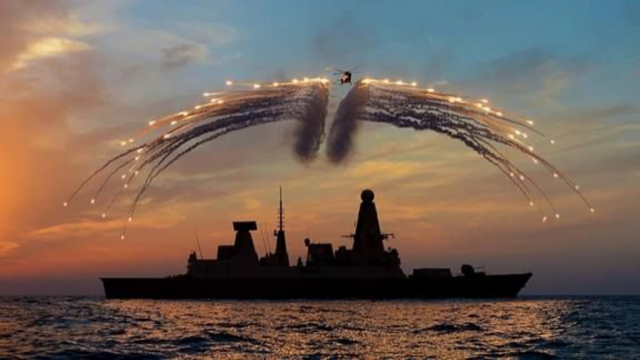 Defence Research and Development Organisation
DRDO works under the 

administrative control of the Ministry of Defence.

It is working to establish a world class science and technology base for India and provides Defence Services decisive edge by equipping them with internationally competitive systems and solutions.

It was 

established in 1958

 after combining Technical Development Establishment (TDEs) of the Indian Army and the Directorate of Technical Development & Production (DTDP) with the Defence Science Organisation (DSO).

It is responsible for carrying out 

Integrated Guided Missile Development Programme (IGMDP).
News Source: PIB
---
(Mains Focus)
---
ECONOMY/ GOVERNANCE
GS-3: Indian Economy & challenges
GS-3: Science and Technology- developments and their applications and effects in everyday life
GS-2: Government policies and interventions for development in various sectors and issues arising out of their design and implementation.
Context: Financial regulators across the world have targeted major cryptocurrency exchange Binance. Some have banned the platform from certain activities, while others have warned consumers that it was unlicensed to operate.
What is cryptocurrency?
A cryptocurrency is a digital or virtual currency that is secured by cryptography, which makes it nearly impossible to counterfeit or double-spend. 

Many cryptocurrencies are decentralized networks based on blockchain technology—a distributed ledger enforced by a disparate network of computers
What is Binance and how big is it?
Binance is a

cryptocurrency exchange

that offers a wide range of services to users across the globe, from cryptocurrency spot and derivatives trading to loans and non-fungible tokens.

It also runs a "decentralised" exchange that allows users to trade directly with each other.

Its own cryptocurrency, Binance Coin, is the third-biggest in the world, with some $68 billion-worth in circulation.

By some measures, it's the biggest platform in the world. Its trading volumes in July 2021 were $455 million, down almost a third from a month earlier.

Binance also leads crypto derivatives trading, with volumes topping $1.4 trillion in July – a 55% share of the overall market.

Binance is headed by Changpeng Zhao, a Canadian known as "CZ". 

Binance has built up a huge following across the world, with channels on the Telegram social media app for users in more than 30 countries.
WHERE IS IT BASED?
It's not entirely clear.

Binance's corporate structure is opaque. Its holdings company is registered in the Cayman Islands, according to British court documents and Malaysia's securities watchdog.

A Binance spokesperson has said the company is "decentralised" and that it "works with a number of regulated entities around the world".
Is it coming under scrutiny from regulators?
Yes – all over the world.
The Dutch central bank said Binance was

not in compliance with the anti-money laundering and anti-terrorist financing laws.
A string of other regulators – including those in Japan, Britain, Germany, Italy, Hong Kong and Malaysia – have also issued warnings against Binance in recent weeks.

Binance is also reportedly under investigation by the U.S. Justice Department and Internal Revenue Service.

The platform has said it takes

its compliance obligations

very seriously and is committed to following all regulatory requirements wherever it operates.
Is scrutiny having any impact?
Binance doesn't release financial data, so it's hard to say whether it has hit its business.

Yet the exchange has made several notable moves in the wake of the regulatory pressure.

Binance CEO said he wanted to improve relations with regulators. The exchange would seek their approval and establish regional headquarters.

Binance has also

dialled back some of its range of

crypto products that regulators may oversee.

In July 2021, it said it would wind down its futures and derivatives business across Europe, with users in Germany, Italy and the Netherlands among those first affected.

It has also restricted the trading of derivatives by Hong Kong users, saying the move was "in-line with our commitment to compliance."

In July 2021, Binance also stopped selling digital tokens linked to shares after regulators cracked down on its "stock token". It also said it would stop offering crypto margin trading involving the Australian dollar, euro and sterling.

Recently, the firm appointed a former U.S. Treasury criminal investigator as its global money laundering reporting officer.
Connecting the dots:
---
INTERNATIONAL/ SOCIETY
GS-2: India and its neighborhood- relations. 
GS-2: Policies and politics of developed and developing countries 
In news: Recently, The Taliban have pledged that women in Afghanistan will have rights "within the bounds of Islamic law," or Shariah, under their newly established rule. But it is not clear what that will mean.
The Taliban have been known for their strict interpretation of Sharia, including punishments such as public executions of convicted murderers and adulterers.
What is Sharia?
Sharia is Islam's legal system. 

It is derived from the Quran, Islam's holy book, as well as the Sunnah and Hadith – the deeds and sayings of the Prophet Muhammad. 

Where an answer cannot be derived directly from these, religious scholars may give rulings as guidance on a particular topic or question.

In Arabic, Sharia literally means "the clear, well-trodden path to water".

Sharia acts as a code for living that all Muslims should adhere to, including prayers, fasting and donations to the poor.

It aims to help Muslims understand how they should lead every aspect of their lives according to God's wishes.
What does this mean in practice?
Sharia can inform every aspect of daily life for a Muslim. 

For example, a Muslim wondering what to do if their colleagues invite them to the pub after work may turn to a Sharia scholar for advice to ensure they act within the legal framework of their religion.

Other areas of daily life where Muslims may turn to Sharia for guidance include family law, finance and business.
How are rulings made?
Like any legal system, Sharia is complex and its practice is entirely reliant on the quality and training of experts.

Islamic jurists issue guidance and rulings. Guidance that is considered a formal legal ruling is called a fatwa.

There are five different schools of Islamic law. There are four Sunni schools: Hanbali, Maliki, Shafi'i and Hanafi, and one Shia school, Jaafari.

The five schools differ in how literally they interpret the texts from which Sharia law is derived.

Interpretation of Islamic law is also nuanced according to local culture and customs, which means Sharia may look quite different in different places.
What are some of the tough punishments?
Islamic scholars says Sharia is mainly a code of ethical conduct and about worship and charity but a part of it deals with crime. 

Sharia law divides offences into two general categories: "hadd" offences, which are serious crimes with set penalties, and "tazir" crimes, where the punishment is left to the discretion of the judge.

Hadd offences include theft, which under the strictest interpretations of Sharia, can be punishable by amputating the offender's hand.

There are many safeguards and a high burden of proof in the application of hadd penalties.

Some countries where Islamic law is applied adopt or enforce such punishments for hadd offences, and surveys have suggested attitudes of Muslims to harsh penalties for such offences vary widely.
What is the concern now?
When the Taliban controlled Afghanistan from 1996 to 2001, they banned television and most musical instruments. 

When the Taliban ruled Afghanistan in the past, they imposed a strict one, barring women from working outside the home or leaving the house without a male guardian, eliminating schooling for girls, and publicly flogging people who violated the group's morality code.

Restrictions on behavior, dress and movement were enforced by morality police officers, who drove around in pickup trucks, publicly humiliating and whipping women who did not adhere to their rules. 

In 1996, a woman in Kabul, Afghanistan, had the end of her thumb cut off for wearing nail polish, according to Amnesty International.

Women accused of adultery were stoned to death

Shariah law for them meant lack of access to education, restricted access to health services, no access to justice, no shelter, no food security, no employment, literally nothing,

Presently, when the Taliban say they are instituting Shariah law, that does not mean they are doing so in ways that Islamic scholars or other Islamic authorities would agree with.

The insurgents have not yet said how they intend to apply it now. 

With Taliban taking over Afghanistan,millions of Afghan women fear a return to the past ways.
Connecting the dots:
---
(RSTV)
---
10th Aug 2021: The Big Picture – UN Debate: Maritime Security
https://www.youtube.com/watch?v=Wk44tcVXyFo&t=579s
SECURITY/ INTERNATIONAL
GS-2: Important International Organisation & their mandate
GS-3: Security & Challenges
In News: Prime Minister Narendra Modi on Monday chaired a high-level United Nations Security Council open debate on enhancing maritime security and the need for international cooperation in this field.
This is the first time that maritime security is being discussed in a holistic manner as an exclusive agenda item in such a high-level open debate and this step is certainly historic showing the level of commitment of the government towards maritime security.
Maritime Security
Maritime security is one of the latest buzzwords of international relations having multiple dimensions.

Core dimensions of maritime security involves the concept of blue economy, food security and the resilience of coastal populations.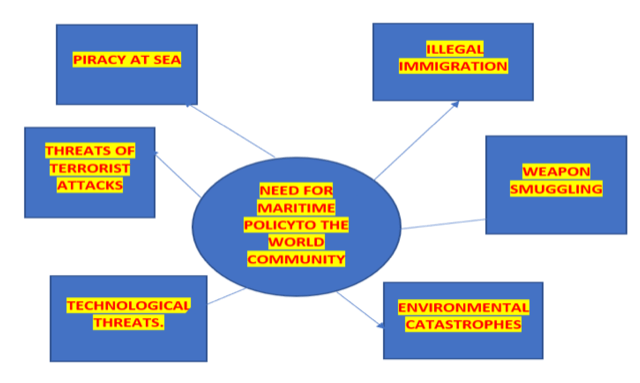 India and Maritime Security
The way India has positioned itself on the maritime map because of constant endeavor over the past few years. Be it 2015 Sagar policy Mr. Modi spoke about which later became sort of conceptual framework for Indian navy. All reflected the attention Indian government paid to maritime challenges.

For India, maritime security is an important aspect of national security as it has a coastline of over 7,000 km.

India's exports and imports have remained mostly across the shipping lanes of the Indian Ocean.

Therefore, securing Sea Lanes of Communication (SLOCs) have been an important issue for India in the 21st century.
India's 5-Point Agenda for Enhancing Maritime Cooperation
We must remove barriers in maritime trade as they are challenges for the entire world. 

Maritime disputes should be resolved peacefully and on the basis of international law only. 

We should face natural calamities and maritime threats created by non-state actors together. 

We have to preserve the maritime environment and maritime resources. 

We should encourage responsible maritime connectivity. 
Outcome of the UNSC Meet
What lies in the heart of India's maritime insecurity is China claiming sovereignty over all of the South China Sea islands and their adjacent waters.

PM pointedly referred to "dangerous encounters between vessels at sea and provocative actions to advance unlawful maritime claims" in the South China Sea (SCS).

India's maritime security initiative is a wake-up call for everyone to recognize and address the real and imminent threat to our common maritime heritage.

India's concept of SAGAR and its vison of Indo-Pacific is receiving greater acceptability. Nations accept that the objective should be development for all.

The convergence of Russia and India is of great importance. While Russia is aware of the tension growing in the SCS, it is also concerned that none should disturb the strategic balance in the Arctic.

China has to make a choice whether it wishes to act as a responsible and mature nation and accept the international laws or would continue to flout them.
Can You answer this question now?
Discuss the 5-point agenda for enhancing maritime cooperation.
---
(TEST YOUR KNOWLEDGE)
---
Model questions: (You can now post your answers in comment section)
Note:
Correct answers of today's questions will be provided in next day's DNA section. Kindly refer to it and update your answers.
Q.1 Adi tribe belongs to which of the following state of India? 
Maharashtra 

Odisha

Arunachal Pradesh 

Rajasthan
---
Q.2 Consider the following statements regarding UNITE AWARE:
UNITE AWARE is a mobile tech platform developed by USA to provide terrain-related information to the UN peacekeepers so as to ensure their safety. 

It is being developed in partnership with the UN Department of Peacekeeping Operations and the Department of Operational Support.

All members of UNSC have jointly spent 1.64 million USD for this project.
Which of the above is or are incorrect? 
1 and 2 only 

2 and 3 only 

1 and 3 only

3 only
---
Q.3 Where is New Development Bank headquartered?
Shanghai

Beijing 

Taiwan

None of the above
---
ANSWERS FOR 19th August 2021 TEST YOUR KNOWLEDGE (TYK)
---
Must Read
On Abraham Accords and India:
On Caste Census:
On India's Informal Sector:
For a dedicated peer group, Motivation & Quick updates, Join our official telegram channel – https://t.me/IASbabaOfficialAccount
Subscribe to our YouTube Channel HERE to watch Explainer Videos, Strategy Sessions, Toppers Talks & many more…