---
(PRELIMS + MAINS FOCUS)
---
Part of: GS Prelims and Mains GS-II- International Relations 
Context: India-led United Nations Security Council (UNSC) Resolution 2593 addressed India's "key concerns" on Afghanistan.
Russia and China Who are among the Permanent members of UNSC abstained from The resolution.
About resolution 2593 
The resolution called on the Taliban to keep their commitments on preventing terror groups in Afghanistan.

It urged them to assist the safe evacuations of all Afghan nationals wishing to lead the country. 

It mentions individuals designated by Resolution 1267 also, which includes the Lashkar E Taiba and Jaish-e- Muhammad.
About UNSC
The UNSC is one of the six principal organs of the United Nations 

It is charged with the maintenance of international peace and security.

Powers:

Establishment of peacekeeping operations, establishment of international sanctions, and the authorization of military action through Security Council resolutions.

It is the only UN body with the authority to issue binding resolutions to member states.

The Security Council consists of fifteen members. 

Permanent members (P5)

: Russia, UK, France, China, and USA 

These permanent members can veto any substantive Security Council resolution, including those on the admission of new member states or candidates for Secretary-General.

The Security Council also has 10 non-permanent members, elected on a regional basis to serve two-year terms. 

The body's presidency rotates monthly among its 15 members.
About Resolution 1267
Resolution 1267 was adopted unanimously on 15 October 1999. 

The UNSC designated Osama bin Laden and associates as terrorists and established a sanctions regime to cover individuals and entities associated with Al-Qaida, Osama bin Laden and/or the Taliban wherever located.

Since the US invasion of Afghanistan in 2001 which ended recently, the sanctions have been applied to individuals and organizations in all parts of the world.

There was no right of appeal against listing until December 2006.
Do you know?
India had

assumed the Presidency

of the United Nations Security Council (UNSC) recently. It is India's first Presidency during its 2021-22 tenure as a non-permanent member of Security COuncil.

Recently, the USA exited

Afghanistan

completely after 20 years of its invasion.
---
Part of: GS Prelims and Mains GS-III Economy 
Context: India's Gross Domestic Product (GDP) grew by 20.1% in the first quarter of 2021-22.
Key takeaways
Gross Value Added (GVA)

in the economy (April to June) rose 18.8%, as per the National Statistical Office (NSO), from a 22.2% dip in the first quarter of 2020-21.

Electricity, gas, water supply and other utility services was the only sector along with agriculture, forestry and fishing, to recover beyond the pre-pandemic levels of 2019-20.
What is the difference between GDP and GVA?
Gross value added (GVA) is defined as the value of output less (minus) the value of intermediate consumption. 

It is used to measure the output or contribution of a particular sector. 

When such GVAs from all sectors (∑ GVA) are added together along with adding taxes and reducing subsidies,  we can get the GDP (at market price). 

GVA thus shows the production contribution of a

particular sector

and

GDP

shows the production contribution of

  the  economy.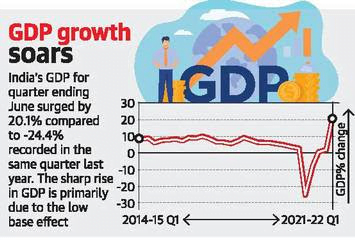 ---
Part of: GS Prelims and Mains GS-II- International Relations 
Context:  A new rail line providing China with access to the Indian Ocean via Myanmar was opened recently on the Chinese side of the border.
The rail line will enable China to trans-ship cargo from Singapore Port via Myanmar.
The rail line stretches from Chengdu, the capital of Sichuan Province, to Lincang, a prefecture-level city in China's Yunnan Province opposite Chin Shwe Haw, a border trade town in Myanmar's northeastern Shan State.
Importance of the route
The route (Check out the given map) is the first to link western China with the Indian Ocean. 

It will significantly reduce the time needed to import cargo to landlocked Yunnan Province. 

The route is expected to become the lifeblood of international trade for China and Myanmar, while providing a source of income for Myanmar's military regime. 
Economic cooperation zone in Chin Shwe Haw
Meanwhile, measures are under way to establish a border economic cooperation zone in Chin Shwe Haw as part of China's

Belt and Road Initiative (BRI). 

The planned zone will become an intermediate economic hub for Yunnan Province's imports and exports. 
Do you know? 
This passage connects the logistics lines of Singapore, Myanmar and China, and is currently the most convenient land and sea channel linking the Indian Ocean with southwest China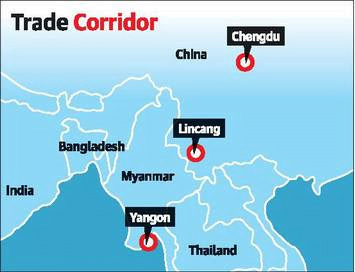 ---
Part of: GS Prelims and Mains GS-III – Economy 
Context: Recently, the Securities and Exchange Board of India (SEBI) has brought into effect the SEBI (Share Based Employee Benefits and Sweat Equity) Regulations, 2021. The regulations have widened the scope of employees who can be offered stock (equity) options.
SEBI has merged the SEBI (Share Based Employee Benefits) Regulations, 2014 (SBEB Regulations) and the SEBI (Issue of Sweat Equity) Regulations, 2002 (Sweat Equity Regulations).

SEBI is a statutory body established in accordance with the provisions of the SEBI Act, 1992. Its basic function is to protect the interests of investors in securities and to regulate the securities market.
What is Sweat Equity? 
Sweat equity is a non-monetary contribution that the individuals or founders of a company make towards the company.

Cash-strapped startups and business owners typically use sweat equity to fund their companies.

It will be

issued for providing

the know-how or making available rights in the form of intellectual property rights or value additions.

The maximum yearly limit that can be issued by a listed company has been prescribed at 15% of the existing paid-up equity share capital 

It will be applicable for 10 years from the date of the company's incorporation.
---
Part of: GS Prelims and Mains GS-III – Awareness in Space 
Context: A rare merging of three supermassive black holes has been spotted by a team of astrophysicists in India.
Key takeaways 
All three merging black holes were part of galaxies in the

Toucan constellation.

The discovery was made using data from the

Ultraviolet Imaging Telescope (UVIT)

onboard the

first Indian space observatory ASTROSAT

, the European integral field optical

telescope called MUSE

mounted on the Very Large Telescope (VLT) in Chile and infrared images from the optical telescope (IRSF) in South Africa.
What is the significance of the discovery? 
Presence of a third black hole solves the final parsec problem.

If two galaxies collide, their black hole will also come closer by transferring the kinetic energy to the surrounding gas. 

The distance between the blackholes decreases with time until the separation is around a parsec (3.26 light-years).

The two black holes are then unable to lose any further kinetic energy to get even closer and merge. 

This is known as the final parsec problem.
How does the presence of a third black hole solve this problem?
The two black holes can come closer when another black hole or a star passes by and takes away some of their combined angular momentum. 

Thus, the dual merging blackholes merge with each other in the presence of a third.
What is a black hole?
A black hole is an object in space that is so dense and has such strong gravity that no matter or light can escape its pull. 

The boundary at the edge of a black hole is called the event horizon, which is the point of no return. 

Anything that crosses the event horizon is destined to fall to the very centre of the black hole and be squished into a single point with infinite density, called the singularity.
---
(News from PIB)
---
Part of: GS Prelims 
In News:  
INS Tabar, as part of her overseas deployment, made a port call at Casablanca in Morocco on 25 and 26 Aug 21.

The ship participated in a Maritime Partnership Exercise with Royal Moroccan Navy ship 'Lieutenant Colonel Arrahman' off Casablanca port. 

Evolutions like communication drills, replenishment at sea procedures and naval manoeuvres were undertaken during the exercise. 

The exercise concluded with the traditional 'Steam Past' between the two ships to bid farewell to each other.
About INS Tabar:
INS Tabar (translates as "battle axe") is the third of the Talwar-class frigate of the Indian Navy. The frigate was commissioned on 19 April 2004 in Kaliningrad, Russia.

INS Tabar is a well-equipped warship that has the ability to handle air/surface/sub-surface missions or defending herself operating either independently on maritime missions or supporting a larger naval task force.
News Source: PIB
---
Part of: GS Prelims 
In News:  
Prime Minister Shri Narendra Modi will release a special commemorative coin of ₹ 125 and will also address the gathering, on the occasion of the 125th Birth Anniversary of Srila Bhaktivedanta Swami Prabhupada Ji on 1st September 2021.
About Srila Bhaktivedanta Swami Prabhupada Ji:
Swami ji born Abhay Charan De, was an Indian spiritual teacher and the founder-acharya (preceptor) of the the International Society for Krishna Consciousness (ISKCON) commonly known as the "Hare Krishna movement that translated Shrimad Bhagvad Geeta and other Vedic literature in 89 languages, playing a stellar role in dissemination of Vedic literature across the world.

Swamiji also established over a hundred temples and wrote several books, teaching the path of Bhakti Yoga to the world.

He has been described as a charismatic leader who was successful in acquiring followers in many countries including the United States, Europe and India.

His mission was to propagate throughout the world Gaudiya Vaishnavism, a school of Vaishnavite Hinduism that had been taught to him by his guru, Bhaktisiddhanta Sarasvati.
News Source: PIB
---
(Mains Focus)
---
INTERNATIONAL / SECURITY
GS-2: Important International institutions, agencies and fora- their structure, mandate. 
GS-2: Bilateral, regional and global groupings and agreements involving India and/or affecting India's interests
Context: The 13th BRICS summit (Brazil, Russia, India, China and South Africa) is set to be held on September 9 in digital format under India's chairmanship. 
India held the chair in 2012 and 2016 too. 
Importance of BRICS: It represents 42% of the world's population, 30% of the land area, 24% of global GDP and 16% of international trade.
Successes of BRICS
It tried to serve as a bridge between the Global North and Global South. 

It actively championed for multipolarity in world (against dominance of US)

It developed a common perspective on a wide range of global and regional issues (Ex: Climate Change & Trade) 

It established the New Development Bank.

It created a financial stability net in the form of Contingency Reserve Arrangement.

It is on the verge of setting up a Vaccine Research and Development Virtual Centre.
Challenges of the grouping
India aligning with US and Russia-China coming together in geopolitics.
India-China relations at the lowest since China's aggression in Ladakh in 2020.
Serious internal challenges preoccupying both Brazil and South Africa (Political instability).

Inadequate trade and investment ties among its member states and China's centrality & dominance of intra-BRICS trade flows.

BRICS countries have not done enough to assist the Global South to win their optimal support for their agenda. 
As the current chair, India has outlined four priorities
Though not a new goal, India wants BRICS to pursue

reform of multilateral institutions

ranging from the UN, World Bank, IMF, WTO and WHO. 
Combat terrorism

by crafting the BRICS Counter Terrorism Action Plan containing specific measures to fight radicalisation, terrorist financing and misuse of the Internet by terrorist groups

Promoting

technological and digital solutions

for the Sustainable Development Goals 

Expanding

people-to-people cooperation

among BRICS countries in the post-COVID era where travel restrictions are lifted.
Conclusion
The idea of BRICS – a common pursuit of shared interests by the five emerging economies from four continents – is fundamentally sound and relevant. 

The governments have invested huge political capital in pushing the BRICS experiment forward. Therefore, the strains in the grouping needs to be addressed to keep alive the relevance of it.
Connecting the dots:
---
DISASTER MANAGEMENT/ GOVERNANCE
GS-3: Disaster and disaster management. 
GS-2: Government policies and interventions for development in various sectors and issues arising out of their design and implementation.
Context: The Brihanmumbai Municipal Corporation (BMC) is drafting a Mumbai Climate Action Plan (MCAP) in a bid to tackle climate challenges. It recently launched a website for the same.
Do You Know?
Mumbai joined C40 Cities group in December 2020. 

There are 97 cities across the world connected in C40 Cities, who are pushed to develop and implement climate action plans to address climate change by reducing greenhouse gas emission significantly.
What is the Mumbai Climate Action Plan?
Amid warnings of climate change leading to extreme weather events in the city, the civic body has started preparing the Mumbai Climate Action Plan (MCAP). 

It will look at climate resilience with mitigation and adaptation strategies by focusing on six areas — 
Sustainable waste management

Urban greening and biodiversity

Urban flooding and water resource management

Building energy efficiency

Air quality

Sustainable mobility

The plan is expected to be ready by November ahead of the United Nations Climate Change (COP26) conference.
Why does Mumbai need a climate action plan?
As per a study conducted by the World Resource Institute (WRI) India on Mumbai's vulnerability assessment, the city will face 

two major climate challenges

—
Rise in temperature 

Extreme rain events which will lead to flooding.

IPCC has warned that at least 12 Indian coastal cities including Mumbai will face

sea rise of 0.1 metres to 0.3 metres

in next three decades due to climate change.

In February 2020, a report from McKinsey India stated that by 2050, Mumbai will see a

25% increase in the intensity of flash floods

and a 0.5 metre rise in sea level, which will affect two to three million people living within 1-km from the coastline.

Since 2007, the city has seen a

constant rise in temperature mainly due

to

concretization, lack of green cover

and housing density. The average rise in temperature is up to 1 degree Celsius in these 14 years.

City has witnessed increase in the number of

extremely heavy rainfall events.

Mumbai has seen, on an average, six heavy (64.5 – 115.5 mm), five very heavy (115.6 – 204.4 mm) and four extremely heavy (> 204.5 mm) rain events per year.

Mumbai's climate action plan will help set a vision and implement strategies to fight these climate challenges with mitigation and adaptation steps
What is the greenhouse gas emission of the city?
The data show that Mumbai's greenhouse gas emission was

34.3 million tonnes in 2019.
71% came from the energy sector which is mainly based on coal. 

24% is from transport, 

Remaining 5% from solid waste management.

As per the data, 95 per cent of Mumbai's electricity is coal-based and needs to be shifted to renewable energy to bring down emissions.
How does BMC plan to tackle the climate challenges?
To minimise the impact of climate change, the MCAP will focus on reduction of greenhouse gas emission by sectors, and consumption patterns, for the near term (2030), medium term (2040) and long-term (2050).

To better adapt to increasing climate risks so as to make "climate resilient Mumbai", following steps will be taken

Vulnerability assessment

Increasing community resilience capacities in vulnerable neighborhoods

Building climate resilient infrastructure 

Nurturing robust natural systems
Connecting the dots:
---
(AIR Spotlight)
---
Spotlight 27 (Aug): THE LATEST DEVELOPMENTS IN AFGHANISTAN AND INDIA'S EVACUATION EFFORTS.
https://www.youtube.com/watch?v=chP8fIZuAPo
INTERNATIONAL/ SECURITY
GS-2: India and its neighbourhood.
GS-2: Impact of politics of other countries on India
Context: External affairs minister S Jaishankar called its operation to evacuate its citizens from war-torn Afghanistan as 'Operation Devi Shakti' and saluted the efforts of Indian Air Force and Air India.
The latest developments in Afghanistan:
Amid a massive evacuation effort by western troops, a suspected suicide bomb exploded outside Kabul airport in Afghanistan on Thursday, killing at least 13 people including children, civilians and US service members.

Thousands of people have been gathering outside the Kabul airport in recent days with western troops racing to evacuate foreigners and Afghans to get out of the war-torn country by an Aug 31 deadline after the Taliban takeover of Afghanistan.
About India's evacuation effort:
India has so far evacuated nearly 620 people, including 500 of its nationals, on flights from Kabul, Dushanbe and Doha. 

Nearly 200 people – including diplomats, officials and security personnel posted at the Indian embassy and some Indian nationals – were flown out of Kabul within two days of the Taliban marching into the Afghan capital on August 15.

The evacuation flights have involved the C-130 and C-17 aircraft of the IAF and Air India's aircraft. However, flights by military aircraft from the Afghan capital to India have had to take longer routes through Iranian airspace in order to avoid flying over Pakistan.

India is carrying out the evacuation missions in coordination with the US and several other countries.
India's priorities in the circumstances:
India's priorities in the Afghan crisis and evacuation effort have been as follow:

Evacuation of Indian nationals, safety of our diplomatic personnel.

Assistance to Afghan nationals in distress.

Providing leadership – Neighbourhood First.

International coordination and humanitarian efforts.

 UNSC Special Session chaired by India on Afghanistan.

Upcoming UNHRC Session in Geneva.

 UN 1988 Sanctions Committee chaired by India.
Can you answer this question now?
Discuss the role India played in evacuating the Indians in Afghanistan amidst the crisis.
---
(TEST YOUR KNOWLEDGE)
---
Model questions: (You can now post your answers in comment section)
Note:
Correct answers of today's questions will be provided in next day's DNA section. Kindly refer to it and update your answers.
Q.1) Consider the following statements: 
The dual merging blackholes cannot merge with each other in the presence of a third blackhole

If two galaxies collide, their black hole will also come closer by transferring the kinetic energy to the surrounding gas. 

A black hole is an object in space that has zero density and has such strong gravity that no matter or light can escape its pull.
Which of the above statement is/are correct?
1 and 2 only

2 only

1 and 3 only

1,2 and 3
---
Q.2) Resolution 1267 deals with which of the following? 
Reducing greenhouse gas emissions

Eradication of poverty

Eliminating TB from South Asian countries 

Designating terrorists
---
Q.3) Consider the following statements about a new rail line opened by China that gives it access to the Indian Ocean:
The rail line will enable China to trans-ship cargo from Singapore Port via Myanmar.

It will significantly reduce the time needed to import cargo to landlocked Yunnan Province.
Which of the above statement is/are correct?
1 only

2 only

Both 1 and 2

Neither 1 nor 2
---
ANSWERS FOR 31st August 2021 TEST YOUR KNOWLEDGE (TYK)
---
Must Read
On managing Natural resources: A model in Meghalaya:
On Palm Oil Production:
On Samagra Shiksha 2.0:
For a dedicated peer group, Motivation & Quick updates, Join our official telegram channel – https://t.me/IASbabaOfficialAccount
Subscribe to our YouTube Channel HERE to watch Explainer Videos, Strategy Sessions, Toppers Talks & many more…