---
(PRELIMS & MAINS Focus)
---
INDIA's FIRST INTERNATIONAL BULLION EXCHANGE (IIBE)
Syllabus
In News: Prime Minister of India launched the India International Bullion Exchange (IIBX), India's first International Bullion Exchange, and NSE IFSC-SGX Connect.
India is the world's second biggest consumer of gold and the move to set up the IIBX is seen as India's effort to bring transparency to the market for the precious metal.
Setting up of IIBX could lead to standard gold pricing in the country and make it easier for small bullion dealers and jewellers to trade in the precious metal.
India International Bullion Exchange (IIBX)
It is a platform that not only enrols jewellers to trade on the exchange, but has also set up necessary infrastructure to store physical gold and silver.
IIBX will facilitate efficient price discovery with the assurance of responsible sourcing and quality, apart from giving impetus to the financialisation of gold in India.
IFSCA is entrusted with notifying the eligible qualified jewellers in India for directly importing gold through IIBX.
International Financial Services Centers Authority (IFSCA)
PM also laid foundation stone of the headquarters building of the International Financial Services Centers Authority (IFSCA) in GIFT City, Gandhinagar.
The IFSCA works as a unified authority for the development and regulation of financial products, financial services and financial institutions at the IFSC at GIFT city in Gandhinagar.
NSE IFSC-SGX Connect
It is a framework between NSE's subsidiary in the GIFT International Financial Services Centre (IFSC) and Singapore Exchange Limited (SGX).
Under Connect, all orders on NIFTY derivatives placed by members of Singapore Exchange will be routed to and matched on the NSE-IFSC order matching and trading platform.
Broker-Dealers from India and across international jurisdictions are expected to participate in large numbers for trading derivatives through Connect.
It will deepen liquidity in derivative markets at GIFT-IFSC, bringing in more international participants and creating a positive impact on the financial ecosystem in the GIFT-IFSC.
GIFT City
GIFT (Gujarat International Finance Tec-City) City is located in Gandhinagar, Gujarat.
It consists of a multi-service Special Economic Zone (SEZ), which houses India's first International Financial Services Centre (IFSC) and an exclusive Domestic Tariff Area (DTA).
GIFT city (Gujarat International Finance Tec-City) is envisaged as an integrated hub for financial and technology services not just for India but for the world.
 International Financial Services Centres Authority
It was established in April 2020 under the International Financial Services Centres Authority Act, 2019.
It is headquartered at GIFT City, Gandhinagar in Gujarat.
Functions:
The Authority shall regulate all such financial services, financial products and Financial Institutions in an IFSC.
It may also recommend to the Central Government such other financial products, financial services and financial institutions which may be permitted in the IFSCs.
Powers:
All powers exercisable by the respective financial sector regulatory (viz. Reserve Bank of India, Securities and Exchange Board of India, IRDAI, etc.) under the respective Acts shall be solely exercised by the Authority in the IFSCs in so far as the regulation of financial products, financial services and FIs that are permitted in the IFSC are concerned.
Source: Pib.Gov
Previous Year Question
Q.1) Consider the following statements: (2022)
In India, credit rating agencies are regulated by Reserve Bank of India.
The rating agency popularly known as ICRA is a public limited company.
Brickwork Rating is an Indian credit rating agency.
Which of the statements given above are correct?
1 and 2 only
2 and 3 only
1 and 3 only
1, 2 and 3
---
Floating Solar Power Plant - KAYAMKULAM
Syllabus
Prelims – Current Affairs
In News: Prime Minister dedicated to the nation the 92-MW floating solar power project set up at the National Thermal Power Corporation's (NTPC) Kayamkulam unit in Kerala.
PM stated that so far, about 170 GW capacity has been installed from non-fossil sources in India.
India is among the top four-five countries in terms of installed solar capacity.
The Kayamkulam plant is the second-largest floating solar power project of the NTPC after the 100-MW plant at Ramagundam in Telangana.
The floating solar system was built on a 450-acre lake area adjacent to the NTPC's Rajiv Gandhi Combined Cycle Power Project (RGCCPP).
Implemented at a cost of ₹465 crores, the project consists of around three lakh Made in India solar PV panels floating on water.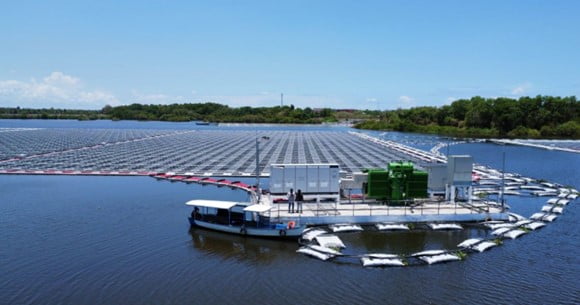 Source: The Hindu
Previous Year Question
Q.1) Consider the following statements: (2022)
Gujarat has the largest solar park in India
Kerala has a fully solar powered International Airport
Goa has the largest floating solar photovoltaic project in India.
Which of the statements given above is/are correct?
1 and 2
2 only
1 and 3
3 only
---
Draft e-waste Rules
Syllabus
Prelims – Current Affairs
Mains – GS 3 (Environment Poll)
In News: Recently Environment Ministry has released Draft E-waste Management Rules, 2022, for public comments.
Stats
The Environment Ministry estimated 7,70,000 tons of e-waste to have been generated in 2018-19 and around one million tons in 2019-20 of which only a fifth (about 22% in both years) has been confirmed to be "dismantled and recycled."
Background
A proposed framework by the Centre for regulating e-waste in India has upset a key link of India's electronic waste collection system and threatens the livelihood of thousands.
Electronic waste that are past their shelf life is largely handled by India's vast informal sector.
Many of these units are run out of unregulated sweatshops that employ child labour and hazardous extraction techniques.
This electronic detritus also contributes to contaminating soil as well as plastic pollution.
To address all of this, the environment ministry brought the E waste (Management) Rules, 2016, that introduced a system of Extended Producer Responsibility (EPR) compelling makers of electronic goods to ensure a proportion of the goods they sold every year was recycled.
They are expected to maintain records annually demonstrating this.
Most companies however didn't maintain an in-house unit in charge of recycling and this gave rise to network of government-registered companies, called Producer Responsibility Organisations (PRO) who acted as an intermediary between manufacturers of electronic goods and formal recycling units that were technologically equipped to safely and efficiently recycle end-of-life electronic goods.
As of March, the Central Pollution Control Board has registered 74 PROs, and 468 authorised dismantlers who have a collective recycling capacity of about 1.3 million tons.
Draft Rules
Recently the Environment Ministry issued a draft notification that does away with PRO and dismantlers and vests all responsibility of recycling with authorised recyclers, only a handful of whom exist in India.
Recyclers will source a quantity of waste, recycle them and generate electronic certificates.
Companies can buy these certificates equivalent to their annual committed target and thus do not have to be involved with engaging PROs and dismantlers. T
Several PROs have mailed their objections to the Environment Ministry arguing that dismantling a fledgling system was detrimental to the future of e-waste management in India.
Under the new rules, recyclers will likely establish their own supply chains and companies will no longer bear any responsibility for ensuring that their produce is recycled.
Concern
Five years of investing and putting in place a system to collect and channelise waste was under threat as about 25,000-30,000 were employed in this sector.
E-waste Management Rules, 2016:
The Central Government, in the exercise of the powers provided under the Environment (Protection) Act, 1986, had notified e-waste management rules in 2016.
These rules supersede the E-waste (Management and Handling) Rules, 2011.
The rules aim to enable the recovery and/or reuse of useful material from e-waste, and to ensure the environmentally sound management of all types of waste of electrical and electronic equipment.
For the first time, the rules brought the producers under Extended Producer Responsibility (EPR), along with targets.
Producers have been made responsible for the collection of E-waste and for its exchange.
The manufacturers, dealers, e-retailers, and refurbishers have been brought under the ambit of these rules to ensure that the e-waste is effectively channelized and disposed of.
The urban local bodies have been assigned the responsibility of collecting back the e-waste arising from the orphan products and channelizing it to authorized dismantler or recycler.
Amendment to EWM Rules, 2016:
In 2018, the EWM Rules were further amended.
The new E-Waste (Management) Amendment Rules, 2018 has the provision of introduction of Producer Responsibility Organisation (PRO) registration.
PRO is defined as a professional organization which can take the responsibility for collection and channelization of e-waste to ensure environmentally sound management of such e-waste.
PROs are now required to register with CPCB under the new Rules.
PROs will also have to prove that all collection is legitimate and share proofs for such collection.
Source: The Hindu
Previous Year Questions
Q.1) Due to improper/indiscriminate disposal of old and used computers or their parts, which of the following are released into the environment as e-waste? (2013)
Beryllium
Cadmium
Chromium
Heptachlor
Mercury
Lead
Plutonium
Select the correct answer using the codes given below:
1, 3, 4, 6 and 7 only
1, 2, 3, 5 and 6 only
2, 4, 5 and 7 only
1, 2, 3, 4, 5, 6 and 7
Q.2) In India, 'extended producer responsibility' was introduced as an important feature in which of the following? (2019)
The Bio-medical Waste (management and handling) rules,1998
The Recycled Plastic (manufacturing and usage) rules, 1999
The e- Waste (Management and handling) rules, 2011
The food safety and standard regulations, 2011
---
Pingtan Islands
Syllabus
Prelims – Geography (Places in News)
In News: China announces military exercise opposite Taiwan
China's military exercise comes ahead of U.S. Speaker Nancy Pelosi's plans to visit to the island country.
The ruling Communist Party's military wing, the People's Liberation Army, was conducting "live-fire exercises" near the Pingtan islands off Fujian province, China.
China says Taiwan has no right to conduct foreign relations. I
t sees visits by American officials as encouragement for the island to make its decades-old de facto independence official.
Taiwan and China split in 1949 after a civil war that ended with a communist victory on the mainland.
The two governments say they are one country but disagree over which is entitled to national leadership.
They have no official relations but are linked by billions of dollars in trade and investment.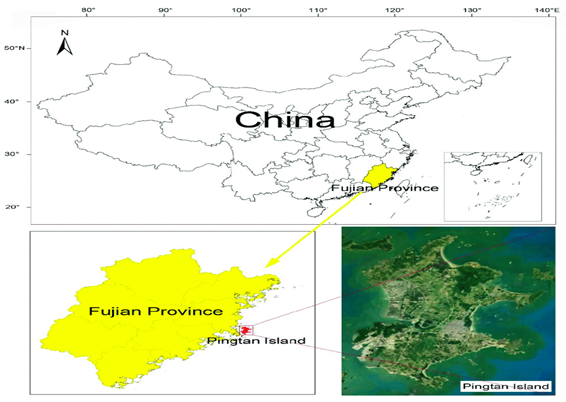 Source: The Hindu
Previous Year Question
Q.1) Which one of the following statements best reflects the issue with Senkaku Islands, sometimes mentioned in the news? (2022)
It is generally believed that they are artificial islands made by a country around South China Sea.
China and Japan engage in maritime disputes over these islands in East China Sea.
A permanent American military base has been set up there to help Taiwan to increase its defence capabilities.
Though International Court of Justice declared them as no man's land, some South-East Asian countries claim them.
---
Military Exercises
Syllabus
Prelims – Current Affairs
Ex VINBAX 2022
In News: The 3rd Edition of Vietnam India Bilateral Army Exercise "Ex VINBAX 2022" is scheduled to be conducted at Chandimandir from 01 to 20 Aug 2022.
The exercise is a sequel to previously conducted bilateral exercise in Vietnam in 2019 and a major milestone in strengthening the bilateral relations between India and Vietnam.
India and Vietnam share a Comprehensive Strategic Partnership and defence cooperation is a key pillar of this partnership.
Vietnam is an important partner in India's Act East policy and the Indo-Pacific vision.
The theme of Ex VINBAX – 2022 is employment and deployment of an Engineer Company and a Medical Team as part of United Nations Contingent for Peace Keeping Operations.
Al NAJAH-IV
In News: The 4th Edition of India Oman Joint Military Exercise 'AL NAJAH-IV' between contingents of Indian Army and the Royal Army of Oman is scheduled to take place at the Foreign Training Node of Mahajan Field Firing Ranges (Rajasthan) from 01 to 13 August 2022.
The joint exercise would focus on Counter Terrorism Operations, Regional Security Operations and Peace Keeping Operations under United Nations charter apart from organising joint physical training schedules, tactical drills, techniques and procedures.
The joint military exercise aims to enhance the level of defence co-operation between Indian Army and Royal Army of Oman and will further manifest in enhancing the bilateral relations between the two nations.
Source: Pib.Gov
---
Chabahar Day
Syllabus
Prelims – International Relations
Mains – International Relations
In News: 'Chabahar Day' observed to promote Chabahar – Link to INSTC – Connecting Central Asian Markets.
Ministry of Port, Shipping and Waterways (MoPSW) in association with India Ports Global observed 'Chabahar Day' to mark the Chabahar – Link to INSTC – Connecting Central Asian Markets in Mumbai.
Dignitaries from Iran, Kazakhstan, Kyrgyzstan, Tajikistan, Turkmenistan, Uzbekistan and Afghanistan were present on the occasion.
The Chabahar Port located in Iran is the commercial transit center for the region and especially Central Asia.
Minister in his address stated that our vision is to make Shahid Beheshti Port at Chabahar a transit hub and linking it to INSTC to reach out to Central Asian Countries.
During the event, the delegates from the Central Asian countries highlighted how Chabahar link with INSTC can play a vital role in boosting EXIM trade in their regions and its potential to further boost development in the landlocked countries.
The port is being developed by India, Iran and Afghanistan to boost trade ties among the three countries in the wake of Pakistan denying transit access to New Delhi.
Chabahar Port
Chabahar Port is a seaport in Chabahar located in south-eastern Iran, on the Gulf of Oman.
It serves as Iran's only oceanic port, and consists of two separate ports named Shahid Kalantari and Shahid Beheshti.
It is considered to be a major transit point to connect with several Central Asian countries.
The port of Chabahar is located on the Makran coast of Sistan and Baluchistan Province, next to the Gulf of Oman and at the mouth of Strait of Hormuz.
It is the only Iranian port with direct access to the Indian Ocean.
Being close to Afghanistan and the Central Asian countries of Turkmenistan, Uzbekistan etc., it has been termed the "Golden Gate" to these land-locked countries.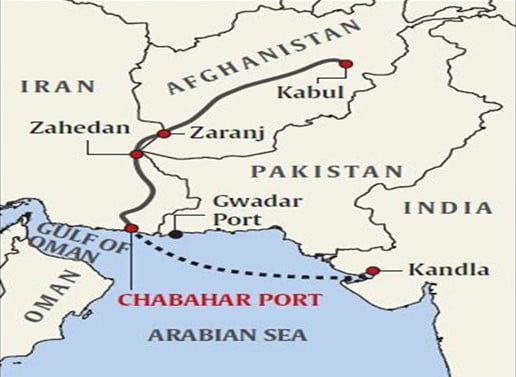 International North-South Transport Corridor (INSTC):
It is a multi-modal transportation established on 12th September 2000 in St. Petersburg, by Iran, Russia and India for the purpose of promoting transportation cooperation among the Member States.
The INSTC was expanded to include eleven new members, namely: the Republic of Azerbaijan, Republic of Armenia, Republic of Kazakhstan, Kyrgyz Republic, Republic of Tajikistan, Republic of Turkey, Republic of Ukraine, Republic of Belarus, Oman, Syria, Bulgaria (Observer).
It envisions a 7,200-km-long multi-mode network of ship, rail and road route for transporting freight, aimed at reducing the carriage cost between India and Russia by about 30% and bringing down the transit time from 40 days by more than half.
This corridor connects India Ocean and the Persian Gulf to the Caspian Sea via the Islamic Republic of Iran and then is connected to St. Petersburg and North Europe via the Russian Federation.
Source: Pib.Gov
Previous Year Question
Q.1) What is the importance of developing Chabahar Port by India? (2017)
India's trade with African countries will enormously increase.
India's relations with oil-producing Arab countries will be strengthened.
India will not depend on Pakistan for access to Afghanistan and Central Asia. 
Pakistan will facilitate and protect the installation of a gas pipeline between Iraq and India.
---
Shaheed Udham Singh
Syllabus
In News: Prime Minister salutes Shaheed Udham Singh on his martyrdom day.
Udham Singh
Singh was born on December 26, 1899, to a very poor family in the Sangrur district of Punjab.
His birth name was Sher Singh.
Singh joined the British Indian Army during the First World War as a manual labourer, serving overseas.
It was after his return to India in 1919 that his life as a revolutionary began.
In the two decades of political activism that followed – activism that spanned four continents and more than 20 countries – Singh took on different names and occupations.
At one point, he was known as Ude Singh; at another, Frank Brazil.
His last nom de guerre was Mohammad Singh Azad, a name he considered a symbol of communal harmony and anti-colonialism.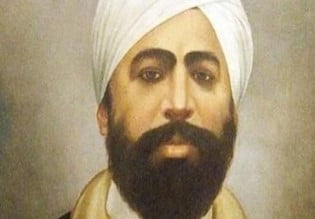 A revolutionary career
Udham Singh's lifelong association with the Ghadar Party began in 1919 after he returned from his second stint in the British Indian Army in Mesopotamia.
After serving for two years, he had merely Rs 200 to his name. This sense of betrayal at the hands of the British, alongside anger at the Jallianwala Bagh massacre, pushed Singh towards Ghadar revolutionaries.
In Ghadar
He quickly became one of their campaigners, distributing their revolutionary literature throughout Punjab's villages.
He opened a shop in Amritsar, which became the centre of his revolutionary activities. During this time, he also got in touch with the militant Babbar Akali movement and began organizing with them.
However, it was during his time in the United States that he got deeply involved in the Ghadar movement and became one of its prominent activists.
Singh illegally migrated to the US in 1924 via Mexico, eventually settling in San Francisco, the epicentre of the Ghadar movement in North America.
He was sponsored by the Ghadar Party to visit [numerous cities in America] to give them a first-hand account of the Jallianwala Bagh massacre, to promote the growth of local branches of the party, and to raise funds.
In addition to his involvement with the Ghadar Party, Singh also launched his own party, the Azad Party, as an offshoot of the Ghadar movement.
The party had the twin objectives of campaigning for Indian freedom and collecting funds for revolutionary groups in India.
Singh was firmly embedded in an international network of Ghadar revolutionaries.
Aresst
He arrived in India with the intention of accelerating and radicalising the anti-colonial struggle, bringing with him arms and Ghadarite propaganda.
However, on 30th August 1927, he was arrested in Amritsar under the Arms Act for the possession of two revolvers, one pistol, ammunition, and copies of the prohibited paper, Ghadr-di-Gunj. Along with Ghadr-di-Gunj, other "seditious" literature was found in his possession
Udham Singh was sentenced to five years' imprisonment.
Since he was a difficult prisoner for the authorities to manage, he was transferred from one jail to another. It was in one of those jails that he met Bhagat Singh.
Udham Singh quickly befriended Bhagat Singh and was so captivated by his charisma that he called him his "guru" and "best friend", and carried a photo of him in his wallet.
In line with HSRA revolutionaries, Udham Singh too tried to use his trial as a platform to put forward his political and revolutionary ideas and undertook a forty-day-long hunger strike.
Two years after being released from prison in 1931, Udham Singh left for England.
A footloose labourer
Throughout much of his life, Udham Singh was not only a revolutionary: he was also a migrant worker.
After arriving in London in the autumn of 1934, Singh continued to work various working-class jobs.
He worked as a peddler, a carpenter and as an electrician.
In London, he also joined the Indian Workers Association (IWA), an organisation formed by Surat Ali, a communist and a trade unionist associated with the Communist Party of Great Britain.
The IWA had the twin objectives of improving the conditions of Britain's migrant working classes, alongside campaigning for India's freedom.
The assassination
He is known as the "patient assassin" or the "lone assassin" who shot dead Michael O'Dwyer, the Lieutenant Governor of Punjab under whose administration the infamous Amritsar massacre took place and who later even endorsed Brigadier-General Dyer, the perpetrator of the killings.
On July 31, 1940, Udham Singh was hanged for this assassination.
Source: newsonair.gov.in
Previous Year Question
Q.1) Consider the following freedom fighters: (2022)
Barindra Kumar Ghosh
Jogesh Chandra Chatterjee
Rash Behari Bose
Who of the above was/were actively associated with the Ghadar Party?
1 and 2
2 only
1 and 3
3 only
---
Monkey pox Vaccine
Syllabus
Prelims – Science and Technology
Context: With the WHO declaring monkeypox as a Public Health Emergency of International Concern (PHEIC) and cases rising globally to around 19,179 in 78 countries as of July 27, governments around the world are initiating steps towards developing or even sourcing a vaccine against monkeypox.
Are there vaccines for monkeypox?
The monkeypox virus belongs to a family of viruses called orthopoxviruses, which is different from that of the coronaviruses.
According to the WHO, it is a viral zoonosis — a virus transmitted to humans from animals — with symptoms similar, but less severe to smallpox.
It is also an enveloped double-stranded DNA virus, unlike the RNA virus, that makes it far more stable and less prone to rapid mutations.
There are two distinct genetic clades of the monkeypox virus: the central African (Congo Basin) clade and the West African clade.
The Congo Basin clade has historically caused more severe disease and was thought to be more transmissible.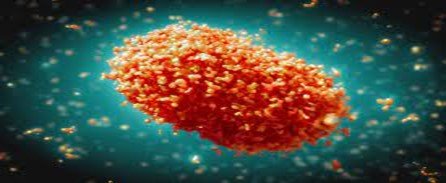 Vaccine
There is yet no dedicated monkeypox vaccine
In 2019, the USFDA, approved the JYNNEOS vaccine for the prevention of smallpox, monkeypox and other diseases caused by orthopoxviruses, including vaccinia virus.
How does JYNNEOS work?
JYNNEOS, developed by Danish biotechnology company, Bavarian Nordic, contains a live vaccinia virus that does not replicate efficiently in human cells.
The vaccinia virus is the smallpox virus but made incapable of replicating within the body. It is administered as two injections 28 days apart. The immune response takes 14 days after the second dose.
The vaccine's effectiveness was inferred only indirectly by comparing the immunogenicity of JYNNEOS to a licensed smallpox vaccine (ACAM2000) based on a laboratory test called the Plaque Reduction Neutralisation Test (PRNT).
This test evaluates what quantity of the vaccine was needed to kill the virus made to replicate in a petri-dish.
There is no data yet on JYNNEOS' effectiveness. This is because smallpox has been eradicated and the monkeypox outbreak has risen too rapidly for a traditional phase 3 trial to have evaluated the vaccine's effectiveness.
What about India?
Health Ministry officials said discussions were in progress with international and local companies for a vaccine.
The genomic sequence of the Indian strain has a 85% match with the West African strain circulating globally.
The ICMR has invited tenders from local companies to develop a vaccine.
Orthopoxvirus
Orthopoxvirus is a genus of viruses in the family Poxviridae and subfamily Chordopoxvirinae.
Vertebrates, including mammals and humans, and arthropods serve as natural hosts.
There are 12 species in this genus. Diseases associated with this genus include smallpox, cowpox, horsepox, camelpox, and monkeypox.
The most widely known member of the genus is Variola virus, which causes smallpox.
It was eradicated globally by 1977, through the use of Vaccinia virus as a vaccine.
The most recently described species is the Alaskapox virus, first isolated in 2015.
Must Read: Monkey Pox
Source: The Hindu
Previous Year Question
Q.1) Consider the following statements: (2021)
Adenoviruses have single-stranded DNA genomes whereas retroviruses have double-stranded DNA genomes.
Common cold is sometime caused by an adenovirus whereas AIDS is caused by a retrovirus.
Which of the statements given above is/are correct?
1 only
2 only
Both 1 and 2
Neither 1 nor 2
Q.2) Which one of the following statements is not correct? (2019)
Hepatitis B virus is transmitted much like HIV.
Hepatitis B. unlike Hepatitis C does not have a vaccine.
Globally, the number of people infected with Hepatitis B and C viruses arc several times more than those infected with HIV.
Some of those infected with Hepatitis B and C viruses do not show the symptoms for many years.
---
State Assemblies Sittings
Syllabus
Mains – GS 2 (Polity & Governance)
In News: PRS Legislative Research, a New Delhi-based think tank released its study on the functioning of State Assemblies for 2021.
Findings
Kerala, which slipped to the eighth slot in holding the sittings of the State Assembly during the first wave of the COVID-19 pandemic in 2020, got back to the first place in 2021, with its House sitting for 61 days, the highest for any State.
Despite enjoying the record of having the highest number of sittings during 2021 for any State legislature, Kerala had promulgated 144 ordinances, also the highest in the country last year.
Odisha followed Kerala with 43 sitting days; Karnataka – 40 and Tamil Nadu – 34 days.
Of the 28 State Assemblies and one Union Territory's legislature, 17 met for less than 20 days.
Of them, five — Andhra Pradesh, Nagaland, Sikkim, Tripura and Delhi — met for less than 10 days.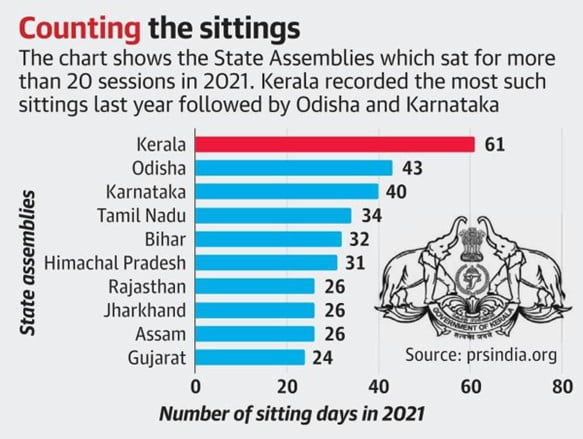 Ordinance
As for the ordinance route, which should be, according to the Supreme Court, used under exceptional circumstances, 21 out of 28 States promulgated ordinances last year.
Andhra Pradesh with 20 ordinances and Maharashtra with 15 followed Kerala, wherein Bills replacing 33 ordinances became Acts.
Passage of Bills
A perusal of the manner of adoption of Bills by the State Assemblies would reveal that 44% of the Bills adopted by 28 State Assemblies were passed within a day of their introduction.
Gujarat, West Bengal, Punjab and Bihar were among the eight States which passed all Bills on the day of introduction.
On the contrary, five States — Karnataka, Kerala, Meghalaya, Odisha and Rajasthan — took more than five days to pass a majority of their Bills.
In Kerala, 94% of the Bills were passed after at least five days of their introduction in the legislature. In respect of Meghalaya, it was 80% and in the case of Karnataka, 70%.
Subjects Covered
Of the subjects covered by the Bills passed in 2021, education accounted for 21% followed by taxation – 12%, local government – 10%, and land and law and order – 4% each.
Source: The Hindu
---
Daily Practice MCQs
Daily Practice MCQs
Q.1) Ramagundam floating Solar Power Plant, recently seen in news is located in which of the following state?
Andhra Pradesh
Telangana
Karnataka
Gujarat
Q.2) Which of the below given pairs is/are correctly matched?
| | |
| --- | --- |
| Places in News | Country |
| Pingtan Islands | China |
| Oromia | Ethiopia |
| Kurung Kumey | Myanmar |
Choose the correct code:
1 and 2
1 and 3
1, 2 and 3
2 and 3
Q.3) Consider the following statements about Shaheed Udham Singh
He was the founder of the Azad Party, an offshoot of the Ghadar movement
He called Bhagat Singh as his Guru
In line with HSRA revolutionaries, Udham Singh tried to use his trial as a platform to put forward his political and revolutionary ideas.
In London he was associated with Indian Workers Association (IWA).
Choose the incorrect statements:
1 only
2 and 3
4 only
None
---
Comment the answers to the above questions in the comment section below!!
ANSWERS FOR '30th JULY 2022 – Daily Practice MCQs' will be updated along with tomorrow's Daily Current Affairs.
---
ANSWERS FOR 28th JULY 2022 – Daily Practice MCQs
Answers- Daily Practice MCQs
Q.1) – d
Q.2) – b
Q.3) – c
For a dedicated peer group, Motivation & Quick updates, Join our official telegram channel – https://t.me/IASbabaOfficialAccount
Subscribe to our YouTube Channel HERE to watch Explainer Videos, Strategy Sessions, Toppers Talks & many more…