---
(PRELIMS & MAINS Focus)
---
Sixth schedule
Syllabus
In News: Several political groups in Ladakh have been demanding Statehood and possible inclusion of Ladakh under the Sixth Schedule of the Constitution, on the lines of Jammu & Kashmir.
In 2021, Ladakh's only member in the Lok Sabha, the BJP's Jamyang Tsering Namgyal, demanded constitutional safeguards by amending the Ladakh Autonomous Hill District Council (LAHDC) Act for the protection of land, employment, and the cultural identity of Ladakh under the Sixth Schedule
The Sixth Schedule:
It is under Article 244
It applies to Assam, Meghalaya, Mizoram (three Councils each), and Tripura (one Council).
It provides for the formation of autonomous administrative divisions — Autonomous District Councils (ADCs) — that have some legislative, judicial, and administrative autonomy within a state.
ADCs have up to 30 members with a term of five years.
ADCs can make laws, rules, and regulations with regard to land, forest, water, agriculture, village councils, health, sanitation, village- and town-level policing, inheritance, marriage and divorce, social customs and mining,
The Bodoland Territorial Council in Assam is an exception with more than 40 members and the right to make laws on 39 issues.
Aim: protects tribal population and inclusion in socio-economic development.
Ladakh's situation:
The Parliamentary Standing Committee on Home Affairs tabled a report in the Rajya Sabha which said that, according to the 2011 Census, the tribal population in the Union Territory of Ladakh is 2,18,355, that is 61% of the total population of 2,74,289.
Ladakh administration had recently increased the reservation for Scheduled Tribes in direct recruitment from 10% to 45%.
The committee recommended that special status may be granted to the Union Territory of Ladakh considering the developmental requirements of the tribal population.
The Committee further recommends that the possibility of including Ladakh in fifth or sixth Schedule may be examined.
Source: The Hindu
Previous Year Questions
Q.1) If a particular area is brought under the Fifth Schedule of the Constitution of India, which one of the following statements best reflects the consequence of it? (2020)
This would prevent the transfer of land of tribal people to non-tribal people.
This would create a local self-governing body in that area.
This would convert that area into a Union Territory.
The State having such areas would be declared a Special Category State.
---
Pharmaceutical Technology Upgradation Assistance (PTUAS) Scheme
Syllabus
Prelims – Current Affairs
In News: MSMEs have availed the benefit under erstwhile PTUAS scheme.
PTUAS scheme:
PTUAS is a credit linked scheme.
It is a sub-scheme under the Scheme – Strengthening of Pharmaceutical Industry (SPI).
SIDBI is the Project Management Consultant (PMC) of the scheme
Aim – to facilitate MSMEs of proven track record to meet national and international regulatory standards (WHO-GMP or Schedule-M)
It includes interest subvention or capital subsidy on their capital loans, which will further facilitate the growth in volumes as well as in quality
It is envisaged to support about 400 Pharma MSME units under this sub-scheme during the scheme tenure.
Further, one national and 10 State level outreach events were conducted, involving the State Governments and Pharma Industry Associations for maximum outreach and awareness for larger participation by Pharma MSME industries to avail the scheme benefits.
Details are available at https://spi.udyamimitra.in
SPI (umbrella) scheme:
It was launched in July 2022.
The SPI has a financial outlay of Rs. 500 crores and with a tenure from FY 2021-2022 to FY 2025-26
Aim of SPI
to provide infrastructure support for pharma MSMEs in clusters
to address the issues of technology upgradation of individual pharma MSMEs
It has following three components
Assistance to Pharmaceutical Industry for Common Facilities (API-CF)
Pharmaceutical Technology Upgradation Assistance Scheme (PTUAS)
Pharmaceutical & Medical Devices Promotion and Development Scheme (PMPDS)
Source: PIB
Previous Year Question
Q.1) With reference to 'Stand Up India Scheme', which of the following statements is/are correct? (2016)
Its purpose is to promote entrepreneurship among SC/ST and women entrepreneurs.
It provides for refinance through SIDBI.
Select the correct answer using the code given below.
1 only
2 only
Both 1 and 2
Neither1 nor 2
---
Factors of production
Syllabus
Factors of production (FOP):
These are resources that are the basic building blocks of production in any economy.
They are basic inputs that are necessary for producing any good or service that is useful to final consumers.
Land, labour, capital, and material are widely considered to be the three main factors of production.
Others may include time and entrepreneurship.
Entrepreneurship:
Entrepreneurship is considered to be the most crucial factor of production that brings together the other three factors.
It may involve an element of uncertainty due to time factor and can be seen as the product of mixing the three primary factors of production, namely land, labour, and time.
An entrepreneur's ideas can be considered fundamentally to be a form of labour as well.
And the real estate and other materials the entrepreneur personally uses for work can be classified as land.
Ownership of FOP – Marxist economists
FOP need to be collectively owned by the state.
This was the driving philosophy behind centrally planned economies like the erstwhile Soviet Union in contrast to economies
Private ownership of the factors of production leads to the exploitation of labour supplied by the working class and the mismanagement of scarce resources.
Stale planners can overcome both these problems by framing a proper collective economic plan.
Free market economists:
Believe in private ownership of all factors of production in an economy.
Private ownership offers resource owners the incentive to use the factors of production most efficiently, both in terms of avoiding unnecessary wastage and extracting the most value out of limited resources.
In the United States factors of production are largely owned by private individuals or groups.
Source: The Hindu
---
'Gokul Grams' under Rashtriya Gokul Mission
Syllabus
Prelims: Agriculture & Allied Sectors
Context: Funds have been set up for setting up of 16 "Gokul Grams"
Aim: Conservation and development of indigenous bovine breeds in a scientific and holistic manner.
By: The Department of Animal Husbandry & Dairying
The Impact
Milk production in the country has increased from 146.31 Million Tonnes in 2014-15 to 220.78 Million in 2021-22 that is by 6.3% per annum during the last 8 years.
Value of output of milk is more than Rs.9.32 lakh crore during 2021-22 which is the highest on all agriculture products and is even more than the combined value of Paddy and Wheat.
Playing an important role in enhancing milk production and productivity of bovines to meet the growing demand of milk
Making dairying more remunerative to the rural farmers of the country.
Leading to multiplication of elite animals of indigenous breeds and increased availability of indigenous stock.
Source: PIB
---
Agristack Project
Syllabus
Prelims: Policies and Interventions
Context: The Department has commenced the work for creating Agristack and has finalized the core concept of "India Digital Ecosystem of Agriculture (IDEA)" which lays down a framework for Agristack.
Agristack is a federated structure and ownership of data is with the States only.
Access to federated Farmers' database is with Government only. No private company is involved in developing the federated Farmers' database.
What is Agristack?
AgriStack is a collection of technologies and digital databases that focuses on farmers and the agricultural sector.
AgriStack will create a unified platform for farmers to provide them end to end services across the agriculture food value chain.
It is in line with the Centre's Digital India programme, aimed at providing a broader push to digitise data in India, from land titles to medical records.
Each farmer will have a unique digital identification (farmers' ID) that contains personal details,
Each ID will be linked to the individual's digital national ID Aadhaar.
Benefits
Problems such as inadequate access to credit and information, pest infestation, crop wastage, can be addressed by use of digital technology
It will increase innovation and investment towards the agricultural sector
Focus Areas:
For consolidating Agri ecosystem across the value chain (farm to fork) to empower the farmer using data analytics in 100 villages.
For the establishment & launch of "Nation Agriculture Geo Hub" and for using their 'ArcGIS' platform enabling a GIS layer over farmers' database.
For digital services across the agri value chain and creating an innovation ecosystem around digital agriculture
For collaborating with the department of agriculture for a pilot project to promote digital agriculture
For farm management and farmers' service
For taking up primary intervention module, i.e., advisory (basic as well as advanced) service in first phase
For building a customized 'site specific crop advisory' service and digitization of dairy value chain and support wheat crop operations
For conceptualizing a proof of concept in effective knowledge sharing between farmers, administration, academia and industry
For a digital marketplace to contribute effectively towards increasing the income of farmers and improve farm efficiency/efficiency of the agriculture sector
For developing and hosting the agri marketplace platform
Scale the pest management solution for cotton farmers to about 50,000 lead farmers and 500000+ cascade farmers in 2022 Kharif season.
Create AI/ML solution.
Source: PIB
---
India likely to be first to hold satellite spectrum auction
Syllabus
Prelims: Awareness in the fields of IT, Space
In News: India will be the first country to auction spectrum for satellite communication (SatCom).
TRAI is working on a model for the auction of space spectrum – to encourage and promote investment in the sector
Working on seeking permissions for satellite communication from various Ministries — Information and Broadcasting, Space and Telecom –to seamlessly enhance ease of doing business in the sector.
The Way Forward
Should be designed to attract investments in the sector
TRAI to come up with a consultation paper on the spectrum auction as per the standard process meant for satellite communication.
Note: While telecom operators have proposed allocation of spectrum through an auction for satellite communication, satellite industry players have opposed it.
What is a Communications Satellite?
It is an artificial satellite that relays and amplifies radio telecommunication signals via a transponder; it creates a communication channel between a source transmitter and a receiver at different locations on Earth.
Communications satellites are used for television, telephone, radio, internet, and military applications.
The GSAT (Geostationary Satellite) satellites are India's indigenously developed communications satellites, used for digital audio, data and video broadcasting.
Working of a Communication satellite 
A communications satellite is an artificial satellite that relays and amplifies radio telecommunications signals through a transponder. It basically creates a communication channel between a source transmitter and a receiver at different locations on earth.
Communications satellites are used for television, telephone, radio, internet, and military applications. There are currently 2,134 communications satellites in the earth's orbit and these comprise both private and government organizations. Several are in geostationary orbit 22,236 miles (35,785 km) above the equator, so that the satellite appears stationary at the same point in the sky.
The orbital period of these satellites is the same as the rotation rate of the Earth, which in turn allows the satellite dish antennas of ground stations to be aimed permanently at that spot; they do not have to move along and track it.
Since the high frequency radio waves used for telecommunications links travel by line of sight, they get obstructed by the curve of the earth. What these communications satellites do is they relay the signal around the curve of the earth thus making possible communication between widely removed geographical points.
Communications satellites use a wide range of radio and microwave frequencies. To avoid signal interference, international organizations have regulations stating which frequency ranges (or bands) certain organizations are permitted to use. This allocation of bands reduces the chances of signal interference.
Source: The Hindu
---
Stiff-Person Syndrome
Syllabus
Context: French-Canadian singer Celine Dion has opened up about being diagnosed with Stiff-Person Syndrome (SPS), a rare neurological condition that makes the muscles spasm uncontrollably.
Stiff-Person Syndrome
It is a syndrome of fluctuating but progressive muscle stiffness and spasm that preferentially affects axial (back and abdominal) muscles
It is a central nervous system disorder, meaning encephalomyelopathy, in which myelopathic features predominate in most patients. It frequently affects women with a median onset of 35 to 40 years of age
What are its causes?
Spasms occur at any random time and can be triggered by loud noises, touch, and emotional distress.
Autoimmune disease is caused by antibodies to proteins, resulting in impaired GABAergic (Gamma amino butyric acid) inhibition of the motor nerves in the brain and spinal cord.
It is associated with GAD65 (Glutamic acid decarboxylase) and amphiphysin antibodies.
70 per cent of patients with GAD antibodies have diabetes mellitus as comorbidity.
It is associated with other autoimmune diseases like cerebellitis, myasthenia gravis, hypo/hyperthyroidism, rheumatoid arthritis, systemic lupus erythematosus
The malignancies associated with stiff-person syndrome are breast cancer, ovarian cancer, and small cell carcinoma of the lung
Common Symptoms
SPS is known to affect the body posture of a person due to severe pain and stiffness in muscles in the trunk (torso), arms and legs.
But symptoms can also include a person having greater sensitivity to noise, touch, and emotional distress
Treatment
Since it is a rare disease with heterogenous clinical manifestations, the diagnosis may be delayed by an average of six years following symptom onset
Treatment involves the use of both symptomatic agents to enhance GABAergic influences and Immuno modulating treatment aimed at the autoimmune basis of the disease.
In patients with paraneoplastic Stiff Person Syndrome, identification and eradication of the underlying malignancy can alleviate symptoms
Source: The Indian Express
---
Remission of a crime
Syllabus
Mains – GS 2 Polity and Governance
In News: Supreme Court judge, Justice Bela M. Trivedi recused herself from hearing a writ petition filed by Bilkis Bano against a Gujarat government decision to prematurely release 11 men sentenced to life imprisonment for gang-raping her during the 2002 riots.
The convicts were released under the Premature release policy of the Gujarat 1992.
Context:
Bano has argued that the early release of the convicts amounted to a violation of her fundamental right to life.
She has said the remission policy of the State of Maharashtra, where the trial happened, and not Gujarat would have governed the case.
The Government of India conveyed the concurrence/approval of the Central government under Section 435 of the Code of Criminal Procedure for premature release of 11 prisoners.
Bilkis Bano case:
Bilkis Bano and her family were attacked in 2002 Gujarat Riots.
She was gangraped and seven of her family members were murdered.
The Supreme Court ordered a CBI probe into the incident and arrests were made in 2004.
In 2008, the Special CBI Court in Mumbai sentenced the 11 accused to life imprisonment on the charges of conspiring to rape a pregnant woman, murder and unlawful assembly under the Indian Penal Code.
One of the convicts had approached the Supreme Court for the remission of his sentence. This plea led to the remission of the sentences of the 11 convicts.
The apex court directed the Gujarat government to look into the issue of remission, following which the government formed a committee. Following the recommendation of the committee, the government decided to release the convicts.
Rules of Remission:
Life imprisonment means convicts remain in jail for the whole of their life.
However, they can be released by the State and Central governments but not before they complete 14 years, by remitting the remaining prison term.
Judicial decisions advocate both subjective and objective norms for remission.
Courts have ruled that remission should be informed, fair and reasonable, and not arbitrary; that it should not undermine the nature of the crime.
In Laxman Naskar vs Union of India (2000), the Supreme Court laid down five considerations:
whether the offence is an individual act of crime that does not affect society;
whether there is a chance of the crime being repeated in future;
whether the convict has lost the potentiality to commit crime;
whether any purpose is being served in keeping the convict in prison;
socio-economic conditions of the convict's family.
A remission panel usually consists of government officials, officers in charge of parole, rehabilitation and probation of offenders and prison officials.
Section 432(7) of the CrPC says the appropriate government will be "the State within which the offender is sentenced or the said order is passed".
Challenges:
Brutal and horrific nature of the crime of gang-rape.
Against Current remission policy (2014) – It bars those found guilty of heinous crimes from being given remission.
"Prisoner convicted for murder with rape or gang rape" are not eligible
Absence of mandatory consultation required under Section 435 of the Code of Criminal Procedure (CrPC), in a case investigated by the CBI, prior to remission.
However, the remission has been granted by the Gujarat government without consulting the Centre.
The Supreme Court has also ruled that 'consultation' means 'concurrence' in this regard.
Presence of political functionaries on the committee that recommended remission may have influenced the decision. It contained some Bharatiya Janata Party (BJP) functionaries, including two MLAs.
The injustice of exceptionalism – the district judge is understood to have opposed the grant of remission.
The 1992 policy did not clearly state eligibility criteria.
Convicts in the Bilkis Bano case were not eligible under the 2014 policy for remission.
Suggestions:
The question whether Gujarat is indeed the appropriate government may also be raised again, even though the order by which the Supreme Court wanted their remission plea to be considered has already given its finding.
In 2003, the Justice Malimath Committee submitted a report advocating a permanent statutory committee to prescribe sentencing guidelines to reduce ambiguity in the award of such sentences.
In April 2022, a Supreme Court bench, led by Justice U Lalit, revoked the death sentence of Mohammad Firoz, a man convicted for the rape and murder of a four-year-old girl.
Way forward:
There is a need to balance retributive justice with restorative justice
Justice must not be denied on account of jurisprudence and technicalities of law.
Source: The Hindu
---
Rare Diseases
Syllabus
Mains – GS 3 Developments in Science and Technology
In News:  Rajya Sabha MP from the Nationalist Congress Party Fauzia Khan on Friday raised concerns over the benefits of the National Policy of Rare Diseases (NPRD) not reaching any patient with rare diseases even after several months since its introduction.
Context:
The Union Ministry of Health and Family Welfare notified the NPRD in March 2021.
An estimated 5000 to 8000 rare diseases have been identified worldwide, affecting approximately 6 to 8% of the population.
Individual rare diseases affect few people, but cumulatively have a major impact on public health.
What are Rare diseases:
A rare disease is any disease that affects a small percentage of the population such as fewer than 200,000 people across a broad range of possible disorders.
These rare diseases are majorly thought to be genetic and are passed on from one generation to the next.
In India, Haemophilia, Thalassemia, Sickle cell anaemia and Primary Immuno Deficiency in children, auto-immune diseases, Lysosomal storage disorders such as Pompe disease and Gaucher's disease are in the rare diseases list.
National Policy of Rare Diseases (NPRD) 2021
Objectives – promotion of research and development for diagnosis and treatment of rare diseases.
Promotion of local development and manufacture of drugs and creation of conducive environment for indigenous manufacturing of drugs for rare diseases at affordable prices.
The rare diseases have been identified and categorized into 3 groups.
Group 1: Disorders amenable to one-time curative treatment.
Group-2: Diseases requiring long term/lifelong treatment having relatively lower cost of treatment and benefit has been documented in literature and annual or more frequent surveillance is required.
Group 3:- Diseases for which definitive treatment is available but challenges are to make optimal patient selection for benefit, very high cost and lifelong therapy.
Eight (08) Centres of Excellence (CoEs) have been identified for diagnosis, prevention and treatment of rare diseases.
Five Nidan Kendras have been set up for genetic testing and counselling services.
Challenges in India:
Lack of treatment: About 95% rare diseases have no approved treatment and less than 1 in 10 patients receive disease specific treatment.
Loss of lives due to delayed and misdiagnoses, limited access to resources, and absence of specific therapies often preclude patients from receiving proper, timely care.
Impact on children: Children are disproportionately affected by these diseases as compared to adults
50 percent of new cases are observed to be in children, out of which 35 percent of children die before the age of one year, 10             percent die between the ages of 1 to 5 years, and 12 percent between the ages of 5 to 15 years. (Ministry of Health and Family Welfare 2017)
High cost: The cost of treatment of rare diseases may vary from INR 10 lakhs to INR 1 crore on an annual basis.
Issues in policy design: India does not have its standard definition for rare disease and neither does sufficient data on prevalence exists.
The Government of India launched the Indian Rare Disease Registry only in April 2017.
Only 450 rare diseases have been recorded in the registry as per data available from tertiary hospitals
Unending delay and lack of urgency in policy implementation
Eg lack of will of Centres of Excellence (CoE), designated as per the NPRD policy, has endangered the survival prospects of 415 patients, largely children, diagnosed with rare diseases.
Majority of these patients have been diagnosed with Gaucher disease, for which therapy approved by Drug Controller General of India is available for many years.
Lack of governance
In NPRD policy, many CoEs were yet to seek financial support as per the policy for treating the patients.
Suggestions:
The amount of 20 lakh sanctioned under the Rashtriya Arogya Nidhi, although appreciable but is barely enough to cover the costs of treatment.
The Central Government recently informed the Delhi High Court that a digital platform has been made operational for crowdfunding of treatment and medicines for rare disease.
Support from foundations, NGO's and crowdfunding-led initiatives is extremely helpful, however, it will not be accessible to all and is only a stop-gap solution.
As of August 2019, Takeda Pharmaceutical Company's programme has covered 199 patients from 13 countries including India.
Sustained medical and financial support to the patient from Government.
Robust and inclusive policy in consultation with the State Governments.
Public health concern is addressed sustainably to provide respite to thousands of victims of rare diseases and their families in India.
Way forward
The private initiatives are leading the war, but without support from the Government, such solutions are not sustainable.
Strength of policy making is integral to the strength of the government as a whole, and that of the country at large.
Source The Hindu
---
Climate Finance
Syllabus
Context:
The UN secretary general stated that the adaption finance needs of developing countries will gallop to $340 billion annually.
While funding contours and future contributors remain unclear, least developed and vulnerable smaller island nations in need of assistance to tackle climate disasters are its likely beneficiaries.
Not only must India continue pushing rich nations to contribute additional monies for past excesses, but also mobilize more private capital finance on its own by co-creating an auxiliary funding mechanism.
What is climate finance:
It refers to the financial arrangements that are specific to the use for projects that are environmentally sustainable or projects that adopt the aspects of climate change.
It includes
Production of energy from renewable sources like solar, wind, biogas, etc.
Clean transportation that involves lower greenhouse gas emission
Energy efficient projects like green building
Waste management that includes recycling, efficient disposal and conversion to energy, etc.
Current situation:
A glance at the OECD's climate finance trends report 2022 indicates that of the targeted $100 billion aggregate climate funding, about $83 billion was mobilized from developed nations via global agencies through 2020.
Of this, bilateral and multilateral public climate finance from the developed West stood at $68 billion, comprising concessional and non-concessional loans (71%), grants (26%) and equity (2%), while private climate finance and export credit extended via agencies comprised just $15 billion.
Experience suggests that depending solely on timely Western public funds, per current or post-2025 quantified agreements, will be unwise in times of geo-strategic competition and recessionary fears.
Monies from rich countries are unpredictable, yet the allocation thereof by global agencies is predictably done among least developed and developing nations across Asia (42% of the 2020 total), Africa (26%) and Latin America (17%).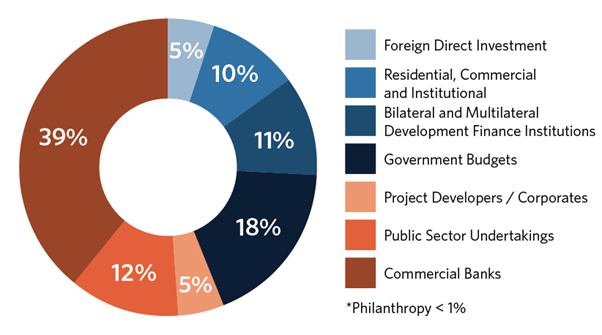 Challenges in India:
High borrowing costs due to asymmetric information, higher risk perception and governance issues.
Green-washing or false claims of environmental compliance
Plurality of green loan definitions
Maturity mismatches between long-term green investment and relatively short-term interests of investors.
Lack of adequate market infrastructure and policy framework
Public sector orientation – Climate finance funds on concessional terms will largely be earmarked for select public sector projects or renewable energy mitigation and low-carbon transport systems planned under India's long-term Low Emissions Development Strategy (LEDS) for climate action.
Presently, adaptation and mitigation financing for compact businesses, SMEs and local communities is not in focus.
Fiscal incentives like production-linked incentive (PLI) schemes may work in drawing manufacturing mitigation investments for utility-scale solar or wind, however the same are not resilient and sustainable.
Suggestions:
New financial instruments such as green bonds, carbon market instruments (e.g. carbon tax) and new financial institutions (e.g. green banks and green funds).
A banking framework wherein Indian banks are nudged to lock in long-tenure, low-cost private climate capital from alternative sources, like overseas investor institutions, global pledge organizations, private philanthropy, CSR budgets, etc, and are incentivized to on-lend cheaper loans to diverse businesses.
Arming banks with risk weight and priority sector incentives can help extend concessional low-coupon, shorter tenor sustainability financing to clients.
This may also deepen funding liquidity for lower-rung entities and improve global forex inflows at a time of weak exports.
Delineated projects of larger companies or well-rated special purpose vehicles(SPVs) that meet pre-set mitigation specifications should continue to be encouraged to raise funds through domestic financial institutions (DFIs), project financiers and private and sovereign green bonds.
Impact funds, blended finance instruments and venture capitalists betting on new climate technologies need to be nurtured for the purpose.
Fintech start-ups and digitization can play a big supporting role in connecting small clients with banks.
Regulators and financiers need to evaluate various use-case scenarios before implementation.
Decentralised approach – For instance, block-level wholesalers/transport operators or fertilizer and tractor sellers can be incentivized to arrange machinery for mulching crop stubble into farm fields or recycling waste for biofuels, with the objective of lowering husk-fire emissions and air pollution across the Indo-Gangetic plains.
DFI funds and direct fiscal transfers by the government may only work partially.
Low coupon sustainability-linked bank loans or overdraft facilities at the entity level would be a more practical adaptation solution for many across the rural and urban divide.
Way forward:
As India lays out a G20 agenda, the government should set the direction for augmenting our private climate finance framework, too.
As the country marches forward in its quest towards net-zero emissions powered by a people's movement as much as low-cost climate finance.
Inclusive growth with relentless and resilient development ("Sahit Vikas, Satat Viksan") should be our mantra.
Source: Livemint
---
Practice MCQs
Daily Practice MCQs
Q.1) With respect to Autonomous District Councils (ADCs), consider the following statements:
ADC are formed under article 244 in the Fifth Schedule of the constitution.
ADC are applicable to only four states.
ADC can make laws on social customs.
Which of the statements are correct:
2 only
2 and 3 only
1 only
1 and 2 only
Q.2) Which of the following are factors of production:
Real estate
Gig workers
Entrepreneurship
Angel investors
Management Information System
Trade Unions
Select the correct answer using the code given below:
1, 2,3 and 4
1, 2, 3 and 6
1, 2, 3 and 5
1, 2, 3, 4, 5 and 6
Q.3) Consider the following statements about Pharmaceutical Technology Upgradation Assistance (PTUAS) Scheme
It aims to facilitate MSMEs of proven track record to meet national and international regulatory standards.
It includes interest subvention or capital subsidy on their capital loans.
Choose the correct statements:
1 only
2 only
Both 1 and 2
Neither 1 nor 2
Comment the answers to the above questions in the comment section below!!
ANSWERS FOR ' 14th December 2022 – Daily Practice MCQs' will be updated along with tomorrow's Daily Current Affairs.st
---
ANSWERS FOR 13th December

 

– Daily Practice MCQs
Answers- Daily Practice MCQs
Q.1) – b
Q.2) – b
Q.3) – a
For a dedicated peer group, Motivation & Quick updates, Join our official telegram channel – https://t.me/IASbabaOfficialAccount
Subscribe to our YouTube Channel HERE to watch Explainer Videos, Strategy Sessions, Toppers Talks & many more…