---
(PRELIMS & MAINS Focus)
---
1925 Kakori Train Action
Syllabus
Context: Four revolutionaries of the Indian independence movement were hanged on December 17 (Rajendranath Lahiri) and December 19 (Ashfaqullah Khan, Ram Prasad Bismil, Thakur Roshan Singh) in 1927. This came two years after the Kakori Train Robbery, in which members of the Hindustan Republican Association (HRA) had looted a train transporting money to the British treasury.
About 1925 Kakori Train Action:
The Kakori Conspiracy (or Kakori train robbery) was a train robbery that took place near Lucknow. The robbery was organized by Hindustan Republican Association (HRA).
On 9 August 1925, the Number 8 Down Train travelling from Shahjahanpur to Lucknow was approaching the town of Kakori, when one of the revolutionaries pulled the emergency chain to stop the train and subsequently overpowered the guard.
The target was the guard cabin, carrying money collected from various railway stations to be deposited in Lucknow. Revolutionaries looted only these bags (which contained more than 100,000 rupees) and escaped to Lucknow.
Though no passengers were targeted by the revolutionaries, one passenger named Ahmed Ali was killed in the crossfire between the guards and revolutionaries. This made it a manslaughter case.
The robbery plan was executed by Ram Prasad Bismil, Ashfaqulla Khan, Rajendra Lahiri, Chandrashekhar Azad, Swaran Singh, Sachindra Bakshi, Keshab Chakravarty, Manmathnath Gupta, Mukundi Lal, Banwari Lal , Kundan Lal, and Pranawesh Mukherjee.
According to official records, 40 people were arrested during the trial.
Most of these detainees were provided legal defense by Pandit Gobind Ballabh Pant, Mohanlal Saxena, Chandrabhanu Gupta, Ajit Prasad Jain, Gopinath Srivastava, R. M. Bahadurji and B. K. Chaudhury.
Ram Prasad Bismil famously defended his own case.
5 members including Swaran Singh (Uncle of Bhagat Singh), Ram Prasad Bismil, Ashfaqullah Khan, Rajendra Lahiri and Roshan Singh were given sentence to death.
The Urdu poem Sarfaroshi ki Tamanna was made popular by Ram Prasad Bismil during this time. This poem was actually written by Bismil Azimabadi following the Jallianwala Bagh massacre.
Chandrashekhar Azad who could not be captured reorganized the HRA and ran the organization till 1931.
About Hindustan Republican Association:
Hindustan Republican Association (HRA) was a revolutionary organization of India established in 1924 at village Bholachang in East Bengal by Sachindra Nath Sanyal, Narendra Mohan Sen and Pratul Ganguly as an offshoot of Anushilan Samiti.
Its objective was to establish a "Federated Republic of the United States of India" through an organized and armed revolution.
The name was chosen as Hindustan Republican Association on the lines of Irish Republican Army. The manifesto of this revolutionary organization was "The Revolutionary".
Objective:
The Objective of the HRA was to establish "Federated Republic of the United States of India" through an organized armed revolution"
The tactics of HRA were killing the officials; organize political dacoities to raise funds, terrorism among the British and British loyalists and strikes against the raj.
Despite being a revolutionary terrorist organization, the perspective of the HRA was socialistic and it wanted to establish a United States of India by deposing the British.
Many other revolutionaries soon joined the HRA including Chandrashekhar Azad, Ashfaqullah Khan, Ram Prasad Bismil etc.
Bhagat Singh later established Hindustan Socialist Republican Army (HSRA).
Source: Indian Express
Previous Year Questions
Q.1) Consider the following freedom fighters:
Barindra Kumar Ghosh
Jogesh Chandra Chatterjee
Rash Behari Bose
Who of the above was/were actively associated with the Ghadar Party? (2022)
1 and 2
2 only
1 and 3
3 only
Q.2) Consider the following pairs:
Radhakanta Deb — First President of the British Indian Association
Gazulu Lakshminarasu Chetty —Founder of the Madras Mahajana Sabha
Surendranath Banerjee — Founder of the Indian Association
Which of the above pairs is/are correctly matched? (2017)
1 only
1 and 3 only
2 and 3 only
1, 2 and 3
---
Paddy plantation in India
Syllabus
Prelims – Geography and Economy
Context: Delays in paddy planting and stubble burning in certain districts of Punjab and Haryana act like a cascade. They have caused excessive pollution in areas downwind over the past decade, a new research paper by Harvard University in the United States has said.
About paddy cultivation: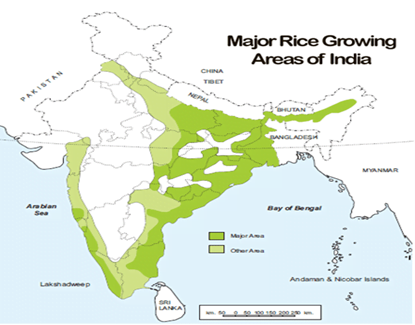 Rice/Oryza Sativa, it is believed, is associated with wet, humid climate, though it is not a tropical plant.
It is probably a descendent of wild grass that was most likely cultivated in the foothills of the far Eastern Himalayas.
Another school of thought believes that the rice plant may have originated in southern India, then spread to the north of the country and then onwards to China.
It then arrived in Korea, the Philippines (about 2000 B. C.) and then Japan and Indonesia (about 1000 B. C.).
The journey of rice around the world has been slow, but once it took root it stayed and became a major agriculture and economic product for the people.
In the Indian subcontinent more than a quarter of the cultivated land is given to rice (20011-12).
It is a very essential part of the daily meal in the southern and eastern parts of India. In the northern and central parts of the subcontinent, where wheat is frequently eaten, rice holds its own and is cooked daily as well as on festivals and special occasions.
History of Rice in India:
Historians believe that while the indica variety of rice was first domesticated in the area covering the foothills of the Eastern Himalayas (i.e. north-eastern India), stretching through Burma, Thailand, Laos, Vietnam and Southern China, the japonica variety was domesticated from wild rice in southern China which was introduced to India. Perennial wild rice still grow in Assam and Nepal.
It seems to have appeared around 1400 BC in southern India after its domestication in the northern plains.
It then spread to all the fertile alluvial plains watered by rivers. Some says that the word rice is derived from the Tamil word arisi.
Climatic Requirements:
In India rice is grown under widely varying conditions of altitude and climate. Rice cultivation in India extends from 8 to 35 N latitude and from sea level to as high as 3000 meters.
Rice crop needs a hot and humid climate. It is best suited to regions which have high humidity, prolonged sunshine and an assured supply of water.
The average temperature required throughout the life period of the crop ranges from 21 to 37º C. maximum temp which the crop can tolerate 40 to 42 Celsius.
Nutritional value of Rice:
Rice is a nutritional staple food which provides instant energy as its most important component is carbohydrate (starch).
On the other hand, rice is poor in nitrogenous substances with average composition of these substances being only 8 per cent and fat content or lipids only negligible, i.e., 1per cent and due to this reason, it is considered as a complete food for eating.
Rice flour is rich in starch and is used for making various food materials. It is also used in some instances by brewers to make alcoholic malt.
Likewise, rice straw mixed with other materials is used to produce porcelain, glass and pottery.
Rice is also used in manufacturing of paper pulp and livestock bedding.
The variability of composition and characteristics of rice is really broad and depends on variety and environmental conditions under which the crop is grown.
In husked rice, protein content ranges in between 7per cent to 12per cent. The use of nitrogen fertilizers increases the percentage content of some amino acids.
Medicinal Value:
The immense diversity of rice germplasm is a rich source for many rice based products and is also used for treating many health related maladies such as indigestion, diabetes, arthritis, paralysis, epilepsy and give strength to pregnant and lactating mothers.
Ancient Ayurvedic literature testify the medicinal and curative properties of different types of rice grown in India. Medicinal rice varieties like Kanthi Banko (Chhattisgarh), Meher, Saraiphul and Danwar (Orissa), Atikaya and Kari Bhatta (Karnataka), are very common in India.
Few varieties cultivated in restricted pockets of Kerala for their medical properties e.g. Chennellu, Kunjinellu, Erumakkari & Karuthachembavu etc.
Crop Production Practices:
In India Rice is mainly grown in two types of soils i.e., (i) uplands and (ii) low lands.
The method of cultivation of rice in a particular region depends largely on factors such as situation of land, type of soils, irrigation facilities, availability of labourers intensity and distribution of rainfalls.
The crop of rice is grown with the following method
Dry or Semi-dry upland cultivation

Broadcasting the seed Sowing the seed behind the plough or drilling

Wet or lowland cultivation

Transplanting in puddled fields. Broadcasting sprouted seeds in puddled fields.
Selection of Seeds:
The use of quality seeds in cultivation of rice is an important factor to get better crop yield. Therefore, proper care has to be taken in selecting seeds of the best quality.
Much of the success in raising the healthy seedlings depends on the quality of seed. Seeds intended for sowing should satisfy the following requirements.

The seed should belong to the proper variety, which is proposed to be grown.
The seed should be clean and free from obvious mixtures of other seeds.
The seed should be mature, well developed and plump in size. The seed should be free from obvious signs of age or bad storage. The seed should have a high germinating capacity.
Before sowing the seed should be treated with fungicides which protects the seed against soil-born fungi and also give a boost to the seedlings.
Source: DownToEarth
Previous Year Questions
Q.1) "System of Rice Intensification" of cultivation, in which alternate wetting and drying of rice fields is practiced, results in:                     (2022)
Reduced seed requirement
Reduced methane production
Reduced electricity consumption
Select the correct answer using the code given below:
1 and 2 only
2 and 3 only
1 and 3 only
1, 2 and 3
Q.2) Among the following, which one is the largest exporter of rice in the world in the last five years? (2019)
China
India
Myanmar
Vietnam
---
Review Petition
Syllabus
Prelims – Polity and governance
Context: The Supreme Court rejected a review petition filed by Bilkis Bano.
About Review petition:
According to the Indian Constitution, any mandate by the Supreme Court of India is final and binding. However, Under Article 137 provided the Supreme Court with the power to review its judgments. This provision forms the legal basis for a "review petition".
It is not necessary that only parties related to a case can seek a review of the judgment. Any person aggrieved by a ruling can seek a review.
A review petition must be filed within 30 days of the court verdict.
Review petitions are usually not heard in open court. They are heard through "circulation" by judges in their chambers.
In a Review Petition case, Lawyers usually make their case through written submissions, and not oral arguments.
The same judges who passed the original verdict generally also hear the review petition.
There are specific grounds on which a review petition can be accepted in court, but not accepted in case of "minor mistakes".
In 1975, the Supreme court mentioned that a review petition can be accepted "only where a glaring omission or patent mistake or like grave error has crept in earlier by judicial fallibility".
In 2013, the Supreme Court laid down 3 conditions for accepting a review petition:

The discovery of new and important matter or evidence which was not within the knowledge of the petitioner or could not be produced by him earlier.
A mistake or error is apparent on the face of the record.
Any other sufficient reason.

It is rare for the Supreme Court to both admit reviews and overturn an original decision in a review.
It did agree to review its original verdict in the Sabarimala case but refused to review its ruling on the Rafale deal.
In the Union of India v. Sandur Manganese & Iron Ores Ltd case (2013), the court laid down nine principles on when a review is maintainable.

The court held that a review is by no means an appeal in disguise whereby an erroneous decision is reheard and corrected but lies only for patent error.
Who can file a review petition?
It is not necessary that only parties to a case can seek a review of the judgment on it. As per the Civil Procedure Code and the Supreme Court Rules, any person aggrieved by judgment can seek a review.
Who hears the review petitions?
Review petitions are heard, as far as practicable, by the same combination of judges who delivered the order or judgment that is sought to be reviewed. If a judge has retired or is unavailable, a replacement is made keeping in mind the seniority of judges.
Source: Indian Express
Previous Year Question
Q.1) With reference to the writs issued by the Courts in India, consider the following statements:
Mandamus will not lie against a private organization unless it is entrusted with a public duty.
Mandamus will not lie against a Company even though it may be a Government Company.
Any public minded person can be a petitioner to move the Court to obtain the writ of Quo Warranto.
Which of the statements given above are correct? (2022)
1 and 2 only
2 and 3 only
1 and 3 only
1, 2 and 3
---
INS Mormugao
Syllabus
In News: Defense Minister Rajnath Singh today commissioned INS Mormugao into the Indian Navy.
INS Mormugao: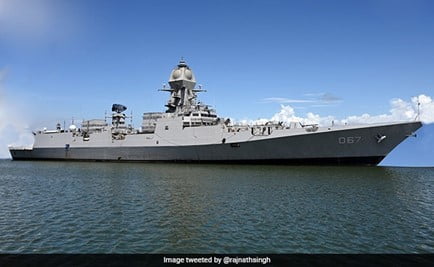 It is a P15B stealth-guided missile destroyer.
It is the second of the four 'Visakhapatnam' class destroyers that has been designed by the Indian Navy's Warship Design Bureau.
It has over 75% indigenous content and was built by the Mazagon Dock Shipbuilders Limited.
It is equipped with surface-to-surface and surface-to-air missiles besides modern surveillance radar that provides target data to the weapon systems.
The warship, measuring 163 metres by 17 metres, displacement of 7300 tonnes
It is named after the historic port city of Mormugao in Goa.
Propelled by four powerful gas turbines, the warship can achieve speeds of over 30 knots.
It is said to feature state-of-the-art weapons, stealth features and sensors.
It has a total atmospheric control system (TACS) that protects crew from nuclear, biological, and chemical threats.
It undertook its first sea sortie in 2021, marking 60 years of Goa's liberation from Portuguese rule.
Miscellaneous:
INS Vishakhapatnam was commissioned into the Navy in 2021.
Source: Newsonair
Previous Year Questions
Q.1) Which one of the following is the best description of 'INS Astradharini', that was in the news recently? (2016)
Amphibious warfare ship
Nuclear-powered submarine
Torpedo launch and recovery vessel
Nuclear-powered aircraft carrier
---
UNESCO fund for languages
Syllabus
Prelims – Art and culture
In News: The United Nations is looking to set up a multi-donor fund to revitalise, preserve and promote ancient and tribal languages across the globe, including ancient Indian languages such as Prakrit, Pali and Sharda among others.
There are nearly 1,700 languages in India, out of which there is no data for 949 languages.
About the fund:
The fund will be available to communities and non-governmental organisations.
The members include Canada, Iceland, Norway, Latvia, Russia, Ukraine, Bolivia, Paraguay, Peru, Australia, India, Thailand, Gambia, Madagascar, Zimbabwe, Bahrain, Kuwait and Saudi Arabia.
The fund set up by the UN can be utilised for the digital archiving of the lost languages.
The International Decade of Indigenous Languages programme by UNESCO has launched a task force that aims to translate these languages to more accessible modern ones to preserve and promote them.
UNESCO established the task force for making a Decade of Action for Indigenous Languages on March 22, 2021.
Source: Newsonair
---
Coal economy
Syllabus
In News: IEA's Coal 2022: Analysis and forecast to 2025 report says coal is set to continue to be the growth engine of global coal demand.
Global coal demand reached eight billion tonnes this year.
In the absence of low-emissions alternatives that can replace coal at scale in the iron and steel sector in the near term, global coal demand is set to remain flat through the forecast period.
India:
India, along with China, is the world's largest coal producer, consumer, and importer.
Its own coal production will surpass a billion tonnes by 2025 as per the annual report of the International Energy Agency (IEA).
India's coal consumption has doubled since 2007 at an annual growth rate of 6 per cent.
India and China, are also the only two countries globally where there has been an uptick in investment in coal mine assets because domestic production has been ramped up in both countries to reduce external reliance.
Europe:
Due to The Russian invasion of Ukraine and reliance on Russian gas, Europe sparked a surge in gas prices, which in turn pushed coal prices.
The spike in the prices of gas due to the war as well as lower output from hydro and nuclear led to 'fuel switching' to coal in the European Union to generate power.
However, in India and China, where coal is the backbone of electricity systems and gas accounts for just a fraction of power generation, the impact of steeper gas prices on coal demand has been limited.
Still, the production of electricity from coal has not been much in most European countries except for Germany.
However, both US and EU coal generation and demand will return to a downward trajectory soon.
China:
Coal power generation in China increased by around 15 per cent year-on-year to over 500 terawatt-hours (TWh).
Increase in renewable power generation in China means that growth in coal consumption is expected to remain relatively stagnant at an average of 0.7 per cent a year to 2025.
MUST READ India's coal mines
Source: DTE
Previous Year Question
Q1.) In India, what is the role of the Coal Controller's Organization (CCO)?
CCO is the major source of Coal Statistics in Government of India.
It monitors progress of development of Captive Coal/Lignite blocks.
It hears any objection ' to the Government's notification relating to acquisition of coal-bearing areas.
It ensures that coal mining companies deliver the coal to end users in the prescribed time.
Select the correct answer using the code given below:
1, 2 and 3
3 and 4 only
1 and 2 only
1, 2 and 4
---
CAR-T therapy
Syllabus
Prelims – Science & Technology
In News: Anti-cancer CAR-T therapy reengineers T cells to kill tumors — and researchers are expanding the limited types of cancer it can target.
About CAR-T therapy: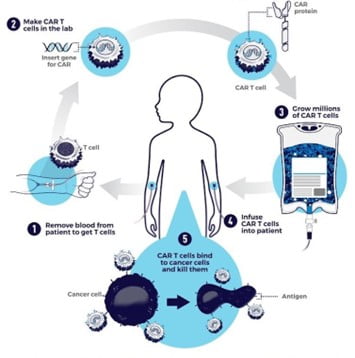 It is made up of two parts – CAR and T.
T refers to cytotoxic T cells are a particular kind of white blood cells (WBC)
CAR-T cell therapy starts with doctors isolating a patient's T cells from a sample of their blood.
These T cells are genetically engineered in lab to produce a chimeric antigen receptor, or CAR.
CARs are synthetic receptors specifically designed to redirect T cells from their usual targets have them recognize and hone in on tumor cells.
On the outside of a CAR is a binder that allows the T cell to stick to tumor cells.
Binding to a tumor cell activates the engineered T cell to kill and produce inflammatory cytokines proteins that support T cell growth and function and boost their cancer-killing abilities.
These CAR-T cells are then stimulated to divide into large numbers over seven to 10 days, then given back to the patient via infusion.
The infusion process usually takes place at a hospital where clinicians can monitor for signs of an overactive immune response against tumors, which can be deadly for the patient.
Solid tumors:
While CAR-T cell therapy has seen success in blood cancers, it has faced hurdles when fighting what are called solid tumor cancers like pancreatic cancer and melanoma.
Unlike cancers that begin in the blood, these types of cancers grow into a solid mass that produces a microenvironment of molecules, cells and structures that prevent T cells from entering into the tumor and triggering an immune response.
Here, even CAR-T cells engineered to specifically target a patient's unique tumor are unable to access it, suppressing their ability to kill tumor cells.
So, a new synthetic receptor that complements the first CAR design is developed.
This receptor, called synthetic Notch receptor, or synNotch, is based on the natural form of Notch in the body, which plays an important role in organ development across many species.
synNotch vs CAR:
Like CARs, the outside of synNotch has a binder that allows T cells to stick to tumor cells.
Unlike CARs, the inside of synNotch has a protein that is released when a T cell binds to the tumor – This  protein, or transcription factor, allows researchers to better control the T cell by inducing it to produce a specific protein.
While, CAR binds to both tumor and healthy cells and induce T cells to kill both; synNotc ensure that engineered T cells are only activated when bound to a tumor cell and not healthy cells.
Because T cells now require both CAR and synNotch receptors to recognize tumors, this increases the precision of T cell killing.
Uniqueness of synNotch:
Use synNotch to improve CAR-T cell activity against solid tumors by inducing them to produce more inflammatory cytokines, such as IL-2, that enable them to kill tumor cells.
These cytokines are highly toxic, there is a limit to how much IL-2 a patient can safely tolerate, limiting their use as a drug.
Using synNotch, when a CAR-T cell encounters a tumor, it produces IL-2 within the tumor instead of outside it, avoiding causing harm to healthy cells.
SynNotch modified CAR-T cells were able to trigger IL-2 production without causing toxicity to healthy cells in the rest of the body.
Because synNotch is able to bypass the barriers tumors put up, it is able to help T cells amp up and maintain the amount of IL-2 they can make, allowing the T cells to keep functioning even in a hostile microenvironment.
It is being used to treat lymphoma and multiple myeloma, and has shown remarkable response rates where other treatments have failed.
Source: DTE
Previous Year Questions
Q.1) Which one of the following statements best describes the role of B cells and T cells in the human body ? (2022)
They protect the body from environmental allergens.
They alleviate the body's pain and inflammation.
They act as immunosuppressants in the body.
They protect the body from the diseases caused by pathogens.
---
Its time to review the Right To Information (RTI) Act, 2005
Syllabus
Mains – GS 2 (Governance)
Context: The Right to Information (RTI) Act was passed by Parliament in 2005, aiming to give people access to the records of the Central and State governments. It was a vital reform to help activists and individuals ensure transparency and accountability in governance.
The present time calls for a review of the Act and its various aspects including advantages, challenges among others in ensuring transparency and accountability in governance.
About RTI Act, 2005:
The RTI Bill was passed by Parliament of India in June 2005 and came into force in October 2005.
The Right to Information Act 2005 mandates timely response to citizen requests for government information.
It replaced the former Freedom of Information Act, 2002.
The Act aims at promoting transparency and accountability in the working of every public authority
Key Provisions
Any citizen can request information from a "public authority" only, so it is not applicable to the private sector.
The information should be given within 30 days.
The Act also emphasizes the need for every public authority to computerize its records.
If the citizen is not satisfied with the information given, he can file an appeal again within 90 days.
Section 4 of the RTI Act requires suo motu disclosure of information by each public authority. However, such disclosures have remained less than satisfactory.
Section 8 (2) provides for disclosure of information exempted under Official Secrets Act, 1923 if larger public interest is served.
Implementation of RTI Act:
To oversee its implementation, an institution called the Central Information Commission has been set up, which ensures that the spirit of the RTI Act.
CIC may also impose penalties on departments for not providing information.
○ Each department now has a PIO or Public Information Officer in charge of providing information on behalf of the department concerned.
Concerns over rising RTI complaints: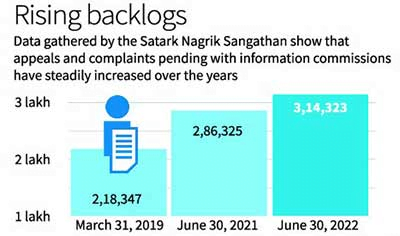 According to a report by the Satark Nagrik Sangathan, the backlog of appeals or complaints is steadily increasing in commissions every year.
According to the data received from 26 Information Commissions the number of appeals and complaints pending in 2019 was 2,18,347.
This number climbed up to 2,33,384 and in 2021 the number was 2,86,325 with data from 26 commissions and in 2022, it was 3,14,323.
The highest number of pending cases was in Maharashtra at 99,722 followed by Uttar Pradesh at 44,482, Karnataka at 30,358, the Central Information Commission at 26,724 and Bihar at 21,346.
Issues associated with the RTI framework:
Lack of awareness: The major impediment is the lack of awareness of the law and lack of widespread adoption.
Non-functionality of information commissions across the country: The Satark Nagrik Sangathan report says two out of 29 information commissions across the country are completely defunct.

Jharkhand and Tripura have been completely defuncting for 29 months and 15 months respectively.
Presently 4 of 26 commissions are working without the Information Commissioners at the moment.

Issues of vacancies and understaffing: According to a report by the Transparency International, one-fourth of Information Commissioner posts are vacant and there are only 5% (only 8) women Information Commissioners in the country.

Out of a total 165 posts of Information Commissioners, 42 are vacant, including two Chief State Information Commissioners.

Lack of Imposing of penalties: An analysis of penalties imposed shows that the commissions did not impose penalties in 95% of the cases where penalties were potentially imposable.
Appeals are not addressed: The report says that till now more than 4.2 crore RTIs have been filed and 26 lakh second appeals are there before the commissions.

Over 32,000 RTI appeals are pending with the Central Information Commission.

Lack of digitization: The entire system is in dire need of digitisation.

Only 11 information commissions out of 29 provide e-filing facility for RTI applications or appeals, but only five are functional.

Major institutions such as political parties and judiciary have kept themselves out of the RTI investigation and similarly the media is also out of ambit of the RTI Act.
Challenges in Implementation of RTI Act:
Non-compliance in proactive disclosure by public authorities.
Hostile approach of Public Information Officers (PIOs) towards citizens and misinterpreting provisions of the Right to Information (RTI) Act to conceal information.
Lack of clarity on what public interest is and right to privacy.
Lack of political will and poor infrastructure.
Rejection of information requests made by active citizens on important matters of public importance.
Covert means of attacks and threats against RTI activists and applicants to suppress their voices.
Way Forward:
Remove the existing impediments: There is a need to remove long waiting time for disposal, tardy disposal rates and the lack of transparency in their functioning.

Then only the Right to Information Act will achieve social justice, transparency and to make accountable governments.

Curbing RTI misuse: As observed by Delhi High Court, misuse of the RTI Act has to be appropriately dealt with; otherwise the public would lose faith and confidence in this "sunshine Act".
Improve governance and amend the act: A lot more needs to be done to usher in accountability in governance, including protection of whistleblowers, decentralization of power and fusion of authority with accountability at all levels.
It's been in the 18th Year since the RTI Act came into existence, although the ACT has done tremendous help to the common citizens. However, the present times provide us a priceless opportunity to amend the law and redesign the processes of governance, particularly at the grassroots level where the citizens' interface is maximum for a better informed citizenry and for the nation as a whole.
Source: The Hindu
---
Need for reforms in Telecom Sector
Syllabus
Mains – GS 2 (Governance)
Context: The government recently has approved structural and procedural reforms in the telecom sector.
About Telecom Regulatory Authority of India (TRAI):
Established in 1997
Established by an Act of Parliament, called the Telecom Regulatory Authority of India Act, 1997
TRAI is an independent regulator of Telecom Business in India.
Aims to regulate telecom services, including fixation/revision of tariffs for telecom services which were earlier vested in the Central Government.
Its mission is to create and nurture conditions for growth of telecommunications in India to enable country to have leading role in emerging global information society.
It also provides fair and transparent environment that promotes level playing field and facilitates fair competition in the market.
It also regularly issues orders and directions on various subjects such as tariffs, quality of service, interconnections, Direct To Home (DTH) services and mobile number portability.
TRAI also fixes or revises the tariffs for telecom services in India.
Telecommunications Dispute Settlement and Appellate Tribunal (TDSAT):
The TRAI Act was amended by an ordinance, effective from 24 January 2000, establishing a Telecommunications Dispute Settlement and Appellate Tribunal (TDSAT) to take over the adjudicatory and disputes functions from TRAI.
TDSAT was set up to adjudicate any dispute between a licensor and a licensee, between two or more service providers, between a service provider and a group of consumers, and to hear and dispose of appeals against any direction, decision or order of TRAI.
The proposed reforms include:
Rationalisation of Adjusted Gross Revenue (AGR);
Rationalisation of Bank Guarantees (BGs);
Rationalisation of interest rates and removal of penalties;
Dispensing with the requirement of BGs (for auctions held henceforth) to secure instalment payments;
Increasing spectrum tenure from 20 years to 30 years (in future auctions);
Permission for surrender of spectrum after 10 years (in future auctions);
Dispensing with the requirement of Spectrum Usage Charge (SUC) for spectrum acquired in future spectrum auctions;
Removal of additional SUC of 0.5% for spectrum sharing;
Permission for 100% Foreign Direct Investment (FDI) in telecom sector under automatic route subject to safeguards;
Fixed time for spectrum auctions (normally in the last quarter of every financial year);
Requirement of licenses under 1953 Customs Notification for wireless equipment replaced with self-declaration;
Permission for Self-KYC;
e-KYC rate revised to only one Rupee; Dispensing with the requirement of fresh KYC for shifting from Prepaid to Post-paid and vice-versa;
Replacement of paper Customer Acquisition Forms with digital storage of data;
Easing SACFA clearance for telecom towers; and Addressing liquidity requirements of the Telecom Service Providers by way of moratorium/deferment.
About 4G coverage:
4G mobile coverage has been provided to 98% of the population of India.
This massive 4G roll- out has boosted economic activities across the country, which has resulted in growth and creation of job opportunities.
About 5G coverage:
As far as 5G is concerned, permissions have been accorded to Indian TSPs for conducting trials for use and applications of 5G technology.
Structural Reforms:
Rationalisation of Adjusted Gross Revenue: Non-telecom revenue will be excluded on prospective basis from the definition of AGR.
Bank Guarantees (BGs) rationalised: Huge reduction in BG requirements (80%) against License Fee (LF) and other similar Levies.

No requirements for multiple BGs in different Licenced Service Areas (LSAs) regions in the country. Instead, One BG will be enough.

Interest rates rationalised/ Penalties removed: From 1st October, 2021, Delayed payments of License Fee (LF)/Spectrum Usage Charge (SUC) will attract interest rate of SBI's MCLR plus 2% instead of MCLR plus 4%; interest compounded annually instead of monthly; penalty and interest on penalty removed.

For Auctions held henceforth, no BGs will be required to secure instalment payments. Industry has matured and the past practice of BG is no longer required.

Spectrum Tenure: In future Auctions, tenure of the spectrum increased from 20 to 30 years.

Surrender of spectrum will be permitted after 10 years for spectrum acquired in the future auctions.
No Spectrum Usage Charge (SUC) for spectrum acquired in future spectrum auctions.

Spectrum sharing encouraged: Additional SUC of 0.5% for spectrum sharing removed.
FDI Reforms: To encourage investment, 100% Foreign Direct Investment (FDI) under automatic route permitted in Telecom Sector. All safeguards will apply.
Procedural Reforms:
Auction calendar fixed: Spectrum auctions to be normally held in the last quarter of every financial year.
Ease of doing business promoted: The cumbersome requirement of licenses under 1953 Customs Notification for wireless equipment removed. Replaced with self-declaration.
Know Your Customers (KYC) reforms: Self-KYC (App based) permitted. E-KYC rate revised to only One Rupee. Shifting from Prepaid to Post-paid and vice-versa will not require fresh KYC.
Significance of these reforms:
Healthy Competition: It is a welcome step towards strengthening the industry and ensuring survival of players to maintain healthy competition for the benefit of the customers.
Cash Flow and Relief: These measures are expected to ease the cash flow issues being faced by some players in the industry and provide relief to companies such as Vodafone Idea that have to pay thousands of crores of rupees in unprovisioned past statutory dues.
Investment and Employment: This will pave the way for large-scale investments in the telecom sector. Investment means employment – more the investment, more the employment.
Reducing NPAs: The telecom package comes as a relief to the banks as it mitigates the imminent possibility of default by vulnerable operators. This would help in stabilising and reducing the non-performing assets in the sector.
Increased Repayments: The steps announced by the government will help the companies conserve cash and it will significantly improve the probability of repayment at least for the next 3-4 years.
Suggestive measures to improve Telecom sector further
The removal of non-telecom revenues from the definition of AGR and the removal of penalty is a much needed change that has been brought in.
There is a need for the government's intervention in setting sustainable telecom floor tariffs, as it has done in the civil aviation sector to protect competition.
More efforts are needed to address the significant losses in the balance sheets of a majority of the stakeholders.
With a view to lead innovations in the next phase of technology development, the Department of Telecommunications has constituted a Technology Study Group on 6G.
The government should work on the recommendations it will receive from the Telecom Regulatory Authority of India (TRAI) on auction of spectrum in frequency bands identified for International Mobile Telecommunications (IMT)/5G in India.
Source: PIB
---
End-to-end encryption
Syllabus
Mains  – GS 3 Science and Technology
In News: Apple announced it will be increasing the number of data points protected by end-to-end encryption on iCloud from 14 to 23 categories.
Context:
With end-to-end encryption, user data will be protected even in case data is breached in the cloud. Similarly, Elon Musk wanted Twitter DMs to be encrypted.
However, the government agencies are not happy with above developments.
Such as , the FBI is deeply concerned with the threat of end-to-end encryption and user-only access pose as they hinder its ability to protect citizens from cyber-attacks, violence against children, and terrorism.
What is end-to-end encryption: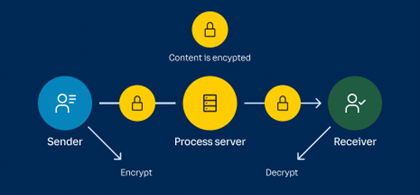 End-to-end encryption is a communication process that encrypts data being shared between two devices.
It prevents third parties like cloud service providers, internet service providers (ISPs) and cybercriminals from accessing data while it is being transferred.
The process of end-to-end encryption uses an algorithm that transforms standard text into an unreadable format.
This format can only be unscrambled and read by those with the decryption keys, which are only stored on endpoints and not with any third parties including companies providing the service.
Apple shared that end-to-end encrypted data can only be decrypted by trusted devices where users are signed with their Apple ID. No one else can access this data and it remains secure even in the case of a data breach in the cloud storage.
Applications:
End-to-end encryption is used to secure communications.
Some of the popular instant-messaging apps that use it are Signal, WhatsApp, iMessage, and Google messages.
It is also used to secure passwords, protect stored data and safeguard data on cloud storage.
It has long been used when transferring business documents, financial details, legal proceedings, and personal conversations.
It can also be used to control users' authorisation when accessing stored data, which seems to be what Apple intends to do.
Significance:
The extra layer of protection would be valuable to targets of hacking attacks launched by well-funded groups.
It secures users' data from snooping by government agencies, making it a sought-after feature by activists, journalists, and political opponents.
It ensures that user data is protected from unwarranted parties including service providers, cloud storage providers, and companies that handle encrypted data.
The data can only be accessed with access to the device passcode, password, recovery contact, or recovery key. The technology also makes it harder for service providers to share user information from their services with authorities.
Challenges of data:
Data breach: Apple cited data breach research report, "The Rising Threat to Consumer Data in the Cloud", stating that the total number of data breaches more than tripled between 2013 and 2021.
Data of 1.1 billion personal records were exposed in 2021 alone.
AIIMS servers have been hacked repeatedly.
Non comprehensive: End-to-end encryption does not protect metadata, which includes information like when a file was created, the date when a message is sent and the endpoints between which data was shared.
Threats of cyber-terrorism: FBI said it would enable tech companies "served with a legal order" to decrypt data
In 2019, the U. S., the U. K., and Australia planned to pressure Facebook to create a backdoor into its encrypted messaging apps to allow governments to access the contents of private communications.
Australia, in 2018, passed laws that would force tech companies and service providers to build capabilities allowing law enforcement secret access to messages on platforms like WhatsApp and Facebook.
Suggestions for future:
EU's General Data Protection Regulation (GDPR) 2018 are the most forward-thinking and extensive legal provision for the protection of personal data and its ongoing security.
It mitigates the risks of fraud, compromise and corruption, and protects the individual.
US's California Consumer Privacy Act (CCPA) provides robust privacy rights and consumer protection.
South Africa implemented Protection of Personal Information Act (POPIA) with equally stringent and rigorous personal data protection controls in place.
Schrems II ruling addressed the flow of information from the European Union to the United States, has had an immense impact on global international privacy regulations and approaches.
India enacted Personal Data Protection bill 2022 that embeds many of the tenets of GDPR within the country's context.
These include requirements for notice and prior consent for the use of individual data, limitations on the purposes for which data can be processed by companies, and restrictions to ensure that only data necessary for providing a service to the individual in question is collected.
In 2017, a supreme court judge ruled that it was unconstitutional for private companies to use Aadhaar data – a platform that was unveiled in 2009 and forms a massive part of the country's biometric identification programme.
Way forward:
While cryptographers and cybersecurity experts argue that attempts by law enforcement to weaken encryption with backdoors are ill-advised and could compromise the reliability of the internet, the move by tech companies to use end-to-end encryption to secure more user data seems to be getting stronger.
Global regulations are constantly changing and adapting to trends, international best practices, and regulatory rulings.
However, as these changes continue, it's likely that global requirements will align with one another more tightly to provide both country, citizen and organisation with a more solid regulatory footing.
Source: The Hindu
---
Practice MCQs
Daily Practice MCQs
Q.1) With reference to 'INS Murmagao', consider the following statement
It is developed by Coachin Dock Shipbuilders Limited.
It is fully indigenous and has state-of-art stealth capabilities
It is equipped with surface-to-surface missiles weapon system only.
Choose the correct statement
1 and 2 only
1 and 3 only
1 only
None
Q.2) With reference to the use of synNotch therapy in health sector, which of the following statement(s) is/are correct?
It can target cancer cells more effectively without harming healthy cells.
It produces cytokines outside the tumor cells.
Select the correct answer using the codes given below.
1 only
2 only
Both 1 and 2
Neither 1 nor 2
Q.3) Consider the following freedom fighters:
Ram Prasad Bismil
Ashfaqulla Khan
Chandrashekhar Azad
Sachindra Bakshi
Who of the above was/were actively associated with the Kakori Conspiracy?
1 and 3 only
2 and 4 only
1 2 and 4 only
All of the above
Comment the answers to the above questions in the comment section below!!
ANSWERS FOR ' 19th December 2022 – Daily Practice MCQs' will be updated along with tomorrow's Daily Current Affairs.st
---
ANSWERS FOR 17th December

 

– Daily Practice MCQs
Answers- Daily Practice MCQs
Q.1) – a
Q.2) – d
Q.3) – b
For a dedicated peer group, Motivation & Quick updates, Join our official telegram channel – https://t.me/IASbabaOfficialAccount
Subscribe to our YouTube Channel HERE to watch Explainer Videos, Strategy Sessions, Toppers Talks & many more…