---
(PRELIMS & MAINS Focus)
---
Antiquities Abroad: Indian & International Laws
Syllabus
Prelims: Government schemes and policies
What is antiquity?
The Antiquities and Art Treasures Act, 1972, implemented on April 1, 1976, defined "antiquity" as
Any coin, sculpture, painting, epigraph or other work of art or craftsmanship; any article, object or thing detached from a building or cave; any article, object or thing illustrative of science, art, crafts, literature, religion, customs, morals or politics in bygone ages; any article, object or thing of historical interest" that "has been in existence for not less than one hundred years."
For "manuscript, record or other document which is of scientific, historical, literary or aesthetic value", this duration is "not less than seventy-five years."
Under section 14(3) of the AATA, "Every person who owns, controls or is in possession of any antiquity" shall register such antiquity before the registering officer "and obtain a certificate in token of such registration."
So far, the National Mission on Monuments and Antiquities, launched in March 2007, has registered 3.52 lakh antiquities among the 16.70 lakh it has documented, to help in "effective check" of illegal activities.
Government estimates: Around 58 lakh
International Conventions
The UNESCO 1970 Convention on the Means of Prohibiting and Preventing the Illicit Import, Export and Transfer of Ownership of Cultural Property defined "cultural property" as
The property designated by countries having "importance for archaeology, prehistory, history, literature, art or science."
The illicit import, export and transfer of ownership of cultural property is one of the main causes of the impoverishment of the cultural heritage of the countries of origin of such property that international co-operation constitutes one of the most efficient means of protecting each country's cultural property.

After that, in 2000, the General Assembly of the UN and the UN Security Council in 2015 and 2016 also raised concerns on the issue.
An INTERPOL report in 2019 said that almost 50 years after the UNESCO convention, "the illicit international traffic of cultural items and related offences is sadly increasingly prolific."
Indian Laws
In India, Item-67 of the Union List, Item-12 of the State List, and Item-40 of the Concurrent List of the Constitution deal with the country's heritage.
Before Independence, an Antiquities (Export Control) Act had been passed in April 1947 to ensure that "no antiquity could be exported without license."
In 1958, The Ancient Monuments and Archaeological Sites and Remains Act was enacted.
In 1971, Parliament saw an uproar over the theft of a bronze idol from Chamba and some important sandstone idols from other places.
This, along with the UNESCO convention, prompted the government to enact The Antiquities and Art Treasures Act, 1972 (AATA), implemented from April 1, 1976.
The AATA states, "it shall not be lawful for any person, other than the Central Government or any authority or agency authorised by the Central Government in this behalf, to export any antiquity or art treasure… No person shall, himself or by any other person on his behalf, carry on the business of selling or offering to sell any antiquity except under and in accordance with the terms and conditions of a licence."
This licence is granted by the Archaeological Survey of India (ASI).
After the AATA was implemented, the Centre asked traders in antiquities and art objects to declare their possessions of antiquities by June 5, 1976, and individual owners by July 5, 1976.
Provenance of an antiquity includes the list of all owners from the time the object left its maker's possession to the time it was acquired by the current owner.
How is ownership proved?
The requesting Party shall furnish, at its expense, the documentation and other evidence necessary to establish its claim for recovery and return.
The first thing in order to prove the ownership is the complaint (FIR) filed with the police.
In India, the problem with missing antiquities is that in many cases, there is no FIR. But other proof, like details mentioned by reputed scholars in research papers etc., also work.
Can India bring back antiquities?
There are three categories to take note of:
Antiquities taken out of India pre-independence
Those which were taken out since independence until March 1976, i.e. before the implementation of AATA
Antiquities taken out of the country since April 1976.
For items in the first two categories, requests have to be raised bilaterally or on international fora.
For instance, the Maharashtra government on November 10, 2022 announced it was working to bring back the sword of Chhatrapati Shivaji Maharaj from London.
This sword was given to Edward, the Prince of Wales (the later King Edward VII) by Shivaji IV in 1875-76.
Several antiquities, from Vagdevi of Dhar (MP), to the Kohinoor diamond, to Amaravati marbles to the Sultanganj Buddha to antiquities related to Rani Laxmibai and Tipu Sultan, are currently abroad.
Antiquities in the second and third categories can be retrieved easily by raising an issue bilaterally with proof of ownership and with the help of the UNESCO convention.
News Source: Indian Express
---
Promises of Monoclonal antibody tech
Syllabus
Prelims: Science & Technology
About: Monoclonal antibody tech promises better disease prevention and control in Africa. They are used to address different kinds of diseases, not just infections.
Monoclonal Antibody
Lab-made copies of B cells that mimic the body's immune system. The aim is to enable the production of proteins that are very specific to the foreign bodies called antigens.
They're called monoclonal because they are produced by single clone of the B cells. So, you can have the exact copies of the same protein produced many times over and this way they are called Mab
MAb can be produced outside the body, but you have to focus on the type since what is produced in our bodies are of different types, hundreds of them. Whatever infection you have, there is an antibody produced in the body, but if we are producing it from outside, it has to be specific.
MAb are used to address different kinds of diseases, not just infections.
Cancer is not infection, but you can use monoclonal antibodies against it.

To treat cancer, the standard method is chemotherapy — the use of drugs.
But those drugs are usually cytotoxic. They kill everything — both the normal cells and the cancer cells.
Sometimes, we give radiation; even radiation cannot choose which cells to kill.
But MAb can target specific problems and attack those cells

Autoimmune diseases are not infections, but you can use Mab.
MAb can be used against infections like malaria or others as they are made to target anything that is interpreted as outside.
Must Read: New hope for malaria vaccine
News Source: Down to Earth
---
Operation Trishul
Syllabus
Prelims: Internal Security
In News: The Central Bureau of Investigation (CBI) has extradited 33 fugitives involved in various criminal activities under its 'Operation Trishul' in the past one year.
According to Interpol, Indian agencies are looking for 276 fugitives worldwide.
Operation Trishul
Operation Trishul has been instrumental in bringing fugitive criminals back to India one after the other. Under 'Operation Trishul', the CBI uses a three-pronged strategy to nab fugitives. In this, with the help of Interpol, criminals and proceeds of crime located abroad are traced and brought back.
Strategy I: The investigative agency tracks down a fugitive with the help of Interpol. He must then extradite or extradite the wanted person from the country of his hiding.
Strategy II: The CBI uses the Interpol Mechanism – STAR Global Focal Point Network, financial crime analysis files and other channels to trace the distribution of proceeds of crime through financial criminals to recover the proceeds of such crime. Can be taken through proper channels.
Strategy III: To collect criminal intelligence on shell companies, fraudulent transactions, money mules and co-criminals worldwide and dismantle their supporting networks. This may be reported to law enforcement agencies of the concerned country through INTERPOL for appropriate action.
Issues in India
Lack of Domestic Tracking System: Theoretically there exists a system of tracking criminals worldwide – through Interpol Notices and the sharing of immigration databases of different countries – but there is no coordinated system or database for tracking criminals or wanted persons domestically.
Criminals remain underground exploiting Indian Police system: In the absence of such domestic tracking system, it is relatively easy for criminals from one police station/jurisdiction to melt into the population in any other area, almost undetected.
About Fugitive Economic Offenders Act, 2018
Fugitive Economic Offenders Act (FEOA) became a law on July 31, 2018.
Objectives:

To deter economic offenders from avoiding the process of Indian law by remaining outside the jurisdiction of Indian courts.
To ensure that fugitive economic offenders return to India to face the action in accordance with law.

Defining Fugitive economic offender (FEO): FEO is defined as an individual

who has committed offences involving an amount of 100 crore rupees or more and
has ran away from India to avoid criminal prosecution.

Special Court: A special court will be established under the Prevention of Money-laundering Act, 2002 to declare a person as a Fugitive Economic Offender.
Attachment of property: Special courts can direct the Central government to seize assets of fugitive economic offender including those that are proceeds of the crime.
Appeal: Appeals against the orders of the special court will lie before the High Court.
The Way Forward
Nationwide Database: The creation of a nationwide database of wanted persons, which could be accessible for police agencies, the public and others (like passport and immigration authorities).
National Notice System: A nation-wide system of 'Wanted Persons Notices', similar to Interpol Notices, is required, to help track fugitives domestically.
Dedicated Units: Countries like the U.S. have functional inter-State extradition and fugitive tracking systems; India needs to set up such dedicated 'fugitive tracking units'.
Greater Coordination: There needs to be enhanced integration between immigration agencies, State police agencies, Interpol-New Delhi, the External Affairs Ministry and Home Ministry and central investigation agencies. Intelligence agencies also need to pool in.
Bilateral Agreements for Sharing Database: India can plug its loophole by sharing its 'wanted' database or providing access to it to foreign embassies on a reciprocal basis or through treaties or arrangements. All this will help detect possible plans of criminals to abscond abroad.
Specialised set up for International Collaboration: The entire gamut of activities pertaining to fugitives, from investigation to extradition, needs to be incorporated into a specialised set-up with an Integrated International Cooperation Division (IICD) at the top.

The IICD should have linkages with proposed fugitive tracking units at the State level.
This would ensure that requisite expertise and forward-and-backward linkages are created.
Note:
What is a red notice?
A request to law enforcement worldwide to locate and provisionally arrest a person pending extradition, surrender, or similar legal action.
Not an international arrest warrant.
Restricted to use by law enforcement agencies.
At present, globally 7012 public red notices are in circulation in which 211 are Indian nationals, the agency's data revealed. They include five women.
News Source: Hindustan Times
---
Centre seeks ₹1.5 lakh cr. in final tranche of supplementary demands for grants for FY23
Syllabus
Prelims: Budget; Constitutional Provisions
In News: The government has sought a final tranche of supplementary demands for grants for 2022-23 from Parliament, amounting to a net cash outgo of about ₹1.5 lakh crore, primarily to provide for fertiliser subsidies, defence pensions and GST compensation.
Types of Grants
Supplementary Grant: When the amount authorised by the Parliament through the appropriation act for a particular service for the current financial year is found to be insufficient for that year.
Additional Grant: When a need has arisen during the current financial year for additional expenditure upon some new service not contemplated in the budget for that year.
Excess Grant: When money has been spent on any service during a financial year in excess of the amount granted for that service in the budget for that year.
It is voted by the Lok Sabha after the financial year.
Before the demands for excess grants are submitted to the Lok Sabha for voting, they must be approved by the Public Accounts Committee of Parliament.
Vote of Credit: For meeting an unexpected demand upon the resources of India, when on account of the magnitude or the indefinite character of the service, the demand cannot be stated with the details ordinarily given in a budget. Hence, it is like a blank cheque given to the Executive by the Lok Sabha.
Exceptional Grant: For a special purpose and forms no part of the current service of any financial year.
Token Grant: When funds to meet the proposed expenditure on a new service can be made available by re-appropriation.
A demand for the grant of a token sum (of Re 1) is submitted to the vote of the Lok Sabha and if assented, funds are made available.
Reappropriation involves transfer of funds from one head to another.
It does not involve any additional expenditure.
Note: Supplementary, additional, excess and exceptional grants and vote of credit are regulated by the same procedure which is applicable in the case of a regular budget.
Constitutional Provisions
Article 115 pertains to supplementary, additional or excess grants.
Article 116 of the Constitution pertains to Votes on account, Votes of credit and exceptional grants.
News Source: The Hindu
---
Mount Merapi volcano
Syllabus
In News: Mount Merapi in Indonesia erupted with avalanches of searing gas clouds and lava.
The eruption had blocked out the sun and blanketed several villages with falling ash.
No casualties have been reported.
Merapi is the most active of more than 120 active volcanoes in Indonesia and has repeatedly erupted with lava and gas clouds recently.
Geographically,
Located on the border between the province of Central Java and the Special Region of Yogyakarta, Indonesia.
The youngest in a group of volcanoes in southern Java.
Situated at a subduction zone, where the Indo-Australian Plate is subducting under the Sunda Plate.
About Volcanoes
A volcano is an opening or rupture in the earth's surface that allows magma (hot liquid and semi-liquid rock), volcanic ash and gases to escape.
Movement of molten rock in the mantle, caused by thermal convection currents, coupled with gravitational effects of changes on the earth's surface (erosion, deposition, even asteroid impact and patterns of post-glacial rebound) drive plate tectonic motion and ultimately volcanism.
The volcanic eruption could have implications for the local and regional environment like earthquakes, landslides, lahars (mudflows), ash and thunderstorms.
Factors that lead to volcanism:
Plate Tectonics: The majority of volcanoes occur where two lithospheric plates converge and one overrides the other, forcing it down into the mantle to be reabsorbed.
Ocean floor spreading: A major site of active volcanism is along the axis of the oceanic ridge system, where the plates move apart on both sides of the ridge and magma wells up from the mantle.
Weak Earth Surface: Because of high pressure in the earth's interior, the magma and gases escape with great velocity as the pressure is released through eruptions where opportunity is provided by weak zones along the earth's surface.
Faults: Whenever extreme pressure builds in the mantle, along fault lines an eruption is likely to happen next. The earthquakes, for instance, may expose fault zones through which magma may escape.
Magma crystallization: Decreasing temperatures can cause old magma to crystallize and sink to the bottom of the chamber and this movement can force fresh liquid magma up and out – similar to dropping a brick in a bucket of water.
A decrease in external pressure: A decrease in external pressure can trigger an eruption as it may minimize the volcano's ability to hold back by increasing the pressures inside the magma chamber
Plate movement: Volcanism may occur because of plate movement over a "hot spot" from which magmas can penetrate to the surface. Ex. Islands of Hawaii
After-effects
Climate and ecosystem due to volcanic activity
The gases and dust particles thrown into the atmosphere during volcanic eruptions have influences on climate.
Volcanoes have also caused global warming over millions of years during times in Earth's history when extreme amounts of volcanism occurred, releasing greenhouse gases into the atmosphere.
Even though volcanoes are in specific places on Earth, their effects can be more widely distributed as gases, dust, and ash get into the atmosphere.
This is due to the atmospheric circulation patterns, eruptions in the tropics can have an effect on the climate in both hemispheres. Eruptions at mid or high latitudes only have an impact on the hemisphere they are within.
Geology landscapes due to volcanic activity
Volcanic eruptions can create new landforms, such as volcanic islands and mountains, and deposit layers of ash and lava, which can change the soil composition and fertility.
Volcanic activity can also create new mineral deposits, such as gold, silver, copper and other metals, which can become an important resource for human civilization.
These mineral deposits can form in different ways, for example, in the form of veins and lodes, as well as in the form of volcanic-hosted massive sulfide deposits.
The volcanic ash and rock fragments can also change the albedo of the region, which can affect the regional climate.
Volcanic activity can also create geothermal areas, which can be used for power generation and other forms of economic development.
Additionally, volcanic landscapes often have unique biodiversity, with many endemic species found only in these regions.
However, volcanic activity can also be hazardous to human settlements and can lead to destructive events such as volcanic eruptions, ashfall, lahars, and volcanic gas emissions. These events can cause significant damage to infrastructure, agriculture, and human health, and can lead to displacement of populations.
Economic development and human settlements
Volcanic activity and the formation of volcanic landscapes can have both positive and negative impacts on human settlement and economic development. While they can be inhospitable and hazardous to human habitation, they can also provide opportunities for economic development.
For example, Volcanic ash and rock fragments can be used for construction and road building, and volcanic landscapes often have unique biodiversity which can be utilized for tourism and recreation. Volcanic landscapes can also contain geothermal resources which can be used for power generation and other forms of economic development.
Volcanic eruptions can cause significant damage to infrastructure, agriculture, and human health, and can lead to displacement of populations. Additionally, the rugged terrain and harsh climate of volcanic landscapes can make it difficult for people to settle in these regions.
Note: The name Merapi is a compound of Sanskrit Meru meaning "mountain" with Javanese "api" which means "fire". Thus Merapi can be loosely translated as "Mountain of Fire" or "Fire Mountain".
News Source: Indian Express
---
Carbon Footprint of India's Marine Fisheries
Syllabus
Prelims: Economy – Animal Husbandry
In News: India's marine fisheries produced 1.32 tonnes of carbon dioxide (CO2) to produce one kilogram of fish in 2016, lower than the global average of 2 tonnes.
This estimate covers emissions during the entire chain of operations of marine fisheries — from the construction of boats to retail.
The usual Carbon Footprint
Active fishing consumes more than 90 per cent of the fuel used in the sector, contributing 4,934 million kilograms of CO2 emissions annually.
The country's carbon emissions from the marine mechanised fisheries sector is 16.3 per cent, lower than the global level.

Because they depend largely on human force.
Large mechanised fishing boats were introduced in India in the late 1950s, but the fleet size is growing. Their number increased to 72,559 in 2010 from 6,708 in 1961. In 2010, these boats with inboard engines released 1.18 tonnes CO2 per kilogram of fish caught.

Impacts on marine ecosystems

Marine ecosystems are changing due to an increase in the intensity of cyclones, sea-level rise and the warming of the Indian Ocean.
The diversity of species is changing. During coral bleaching, for example, reef-associated fish deplete.
Researchers are trying to identify critical climate change control points in the value chain system. Based on this, they will make relevant interventions.
The Way Forward
We need to look at how fishing contributes to climate change and how India can reduce carbon emissions from the fishing sector.
To find greener fishing methods to reduce carbon emissions. This includes optimising fuel usage and reducing fuel wastage.
Note:
What is Carbon Footprint?
Carbon footprint is the amount of greenhouse gases-especially carbon dioxide-released into the atmosphere by a particular human activity.
It is expressed as a weight of CO2 emissions produced in tonnes.
It can be a broad measure or be applied to the actions of an individual, a family, an event, an organization, or even an entire nation.
Carbon footprint includes direct emissions, such as from driving a car, as well as whatever emissions are required to consume any goods and services (indirect)
Carbon footprint is different from ecological footprint. While the carbon footprint measures the emission of gases that contribute to global warming, the ecological footprint focuses on measuring the use of bio-productive space.
Effects of Higher Carbon Footprint
Increase in Carbon dioxide concentration in atmosphere causes Global Warming i.e Greenhouse gas effect
Climate Change
Melting of Polar Caps
Depletion of resources: Due to changed Carbon concentration in biosphere
Increasing Incidents of Severe Weather
Changes in food supply
About Central Marine Fisheries Research Institute:
Established in the government of India on 3 February 1947 under the Ministry of Agriculture and Farmers Welfare
Later, in 1967, it joined the Indian Council of Agricultural Research (ICAR) family and emerged as a leading tropical marine fisheries research institute in the world
Headquarters: Kochi, Kerala
Mandate:

Monitor and assess the marine fisheries resources of the Exclusive Economic Zone (EEZ) including the impact of climate and anthropogenic activity and develop sustainable fishery management plans.
Basic and strategic research in mariculture to enhance production.
Act as a repository of geo-spatial information on marine fishery resources and habitats.
Consultancy services; and human resource development through training, education and extension
News Source: Down to Earth
---
SIPRI Report on Global Arms Import
Syllabus
Context: According to Stockholm International Peace Research Institute (SIPRI) report, India is the world's largest arms importer for the period between 2018-22.
About SIPRI:
It was founded in 1966 by the Swedish parliament as an independent research institute.
Its main objective is to conduct research on issues related to international peace and security, including arms control, disarmament, and conflict resolution.
It is funded by a combination of government grants, private donations, and project-based funding.
SIPRI is based in Stockholm, Sweden, but has a global reach and influence, with its research and analysis informing policy decisions and public debates in many countries.
Key highlights of the report: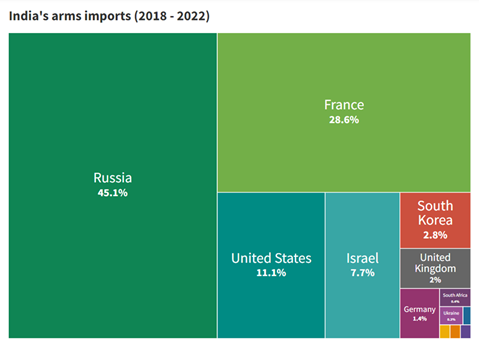 Credits: SIPRI report
India's Arms Imports and Exports:
India is the biggest arms export market to Russia, France, and Israel and the second largest export market to South Korea.
India was also the third largest market for South Africa which was ranked 21 in the list of arms exporters.
For the same period, India remained the largest arms importer followed by Saudi Arabia, with Russia accounting for 45% of India's imports followed by France (29%) and the US (11%).
India was the third largest arms supplier to Myanmar after Russia and China accounting for 14% of its imports.
India is now looking to become a significant exporter of defence equipment by aiming for $5 billion in exports and $22 billion in turnover by 2025.
Reasons for Decrease in India's Arms Imports:
India's slow and complex arms procurement process,
Efforts to diversify its arms suppliers,
Attempts to replace imports with major arms that are designed and produced domestically.
Global Arms Transfers:
The global level of international arms transfers decreased by 5.1%, imports of major arms by European states increased by 47% between 2013–17 and 2018–22 in the backdrop of the war in Ukraine.
Challenges of arms imports:
Dependence on foreign suppliers: India remains heavily dependent on foreign suppliers for its arms imports, which can make it vulnerable to supply disruptions, geopolitical tensions, and changing global dynamics.
Slow and complex procurement process: India's arms procurement process is often slow and complex, which can delay the acquisition of necessary weapons and equipment.
Domestic arms production: India is also attempting to produce more of its own arms domestically, but this requires significant investments in infrastructure, technology, and skilled labor.
Replacement of imports: India is seeking to replace some of its imports with domestically designed and produced arms, but this process can be slow and challenging.
Diversification of suppliers: India is making efforts to diversify its arms suppliers to reduce its dependence on any one country, but this process can be difficult and time-consuming.
Government of India Initiatives to  steps domestic arms production and reduce the country's reliance on arms imports:
Make in India programme: The Make in India initiative encourages domestic production of defence equipment, including fighter jets, submarines, and helicopters, by providing incentives for private sector investment in the defence industry.
Defence Manufacturing Policy: The government has formulated a Defence Manufacturing Policy that aims to create an ecosystem for domestic defence manufacturing, enhance self-reliance, and reduce dependence on imports.
Strategic Partnership Model: The Strategic Partnership (SP) Model is a policy framework that allows private sector companies to partner with foreign Original Equipment Manufacturers (OEMs) to produce defence equipment in India.
Technology Transfer: The government is encouraging technology transfer from foreign OEMs to Indian companies, enabling the latter to manufacture and maintain sophisticated defence equipment domestically.
Defence Innovation Fund: The Defence Innovation Fund (DIF) has been set up to provide financial support to start-ups and MSMEs working on innovative defence technologies.
Defence Exports: The government is promoting exports of defence equipment to other countries, which not only helps Indian defence manufacturers to grow but also enhances India's reputation as a global defence supplier.
Defence Corridors: The government has announced the establishment of two defence corridors, one in Uttar Pradesh and the other in Tamil Nadu, to promote defence manufacturing in these regions.
Must Read: Self-Reliance in Defence Sector of India
Source: Hindustan Times
---
States demand that lightning be declared a natural disaster
Syllabus
Mains – GS 3 (Disaster Management)
Context: Recently few States have demanded that "lightning" be declared as a "natural disaster" because deaths caused by it surpass any other disaster in India.
Presently Cyclone, drought, earthquake, fire, flood, tsunami, hailstorm, landslide, avalanche, cloudburst, pest attack, frost, and cold waves are covered under the State Disaster Response Fund (SDRF) which is 75% funded by the Centre.
About Lightning: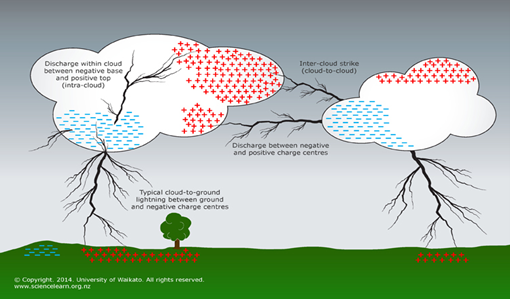 Source: Science Learning Hub
It is the natural process of "an electrical discharge of very little duration and high voltage between a cloud and the ground or within a cloud," accompanied by a bright flash, a loud sound, and occasionally thunderstorms.
During a storm, colliding particles of rain, ice, or snow inside storm clouds increase the imbalance between storm clouds and the ground, and often negatively charge the lower reaches of storm clouds.
Objects on the ground, like steeples, trees, and the Earth itself, become positively charged—creating an imbalance that nature seeks to remedy by passing current between the two charges.
Cloud-to-ground lightning bolts are a common phenomenon with about 100 striking Earth's surface every second.
A typical cloud-to-ground lightning bolt begins when a step-like series of negative charges, called a stepped leader, races downward from the bottom of a storm cloud toward the Earth along a channel at about 200,000 mph (300,000 kph).
Lightning Strikes in India:
According to a newly published yearly report on lightning from the Lightning Resilient India Campaign (LRIC), India may have seen up to 18.5 million lightning strikes between April 2020 and March 2021.
Each year, lightning claims the lives of more than 2,500 Indians.
Madhya Pradesh had the highest number of lightning-related deaths (162), followed by Maharashtra (121), Gujarat (72), Bihar (70), Rajasthan (49), and Chhattisgarh (40).
India has experienced 90,632 deaths due to lightning strikes between 1972 and 2019.
The Accidental Deaths & Suicides in India 2021 report confirms that 40.4% of deaths due to natural disasters took place due to lightning.
77% of farmers are killed due to lightning as they work in agricultural fields during the Kharif cropping season in the monsoon period.
Challenges of Lightning in India
Lack of awareness: There is a lack of awareness among the general public about the dangers of lightning, which often leads to fatalities and injuries.
Poor lightning protection infrastructure: Most buildings and structures in India are not equipped with lightning protection systems, making them vulnerable to lightning strikes.
High mortality rate: Lightning strikes kill more than 2,000 people in India every year, making it one of the deadliest weather-related hazards in the country.
Climate change: Climate change is expected to increase the frequency and intensity of thunderstorms, which could lead to more lightning strikes in the future.
Limited resources: India has limited resources to invest in lightning protection infrastructure and research, which makes it challenging to mitigate the risks associated with lightning.
Limited lightning data: There is limited data on lightning strikes in India, which makes it difficult to develop effective lightning protection policies and strategies.
Government steps for disaster management
National Disaster Management Authority (NDMA): It was established in 2005 to provide a comprehensive and integrated approach to disaster management in the country.
State Disaster Management Authorities (SDMAs): Each state has a separate SDMA which works in coordination with the NDMA and other agencies to mitigate the impact of disasters.
Disaster Management Act, 2005: The act provides a legal framework for the management of disasters in the country and lays down the responsibilities of various agencies and authorities and outlines the procedures for disaster management.
National Disaster Response Force (NDRF): The NDRF is a specialized force created to respond to disasters and provide relief & rescue operations and comprises battalions stationed across the country.
Early Warning Systems: The government has set up early warning systems for various disasters, such as cyclones, earthquakes, floods, and landslides. These systems use technology to provide timely warnings to people in the affected areas.
National Disaster Management Plan (NDMP): It is a comprehensive plan developed by the government to address all aspects of disaster management, including prevention, mitigation, and response.
Way Forward:
Thus, the government should include lightning as a "natural disaster" to minimise lightning-related deaths. Mapping vulnerable populations with potential lightning hotspots, improving early warning systems, and installing lightning detection systems are critical measures.
Therefore, the government should prepare a database related to lightning strikes, gender-wise lightning deaths, and occupation-wise fatalities at the district, state, and central levels for devising an action plan against lightning strikes.
MUST READ: Cloud bursts
Source: The Hindu
---
Practice MCQs
Daily Practice MCQs
Q.1) Which of the following can be effects of increased carbon footprint in the atmosphere?
Greenhouse gas effect
Climate Change
Melting of Polar Caps
Depletion of resources
Changes in food supply
Select the correct answer using the code given below:
1 2 4 and 5 only
2 4 and 5 only
1 3 and 4 only
All of the above
Q.2) Consider the following :
Plate tectonics
Ocean floor spreading
Magma crystallization
Which of the above factors causes volcanic activities?
1 and 2 only
2 and 3 only
1 and 3 only
1 2 and 3
Q.3) With reference to India, consider the following statements:
Supplementary Grant is the amount that has been spent on any service during a financial year in excess of the amount granted for that service in the budget for that year.
Exceptional Grant is a special purpose and forms no part of the current service of any financial year.
Excess Grant is the amount authorised by the Parliament through the appropriation act for a particular service for the current financial year is found to be insufficient for that year.
Which of the statements given above is/are correct
1 and 2 only
2 only
3 only
1 and 3 only
Comment the answers to the above questions in the comment section below!!
ANSWERS FOR ' 15th March 2023 – Daily  Practice MCQs' will be updated along with tomorrow's Daily Current Affairs.st
---
ANSWERS FOR 14th March

 

– Daily Practice MCQs
Answers- Daily Practice MCQs
Q.1) – a
Q.2) – c
Q.3) – c
For a dedicated peer group, Motivation & Quick updates, Join our official telegram channel – https://t.me/IASbabaOfficialAccount
Subscribe to our YouTube Channel HERE to watch Explainer Videos, Strategy Sessions, Toppers Talks & many more…