---
(PRELIMS & MAINS Focus)
---
Mesolithic period rock painting
Syllabus
Context: A Mesolithic period rock painting has been found in Guntur, Andhra Pradesh recently.
About the news: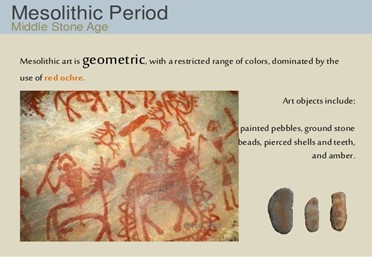 IMAGE SOURCE: SlideShare
About Mesolithic-era rock paintings in Guntur:-
The time period of these paintings is estimated to be Mesolithic Age, roughly from 5000 BC.
These paintings were made with "natural white kaolin and red ochre pigments".

Ochre: a pigment composed of clay, sand, and ferric oxide.
Kaolinite: a soft, earthy, and usually white mineral produced by the chemical weathering of aluminum silicate minerals like feldspar.

The social life and culture of the people who lived in the area are depicted through them.

One of the paintings depicted a man catching a wild goat with his left hand while wielding a hook-like implement to control it.
Another showed two couples standing with their hands raised while a child stood behind them.
The paintings depicted a person tilling a piece of land.
This can be an indication of a semi-settled life pattern in which members of this community cultivated crops.
Mesolithic period:-
The phase fall between the Paleolithic and the Neolithic Periods. (UPSC SCE: Ratnagiri's pre-historic rock art)
Time Period: While the start and end dates of the Mesolithic Period vary by geographical region, it dates approximately from 12,000-10,000 years ago.
Lifestyle: During the Mesolithic period, human societies were predominantly hunter-gatherer communities.
Tools: Stone tools found during this period are generally tiny and are called
Besides the use of microliths, the Mesolithic people made a number of technological innovations like the bow and arrow for hunting, querns, grinders and hammer stones for grinding and pulverising plant foods like roots, tubers etc.
Indian Mesolithic sites:-

Mirzapur district of Uttar Pradesh.
Tilwara, Bagor , Ganeshwar in Rajasthan
Patne, Pachad, Hatkhamba in Maharashtra
Pachmarhi, , Bhimbetka, Baghor II, Baghor III, Ghagharia in Madhya Pradesh
Paisra in Bihar
Kuchai in Odisha
Birbhanpur in West Bengal
Muchatla Chintamanu Gavi, Gauri Gundam in Andhra Pradesh
Sanganakallu in Karnataka
Tenmalai in Kerala.
Specific characteristics of Mesolithic rock paintings:-
This period mainly saw the use of red colour.
It has a larger variety of themes but the paintings are smaller in size.
Themes of paintings: The hunting scenes were predominant in the period.
The paintings depict:

People hunting in groups.
Hunting armed with barbed spears, pointed sticks, arrows and bows.

Animals depicted: elephants, bison, tiger, boar, deer, antelope, leopard, panther, rhinoceros, fish, frog, lizard, squirrel and at times birds.
Animals were painted in a naturalistic style and humans were depicted in a stylistic manner.
Social life: The young, old, children and women equally find a place in these paintings.
Women are painted both nude and clothed.
In many of the rock shelters handprints, fist prints, and dots made by the fingertips are found.
One of the most prominent examples of the Mesolithic rock painting is found in Bhimbetka, Madhya Pradesh. (UPSC CSE: Bhimbetka cave)
MUST READ: Weathering of oldest rock paintings due to climate change
SOURCE: THE HINDU
PREVIOUS YEAR QUESTIONS
Q.1) Consider the following pairs: (2022)
Historical place                 Well-known for
Burzahom             Rock-cut shrines
Chandraketugarh Terracotta art
Ganeshwar             Copper artefacts
Which of the pairs given above is/are correctly matched?
1 only
1 and 2
3 only
2 and 3
Q.2) Which one of the following statements is correct? (2022)
Ajanta Caves lie in the gorge of the Waghora River.
Sanchi Stupa lies in the gorge of the Chambal River.
Pandu – Lena cave shrines lie in the gorge of the Narmada River.
Amaravati Stupa lies in the gorge of the Godavari River.
---
GEMCOVAC-OM
Syllabus
Prelims – Science and Technology
Context: India's first mRNA-based Omicron-specific booster vaccine GEMCOVAC-OM was approved recently.
About GEMCOVAC-OM:-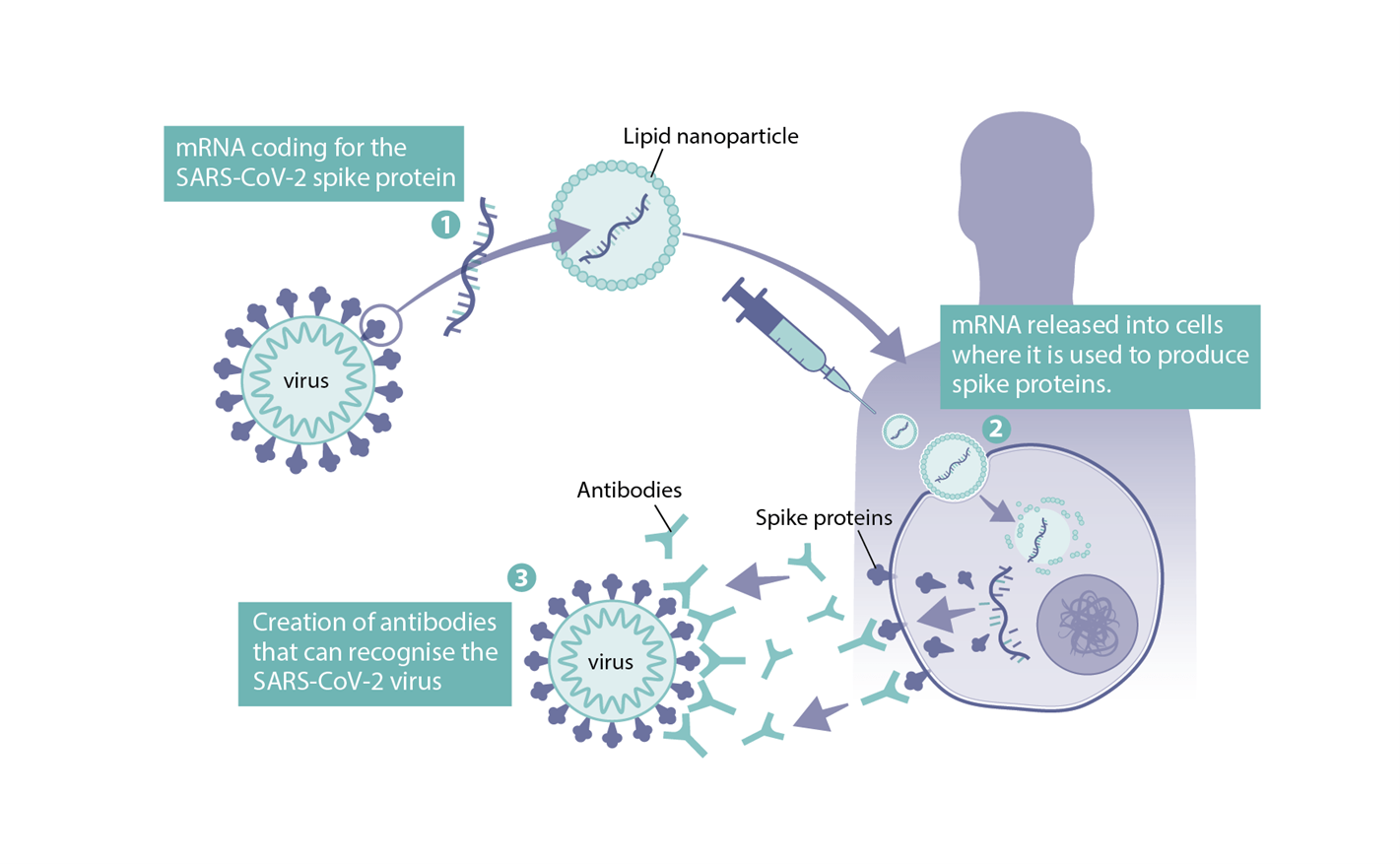 IMAGE SOURCE: healthfeedback.org
It was developed using indigenous (UPSC CSE: Nation's first mRNA-based vaccine)
Developed by: Gennova Biopharmaceuticals Ltd.
It is supported under the Mission COVID Suraksha.
It is a thermo-stable vaccine, which does not require ultra-cold chain infrastructure used for other approved mRNA-based vaccines. This makes it easy for deployment all across India.
It is delivered intra-dermally using a needle-free injection device system.

Intradermal injection: it is a shallow or superficial injection of a substance into the dermis (located between the epidermis and the hypodermis).
When administered intradermal in participants as a booster, it generates significantly higher immune responses.

Available: for adults over the age of 18.
Dosage: two doses will be administered intramuscularly 28 days apart.
mRNA vaccine
It contains messenger RNA (mRNA). (UPSC CSE: mRNA Vaccine)

mRNA: it is a single-stranded RNA molecule that complements DNA.

It is created in the nucleus when DNA is transcribed by RNA polymerase to create pre-mRNA.
Working: mRNA vaccines work by introducing a piece of mRNA that corresponds to a viral protein.
It is usually a small piece of protein found on the virus's outer membrane.
Individuals who get an mRNA vaccine will not be exposed to the same virus again.
Advantages of mRNA vaccines:-
Safe: these are non-infectious, non-integrating in nature, and degraded by standard cellular mechanisms.
Highly Efficient: they are highly efficacious because of their inherent capability of being translatable into the protein structure inside the cell cytoplasm.
Faster to produce: mRNA vaccines are synthetic and do not require a host for growth, e.g., eggs or bacteria.

Therefore, they can be quickly manufactured.
Mission COVID Suraksha
In 2020, the Government of India has announced the stimulus package of Rs. 900 crore for the Mission COVID Suraksha.
Mission COVID Suraksha is India's targeted effort to enable the development of indigenous, affordable and accessible vaccines for the country and will complement the ongoing mission of Atmanirbhar Bharat.
It will be led by DBT and implemented by a dedicated Mission Implementation Unit at the Biotechnology Industry Research Assistance Council (BIRAC).
The existing activities under National Bio Pharma Mission (NBM) and Ind-CEPI Mission will provide complementary strengths to this Mission.
The DBT is supporting the implementation of the Ind-CEPI Mission, "Epidemic preparedness through rapid vaccine development: Support of Indian vaccine development aligned with the global initiative of the Coalition for Epidemic Preparedness Innovations (CEPI)".
The Ind-CEPI Mission was approved in March 2019.
MUST READ: 'ZyCov-D' vaccine
SOURCE: THE INDIAN EXPRESS
PREVIOUS YEAR QUESTIONS
Q.1) In the context of vaccines manufactured to prevent the COVID-19 pandemic, consider the following statements: (2022)
The Serum Institute of India produced a COVID-19 vaccine named Covishield using an mRNA platform.
The Sputnik V vaccine is manufactured using a vector-based platform.
COVAXIN is an inactivated pathogen-based vaccine.
Which of the statements given above is correct?
1 and 2 only
2 and 3 only
1 and 3 only
1, 2 and 3
Q.2) which one of the following statements best describes the role of B cells and T cells in the human body? (2022)
They protect the environmental allergens. body
They alleviate the body's pain and inflammation.
They act as immunosuppressants in the body.
They protect the body from diseases caused by pathogens.
---
Assam Rifles
Syllabus
Context: Recently, the Assam Rifles secured the threatened supply route to Manipur's hill districts.
Background of the issue:
Recently, after the ethnic violence erupted on May 3 in Manipur, the insurgent groups of Kuki and Meitei communities have blocked highways.

Kuki: an ethnic group in the Northeastern Indian states of Manipur, Nagaland , Assam , Meghalaya , Tripura and Mizoram, as well as neighbouring countries of Bangladesh and Myanmar.
Meitei: they are the dominant population of Manipur in northeastern India.

This blockade is threatening free movement and the transport of essential supplies to various communities across the State.
Since National Highway 2 or NH 2 has been blocked by Kuki groups in the north, the supplies to Meitei-dominated areas in the Imphal Valley are being maintained through NH 37.

NH 2: it runs from Dibrugarh in Assam to Tuipang in Mizoram.
NH 37: it is an Indian National Highway entirely within the state of Assam.
It passes through: Junction with NH 31B near Goalpara – Guwahati – Jorabat – Kamargaon – Makum – Saikhoaghat

The Assam Rifles has moved additional troops to secure a bridge on a national highway in south Manipur.

It is the only route for essential supplies to the tribal district of Churachandpur district in the violence-hit State.
About Assam Rifles:-
Assam Rifles is a Central Paramilitary Force under the Central Armed Police Forces(CAPF).
It is also referred to as the Sentinels of the North East.
It is the oldest paramilitary force in India.

Paramilitary Forces: these are auxiliary units that assist the defence forces.

Established in 1835.
Historical Background: It was formed as a single unit called Cachar Levy in 1835.
Objective: to assist the British rulers in maintaining peace in the Northeast.
Participation: it served in both World Wars.
Control:-
It was after the Chinese aggression in 1962 that the Assam Rifles battalions were placed under the operational control of the Army.
Present situation:
Central Armed Police Forces(CAPF)
CAPF refers to seven security forces in India under the authority of the Ministry of Home Affairs.
These include:-
Assam Rifles (AR)
Border Security Force (BSF)
Central Industrial Security Force (CISF)
Central Reserve Police Force (CRPF)
Indo Tibetan Border Police (ITBP)
National Security Guard (NSG)
Sashastra Seema Bal (SSB)
MUST READ: AFSPA and the Northeast
SOURCE: THE HINDU
PREVIOUS YEAR QUESTIONS
Q.1) what is/are the consequence /consequences of a country becoming a member of the 'Nuclear Suppliers Group'? (2019)
It will have access to the latest and most efficient nuclear technologies.
It automatically becomes a member of "The Treaty on the Non-Proliferation of Nuclear Weapons (NPT)".
Which of the statements given above is/are correct?
1 only
2 only
Both 1 and 2
Neither 1 nor 2
Q.2) In the Indian context, what is the implication of ratifying the 'Additional Protocol' with the 'International Atomic Energy Agency (IAEA)'? (2018)
The civilian nuclear reactors come under IAEA safeguards.
The military nuclear installations come under the inspection of IAEA
The country will have the privilege to buy uranium from the Nuclear Suppliers Group (NSG).
The country automatically becomes a member of the NSG.
---
Aurangzeb's tomb
Syllabus
Context: Shiv Sena (UBT) Chief Uddhav Thackeray lashed out at his detractors for criticizing his ally, Prakash Ambedkar's recent visit to Aurangzeb's tomb.
He claimed that some parties wanted people to be stuck in history and foment riots in the name of Aurangzeb or something else, as it suited them ahead of elections.
About Aurangzeb's tomb:-
Location: Khuldabad, Maharashtra, India.  (UPSC CSE: Sabz Burj)
In contrast to other Mughal tombs, which are enormous works of Mughal architecture, Aurangzeb is buried in an unmarked grave.
He is buried near the dargah of Sheikh Zainuddin in keeping with his wishes.
Sheikh Zainuddin: a Sufi who was also his "spiritual and religious teacher," as he requested.
Lord Curzon later covered the grave with marble and surrounded it with a "pierced marble screen".
The tomb is a plain, brilliantly whitewashed structure.
It has a large, arcaded courtyard in a typical mix of Islamic and Rajasthani architecture.
It has only a few embellishments.
It has a modest dome and two minarets.
This reflects his austere tastes, which is in sharp contrast to the tombs of his ancestors.
The emperor's full name, Abul Muzaffar Muhi-ud-Din Mohammad Aurangzeb, is inscribed on marble in one corner of his tomb.
Aurangzeb
He was the last effective Mughal emperor.
Period of rule: 1658 to 1707.
He assumed the title Alamgir, World Conqueror.
He was influenced by the Nakshabandi Sufi order.

Naqshbandi: it is a major Sunni order of Sufism.
Its name is derived from Baha-ud-Din Naqshband Bukhari.
Naqshbandi masters trace their lineage to the Islamic prophet Muhammad and Abu Bakr.
Abu Bakr: the first Caliph of Sunni Islam.
MUST READ: Mughal Gardens
SOURCE: THE HINDU
PREVIOUS YEAR QUESTIONS
Q.1) With reference to Mughal India, what is/are the difference/differences between Jagirdar and Zamindar? (2019)
Jagirdars were holders of land assignments in lieu of judicial and police duties, whereas Zamindars were holders of revenue rights without obligation to perform any duty other than revenue collection.
Land assignments to Jagirdars were hereditary and the revenue rights of Zamindars were not hereditary.
Select the correct answer using the code given below.
1 only
2 only
Both 1 and 2
Neither 1 nor 2
Q.2) Who among the following Mughal Emperors shifted emphasis from illustrated manuscripts to the album and individual portraits? (2019)
Humayun
Akbar
Jahangir
Shah Jahan
---
Delhi Statehood
Syllabus
Context: Recently, the debates about the conflict between the Union government and the Government of the National Capital Territory of Delhi (GNCTD) over the grant of Statehood to Delhi started again.
About Delhi Statehood:-
Background:
There is an ongoing discussion regarding the conflict between the Union government and the Government of the National Capital Territory of Delhi (GNCTD) for the statehood grant to Delhi.
About Delhi Statehood:-
Historical Background:-
After India attained independence on August 15, 1947, New Delhi was declared the capital of the Union of India.
The Union Territory of Delhi was constituted from the Chief Commissioner's Province of Delhi under the States Reorganization Act of 1956.
The 69th Constitutional Amendment Act of 1991 conferred the UT of Delhi with a special status. (UPSC MAINS: Should Delhi be granted full statehood)

It re-designated Delhi as the National Capital Territory of Delhi .
It designated the administrator of Delhi (under Article 239) as the Lieutenant Governor (LG) of Delhi.

These special provisions for Delhi were provided under Article 239AA.
Article 239: Administration of Union territories.
Provisions under the Article 239AA 
It provides for a legislative assembly and a council of ministers for Delhi.
Legislative assembly of Delhi is empowered to make laws on all the matters of the State List (except public order, police and land) and the Concurrent List.

However, the laws of Parliament shall prevail over those made by the assembly in case of conflict.

The Chief Minister of Delhi heads Council of Ministers of Delhi.
It shall assists and advises the Lieutenant Governor (LG) in the exercise of his or her functions except in cases the LG has to act at his/her own
If there is a difference of opinion between the ministers and the LG, the latter should refer the matter to the President of the country for a decision and act in accordance with that.
The LG is also authorized to promulgate ordinances during the recess of the legislative assembly.
Issue of Statehood for Delhi
Unlike the other Union Territories listed in Schedule 1 of the Constitution, Delhi has been given special status under Article 239 AA.
However, there is an ever-going conflict with regard to the jurisdiction in the state due to which Delhi Government has been demanding a full statehood.
Need for statehood
Day-to-Day Problems
The Delhi government lacks control over the transfers of officials, hindering their ability to manage the departments they were working in.
Frequent transfers:-
Important officials are frequently transferred which minimizes the potential for effective governance.
Lack of Functional Control:–
The elected government has no functional control over services.
This results in challenges while punishing errant officers and addressing issues such as vacancies, vigilance enquiries, and corruption cases.
Conflicting Directives:–
Officials are hesitant while following directives of the elected government due to being under the functional control of the LG.
This creates confusion and hindered effective decision-making.
Lack of Answerability:
The Services Department, under the control of the LG, have in the past refused to answer questions raised by Members of the Legislative Assembly (MLAs) in the Vidhan Sabha.
This limits transparency and accountability, preventing MLAs from obtaining crucial information related to vacancies, corruption cases, and other issues.
Court's Verdict and interpretations on the matter:-
Supreme Court verdict, 2023: it stated that the government of Delhi possesses the authority to enact laws and oversee civil services in the national capital.
The court restricted the jurisdiction of the Lieutenant Governor (LG) to bureaucrats in three distinct domains—public order, police, and land.
SOURCE: THE INDIAN EXPRESS
PREVIOUS YEAR QUESTIONS
Q.1) Which one of the following best defines the term "State"? (2020)
A community of persons permanently occupying a definite territory independent of external control and possessing an organized government.
A politically organized people of a definite territory possessing an authority to govern them, maintain law and order, protect their natural rights and safeguard their means of sustenance.
A number of persons who have been living in a definite territory for a very long time with their own culture, tradition and government.
A society permanently living in a definite with a central authority, an executive responsible to the central authority and an independent judiciary.
Q.2) Rajya Sabha has equal powers with Lok Sabha in (2019)
the matter of creating new All India Services
amending the Constitution
the removal of the government
making cut motions
---
Statue of Unity
Syllabus
Prelims – Art and Culture
Context: The government has decided to restart the suspended helicopter joyride at the Statue of Unity.
About the Statue of Unity:-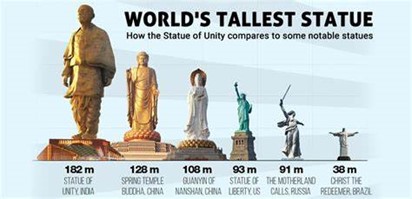 IMAGE SOURCE: tripapro.com
The Statue of Unity was built in honor of Sardar Vallabhbhai Patel. (UPSC CSE: Statue of Unity)
Inauguration: on 31st October, 2018.It marked the 143rd birth anniversary of Sardar Patel.
The Statue of Unity is the tallest statue in the world. It stands at 182-metre (600 feet aprox.)
It is taller than China's Spring Temple Buddha statue and almost double the height of the Statue of Liberty (93 meters tall) in the United States.
2020: it was added to the 'Eight Wonders' of the Shanghai Cooperation Organization (SCO).
Location: Sadhu Bet Island, Gujarat.The island is on the Narmada River.
Designed by: Padma Bhushan recipient sculptor Ram V Sutar.
The intricate bronze cladding work was done by a Chinese foundry, the Jiangxi Toqine Company (JTQ).
Sardar Vallabh Bhai Patel
Born:31st October 1875 in Nadiad, Gujarat.
First Home Minister and Deputy Prime Minister of India.
Headed various Committees of the Constituent Assembly of India, namely:

Advisory Committee on Fundamental Rights.
Committee on Minorities and Tribal and Excluded Areas.
Provincial Constitution Committee.

National freedom movements: Integrated the farmer's cause in Kheda Satyagraha (1918) and Bardoli Satyagraha (1928). (UPSC MAINS: Contribution of Sardar Vallabh bhai Patel in the Independence Struggle )
Title of Sardar: Women of Bardoli bestowed the title 'Sardar' on Vallabhbhai Patel, which means a Chief or a Leader'.
He is also known as the "Iron Man of India" for playing an important role in the unification and integration of Indian princely states.
He is also remembered as the 'Patron Saint of India's Civil Servants'.This is because he established the modern all-India services system.
MUST READ: Sardar Patel – The Iron Man of India
SOURCE: THE INDIAN EXPRESS
PREVIOUS YEAR QUESTIONS
Q.1) The world's second tallest statue in the sitting pose of Ramanuja was inaugurated by the Prime Minister of India at Hyderabad recently. Which one of the following statements correctly represents the teachings of Ramanuja? (2022)
The best means of salvation was devotion.
Vedas are eternal, self-existent and wholly authoritative.
Logical arguments were meant for the highest bliss.
Salvation was to be obtained through meditation.
Q.2) Consider the following statements: (2019)
Saint Nimbarka was a contemporary of Akbar.
Saint Kabir was greatly influenced by Shaikh Ahmad Sirhindi.
Which of the statements given above is/are correct
1 only
2 only
Both 1 and 2
Neither 1 nor 2
---
Gangotri national park (GNP)
Syllabus
Prelims – Environment and Ecology
Context: Recently, Gangotri national park (GNP) authorities announced the decision to transfer around 50 hectares of land to the Army and Indo-Tibetan Border Police (ITBP) to develop new bunkers.
About Gangotri national park (GNP):-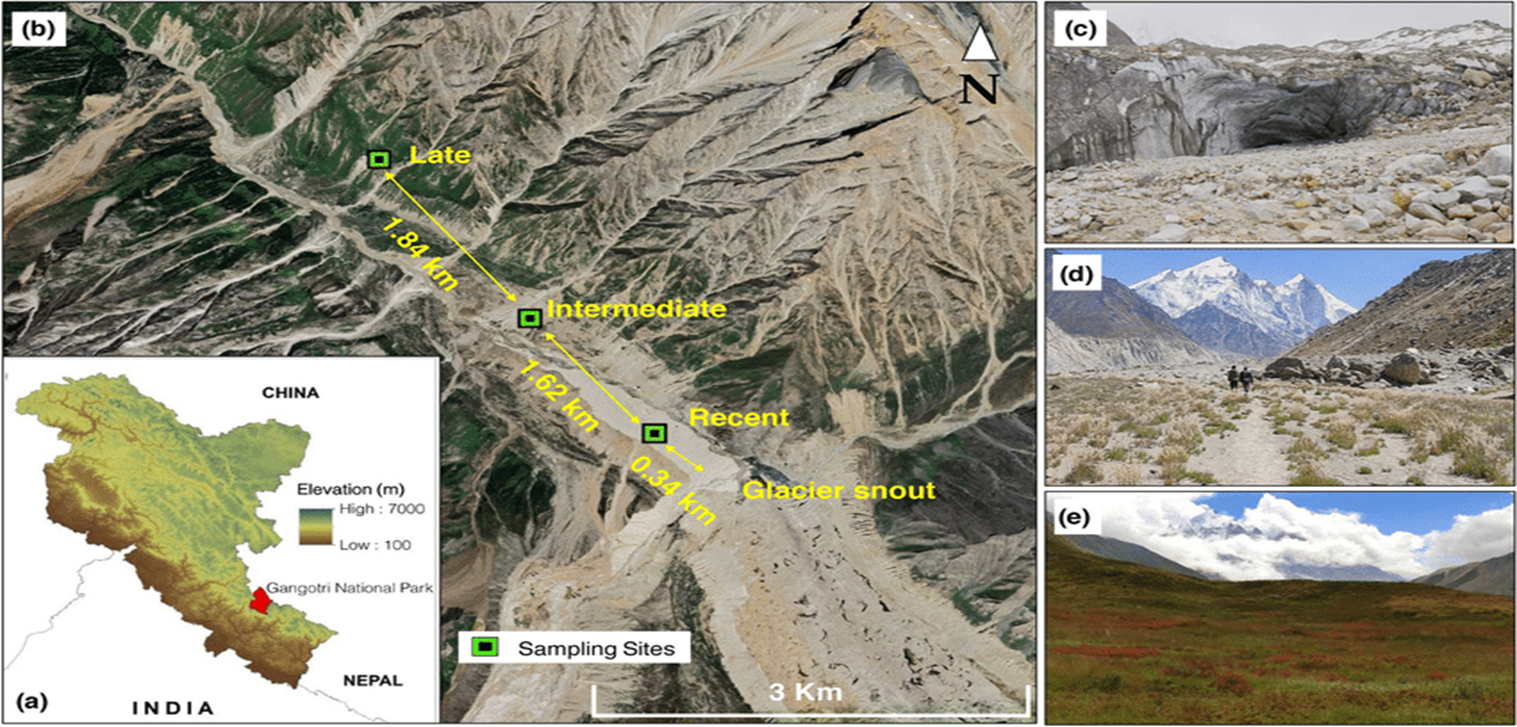 IMAGE SOURCE: researchgate.net
Location: Uttarkashi District, Uttarakhand.
It sits along the upper catchment of the Bhagirathi River.
The northeastern section of the park forms the international boundary of India and Tibet (China).
The park also borders Kedarnath Wildlife Sanctuary and Govind National Park.
The mountains in the park are part of the Gangotri Group of the Garhwal Himalayas.
Major peaks: Chaukhamba I, Satopanth, Chaukhamba II, Chaukhamba III, and Kedarnath Main.
The famous Gangotri Glacier is located in the park boundaries.it is one of the primary sources of the Ganges.
It is home to high-altitude ecosystems that are common in the Himalayas.
Flora.
Western Himalayan subalpine conifer forests dominate the lower-elevation landscapes.
These forests are filled with fir trees intermixed with deodar, oak, spruce, and rhododendrons trees.
Higher elevations in the park are home to Western Himalayan alpine shrubs.
Alpine meadows are also common beneath the massive glaciers.
Fauna
Indo-Tibetan Border Police Force (ITBPF)
It is a Central Armed Police Force.
It is functioning under the Ministry of Home Affairs, Government of India.
Historical Background:-
ITBP was initially raised under the Central Reserve Police Force (CRPF) Act, 1949.
However, in 1992, parliament enacted the ITBPF Act and the rules were framed in
It is a border-guarding police force specializing in high-altitude operations.
Presently, ITBP is deployed on border guarding duties from Karakoram Pass in Ladakh to Jachep La in Arunachal Pradesh covering 3488 km of the Indo-China Border.
The Force is also deployed for Anti Naxal operations and other internal security duties.
MUST READ: Silent Valley National Park
SOURCE: TIMES OF INDIA
PREVIOUS YEAR QUESTIONS
Q.1) With reference to Indian laws about wildlife protection, consider the following statements:
Wild animals are the sole property of the government.
When a wild animal is declared protected, such animal is entitled to equal protection whether it is found in protected areas or outside.
Apprehension of a protected wild animal becoming a danger to human life is sufficient ground for its capture or killing.
Which of the statements given above is/are correct?
1 and 2
2 only
1 and 3
3 only
Q.2) Which of the following Protected Areas are located in the Cauvery basin? (2020)
Nagarhole National Park
Papikonda National Park
Sathyamangalam Tiger Reserve
Wayanad Wildlife Sanctuary
Select the correct answer using the code given below:
1 and 2 only
3 and 4 only
1, 3 and 4 only
1, 2, 3 and 4
---
Mains:
Semiconductor Fab: The Unfinished Agenda
Syllabus
Mains – GS 3 (Indian Economy)
Context: Semiconductor fabrication represents the ultimate frontier of human tech advancement.
About Semiconductors:
Semiconductors are materials that have electrical conductivity between that of a conductor

Copper is a good conductor and Rubber is an insulator.

This means that semiconductors can conduct electricity, but not as well as conductors, and they can also act as insulators, but not as effectively as insulators.
This property allows for the creation of electronic components with specific electrical properties; enable the design of complex circuits and devices.
Semiconductors are typically made from materials such as silicon, germanium, and gallium arsenide.
India's semiconductor sector:
The country's electronics and semiconductor products manufacturing sector has witnessed a quantum growth in the last almost a decade.
Import and manufacturing:

In 2014, some 92% of the mobile devices sold in the country were imported while in 2022 some 97% of mobile devices were manufactured in the country.
The global semiconductor industry:
The global semiconductor industry is currently valued at $500-$600 billion and caters to the global electronics industry currently valued at about $3 trillion.
The chip-making industry is a highly concentrated one, with the big players being Taiwan, South Korea and the U.S. among others.
90% of five nm (nanometer) chips are mass-produced in Taiwan, by the Taiwan Semiconductor Manufacturing Company (TSMC).
Applications of semiconductors:
Electronic devices: Semiconductors are the basis transistors, diodes, integrated circuits, microprocessors, and memory chips, which are used in electronic devices such as computers, smart phones, televisions, radios, and more.
Solar cells: They are used in manufacture of solar cells, which convert sun light into electricity.
Lighting: They are used in light-emitting diodes (LEDs) to produce energy-efficient lighting.
Sensors: They are used in power-electronics, which are used to control and convert electrical power.
Challenges associated with the industry:
Setting up of Semiconductor fabs:
Semiconductor fabrication represents the ultimate frontier of human tech advancement. However, the progress of miniaturisation is accompanied by higher complexity and costs.
Investment in a semiconductor fab is one of the riskiest. Billions of dollars need to be recovered before the technology becomes obsolete.
Challenges of chip manufacturing:
Developing an ecosystem for chip manufacturing in a Greenfield location is a major challenge.
Hundreds of chemicals and gases are required for chip fabrication, people need to be trained, and abundant clean water be made available. Above all is the art of chip making.
Despite the best of equipment, poor quality and low yields can make fabs fail.
Need for an advanced technology:
There are other issues, such as whether to set up a logic/processor, memory or analog fab.
Electronic equipment and its functionalities are characterized by their logic chips, which are therefore strategically important and generate the highest profit.
The most advanced set of technologies is needed to manufacture them.
China's monopoly in the sector:
Elaborating on the opportunities for India currently, he said electronics and semiconductor products today was a $1.5 trillion industry with China solely accounting for almost 75% of it and having enjoyed a monopoly in the sector for over two decades now.
Lessons for India from China:
Acquiring existing fabs offers several advantages, including reasonable pricing, established technology, a supply chain ecosystem, an existing product line, and an established market.

By acquiring these fabs, India can build its fab ecosystem and train its human resources.

Moreover, lower subsidies would be required for such acquisitions, allowing the saved funds to be utilized for advanced research and development (R&D) in fab technologies.

This, in turn, would contribute to the development of a state-of-the-art fab in the coming years.

Another strategy is the establishment of Assembly, Testing, Packaging, and Marking (ATMP) facilities.

Tessolve, which is now owned by the Tatas, set up an ATMP in 2013-14.
This ATMP has been successful in packaging chips with a feature size of up to seven nm. China, on the other hand, has more than 100 ATMPs.
Way Forward:
India's pursuit of a semiconductor fab faces various challenges and uncertainties. By examining the reasons behind past failures and considering alternative approaches, India can learn valuable lessons from China's successful semiconductor industry.
Acquiring existing fabs, developing ATMPs, and investing in advanced R&D can help India establish a robust fab ecosystem and compete in the global chip warfare. The urgency to act now, despite trailing China in this journey, remains crucial for India's future success in the semiconductor industry.
Source:   The Hindu
---
Carbon Offsetting
Syllabus
Mains – GS 3 (Environment)
Context: Delta Air Lines in 2020 marketed itself as the "world's first carbon-neutral airline", but recently California-based Mayanna Berrin filed a lawsuit against Delta arguing that the airlines' assertions were bogus, misleading and false.
About Carbon Offsetting:
It's a slew of ways companies adopt to reduce or remove carbon emissions from the environment.

Activities like planting trees, shifting to cleaner fuel and funding carbon capture techniques in theory balance out a company's carbon emissions.

Examples:

Forestry: Tree planting projects restore areas facing deforestation. Trees absorb and hold carbon. Without them, that carbon would be in the atmosphere, making global warming worse.
Agriculture: Farmers grow crops using technology and techniques to maximize resources and reduce waste when growing crops.
Aviation: Airline operators optimize flight paths with AI to minimize the creation of contrail clouds.
Renewable energy: These projects replace fossil fuel use with clean, renewable energy, such as that generated from a wind farm.
Positive Effects of Offsetting
These programmes have the particular benefit of being a crucial step in resolving the CO2 issue and, when carried out properly, may provide noticeable improvements.
Businesses may take action to offset their emissions and make significant strides toward sustainability rather than continuing to pollute.
In locations where they are most needed, carbon offset programmes can directly contribute to programmes that benefit communities and the environment.
They also offer the additional advantage of transferring financial resources from developed countries to underdeveloped ones in a market worth up to $120 billion.
Funds for carbon offsets help developing nations create green infrastructure, make better use of their natural resources, and enhance the quality of their air, water, and land.
Investing more money in green businesses may also provide economies of scale benefits, such as decreasing the price of solar and wind farms or creating innovative new technologies like direct air capture.
Problems with carbon offsets:
In genuineness: Most of world's carbon offsets certifier do not represent geniuses in carbon reductions.
Lack of alternatives: Mostly planting trees are considered to reduce emissions and there are only few alternatives to reduce emissions.
Same mechanisms for all companies: Planting trees or other alternatives cannot reduce emissions for all companies.
Cheaper carbon credit: The expense of carbon credit are cheaper than reducing carbon emission so companies mostly prefer carbon credits.
Regulation: Lack of regulation to carbon offsets industry.
Lack of technology: In carbon technologies to capture carbon directly to offset carbon.
Greenwashing: Most companies adhere to the greenwashing via avoidance offsets projects.
Govt. of India Initiatives:
PAT (Perform, Achieve and Trade), a market-based scheme, has already prevented CO2 emissions of up to 92 million tonnes during its 1st and 2nd cycles.
Indian Carbon Market (ICM): with an objective to decarbonize the Indian economy by pricing GHG emissions through trading of carbon credit certificates and in compliance with Article 6.2 of the Paris Agreement.
Carbon Credit Trading Scheme that is expected to be notified in June 2023 with Carbon Credit Certificates under it are expected to be available for trading by 2025.
Way Forward:
There is an urgent need for companies and countries alike to identify high integrity projects that adhere to robust climate methodologies.
While an important tool, carbon offsetting cannot be considered a substitute for direct emissions reductions. Airlines should focus on decarbonising commercial aviation, with the help of sustainable aviation fuel (SAF), hydrogen, and full-electric propulsion techniques rather than making false claims.
Source:  The Hindu
---
Practice MCQs
Daily Practice MCQs
Q1) Consider the following statements regarding, Mesolithic rock paintings:
Stone tools found during this period are called microliths.
People hunting in groups are depicted in them.
Which of the above statements is/are correct?
1 only
2 only
Both 1 and 2
Neither 1 nor 2
Q2) Consider the following statements regarding, the Statue of Unity:
It is located on Sadhu Bet Island, Gujarat.
It is on the banks of river Mahi.
Which of the above statements is/are correct?
1 only
2 only
Both 1 and 2
Neither 1 nor 2
Q3) Consider the following statements regarding, Aurangzeb's tomb:
It has intricate and lavish embellishments.
Aurangzeb was buried near the dargah of Sheikh Zainuddin.
Which of the above statements is/are incorrect?
1 only
2 only
Both 1 and 2
Neither 1 nor 2
Comment the answers to the above questions in the comment section below!!
ANSWERS FOR ' 21st June 2023 – Daily Practice MCQs' will be updated along with tomorrow's Daily Current Affairs.st
---
ANSWERS FOR 9th June

 

– Daily Practice MCQs
Answers- Daily Practice MCQs
Q.1) – b
Q.2) – d
Q.3) – b
For a dedicated peer group, Motivation & Quick updates, Join our official telegram channel – https://t.me/IASbabaOfficialAccount
Subscribe to our YouTube Channel HERE to watch Explainer Videos, Strategy Sessions, Toppers Talks & many more…