IAS UPSC Prelims and Mains Exam – 11th May 2020
---
(PRELIMS + MAINS FOCUS)
---
Part of: GS Prelims and GS-I – Geographical phenomenon
In News:
Recently, scientists from the Wadia Institute of Himalayan Geology (WIHG), Dehradun have observed a

seasonal advancement

in

surging or surge-type glaciers in the Karakoram Range. 

WIHG is an autonomous institute under the Department of Science and Technology (DST).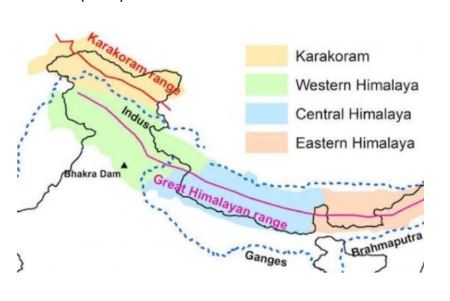 Image source: Click here
Important value additions:
Surging or Surge-type glaciers
These are

short-lived events

where a glacier can advance and move at velocities up to 100 times faster than normal. 

They

cluster

around a few areas. 

High concentrations of surging glaciers occur in

Svalbard

, the

Canadian Arctic islands

, Alaska and Iceland.  

They also represent

40% of the total glaciated area

of the Karakoram range.

These can lead to the

destruction

of villages, roads and bridges.

Therefore, monitoring of glacier surges is important.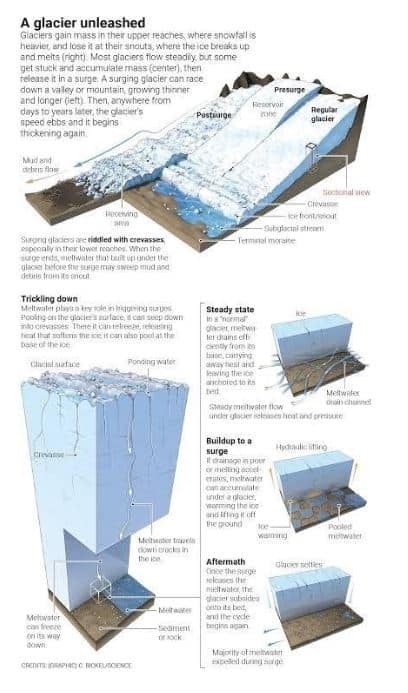 Image source: Click here
---
Part of: GS Prelims and GS-II – Education; 
In News:
Recently

various amendments

have been

brought

in the Prime Minister's Research Fellowship Scheme

by the Ministry of Human Resources and Development to boost research in the country.
Key takeaways:
Now, students from

any recognized university

can apply for the

Fellowship

. Earlier it was open only for students from Central Universities, IITs, IISc, NITs, IISERs, IIEST and IIITs.

The requirement of

GATE score

has also been

reduced

from 750 to 600.

There will be two channels of entries i.e

direct entry

and

lateral entry

.

National Institute of Technologies

(NITs) can also become

PMRF Granting institution

. NITs appear in top 25 institutions in the National Institute Ranking Framework (NIRF). 

A

dedicated division

"Research and Innovation Division" will be formed in the MHRD to

boost research.

 
Important value additions:
Prime Minister's Research Fellowship (PMRF) Scheme
It was launched to attract

meritorious students

into research in 2018. 

It offers

direct admission

to such students in the Ph.D programmes in various higher educational institutions in the country.

The research under PMRF will be carried in

cutting edge science and technology domains

. 

The institutes which can offer PMRF include all the

IITs

,

IISERs

,

Indian Institute of Science

, Bengaluru and some of the

top Central Universities/NITs

. 

A research grant of

Rs. 2 lakh per year

is provided to each of the Fellows for a period of 5 years to cover their academic contingency expenses and for foreign/national travel expenses along with monthly stipend. 
---
Part of: GS Prelims and GS-III – Science and Technology
In News:
Recently, scientists from the Jawaharlal Nehru Centre for Advanced Scientific Research (JNCASR) have fabricated a

wafer-scale photodetector (thin slice-based) device, using gold-silicon interface.

JNCASR is an autonomous institute under the Department of Science and Technology (DST).
Key takeaways:
The gold (Au)-silicon (n-Si) interface shows

high sensitivity

towards light. 

The Au-Si interface was brought about by

galvanic deposition

(a technique for electroplating of metals) wherein

water-based solutions

(electrolytes) are used, which contain the metals to be deposited as ions.
Important value additions:
Photodetectors
These are an important part of an

opto-electronic circuit

that can

detect light

.

Their applications include:

Controlling automatic lighting in supermarkets.

Being used in security-related applications.

Photodetectors are

unaffordable

for daily applications due to high material costs.

Au-Si interface

Photodetectors has many

advantages:

The fabricating process is

quick and simple. 

The method is

highly economical

since it is a solution-based technique. 

It can detect

weak scattered light

as an indication of unwanted activity.

The device

does not require external power

to operate and runs on self-operated mode. 
---
Part of: GS Prelims and GS-III – Environment; Biodiversity
In News:
A black panther has been captured on camera in Goa's Netravali Sanctuary for the first time.
Important value additions:
Black Panther
Image source: The Indian Express
It is the

melanistic (

increased development of the dark-colored pigment)

colour variant

of any Panthera, particularly of the

leopard

in Asia and Africa, and the

jaguar

in the Americas.

It is very difficult to detect/spot. 

It is mostly found in

densely forested areas

of southern India.

IUCN status: Vulnerable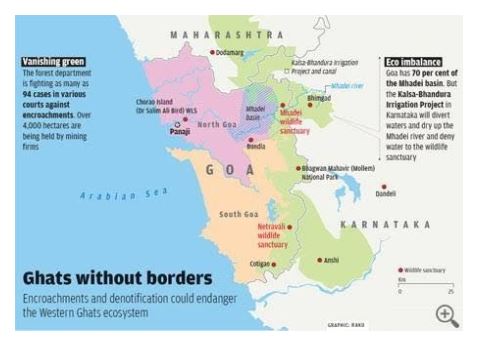 Image source: Click here
It is located in

South Eastern Goa

. 

It constitutes one of the

vital corridors of the Western Ghats.

It is

bounded by

Cotigao wildlife sanctuary on the

eastern side

and Bhagwan Mahaveer Sanctuary and Mollem National Park on the

northern side.

Netravali is an

important tributary

of River Zuari, which

originates

in the sanctuary.

It has

two important waterfalls

namely, Savari and Mainapi.

It consists of

moist deciduous forests i

nterspersed with evergreen and semi-evergreen forests.
Miscellaneous 
Naku La 
It is a pass in North Sikkim at an altitude of more than 5,000 metres above Mean Sea Level. 

Recently, Indian and Chinese Troops clashed near the pass which lead to many injuries. 
---
(MAINS FOCUS)
---
INTERNATIONAL RELATIONS
Topic: General Studies 2:

India and its neighbourhood
Effect of policies and politics of developed and developing countries on India's interests, Indian diaspora. 
Context:
As we know, the

COVID-19 pandemic

is a

global health crisis.

 

Its

rapid spread

across the world compelled the governments to implement various degrees of

lockdown

which affected the

global economy significantly

. 

The world, right now, is facing the

global economic crisis. 

In one of the posts on 9th May

, we discussed how India should respond to the current geopolitical situation. 

Today, we discuss what trends we might get to see geopolitically in the post COVID-19 world.
Ascent of Asia
Economic forecasts indicate that only

China and India

are likely to register

economic growth

during 2020 out of the

G-20 countries.

 

Asian countries

along with China have tackled the pandemic with greater

swiftness

,

responsiveness

and more

effective state capacity

as compared to the United States and Europe. 

Thus, It is likely that they will

recover faster

than those in the West. 
Rising China
The emergence of a

stronger

and

more assertive China

is also one of the changing geopolitical situations. 

China has been

growing economically

since it joined the World Trade Organization in

2001

. 

Its

assertiveness

has increased under the current President Xi Jinping's leadership which has

raised concerns

in its neighbourhood and the U.S. 

In recent years, the

U.S.-China relationship

has moved from

cooperation to competition. 

The

Belt and Road Initiative

which seeks to connect China to the Eurasia and Africa through both

maritime and land routes

is seen as a

move against

any U.S. attempts at containment.

The ongoing

trade and technology wars

may lead to

confrontation

between the two nations. 

Recently, both countries have been involved in

verbal confrontation

due to

COVID-19

. 
U.S taking a backseat 
The U.S. has been in the

forefront

of

shaping the global order

since centuries. 

It has played a

pivotal role

right from the Treaty of Versailles and the League of Nations

after World War I

to the creation of the United Nations and Bretton Woods institutions

after World War II

. 

It was

decisive

in leading the western world during the

Cold War

, shaping global responses to

threats posed by terrorism

and taking action against

climate change

. 

However, its

interventions in Afghanistan and Iraq

generated

resentment

. These interventions also led to

decreased domestic political will

and

resources

.

During the current COVID-19 crisis, "

America first"

attitude seems to be changing into "

America alone

". It has been reported that the U.S. is cornering supplies of scarce medical equipment and medicines just for itself. 

It is also

acquiring biotech companies

which are engaged in research and development in allied states. 

Countries are

losing trust

in the U.S.'s

competence

due to its

poor response

at handling the pandemic in its own country. 

Despite being the largest economy and the military power, it seems to

lose the will and ability to lead. 

This mood is unlikely to change irrespective of the outcome of the upcoming presidential election in November 2020.
Tension among the European countries 
European UNION (EU) is continuously preoccupied with

internal challenges

due to: 

its

expansion

of membership to include East European states,

impact

of the financial crisis among the Eurozone members,

ongoing

Brexit

negotiations. 

It is becoming increasingly difficult to reach

agreement on political matters

, e.g relations with Russia and China. 

The trans-Atlantic divide is increasing rift within the EU. 

Rising trend

of political approach which appeals to ordinary people

(populism)

has led to some EU members supporting the virtues of "

empty democracy

".

The

North-South divide

within the EU is also apparent. This tension began particularly when

austerity measures

were imposed on

Greece

,

Italy

,

Spain

and

Portugal

in 2010 by the European Central Bank. These measures were

persuaded by Austria

,

Germany

and

the Netherlands. 

Most recently,

Italy

was

denied medical equipment

by its EU neighbours who had introduced controls on its exports. Ultimately,

China had to airlift

medical teams and critical supplies to Italy. 

Rediscovering the limits of free movement of goods, services, capital and people will be one of the trends to be seen post COVID-19. 
Weakening of the world organisations
Global problems demand global responses.

However,

international and multilateral bodies

have

failed

to take responsible measures during this pandemic.  

The

World Health Organization

(WHO) should have led global efforts against COVID-19 but it has become a

victim of politics

involving China and the USA. 

The

UN Security Council

(UNSC), the

G-7

and the

G-20

are

paralysed financially

when the world faces the worst recession since 1929.

These

institutions

were always subjected to

big power politics

. 

Agencies

, such as WHO, have

lost autonomy

over decades as their regular budgets decreased. Now, they mainly

rely

on

voluntary contributions

by western countries and foundations.  

Reform of these bodies is needed at the earliest. This can happen only with collective global leadership.
The energy politics
The final trend relates to

energy politics.

Growing interest in

renewables

and

green technologies

due to climate change concerns and emergence of the

U.S.

as a

major energy producer

were changing the energy markets before COVID-19 pandemic. 

Now, due to possible

economic recession

and

depressed oil prices

,

internal tensions

in West Asian countries may

increase

since these countries are solely dependent on

oil revenues.

 

This may create

political instability

in countries where governments are fragile.
Conclusion 
Rising nationalism

and

protectionist policies

may turn the

economic recession

into a

depression

which will enhance

inequalities

. 

The world may become more

polarised

.

There will be

greater unpredictability

and more disturbed times ahead of us. 
Connecting the dots :
What comprises G-20? Discuss its relevance and significance in the current geopolitical scenario. 
---
(TEST YOUR KNOWLEDGE)
---
Model questions: (You can now post your answers in comment section)
Note: 
Correct answers of today's questions will be provided in next day's DNA section. Kindly refer to it and update your answers. 

Comments Up-voted by IASbaba are also the "correct answers".
Q.1 With regard to Au-Si interface photodetectors, which of the following is/are correct?
It is very difficult to assemble. 

It requires external power to operate
Select the correct code:
1 only

2 only

Both 1 and 2

Neither 1 nor 2
---
Q.2 Consider the following statements regarding the Black Panther: 
Recently it was spotted at Periyar Wildlife Sanctuary for the first time. 

It is very easy to detect.
Which of the above is/are correct?
1 only

2 only

Both 1 and 2

Neither 1 nor 2
---
Q.3 Netravali Wildlife Sanctuary is situated in which of the following state of India? 
Goa 

Maharashtra 

Karnataka 

Telangana
---
ANSWERS FOR 9th May 2020 TEST YOUR KNOWLEDGE (TYK)
---
Must Read
About ensuring safety in the courts
About democratic decentralisation amidst COVID-19
About labour laws
About Pradhan Mantri Jan Dhan Yojana
About India's agri-marketing
For a dedicated peer group, Motivation & Quick updates, Join our official telegram channel – https://t.me/IASbabaOfficialAccount
Subscribe to our YouTube Channel HERE to watch Explainer Videos, Strategy Sessions, Toppers Talks & many more…