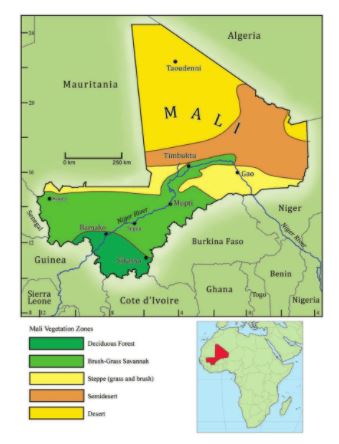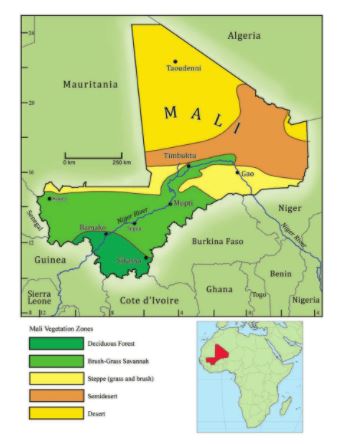 ---
(PRELIMS + MAINS FOCUS)
---
Part of: GS-Prelims and GS-II – Judiciary
In News:
Key takeaways 
SC has also held that

individuals

could make

voluntary contributions to NDRF

under Section 46(1)(b) of the Disaster Management Act of 2005.

There would be

no statutory prohibition

against them.

Government's stand

: 

It has maintained that PM-CARES is a

public charitable trust

to which anyone can contribute.

It is not subject to audit by the CAG. 

It is not under public scrutiny. 

Contributions to it are 100% tax free.
Important value additions 
Funds such as the NDRF, formed under Section 46 of the Disaster Management Act of 2005, are provided for by Central and State Budgets.
---
Part of: GS-Prelims and GS-II – Education
In News:
The Atal Rankings of Institutions on Innovation Achievements (ARIIA) 2020 was released recently.

Results were based on following parameters:

Budget and funding support 

Infrastructure and facilities 

Awareness 

Promotions

Support for idea generation and innovation.
| | |
| --- | --- |
| Top College/University | Category |
| IIT Madras | Institutes of National Importance, Central Universities, and Centrally Funded Technical Institutes |
| Institute of Chemical Technology, Mumbai | Government and Government Aided Universities |
| College of Engineering, Pune | Government and Government Aided Colleges |
| Kalinga Institute of Industrial Technology, Bhubaneswar | Private or Self-Financed Universities |
| S R Engineering College, Warangal | Private or Self-Financed Colleges |
| Avinashilingam Institute for Home Science and Higher Education for Women | special category for higher educational institutions for women |
Important value additions 
Atal Rankings of Institutions on Innovation Achievements (ARIIA) 
Initiative by: Ministry of HRD/Education 
Implemented by: AICTE and Ministry's Innovation Cell, 
Aim: To systematically rank higher education institutions and universities in India on

indicators related to Innovation, Start-up and Entrepreneurship Development

amongst students and faculty.
---
Part of: GS-Prelims and GS-III – Innovation
In News:
Recently, "Swadeshi Microprocessor Challenge- Innovate Solutions for #Aatmanirbhar Bharat" was launched 
Key takeaways 
Launched by: Ministry of Electronics & Information Technology (MeitY)

Aim: 

To provide further impetus to the strong ecosystem of Start-up, innovation and research in the country.

To realize the ambition of self-reliance.

Indigenously developed microprocessors

SHAKTI and VEGA

have also been rolled out under the

Microprocessor Development Programme

.
Important value additions 
Microprocessor Development Programme
Aim: 

Meeting India's future requirements of strategic and industrial sectors.

To mitigate the issues of security, licensing, technology obsolescence and cutting dependency on imports. 

It is a successful step to achieve the goal of vibrant ecosystem of Electronic System Design & Manufacturing in India.
---
Part of: GS-Prelims and GS-II – Health
In News:
Thalassemia Screening and Counselling Centre

at Indian Red Cross Society's National Headquarters (IRCS NHQ) Blood Bank, New Delhi was recently inaugurated.

Ministry

: Ministry of Health & Family Welfare 
Important value additions 
Thalassemia
It is a type of Haemoglobinopathies. Sickle cell disease is another example.

It is an inherited disorders of red blood cells and 

It is preventable.

In India, Thalassemia Major (TM) and the severe form of Thalassemia Intermedia (TI) constitute the major burden of disease.

It is caused by inheritance of abnormal (beta)

Thalassemia genes from both parents

or

abnormal beta-Thalassemia gene

from one parent and

abnormal variant haemoglobin gene

(HbE, HbD) from the other parent.

India has the largest number of children with Thalassemia major in the world.

The only cure:

Bone Marrow Transplantation

(BMT). 

It is difficult and not affordable by the parents of all these children.

Alternative treatment:

Repeated blood transfusions

, followed by regular iron chelation therapy to remove the excessive iron overload.
---
Part of: GS-Prelims and GS-III – Economy
In News:
Umbrella Entity for Retail Payments

has been recently unveiled by RBI

.
Key takeaways 
Eligibility: The companies with a net worth of over 500 crore rupees.

Such companies will set up an umbrella entity through which new payment systems in the retail space comprising ATMs, White Label PoS, Aadhaar-based payments  shall be set up and managed.

The entity will monitor national and international developments to avoid shocks and frauds.
The promoter group of the umbrella entity shall be

owned and controlled by resident Indian citizens.
---
Part of: GS-Prelims and GS-III – Artificial Intelligence; Technology
In News:
Recently, Nasscom report titled 'Unlock Value from Data and AI: The Indian Opportunity' was released.

Ministry associated: Ministry of Electronics and IT.

According to the report, Data and Artificial Intelligence (AI) could add

$450-$500 billion to India's GDP

by 2025 and contribute to the country's economic recovery and growth.

Over the years, AI has become a

strategic lever for economic growth

across nations and will continue to be one of the

most crucial technologies

of the future.
---
Part of: GS-Prelims and GS-III – Biodiversity; Environment
In News:
Recently, Mysuru zoo has become the second Indian zoo to house the African cheetah.

One male and two females from a cheetah conservation centre in South Africa under an animal-exchange programme were brought to India.

It was the country's first international animal exchange post-COVID-19.
Important value additions 
Cheetah
It is the fastest land animal.

The Southeast African cheetah is native to East and Southern Africa. 

It lives mainly in the lowland areas and deserts of the

Kalahari

, the

savannahs

of Okavango Delta, and the

grasslands

of the

Transvaal region in South Africa

. 

In Namibia, cheetahs are mostly found in farmlands.

It is a

vulnerable subspecies (IUCN status)

, due to poaching, habitat loss, and lack of prey.
---
Part of: GS-Prelims and GS-III – Infrastructure – Railways
In News:
Recently, drone-based surveillance system has been installed to enhance security at railway stations, tracks and workshops.
Key takeaways 
Indian Railways recently procured Ninja Unmanned Aerial Vehicles [UAV]. 

Features: 

Real-time tracking 
Video streaming 
Automatic fail safe mode

,

Advantages:  

Enhanced monitoring

of the railway assets

Additional safety

for passengers.

Uses:

To launch surveillance on criminal and anti-social activities like gambling, throwing of garbage, hawking etc in Railway premises. 

Analysis of data collected which will be useful in vulnerable sections 

Rescue, recovery, restoration and coordinating efforts of various agencies and mapping of railway assets to assess encroachments at disaster sites.

A drone camera can cover a large area which requires 8-10 RPF personnel
---
Miscellaneous 
Map-based: Mali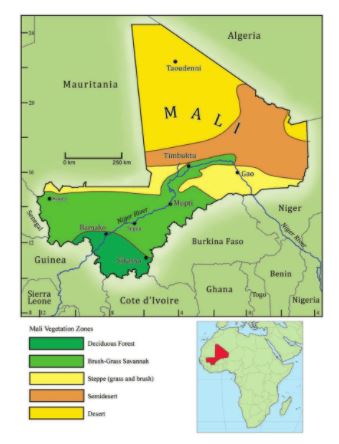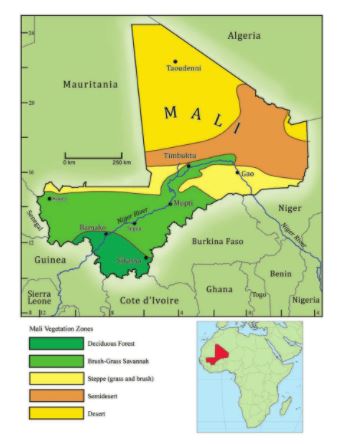 Image source: Click here
Mali is a landlocked country in West Africa. 

Its capital is Bamako.

It borders Niger to the east, Ivory Coast to the south, Senegal to the west.

Most of it lies in the southern Sahara Desert. 

Some of Mali's prominent natural resources include gold, being the third largest producer of gold in the African continent and salt.

It was recently in news because its President has announced his resignation amid a military coup. 
---
(MAINS FOCUS)
---
POLITY/ GOVERNANCE
Topic: General Studies 2:

Functions and responsibilities of the Union and the States 
Government policies and interventions for development in various sectors and issues arising out of their design and implementation.
Context: In July 2020, the Ministry of Home Affairs (MHA) constituted the Committee for Reforms in Criminal Law to undo the colonial foundations of our criminal law
Why there is a need to reform Criminal Laws?
Long Pending

: The Indian Penal Code and its corollary laws, the Indian Evidence Act and the Code of Criminal Procedure, were all first enacted in the late 19th-century that have not undergone comprehensive revision
Colonial Hangover

: IPC & CrPC were largely formalised to aid the colonial government in India, over 150 years ago. They are still rooted in colonial ideas despite amendments & judgements
Lacks Adequate recognition of Individual agency: 

IPC do not reflect the aspirations of a Constitution that gives primacy to liberty and equality. 
Still represent Victorian Morality: 

While it took 158 years for the courts to decriminalise homosexuality (section 377 of IPC) and adultery, there exists many provisions in the IPC that still echoes Victorian morality, which is especially true for women.

Ignorant of modern-age crimes:

New crimes need to be defined and addressed in IPC, especially concerning technology and sexual offences. Ex: digital technology facilitating gambling and betting
Criticisms of the Committee
Not designed for effective Broad-based Public Consultation Process
The exclusive route to participation is the Committee's website. However, only about 40% of the population actively uses the Internet.

All the Committee's documentation and background resources, including 89 reports of the Law Commission of India (LCI), are in English. Only 10% of the Indian population speaks English, and most such persons reside in urban areas.

The life cycle of the Committee coincides with the COVID-19 pandemic, which prevent marginalised groups to participate meaningfully in the public consultation process
Composition of Committee is not representative enough
There appears to be no representation on the Committee from subaltern caste, gender, sexual, or religious groups, who are frequently let down by the criminal justice system

It appears there is no representation from working class or disabled communities

Also, there are no members on the Committee based outside of a limited geographic region in north India
Opacity in Committee's functioning
There are no published Terms of Reference

The precise mandate of the Committee has not been put into the public domain

There is nothing to explain why an ad hoc Committee was set up to deal with questions of law reform, that are typically entrusted to the Law Commission of India

The Committee has not undertaken to publish the representations it receives from the public during its consultation process.
Short-duration for public consultation process
Within three months, respondents are expected to form and articulate reasoned opinions on almost every conceivable issue of criminal law, procedure or evidence. 

In contrast, the

Malimath Committee

, which had a comparable mandate, took five times as long as this Committee to submit its report.

The first of the current Committee's six consultative questionnaires contains 46 questions with no formal documentation explaining the context and relevance of these questions.

All these diminishes the prospects of productive deliberation among stakeholders.
Conclusion
An inclusive, transparent and meaningful public consultation process for law-making is one practical way to implement a deliberative version of democracy.
Connecting the dots:
Charter Act of 1833

 that established First law commission in 1834 under the Chairmanship of Lord Macaulay – recommendations led to drafting of IPC
---
INTERNATIONAL / SECURITY
Topic: General Studies 2:

Effect of policies and politics of developed and developing countries on India's interests
India and its neighborhood- relations.
Context: In a joint statement released by the US, Israel and the UAE, the leaders of the three countries agreed to the full normalization of relations between Israel and UAE.
The agreement that will be called the 'Abraham Accord' was brokered by US President Donald Trump.
What are the clauses of this agreement?
The deal states that UAE would

recognise the state of Israel

and establish formal diplomatic relations with it, while Israel would halt its controversial plan to annex swathes of the Palestinian West Bank. 

In the next few weeks, Israel and the UAE will

finalise bilateral ties

and cover areas of investment, tourism, security, technology, energy, environmental issues, and the establishment of embassies, in addition to other areas of cooperation. 

The joint statement mentioned that Israel and the UAE would also be "forging closer people-to-people relations".

The statement also said that Israel will focus its efforts now on

expanding ties with other countries in the Arab and Muslim world

, and that the US and UAE would be assisting it in achieving that goal.
Do You Know?
Except with Jordan and Egypt, Israel does not have diplomatic relations with Gulf Arab states owing to its long-standing conflict with Palestinians

Israel had signed peace agreements with Egypt in 1979 and with Jordan in 1994.

However, despite the absence of official diplomatic relations, Israel has been engaging with its neighbours with regard to issues like trade.
What are the politics behind this agreement?
Domestic Politics of Israel:

PM Netanyahu, who has been facing mishandling of the coronavirus outbreak and is on trial for corruption, may be banking on this agreement to revive his image.
Domestics Politics of USA:

This agreement brokered by US is seen as diplomatic win of President Trump ahead of the November elections, where he seeks re-election. His other foreign policy bets — Iran, North Korea or Afghanistan — were either disastrous or inconclusive.

Politics of UAE:

The agreement further burnishes its international campaign to be seen as a beacon of tolerance in West Asia despite being governed by autocratic rulers.

To Alienate Iran:

The agreement could pave the way for the region's Sunni Arab kingdoms and the Jewish-majority Israel enhancing regional cooperation against their common foe, Shia Iran.
What do the Palestinians think about this?
Palestinians have long relied on Arab backing in their struggle for independence. T

his announcement marked both a win and setback.

It is a win as the deal halts Israeli annexation plans.

It is a setback as Palestinians have repeatedly urged Arab governments not to normalise ties with Israel until a peace agreement establishing an independent Palestinian state is reached.
Palestine contends

that

UAE has moved away from the Arab Peace Initiative:

 
It is a Saudi Arabia initiative endorsed by the Arab League that offered recognition to Israel in exchange for its full withdrawal from the occupied territories (returning to pre-1967 borders)
Significance of the agreement
The agreement shows how the Arab countries are gradually

decoupling themselves from the Palestine question
The deal buys UAE a lot of goodwill in the US, where its image has been tarnished by its involvement in the Yemen war

Other gulf states in the region like Bahrain and Oman could follow suit and sign similar agreements with Israel 

If the Arab states do fall in line, it would dramatically bring all Sunni nations in the region in an anti-Iran alliance with Israel

In South Asia, it will put Pakistan in a bind

, whether to follow UAE's steps (will be seen as giving up Islamic cause of Palestine) or not to follow UAE (since it is already in feud with the Saudis over not taking up Kashmir case, Pakistan cannot afford another hostile Islamic Country)
Conclusion
The Palestinian leadership, on its part, should understand the emerging reality in West Asia — the Arab-Israel conflict is coming to a close, but the Palestine-Israel conflict is to continue without any respite.
Connecting the dots:
---
(TEST YOUR KNOWLEDGE)
---
Model questions: (You can now post your answers in comment section)
Note: 
Correct answers of today's questions will be provided in next day's DNA section. Kindly refer to it and update your answers. 

Comments Up-voted by IASbaba are also the "correct answers".
Q.1 Consider the following statements:
NDRF is managed by Central Budgets only.

Contributions to PM-CARES Fund are 100% tax free.
Which of the above is/are correct? 
1 only

2 only

1 and 2

Neither 1 nor 2
---
Q.2 Which of the following Ministry is responsible for launching Atal Rankings of Institutions on Innovation Achievements (ARIIA)?
Ministry of Science and Technology

Ministry of HRD

Ministry of Youth Affairs

Ministry of Electronics and Information Technology
---
Q.3 Which of the following is/are possible treatments for children suffering from Thalassemia?
Bone Marrow Transplantation 

Repeated blood transfusions
Select the correct code:
1 only

2 only

1 and 2

Neither 1 nor 2
---
ANSWERS FOR 18th August 2020 TEST YOUR KNOWLEDGE (TYK)
---
Must Read
About Sex selective abortions:
About resurrecting the right to know:
About Naga Peace Process:
For a dedicated peer group, Motivation & Quick updates, Join our official telegram channel – https://t.me/IASbabaOfficialAccount
Subscribe to our YouTube Channel HERE to watch Explainer Videos, Strategy Sessions, Toppers Talks & many more…