---
(PRELIMS + MAINS FOCUS)
---
Part of: GS Prelims and GS-I – Society & GS-II – Policies and Interventions
In news
Recently, parts of north Tripura witnessed violent protests over the proposed resettlement of Bru tribals.
Key takeaways
In January 2020, a quadrilateral agreement was signed by the Centre, the two state governments and Bru representatives to allow Brus to permanently settle in Tripura. 

The state has planned 12 resettlement spots across six districts with 300 families each in Tripura.

The Centre has announced a special development project with funding of Rs. 600 crore.

This agreement led to protests from Bengali and Mizo groups in Tripura. 

They claim that settling thousands of migrants permanently in North Tripura district of Kanchanpur would lead to demographic imbalance, exert pressure on local resources and potentially lead to law and order problems.

It was also alleged that Bengali and Mizo families from Jampui Hill range, who fled due to atrocities by Brus, were yet to be resettled two decades on.
Important value addition
Bru
Bru or Reang is a community indigenous to Northeast India.

It lives mostly in Tripura, Mizoram and Assam. 

In Tripura, they are recognised as a Particularly Vulnerable Tribal Group.

In Mizoram, they have been targeted by groups that do not consider them indigenous to the state.

In 1997, following ethnic clashes, nearly 37,000 Brus fled Mizoram and were accommodated in relief camps in Tripura.

Since then, 5,000 have returned to Mizoram, while 32,000 still live in six relief camps in North Tripura.
---
Part of: GS Prelims and GS-I – Climatology
In news
Rainfall over the southern peninsular region of India has been deficient so far which indicates that the northeast monsoon has remained dull this year.
Key takeaways
Reasons for deficient rainfall this Northeast monsoon
Prevailing La Niña conditions in the Pacific Ocean

: La Niña conditions enhance the rainfall associated with the Southwest monsoon, but has a negative impact on rainfall associated with the Northeast monsoon.

Inter Tropical Convective Zone (ITCZ)

: The current position of the ITCZ has also contributed to the poor rainfall during the ongoing monsoon season. Currently, the ITCZ is located to the north of its normal position.
Important value addition
Northeast monsoon
The Northeast monsoon occurs during October to December. 
It is confined to the Southern peninsula. 
It is also called the winter monsoon.
Northeast monsoon is important for Tamil Nadu, Puducherry, Karaikal, Yanam, coastal Andhra Pradesh, Kerala, north interior Karnataka, Mahe and Lakshadweep.

Tamil Nadu records about 48% of its annual rainfall during these months, making it the key factor for undertaking agricultural activities.

Some South Asian countries such as Maldives, Sri Lanka and Myanmar, too, record rainfall during October to December.
La Niña
La Niña (Spanish for 'little girl') refers to the large-scale cooling of the ocean surface temperatures in the central and eastern equatorial Pacific Ocean, along with changes in the tropical atmospheric circulation.

It usually has the opposite impacts on weather and climate as El Niño, which is the warm phase of the so-called El Niño Southern Oscillation (ENSO).
ITCZ
The ITCZ is a low-pressure belt, whose northward and southward movements along the equator determine the precipitation in the tropics.
---
Part of: GS Prelims and GS-III – Defence and Security
In news
Recently, two American MQ9B Sea Guardian unarmed drones have been inducted by the Indian Navy.

The drones would be on lease with India for one year.
Important value addition
MQ9B Sea Guardian
It is the maritime variant of the Predator MQ9 Unmanned Aerial Vehicle (UAV).

It has a maximum endurance of 40 hours and a maximum flying altitude of 40,000 feet.

It has a 3600 maritime surveillance radar and an optional multimode maritime surface search radar.

It can be used in operations such as Anti-Surface Warfare, Anti-Submarine Warfare, Humanitarian Assistance/Disaster Relief, Search and Rescue, Law Enforcement (Drug Trafficking, Illegal Immigration and Piracy), etc.

The drones are meant for carrying out surveillance in the Indian Ocean Region and can be deployed on the China border if asked for and if needed.
---
Part of: GS Prelims and GS-II – Federalism; Governance
In news
Recently, the Prime Minister (PM) has chaired the 33rd PRAGATI meeting.
Important value addition
PRAGATI
PRAGATI is the multimodal platform for Pro-Active Governance and Timely Implementation involving central and state governments

 
Launched in:

2015

Designed by:

Prime Minister's Office (PMO) team with the help of the National Informatics Center (NIC).

It enables the PM to discuss the issues with the concerned central and state officials with full information and latest visuals of the ground-level situation.

It is a three-tier system

: PMO, Union Government Secretaries, and Chief Secretaries of the States.

Objective

: (1) Grievance Redressal; (2) Programme Implementation; (3) Project Monitoring

The PRAGATI platform uses latest technologies such as Digital data management, video-conferencing and geo-spatial technology.

Significance

: (1) It promotes cooperative federalism; (2) It is a robust system for bringing e-transparency and e-accountability with real-time presence and exchange among the key stakeholders; (3) It is an innovative project in e-governance and good governance.
---
Part of: GS Prelims and GS-III – Defence and Security
In news
Information Management And Analysis Centre (IMAC) was recently in news with regard to 12th anniversary of the 26/11 attacks.
Important value addition
IMAC was established in November 2014.

It is based in Gurgaon, India.

It is jointly operated by the Navy and Coast Guard.

It is the nodal centre for maritime security information collation and dissemination.

It is the cornerstone of the National Command Control Communication and Intelligence Network for monitoring maritime traffic in India's area of interest.

IMAC's task is to facilitate exchange of maritime security information among various national stakeholders, and generate a common operational picture.
IMAC tracks only non-military or commercial ships, known as white shipping.

Military ships, or grey hull ships, are tracked by the Directorate of Naval Operations, as this is on a classified network.
---
(Mains Focus)
---
SCIENCE & TECHNOLOGY/ DISASTER MANAGEMENT/ GEOGRAPHY
Topic: General Studies 1,2,3:

Science and Technology- developments and their applications and effects in everyday life.
Disaster and disaster management. 
Context: Cyclone Nivar, that barrelled through Tamil Nadu and brought copious rain in its wake, was the third major cyclone to land on India's coast this year, besides Amphan and Nisarga.
However, relatively fewer lives were lost compared to the havoc wreaked by Amphan in West Bengal in May. What aided relief operations in the anticipation of Nivar was that it largely conformed to forecasts issued by the India Meteorological Department (IMD).
How are cyclones forecast?
Over the years, India's ability to track the formation of cyclones has improved significantly. 

Radar Network:

There is a network of 21 doppler weather radars (DWR) in the country (12 along the coast). Depending on where a storm is forming, these radars send pulses of radio waves to gauge the size as well as the speed at which water droplets are moving. 

Real time feedback

: The earlier generation of radars was unable to track such progress in real time, but with DWRs, now the base standard of weather radars, it is usually possible to detect a potential storm at least four-five days in advance. 

International Collaborations:  

The IMD also collaborates with similar international networks, such as the Japan Meteorological Agency, the U.S. National Hurricane Center, and the U.S. Central Pacific Hurricane Center, and these bodies constantly send warnings and forecasts about changes in the ocean weather.

Technologies that supplement radars:

The near ubiquity of ocean-buoys that track changes in ocean sea surface temperatures as well as dedicated meteorological satellites improve the odds of early detection
How radar works?
The basics of radars is that a beam of energy, called radio waves, is emitted from an antenna. As they strike objects in the atmosphere, the energy is scattered in all directions with some of the energy reflected directly back to the radar.

The larger the object, the greater the amount of energy that is returned to the radar. That provides us with the ability to "see" rain drops in the atmosphere. 

In addition, the time it takes for the beam of energy to be transmitted and returned to the radar also provides us with the distance to that object.
Doppler radar
By their design, Doppler radar systems can provide information regarding the 

movement

 of targets as well as their position. 

When the radar transmits pulses of radio waves, the system keeps track of the 

phase (shape, position, and form)

of those pulses.

By measuring the 

shift (or change) in phase 

between a transmitted pulse and a received echo, the target's movement directly toward or away from the radar is calculated.

A positive phase shift implies motion toward the radar and a negative shift indicates motion away from the radar.

The phase shift effect is similar to the "Doppler shift" observed with sound waves. With the "Doppler shift", the sound pitch of an object moving toward your location is 

higher

 due to compression (a change in the phase) of sound waves. As an object moves away from your location, sound waves are stretched resulting in a 

lower

frequency.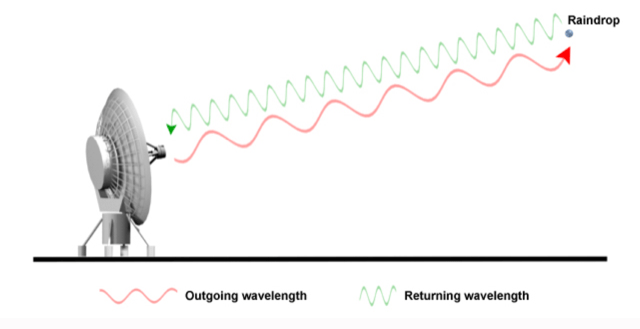 How difficult was it to track Nivar's progress?
April-June and October-December are India's cyclone seasons. 

The arriving monsoon, as well as its retreat, stir up the surrounding seas and generate cyclones. 

Though the

Bay of Bengal is three times more likely to generate cyclones

, the ones that originate in the Arabian Sea are trickier, as the cyclone, while ostensibly moving away from India's western coast, can suddenly 'recurve' and move back in. 

A challenge with re-curving cyclones is that it is hard for weather models to pick them early on.

There are also fewer radars along India's west coast than the eastern coast, and all these reasons make the Bay of Bengal cyclones more tractable. 

In this context, Nivar, because it conformed to a fairly predictable trajectory and was not super cyclonic in intensity, gave State administrations in Puducherry, Tamil Nadu and Andhra Pradesh time to prepare, and was far less damaging than Amphan. 

However, the cyclone season is not yet over and more systems are likely to form in the coming weeks, according to the IMD.
How has disaster warning changed?
Tracking Depressions:

The formation of cyclones is preceded by 'depressions', and they are often the first warnings. Not all depressions become cyclones, but many coastal States — especially those with a history of being battered — begin organising shelters and evacuation of coastal residents. 

Suspension of advisories on fish catches:

Sea pockets, where cyclones form, are also places that drive schools of fish and lure fisherfolk. While meteorological agencies give advisories on where fish-catches are likely, they suspend such advisories during storm formation to dissuade fishermen from venturing out. 

Penetration of Mobile Phones:

The ubiquity of mobile communication makes it much easier to quickly give warnings. 

Collaboration with Urban Local Bodies:

The IMD also issues flood forecast maps, in collaboration with urban bodies that forecast which pockets in a city are likely to be flooded and where crop damage is likely to be maximum.
Conclusion
Forecasts, on their own, are important, but they cannot override the importance of preparedness by State agencies. 
Connecting the dots:
Questions on Disaster Management along with Synopsis: Click

Here
---
HEALTH/ GOVERNANCE
Topic: General Studies 2:

Structure, organization and functioning of the executive 
Government policies and interventions for development in various sectors and issues arising out of their design and implementation.
Context: On November 20, the Central Council of Indian Medicine, a statutory body set up under the AYUSH Ministry to regulate Indian systems of medicine, issued a gazette notification allowing postgraduate (PG) Ayurvedic practitioners to receive formal training for a variety of general surgery, ENT, ophthalmology and dental procedures. 
The decision follows the amendment to the Indian Medicine Central Council (Post Graduate Ayurveda Education) Regulations, 2016, to allow PG students of Ayurveda to practise general surgery.
Recent step by government to increase health service providers
The passing of the National Medical Commission Act in 2019 allowed for the formalisation of proposals to induct mid-level care providers — Community Health Providers — in primary healthcare in India.

They would serve at health and wellness centres across the country, and focus on primary healthcare provision, with a limited range of medicines allowed for them to use for treatment of patients.

This move had also attracted strong opposition from modern medicine practitioners, who branded this as a form of quackery through half-baked doctors. 

Several countries have been using mid-level care providers, such as nurse practitioners, to enhance the access to healthcare, though with strict safeguards around training, certification, and standards.
Is allowing non-allopathic doctors to perform surgery legally and medically tenable?
The current debate revolves around allowing postgraduates students in Ayurveda undergoing 'Shalya' (general surgery) and 'Shalakya' (dealing with eye, ear, nose, throat, head and neck, oro-dentistry) to perform 58 specified surgical procedures.

This was immediately opposed by many allopathic professionals, with the Indian Medical Association (IMA) decrying it as a mode of allowing mixing of systems of medicine by using terms from allopathy. 

The AYUSH Ministry subsequently clarified that the 'Shalya' and 'Shalakya' postgraduates were already learning these procedures in their (surgical) departments in Ayurvedic medical colleges as per their training curriculum.
Can short-term training equip them to conduct surgeries and will this dilute the medicine standards in India?
As such, the postgraduate Ayurvedic surgical training is not short-term but a formal three-year course. 

Whether the surgeries conducted in Ayurvedic medical colleges and hospitals have the same standards and outcomes as allopathic institutions requires explication and detailed formal enquiry, in the interest of patient safety.
Will non-allopathic doctors who have undergone training be restricted to practise in rural areas having poor doctor-patient ratios?
As of now, no such restriction exists that limits non-allopathic doctors, including those doing Ayurvedic surgical postgraduation, to rural areas. 

They have the same rights as allopathic graduates and postgraduates to practise in any setting of their choice.
With allopathic surgeons often unwilling to practise in rural areas, how can this problem be solved?
The shortage and unwillingness of allopathic doctors, including surgeons, to serve in rural areas is now a chronic issue. 

The government has tried to address this by mechanisms such as

rural bonds

, a quota for those who have served in rural service in postgraduate seats, as well as, more recently, a plan to work on increasing the number of medical colleges and postgraduate seats. 

However, there is still shortage of trained specialists in rural areas. 

Government needs to explore creative ways of addressing this gap by evidence-based approaches, such as

task-sharing,

supported by efficient and quality referral mechanisms. 

The advent of mid-level healthcare providers, such as Community Health Providers in many States, is also an opportunity to shift some elements of healthcare (preventive, promotive, and limited curative) to these providers, while ensuring clarity of role and career progression.
Is it sensible to allow Ayurvedic surgeons to only assist allopathic surgeons, rather than perform surgeries themselves?
The AYUSH streams are

recognised systems of medicine

, and as such are allowed to independently practise medicine. 

They have medical colleges with both undergraduate and postgraduate training, which include surgical disciplines for some systems, such as Ayurveda. 

There is, however, a difference in approach in the systems of medicine, and hence models, which allow for cross-pathy. 

An apprenticeship model for Ayurvedic surgeons working with allopathic surgeons might fall into a regulatory grey zone. It might require re-training Ayurvedic practitioners in the science of surgical approaches in modern medicine.

Even then, there might be a limit to what they are allowed to do. 

Any such experiment can put patient safety in peril, and hence, will need careful oversight and evaluation.
Can this lead to substandard care?
Many patients prefer to receive treatment exclusively from AYUSH providers, while some approach this form of treatment as a complement to the existing allopathic treatment they are receiving. 

For invasive procedures, like surgery, the risk element can be high. 

Patients

have a right to know and understand who their surgeon would be

, what system of medicine they belong to, and their expertise and level of training. 

There should not be a difference in

quality of care between urban and rural patients

— everyone deserves a right to quality and evidence-based care from trained professionals.
Conclusion
The government has to take steps to improve healthcare service in rural areas however it should make sure that safety standards are upheld while inducting Ayurveda practitioners to perform surgery. 
Connecting the dots:
---
(TEST YOUR KNOWLEDGE)
---
Model questions: (You can now post your answers in comment section)
Note: 
Correct answers of today's questions will be provided in next day's DNA section. Kindly refer to it and update your answers. 

Comments Up-voted by IASbaba are also the "correct answers".
Q.1 Which of the following state recognises Bru tribe as Particularly Vulnerable Tribal Group?
Mizoram

Assam

Manipur

Tripura
---
Q.2 Consider the following statements:
El Niño refers to the cooling of the ocean surface in the central and eastern equatorial Pacific Ocean.

La Nina is the warm phase of the El Niño Southern Oscillation (ENSO).
Which of the above is/are correct?
1 only

2 only

Both 1 and 2

Neither 1 nor 2
---
ANSWERS FOR 28th November 2020 TEST YOUR KNOWLEDGE (TYK)
---
Must Read
About farmer's protest:
About India's GDP Slump:
About Paris Agreement:
For a dedicated peer group, Motivation & Quick updates, Join our official telegram channel – https://t.me/IASbabaOfficialAccount
Subscribe to our YouTube Channel HERE to watch Explainer Videos, Strategy Sessions, Toppers Talks & many more…