---
(PRELIMS + MAINS FOCUS)
---
Part of: GS Prelims and GS-III – Sci & Tech
In news
The public sector aerospace manufacturing company, the Hindustan Aeronautics Limited (HAL) delivered the biggest cryogenic propellant tank C32-LH2 to the Indian Space Research Organisation.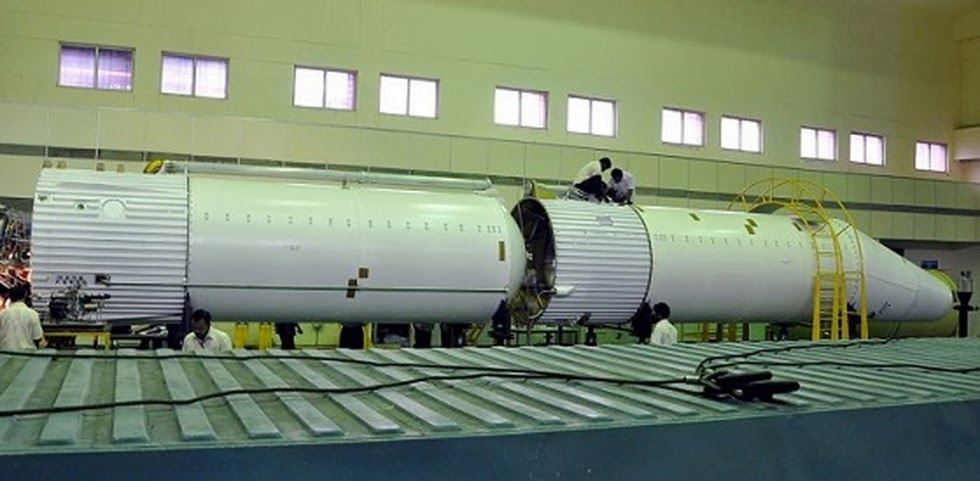 Key takeaways
The C32-LH2 tank is a developmental cryogenic propellant tank of aluminium alloy.

It is designed for improving the payload capability of GSLV MK-III launching vehicle of ISRO.

The tank can load 5755 kg propellant fuel. 
Important value addition
Cryogenic fuels
Cryogenic fuels are fuels that require storage at extremely low temperatures in order to maintain them in a liquid state.

These fuels are used in machinery that operates in space because ordinary fuel cannot be used there due to the very low temperatures often encountered in space, and due to absence of an environment that supports combustion.

Cryogenic fuels most often constitute liquefied gases such as liquid hydrogen.
---
Part of: GS Prelims and GS-I – Culture & GS-II – International Relations
In news
An ancient idol of the goddess Annapurna, stolen from India about a century ago, is being brought back from Canada.

Annapurna is the goddess of food. 

The 18th-century idol, carved in the Benares style, is part of the University of Regina, Canada's collection at the MacKenzie Art Gallery.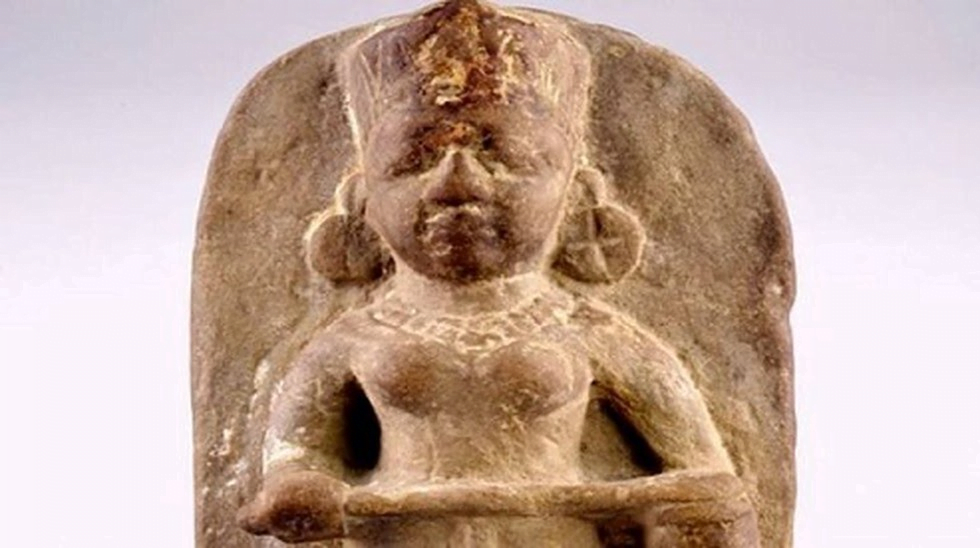 Do you know?
A few weeks ago, 13th-century old bronze idols of Lord Rama, Lakshmana and goddess Sita were handed to the Tamil Nadu government from the UK recently,.

Between 2014 and 2020, the government has been able to retrieve 40 antiquities from various countries.

Between 1976 and 2014, as per ASI records, 13 antique pieces had been repatriated to India.
---
Part of: GS Prelims and GS-III – Environment; Biodiversity
In news
Recently, Scientists at Pune-based Agharkar Research Institute have used the Zebrafish as a research model and identified genes that can promote heart regeneration.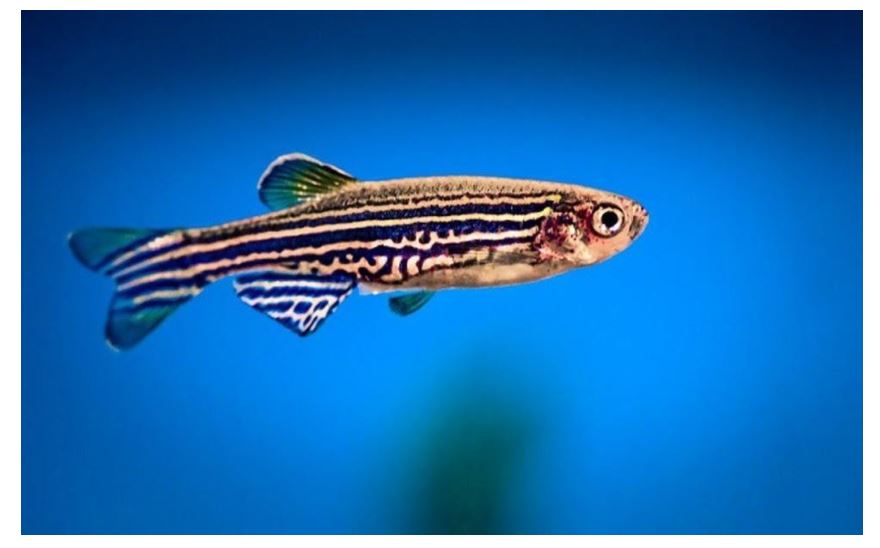 Important value addition
Zebrafish is a tiny freshwater fish barely 2-3 cm long. 

It can efficiently regenerate its damaged heart within a short time period.

Zebrafish is found in the tropical and subtropical regions. 

The fish is native to South Asia's Indo-Gangetic plains, where they are mostly found in the paddy fields and even in stagnant water and streams.

It is a popular aquarium fish, frequently sold under the trade name Danio.

The zebrafish is an important and widely used vertebrate model organism in scientific research, for example in drug development, in particular pre-clinical development.

It is also notable for its regenerative abilities and has been modified by researchers to produce many transgenic strains.
---
Part of: GS Prelims and GS-II – Health
In news
The World AIDS Day is observed on 1st December every year all over the world.
Key takeaways
It was founded in 1988 by the World Health Organization (WHO).

Theme for 2020: "Global solidarity, resilient HIV services."

In 2019, 6,90,000 people died from HIV-related causes and 1.7 million people were newly infected, with nearly 62% of these new infections occurring among key populations and their partners.
Important value addition
AIDS is a pandemic disease caused by the infection of Human Immunodeficiency Virus (HIV), which damages the human immune system.

It is a chronic, potentially life-threatening condition.

By damaging immune system, HIV interferes with the body's ability to fight infection and disease.

The virus can be transmitted through contact with infected blood, semen or vaginal fluids.

AIDS symptoms include weight loss, fever or night sweats, fatigue and recurrent infections.

No cure exists for AIDS.

Strict adherence to antiretroviral regimens (ARVs) can slow the disease's progress and prevent secondary infections and complications.
---
Part of: GS Prelims and GS-III – Agriculture
In news
The kiwis that grow wild in Arunachal Pradesh's Ziro Valley are the only certified organic fruit of their kind in India.

Arunachal Pradesh is the first State in India to obtain Organic Certification for Kiwi under Mission Organic Value Chain Development for North East Region (MOVCD-NER).

Ziro Valley is located in Lower Subansiri district.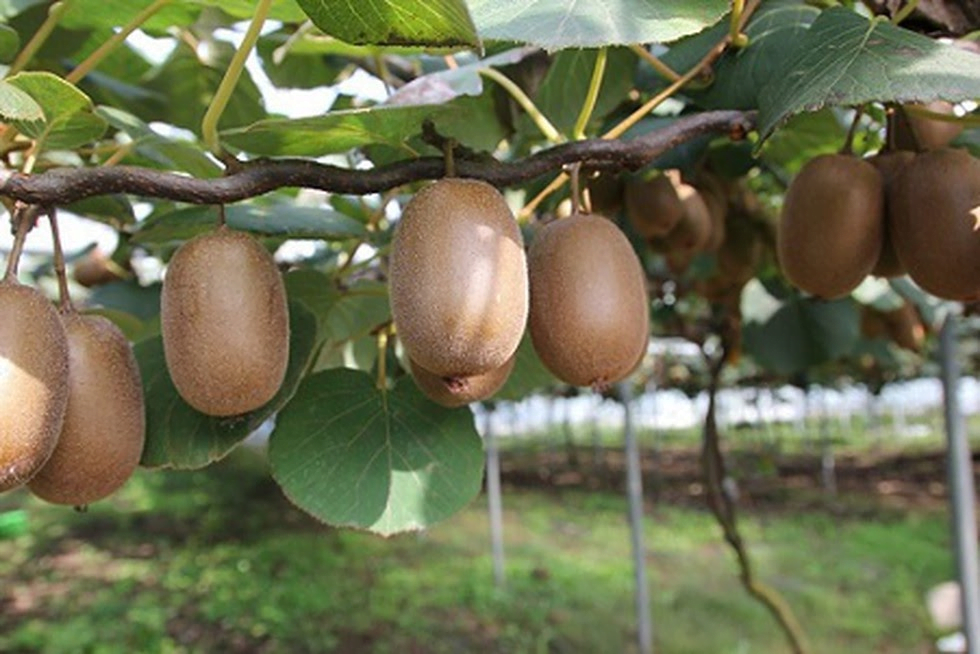 Important value addition
Mission Organic Value Chain Development for North East Region (MOVCD-NER) 
It is a Central Sector Scheme.

It is a sub-mission under National Mission for Sustainable Agriculture (NMSA).

Launched by:

Ministry of Agriculture and Farmers Welfare 

Implementation in:

Arunachal Pradesh, Assam, Manipur, Meghalaya, Mizoram, Nagaland, Sikkim and Tripura, 
Do you know?
An agricultural practice/product is considered organic when there are no chemical fertilisers or pesticides involved in its cultivation process.

Such certifications in India can be obtained after strict scientific assessment done by the regulatory body, Agricultural and Processed Food Products Export Development Authority (APEDA).
---
Part of: GS Prelims and GS-II – International Relations
In news
Recently, China has given the go ahead for a Chinese hydropower company to construct the first downstream hydropower project on the lower reaches of the river Brahmaputra.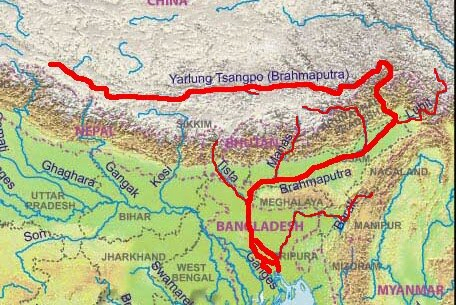 Key takeaways
The state-owned hydropower company signed a strategic cooperation agreement with the Tibet Autonomous Region (TAR) government to implement hydropower exploitation in the downstream of the Yarlung Zangbo river as part of the new Five Year Plan (2021-2025).

This will be the first time the downstream sections of the river will be tapped.

The location of the planned project has not been mentioned anywhere.

This 50 km section alone offers a potential of developing 70 million kilowatt hours (Kwh).
Important value addition
Brahmaputra
It originates under the name of Siang or Dihang, from the Chemayungdung glacier of the Kailash range near the Mansarovar lake. 

It enters India west of Sadiya town in Arunachal Pradesh.

Tributaries

: Dibang, Lohit, Siang, Burhi Dihing, Tista, and Dhansari.

It is a perennial river.

It has several peculiar characteristics due to its geography and prevailing climatic conditions.

It is flooded twice annually. 

One flood is caused by the melting of the Himalayan snow in summer and the other due to the monsoon flows.

The frequency of these floods has increased.

These floods are devastating due to climate change and its impact on high and low flows.

These pose a concern for the population and food security in the lower riparian states of India and Bangladesh.

The river is in itself dynamic as frequent landslides and geological activity force it to change course very often.
---
Miscellaneous
Cyclonic storm 'Burevi'
The Deep Depression over southwest Bay of Bengal recently intensified into Cyclonic Storm 'Burevi'.

The India Meteorological Department (IMD) announced that a cyclone brewing in the Bay of Bengal is likely to affect Tamil Nadu and Kerala, less than a week after cyclone Nivar wreaked havoc in the southern states.

The cyclone will cross the Sri Lanka coast on December 2 and bring heavy rain over Tamil Nadu and Kerala.
---
Aadi Mahotsav
Union Minister for Tribal Affairs launched the Aadi Mahotsav is a national tribal festival.

It is a joint initiative of Ministry of Tribal Affairs, Government of India & Tribal Cooperative Marketing Development Federation of India (TRIFED).

The Aadi Mahotsav initiative was commenced in 2017.

The festival showcases traditional art and handicrafts and cultural heritage of the country. 

It is an attempt to familiarise the people with the rich and diverse craft, culture of the tribal communities across the country, in one place.

Virtual edition of Aadi Mahotsav- Madhya Pradesh was recently launched. 
---
Ramayan Cruise Tour
 'Ramayan Cruise Tour' on the Saryu river in Ayodhya will be launched soon.

Ministry:

Ministry of Ports, Shipping and Waterways

The Sarayu is a river that originates in Uttarakhand. 

It flows through Uttar Pradesh in India. 

It is a tributary of the Sharda River.
---
(Mains Focus)
---
INTERNATIONAL / SECURITY
Topic: General Studies 2:

India and its neighborhood- relations
Effect of policies and politics of developed and developing countries on India's interests
Context: The brazen murder of a top Iranian nuclear scientist, Mohsen Fakhrizadeh, outside Tehran during November last week.
Fakhrizadeh was widely regarded as a key figure in Iran's nuclear weapons programme and his assassination — for which no one has yet claimed responsibility — will have serious geopolitical implications in West Asia and beyond
Critical Analysis of the killing
It highlights Iran's growing strategic vulnerabilities
This is second such high profile killing during 2020.

General Qasem Soleimani,

the Iranian general in charge of the Quds Force of the Revolutionary Guard was killed by a US drone strike in January.

The frequent attacks on high-profile Iranian targets raise questions about the hostile penetration of its society. 

There has been speculation that the assassins may have had help from locals on the ground.
Killing was done to sabotage the renewal of Iran Nuclear Deal
In 2015, Iran agreed a long-term deal on its nuclear programme with a group of world powers known as the P5+1 – the US, UK, France, China, Russia and Germany

Under the accord, Iran agreed to limit its sensitive nuclear activities and allow in international inspectors in return for the lifting of crippling economic sanctions that was imposed on Iran by US, UN and EU.

However, in May 2018, US President Donald Trump abandoned the deal and reinstated sanctions targeting both Iran and states that trade with it. 

Subsequently in 2019, Iran also suspended commitments under the agreement. This made that the landmark deal dead.

However, President elect Joe Biden has talked about restarting the negotiation with Iran after he assumes Presidency after Jan 20. 

For Trump Administration, Israel and Saudi Arabia — Iran's rival in the Great Game in West Asia and North Africa — such a rapprochement would be detrimental to their interests. The assassination of Fakhrizadeh is about achieving that political objective.

If Iran retaliates vigorously, it will invite an all-out confrontation with Israel and the US and kill the prospects for a productive engagement with the Biden administration. 

Holding back will expose Iran's weakness and sharpen internal divisions between pragmatists who want to engage the US and the hardliners who are itching for a confrontation.
Rapid transformation of Arab relations with Israel. 
The fear of Iran has been driving Gulf Arabs to embrace Israel. 

In the last few months, Bahrain and the United Arab Emirates have normalised ties with Israel (

Abraham Accords

)

There is also speculation of an impending normalisation of ties between Israel and Saudi Arabia — the ideological core of the Islamic and Arab world.

Iran has much goodwill in South Asia, but India and its neighbours have no desire to get sucked into Tehran's conflicts with the Arabs or the US.

All this will further widen the gap between Iran and rival Arab Camp (led by Saudi Arabia, supported by US & now Israel)
Deepening rivalry between Saudi Arabia and Turkey for the leadership of the Muslim world
Saudi Arabia, Egypt, and the UAE want to return the Middle East towards political and religious moderation.

However, the once secular Turkey under Recep Tayyip Erdogan has become the new champion of political Islam. 

Turkey's new religious zeal provides a good ideological cover for Erdogan's ambitions to expand its geopolitical influence in the Middle East.

The recent developments might change the geopolitical alignments in the region with Turkey playing a more aggressive role in the conflicts of the region
Conclusion
Although India has made some important adjustments to its engagement with the Middle East in recent years, Delhi can't take its eyes off the rapid changes in the region.

New Delhi has thus far managed to maintain strong ties across the Middle East. This is a time to wait and watch, while continuing the policy of bipartisan friendship.
Connecting the dots:
---
INTERNATIONAL/ SECURITY
Topic: General Studies 2:

Important International institutions, agencies and fora- their structure, mandate. 
Bilateral, regional and global groupings and agreements involving India and/or affecting India's interests
Context: Three years after joining the eight-nation Shanghai Cooperation Organisation (SCO), India hosted the SCO heads of governments (HoG) meeting for the first time.
For a brief background on SCO, Click here
Although the HoG Council consists of the Prime Ministers of all SCO countries, neither Prime Minister Narendra Modi nor Pakistan Prime Minister Imran Khan attended the meet, ostensibly due to a protocol mismatch between the position of PMs in parliamentary democracies versus those in the former Soviet bloc and China
Key Takeaways from the 2020 Meeting (Virtual) 
Response to COVID-19

: Need for developing a "Plan of Priority Practical Measures for 2021-2022 to overcome the socio-economic, financial and food consequences of COVID-19 in the region".

Multilateralism:

Members committed to strengthening multilateralism and the UN charter while welcoming the fact that the grouping is now being seen as an "influential and responsible participant in the modern system of international relations".

India-Pakistan Differences:

PM Modi was represented by Vice-President Venkaiah Naidu, who made strong observations on cross-border terrorism; he called it the SCO region's "biggest challenge", in comments aimed at Pakistan. Pakistan's representative too spoke of the need to combat what she called "state terrorism" in disputed areas, in a reference to Jammu and Kashmir. 

Neither statement on terrorism was reflected in the final joint statement,

which focused on trade and economic issues.

India- China Differences

: India also marked its differences with China over the Belt and Road Initiative (BRI) by not joining other SCO members in a paragraph endorsing the BRI
What is the importance of SCO going forward?
Regardless of the differences, Indian government has consistently maintained the importance of the SCO grouping, referred to as the "Asian NATO" although it does not mandate security alliances

Regional Engagement:

The SCO is one of the few regional structures India is a part of now, given a decline in its engagement with SAARC, BBIN and the RCEP.

Connect with Central Asia

: The SCO provides India a convenient channel for its outreach — trade and strategic ties — to Central Asian countries. 

Platform to solve tense bilateral issues:

SCO has afforded a platform, when needed, for bilateral discussions with the two countries India has the most tense ties with: China and Pakistan. While the government has eschewed meetings with Pakistan for the last five years, it has used the SCO for talks with China, including this year amidst the LAC stand-off.

Geopolitical Balance:

SCO has been seen as a grouping worth pursuing as it retains India's geopolitical balance, a useful counterpoint to India's otherwise much more robust relations with the western world.
Conclusion
The SCO serves India's quest for geopolitical balance and regional engagement
Connecting the dots:
Future of SAARC and BIMSTEC

India's Non-Alignment Policy in the times of increasing Polarisation in world
---
(TEST YOUR KNOWLEDGE)
---
Model questions: (You can now post your answers in comment section)
Note: 
Correct answers of today's questions will be provided in next day's DNA section. Kindly refer to it and update your answers. 

Comments Up-voted by IASbaba are also the "correct answers".
Q.1 Ordinary fuel cannot be used in machinery that operates in space due to which of the following reasons: 
Low temperatures encountered in space. 

Absence of an environment that supports combustion.
Which of the above is/are correct?
1 only

2 only

Both 1 and 2

Neither 1  nor 2
---
Q.2 Consider the following statements regarding zebrafish: 
It is a large freshwater fish. 

It is found in the tropical and subtropical regions. 

It is widely used in scientific research. 
Which of the above is/are correct? 
1 and 2 only 

2 and 3 only 

2 only 

1 and 3 only
---
Q.3 Sarayu river originates in which of the following state of India? 
Uttrakhand 

Uttar Pradesh 

Maharashtra 

Madhya Pradesh
---
ANSWERS FOR 1st December 2020 TEST YOUR KNOWLEDGE (TYK)
---
Must Read
AboutCorporates as Bank:
About rights of prisoners with disabilities:
About Dilli Chalo Farmer's protest and need for government to resolve it:
For a dedicated peer group, Motivation & Quick updates, Join our official telegram channel – https://t.me/IASbabaOfficialAccount
Subscribe to our YouTube Channel HERE to watch Explainer Videos, Strategy Sessions, Toppers Talks & many more…