---
(PRELIMS & MAINS Focus)
---
Dominance of e-3-wheelers
Syllabus
Prelims – Government schemes
Mains – GS 3 (Science and Technology- Developments and their Applications and Effects in Everyday Life; Infrastructure)
Context: India's EV ambition rides on three wheels
Background
India's push for electric vehicles (EVs) was renewed when phase-II of the Faster Adoption and Manufacturing of (Hybrid and) Electric (FAME) Vehicles scheme in India, with an outlay of ₹10,000 crore, was approved in 2019.
India was doubling down on its EV ambitions, focusing on cultivating demand for EVs at home while also developing its own indigenous EV manufacturing industry which could cater to this demand.
FAME II
Aims to boost electric mobility and increase the number of electric vehicles in commercial fleets
Initially envisioned for three years, FAME-II got a two-year extension in June 2021 owing to a number of factors including the pandemic.
It aims to support 10 lakh e-two-wheelers, 5 lakh e-three-wheelers, 55,000 e-four-wheeler passenger cars and 7,000 e-buses.
As a part of FAME-II, the government has made a push for indigenous manufacturing of EVs
While e-two-wheelers and e-four-wheelers receive significant coverage, a three-wheeled underdog has been quietly dominating the Indian EV space.
The dominance of e-3-wheelers
Three-wheeler EVs like e-autos and e-rickshaws account for close to 65% of all EVs registered in India while two-wheeler EVs come at a second with over 30% of registrations and passenger four-wheeler EVs at a meagre 2.5%
Under the targets for FAME-II, e-three-wheelers have crossed over 4 lakh vehicles of the 5-lakh target since 2019.
At the current rate, e-three-wheelers are expected to breach the 5-lakh target by 2023
Factors responsible for success of e-3-wheelers
The EV registrations data show that Assam, Bihar, Delhi, Uttar Pradesh and West Bengal account for close to 80% of all e-three-wheeler registrations
Of these five States, Assam, Delhi, U.P., and West Bengal have formalised EV policies
Indigenously designed and produced, e-three-wheelers like e-rickshaws have become a common sight in these States
These vehicles are produced by local workshops and small enterprises and have come to dominate the e-three-wheeler market
With financial assistance from FAME-II, local manufacturers have built a truly Indian EV with its unique design catering to Indian commuter needs.
Legacy automakers have been struggling to compete with these local producers.
The focus of the EV policies of these five States is on accelerating adoption of EVs among consumers and promoting local manufacturing.
The success India has experienced in the e-three-wheeler space has come from developing both the demand and supply sides. Subsidies, tax exemptions, and interest-free loans have successfully rallied demand for these vehicles.
These vehicles are easy to maintain, and have relatively low operating costs, making them immensely popular among operators
E-2-wheelers and e-4-wheelers
This success in the e-three-wheeler space has been difficult to replicate in the e-two-wheeler and e-four-wheeler space, which have problems both on the demand and supply side
Both the types are associated with personal use, consumers are justifiably apprehensive in adopting such vehicles given the host of issues which come with it.
The recent incidents of fires in e-scooters have added to the apprehension.
Reliable manufacturers with proven track records in the two-wheeler and four-wheeler EV space in India are hard to come by – this adds to the supply side crunch and there are very few affordable offerings for the consumer.
Issues to be addressed
The current policies focuses on accelerating adoption of EVs among consumers, have spurred an e-three-wheeler dominance
The major aspect that is missing the attention of policy makers is adequate passenger safety
Local manufacturing enterprises often lack the necessary resources or the motivation to invest in design developments focusing on safety.
Lack of proper oversight from regulatory bodies over these manufacturers adds to the woes.
The current State-level policies have led to an increasingly fragmented manufacturing industry with non-uniform standards – This fragmentation has led to legacy automakers struggling to compete with the large number of manufacturers in every State
Way Forward
Future EV policies must incorporate appropriate design and passenger safety standards
EV policies must address the issues faced by legacy automakers and ensure they are not demotivated from competing in the e-three-wheeler space. Their resources are necessary for designing and manufacturing more advanced and safer e-three-wheelers
Future EV policies must therefore take into account the existing and emerging stakeholders on the demand and supply sides for effective implementation. With the prevailing trajectory of EVs, India must take lessons from its e-three-wheeler success story to sustain its EV ambitions.
Previous Year Questions (PYQs)
Q.1) What is the aim of the programme 'Unnat Bharat Abhiyan'? (2017)
Achieving 100% literacy by promoting collaboration between voluntary organizations and government's education system and local communities.
Connecting institutions of higher education with local communities to address development challenges through appropriate technologies.
Strengthening India's scientific research institutions in order to make India a scientific and technological power.
Developing human capital by allocating special funds for health care and education of rural and urban poor, and organizing skill development programmes and vocational training for them.
Source: The Hindu 
---
Free trade deal between Israel and UAE
Syllabus
Prelims – Current Affairs
Mains – GS 2 (Effect of Policies and Politics of Developed and Developing Countries on India's interests, Indian Diaspora)
In News: Israel signed a free trade deal with the United Arab Emirates its first with an Arab country, building on their U.S.-brokered normalisation of relations in 2020 i.e. Abraham Accords
UAE-Israel trade will exceed $2 billion in 2022, rising to around $5 billion in five years, bolstered by collaboration in renewable, consumer goods, tourism and the life sciences sectors
The UAE was the first Gulf country to normalise ties with Israel and only the third Arab nation to do so after Egypt and Jordan.
The signing came two days after thousands of flag-waving Israelis marched through Jerusalem's Old City during a nationalist procession marking Israel's 1967 capture of east Jerusalem. Israel annexed east Jerusalem in 1980, a move never recognised by the international community. The UAE "strongly condemned" what it called Israel's "storming" of Jerusalem's Al Aqsa mosque compound, one of Islam's holiest sites.
Abraham Accords
Abraham Accords deal, sponsored by the US, was part of the country's regional security agenda to counter Iran.
As part of this security agenda — signed during the Trump administration — the US prioritised improving relations between Israel and the Gulf countries, something that the latter nations have been wary of because of the Israel-Palestine conflict.
As part of the Abraham Accords, Israel agreed to stop further annexation of Palestinian territory.
The accords were signed by the leaders of Bahrain, Israel and the UAE in September 2020.
After Egypt in 1979 and Jordan is 1994, the UAE became the third Arab country to agree to formally normalize relations with Israel, as well as the first Persian Gulf country to do so.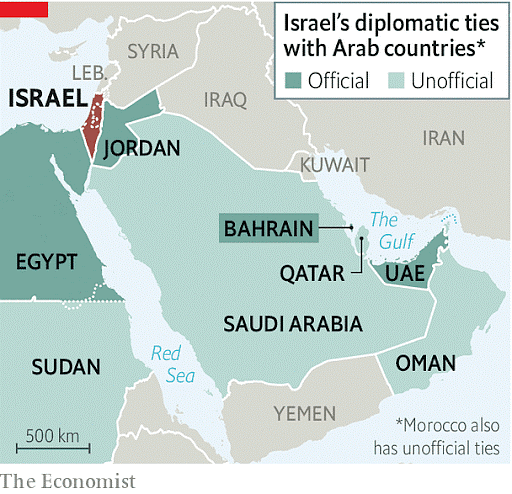 Previous Year Questions (PYQs)
Q.1) The term "two-state solution "is sometimes mentioned in the context of the affairs of (2018)
China
Israel
Iraq
Yemen
Source: The Hindu
---
Liquid Nano Urea
Syllabus
Prelims – Economy – Agriculture
Mains – GS 3 (Technology Missions; Issues related to Direct and Indirect Farm Subsidies)
In News: Recently Prime Minister of India officially inaugurated the country's first liquid nano urea plant at Kalol, Gujarat
This patented product is expected to not only substitute imported urea, but to also produce better results in farms.
IFFCO commissioned the Kalol liquid nano urea plant, the country's first, in August 2021.
Liquid nano urea
It is essentially urea in the form of a nanoparticle.
Urea is a chemical nitrogen fertiliser, white in colour, which artificially provides nitrogen, a major nutrient required by plants.
The product has been developed by Indian Farmers Fertiliser Cooperative Limited (IFFCO) Nano Biotechnology Research Centre (NBRC) at Kalol.
While conventional urea has an efficiency of about 25 per cent, the efficiency of liquid nano urea can be as high as 85-90 per cent.
Conventional urea fails to have the desired impact on crops as it is often applied incorrectly, and the nitrogen in it is vaporised or lost as gas – A lot of nitrogen is also washed away during irrigation.
Liquid nano urea is sprayed directly on the leaves and gets absorbed by the plant.
Fertilisers in nano form provide a targeted supply of nutrients to crops, as they are absorbed by the stomata, pores found on the epidermis of leaves
2-4 ml of nano urea should be mixed a litre of water and sprayed on crop leaves at active growth stages
Liquid nano urea contains 4 per cent total nitrogen (w/v) evenly dispersed in water. The size of a nano nitrogen particle varies from 20-50 nm.
Liquid nano urea has a shelf life of a year, and farmers need not be worried about "caking" when it comes in contact with moisture
In what respects is the indigenous liquid nano urea a better bet than imported urea?
The liquid nano urea produced by IFFCO comes in a half-litre bottle priced at Rs 240, and carries no burden of subsidy currently.
By contrast, a farmer pays around Rs 300 for a 50-kg bag of heavily subsidised urea.
The government's fertilizer subsidy payout this financial year will be Rs 2 lakh crore, up 25 per cent from the Rs 1.6 lakh crore it paid last year.
Indian Farmers Fertiliser Cooperative Limited
It is one of India's biggest cooperative societies which is wholly owned by Indian Cooperatives.
Founded in 1967 with just 57 cooperatives, today it is an amalgamation of over 36,000 Indian Cooperatives with diversified business interests ranging from General Insurance to Rural Telecom apart from its core business of manufacturing and selling fertilisers.
Objective:
To enable Indian farmers to prosper through timely supply of reliable, high quality agricultural inputs and services in an environmentally sustainable manner and to undertake other activities to improve their welfare.
Previous Year Questions (PYQs)
Q.1) What are the advantages of fertigationin agriculture? (2020)
Controlling the alkalinity of irrigation water is possible.
Efficient application of Rock Phosphate and all other phosphaticfertilizers is possible.
Increased availability of nutrients to plants is possible.
Reduction in the leaching of chemical nutrients is possible.
Select the correct answer using the code given below:
1, 2 and 3 only
1, 2 and 4 only
1, 3 and 4 only
2, 3 and 4 only
Q.2) With reference to chemical fertilizers in India, consider the following statements: (2020)
At present, the retail price of chemical fertilizers is market-driven and not administered by the Government.
Ammonia, which is an input of urea, is produced from natural gas.
Sulphur, which is a raw material for phosphoric acid fertilizer, is a by-product of oil refineries.
Select the correct answer using the code given below:
1 only
2 and 3
2 only
1, 2 and 3
Source: Indian Express
---
Astra Mk-1
Syllabus
Prelims – Science – Defense
Mains – GS 3 (Security Challenges and their Management in Border Areas)
In News: The Ministry of Defence signed a contract with the Hyderabad-based public-sector Bharat Dynamics Ltd (BDL) for supply of the Astra Mark-1, at a cost of Rs 2,971 crore, for deployment on fighter jets of the Indian Air Force and Indian Navy.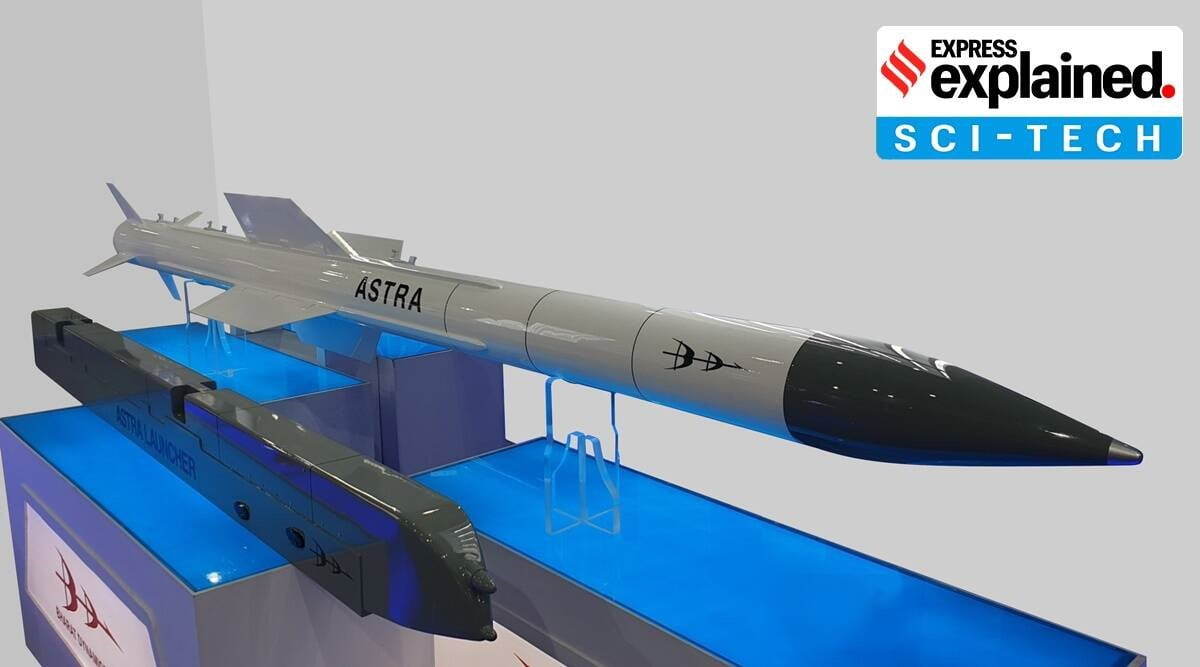 Astra Mk-1
The Astra Mk-1 is a beyond visual range (BVR), air-to-air missile (AAM).
Beyond Visual Range Air-to-Air Missile (BVRAAM) technology enables the fighter-pilots to shoot precisely at the enemy targets which are beyond their visual range
AAMs are fired from an airborne asset to destroy an airborne target
The missile has been designed and developed by the Defence Research and Development Organisation (DRDO) for deployment on fighter jets like Sukhoi-30 MKI and Tejas of the IAF and the Mig-29K of the Navy
Range: While the range for Astra Mk-1 is around 110 km, the Mk-2 with a range over 150 km is under development
Speed: The missile can travel at speeds more than four times that of sound and can reach a maximum altitude of 20 km, making it extremely flexible for air combat.
Strategic significance
The missile has been designed based on requirements specified by the IAF for BVR as well as close-combat engagement, reducing the dependency on foreign sources.
AAMs with BVR capability provides large stand-off ranges to own fighter aircraft.
Stand-off range means the missile is launched at a distance sufficient to allow the attacking side to evade defensive fire from the target.
It can neutralise adversary airborne assets without exposing adversary air defence measures.
Astra is technologically and economically superior to many such imported missile
Source: Indian Express
---
Moratorium on e-commerce trade
Syllabus
Prelims – International Organizations
Mains – GS 2 (Important International Institutions, agencies and fora – their Structure, Mandate)
In News: India to oppose continuation of moratorium on customs duties on e-commerce trade at WTO meets in Geneva
Allowing the moratorium to lapse is important for developing nations to preserve policy space for their digital advancement, to regulate imports and generate revenue through customs duties.
The United Nations Conference on Trade and Development has estimated the potential tariff revenue loss for developing countries every year due to the moratorium on e-transmissions at $10 billion as compared to only $289 million for high-income countries.
Background
The WTO members have agreed not to impose customs duties on electronic transmissions since 1998 and the moratorium has been periodically extended at successive ministerial conferences (MC)
The moratorium was extended at the 11th MC in Argentina in 2017 for two years. In the General Council meeting in December 2019, members agreed to maintain the current practice till the 12th Ministerial Conference.
India and South Africa on several occasions have asked the organisation to revisit the issue and have highlighted the adverse impact of the moratorium on developing countries.
India is witnessing an exponential rise in imports of electronic transmissions, mainly of items like movies, music, video games and printed matter, some of which could fall within the scope of the moratorium.
World Trade Organization
The World Trade Organization (WTO) is the only global international organization dealing with the rules of trade between nations.
The WTO has 164 members (including European Union) and 23 observer governments (like Iran, Iraq, Bhutan, Libya etc).
History
The General Agreement on Tariffs and Trade (GATT) traces its origins to the 1944 Bretton Woods Conference
In Havana in 1948, the UN Conference on Trade and Employment concluded a draft charter for the ITO – International Trade Organization (ITO) which would have created extensive rules governing trade, investment, services, and business and employment practices.
The Havana Charter never entered into force
Meanwhile, an agreement as the GATT signed by 23 countries in Geneva in 1947 came into force on Jan 1, 1948 with the following purposes:
To phase out the use of import quotas
And to reduce tariffs on merchandise trade,
The GATT became the only multilateral instrument (not an institution) governing international trade from 1948 until the WTO was established in 1995
The Uruguay Round, conducted from 1987 to 1994, culminated in the Marrakesh Agreement, which established the World Trade Organization (WTO).
Governance
Ministerial Conference
The topmost decision-making body of the WTO is the Ministerial Conference, which usually meets every two years.
It brings together all members of the WTO, all of which are countries or customs unions.
The Ministerial Conference can take decisions on all matters under any of the multilateral trade agreements.
General Council
It has representatives from all member governments and has the authority to act on behalf of the ministerial conference which only meets about every two years.
Dispute Settlement Body (DSU)
The General Council convenes as the Dispute Settlement Body (DSB) to deal with disputes between WTO members.
Such disputes may arise with respect to any agreement contained in the Final Act of the Uruguay Round that is subject to the Understanding on Rules and Procedures Governing the Settlement of Disputes (DSU).
Appellate Body
The Appellate Body was established in 1995 under Article 17 of the Understanding on Rules and Procedures Governing the Settlement of Disputes (DSU).
The DSB shall appoint persons to serve on the Appellate Body for a four-year term.
It is a standing body of seven persons that hears appeals from reports issued by panels in disputes brought by WTO Members.
The Appellate Body can uphold, modify or reverse the legal findings and conclusions of a panel
The Appellate Body has its seat in Geneva, Switzerland.
Previous Year Questions (PYQs)
Q.1) Consider the following statements: (2017)
India has ratified the Trade Facilitation Agreement (TFA) of WTO.
TFA is a part of WTO's Bali Ministerial Package of 2013.
TFA came into force in January 2016.
Which of the statements given above is/are correct?
1 and 2only
1 and 3 only
2 and 3 only
1, 2 and 3
Q.1) In the context of which of the following do you sometimes find the terms 'amber box, blue box and green box' in the news? (2016)
WTO affairs
SAARC affairs
UNFCCC affairs
India-EU negotiations on FTA
Source: The Economic Times
---
Trade to boost India's growth
Syllabus
Mains – GS 3 (Growth and Development)
Context: Exports can help Indian economy reach the $5-trillion target sooner than expected.
Stats
India's exports surpassed the pre-pandemic level of $331 billion in FY 2018-19 and reaching $418 billion in FY 2021-22
Total exports, including the services exports of around $240 billion, amount to more than $650 billion.
Total merchandise trade, including imports of $610 billion, amounts to $1.28 trillion for FY 2021-22.
What the above stats indicate?
The revival of exports has provided relief at a time when major components of aggregate demand such as consumption and investment had been slowing down.
These milestones on the trade front are a sign of a rising India, which would certainly accelerate the growth
If India sustain the momentum and capitalize on exports' potential, this will help achieve the $-5 trillion economy goal sooner
The trade achievements are a sign of growing confidence in the Indian economy
Reasons for this achievement
The proactive policy schemes by the government — such as merchandise exports scheme, duty exemption scheme, export promotion capital goods, transport and marketing assistance scheme — have helped the export sector.
Schemes like the gold card scheme and interest equalization scheme by RBI and the market access initiative by the export promotion councils are helpful
Export Potential of India
Though achievements in trade are laudable, India still has much potential. For example, the annual growth rate of India's exports between 2011 to 2020 is a little over 1 per cent compared to 3 per cent and 4.2 per cent, respectively, for China and Bangladesh.
There is a huge difference in India's exports potential and actual exports in many sectors, especially pharmaceuticals, gems and jewellery and chemicals.
What needs to be done?
Policy reforms
India has to aggressively increase its participation in global value chains (GVCs) with its best endowment of working-age population and its strength in labour-intensive manufacturing
As the Economic Survey (2019-20) suggests, "assemble in India", particularly in network products, will increase India's share in world exports to 6 per cent and create 80 million jobs.
It is time to find out and research why MNCs are (re)locating to countries like Vietnam, Bangladesh and Mexico when India offers a big market and cheap manpower.
State-level reforms in reducing red tape and complex laws including taxation will go a long way.
Institutional Reforms
India also needs to work on institutions facilitating trade, processes for exports and imports and logistics that not only reduce trade and transaction costs but also ensure reliability and timely delivery, which is important to becoming part of GVCs.
India's rank in the logistics performance index is 44 while China's rank is 26 and South Korea's 25.
The unit cost of a container of exports is significantly higher for India compared to China, South Korea and others, thereby reducing the price competitiveness of India's exports.
Signing FTAs
One way to reduce the complexities of trade and business is by signing free trade agreements.
These not only reduce tariffs and give market access but bring down non-tariff barriers such as administrative fees, labelling requirements, anti-dumping duties etc
Focus on Service Exports
As per the Ministry of Commerce (MoC), services exports are expected to reach the target of $1 trillion before the deadline of 2030.
India has done well in IT and IES exports and it can accelerate services exports in other categories including travel and tourism and business, commercial and financial services
Capitalize on opportunities arising out of geopolitical conflicts
India must utilize opportunities arising out of geo-political conflicts and the intention of the world to diversify its supply chain portfolio.
Source: Indian Express
---
Political Parties reforms in India
Syllabus
Prelims – Polity
Mains – GS 2 (Salient Features of the Representation of People's Act; Appointment to various Constitutional Posts, Powers, Functions and Responsibilities of various Constitutional Bodies)
Context: Democratizing Political Parties
At last count, there were 2,858 parties registered with the Election Commission of India. Of these, eight are national parties, 54 are state parties and 2,797 are unrecognised parties.
The internal functioning and structures of an overwhelming number of these political parties are opaque and ossified
The roots of the most pertinent challenges faced by Indian politics today can be traced to the lack of intra-party democracy
Need for Democracy in Political Parties
The absence of intra-party democracy has contributed to political parties becoming closed autocratic structures.
To avoid factionalism and division of parties
A democratic party will be accountable to its party members
A transparent party structure with transparent processes will allow proper ticket distribution and candidate selection.
Lack of democracy has led to problem of candidates with criminal backgrounds contesting elections.
Factors responsible for lack of democracy
Dynasty politics: The lack of intra-party democracy has also contributed to the growing nepotism in political parties.
Personality cult: There is a tendency of hero worship in people and many times a leader takes over the party
Centralized structure of Political Parties
ECI's power to require parties to hold regular internal elections for office bearers, and candidate selection is compromised in the absence of any penal provisions – Under Section 16-A of the Election Symbols (Reservation and Allotment) Order, 1968 to either suspend or withdraw recognition to a political party as a national or state party.
Way Forward
Law to Compulsify Elections: The political party shall hold elections of national and State levels in the presence of the observers to be nominated by the ECI.
Empowering ECI: appointment of external election monitors and other innovative mechanisms that the internal democratic processes of all political parties play out in a just, fair and credible manner.
Seats in Party can be reserved for women and members of the backward community including minorities.
Source: Indian Express
---
Demographic Dividend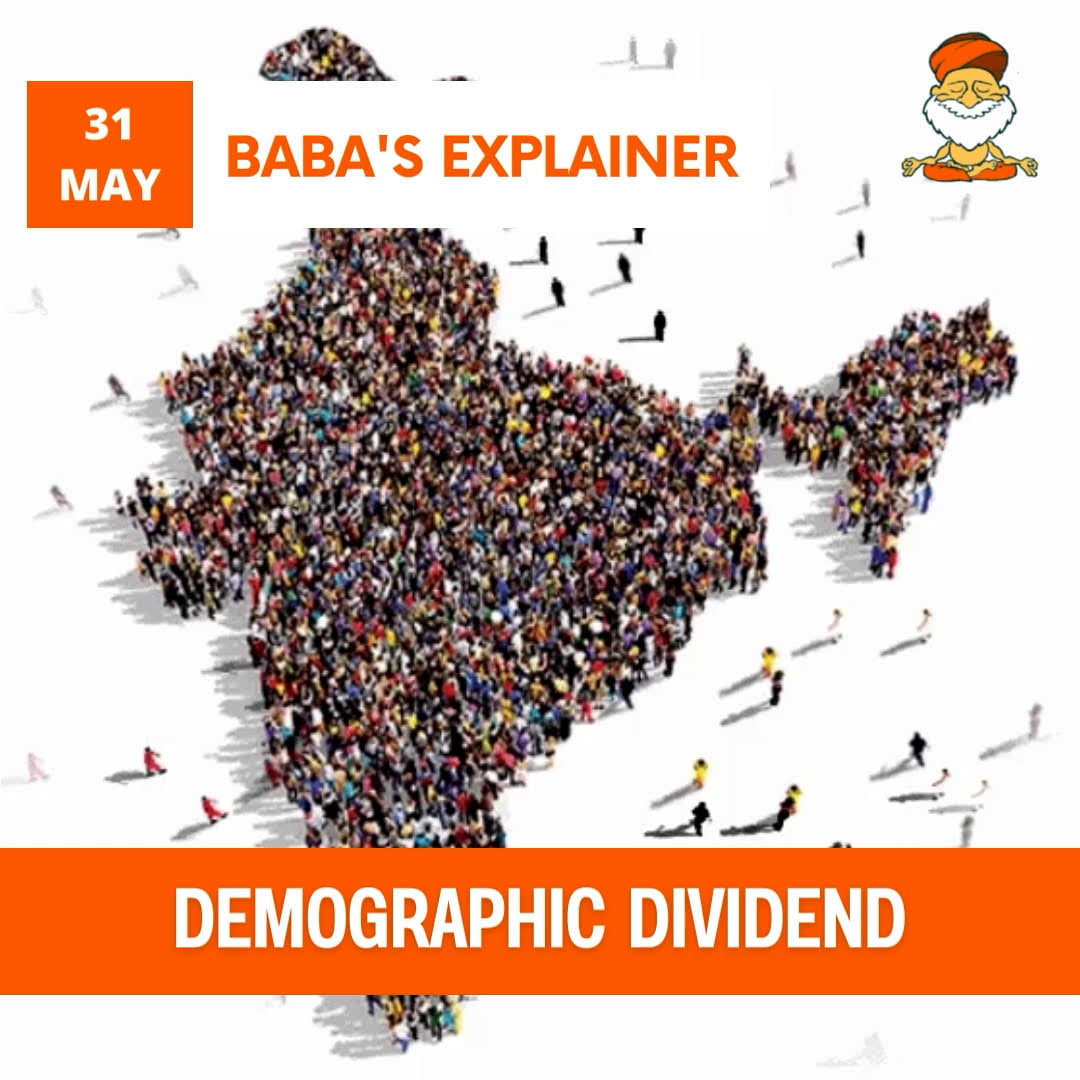 Syllabus
GS-1: Population & associated issues
GS-2: Government policies and interventions for development in various sectors and issues arising out of their design and implementation.
Context: DEMOGRAPHY has, for some years now, been recognized as a driver of various key parameters of a nation.
Developing policies and investments to secure the future of citizens requires that governments know the size, sex, location and age structure of their present and future populations.
A country with rapid population growth, for example, could benefit for many years from a "demographic dividend".
---
Daily Practice MCQs
Daily Practice MCQs
Q.1) Which of the following countries borders Red Sea?
Egypt
Lebanon
UAE
Sudan
Choose the correct statements:
1 and 2
1 and 4
2 and 3
1, 2, 3 and 4
Q.2) Abraham Accords recently in news is related to?
Agreement between Armenia and Azerbaijan over Nagorno-Karabakh conflict
USA sponsored deal to improve relations between Israel and the Gulf countries
UN mediated negotiation agreement between Israel and Palestine
Organization of the Islamic Cooperation intiative to fight radicalization
Q.3) Consider the following statements about Astra Mk-1 missile
It is a surface-to-air missile
The missile has been designed and developed by the Defense Research and Development Organisation
Range of Astra Mk-1 is 200km
Choose the incorrect statements:
1, 2 and 3
1 and 3
3 only
None
Comment the answers to the above questions in the comment section below!!
ANSWERS FOR '1st JUNE 2022 – Daily Practice MCQs' will be updated along with tomorrow's Daily Current Affairs.
---
ANSWERS FOR 31st MAY 2022 – Daily Practice MCQs
Answers- Daily Practice MCQs
Q.1) – c
Q.2) – d
Q.3) – c
For a dedicated peer group, Motivation & Quick updates, Join our official telegram channel – https://t.me/IASbabaOfficialAccount
Subscribe to our YouTube Channel HERE to watch Explainer Videos, Strategy Sessions, Toppers Talks & many more…