---
(PRELIMS & MAINS Focus)
---
Cervavac
Syllabus
Prelims – Science and Technology
Context: Cervavac, India's first indigenously developed quadrivalent human papillomavirus (qHPV) vaccine for the prevention of cervical cancer has been developed.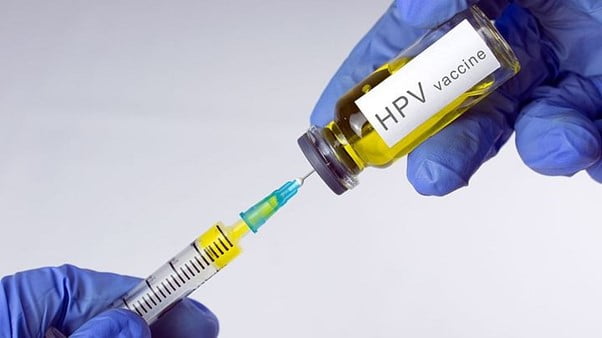 About the new vaccine
Cervavac was developed by the Pune-based Serum Institute of India in coordination with the Government of India's Department of Biotechnology (DBT).
HPV vaccines are given in two doses and the antibodies that develop after both are administered can last up to six or seven years.
Unlike Covid vaccines, booster shots may not be required for the cervical cancer vaccine.
Until now, the HPV vaccines available in India were produced by foreign manufacturers at an approximate cost of Rs 2,000 to Rs 3,500 per dose.
Cervavac is likely to be significantly cheaper, slated to cost approximately Rs. 200 to 400.
It has also demonstrated a robust antibody response that is nearly 1,000 times higher than the baseline against all targeted HPV types and in all dose and age groups.
How common is cervical cancer in India?
Despite being largely preventable, cervical cancer is the fourth most common cancer among women globally, according to the WHO.
Current estimates indicate that every year approximately25 lakhs women are diagnosed with cervical cancer, and over 75 thousand dies from the disease in India, and 83 % of invasive cervical cancers are attributed to HPVs 16 or 18 in India, and 70% of cases worldwide.
India accounts for about a fifth of the global burden of cervical cancer, with 1.23 lakh cases and around 67,000 deaths per year.
Almost all cervical cancer cases are linked to certain strains of human papillomavirus (HPV), a common virus that is transmitted through sexual contact.
While the body's immune system usually gets rid of the HPV infection naturally within two years, in a small percentage of people the virus can linger over time and turn some normal cells into abnormal cells and then cancer.
Source: Pib.Gov
Previous Year Question
Q1.) In the context of vaccines manufactured to prevent COVID-19 pandemic, consider the following statements:
The Serum Institute of India produced COVID-19 vaccine named Covishield using mRNA platform.
Sputnik V vaccine is manufactured using vector-based platform.
COVAXIN is an inactivated pathogen-based vaccine.
Which of the statements given above are correct? (2022)
1 and 2 only
2 and 3 only
1 and 3 only
1, 2 and 3
Q.2) With reference to recent developments regarding 'Recombinant vector Vaccines', consider the following statements:
Genetic engineering is applied in the development of these vaccines.
Bacteria and viruses are used as vectors.
Which of the statements given above is/are correct? (2021)
1 only
2 only
Both 1 and 2
Neither 1 nor 2
---
Iron Ore
Syllabus
Prelims – Geography
Mains – GS 1 (Geography)
In News:  The Supreme Court raised the ceiling limit of iron ore mining for some districts of Karnataka saying conservation of the ecology and environment must go hand in hand with the spirit of economic development.
Ten years back SC clamped down on production and sale of iron ore in Karnataka due to prevalent of illegal mining.
Iron Ore
Iron ores are rocks and minerals from which metallic iron can be extracted.
India has large iron ore reserves. It occurs in various geological formations but major economic deposits are found in volcano-sedimentary Banded Iron Formation (BIF) from the Precambrian age.
Magnetite is the finest iron ore with a very high content of iron up to 72 percent.
It has excellent magnetic qualities, especially valuable in the electrical industry.
Hematite ore is the most important industrial iron ore in terms of the quantity used but has a slightly lower iron content than magnetite.
The highest producer is the Odisha Jharkhand belt, Durg Bastar Chandrapur belt, Bellary-Chitradurga-Chikmagalur-Tumkur belt, and the Maharashtra Goa belt.
The iron ore is found in following four types:
Magnetite: It is the most important and best kind of iron ore.
It contains about 72% metallic iron in it. It is found in Karnataka, Andhra Pradesh, Rajasthan, Tamil Nadu, Goa and Kerala.
Hematite:
It contains about 60-70 percent metallic iron in it.
It is red and brown in colour.
It is found in Odisha, Jharkhand, Chhattisgarh and Andhra Pradesh. In the western section, Karnataka, Maharashtra and Goa have this kind of ore.
Limonite:
It contains about 30 to 40 percent metallic iron in it. It is mostly yellow in colour. It is low-grade iron ore.
Siderite:
It has more impurities.
It contains about 48 percent metallic iron content in it.
It is brown in colour.
It contains a mixture of iron and carbon. It is low-grade iron ore. It is self-fluxing due to the presence of lime.
Reserves and distribution of iron ore
About 95% of total reserves of iron ore are found in the States of Odisha, Jharkhand, Chhattisgarh, Karnataka, Goa, Telangana, Andhra Pradesh, and Tamil Nadu.
India's leading state that produces iron ore is Odisha. It accounts for more than 55% of the total production followed by Chhattisgarh producing almost 17%, this is followed by Karnataka and Jharkhand producing 14% and 11% respectively.
Export of iron ore from India
India is the fifth largest exporter of iron ore in the world.
About 50 to 60 percent of our total iron ore production to countries like Japan, Korea, European countries, and lately to Gulf countries.
Japan is the biggest buyer of Indian iron ore accounting for about three-fourths of our total exports.
Major ports handling iron ore export are Vishakhapatnam, Paradip, Marmagao, and Mangalore.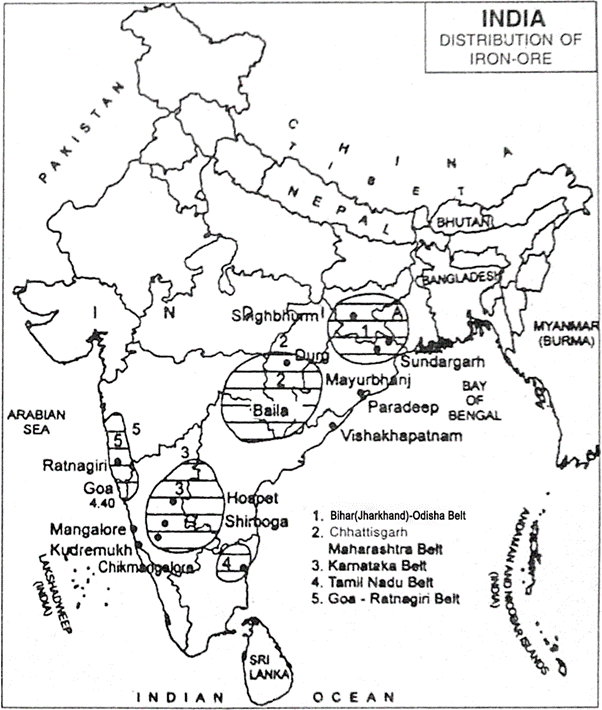 Source: The Hindu
Previous Year Question
Q.1) With reference to the mineral resources of India, consider the following pairs: (2010)
Mineral         90% Natural sources in
Copper: Jharkhand
Nickel:     Orissa
Tungsten:  Kerala
Which of the statements given above is/are correct?
1 and 2 only
2 only
1 and 3 only
1, 2 and 3
---
Super Typhoon Hinnamnor
Syllabus
In News: The strongest tropical storm of 2022, dubbed Super Typhoon 'Hinnamnor', has been barrelling across the western Pacific Ocean.
It is presently hurtling back towards the islands of Japan and South Korea, packing wind speeds of upto 241 kilometres per hour.
The category 5 typhoon — the highest classification on the scale — was about 230 km away from Japan's Okinawa prefecture (islands).
Cyclones
Cyclones are a type of low-pressure environment with rapid inward air circulation.
In the Northern Hemisphere, air flows counter clockwise, while in the Southern Hemisphere, it circulates clockwise.
Tropical Cyclones
The term 'Tropical Cyclone' is used by the World Meteorological Organization to describe weather systems with winds greater than 'Gale Force' (minimum of 63 km per hour).
Tropical cyclones are formed in the region between the Tropics of Capricorn and Cancer.
They're large-scale weather systems that form over tropical or subtropical oceans and coalesce into surface wind circulation.
Tropical cyclones are one of the world's most destructive natural disasters.
Favorable Conditions for the Formation of Tropical Cyclone
A large area of water surface with a temperature above 27° C
The Coriolis force is strong enough to form a cyclonic vortex.
Variations in the vertical wind speed are minor.
A weak low-pressure area or low-level cyclonic circulation already exists.
Above the sea level system, there should be a higher divergence.
Origin of Tropical Cyclones
Tropical cyclones arise over tropical oceans in late summers and have a thermal origin (August to mid-November).
Because of the Coriolis effect, the powerful local convectional currents take on a whirling motion at these regions.
These cyclones form and move until they reach a weak place in the trade wind belt.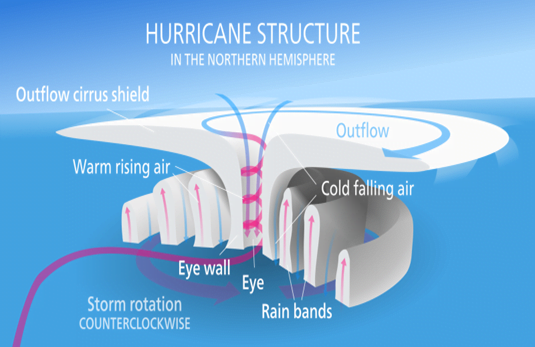 Developmental Stages of Tropical Cyclone
Tropical cyclones can be classified into three stages throughout their development:
Formation and Initial Development Stage
The transport of water vapor and heat from the warm ocean to the overlying air, largely through evaporation from the sea surface, is crucial to the creation and early development of a cyclonic storm.
Convection with condensation of rising air above the ocean surface stimulates the creation of huge vertical cumulus clouds.
Mature Stage
The air rises in powerful thunderstorms as a tropical storm intensifies, and it tends to spread out horizontally at the tropopause level.
When air spreads out, a positive pressure is created at high elevations, speeding up the downward migration of air due to convection.
When subsidence is induced, the air warms up due to compression, resulting in a warm 'Eye' (low-pressure center).
A mature tropical cyclone in the Indian Ocean has a concentric pattern of highly turbulent large cumulus thundercloud bands as its principal physical feature.
Modification and Decay
As soon as its source of warm moist air begins to ebb or is abruptly cut off, a tropical cyclone begins to weaken in terms of core low pressure, internal warmth, and extremely fast speeds.
This occurs after it reaches land or passes across chilly water.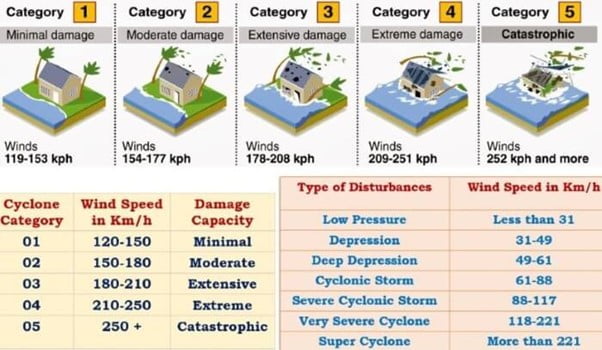 Local Names
North Atlantic (including Caribbean and Gulf of Mexico): Hurricanes
Eastern and Central North Pacific: Hurricanes
Western Northern Pacific: Typhoons
Arabian Sea/Northern Indian Ocean: Tropical Cyclones
South Indian Ocean: Tropical Cyclones/Willy-Willy for southwest Australia
Coral Sea/South Pacific: Tropical Cyclone.
Source: Indian Express
Previous Year Question
Q.1) Consider the following statements: (2020)
Jet streams occur in the Northern Hemisphere only.
Only some cyclones develop an eye.
The temperature inside the eye of a cyclone is nearly 10°C lesser than that of the surroundings.
Which of the statements given above is/are correct?
1 only
2 and 3 only
2 only
1 and 3 only
---
Ex Vostok-2022
Syllabus
Prelims – Current Affairs
In News: Indian Army contingent participates in Ex Vostok-2022 in Russia.
The Indian Army contingent began the multilateral strategic command and staff Exercise Vostok – 2022 at the training grounds of the Eastern Military District of Russia.
The armies of the other countries include the troops of China, Laos, Mongolia, Nicaragua, Syria and several ex-Soviet nations.
The drills are set to master the skills of commanders and headquarters in exercising command and control of combined arms and coalition forces to repel acts of aggression, raise compatibility and interoperability of the collation forces in jointly coping with the objectives of maintaining peace, protecting interests and ensuring military security in the Eastern region.
Source: Theprint.in
---
Monsoon trough - Intense Rainfall in Karnataka and Kerala
Syllabus
In News:  Torrential rains have hit southern Karnataka and parts of Kerala.
What is causing intense rain spells?
In the absence of any synoptic systems, that is, low pressure systems or monsoon depression over the country, Kerala, Karnataka, Tamil Nadu, Nagaland, Manipur, Mizoram, Tripura, Jammu and Kashmir, and Himachal Pradesh have reported widespread rainfall.
At present, the monsoon currents are weak as the monsoon is in its break phase.
But the IMD said that the monsoon was vigorous over Kerala and active over Karnataka.
The position of monsoon trough — a major contributory factor for the rainfall — is favouring rainfall over these states.
Once the monsoon system gets established over the country by mid-July, the monsoon trough oscillates by 5 degrees, either to the north or south of its normal position.
This oscillation is normally observed during July and August, the peak monsoon months over India.
If this trough is located to the south of its normal position, strong monsoon conditions are observed over India.
Central and northern areas of the peninsular India benefit in such an instance.
When this trough shifts either to north of its normal position, runs to foothills of Himalayas or remains absent, then break-monsoon conditions are declared
During the break phase, rainfall is largely confined to the south peninsula, and east, northeast and north India — that is the ongoing spell.
The monsoon season thus comprises such wet and dry periods due to the active and break phases.
Besides the trough, there is a cyclonic circulation over south Tamil Nadu, from which runs a trough till southern Madhya Pradesh.
Monsoon Trough
A trough is a belt of low pressure extending to large area. This trough seen during monsoon period, hence known as Monsoon trough.
Monsoon trough is a part of the Inter Tropical Convergence Zone (ITCZ) where the northern hemisphere and southern hemisphere winds meet.
This is normally shown as a line connecting the location of monsoon low pressure areas. These troughs run across continents during peak monsoon periods.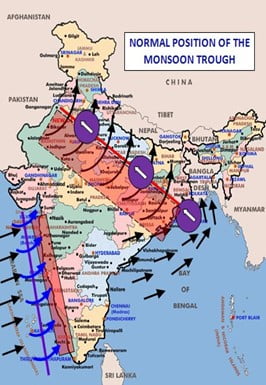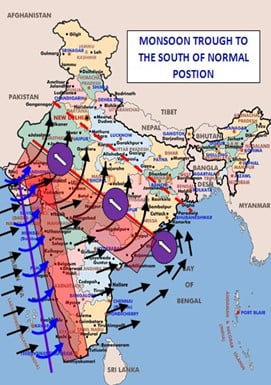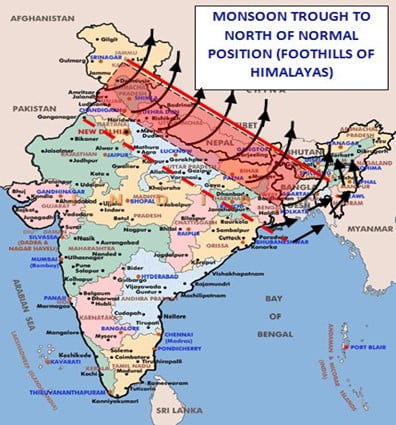 Source: Indian Express
Previous Year Question
Q.1) With reference to 'Indian Ocean Dipole (IOD)' sometimes mentioned in the news while forecasting Indian monsoon, which of the following statements is/are correct (2017)
IOD phenomenon is characterised by a difference in sea surface temperature between tropical Western Indian Ocean and tropical Eastern Pacific Ocean.
An IOD phenomenon can influence an El Nino's impact on the monsoon.
Select the correct answer using the code given below:
1 only
2 only
Both 1 and 2
Neither 1 nor 2
---
Goods and Services Tax (GST)
Syllabus
Prelims: Current Affairs (Economy)
Mains: GS 2 (Federalism) and GS 3 (Economy)
In news: India's gross revenues from the Goods and Services Tax (GST) were ₹1,43,612 crore in August, 28% higher than a year ago. Revenues from import of goods soared 57% during the month while domestic transactions and import of services yielded 19% higher taxes than in August 2021.
The gross GST revenue collected in August includes ₹24,710 crore of Central GST (CGST), ₹30,951 crore collected as State GST (SGST), and Integrated GST (IGST) of ₹77,782 crore, which comprises ₹42,067 crore collected on import of goods.
GST Compensation Cess collections were ₹10,168 crore and included 1,018 crores collected on import of goods.
While overall domestic GST revenues rose 19%, there were wide variations in collections across States, with 13 States seeing a higher growth in revenues, three States reporting a flat or negative growth, and 14 States, including the erstwhile State of Jammu and Kashmir, seeing a slower uptick than 19%.
Must Read – GST- Five years on
Source: The Hindu 
Previous Year Question
Q.1) What is/are the most likely advantages of implementing 'Goods and Services Tax (GST)'? (2017)
It will replace multiple taxes collected by multiple authorities and will thus create a single market in India.
It will drastically reduce the 'Current Account Deficit' of India and will enable it to increase its foreign exchange reserves.
It will enormously increase the growth and size of the economy of India and will enable it to overtake China in the near future.
Select the correct answer using the code given below:
1 only
2 and 3 only
1 and 3 only
1, 2 and 3
---
Women in Science
Syllabus
Case study:
Gender issues, particularly gender inequality and discrimination in academia relating to higher education, perhaps came under the spotlight for the first time in India in 1937 when Professor D.M. Bose, then Professor of physics at Calcutta University, was reluctant to include Bibha Chowdhuri in his research group on the ground that he did not have suitable research projects to assign to women. Chowdhuri was unfazed and had her way. She joined Bose's research group. Her work on cosmic rays in determining the mass of mesons is legendary.
The general bias against women which arose out of suspected capability of their intelligence and their mettle in undertaking the arduous task of research was quite common in the 20th century. Things have changed and the glass ceiling has been broken. But how far have we progressed in the last 100 years in shedding this bias and ensuring that women are on a par with men in academic institutions.
What is Glass Ceiling?
It refers to an invisible barrier that stops the rise of women (or any other disadvantaged/ marginalised group) from reaching top positions of an organisation, polity, or society.
The concept originated in corporate management sphere where it was defined as the 'artificial barriers based on attitudinal or organizational bias that prevent qualified individuals from advancing upward in their organization into management level positions'
But ambit of the concept of glass ceiling has now been expanded to include other spheres as well, in which progress of certain individuals are hampered artificially.
Glass ceiling in the corporate world:
On the contrary, participation of women in leadership and decision-making positions in private enterprises (the corporate sector) is startling when compared to the reality in academics.
The number of women in senior management positions in the corporate sector in India is 39%, which is higher than the global average.
Number of women CEOs in Fortune 500 companies is 15% while female board members in the management of private enterprises have been growing from 15% in 2016 to 19.7% in 2022. If this trend continues, near parity will be reached by 2045, according to a forecast made by Deloitte.
It is worth reflecting on the reasons for this discrepancy in female participation in higher positions in these two sectors. The mechanism of selection and promoting personnel in the private sector is mostly based on competence or merit because it is more result (market) oriented with a definite matrix than what it is in the academic institutes.
Second, encouraging the participation of women in the workforce in the private sector with the adoption of various schemes for women began long ago when compared to the initiatives taken by the Government of India in recent years.
Various schemes such as flexi-hour worktime, rejoining the workforce after an interim break, sections operated only by women, etc. were introduced in private enterprises as early as the 1990s with the benefits being reaped now.
Causes for under-participation of women in STEM:
Stereotypes: stereotypical gender roles like women work as housewives.
Patriarchal and Societal Causes: biased attitudes in hiring practices or awarding fellowships and grants etc.
Stressors related to marriage and childbirth, pressures to conform to societal norms and trappings of domesticity – responsibility related to running of households and elder care further hinder the representation of women in these non-conventional fields.
Lack of Role Models: Organisational factors have also played a big role in preventing gender parity. Lack of women leaders and women role models may be preventing more women from entering these fields.
Absence of Supportive Institutional Structure: Women leave the workforce, due to the absence of supportive institutional structures during pregnancy, safety issues in fieldwork and workplace.
Poor education and healthcare access are responsible for a lesser number of women in these fields.
Government's incentives:
Gender Advancement for Transforming Institutions (GATI): a pilot project under the Department of Science and Technology to promote gender equity in science and technology
Knowledge Involvement in Research Advancement through Nurturing (KIRAN)- a plan under the Department of Science and Technology again to encourage women scientists in science and technology and also preventing women scientists from giving up research due to family reasons, are noteworthy.
One of the programmes under KIRAN called 'Women Scientist Scheme' — provides career opportunities to unemployed women scientists and technologists, especially those who had a break in their career.
Indo-US Fellowship for Women in STEMM (WISTEMM) program– Under this bilateral agreement, Indian women scientists can now work in research labs in the US.
Consolidation of University Research for Innovation and Excellence in Women Universities (CURIE) programme– It aims at improving R&D infrastructure and establishing state-of-the-art research facilities in order to create excellence in S&T in women universities.
Vigyan Jyoti programme– Meritorious girl students of Class 9-12 are being encouraged to pursue higher education and career in the STEM field.
However, despite all these endeavours, there is still a gender bias that persists and which has not been removed fully. Women are still an under-represented population globally in hardcore science, technology, engineering, and mathematics (STEM).
Way forward:
Role of Science Academies: Science academies have to reflect upon their role and contributions to promote and retain women in science, thereby making science inclusive and sensitive.
Bringing Behavioural Changes: Subdued gender participation emanates from social-economic issues, which can be treated by bringing behavioural change. This can be changed if more women are given leadership positions.
Breaking the glass ceiling systemically: Remove the sexism and institutional obstacles that prevent more women from entering the scientific field.
Affirmative action: government can examine having a policy of reservation of seats for women in all research institutions, higher education universities, laboratories, and STEM organisations.
Awareness generation: Gender equality is not just an ethical imperative, but also a business priority. Organisations with greater diversity among their executive teams tend to have higher profits and greater innovation capability. By making people realise it, we can improve gender inclusivity across different sectors.
It is hoped the programmes that have been initiated by the Government to empower women in the workforce will usher in gender parity by 2047, which would mark the centenary of India's Independence- a true 'Azadi Ka Amrit Mahotsav'.
Must Read: Number of women scientists goes up
Source:  The Hindu
---
Code of conduct for civil servants
Syllabus
Context:
A senior IAS officer from Telangana, tweeted from her personal account in support of Ms. Bano (Bilkis Bano case) and questioned the Gujarat government's decision, sparking off a row over whether she was in breach of the Central Civil Services (Conduct) Rules of 1964 and reviving the debate on the freedom of civil servants to express their personal views on matters of law and governance.
Who are civil servants and what is their expected role?
In a modern democracy, a civil servant is an official in the service of the people and is recruited based on predetermined qualifications.
They are responsible for managing the resources given to them by the government and making use of them efficiently and effectively.
A sound parliamentary system of government requires civil servants to maintain their integrity, fearlessness, and independence. One of the most important functions of the civil service, as stated by the head of the Canadian Public Service, is to "speak truth to power."
The crisis of ethics and accountability in civil servants exposes many issues related to the structure of the code of conduct, constitutional protection, the politician-bureaucratic nexus, and their political victimisation.
To address these issues and maintain integrity and discipline amongst civil servants, various reform committees such as the Santhanam Committee (1964), Hota Committee (2004), and the most recent Second Administrative Reform Committee Report (2005) have been formed.
Code of conduct for civil servants
A legally enforceable code of conduct sets out the standards of behaviour expected of those working in the public service.
The Civil Service code outlines the Civil Service's core values, and the standards of behaviour expected of all civil servants in upholding these values.
In India, the current set of ethical norms are the Conduct Rules, contained in the Central Services (Conduct) Rules, 1964 and analogous rules applicable to members of the All India Services or employees of various State Governments.
The code of behaviour as enunciated in the Conduct Rules contain general norms like 'maintaining integrity and absolute devotion to duty'
Freedom of speech and expression:
Article 19 is recognized as a Fundamental Right which provides an individual or a community, the freedom to articulate their thoughts and opinions without the fear of a legal sanction or retaliation.
Article 19(1) (a) of the Constitution of India states that "all citizens shall have the right to freedom of speech and expression".
The exercise of this right is subservient to "reasonable restrictions" being imposed under Article 19(2) of the Constitution of India.
Article 19 (2) contains the grounds on which restrictions on the freedom of speech and expression can be imposed:
Security of State
Friendly relations with foreign states
Public Order
Decency or morality
Contempt of Court
Defamation
Incitement to an offence
To what extent do the Service Conduct Rules impose restrictions on the Freedom of Speech of Government employees?
Freedom of speech and expression is a Fundamental Right, however, it is not absolute in nature, as there are reasonable restrictions which can be imposed.
This is to ensure that the Indian bureaucracy, which has been perceived as a non-political organization, maintains neutrality.
The restrictions are placed to ensure that there is space for healthy criticism. However, emotional outbursts, which could turn into criticism is governed, as these could lead to the public losing faith in the Government.
Recent judgements by Tripura High court and Kerala High court gave a different direction to this debate
In its judgment, the Tripura High Court has mentioned that government servants are entitled to hold and express their political beliefs, subject to the restrictions laid under Rule 5 of the Tripura Civil Services (Conduct) Rules, 1988.
In its judgment, the Kerala High Court has mentioned, one cannot be prevented from expressing his views merely because he is an employee. In a democratic society, every institution is governed by democratic norms.
Healthy criticism is a better way to govern a public institution.
Restrictions applied through the service rule, that come in conflict with Article 19 (1)(a), right to free speech shall override unless the rules in question are covered under Article 19 (2), the framework that provides for reasonable restrictions.
In a nutshell, any restriction imposed even through the conduct rules will have to qualify the requirements of Article 19(2). The conduct rules are flexible enough to accommodate certain kinds of expression which may not necessarily be political in nature.
The right to Freedom of Speech and Expression plays a key role in the formation of public opinion on the political, social and economic matters. It is, therefore, quintessential for the functioning of democratic processes. Hence, a fair and constructive criticism is a welcome step even if it comes from the civil servant. But, the criticism should be in consonance with the principle enshrined in the Constitution of India.
Source: The Hindu
---
Carbon trading policy
Syllabus
Environmental Conservation
Government policies and interventions for development in various sectors and issues arising out of their design and implementation
India is currently the third largest carbon emitter in the world, behind the US and China.
---
Daily Practice MCQs
Daily Practice MCQs
Q.1) Consider the following Government of India Schemes:
GATI
KIRAN
WISTEMM
CURIE
Which of the above are launched for the benefit of women?
1 and 2 only
2, 3 and 4 only
1, 3 and 4 only
1, 2, 3 and 4
Q.2) Consider the following statements:
Large sea surface with temperature higher than 27° C
Absence of the Coriolis force
Small variations in the vertical wind speed
Which of the above conditions are favorable for the formation of Tropical Cyclones?
1 and 2 only
2 and 3 only
1 and 3 only
1, 2 and 3
Q.3) Durg-Bastar-Chandrapur belt and Ballari-Chitradurga-Chikkamagaluru-Tumakuru belt in India is famous for?
Iron ore reserves
Uranium reserves
Gold reserves
Coal reserves
---
Comment the answers to the above questions in the comment section below!!
ANSWERS FOR '2nd September 2022 – Daily Practice MCQs' will be updated along with tomorrow's Daily Current Affairs.
---
ANSWERS FOR 31st August 2022 – Daily Practice MCQs
Answers- Daily Practice MCQs
Q.1) – d
Q.2) – b
Q.3) – a
For a dedicated peer group, Motivation & Quick updates, Join our official telegram channel – https://t.me/IASbabaOfficialAccount
Subscribe to our YouTube Channel HERE to watch Explainer Videos, Strategy Sessions, Toppers Talks & many more…