---
(PRELIMS & MAINS Focus)
---
Spider Pulsar Systems
Syllabus
Prelims – Science and Technology
Context: Recently, Scientists have discovered the first gamma-ray eclipses from a special type of binary star system by using NASA's Fermi Gamma-ray Space Telescope.
About Spider Pulsar Systems: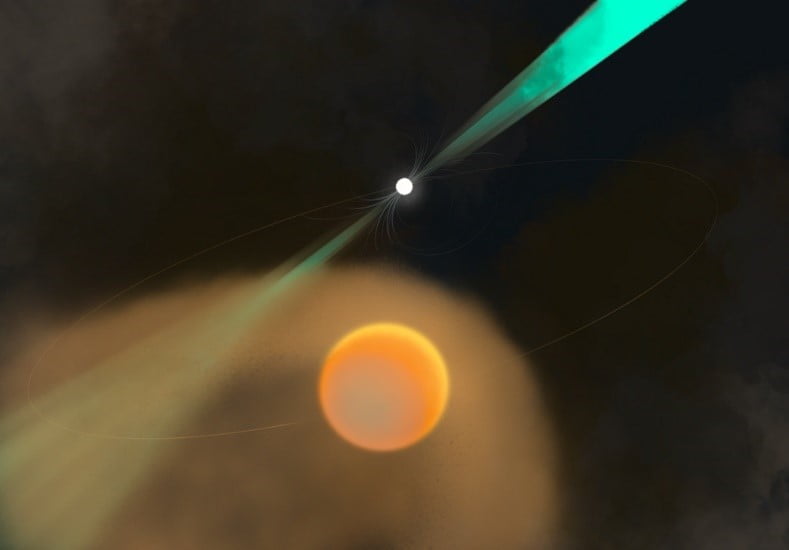 Spider pulsars got their name due to the similarity of customs with some species of spiders.
They are formed from binary star systems in which one of the components is much more massive than the other.
It evolves much faster, explodes like a supernova and turns into a neutron star.
It is this super-dense object that begins to pull a matter from the companion that resembles the habits of spiders of the genus Latrodectus, in which the female eats the male after mating.
Two varieties of binary systems containing pulsars were named after these arthropods.
Black widows: Binary pulsar systems, in which the mass of a companion star is less than 5 % of the solar one.
Redback: Binary pulsar systems, in which the mass of a companion star is from 10 to 50 % of the solar.
About Fermi Gamma-ray Space Telescope (FGST):
It is operated by National Aeronautics and Space Administration (NASA)
FGST was formally known as formerly called the Gamma-ray Large Area Space Telescope (GLAST).
It is a space observatory being used to perform gamma-ray astronomy observations from low Earth orbit.
Its main instrument is the Large Area Telescope (LAT), with which astronomers mostly perform an all-sky survey studying astrophysical and cosmological phenomena such as active galactic nuclei, pulsars, other high-energy sources, and dark matter.
Source: Hindustan Times
Previous Year Questions
Q.1) Which one of the following statements best reflects the idea behind the "Fractional Orbital Bombardment System" often talked about in media? (2022)
A hypersonic missile is launched into space to counter the asteroid approaching the Earth and explode it in space.
A spacecraft lands on another planet after making several orbital motions.
A missile is put into a stable orbit around the Earth and deorbits over a target on the Earth.
A spacecraft moves along a comet with the same speed and places a probe on its surface.
Q.2) The experiment will employ a trio of spacecraft flying in formation in the shape of an equilateral triangle that has sides one million kilometres long, with lasers shining between the craft." The experiment in question refers to  (2020)
Voyager-2
New Horizons
LISA Pathfinder
Evolved LISA
---
Economic Survey 2022-23
Syllabus
Prelims – Governance and Economy
Context: The Union Finance Minister, recently tabled the Economic Survey for the Financial Year 2022-23, after the President's address, on the first day of the Union Budget Session 2023-24. The Economic Survey said that India's economic recovery from the pandemic is complete and the economy is expected to grow in the range of 6% to 6.8% in the coming financial year 2023-24.
About Economic Survey:
The Economic Survey is a detailed report of the state of the national economy in the financial year that is ending.
It is prepared by the Economic Division of the Department of Economic Affairs (DEA) under the guidance of the Chief Economic Advisor.
Once prepared, the Survey is approved by the Finance Minister.
The first Economic Survey was presented for 1950-51 and until 1964, it was presented along with the Budget.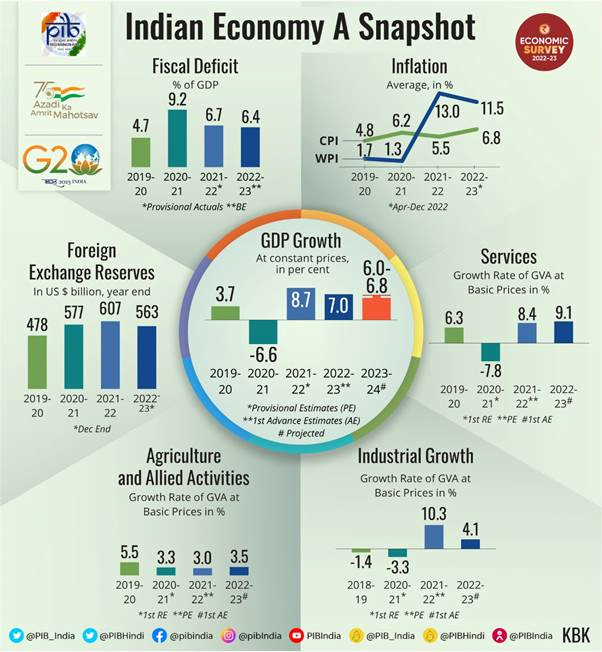 For the longest time, the survey was presented in just one volume.
Between 2010-11 and 2020-21, the survey was presented in two volumes.
Economic Survey 2022 reverted back to a single volume format.
Even though it comes just a day before the Budget, the assessment and recommendations carried in the survey are not binding on the Budget.
About Chief Economic Advisor (CEA):
The chief economic advisor, is equivalent to the rank of Secretary in the hierarchy, advises the government on economic matters.
He scripts the Economic Survey of India which is presented in Parliament by the finance minister.
Source: The Hindu
Previous Year Questions
Q.1) With reference to the Indian economy, consider the following statements:
If the inflation is too high, Reserve Bank of India (RBI) is likely to buy government securities.
If the rupee is rapidly depreciating, RBI is likely to sell dollars in the market.
If interest rates in the USA or European Union were to fall, that is likely to induce RBI to buy dollars.
Which of the statements given above are correct? (2022)
1 and 2 only
2 and 3 only
1 and 3 only
1, 2 and 3
Q.2) The money multiplier in an economy increases with which one of the following? (2021)
Increase in the Cash Reserve Ratio in the banks.
Increase in the Statutory Liquidity Ratio in the banks
Increase in the banking habit of the people
Increase in the population of the country
---
Grievance Appellate Committees (GACs)
Syllabus
Context: Recently, Central Govt established three Grievance Appellate Committees based on the recently amended Information Technology (Intermediary Guidelines and Digital Media Ethics Code) Rules, 2021 (IT Rules, 2021).
About Grievance Appellate Committees:
It is a critical piece of overall policy and legal framework to ensure that the Internet in India is Open, Safe and Trusted and Accountable.
The GAC will be a virtual Digital platform that will operate only online and digitally – wherein the entire appeal process, from filing of appeal to the decision thereof, shall be conducted digitally.
The need for GAC was created due to large numbers of grievances being left unaddressed or unsatisfactorily addressed by Internet Intermediaries.
To create a culture of responsiveness amongst all Internet Platforms and Intermediaries towards their consumers.
Users will have the option to appeal against decision of the grievance officer of the social media intermediaries and other online intermediaries before this new appellate body.
The Committee will endeavour to address the user's appeal within a period of 30 days.
The online platform will be operational in one month of this notification of the Grievance Appellate Committee, i.e. from 1st March 2023.
Periodic reviews of GACs and reporting and disclosures of GAC orders will also be part of the process.
Source:  PIB
---
Pallas's Cat
Syllabus
Prelims – Environment and Ecology
Context: First time, Pallas's cat has been discovered on Mount Everest in the Sagarmatha National Park in Nepal.
About Pallas's Cat: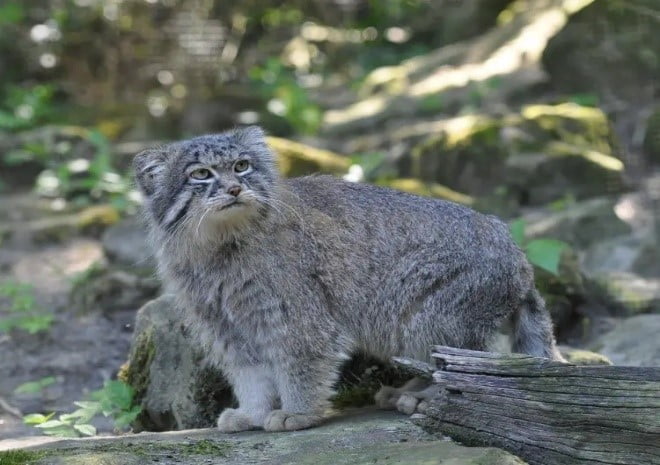 The Pallas's cat (Otocolobus manul ), also known as the manul, is a small wild cat with long and dense light grey fur.
Its rounded ears are set low on the sides of the head.
It is well camouflaged and adapted to the cold continental climate in its native range, which receives little rainfall and experiences a wide range of temperatures.
The Pallas's cat has rounded rather than vertical slit pupils, a unique feature among small cats.
It has been recorded across a large areal extent, albeit in widely spaced sites in the Caucasus, Iranian Plateau, Hindu Kush, parts of the Himalayas, Tibetan Plateau, Altai-Sayan region and South Siberian Mountains.
It inhabits rocky montane grasslands and shrublands, where the snow cover is below 15–20 cm (6–8 in).
It finds shelter in rock crevices and burrows, and preys foremost on lagomorphs and rodents.
The female gives birth to between two and six kittens in spring.
Conservation Status:

IUCN: Least concern
CITES: Appendix II
About Sagarmatha National Park
Sagarmatha is an exceptional area with dramatic mountains, glaciers and deep valleys, dominated by Mount Everest, the highest peak in the world (8,848 m) in the Solu-Khumbu district of Nepal.
The park is home to several rare species such as the snow leopard and the red panda.
A well-known destination for mountain tourism SNP was gazetted in 1976 and with over 2,500 Sherpa people living within the park has combined nature and culture since its inception.
The carefully preserved natural heritage and the dramatic beauty of the high, geologically young mountains and glaciers were recognized by UNESCO with the inscription of the park as a world heritage site in 1979.
Source Down To Earth
Previous Year Questions
Q.1) With reference to "Gucchi" sometimes mentioned in the news, consider the following statements:
It is a fungus.
It grows in some Himalayan forest areas.
It is commercially cultivated in the Himalayan foothills of north-eastern India.
Which of the statements given above is/are correct? (2022)
1 only
3 only
1 and 2
2 and 3
Q.2) With reference to India's biodiversity, Ceylon Frogmouth, Coppersmith Barbet, Gray Chinned Minivet and White-throated Redstart are  (2020)
Birds
Primates
Reptiles
Amphibians
---
Finance Commission
Syllabus
Context: The government will soon kick off the process to set up the Sixteenth Finance Commission, with the Finance Ministry likely to notify the terms of references for the constitutional body, tasked with recommending the revenue sharing formula between the Centre and States and their distribution among States, towards the latter half of this year.
About Finance Commission:
The Finance Commission is a Constitutionally mandated body that is at the centre of fiscal federalism.
It is constituted by the President Article 280 of the Constitution,
Its core responsibility is to evaluate the state of finances of the Union and State Governments, recommend the sharing of taxes between them, lay down the principles determining the distribution of these taxes among States.
Its working is characterised by extensive and intensive consultations with all levels of governments, thus strengthening the principle of cooperative federalism.
Its recommendations are also geared towards improving the quality of public spending and promoting fiscal stability.
The First Finance Commission was constituted vide Presidential Order under the chairmanship of Shri K.C. Neogy on 6th April 1952.
The Fifteenth Finance Commission was constituted on 27 November 2017 against the backdrop of the abolition of Planning Commission (as also of the distinction between Plan and non-Plan expenditure) and the introduction of the goods and services tax (GST), which has fundamentally redefined federal fiscal relations.
Core Responsibilities: It is the duty of the Commission to make recommendations to the President as to—
the distribution between the Union and the States of the net proceeds of taxes which are to be, or maybe, divided between them and the allocation between the States of the respective shares of such proceeds;
the principles which should govern the grants-in-aid of the revenues of the States out of the Consolidated Fund of India;
the measures needed to augment the Consolidated Fund of a State to supplement the resources of the Panchayats in the State on the basis of the recommendations made by the Finance Commission of the State;
the measures needed to augment the Consolidated Fund of a State to supplement the resources of the Municipalities in the State on the basis of the recommendations made by the Finance Commission of the State;
any other matter referred to the Commission by the President in the interests of sound finance.
The Commission determines its procedure and has such powers in the performance of its functions as Parliament may by law confer on them.
Source:                          The Hindu
Previous Year Questions
Q.1) In India, the Central Bank's function as the "lender of last resort" usually refers to which of the following? (2021)
Lending to trade and industry bodies when they fail to borrow from other sources
Providing liquidity to the banks having a temporary crisis
Lending to governments to finance budgetary deficits
Select the correct answer using the code given below
1 and 2
2 only
2 and 3
3 only
Q.2) Which of the following statements is/are correct regarding the Monetary Policy Committee (MPC)? (2017)
It decides the RBI's benchmark interest rates.
It is a 12-member body including the Governor of RBI and is reconstituted every year.
It functions under the chairmanship of the Union Finance Minister.
Select the correct answer using the code given below :
1 only
1 and 2 only
3 only
2 and 3 only
---
ACIC CBIT
Syllabus
In News: Dr. Chintan Vaishanv, Mission Director, Atal Innovation Mission, NITI Aayog inaugurated ACIC-CBIT centre.
ACIC-CBIT hosted the first Startup 20X event in the form of talks from four startup founders working in different areas ranging from infrastructural development, millet manufacturing, mental health and upskilling rural innovators.
Startup Policy Forum called Startup 20X has been conceptualized to democratize the basis of startups and startup ecosystems around the world to have a say in the Global Startup Policy making.
About ACIC CBIT
Aim:
ACIC-CBIT has been established with an aim to build a community innovation and entrepreneurship ecosystem to nurture innovators and startups of unserved and underserved regions.
ACIC believes and mandates the creation of a strong community innovation ecosystem to include expert mentors; access to infrastructural support such as maker space; funding facilitation; building capacities through training and mentoring.
ACIC CBIT Foundation Sectoral Areas and Targeted SDGs: Sectoral Focus Areas
Health-tech
AI/ML/IoT Based Smart Engineering Products
Renewable Energy & Environmental Sustainability
Targeted SDGs:
Good Health & Well-being (Goal 03 in UN SDGs)
Industry Innovation & Infrastructure (Goal 09 in UN SDGs)
Sustainable Cities and Communities (Goal 11 in UN SDGs)
Startups and Innovators supported till date by ACIC-CBIT
37 innovators supported
 Out of 37 start ups supported, 12 are female led
About Atal Innovation Mission (AIM):
AIM is the Government of India's endeavor to promote a culture of innovation and entrepreneurship.
Its objective is to serve as a platform for the promotion of world-class innovation hubs, grand challenges, start-up businesses, and other self-employment activities, particularly in technology-driven areas.
Source PIB
Previous Year Question
Q1) What does venture capital mean? (2014)
A short-term capital provided to industries
A long-term start-up capital provided to new entrepreneurs
Funds provided to industries at times of incurring losses
Funds provided for replacement and renovation of industries
---
Consumer price index – Industrial workers
Syllabus
In News: The All-India CPI-IW for December, 2022 decreased by 0.2 points and stood at 132.3 (one thirty two point three) points. On 1-month percentage change, it decreased by 0.15 per cent with respect to previous month compared to decrease of 0.24 per cent recorded between corresponding months a year ago.
At centre level, Lucknow and Nasik recorded a maximum decrease of 1.9 points each.
Faridabad recorded a maximum increase of 3.3 points followed by Nagpur and Tiruneveli with 3.0 and 2.4 points respectively.
CPI-IW
The Labour Bureau, an attached office of the Ministry of Labour & Employment, has been compiling Consumer Price Index for Industrial Workers every month on the basis of retail prices collected from 317 markets spread over 88 industrially important centres in the country.
The index is compiled for 88 centres and All-India and is released on the last working day of succeeding month.
Base year – 2016
The maximum downward pressure in current index came from Food & Beverages group contributing 0.52 percentage points to the total change.
Year-on-year inflation for the month stood at 5.50 per cent compared to 5.41 per cent for the previous month and 5.56 per cent during the corresponding month a year before.
Similarly, Food inflation stood at 4.10 per cent against 4.30 per cent of the previous month and 5.93 per cent during the corresponding month a year ago.
Sources: PIB
Previous Year Question
Q1) Consider the following statements: (2020)
The weightage of food in Consumer Price Index (CPI) is higher than that in Wholesale Price Index (WPI).
The WPI does not capture changes in the prices of services, which CPI does.
Reserve Bank of India has now adopted WPI as its key measure of inflation and to decide on changing the key policy rates.
Which of the statements given above is/are correct?
1 and 2 only
2 only
3 only
1, 2 and 3
---
Thalattosuchian
Syllabus
In News: Scientists have uncovered a new thalattosuchian—an ancient "cousin" of modern-day crocodiles—which could be the oldest of its kind ever discovered.
Thalattosuchian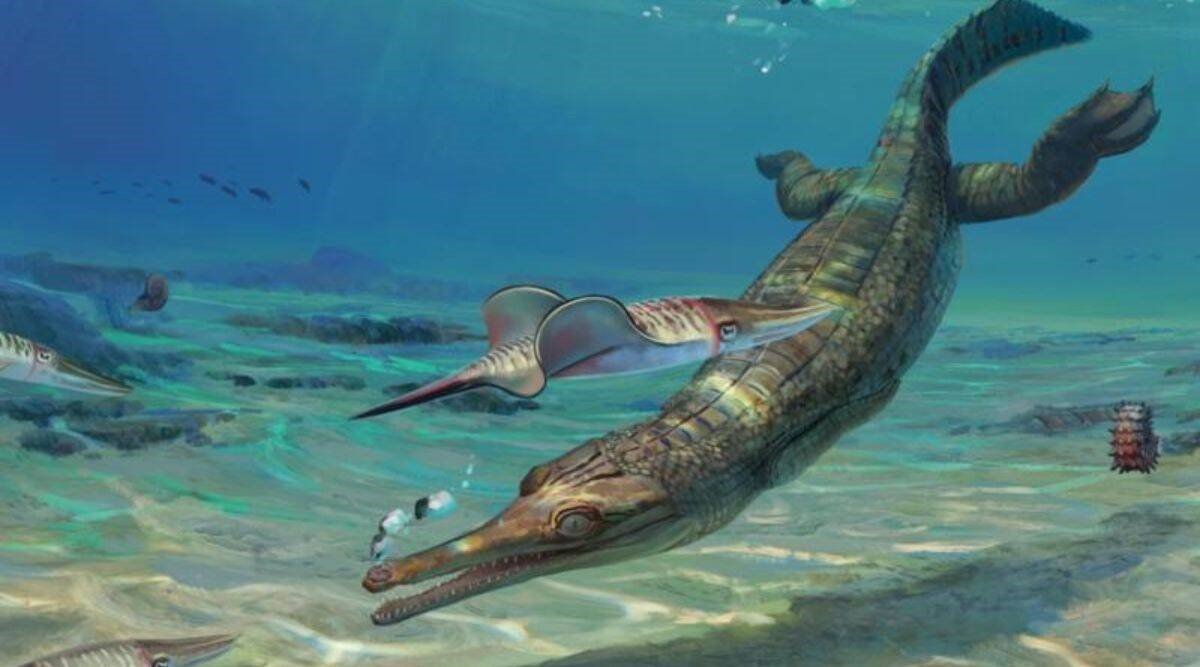 It is an ancient "cousin" of modern-day crocodiles—which could be the oldest of its kind ever discovered.
The fossils uncovered on the Jurassic Coast in the United Kingdom include part of the head, backbone, and limbs of Turnersuchus hingleyae.
Due to their relatively long, slender snouts, it is likely that they would have looked similar to the currently living gharial crocodiles.
Gharial crocodiles are usually found in the major river systems of Northern India.
Though thalattosuchians' skulls looked similar to gharial crocodiles, they were constructed differently.
The region of the skull housing jaw muscles was particularly large in the species, suggesting that they had enlarged jaw muscles that made fast bites possible.
This would have been useful considering that most of their prey were probably fast-moving fish and cephalopods like squids and octopuses.
The newly-discovered fossils of Turnersuchus hingleyae represent the only complete Thalattosuchian of its age and date back to the early Jurassic, Pliensbachian period, which was about 185 million years ago
Thalattosuchians and other crocodile-like animals could have originated around 15 million years farther than Turnersuchus.
No expedition has found Thalattosuchians in Triassic rockets yet, which means that there is a ghost lineage. This means there is a group that existed, but they do not yet have fossil evidence.
Until the discovery of the latest fossil, this ghost lineage extended from the end of the Triassic period till the Toarcian period. But now, it has been reduced by a few million years.
Source: Indian express
---
NIPUN bharat mission
Syllabus
In News: Two-day workshop for Samagra Shiksha, Kerala (SSK) Thiruvananthapuram district block resource centre (BRC) personnel in connection with implementation of the NIPUN Bharat Mission began at Neyyattinkar
NIPUN bharat mission:
Aim
The NIPUN Bharat Mission, being implemented through the Samagra Shiksha aims at identifying the limitations in foundational reading skills with comprehension and writing and doing basic mathematical operations of students in Class 3 and addressing them
About
National Initiative for Proficiency in Reading with Understanding and Numeracy mission under Ministry of Education
The mission's target is to ensure that every Class 3 student has foundational literacy and numeracy by the 2026-27 academic year.
NIPUN Bharat focuses on transforming the monotonous education system into an integrated, enjoyable, all-inclusive and engaging.
It instructs teachers or educators to prepare a study plan that develops the students' literary and basic language skills.
A district-level task force has been constituted to implement the mission successfully in the district and coordinate activities.
Surveys carried out at the national level have found that children who were in Class 1 at the start of COVID-19 and are now in Class 3 experience learning gaps.
Major initiatives
Constitution of National Steering Committee for the implementation of NIPUN Bharat Mission
Development of Vidya Pravesh Guidelines and Module for Grade I
Launch of NISHTHA-FLN for teachers and school heads of preschool to Grade V
Launch of NISHTHA ECCE for-master trainers/ resource persons for training of preschool teachers/Anganwadi workers
Conduct of Foundational Learning Study (FLS)
Creation of DIKSHA FLN portal for availability of FLN resources
Conduct of 100 Days Reading Campaign
Development of Guidelines for Parent Participation in Home-based Learning during School Closure and Beyond
Dvelopment of Guidelines for Community Engagement in Foundational Learning; Training of Academic Task Force (ATF) and District Task Force Members (DTFs)
National Conference on Initiatives in Foundational Learning: Voices from the Ground to exchange best practices, share status and understand challenges
Continuous tracking and monitoring (monthly, quarterly, annually) of the mission implementation in all the states and UTs.
Source The hindu
Previous Year Question
Q1) Atal Innovation Mission is set up under the (2019)
Department of Science and Technology
Ministry of Labour and Employment
NITI Aayog
Ministry of Skill Development and Entrepreneurship
---
Gender gap in education
Syllabus
Mains – GS 1 Women empowerment, GS 2 Development in social sectors
Context:
Crucial gains made in closing the gender gap across different undergraduate programmes suffered a setback in the pandemic year, according to the latest All India Survey on Higher Education (AISHE) released by the Education Ministry on Sunday.
The number of women for every 100 men enrolled across different Bachelor's programmes dropped in the academic year 2020-21.
For instance, a year after the gender gap in BCom closed in 2019 — there were as many women as there were male students — the AISHE report for 2020-2021 showed that this gain was lost in the subsequent year that was marred by large-scale disruptions due to the pandemic.
Positive Findings
GER is a statistical measure to determine the number of students enrolled in undergraduate, postgraduate and research-level studies within the country and is expressed as a percentage of the population in the 18-23 years age group.
The GER for women is more than the GER for men – a trend that has been on since 2017-18.
Gender Parity Index (GPI), the ratio of female GER to male GER, has increased from 1 in 2017-2018 to 1.05 in 2020-21.
At the postgraduate level, the only programme which has seen a hike in the number of women per 100 men is MCom – from 186 women in 2019 to 198 in 2020-21.
Negative Findings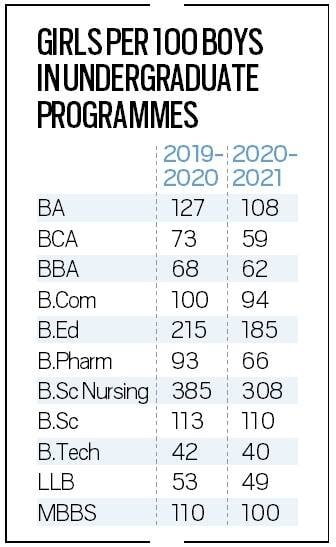 From 100 women per 100 men who registered for the BCom programme in 2019, the enrollment for women fell to 94 for every 100 men in 2020 — a dip that takes the enrollment figures closer to what it was in 2016 (93 women per 100 male students).
Similar drops were witnessed in other programmes too, including medicine where, from 110 women for every 100 men in MBBS in 2019-20, there are now 100 women in 2020-21.
Other undergraduate programmes such as pharmacy, which came close to plugging the gender gap in 2019 — 93 women for 100 men — saw a drastic drop to 66 women in 2020-21.
Undergraduate programmes such as nursing and education, which have traditionally had more women participation, also witnessed a significant fall in numbers for women – from 385 in nursing and 215 in education (for every 100 men) in 2019-20, to 308 and 185 women, respectively, in 2020-21.
The gender gap in undergraduate programmes such as computer science, business administration, pharmacy, technology and law – which have always had a gender skew in favour of men – continues to be large.
According to the latest survey, the total student enrollment in higher education went up from 3.85 crore in 2019 to about 4.13 crore in 2020-21, an increase of nearly 29 lakh. Out of the total enrolled, 51.3% or 2.12 crore are male and 48.7% are women.
Overall, the Gross Enrollment Ratio (GER) in higher education for the age group of 18 to 23 years is 27.3% as against 25.6 % in 2019-20.
At the postgraduate level, too, the number of women pursuing business administration, science, technology and commerce has gone down in 2020-21 as compared to 2019-2020.
Programmes like business administration and technology at the post-graduation level continue to be male bastions.
During 2020-21, the number of universities increased by 70 and the number of colleges increased by 1,453.
Significance of gender-balanced education
Gender-equitable education systems can contribute to reductions in school-related gender-based violence and harmful practices, including child marriage and female genital mutilation.
Education increases the likelihood that women will look after their own wellbeing along with that of their family.
Educated women in rural areas are more likely to participate in decision-making and are less likely to suffer from domestic violence.
Education gives women access to better economic opportunities, provides empowerment and enables women to have control over their lives and exert influence in society.
Each extra year of a mother's schooling reduces the probability of infant mortality by 5-10 per cent.
Challenges
Poverty means women and girls in many parts of the world are still forced to spend hours a day doing chores, fetching water and caring for relatives and boys sent over girls with limited funds
Gender gap widens with progressive levels of education owing to greater barriers to schooling that girls face due to social norms and deeply ingrained gender stereotypes correlated with biological factors such as adolescence
A tradition and culture of not valuing girls education
Cultural notions about careers appropriate for women have traditionally held back their mobility
Unsafe roads leading to schools, lack of sanitation facilities like toilets with running water in schools
Lack of security in schools: Dramatically highlighted by Malala Yousafzai, shot by the Taliban on her way to school for speaking out about education rights, and the kidnapping this year of 276 school girls by the militant Islamist movement Boko Haram and the resulting Bring Back Our Girls campaign.
Sexual violence and discrimination and are not allowed to continue school if they become pregnant or forced into child marriage.
Lack of a regulatory framework, inadequate funding, poor quality and no legislation for universal access to early childhood education continue to serve as bottlenecks in India.
Lack of female role models
Suggestions
Gender-transformative education in early childhood and gender equity is a guiding principle in the National Curriculum Framework.
A multifaceted approach to creating gender-equal environments, an approach that includes policies and practices that help fathers be equal caregivers to their children, gender-equal programmes in schools and communities, and lots of fun, gender equal content for children.
The WEF looked at four major verticals to assess gender gap in a country — economic participation, political participation, health and education levels.
Longitudinal studies estimate that every dollar invested in ECE yields over a thousand dollars in return, proving that benefits outweigh costs by an incredible margin.
The foundations for a right education must thus be established, not just by ensuring universal enrolment in early childhood education but by also focusing on how preschools impart an education that eliminates gender stereotypes and therefore, erases the gender gap.
Government schemes
Beti Bachao Beti Padhao – is a central government scheme that saves the girl child from social problems such as gender-based abortions and advance child education around the country.
Sukanya Samriddhi Yojana –  is a Government of India backed savings scheme designed for parents of girl children – to set up a trust for their child's eventual schooling and marriage expenses.
CBSE Udaan scheme for girls is implemented by the Central Board of Secondary Education, under the Ministry of Human Resources Development – to increase the student enrolment of girls in prestigious engineering and technical colleges across India.
National Scheme of Incentive to Girls for Secondary Education – is a pan India scheme operated by the Department of Education and Education – for the benefit of girls in the disadvantaged classes of India.
Once a qualifying student has been chosen, Rs. 3000 will be deposited as a fixed deposit on her behalf. This balance can be withdrawn with interest after the pupil has passed the class 10 exam and has reached the age of 18 years.
Way forward
Thirteen per cent of India's population is between 0- 6 years old. If these children are exposed to gender-equal environments, they can potentially bring about significant change.
Amartya Sen maintains that "if we continue to leave vast sections of the people of the world outside the orbit of education, we make the world not only less just, but also less secure".
Source: Indian express
---
Practice MCQs
Daily Practice MCQs
Q.1) With reference to Consumer price index – Industrial workers, consider the following statements
It is released by Department of Economic Affairs, Ministry of Finance
It considers 2001 as its base year for calculations
Which of the following statements are incorrect?
1 only
2 only
Both 1 and 2
Neither 1 nor 2
Q.2) The word 'Thalattosuchian' is sometimes mentioned in media in reference to
fossils of a kind of crocodile
an early human species
a cave system found in South India
a geological period in the history of Indian subcontinent
Q.3) Consider the following statements regarding Finance Commission of India:
It is constituted by the President Article 279 of the Constitution.
The First Finance Commission was constituted vide Presidential Order under the chairmanship of Shri N K Singh in 1952.
The Fifteenth Finance Commission was constituted in 2017 against the backdrop of the abolition of Planning Commission.
Which of the statements given above is/are correct?
1 and 2 only
2 only
3 only
1 and 3 only
Comment the answers to the above questions in the comment section below!!
ANSWERS FOR ' 1st February 2023 – Daily Practice MCQs' will be updated along with tomorrow's Daily Current Affairs
---
ANSWERS FOR 31st January

 

– Daily Practice MCQs
Answers- Daily Practice MCQs
Q.1) – b
Q.2) – a
Q.3) – b
For a dedicated peer group, Motivation & Quick updates, Join our official telegram channel – https://t.me/IASbabaOfficialAccount
Subscribe to our YouTube Channel HERE to watch Explainer Videos, Strategy Sessions, Toppers Talks & many more…