---
(PRELIMS & MAINS Focus)
---
BRICS
Syllabus
Prelims –Important International Institutions
Context: Prime Minister Narendra Modi recently discussed cooperation in BRICS (Brazil, Russia, India, China, and South Africa) with the South African President during a telephone conversation.
About BRICS (Brazil, Russia, India, China, and South Africa):-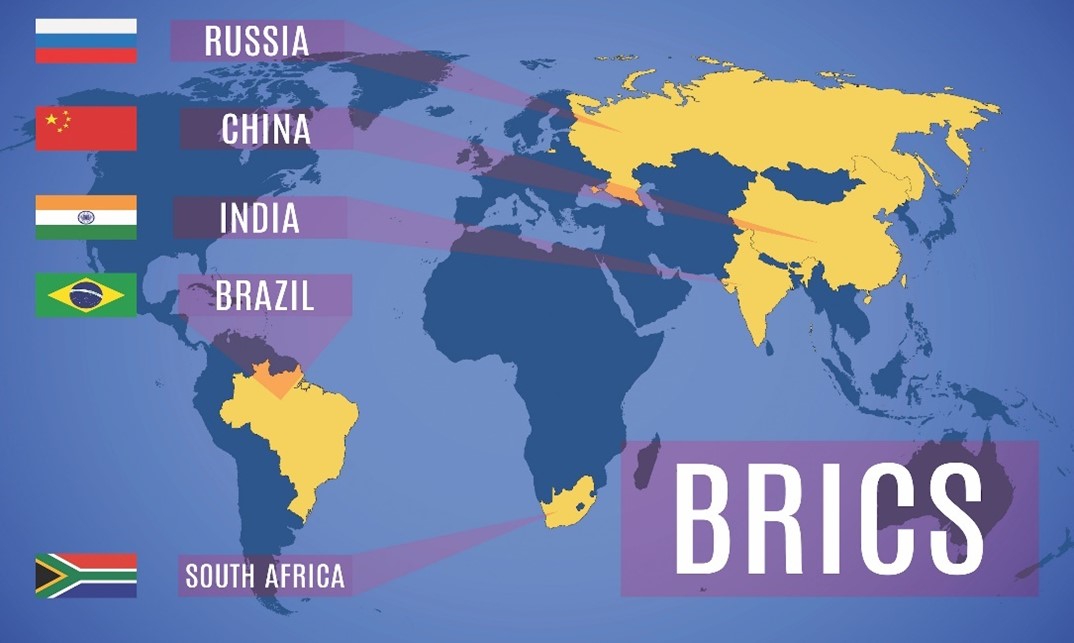 IMAGE SOURCE: PMLiVE
BRICS is an acronym for the grouping of the world's leading emerging economies, namely Brazil, Russia, India, China and South Africa. (BRICS)
Origin: the British Economist Jim O'Neill coined the term "BRIC" in 2001 to describe the four emerging economies of Brazil, Russia, India, and China.
BRICS Leaders' Summit is convened
Chairmanship is rotated annually among the members, in accordance with the acronym B-R-I-C-S.
Together, BRICS accounts for about 40% of the world's population and about 30% of the GDP (Gross Domestic Product), 16% of the global trade.
Initiatives: New Development Bank (NDB), Contingent Reserve Arrangement, BRICS Payment System Customs Agreements, Remote Sensing Satellite.
New Initiative: BRICS is planning to launch its own "new currency" system, a major step towards de-dollarization.

De-dollarization: reducing dependence on the US dollar for trade.

First BRIC Summit: the first BRICS Summit took place in 2009 in the Russian Federation.
Recent BRIC Summit: the 14th BRICS Summit was convened in 2022 in a virtual format, under the Chairmanship of (UPSC PRELIMS: BRICS – 14th Summit)
Objectives:-
To deepen, broaden and intensify cooperation within the grouping and among the individual countries for more sustainable, equitable and mutually beneficial development.
It takes into consideration each member's growth, development and poverty objectives.
It is emerging as a new and promising political-diplomatic entity with diverse objectives.
New Development Bank
Origin: During the Sixth BRICS Summit in Fortaleza ,Brazil.(2014) (UPSC CSE: NDB)
HQ: Shanghai
Key areas of operation: clean energy, transport infrastructure, irrigation, sustainable urban development and economic cooperation among the member countries.
Membership
The Agreement on the New Development Bank entered into force in July 2015, with the official declaration of all five states that have signed it. The five founding members of the Bank include Brazil, Russia, India, China and South Africa.
Bank's Articles of Agreement specify that all members of the United Nations could be members of the bank; however, the share of the BRICS nations can never be less than 55% of voting power.
According to the Bank's General Strategy: 2017–2021, the NDB plans to expand membership gradually so as not to overly strain its operational and decision-making capacity.
In September 2021, Bangladesh, the United Arab Emirates and Uruguay joined the NDB.
In December 2021, the NDB admitted Egypt as a new member.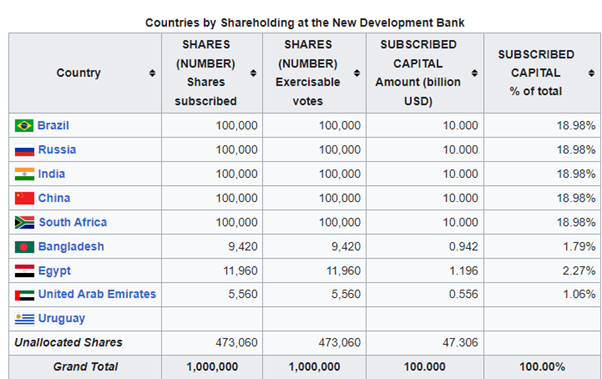 BRICS Contingent Reserve Arrangement (CRA)
It was signed by the BRICS nations in 2014 as part of the Fortaleza Declaration at the Sixth BRICS Summit.
Objective: to provide short-term liquidity support to the members through currency swaps to help mitigate the BOP crisis and further strengthen financial stability.
The initial total committed resources of the CRA will be 100 billion dollars with individual commitments as follows:
China ($41 billion),
India ($18 billion),
Brazil ($18 billion),
Russia ($18 billion) and
South Africa ($5 billion).
India and BRICS
India is a founding member of BRICS.
It conducted 13th BRICS Summit in 2021 in New Delhi.
Importance of BRICS for India:-
Nuclear Supplier Group (NSG) membership: India is engaged with the other BRICS countries on its NSG membership.
Funds for infrastructure: NDB will help India raise and avail resources for their infrastructure and sustainable development projects.
SUMMITS held in India: India hosted the 13th BRICS summit in 2021.

An agreement on BRICS Cooperation on Remote Sensing Satellite Constellation was signed.
MUST READ: BRICS | The coming together of the powerful five
SOURCE: AIR
PREVIOUS YEAR QUESTIONS
Q.1) Consider the following pairs: (2020)
International agreement/ set-up Subject
Alma-Ata Declaration – Healthcare of the people
Hague Convention – Biological and Chemical Weapons
Talanoa Dialogue – Global Climate Change
Under2 Coalition – Child Rights
Which of the pairs given above is/are correctly matched?
1 and 2 only
4 only
1 and 3 only
2, 3 and 4 only
Q.2) Consider the following statements: (2016)
New Development Bank has been set up by APEC.
The headquarters of the New Development Bank is in Shanghai.
Which of the statements given above is/are correct?
1 only
2 only
Both 1 and 2
Neither 1 nor 2
---
Agency for New and Renewable Energy Research and Technology (ANERT)
Syllabus
Prelims – Environment and Ecology
Context: The Kerala State government has recently, nominated the Agency for New and Renewable Energy Research and Technology (ANERT) as the State-level nodal agency for Green Hydrogen initiatives.
About Agency for New and Renewable Energy Research and Technology (ANERT):-
ANERT is the single nodal agency for drafting and publishing the Green Hydrogen policy for the state of Kerala. (UPSC CSE: Green Hydrogen)
A Chief Executive Officer (CEO) appointed by the Government heads ANERT.
ANERT is also the Nodal Agency for the Ministry of New and Renewable Energy Sources (MNRE), Govt. of India, to carry out the National Programmes in Kerala.
Chairman: Minister for Electricity
Supervision: ANERT is guided by a:-

Governing Body- chaired by the Minister for Electricity, Kerala and
Executive Committee- chaired by the Additional Chief Secretary to Government/ Principal Secretary.

Power Department, Government of Kerala provides guidelines for ANERT's activities in various energy-related areas.
Objectives of ANERT:-
To identify, formulate, implement and implementation of projects aimed at providing energy requirements of the State of Kerala.
Evolving long-term plans based on harnessing solar energy, wind energy, wave energy, biogas, biomass, energy plantations, micro and mini hydel projects, improved chulahs etc.
To identify, formulate, implement and support the implementation of a broad-based energy conservation program including the conservation of energy at the source of generation, at the state of distribution and/ or its utilization.
To provide technical, financial or other assistance for popularization and creation of awareness on alternative sources of energy, energy conservation and rural technologies.
To undertake or sponsor training programs, seminars workshops etc. on non-conventional sources of energy, energy conservation, and rural technology.
To sponsor, co-ordinate or promote research programs or projects of a development nature involving the development of prototypes, pilot plant investigation in the area of alternative and new sources of energy and rural technologies, and
PROGRAMMES under ANERT:-
Solar Photovoltaic Programmes
Wind energy
Solar Thermal Programme
Improved chulhas
Training and extension
Other programmes
Bioenergy
Green Hydrogen
Green Hydrogen is produced by electrolysis using renewable energy.
Electricity splits water into hydrogen and oxygen.
By Products: Water, Water Vapor.
It is called 'green hydrogen' because has no carbon footprint. (UPSC CSE: G)
Other Types of hydrogen:-

Brown hydrogen: produced using coal where the emissions are released into the air. (UPSC CSE: Coal based Hydrogen)
Blue hydrogen: produced from natural gas, where the emissions are captured using carbon capture and storage.
Significance of Green Hydrogen for India:-
Green hydrogen can drive India's transition to clean energy and combat climate change.
Green hydrogen energy is vital for India to meet its Nationally Determined Contribution (INDC) Targets.

Under the Paris Climate Agreement, India pledged to reduce the emission intensity of its economy by 33-35% from 2005 levels by 2030.

It will reduce import dependency on fossil fuels.
The localisation of electrolyser production and the development of green hydrogen projects can create a new green technologies market in India worth $18-20 billion and thousands of jobs.
Advantages of green hydrogen:-
Environment Friendly: Green Hydrogen as an energy source is seen as the next big thing as its usage would lead to zero emissions
Potential to decarbonise various sectors: It is a clean burning molecule, which can decarbonise a range of sectors including iron and steel, chemicals, and transportation.
Efficient utilization of Renewable Energy: Renewable energy that cannot be stored or used by the grid can be channelled to produce hydrogen. (UPSC CSE: National Green Hydrogen Mission)
Applications of green hydrogen:-
It can be used in fuel cells to generate electricity, or power and heat.
MUST READ: India's first pure green hydrogen plant commissioned
SOURCE: THE HINDU
PREVIOUS YEAR QUESTIONS
Q.1) "Climate Action Tracker" which monitors the emission reduction pledges of different countries is a : (2022)
Database created by a coalition of research organisations
Wing of "International Panel of Climate Change"
Committee under "United Nations Framework Convention on Climate Change"
Agency promoted and financed by United Nations Environment Programme and World Bank
Q.2) Consider the following statements: (2022)
The Climate Group is an international non-profit organisation that drives climate action by building large networks and running them.
The International Energy Agency in partnership with the Climate Group launched a global initiative "EP100".
EP100 brings together leading companies committed to driving innovation in energy efficiency and increasing competitiveness while delivering on emission reduction goals.
Some Indian companies are members of EP100.
The International Energy Agency is the Secretariat to the "Under2 Coalition".
Which of the statements given above is correct?
1,2, 4 and 5
1,3 and 4 only
2,3 and 5 only
1,2, 3, 4 and 5
---
French Open
Syllabus
Context: In the recently held French Open 2023, Novak Djokovic created history by becoming first man to reach the 23 grand slam title mark.
About French Open:-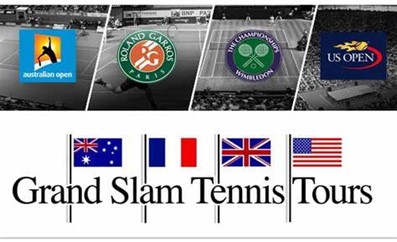 IMAGE SOURCE: sportycious.com
The French Open is a major tennis tournament.
It is one of the four Grand Slams in Tennis.
It is also known as Roland-Garros.

The tournament and venue are named after the French aviator Roland Garros.
Roland Garros: was a French aviation pioneer and fighter pilot.

Scheduled Time: two weeks, beginning in late May each year.
Location: the Stade Roland Garros in Paris, France
The French Open is the premier clay court championship in the world. (UPSC MAINS: Sports and Ethics)
The French Open tournaments were not considered a Grand Slam before 1924 – 1925.
French Open 2023 winners:-

Men's singles: Novak Djokovic (Serbia)
Women's: Iga Swiatek (Poland)
Grand Slam tournaments
The Grand Slam tournaments consist of the following:-

Australian Open: in mid-January,
French Open or Roland Garros: around late May,
Wimbledon: in June end, and
US Open tennis: at the end of August.

The four annual tennis tournaments are collectively called the Grand Slam, also known as majors.
Operated by: the International Tennis Federation (ITF).
Historical Timeline:-

Wimbledon Tennis: is the oldest, founded in
US Open: founded in 1881
French Open: founded in 1891
Australian Open: founded in
MUST READ: India and France relations
SOURCE: AIR
PREVIOUS YEAR QUESTIONS
Q.1) Which of the following adopted a law on data protection and privacy for its citizens known as the 'General Data Protection Regulation' in April 2016 and started the implementation of its from 25th May 2018? (2019)
Australia
Canada
The European Union
The United States of America
Q.2) "Rule of Law Index" is released by which of the following? (2018)
Amnesty International
International Court of Justice
The Office of UN Commissioner for Human Rights
World Justice Project
---
India's Fisheries Sector
Syllabus
Context: Recently, the Union Minister for Fisheries, Animal Husbandry and Dairying stressed the need for strengthening marketing in the fisheries sector, by evolving a system similar to that of agriculture marketing.
About India's Fisheries Sector:-
India is the third-largest fish producer and the second-largest aquaculture producer
The Indian Blue Revolution has led to a major improvement in the fishing and aquaculture industries.

Blue Revolution: it refers to the time of intense growth of the worldwide aquaculture industry from the mid-1960s to the present day.
It was launched in India during the seventh Five Year Plan (FYP), from 1985 to 1990.

These industries are regarded as sunrise sectors and are anticipated to have a big impact on the Indian economy.

Sunrise sectors: is a term used for a sector that is just in its infancy but shows promise of a rapid boom.
Recent trends in the Fisheries sector:-
In the recent past, Indian fisheries have witnessed a paradigm shift from marine-dominated fisheries to inland fisheries, with the latter emerging as a major contributor to fish production from 36% in the mid-1980 to 70% in the recent past.
The Fish production reached an all-time high of 16.25 MMT during FY 2021-22.
The marine exports touched Rs. 57,586 Crores. (UPSC CSE: Agreement on Fisheries Subsidies (Agreement))
Top Fish Producing States:-

Andhra Pradesh is the largest producer of fish in India followed by West Bengal.
Challenges of the Fisheries Sector:-
Illegal, Unreported, and Unregulated (IUU) fishing: it exacerbates overfishing and undermines the sustainability of the sector.

IUU fishing involves activities such as fishing without proper licenses, using banned gear, and disregarding catch limits.

Inadequate Infrastructure and Technology: Outdated fishing vessels, gear, and processing facilities hinder the efficiency and productivity of the sector. Insufficient cold storage and transportation infrastructure result in post-harvest losses.
Climate Change and Environmental Degradation: Rising sea temperatures, ocean acidification, and changing currents have a profound impact on marine ecosystems and fish populations.
Socio-Economic Issues: a large number of small-scale and artisanal fishers who face multiple socio-economic challenges characterizes the fisheries sector in India.

These challenges include low incomes, lack of access to credit and insurance, inadequate social security measures

Gender disparities and the marginalization of women in fisheries also pose challenges.
Market Access and Value Chain Inefficiencies: Despite India's significant fish production, there are challenges in accessing domestic and international markets.
MUST READ: Agriculture Reforms
SOURCE: AIR
PREVIOUS YEAR QUESTIONS
Q.1) With reference to organic farming in India, consider the following statements: (2018)
'The National 'Programme for Organic Production' (NPOP) is operated under the guidelines and 'directions of the Union Ministry of Rural Development.
'The Agricultural and Processed Food Product Export Development Authority '(APEDA) functions as the Secretariat for the implementation of NPOP.
Sikkim has become India's first fully organic State.
Which of the statements given above is/are correct?
1 and 2 only
2 and 3 only
3 only
1, 2 and 3
Q.2) Consider the following statements: The nationwide 'Soil Health Card Scheme' aims at (2017)
Expanding the cultivable area under irrigation.
Enabling the banks to assess the quantum of loans to be granSted to farmers based on soil quality.
Checking the overuse of fertilizers in farmlands.
Which of the above statements is/are correct?
1 and 2 only
3 only
2 and 3 only
1, 2 and 3
---
Proterozoic Eon
Syllabus
Context: Recently discovered molecular fossils from the Proterozoic Eon may open the window to the 'lost world' of primordial life.
About Proterozoic Eon:-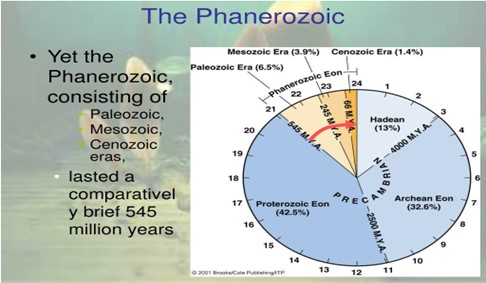 IMAGE SOURCE: SlideServe
Proterozoic Eon was the last aeon of the Precambrian supereon.

Precambrian era: it spans Era (4500–544 Ma) and includes almost 90% of Earth's history.
Eon (or aeon): is a term in Earth science for the longest periods of time.
Era: it is a very long span of geologic time; the second longest portion of geological time.

It spans from the time of the appearance of oxygen in Earth's atmosphere to just before the proliferation of complex life (such as corals) on the Earth.
Major Events in the Proterozoic Eon:-
Bacteria began producing oxygen, leading to the sudden rise of life forms.
Eukaryotes (have a nucleus), emerge, including some forms of soft-bodied multicellular.
Earlier forms of fungi formed around this time.
The early and late phases of this aeon may have undergone Snowball Earth periods.

Snowball Earth periods: when Earth suffered below-zero temperatures, extensive glaciation and as a result drop in sea levels.

It was a very tectonically active period in the Earth's history. (UPSC CSE: PLATE TECTONICS)
It featured the first definitive supercontinent cycles and modern mountain buildings. (UPSC MAINS: principles of plate tectonics)
It is believed that 43% of modern continental crust was formed in the Proterozoic, 39% formed in the Archean and only 18% in the Phanerozoic.
In the late Proterozoic (most recent), the dominant supercontinent was Rodinia.
MUST READ: Abnormal' dinosaur egg in India
SOURCE: THE INDIAN EXPRESS
PREVIOUS YEAR QUESTIONS
Q.1) Consider the following statements: (2020)
Coal ash contains arsenic, lead and mercury.
Coal-fired power plants release sulphur dioxide and oxides of nitrogen into the environment.
High ash content is observed in Indian coal.
Which of the statements given above is/are correct?
1 only
2 and 3 only
3 only
1, 2 and 3
Q.2) With reference to the management of minor minerals in India, consider the following statements: (2019)
Sand is a 'minor mineral' according to the prevailing law in the country.
State Governments have the power to grant mining leases of minor minerals, but the powers regarding the formation of rules related to the grant of minor minerals lie with the Central Government.
State Governments have the power to frame rules to prevent the illegal mining of minor minerals.
Which of the statements given above is/are correct?
1 and 3 only
2 and 3 only
3 only
1, 2 and 3
---
First Loss Default Guarantee (FLDG) system
Syllabus
Context: The Reserve Bank of India (RBI) has recently allowed the First Loss Default Guarantee (FLDG) system in the digital lending space.
About the First Loss Default Guarantee (FLDG) system:-
First Loss Default Guarantee (FLDG) is also known as default loss guarantee (DLG).
FLDG is a lending model between a fintech and a regulated entity.
It is a safety-net arrangement among banks, non-banking finance companies (NBFC), and lending service providers (LSPs), popularly known as fintech players) in the digital lending space.

NBFC: a company incorporated under the Companies Act 2013 or 1956. (UPSC MAINS: Company's Act,2013)
They offer various banking services but do not have a banking license.

Under this, a third party guarantees to compensate up to a certain percentage of default.

The fintech originates a loan and promises to compensate the partners up to a pre-decided percentage in case customers fail to repay.
Advantages:-
The credit risk is borne by the Lending service providers (LSPs) without having to maintain any regulatory capital.
The loan portfolio backed by FLDG is akin to the off-balance sheet portfolio of the LSP wherein the nominal loans sit in the books of the lender without having to partake in any lending process.
FLDG helps expand the customer base of traditional lenders but relies on the fintech's underwriting capabilities.
Disadvantage:-
FLDG costs are often passed on to customers.
FinTech
The term "FinTech" is a combination of the words "finance" and "technology".

Fintech refers to the integration of technology into offerings by financial services companies to improve their use and delivery to consumers.

It primarily works by unbundling offerings by such firms and creating new markets for them.
Benefits: Companies in the finance industry that use fintech have expanded financial inclusion and use technology to cut down on operational costs.
Challenges: Fintech funding is on the rise, but regulatory problems exist.
Fintech applications: robo-advisors, payment apps, peer-to-peer (P2P) lending apps, investment apps, and crypto apps, among others.
Lending service providers (LSPs)
They are new-age players who use technology platforms in the lending space.
They are agents of a bank or NBFC. (UPSC CSE: RBI suggests a tougher regulatory framework for NBFCs)
They carry out one or more of a lender's functions (in part or full) in customer acquisition, underwriting support, pricing support, disbursement, servicing, monitoring, and recovery of specific loans or loan portfolios on behalf of REs as per the outsourcing guidelines of the RBI.
MUST READ: Empowering Rural Women FINTECH
SOURCE: THE INDIAN EXPRESS
PREVIOUS YEAR QUESTIONS
Q.1) With reference to foreign-owned e-commerce firms operating in India, which of the following statements is/are correct? (2022)
They can sell their own goods in addition to offering their platforms as marketplaces.
The degree to which they can own big sellers on their platforms is limited.
Select the correct answer using the code given below:
1 only
2 only
Both 1 and 2
Neither 1 nor 2
Q.2) With reference to Ayushman Bharat Digital Mission, consider the following statements: (2022)
Private and public hospitals must adopt it.
As it aims to achieve universal health coverage, every citizen of India should be part of it ultimately.
It has seamless portability across the country.
Which of the statements given above is/are correct?
1 and 2 only
3 only
1 and 3 only
1, 2 and 3
---
World Food Programme (WFP)
Syllabus
Prelims –Important Institutions
Context: Recently, World Food Programme (WFP) suspended food aid to Ethiopia after the diversion of supplies.
About World Food Programme (WFP):-
It is the leading humanitarian organization saving lives and changing lives, delivering food assistance in emergencies and working with communities to improve nutrition and build resilience.
It was founded in 1961. (UPSC CSE: WFP)
Founded by: Food and Agriculture Organization (FAO) and United Nations General Assembly (UNGA)
HQ: Rome, Italy.
Funding: The WFP has no independent source of funds; it is funded entirely by voluntary donations.
It is governed by the WFP Executive Board, which consists of 36 Member States and provides intergovernmental support, direction and supervision of WFP's activities.
Head: an Executive Director, who is appointed jointly by the UN Secretary-General and the Director-General of the Food and Agriculture Organization of the United Nations.
It is also a member of the United Nations Sustainable Development Group (UNSDG),

UNSDG: a coalition of UN agencies and organizations aimed at fulfilling the Sustainable Development Goals (SDGs).

WFP works in over 120 countries and territories to bring life-saving food to people displaced by conflict and made destitute by disasters.
In 2020, it was awarded the Nobel Prize for Peace for its efforts to combat hunger, and for its contribution to bettering conditions for peace in conflict-affected areas.
It works closely with:-

Food and Agriculture Organization (FAO): a specialized agency of the United Nations that leads international efforts to defeat hunger.
The International Fund for Agricultural Development (IFAD): a UN-specialized agency which finances projects in poor rural areas.
Objectives:-
WFP focuses on emergency assistance as well as rehabilitation and development aid.
Two-thirds of its work is in conflict-affected countries, where people are three times more likely to be undernourished than elsewhere.
To end hunger by protecting access to food.
Improving nutrition and achieving food security.
Supporting the SDG implementation and partnering for its results.
MUST READ: Ukraine War and the Global Food Crisis
SOURCE: AIR
PREVIOUS YEAR QUESTIONS
Q.1) Consider the following pairs: (2020)
International agreement/ set-up Subject
Alma-Ata Declaration – Healthcare of the people
Hague Convention – Biological and Chemical Weapons
Talanoa Dialogue – Global Climate Change
Under2 Coalition – Child Rights
Which of the pairs given above is/are correctly matched?
1 and 2 only
4 only
1 and 3 only
2,3 and 4 only
Q.2) Consider the following statements: (2019)
The United Nations Convention against Corruption (UNCAC) has a 'Protocol against the
Smuggling of Migrants by Land, Sea and Air.
The UNCAC is the ever-first legally binding global anti-corruption instrument.
A highlight of the United Nations Convention against Transnational Organized Crime (UNTOC) is the inclusion of a specific chapter aimed at returning assets to their rightful owners from whom they had been taken illicitly.
The United Nations Office on Drugs and Crime (UNODC) is mandated by its members
States to assist in the implementation of both UNCAC and UNTOC.
Which of the statements given above is correct?
1 and 3 only
2, 3 and 4 only
2 and 4 only
1, 2, 3 and 4
---
Non-Communicable Diseases
Syllabus
Mains – GS 2 (Governance)
Context: For a State which takes immense pride in consistently coming at the top in the health index rankings of NITI Aayog every year, the findings of the ICMR-INDIAB study, which puts Kerala right on top with the worst overall indicators for long-term morbidity and mortality due to non-communicable diseases (NCD), has come a cropper.
About Non-Communicable Diseases (NCD):
Noncommunicable diseases (NCDs), also known as chronic diseases, tend to be of long duration and are the result of a combination of genetic, physiological, environmental and behavioural factors.
The main types of NCD are cardiovascular diseases (such as heart attacks and stroke), cancers, chronic respiratory diseases (such as chronic obstructive pulmonary disease and asthma) and
Causes :
The rise of NCDs has been driven by tobacco, harmful use of alcohol, unhealthy diet, insufficient physical activity, overweight/obesity, raised blood pressure, raised blood sugar and raised cholesterol.
Consequences :
The epidemic of NCDs poses devastating health consequences for individuals, families and communities, and threatens to overwhelm health systems.
The socioeconomic costs associated with NCDs make the prevention and control of these diseases a major development imperative for the 21st century.
The diseases kill 7 out of 10 people globally from risk factors like tobacco, alcohol, unhealthy diet, physical inactivity and air pollution.
Apart from the lives they take, NCDs take a heavy toll on economies, cutting down people in their most productive years.
Kerala's case study:
Kerala has known since the mid or late 90s that NCDs are going to be its biggest health challenge.
A current diabetes prevalence of nearly 24%, pre-diabetes at 18.1% and hypertension prevalence at a whopping 44%, is certainly not the picture of a healthy State.
With more than half the State's population having high cholesterol levels and abdominal obesity, the incidence of cardiovascular diseases and chronic kidney diseases could skyrocket in the near future and have significant impact on the State's health expenditure as well as private spending on catastrophic illnesses.
Data Analysis for India
According to the study report "India: Health of the Nation's States"- The India State-Level Disease Burden Initiative in 2017 by Indian Council of Medical Research (ICMR), it is estimated that the proportion of deaths due to Non-Communicable Diseases (NCDs) in India have increased from 37.9% in 1990 to 61.8% in 2016.
The four major NCDs are cardiovascular diseases (CVDs), cancers, chronic respiratory diseases (CRDs) and diabetes which share four behavioural risk factors –unhealthy diet, lack of physical activity, and use of tobacco and alcohol.
Indian initiatives for tackling NCDs:
National Programme for Prevention and Control of Cancer, Diabetes, Cardiovascular Diseases and Stroke (NPCDCS) is being implemented under the National Health Mission (NHM).
The Central Government is implementing the Strengthening of Tertiary Care Cancer facilities scheme to support the setting up of State Cancer Institutes (SCI) and Tertiary Care Centres (TCCC) in different parts of the country.
Oncology in its various aspects has a focus in case of new AIIMS and many upgraded institutions under Pradhan Mantri Swasthya Suraksha Yojana (PMSSY).
Affordable Medicines and Reliable Implants for Treatment (AMRIT) Deendayal outlets have been opened at 159 Institutions/Hospitals with an objective to make available Cancer and Cardiovascular Diseases drugs and implants at discounted prices to the patients.
Jan Aushadhi stores are set up by the Department of Pharmaceuticals to provide generic medicines at affordable prices.
Way Forward:
Achieving the SDG target by reducing one-third of premature mortalities due to NCD will make India more resilient to future viral pandemics. Thus, India must strengthen its health infrastructure through the Aatmanirbhar Swasth Bharat programme.
Source:     The Hindu
---
Self-reliance in Fertilisers
Syllabus
Mains – GS 2 (Governance)
Context: "When the world is in crisis, we must pledge — a pledge that is greater than the crisis itself. We must endeavour to make the 21st century, India's century and the path to achieving this is self-reliance. The above statement of Indian prime minister Modi reflects the vision of India for Aatmanirbhar.
Fertilizer Consumption in India:
India's fertiliser consumption in FY20 was about 61 million tonnes — of which 55% was urea—and is estimated to have increased by 5 million tonnes in FY21.

Since non-urea (MoP, DAP, complex) varieties cost higher, many farmers prefer to use more urea than actually needed.
The government has taken a number of measures to reduce urea consumption. It introduced neem-coated urea to reduce illegal diversion of urea for non-agricultural uses. It also stepped up the promotion of organic and zero-budget farming.

Currently, the fertiliser production of the country is 42-45 million tonnes, and imports are at around 18 million tonnes.
Subsidy on Urea: The Centre pays subsidy on urea to fertiliser manufacturers on the basis of cost of production at each plant and the units are required to sell the fertiliser at the government-set Maximum Retail Price (MRP).
Subsidy on Non-Urea Fertilisers: The MRPs of non-urea fertilisers are decontrolled or fixed by the companies. The Centre, however, pays a flat per-tonne subsidy on these nutrients to ensure they are priced at "reasonable levels".

Examples of non-urea fertilisers: Di-Ammonium Phosphate (DAP), Muriate of Potash (MOP).
All Non-Urea based fertilisers are regulated under Nutrient Based Subsidy Scheme.
Challenges of the sector:
High government subsidies such as on Urea and DAP
About 73 lakh crore or 5 percent of GDP, the second-highest after food
Companies are obliged to sell at MRP, with their higher cost of production or imports being reimbursed as subsidy by the Centre.
Small Farmer Inability to derive full benefits: Only 17,500 crores or 35 per cent of total fertiliser subsides reaches small farmers.
Heavy Import dependence:
Entire potash requirement, about 90 per cent of phosphatic requirement, and 20 per cent urea requirement is met through imports.
The use of nitrogen (N), phosphorous (P) and potassium (K) in the country has over the last few years sharply deviated from the ideal NPK use ratio of 4:2:1.

This causes worsening of soil quality.

Imbalance in application: MOP, which contains 60% K, has a high MRP so farmers have no incentive today to apply the same.
Environmental concerns:
nutrient imbalance owing to their use — disproportionate to other, more expensive fertilisers — could have implications for soil health, ultimately affecting crop yields.
The India Fertilizers Market is fragmented, with the top five companies occupying 28.93%.
Black market and corruption:
Urea is highly regulated and is only subsidised for agriculture
This creates a black market that burdens small farmers disproportionately; incentivises production inefficiency, leads to over-use, depleting soil quality and damaging human health.
Government Initiatives and Schemes:
Neem Coating of Urea:
The Department of Fertilizers (DoF) has made it mandatory for all the domestic producers to produce 100% urea as Neem Coated Urea (NCU).
The benefits of use of NCU are as under:
Improvement in soil health.
Reduction in usage of plant protection chemicals.
Reduction in pest and disease attack.
An increase in yield of paddy, sugarcane, maize, soybean, Tur/Red Gram.
Negligible diversion towards non-agricultural purposes.
Due to slow release of Nitrogen, Nitrogen Use Efficiency (NUE) of Neem Coated Urea increases resulting in reduced consumption of NCU as compared to normal urea.
New Urea Policy (NUP) 2015: Objectives of the policy are
To maximize indigenous urea production.
To promote energy efficiency in the urea units.
To rationalize the subsidy burden on the Government of India.
New Investment Policy- 2012:
The Government announced New Investment Policy (NIP)-2012 in January, 2013 and made amendments in 2014 to facilitate fresh investment in the urea sector and to make India self-sufficient in the urea sector.
Policy on Promotion of City Compost:
The Government of India approved a policy on promotion of City Compost, notified by the DoF in 2016 granting Market Development Assistance of Rs. 1500/- for scaling up production and consumption of city compost.
To increase sales volumes, compost manufacturers willing to market city compost were allowed to sell city compost in bulk directly to farmers.
Fertilizer companies marketing city compost are covered under the Direct Benefit Transfer (DBT) for Fertilizers.
Use of Space Technology in Fertilizer Sector:
DoF commissioned a three year Pilot Study on "Resource Mapping of Rock Phosphate using Reflectance Spectroscopy and Earth Observations Data" by National Remote Sensing Centre under ISRO, in collaboration with Geological Survey of India (GSI) and the Atomic Mineral Directorate (AMD).
The Nutrient Based Subsidy (NBS) Scheme:
It has been implemented from April 2010 by the DoF.
Under NBS, a fixed amount of subsidy decided on an annual basis, is provided on each grade of subsidized Phosphatic & Potassic (P&K) fertilizers depending on its nutrient content.
It aims at ensuring the balanced use of fertilizers, improving agricultural productivity, promoting the growth of the indigenous fertilizers industry and also reducing the burden of Subsidy.
Way Forward:
The Department of Fertilisers has positioned India as a key player in the global fertiliser supply chain. India's bold move towards self-reliance in fertiliser is a testament to the government's commitment to ensuring food security for its citizens and fulfilling PM Modi's vision of an Aatmanirbhar Bharat.
Source:   Indian Express
---
Practice MCQs
Daily Practice MCQs
Q1. Consider the following statements regarding Green Hydrogen:
Its Products include Water, Water Vapor.
It has zero carbon footprint.
It can be used in fuel cells to generate electricity
Which of the statements given above is/are correct?
1 and 3 only
2 only
3 only
1,2, and 3
Q2. Consider the following statements regarding the World Food Programme (WFP ):
It's Headquartered in Rome.
It was founded by Food and Agriculture Organization (FAO) only.
In 2020, it was awarded the Nobel Prize for Peace.
Which of the statements given above is/are incorrect?
1 and 3 only
2 only
3 only
1,2, and 3
Q3. Consider the following statements regarding the Proterozoic Eon:
Complex form fungi formed around this time.
It was a tectonically active period.
Bacteria began producing oxygen during this period.
Which of the statements given above is/are correct?
2 and 3 only
2 only
3 only
1,2, and 3
Comment the answers to the above questions in the comment section below!!
ANSWERS FOR ' 12th June 2023 – Daily Practice MCQs' will be updated along with tomorrow's Daily Current Affairs.st
---
ANSWERS FOR 9th June

 

– Daily Practice MCQs
Answers- Daily Practice MCQs
Q.1) – d
Q.2) – c
Q.3) -a
For a dedicated peer group, Motivation & Quick updates, Join our official telegram channel – https://t.me/IASbabaOfficialAccount
Subscribe to our YouTube Channel HERE to watch Explainer Videos, Strategy Sessions, Toppers Talks & many more…