IAS UPSC Prelims and Mains Exam – 5th June 2020
---
(PRELIMS + MAINS FOCUS)
---
Part of: GS-Prelims and GS-II – International Relations; Effect of Policies and Politics of Developed and Developing Countries on India's interests
In News:
An agreement has been finalised between China and Pakistan to implement the

Kohala hydroelectric power

project under the

China-Pakistan Economic Corridor

(CPEC).
Key takeaways 
The project will be set up in

Pakistan-occupied Kashmir (PoK)

.

It will be built on the

Jhelum River

. 

Once completed, it will provide more than 5 billion units of

clean and low-cost electricity

for consumers in Pakistan.

Earlier, India had protested Pakistan's plans to build a dam in Gilgit-Baltistan region. 
Important value additions 
China-Pakistan Economic Corridor (CPEC)
It is a collection of

infrastructure projects

that are under construction throughout Pakistan since 2013. 

It is intended to rapidly

upgrade

Pakistan's required

infrastructure

and

strengthen

its

economy

by the construction of modern transportation networks, numerous energy projects, and special economic zones. 

It is a 3,000-km-long corridor which is aimed at

connecting China and Pakistan

with rail, road, pipelines and optical cable fiber networks.

It connects China's

Xinjiang province

with Pakistan

Gwadar port

, providing access to China to the Arabian Sea. 

The CPEC passes through PoK, over which

India has conveyed its protests

to China.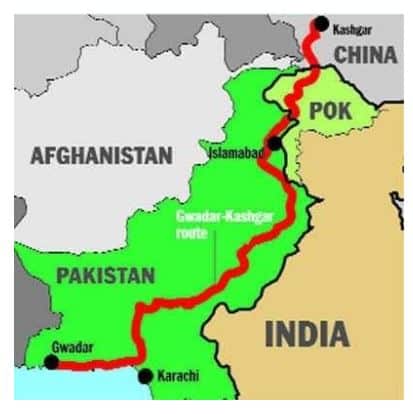 Image source: Click here 
---
Part of: GS-Prelims and GS-II – Welfare Schemes & GS-III – Employment
In News:
The Indian Government has launched a new initiative

SWADES (Skilled Workers Arrival Database for Employment Support)

. 

The scheme will conduct a

skill mapping exercise

of the returning citizens under the

Vande Bharat Mission

.
Key takeaways 
This is a joint initiative of the

Ministry of Skill Development and Entrepreneurship

,

Civil Aviation Ministry

and

External Affairs Ministry

.

It aims to create a

database of qualified citizens

based on their skills and experience. 

The collected information will be shared with the companies for

suitable placement

opportunities in the country.

The returning citizens are required to fill up an online

SWADES Skills Card

which will help the citizens with job prospects and

bridge the demand-supply gap

.
---
Part of: GS-Prelims and GS-III – Economy (FDI)
In News:
"Empowered Group of Secretaries (EGoS) and Project Development Cells (PDCs) in Ministries/Departments of Government of India for attracting investments in India" recently received approval for its set up. 
Key takeaways 
Empowered Group of Secretaries (EGoS)
Objective is to provide

investment support

to global investors by bringing synergies and to ensure

timely clearances

from different departments and Ministries.

Composition:

Cabinet Secretary (Chairperson)

Secretary, Department for Promotion of Industry and Internal Trade (Member Convenor)

CEO, Niti Aayog (Member)

Secretary, Department of Commerce (Member) 

Secretary, Department of Revenue (Member)

Secretary, Department of Economic Affairs (Member)

Secretary of Department concerned (to be co-opted)
Project Development Cell (PDC)
The cell will be set up for the

development of investible projects

in coordination between the Central Government and State Governments. 

This will lead to increase in the number of investible projects in India and in turn

increase FDI inflows

.
---
Part of: GS-Prelims and GS-II – Health
In News:
Pharmacopoeia Commission for Indian Medicine & Homoeopathy

(PCIM&H) recently received approval to be re-established as Subordinate Office under the

Ministry of AYUSH

.
Key takeaways 
Presently, PCIM&H is an

autonomous body

under AYUSH Ministry since 2010.

Pharmacopoeia Laboratory for Indian Medicine (PLIM) and Homoeopathic Pharmacopoeia Laboratory (HPL) shall be merged under the Commission. 

The merger is aimed at

optimising the use of resources

for enhancing the standardisation outcomes of Ayurveda, Siddha, Unani and Homoeopathy drugs. 

Legal status

shall be accorded to the merged structure by making amendments to Drugs & Cosmetics Rules, 1945. 
---
Part of: GS-Prelims and GS-III – Agriculture; Biotechnology
In News:
Fusarium wilt TR4

, a novel fungus strain, has devastated banana plantations across the globe. 

Its new hotspots have been found in India too which is threatening output.
Key takeaways 
The strain,

Tropical Race 4 (TR4)

, was first identified in Taiwan. 

It cripples plantations by first

attacking

the

leaves

, which turn yellow from their trailing edges before wilting away. 

There is no effective remedy yet. 

According to the

Food and Agriculture Organization

(FAO), TR4 is one of the

most destructive

of all plant diseases. 

It has infected the most commonly sold variety:

Grand Nain

(musa acuminata), a curvy yellow fruit.

Scientists recommend biosecurity measures such as plant quarantine,

bio priming

to slow its spread.

In India, hotspots have been found in

Bihar

and

Uttar Pradesh

. 

Inability to contain TR4 could

jolt farm incomes

and

push up

banana

prices. 

It has already jeopardised the $26 billion global banana trade. 

The Indian Council of Agricultural Research has asked farmers to abandon farms whose plantations have been affected . 

They must grow rice for a year or two before returning to growing bananas. That way the chain gets broken.
Important value additions 
Fusarium wilt
It is a common vascular wilt fungal disease.

It is caused by

Fusarium oxysporum.
Hosts

: Tomato, tobacco, legumes, cucurbits, sweet potatoes and banana

It is not new. 

It entirely wiped out

Gros Michel

, the dominant export variety of bananas in 1950s. 

It was in

response to this

that a new resistant variety, Grand Nain, came up.
Bio-priming 
It is a new technique of

seed treatment

that integrates biological (inoculation of seed with beneficial organism to protect seed) and physiological aspects (seed hydration) of disease control. 

It is used as an

alternative method

for controlling many

seed-borne and soil-borne pathogens. 
Bananas
India

is the world's largest producer of bananas. 

It is the world's most globally exported fruit, according to the FAO. 

It is a tropical crop.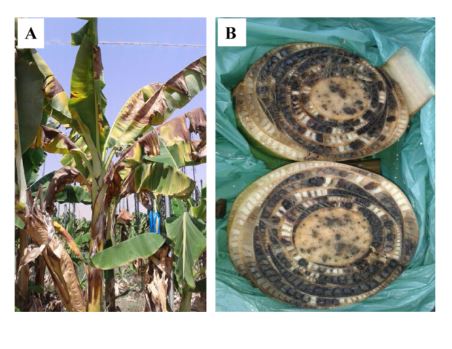 Image source (Fusarium Oxysporum): Click here
---
Part of: GS-Prelims and GS-I – The Freedom Struggle — its various stages and important contributors/contributions from different parts of the country. 
In News:
Recently, India paid tribute to the freedom fighter,

Veer Savarkar

on his birth anniversary. 
Important value additions 
Veer Savarkar
He was an Indian independence

activist

,

politician

,

lawyer

and

writer

.

He is also known as

Swatantryaveer Savarkar

.

He founded a secret society called

Abhinav Bharat Society

.

The society was associated with several

revolutionaries and political activists

with branches in various parts of India and London.

He was also involved in the formation of

Hindu Mahasabha

.

He was the president of the Mahasabha from 1937 to 1943.

Savarkar wrote books, namely:

The History of the War of Indian Independence 

Hindutva: who is Hindu?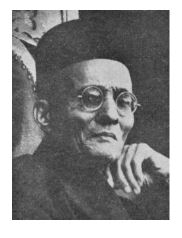 Image Source: Click here
---
Miscellaneous 
Global Economic Prospects (GEP)
The World Bank recently released its Global Economic Prospects (GEP) June 2020 report.

According to the report, the COVID-19 pandemic is expected to have "

severe" short and long-term effects

on economic growth.

Current estimates show that

60 million

people could be pushed into

extreme poverty in

2020. These numbers are likely to increase.

EMDEs

(Emerging Market and Developing Economies) are especially

vulnerable

.

These countries are expected to have a 3-8% output loss in the short term.

The report is the

semi-annual

flagship publication on the state of the world economy. 
---
(MAINS FOCUS)
---
GOVERNANCE/ ECONOMY
Topic: General Studies 2,3:

Government policies and interventions for development in various sectors
Indian Economy and issues relating to planning, mobilization, of resources 
Context: Due to the effects of the Covid contagion the world's second oldest airline (Avianca) has already filed for bankruptcy protection
Significance of aviation sector in India
Contributes to GDP

:

The Aviation sector in India currently contributes $72 bn to GDP

Job creation:

Indian aviation sector to employ 4 million by 2035

Fast growing

: India is now the 3rd largest- and fastest growing- aviation market in terms of domestic tickets sold.

Potential for Investment:

Government agencies projects requirement of around 250 brownfield and green-field airports by 2020

Allied Sector Growth

: Before COVID-19, Maintenance, Repair & Overhaul (MRO) industry was forecasted to grow at an expected 5 year CAGR of close to 10% by 2023

Regional Connectivity:

It boosts connectivity to smaller cities and north-eastern states
Relaxed FDI policy:

Up to 100% FDI is permitted in Non-scheduled air transport services, MRO, flying training institutes, helicopter services and seaplane services under the automatic route.
Challenges of Indian Aviation Sector
Infrastructure deficit

: unavailability of land to expand airports at their current sites, particularly in major cities

High Fuel Costs

: Fuel cost as a percentage of operating charges amounts to 45% in India as compared to the global average of 30 per cent.

Procedural Complexities:

Taxes and approvals by both Central and States governments increases the transaction costs of the aviation sector

Inadequate Human Resource Capabilities:

Shortage and gaps in the availability of industry-recognised skills – from airline pilots and crew to maintenance and ground handling personnel – constrains the growth of different segments of the sector.

Weak MRO sector:

90% of the Indian MRO work is outsourced to countries like Singapore, Dubai, UAE, Sri Lanka and others.
What are the reforms announced under Atma-Nirbhar Bharat Abhiyan?
Efficient Airspace Management

: Route dispersal guidelines (RDG), mandates airlines to fly a certain percentage of flights in smaller, unprofitable air routes. The government announced that these restrictions on the utilisation of Indian airspace will be eased.

Development of MRO Sector

: The convergence between the Defence sector and the civil MROs will be established to bring down the maintenance cost of airlines.

Development of more airports under the PPP model

with a view to improve the aviation infrastructure without the government having to pump in additional funds

Overall Economic reform measures:

Beneficial measures like extending moratoriums, reducing interest rates, improving liquidity etc. will provide impetus to the economic recovery process, including for the aviation sector. 
Challenges ahead:
Legacy issues:

Historically heavy operating costs that cannot be borne in the present situation 

Social Distancing norms

: Stringent protocols to be put in place for air travel which means added costs for aviation industry

Outside GST

: Taxation and pricing structure of aviation turbine fuel (ATF) are not aligned to global benchmarks and is still outside the ambit of GST. This prevents the level playing field for the domestic airline industry

Inefficient usage of AAI resources:

Vacant real estate near Airports Authority of India (AAI) airports in all major centres can be monetised to increase non-aeronautical revenues.

Resolving Air India issues:

Government owned Air India is surviving on bailout packages and thus requires disinvestment
Connecting the dots:
UDAN scheme

National Civil Aviation Policy 2016 and National Civil Aviation programme 2018
---
ENVIRONMENT/ GOVERNANCE
Topic: General Studies 3:

Conservation, environmental pollution and degradation, environmental impact assessment.

 
Context: A pregnant wild elephant in Kerala died on May 27 after she ate a pineapple filled with firecrackers. Scores of elephants are killed every year in India which indicates the rising instances of human-animal conflict
Did You Know?
Research in Karnataka showed that 60% of elephant distribution was encountered outside protected areas

Madhav Gadgil Committee Report called for the entire Western Ghats to be classified as ecologically sensitive that restricted developmental activities. However, this report was adopted due to political opposition
The Indian elephant
One of three extant recognised subspecies of the Asian elephant and native to mainland Asia

Listed as Endangered on the IUCN Red List 

The wild population has declined by at least 50% since the 1930s

Threatened by loss, degradation and fragmentation

of its

habitat
Reasons for man-animal conflict:
Lost ranges and blocked corridors for elephants have made lelephants look for soft landscapes adjoining forests such as coffee, tea and cardamom estates, and in the absence of these, wander into food-rich farms falling in their movement pathways. 

Expansion of human settlements into forests – expansion of cities, industrial areas, railway/road infrastructure, tourism etc.

Commercial pressures eat into already diminished habitat.

Allowing livestock to graze in forest areas

Land use transformations

such as change from protected forest patches to agricultural and horticultural lands and monoculture plantations are further destroying the habitats of wildlife.

Unscientific structures and practices of

forest management

in the country

Infestation of wildlife habitat by

invasive exotic weeds

leads to decreased availability of edible grasses for wild herbivores
Decreased prey base caused by

poaching

of herbivores has also resulted in carnivores moving out of forests in search of prey and to indulge in cattle lifting.
About Project Elephant
It is a flagship programme of Ministry of Environment and Forests (MoEF)

Launched in 1992 it is a Centrally-sponsored scheme

Primarily aimed at protecting elephant, their habitats and corridors

It addresses issues of man-animal conflict and welfare of domesticated elephants.
India's Conservation culture
Despite a billion people India still has most of our large wildlife species- India today has the largest population of the tiger, Asian elephant, leopard, sloth bear, gaur and many others

Part of Culture

: People have accepted coexistence of human & animals, and incorporated it in our culture. All our deities have animals associated with them; it shows the inclusion of these animals in our mind space.

The 

Velip community in Goa

 worship the tigers and this practice is done even today.
Way Ahead:
Inclusion of local community in forest wildlife management
To ensure that money which comes in through tourism (of Tiger reserves) should be used for the development of the local villages as has been done in 

Tadoba tiger reserve, Maharashtra

Ensuring that elephant corridors are not razed/neglected due to overzealous developmental approach
Connecting the dots:
Kasturirangan Committee report on Western Ghats

Project Tiger
---
(TEST YOUR KNOWLEDGE)
---
Model questions: (You can now post your answers in comment section)
Note: 
Correct answers of today's questions will be provided in next day's DNA section. Kindly refer to it and update your answers. 

Comments Up-voted by IASbaba are also the "correct answers".
Q.1 Kohala hydroelectric power project was recently finalized between which of the following countries? 
India and China 

India and Afghanistan 

China and Pakistan 

Pakistan and Afghanistan 
---
Q.2 Consider the statements regarding China Pakistan Economic Corridor: 
It will connect China's Xinjiang Province with Pakistan's Gwadar port.

India has raised objections against it because it passes through border areas of Rajasthan.
Which of the above is/are correct? 
1 only 

2 only 

Both 1 and 2 

Neither 1 nor 2 
---
Q.3 SWADES initiative was recently launched by which of the following Ministry? 
Ministry of Skill Development and Entrepreneurship 

Civil Aviation Ministry 

Ministry of External Affairs 

All of the above 
---
Q.4 Which of the following are diseases of Banana crop? 
Panama wilt 

Sigatoka disease 

Fusarium Wilt TR4 
Select the correct code:
1 and 2 only

1 and 3 only

2 and 3 only

1, 2 and 3
---
Q.5 Fusarium wilt is a fungal disease which is caused by Fusarium oxysporum. It affects which of the following crops? 
Tomato 

Onion 

Tobacco 

Legumes 
Select the correct code:
1, 3 and 4 only

1 and 2 only

3 and 4 only

2, 3 and 4 only
---
Q.6 Consider the following statements regarding Veer Savarkar: 
He was the founder of Abhinav Bharat Society. 

He was never the president of Hindu Mahasabha despite being involved in its formation.

The History of the War of Indian Independence was written by Veer Savarkar. 
Which of the above is/are correct? 
1 and 2 only

2 and 3 only

1 and 3 only

None of the above
---
Q.7 Global Economic Prospects, a semi-annual flagship publication of the world economy, is published by which of the following? 
World Bank 

International Monetary Fund 

Asian Development Bank 

World Economic Forum 
---
ANSWERS FOR 4th June 2020 TEST YOUR KNOWLEDGE (TYK)
---
Must Read
About regulations of social media platforms:
About defence reforms:
About issues with Centre's economic package:
For a dedicated peer group, Motivation & Quick updates, Join our official telegram channel – https://t.me/IASbabaOfficialAccount
Subscribe to our YouTube Channel HERE to watch Explainer Videos, Strategy Sessions, Toppers Talks & many more…