---
(PRELIMS & MAINS Focus)
---
Udhwa Bird Sanctuary
Syllabus
Prelims – Environment and Ecology
Context: Recently, Jharkhand's Udhwa Bird Sanctuary was in news with the ongoing speculations of it getting the prestigious Ramsar Site status.
About Udhwa Bird Sanctuary:-
It is situated in the Sahebganj district of the state of Jharkhand.
It is the only notified bird sanctuary in the state.
It is named after saint Uddhava of Mahabharat times, a friend of Lord Krishna.
It falls within the Gangetic Plains bio-geographic zone.
The Sanctuary has two water bodies i.e. Patauran (155 ha) and Berhale (410 ha), interconnected by a water channel.
The Sanctuary is connected to the Ganga River through a 25 km long water channel known as the Udhuwa Nala, at Farraka.
The Sanctuary has been identified as an 'Important Bird Area'.
Among birds of prey are Tern, Brahminy Kite, Fishing Eagle, Hawk and Vulture. House and Palm Swift, Swallow, Kingfisher, Drongo.
Indian Roller and Parakeet are also common here.
Migratory birds visiting the lake during winter include Black-headed & Brown-headed Gulls, Grey-headed Lapwing, Little-ringed Plover, Red & Green Shanks, Spotted Green Shanks, Common Sandpiper, Temmink's Stint, Yellow & White Wagtail, Blue-throat, Western Swallow etc.
MUST READ: Atapaka Bird Sanctuary
SOURCE: TIMES TRAVEL
PREVIOUS YEAR QUESTIONS
Q.1) Consider the following pairs (2022)
Wetland/Lake:                              Location
Hokera Wetland                    Punjab
Renuka Wetland                    Himachal Pradesh
Rudrasagar Lake                    Tripura
Sasthamkotta                        Tamil Nadu
How many pairs given above are correctly matched?
Only one pair
Only two pairs
Only three pairs
All four pairs
Q.2) Which of the following is not a bird? (2022)
Golden Mahseer
Indian Nightjar
Spoonbill
White Ibis
---
International Criminal Court (ICC)
Syllabus
Prelims –International Relations
Context: Recently, the ICC issued an arrest warrant for Vladimir Putin for war crimes in Ukraine.
About the International Criminal Court (ICC):-
International Criminal Court (ICC) is an international organisation and international tribunal.
It is headquartered in the Hague.
The Court's founding treaty, called the Rome Statute.
India is not a party to Rome Statute along with US and China.
It grants the ICC jurisdiction over four main crimes.

First, the crime of genocide is characterised by the specific intent to destroy in whole or in part a national, ethnic, racial or religious group by killing its members or by other means: causing serious bodily or mental harm to members of the group.
Second, the ICC can prosecute crimes against humanity, which are serious violations committed as part of a large-scale attack against any civilian population.
Third, war crimes are grave breaches of the Geneva conventions in the context of armed conflict.
The fourth includes crime falling within the ICC's jurisdiction is the crime of aggression.
It is the use of armed force by a State against the sovereignty, integrity or independence of another State.
The definition of this crime was adopted by amending the Rome Statute at the first Review Conference of the Statute in Kampala, Uganda, in 2010.
MUST READ: International Court of Justice
SOURCE: THE INDIAN EXPRESS
PREVIOUS YEAR QUESTIONS
Q.1) International Labour Organization's Conventions 138 and 182 are related to (2018)
Child labour
Adaptation of agriculture practices to global climate change
Regulation of food prices and food security
Gender parity in the workplace
Q.2) In the Indian context, what is the implication of ratifying the 'Additional Protocol' with the 'International Atomic Energy Agency (IAEA)'?(2018)
Civilian nuclear reactors come under IAEA safeguards.
The military nuclear installations come under the inspection of the IAEA
The country will have the privilege to buy uranium from the Nuclear Suppliers Group (NSG).
The country automatically becomes a member of the NSG.
---
PM Mega Integrated Textile Region and Apparel Parks (PM MITRA) Scheme
Syllabus
Prelims – Government Schemes
Context: Recently the government selected seven states to develop mega textile parks under PM MITRA.
About PM Mega Integrated Textile Region and Apparel Parks (PM MITRA) Scheme:-
It is under the Ministry of Textiles.
PM MITRA Parks is envisaged to help India in achieving the United Nations Sustainable Development Goal 9 ("Build resilient infrastructure, promote sustainable industrialization and foster innovation").
Objective: to have a world-class industrial infrastructure which would attract cutting-edge technology and boost FDI and local investment in the textiles sector.
PM MITRA is inspired by the 5F vision of the Hon'ble Prime Minister which encompasses:-

Offering an opportunity to create an integrated textiles value chain right from spinning, weaving, processing/dyeing and printing to garment manufacturing at 1 location.
Reducing the logistics cost of the Industry by an integrated Textile Value chain at 1 location.
Generating 1 lakh direct and 2 lakhs indirect employment per park.
Sites for PM MITRA Parks will be selected by a Challenge Method based on objective criteria.
Proposals of State Governments having ready availability of contiguous and encumbrance-free land parcels of 1,000+ acres along with other textiles-related facilities & ecosystems are welcome.

The scheme is to develop integrated large-scale and modern industrial infrastructure facilities for the entire value chain of the textile industry. It will reduce logistics costs and improve the competitiveness of Indian Textiles.
The scheme will help India in attracting investments, boost employment generation and position itself strongly in the global textile market.
These parks are envisaged to be located at sites which have inherent strength for Textile Industry to flourish and have the necessary linkages to succeed.
Competitiveness Incentive Support (CIS) of ₹300 Crore will also be provided to each PM MITRA park for the early establishment of textiles manufacturing units in PM MITRA Park.
PM MITRA park will be developed by a Special Purpose Vehicle which will be owned by the State Government and the Government of India in a Public Private Partnership (PPP) Mode.
MUST READ: PM MITRA Parks
SOURCE: THE INDIAN EXPRESS
PREVIOUS YEAR QUESTIONS
Q.1) Pradhan Mantri MUDRA Yojana is aimed at (2016)
bringing small entrepreneurs into the formal financial system
providing loans to poor farmers for cultivating particular crops
providing pensions to old and destitute persons
funding the voluntary organizations involved in the promotion of skill development and employment generation
Q.2) Recently, India's first 'National Investment and Manufacturing Zone' was proposed to be set up in(2016)
Andhra Pradesh
Gujarat
Maharashtra
Uttar Pradesh
---
Shri Shri Harichand Thakur
Syllabus
Prelims – History and Art and Culture
Context: Prime Minister Narendra Modi paid tribute to Sri Sri Harichand Thakur on his Jayanti recently.
About Shri Shri Harichand Thakur:-
Shri Shri Harichand Thakur worked among the untouchable people of the Bengal Presidency.
He came from a family of Vaishnavite Hindus.
He founded a sect of Vaishnavite Hinduism called Matua.
This was adopted by members of the Namasudra community.
Namasudra community: were then also known by the pejorative name of Chandalas and considered to be untouchable.
Philosophy: The sect was opposed to caste oppression and, inspired the community towards education and social upliftment.
According to historian Sekhar Bandyopadhyay, Thakur "experienced Atma darshan or self-revelation, through which he realized that he was the incarnation of God himself, born in this world to bring salvation to the downtrodden".
MUST READ: Bhakti Movement
SOURCE: PIB
PREVIOUS YEAR QUESTIONS
Q.1) With reference to the cultural history of India consider the following statements (2018)
Most of the Tyagaraja Kritis are devotional songs in praise of Lord Krishna
Tyagaraja created several new fits of rage
Annamacharya and Tyagaraja are contemporaries
Annamacharya kirtans are devotional songs in praise of Lord Venkateshwara
Which of the statements given above is correct?
1 and 3 only
2 and 4 only
1, 2 and 3
2, 3 and 4
Q.2) Consider the following statements : (2014)
'Bijak' is a composition of the teachings of Saint Dadu Dayal
The Philosophy of PushtiMarg was propounded by Madhvacharya
Which of the statements given above is/are correct?
1 only
2 only
Both 1 and 2
Neither 1 nor 2
---
Plastic rocks
Syllabus
Context: Recently, plastic rocks have been found on the remote Brazilian island of Trindade.
About Plastic rocks:-
They are made of sedimentary granules and other debris held together by plastic.
These rocks are called "plastiglomerates" because they are made of a mixture of sedimentary granules and other debris held together by plastics.
They are considered a potential marker of the Anthropocene.
Anthropocene: an informal epoch of the Quaternary proposed by some social scientists, environmentalists, and geologists.
Plastiglomerate could potentially form a marker horizon of human pollution on the geologic record.
They may survive as future fossils.
Plastiglomerate may also conceivably be formed in plastic-polluted regions affected by lava flows or forest fires.
They have been found on the surface as well as beneath the sand.
MUST READ: Plastic Pollution
SOURCE: THE HINDU
PREVIOUS YEAR QUESTIONS
Q.1) Magnetite particles, suspected to cause neurodegenerative problems are generated as environmental pollutants from which of the following? (2021)
Brakes of motor vehicles
Engines of motor vehicles
Microwave stoves within homes
Power plants
Telephone lines
Select the correct answer using the code given below
1, 2, 3 and 5 only
1, 2 and 4 only
3, 4 and 5 only
1, 2, 3, 4 and 5
Q.2) Why is there a great concern about the 'microbeads' that are released into the environment? (2019)
They are considered harmful to marine ecosystems
They are considered to cause skin cancer in children.
They are small enough to be absorbed by crop plants in irrigated fields.
They are often found to be used as food adulterants.
---
Kudumbashree and Project Unnati
Syllabus
Prelims –Government Schemes
Context: Recently, the President attended celebrations of Kudumbashree and Project Unnati-associated events in Kerala.
About Kudumbashree:-
Kudumbashree, the Kerala State Poverty Eradication Mission was launched in May 1998.
It was inaugurated by the Prime Minister, Shri Atal Bihari Vajpayee.
Objective: to eradicate absolute poverty within a definite time frame of 10 years under the leadership of Local Self Governments formed and empowered by the 73rd and 74th Amendments of the Constitution of India.
VISION: Kudumbashree strives to develop the model of a microfinance-led financial security process into a more comprehensive model of local economic development under the aegis of local governments.
It was launched by the State Government with the active support of the Government of India and NABARD.
Kudumbashree is formally registered as the "State Poverty Eradication Mission" (SPEM).
State Poverty Eradication Mission (SPEM): it is a society registered under the Travancore Kochi Literary, Scientific and Charitable Societies Act 1955.
It has a governing body chaired by the State Minister of LSG.
It has adopted a different methodology for addressing poverty by organizing the poor into community-based organizations.
The Mission follows a process approach rather than a project approach.
Kudumbashree is a community organization of Neighborhood Groups (NHGs) of women in Kerala.
It has been recognized as an effective strategy for the empowerment of women in rural as well as urban areas by bringing women together from all spheres of life to fight for their rights or for empowerment.
Implementation; It is implemented through Community Development Societies (CDSs) of Poor Women, serving as the community wing of Local Governments.
About Project Unnati:-
It is under the Union Rural Development Ministry.
It is a skill-upgrading initiative established in 2020.
Objectives:-
enhancing the beneficiaries of the Mahatma Gandhi NREGA's skill base and enhancing their quality of life.
to offer training to one adult household member (between the ages of 18 and 45) who has worked 100 days under the Mahatma Gandhi NREGA in the fiscal year prior to the project's start.
Under the project, the selected candidates are skilled using three established training programmes: the Deen Dayal Upadhyay Grameen Kaushal Yojana (DDU-GKY), the Rural Self Training Institute (RSETI) and the Krishi Vigyan Kendra.
This project is meant for providing training for one adult member (of age 18-45 years old) of a household who has completed 100 days of work under Mahatma Gandhi NREGA in the previous financial year from the year of commencement of the project.
The family from which training candidates are chosen continues to get 100 days of labour under the MGNREGA.
The applicants undergoing training are paid a stipend for a maximum of 100 days and for one programme per household at the going wage rate in the relevant State/UT.
The Central Government bears all costs associated with a stipend in exchange for wage loss benefits.
Training will be provided to a total of 2,00000 beneficiaries over the course of three years across 26 States and 2 UTs.
MUST READ: Issues with MGNREGA
SOURCE: AIR
PREVIOUS YEAR QUESTIONS
Q.1) With reference to the 'stand up India scheme', which of the following statement is/are correct? (2016)
Its purpose is to promote entrepreneurship among SC/ST and women entrepreneurs.
It provides for refinancing through SIDBI.
Select the correct answer using the code given below.
1 only
2 only
Both 1 and 2
Neither 1 nor 2
Q.2) Pradhan Mantri MUDRA Yojana is aimed at (2016)
bringing small entrepreneurs into a formal financial system
providing loans to poor farmers for cultivating particular crops
providing pensions to old and destitute people
funding the voluntary organizations involved in the promotion of skill development and employment generation
---
Namdapha National Park
Syllabus
Prelims –Environment and Ecology
Context: Recently, logs and a truck were seized from the core area of Namdapha National Park and Tiger Reserve in Arunachal Pradesh's Changlang district.
About Namdapha National Park:-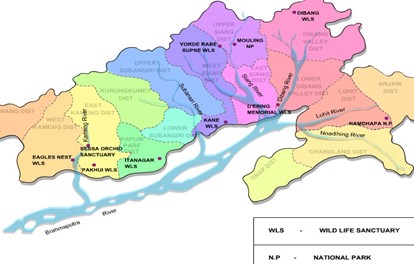 IMAGE SOURCE: Arunachal Pradesh Tourist Maps – Arunachal Pradesh Travel Google Maps (traveldealsfinder.com)
It is located in the Changlang district of Arunachal Pradesh.
It is the largest protected area in the Eastern Himalaya biodiversity hotspot.
It was established as a national park in 1983.
It was declared a Tiger Reserve in the same year 1983.
It is also on the Tentative List of UNESCO World Heritage Sites in India.
It is India's easternmost tiger reserve.
It is near the international border with Myanmar.
Its adjoining areas, are flanked by the Patkai hills to the south and southeast and by the Himalayas in the north.
The area lies close to the Indo-Myanmar-China trijunction.
Namdapha is in fact the name of a river originating in the park and it meets the Noa-Dehing river.
Noa-Dehing river is a tributary of the Brahmaputra and flows in a North-South direction in the middle of the National Park.
The park is located between the Dapha bum range of the Mishmi Hills and the Patkai range.
It is the fourth largest national park in India.
The first three are Hemis National Park in Ladakh, Desert National Park in Rajasthan, and Gangotri National Park in Uttarakhand.
Vegetation: The vegetation is characteristic of tropical evergreen forests (Tropical Rain Forests).
Fauna: elephants, black bears, Indian Bison, several species of deer, reptiles and a variety of arboreal animals.
Important bird species: White-winged Wood Ducks, a rare and endangered species, the great Indian hornbills, jungle fowls and pheasants.
It is the only park in the World to have the four Feline species of big cat namely the Tiger (Panthera Tigris), Leopard (Panthera Pardus), Snow Leopard (Panthera Uncia) and Clouded Leopard (Neofelis Nebulosa).
It is also famous for Critically Endangered species like the Namdapha flying squirrel, species that was last spotted in 1981.
Hoolock Gibbons, the only 'ape' species found in India is found in this National Park.
Other Protected Areas in Arunachal Pradesh:-
About Mouling National Park:-
It was established in 1972.
It was the second to be established in Arunachal Pradesh, after Namdapha National Park.
This park has a total land area of about 483 square kilometres and is located west of the Dihang-Dibang biosphere reserve.
Mouling Peak, the park's highest peak, mmakesthis an undulating area.
Rivers such as the Siyom run through the park's western border.
Mouling National Park offers the sight of various conserved animals including different types of mammals and birds.
About Kamlang Wildlife Sanctuary:-
Kamlang Wildlife Sanctuary is situated in the South-Eastern part of the Lohit District of Arunachal Pradesh.
The name comes from the River Kamlang, which flows through the Sanctuary and joins the Brahmaputra
The local inhabitants are Hishmi, Digaru, and Mizo.
They Claim themselves as descendent of "King Rukmo" of "Mahabharat".
This Wildlife Sanctuary contains all four big cats (Tiger, Leopard, Clouded Leopard and Snow Leopard).
It also has the population of endangered spp. like Hollock gibbon, Sllorisesies, Leopard cat, Himalayan palm civets etc. The famous pilgrimage centre, "Parasuram Kund" can be approached from Wakro throughout the year at a distance of 20 km.
Fauna: This Sanctuary has animals like, Elephant, Tiger, leopards, and Hoolock gibbons. Stump-tailed macaque, Capped Langur, Boar, Civets, Deer, Hornbills, Giant and flying squirrels etc.
Flora: Canarium resiniferous (Dhuna), Terminalia chebula (Hillika), Gmelina arborea (Gamari),Ammora wallichi (Amari) etc.
About Itanagar Wildlife Sanctuary:-
Itanagar Reserve Forest was declared as Itanagar Wildlife Sanctuary.
It has a geographical boundary with Pam River in the East, Pachin in the South, Neorochi on the North-East and Chingke stream in the North.
The vegetation of this Sanctuary can be classified as tropical semi evergreen and wet evergreen.
The most common bamboos found in these forest areas are (1) Bambusa palida (Bijuli) and (2) Dendrocalamus hamiltonii (Kako).
Tree species: (1) Duabanga grandiflora (Khokan) (2) Amoora Wallichii (Aman) (3) Toona ciliata (Poma) (4) Magnolia spp. (Sopa) (5) Schima Wallichii (Makrisal) and Castonopsis indica (Hingori) etc.
Grass : succharam procerum, S.Spontamum, Andropogon assimillis, phramites karka, Allpinia allugus.
Fauna:. Animals like Elephants, Tigers, Panthers, Sambar, Barking Deer and Bears were quite common.
Hornbills were very common bird to sight. But now it is a chance to sight a Hornbill.
MUST READ: Wildlife conservation in Arunachal Pradesh
SOURCE:THE HINDU
PREVIOUS YEAR QUESTIONS
Q.1) Which one of the following National Parks has a climate that varies from tropical to subtropical, temperate and arctic? (2015)
Khangchendzonga National Park
Nandadevi National Park
Neora Valley National Park
Namdapha National Park
Q.2) Consider the following pairs: (2013)
Nokrek Biosphere Reserve: Garo Hills
Logtak (Loktak) Lake: Barail Range
Namdapha National Park: Dafla Hills
Which of the above pairs is/are correctly matched?
1 only
2 and 3 only
1, 2 and 3
None
---
Conservation and Protection Western Ghats
Syllabus
Mains – Environment and Ecology
Context: Recently, the Supreme Court directed the Environment Ministry to file its counter-affidavit to a petition seeking judicial intervention to protect the Western Ghats from destruction.
About Western Ghats: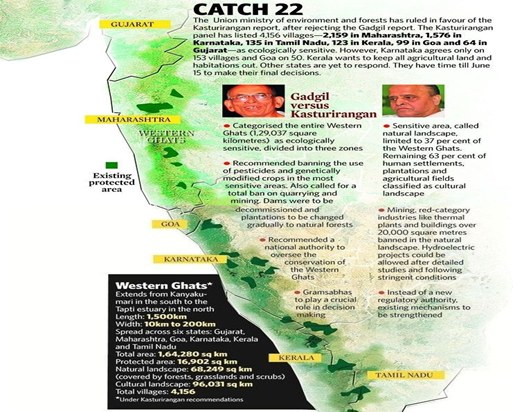 The Western Ghats, also known as the Sahyadri Hills, are well known for their rich and unique assemblage of flora and fauna.
It is recognized as a UNESCO World Heritage Site.
Western Ghats passes through Gujarat, Dadra and Nagar Haveli, Maharashtra, Goa, Karnataka, Kerala, Puducherry and Tamil Nadu.
Importance of Western Ghats:
Biodiversity hotspots: Western Ghats have high level of biological diversity and endemism and is recognized as one of the world's eight 'hottest hotspots' of biological diversity.

It is estimated that 52% of tree species and 65% of amphibians found in western ghats are endemic.

Water shed: The Western Ghats are one of the four watersheds of India, feeding the perennial rivers of the country.

The major river systems starting in the Western Ghats are the Godavari, Kaveri, Krishna and Tungabhadra rivers.

Weather pattern: The Ghats act as a key barrier, intercepting the rain-laden monsoon winds and influencing the Indian monsoon weather pattern. They have a major role in groundwater recharge.
Western Ghats with their forest eco systems sequester large amount of carbon.

It is estimated that they neutralise around 4 million tonnes of carbon every year- around 10% of emissions neutralised by all Indian forests.

Hydropower: The rivers flowing through Western Ghats are important source of hydropower generation.
Threats to Western Ghats:
Mining: The mining activities have grown rapidly and often in violation of all laws, resulting in serious environmental damage and social disruption.

Unsustainable mining has increased vulnerability to landslides, damaged water sources and agriculture, thus negatively affected the livelihoods of the people living in those areas

Hydropower Projects: Large dam projects in Western Ghats have resulted in huge environmental costs.
Extraction of Forest Produce: Human communities living within and adjacent to protected areas in the Western Ghats are often dependent on it for extraction of forest produce to meet a diversity of subsistence and commercial needs.
Plantations: Agroforestry systems in the Western Ghats are replacing native endemic species with tea, coffee, rubber and monocultures of various species, including the recently introduced oil palm.
Encroachment by Human Settlements: Human settlements occur both within and outside protected areas all across the Western Ghats and represent a significant threat.
Livestock Grazing: Livestock grazing within and bordering protected areas is a serious problem causing habitat degradation across the Western Ghats.
Committees and Recommendations
Western Ghats Ecology Expert Panel (WGEEP) Report 
The report was submitted in 2011.
Madhav Gadgil, ecologist and panel chairman pointed to the degradation suffered of Western Ghat.
The report had designated the entire hill range as an Ecologically Sensitive Area (ESA).
It had classified the 142 taluks in the Western Ghats boundary into three Ecologically Sensitive Zones (ESZs).
It also recommended no new dams based on large­ scale storage be permitted in the region.
Participatory process for development related activity involving the Gram Sabhas in these zones.
The Ministry of Environment, Forest and Climate Change opposed disclosure of the report stating that it could affect the economic and scientific interests of the six States.
The successive State governments opposed it stating that most of its suggestions were impractical.
The Centre later appointed a high­ level working group on Western Ghats led by K. Kasturirangan, in August, 2012 to examine the Gadgil report.
Kasturirangan Committee
To give special attention to the preservation of the precious biodiversity.
Also ,to consider the rights, needs and development aspirations of the local and indigenous people.
It identified only 37% or 59,940 sq. km of the Western Ghats in the 6 States as ESAs.
Around 4,156 villages along the region were identified as ESAs
On the basis of the criterion that they had 20% or more of ecologically sensitive area within their boundary.
Nearly 123 such villages were identified as ESAs in Kerala, provoking political and religious protests.
Oommen V. Oommen Committee
Following the advice of the Kasturirangan Committee
The area of 9,993.7 sq. km to be considered ESAs in Kerala as against the 13,108 sq. km area.
It also recommended that the inhabited areas, plantations and agricultural lands in the Western Ghats region be excluded from the scope of ESA.
Union Environment Ministry Draft notification of 2014
Notified a total of 56,825 sq. km in the Western Ghats as ESA instead of the original 59,940 sq. km recommended by the Kasturirangan Committee.
The final notification remains pending despite a directive by the Principal Bench of the National Green Tribunal.
that there is no justification for continued delay merely because the States have sought exclusion of the area from the Eco Sensitive Zone.
Way Forward
Sustainable Growth : A balance between conservation efforts and development should be sought.

Exempting areas of very high susceptibility from any types of constructions.

Nature Based Solution : Increasing the vegetative cover as a first line of defence during a natural calamity.
Government Policies: An intelligent public policy response is the need of the hour. Policies must adhere to the recommendations of reports.
Avoiding mindless consumerism: United Nations Development Programme, which had pioneered the human development approach, has proposed a Planetary ­Pressures Adjusted Human Development Index.
Awareness among various stakeholders : Living in the Anthropocene, we need to guard against any further damage to the natural world.
Source:  The Hindu
---
Simultaneous elections/One Nation, One Election
Syllabus
Mains – GS 2 (Polity and Governance)
Context: The issue of holding simultaneous elections to the Lok Sabha and the State Assemblies has been referred to the Law Commission for further examination.
About simultaneous elections:
The simultaneous election in India is the holding of elections to Lok Sabha and State Assemblies together once in a 5 year under which voters in a certain constituency vote for both Lok Sabha and State Assembly on the same day itself.
It does not mean that elections across the nation for Lok Sabha and State Assemblies need to occur on a single day.
It is based on the principle of "One Nation, One Election".
Notably, simultaneous elections were held in India until 1967 that was disrupted because of premature dissolution of state assemblies.
Arguments in favour of Simultaneous Elections/ ONOE
Reduction in cost: Multiple elections at different times lead to a huge cost to the exchequer in the form of lost time, labour and financial costs.

There are significant costs involved in the conducting of elections including the movement of security personnel, diversion of state machinery towards presiding over the elections and other similar costs.

Simultaneous polls will boost voter turnout.
Engagement of security forces: Deployment of security forces is normally throughout the elections and frequent elections take away a portion of such armed police force which could otherwise be better deployed for other internal security purposes.
Impact on social fabric: Frequent elections perpetuate caste, religion, and communal issues across the country as elections are polarising events that have accentuated casteism, communalism, and corruption.
Hampering values of democracy: Smaller parties with less capital and money for election expenditure could not compete equally with larger parties with deep pockets.

This hampers equity and equality in a democratic process. With simultaneous elections, the election expense will be reduced thus allowing for more level playing field during the campaign times.

Focus on populist measures: Frequent elections will impact the focus of governance and policymaking as it forces the political class to typically think in terms of immediate electoral gains rather than focus on long-term programs and policies.

Regular elections hamper the delivery of essential services due to the engagement of public servants, including a large number of teachers, in the election process.
Arguments against Simultaneous Election:
Local issues will fade out: There are concerns that simultaneous elections will impact the behaviour of voters, as national and local issues may get mixed up and distort priorities, giving an unfair advantage to national parties, at the expense of regional parties.
Difficult scheduling: It may be difficult to find a suitable time slot, given the geographical and administrative diversity relating to weather, agricultural cycle, exam schedule, religious festivals, and public holidays, in a country as vast as India.
Logistical challenges: Holding simultaneous elections once in five years may also face logistical challenges.

For the free and fair conduct of the elections, security forces need to be deployed in large numbers.
Given the current strength of security personnel, this may be a challenging task.

Midterm dissolution cannot be controlled: Even if the terms of the Houses are in sync as a one-time measure, it will still need an adequate legal safeguard in place to avoid mid-term dissolution and protect the simultaneous elections cycle.
Need a lot of amendments: Amendments to the Constitution would encompass Articles 83 (Duration of Houses), 85 (Dissolution of the Lok Sabha), 172 (Duration of state legislatures), 174 (Dissolution of state legislatures), 356 (Failure of constitutional machinery), and the Tenth Schedule (to ensure that all disqualification issues arising from defection are decided by the presiding officer within six months).
Change in the basic structure of the Constitution: Amending Article 356 – which deals with 'Provisions in case of failure of constitutional machinery in State', or President's rule – will alter the basic structure of the Constitution and will impinge on federalism.
International examples not suitable for India: The international examples – like Sweden, Belgium, and South Africa – cannot be compared to a country like India, whose population and area are many times that of the smaller countries.
Concern over feasibility: If a central government that is made up of a coalition faces a situation where an ally pulls out, and the government falls, elections will have to be conducted in all state governments, too, within six months, even if there is no issue in those states and vice-versa.

One aspect that could offset the savings would be the doubling of expenses on electronic voting machines (EVMs).

Model code of conduct: Argument about MCC paralyzing policy-making is overstated and untrue – it only stops ruling parties from using the government machinery for electoral gains.
Way forward
Simultaneous election is an idea whose time has come. However, since the issue is concerned with the federal structure of the Constitution, it needs to be discussed and debated properly across the political spectrum to assuage the concerns of regional parties. This will make it easier to implement the idea in the country.
Ideally, the 'one nation, one election' system should reduce the amount of time, energy and resources invested in the conduct of polls. If simultaneous polls do reduce the duration of conducting polls, political parties will have ample time to address national issues and enhance governance.
Source: The Economic Times
---
Practice MCQs
Daily Practice MCQs
Q.1) Namdapha National Park is often mentioned in the news located in
Uttarakhand
Kerala
Assam
Arunachal Pradesh
Q.2) Consider the following statements regarding Project Unnati:
It was launched by the Ministry of Skill development and Entrepreneurship
It aims at enhancing the beneficiaries of the Mahatma Gandhi NREGA's skill base and enhancing their quality of life.
Which of the statements given above is/are correct?
1 only
2 only
Both 1 and 2
Neither 1 nor 2
Q.3) Consider the following statements regarding the International Criminal Court (ICC):
It is the principal judicial organ of the United Nations (UN).
It is headquartered in the Hague.
India is a party to Rome Statute which is a founding treaty of ICC.
Which of the statements given above is/are correct?
1 and 2 only
3 only
2 only
1 and 3 only
Comment the answers to the above questions in the comment section below!!
ANSWERS FOR ' 20th March 2023 – Daily Practice MCQs' will be updated along with tomorrow's Daily Current Affairs.st
---
ANSWERS FOR 18th March

 

– Daily Practice MCQs
Answers- Daily Practice MCQs
Q.1) – d
Q.2) – b
Q.3) – d
For a dedicated peer group, Motivation & Quick updates, Join our official telegram channel – https://t.me/IASbabaOfficialAccount
Subscribe to our YouTube Channel HERE to watch Explainer Videos, Strategy Sessions, Toppers Talks & many more…