---
(PRELIMS & MAINS Focus)
---
Shoot-at-sight orders
Syllabus
Context: Recently, the Manipur government authorised all District Magistrates to issue "shoot at sight orders" in "extreme cases".
About Shoot at-sight orders:-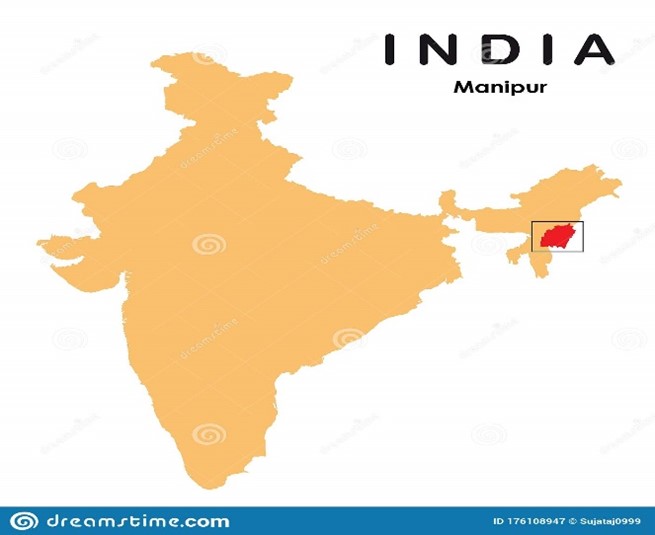 IMAGE SOURCE: Manipur in India Map. Manipur Map Vector Illustration Stock Vector – Illustration of the graphic, country: 176108947 (dreamstime.com)
A shoot-at-sight or firing order may be passed in terms of the statutory powers relating to the arrest or prevention of offences or for disbanding unlawful assemblies under the CrPC, 1973. (UPSC PRELIMS: Criminal Procedure (Identification) Act, 2022)
Section 144 of the CrPC enables the use of wide powers while dealing with urgent cases of "apprehended danger" or nuisance through the issuance of orders.
Section 46 (2) of the CrPC enables the use of force in the course of arresting a person.

If a person forcibly resists the endeavour to arrest him, or attempts to evade the arrest, such police officer or other person may use all means necessary to effect the arrest.
Section 46(3) places a limit on this executive power.

The provision does not give a right "to cause the death of a person who is not accused of an offence punishable with death or with imprisonment for life."
Exceptions:-
It also places a limit on this executive power.
Section 3(a) Oof the Armed Forces Special Powers Act, of 1958 empowers the armed forces to use force in disturbed areas.

disturbed areas: a notification in the Official Gazette declaring an area as "disturbed" may be passed by the Governor of the State or the Administrator of that Union Territory or the Central Government.

Provisions in the Indian Penal Code,1860:-

Section 81 says that "Nothing is an offence merely by reason of its being done with the knowledge that it is likely to cause harm if it is done without any criminal intention to cause harm, and in good faith for the purpose of preventing or avoiding other harm to person or property."
 Section 76 exempts such acts, if done by a person "who is, or who by reason of a mistake of fact and not by reason of a mistake of law in good faith believes himself to be, bound by law to do it."

Section 76 IPC goes so far as to say that if a soldier "fires on a mob by the order of his superior officer, in conformity with the commands of the law", he has committed no offence.
Related Judicial Judgements:-
Jayantilal case:-

Gujarat High Court declared the shoot-at-sight orders imposed for breaking a curfew "void".

The Gujarat High Court's 1974 ruling in "Jayantilal Mohanlal Patel vs Eric Renison And Anr." Held that the "law and order forces of the State of Gujarat have no authority to shoot at anyone for a mere breach of the curfew order."
In the 1974 ruling, Justice SH Seth also observed that any threat issued by the executive to the life of a citizen without the authority of law must be viewed very seriously.
In 1981 the Supreme Court ruling, given by Justice YV Chandrachud led Bench, in the case of "State Of West Bengal vs Shew Mangal Singh & Ors" which dealt with the conflict between the executive's power of extreme coercive action and an individual's right to liberty.
MUST READ: Section 153A of the Indian Penal Code (IPC)
SOURCE: THE INDIAN EXPRESS
PREVIOUS YEAR QUESTIONS
Q.1) With reference to India, consider the following statements: (2022)
Government law officers and legal firms are recognized as advocates, but corporate lawyers and patent attorneys are excluded from recognition as advocates.
Bar Councils have the power to lay down the rules relating to legal education and recognition of law colleges.
Which of the statements given above is/are correct?
1 only
2 only
Both 1 and 2
Neither 1 nor 2
Q.2) With reference to India, consider the following statements: (2022)
When a prisoner makes out a sufficient case, parole cannot be denied to such prisoner because it becomes a matter of his/her right.
State Governments have their own Prisoners Release on Parole Rules.
Which of the statements given above is/are correct?
1 only
2 only
Both 1 and 2
Neither 1 nor 2
---
River-Cities Alliance
Syllabus
Context: Recently, National Mission For Clean Ganga Organizes River-Cities Alliance Global Seminar.
About River-Cities Alliance:-
River Cities Alliance (RCA) was launched in 2021. (UPSC PRELIMS: River Cities Alliance)
It is organized by National Mission for Clean Ganga (NMCG) in association with the National Institute of Urban Affairs (NIUA).
It is a joint initiative of the Department of Water Resources, River Development & Ganga Rejuvenation under the Ministry of Jal Shakti (MoJS) & the Ministry of Housing and Urban Affairs (MoHUA).
Objective: to provide a platform for officials of member cities and international stakeholders to discuss and learn good practices for managing urban rivers.
Vision: to connect river cities and focus on sustainable river-centric development.
Membership: Beginning with 30 member cities in November 2021, the Alliance has expanded to 109 river cities across India and one international member city from Denmark(the city of Aarhus from Denmark).
It is a dedicated platform for river cities across India to discuss & exchange information for sustainable management of urban rivers.
It includes cities from both the Ganga basin and non-Ganga basin states.(UPSC CSE: Linking Rivers)
The RCA Global Seminar witnessed participation from Embassies/High Commissions of select countries along with funding agencies like the World Bank, ADB, JICA & KfW.
In it was noted that the theme of RCA resonated in the UN Water Conference 2023 held in New York in March 2023. '
DHARA 2023
The first annual meeting of the RCA – DHARA 2023 (Driving Holistic Action for Urban Rivers) was held in 2023, in Pune.
It featured key sessions on international best practices and examples for urban river management.
It was aimed to inspire members of the RCA to engage in progressive actions for urban river management in their cities.
The event shone a light on the unaddressed issues and challenges for river management in cities, which helped NIUA and its partners formulate an effective work plan.
 The event also helped in developing a compendium of technological solutions that cities may adopt for enhancing the management of their local rivers.
MUST READ: The International Drought Resilience Alliance (IDRA)
SOURCE: PIB
PREVIOUS YEAR QUESTIONS
Q.1) Gandikota canyon of South India was created by which one of the following rivers? (2022)
Cauvery
Manjira
Pennar
Tungabhadra
Q.2) With reference to the Indus River system, of the following four rivers, three of them pour into one of which joins the Indus direct. Among the following, which one is a such river that joins the Indus direct? (2021)
Chenab
Jhelum
Ravi
Sutlej
---
Commission for Scientific and Technical Terminology (CSTT)
Syllabus
Context: The Commission for Scientific and Technical Terminology (CSTT) is to create technical and scientific terminology in 10 Indian languages.
About Commission for Scientific and Technical Terminology (CSTT):-
It works under the aegis of the Union Ministry of Education.
It was established in December 1960 by the Government of India resolution under provision Article 344(4) of the Constitution.
Its headquarters are in New Delhi.
Objective: to evolve standard terminology, propagate its use, and distribute it widely.
The commission is mandated to collaborate with State governments, universities, regional textbook Boards, and State 'Granth Academies', which are nodal bodies in charge of providing translations of English textbooks in local languages for institutions of higher education.
CSTT has standardized the terminology of about Nine lakh technical terms in different subjects and in different languages. (UPSC CSE: Languages of India )
CSTT has published a large number of Definitional Dictionaries, Glossaries, Text-Books, Reference Materials and Monographs, Quarterly Journals named 'Vigyan Garima Sindhu' and 'Gyan Garima Sindhu' and many more works of similar nature.
 CSTT has also taken care of Administrative and various Departmental Glossaries that are widely used by various Government Departments, Institutions, Research Laboratories, Autonomous Organizations, PSUs etc.
CSTT regularly organizes workshops, seminars, symposiums, conferences, orientation and training programmes to increase the use and popularize the standard terminology of Hindi and other Indian languages. (UPSC CSE: Three-language formula)
Functions of the Commission:-
To evolve and define scientific and technical terms in Hindi and all Indian Languages and publish technical glossaries, definitional dictionaries, encyclopaedia etc.
To see that the evolved terms and their definitions reach students, teachers, scholars, scientists, officers etc.
To ensure proper usage/necessary updation/correction/improvement on the work done by obtaining feedback (through Workshops/Training programmes/Orientation programmes/Seminars).
To encourage technical writings in Hindi and other Indian Languages by sponsoring Seminars/Conferences/Symposia on scientific and technical subjects.
MUST READ: Language Panel Recommendations
SOURCE: THE HINDU
PREVIOUS YEAR QUESTIONS
Q.1) Consider the following statements: (2021)
21st February is declared to be International Mother Language Day by UNICEF.
The demand that Bangla has to be one of the national languages was raised in the Constituent Assembly of Pakistan.
Which of the above statements is/are correct?
1 only
2 only
Both 1 and 2
Neither 1 nor 2
Q.2) With reference to India, the terms 'Halbi, Ho and Kui' pertain to (2021)
dance forms of Northwest India
musical instruments
pre-historic cave paintings
tribal languages
---
All India Radio (AIR)
Syllabus
Prelims –Important Institutions
Context: Recently, the Centre, ordered that public broadcaster, previously known as All India Radio (AIR), be exclusively referred to as Akashvani in all broadcasts and programmes.
About All India Radio (AIR):-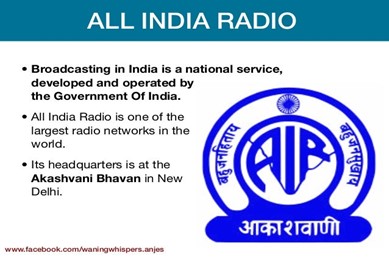 IMAGE SOURCE: History of Indian broadcasting (slideshare.net)
All India Radio is the radio vertical of Prasar Bharati.
It's motto is 'Bahujan Hitaya : Bahujan Sukhaya'.
It is one of the largest broadcasting organisations in the world in terms of the number of languages of broadcast and the spectrum of socioeconomic and cultural diversity.
AIR's home service comprises 470 Broadcasting centres located across the country, covering nearly 92% of the country's area and 99.19 % of the total population.
AIR originates programming in 23 languages and 179 dialects.
Historical Background:-
All India Radio entered the realm of external broadcasting shortly after the outbreak of II world War in 1939-when it started a service in Pushtu for listeners across the then country's North West Frontier.
The service was designated to counter radio propaganda from Germany, directed towards Afghanistan, Iran and Arab countries.
Today, The External Services Division of All India Radio ranks high amongst the overseas Radio networks of the world. (UPSC MAINS: Internal security threats emanating from communication networks)
Services:-
FM Service

AIR runs FM Rainbow and FM Gold Channels.
There are 25 FM Rainbow channels and 5 FM Gold channels originating from 23 cities.
AIR launched the FM Rainbow channel in 1993 when radio listening was on the decline, especially in big cities.
FM Gold Channel which came on air in 2001.
It provides round-the-clock service and presents popular film music in its distinctive style while keeping its listeners updated with current affairs and News on the hour.

Vividh Bharati Service:-

The popular Vividh Bharati Service of All India Radio was conceptualized in 1957
Objective: to meet the competition offered by Radio Ceylon.
Today the service provides entertainment for 15 to 17 hours from its 41 centres, with a mix of music and film-based content, skits, short plays and interactive programmes.

Archive Services:-

AIR preserves the cultural and intellectual wealth of the country in its Archive.
It has the recordings of eminent musicians, men and women of letters, political figures, intellectuals, leaders, statesmen and luminaries in various walks of life and is an important national resource for historians, scholars, music enthusiasts and others.

News Service Division:-

It disseminates news and commentaries for listeners in India and abroad.

Technical Services:-
MUST READ: Mobile Train Radio Communication (MTRC)
SOURCE: THE INDIAN EXPRESS
PREVIOUS YEAR QUESTIONS
Q.1) With reference to communication technologies, what is/are the difference/differences between LTE (Long-Term Evolution) and VoLTE (Voice over Long-Term Evolution)? (2019)
LTE is commonly marketed as 3G and VoLTE is commonly marketed as advanced 3G.
LTE is data-only technology and VoLTE is voice-only technology.
Select the correct answer using the code given below
1 only
2 only
Both 1 and 2
Neither 1 nor 2
Q.2) Project Loon', sometimes seen in the news, is related to (2016)
waste management technology
wireless communication technology
solar power production technology
water conservation technology
---
European Securities and Markets Authority (ESMA)
Syllabus
Context: Recently, the European Securities and Markets Authority (ESMA), has de-recognised six Indian clearing houses.
About European Securities and Markets Authority (ESMA):-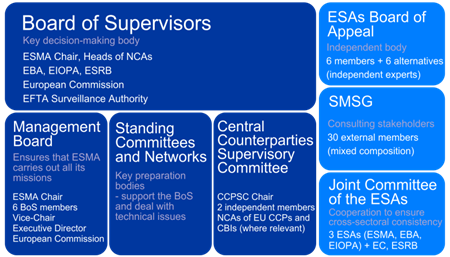 IMAGE SOURCE: Governance Structure (Europa. eu)
The European Securities and Markets Authority (ESMA) is an independent European Union (EU) Authority.
It contributes to safeguarding the stability of the EU's financial system by enhancing the protection of investors and promoting stable and orderly financial markets.
It is the direct supervisor of specific financial entities:

Credit Rating Agencies (CRAs)
Securitisation repositories (SRs)
Trade Repositories (TRs)

These entities form essential parts of the EU's market infrastructure.
About European Market Infrastructure Regulation:-
It was adopted by the EU in August 2012.
It is an implementation of the G20 commitment to reduce systemic, counterparty and operational risk, and increase transparency in the OTC derivatives market. (UPSC PRELIMS: India and G20 Presidency )
It was also designed as a preventative measure to avoid fallout during possible future financial crises similar to the collapse that followed the Lehman Brothers bankruptcy in 2008.
Its focus is the regulation of over-the-counter (OTC) derivatives, central counterparties and trade repositories.
It provides guidance on reporting of derivative contracts, implementation of risk management standards and common rules for central counterparties and trade repositories.
It establishes common rules for central counterparties.
It also outlines three sets of obligations, including the clearing, reporting and risk mitigation of applicable products.
It requires mandatory clearing obligations for specific OTC derivative contracts.

The obligations require that over-the-counter derivatives trades are cleared through central counterparties.

EMIR requires that all entities entering into derivative contracts must submit reports to their corresponding trade repositories, outlining each over-the-counter trade.
EMIR covers entities that qualify for derivative contracts to interest rate, equity, foreign exchange, or credit and commodity derivatives.
The risk mitigation standards outlined in EMIR's Article 11 impose risk management regulation on bilateral derivatives, as these derivatives are not appropriate for standard central counterparty clearing
Article 25 of EMIR requires CCPs in other global jurisdictions providing services to European banks to be approved by ESMA.
India signed the pact in 2017, which lapsed in March 2022.
About Clearing Corporation of India (CCIL):-
The Clearing Corporation of India (CCIL), was set up in April 2001.
It was set up by banks, financial institutions and primary dealers.
Objective: to function as an industry service organisation for clearing and settlement of trades in the money market, government securities and foreign exchange markets.
The Clearing Corporation plays the crucial role of a Central Counterparty (CCP) in:

The government securities,
USD –INR forex exchange (both spot and forward segments) (UPSC PRELIMS: Exchange Rate)
Collagenised Borrowing and Lending Obligation (CBLO) markets.

CCIL plays the role of a central counterparty whereby the contract between buyer and seller gets replaced by two new contracts – between CCIL and each of the two parties.

This process is known as 'Novation'.

Through novation, the counterparty credit risk between the buyer and seller is eliminated with CCIL subsuming all counterparty and credit risks.
It also provides non-guaranteed settlement services for National Financial Switch (Interbank ATM transactions) and for rupee derivatives such as Interest Rate Swaps.
CCIL is also providing a reporting platform and acts as a repository for Over Counter (OTC) products.
MUST READ: India-EU
SOURCE: FINANCIAL EXPRESS
PREVIOUS YEAR QUESTIONS
Q.1) "Rapid Financing Instrument" and "Rapid Credit Facility" are related to the provisions of lending by which of the following: (2022)
Asian Development Bank
International Monetary Fund
United Nations Environment Programme Finance Initiative
World Bank
Q.2) Consider the following statements: (2022)
In India, credit rating agencies are regulated by the Reserve Bank of India.
The rating agency popularly known as ICRA is a public limited company.
Brickwork Ratings is an Indian credit rating agency.
Which of the statements given above is correct?
1 and 2 only
2 and 3 only
1 and 3 only
1, 2 and 3
---
Ecologically Sensitive Zone (ESZ) norms
Syllabus
Prelims –Environment and Ecology
Context: Recently, NTCA stepped in over the violation of the Ecologically Sensitive Zone (ESZ) norms by the Kali Tiger Reserve authorities.
About Ecologically Sensitive Zone (ESZ):-
As per the National Wildlife Action Plan (2002-2016) of the Ministry of Environment, Forest and Climate Change (MoEFCC) the state governments should declare land falling within 10 km of the boundaries of national parks and wildlife sanctuaries as eco-fragile zones or Eco-Sensitive Zones (ESZs) under the Environmental (Protection) Act, 1986.

Areas beyond 10 km can also be notified by the Union government as ESZs if they hold larger ecologically important "sensitive corridors". (UPSC MAINS: ECO-SENSITIVE ZONES)

Objectives:-

to regulate certain activities around National Parks and Wildlife Sanctuaries.
 to minimise the negative impacts of such activities on the fragile ecosystem encompassing the protected areas.
Activities Allowed in ESZs:-
Prohibited Activities: Commercial mining, sawmills, industries causing pollution (air, water, soil, noise etc), the establishment of major hydroelectric projects (HEP), and commercial use of wood.
Tourism activities like hot-air balloons over the National Park, discharge of effluents or any solid waste or production of hazardous substances.
Regulated Activities: Felling of trees, the establishment of hotels and resorts, commercial use of natural water, erection of electrical cables, drastic change of agricultural system etc.
Permitted Activities: Ongoing agricultural or horticultural practices, rainwater harvesting, organic farming, use of renewable energy sources, and adoption of green technology for all activities.
Significance of ESZs:-
To minimize the impact of urbanization and other developmental activities, the areas adjacent to protected areas have been declared as Eco-Sensitive Zones.
ESZs help in in-situ conservation, which deals with the conservation of an endangered species in its natural habitat. (UPSC PRELIMS: Wildlife Protection )
Eco-Sensitive Zones minimise forest depletion and man-animal conflict.
Minimise the Negative Impact on the Fragile Ecosystems
They also act as a transition zone from areas of high protection to areas involving lesser protection
MUST READ: Kali Tiger Reserve
SOURCE: DECCANHERALD
PREVIOUS YEAR QUESTIONS
Q.1) With reference to Indian laws about wildlife protection, consider the following statements : (2022)
Wild animals are the sole property of the government.
When a wild animal is declared protected, such animal is entitled to equal protection whether it is found in protected areas or outside.
Apprehension of a protected wild animal becoming a danger to human life is sufficient ground for its capture or killing.
Which of the statements given above is/are correct?
1 and 2
2 only
1 and 3
3 only
Q.2) Which of the following Protected Areas are located in the Cauvery basin? (2020)
Nagarhole National Park
Papikonda National Park
Sathyamangalam Tiger Reserve
Wayanad Wildlife Sanctuary
Select the correct answer using the code given below:
1 and 2 only
3 and 4 only
1, 3 and 4 only
1, 2, 3 and 4
---
Article 355
Syllabus
Context: Recently, the Ministry of Home Affairs has denied promulgating Article 355 in violence-hit Manipur.
About Article 355:-
Article 355 empowers the Centre to take all necessary steps to protect a State against internal disturbances and external aggression.
Article 355 in the Constitution states that "It shall be the duty of the Union to protect every State against external aggression and internal disturbance and to ensure that the government of every State is carried on in accordance with the provisions of this Constitution".
Article 355 is part of emergency provisions contained in Part XVIII of the Constitution of India, from Article 352 to 360. (UPSC MIANS: Emergency provisions of the Indian constitution vis a vis that of Canada)
Other Related Articles:-
Article 352 (Proclamation of Emergency):-

 If the President is satisfied that  a grave emergency exists whereby the security of India or of any part of the  territory thereof is threatened, whether, by war or external aggression or [armed  rebellion], he may, by Proclamation, make a declaration to that effect [in  respect of the whole of India or of such part of the territory thereof as may be  specified in the Proclamation.]
A Proclamation issued under clause (1) may be varied or revoked by a subsequent Proclamation.
The President shall not issue a Proclamation under clause (1) or a  Proclamation varying such Proclamation unless the decision of the Union  Cabinet (that is to say, the Council consisting of the Prime Minister and other  Ministers of Cabinet rank appointed under article 75) that such a Proclamation may be issued has been communicated to him in writing.
Every Proclamation issued under this article shall be laid before each  House of Parliament and shall, except where it is a Proclamation revoking a  previous Proclamation, cease to operate at the expiration of one month unless, before the expiration of that period, it has been approved by resolutions of both  Houses of Parliament. (UPSC MAINS: The emergency declared in 1975 )

Article 353(Effect of Proclamation of Emergency):-
While a Proclamation  of Emergency is in operation, then—

Notwithstanding anything in this Constitution, the executive power of the Union shall extend to the giving of directions to any State as to the manner in which the executive power thereof is to be exercised.
the power of Parliament to make laws with respect to any matter shall include the power to make laws conferring powers and imposing duties, or authorising the conferring of powers and the imposition of duties, upon the Union or officers and authorities of the  Union as respects that matter, notwithstanding that it is one which is not enumerated in the Union List.

Article 354(Application of provisions relating to distribution of revenues  while a Proclamation of Emergency is in operation)

The President may, while a Proclamation of Emergency is in operation, by order direct that all or any of the provisions of articles 268 to 279 shall for such period, not extending in any case beyond the expiration of the financial year in which such  Proclamation ceases to operate, as may be specified in the order, have effect subject to such exceptions or modifications as he thinks fit.
Every order made under clause (1) shall, as soon as may be after it is made, be laid before each House of Parliament.
Article 356:-

It empowers the President to issue a proclamation if he is satisfied that a situation has arisen in which the government of a state cannot be carried on in accordance with the provisions of the constitution.

Article 365:-

It says that whenever a state fails to comply with or to give effect to any direction from the centre, it will be lawful for the President to hold that a situation has arisen in which the government of the state cannot be carried on in accordance with the provisions of the constitution.

Articles 358:-

According to Article 358, when a proclamation of National Emergency is made, the six fundamental rights under Article 19 are automatically suspended.

Under Article 359:-

 The President is authorised to suspend, by order, the right to move any court for the enforcement of Fundamental Rights during a National Emergency.
However, it should be noted that Fundamental Rights are not affected during President's Rule and Financial Emergency.

Article 360:-

It empowers the president to proclaim a Financial Emergency if he is satisfied that a situation has arisen due to which the financial stability or credit of India or any part of its territory is threatened.
MUST READ: The AFSPA
SOURCE: THE HINDU
PREVIOUS YEAR QUESTIONS
Q.1) Which of the following are not necessarily the consequences of the proclamation of the President's rule in a State? (2017)
Dissolution of the State Legislative Assembly
Removal of the Council of Ministers in the State
Dissolution of the local bodies
Select the correct answer using the code given below:
1 and 2 only
1 and 3 only
2 and 3 only
1, 2 and 3
Q.2) During which Five Year Plan was the Emergency clamped, new elections took place and the Janata Party was elected? (2009)
Third
Fourth
Fifth
Sixth
---
Shanghai Organisation Corporation (SCO)
Syllabus
Prelims –International Organization
Context: Recently, SCO added Kuwait, UAE, Myanmar and Maldives as dialogue partners.
About Shanghai Organisation Corporation (SCO):-
The SCO is a permanent intergovernmental international organization. (UPSC MAINS: SCO)
It's a Eurasian political, economic and military organization aiming to maintain peace, security and stability in the region.
It was created in 2001.
The SCO Charter was signed in 2002 and entered into force in 2003.
The SCO's official languages are Russian and Chinese.
Prior to the creation of SCO in 2001, Kazakhstan, China, Kyrgyzstan, Russia and Tajikistan were members of the Shanghai Five.
Shanghai Five (1996) emerged from a series of border demarcation and demilitarization talks which the four former Soviet republics held with China to ensure stability along the borders.
Following the accession of Uzbekistan to the organization in 2001, the Shanghai Five was renamed the SCO.
India and Pakistan became members in 2017. (UPSC MAINS: Advantages to India after her membership of the SCO)
In 2021, it was announced that Iran would become a full member of the SCO.
Structure of the SCO:-
Heads of State Council: The top SCO body that decides on internal SCO operations, interactions with other states and international organisations, and international concerns.
Heads of Government Council: Approves the budget and evaluates and decides on topics pertaining to SCO's economic domains of engagement.
Council of Foreign Ministers: Considers problems concerning day-to-day operations.
Regional Anti-Terrorist Structure (RATS): An organisation formed to combat terrorism, separatism, and extremism. 
MUST READ: 20th Summit of SCO Council of Heads of State
SOURCE: FINANCIAL EXPRESS
PREVIOUS YEAR QUESTIONS
Q.1) Consider the following statements: (2016)
New Development Bank has been set up by APEC.
The headquarters of the New Development Bank is in Shanghai.
Which of the statements given above is/ are correct?
1 only
2 only
Both 1 and 2
Neither 1 nor 2
Q.2) Consider the following pairs: (2020)
International agreement/ set-up Subject
Alma-Ata Declaration – Healthcare of the people
Hague Convention – Biological and Chemical Weapons
Talanoa Dialogue – Global Climate Change
Under2 Coalition – Child Rights
Which of the pairs given above is/are correctly matched?
1 and 2 only
4 only
1 and 3 only
2,3 and 4 only
---
Switching on India's smart electricity future
Syllabus
Mains – GS 2 (Governance)
Context: India will soon have a smart transmission system incorporating features that can improve efficiency, disaster preparedness, etc.
About Smart Meters: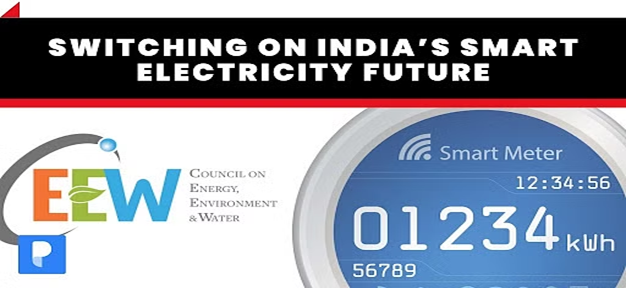 Smart meters are next-generation digital electricity meters that measure energy consumption and communicate this information back to the utility company in near real-time.
Unlike traditional electric meters that require manual reading, smart meters automatically send readings to the utility company, enabling a two-way communication between the meter and the utility.
India's Vision:
India is striving hard to implement this vision by installing more than 5.5 million smart meters, with over 100 million sanctioned for installation.
The country aims to replace 250 million conventional electric meters with prepaid smart meters by 2025-26.
To support this initiative, India is providing a results-linked grant-cum-financing to power distribution companies (discoms) to become financially sound and efficient in providing better services to consumers.
Benefits of Smart Meters over traditional electric meters: A recent study by the Council on Energy, Environment and Water (CEEW) found that the majority of smart meter users have already begun to experience some of the technology benefits.
Accurate billing: Smart meters enable accurate billing as they eliminate the need for estimated bills, providing customers with accurate and transparent information about their energy usage.
Near real-time data: Smart meters provide near real-time data on energy consumption, enabling customers to monitor their usage and make informed decisions about their energy consumption.
Dynamic pricing: Smart meters have the potential to enable dynamic pricing, where electricity tariffs vary depending on the time of day, season or other factors, incentivizing customers to use energy when it's cheaper and reducing demand during peak hours.
Improved energy management: Smart meters allow utilities to better manage energy supply and demand, reduce power outages, and integrate renewable energy sources more effectively.
Energy theft detection: Smart meters can help detect and respond to energy theft, reducing losses for utilities and ensuring a fair distribution of energy costs.
Customer control: Smart meters provide customers with more control over their energy consumption, allowing them to better manage their energy usage and reduce their bills.
Challenges:
High Capital Costs: A full scale deployment of smart meters requires expenditures on all hardware and software components, network infrastructure and network management software, along with costs associated with the installation and maintenance and information technology systems.
Integration: Smart Meter must be integrated with utilities' information technology systems, including Customer Information Systems (CIS), Geographical Information Systems (GIS), Outage Management Systems (OMS),Mobile Workforce Management (MWM), Distribution Automation System (DAS), etc.
Standardisation: Interoperability standards need to be defined, which set uniform requirements for technology, deployment and general operations.
Release of Radiation: Unlike the electronic meter, the smart meter allows 'communication' among the consumer and the meter, hence there is probability of release of radiation.
Way Forward:
India is on a unique journey of meeting its growing electricity demand while decarbonizing its generation sources. Smart meters comprise a critical part of the transition toolbox, by way of enabling responsible consumption, efficient energy management, and cost-effective integration of distributed energy resources.
Therefore, with the effective implementation, India can improve smart meter deployment and user satisfaction, making the smart-meter revolution a reality.
Source:  The Hindu
---
Coal Sector in India
Syllabus
Context: Coal India Limited (CIL) has registered a profit after tax (PAT) of ₹28,125 crores for FY' 2023 posting a growth 62% growth compared to PAT of ₹17,378 Crores of FY '2022.
About Coal: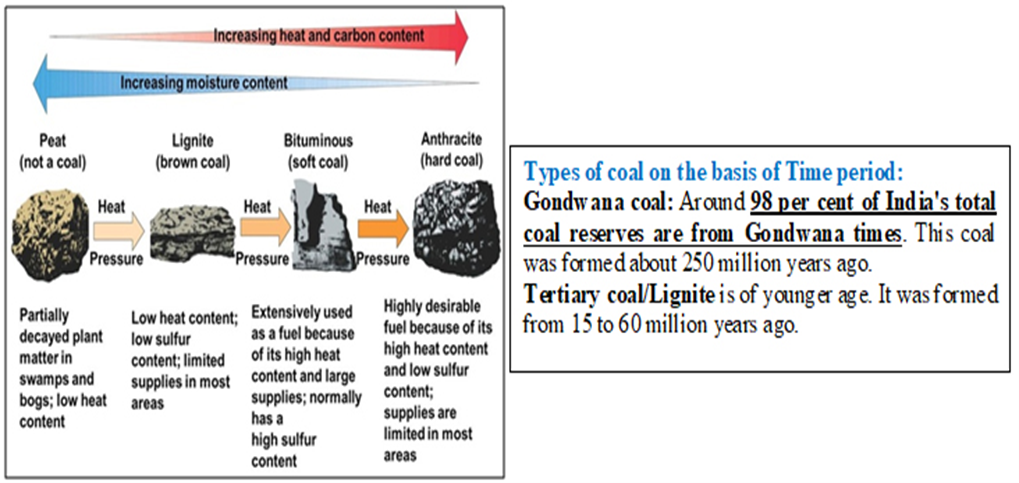 Coal is a combustible black sedimentary rock, formed as rock strata called coal seams.
Coal is mostly carbon with variable amounts of other elements; chiefly hydrogen, Sulfur, oxygen, and nitrogen.
Coal supplies about a quarter of the world's primary energy and two-fifths of its electricity.
Coal is a natural resource that can be used as a source of energy, and in the production of coke for metallurgical processes. Coal is a major source of energy in the production of electrical power using steam generation.
In addition, gasification and liquefaction of coal produce gaseous and liquid fuels that can be transported by pipeline and stored in tanks.
Coal mining in India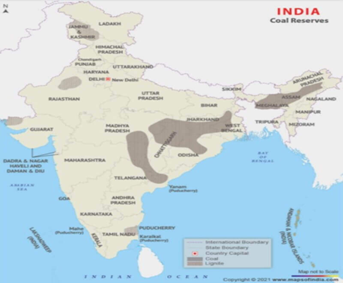 Source:   maps of India
Coal in India was first mined in 1774 by East India Company in Raniganj Coalfield along the Western bank of Damodar River.
India has the fifth largest coal reserves in the world.
India is the largest producer of coal in the world.
India is rich in ancient coal fields like Gondwana coalfields (250 million years old) and tertiary coalfields (15-60 million years old).
The largest coal mine in India in terms of reserves and production is the Jharia Coalfield located in the state of Jharkhand.

Jharia Coalfield is estimated to have a reserve of around 19.4 billion tonnes of coal and accounts for over 60% of India's total coal production
Significance of coal:
It is used as source of energy in brick, cement and iron industries.
It is also used to run the engines of the trains and to generate electricity.
It is also an important source of a large number of organic compounds which are used in the manufacture of dyes, drugs, explosives, synthetic fibers and synthetic detergents.
The destructive distillation of coal provides coal gas, ammoniacal liquor, coal tar and coke.
Coal gas is used mainly as a fuel in industries.
Ammoniacal liquor is used to prepare fertilizers. For example, ammonium sulphate is made by treating ammoniacal liquor with sulfuric acid.
Coal tar is a thick black liquid which is used for blacktopping of roads.
Challenges of Coal Mines in India:
Environmental degradation: Coal mining has a significant impact on the environment, including air, water, and soil pollution.

Mining activities can cause deforestation, soil erosion, land subsidence, and the destruction of wildlife habitats.

Health hazards: Coal mining is associated with several health hazards, including respiratory diseases, skin diseases, hearing loss, and accidents.

The workers are exposed to coal dust, which can cause black lung disease and other respiratory illnesses.

Safety concerns: Coal mining is a hazardous occupation, and safety measures are often inadequate.

Accidents in coal mines are common, and they can result in loss of life and property.

Land acquisition and displacement: Coal mining requires a large amount of land, and the acquisition of land often leads to the displacement of local communities.

Displaced people often lose their livelihoods and face social and economic hardships.

Illegal mining: Illegal mining is a major challenge in India, and it leads to a loss of revenue for the government. Illegal miners often use unscientific mining practices, leading to environmental degradation and safety hazards.
Technological obsolescence: The technology used in coal mining in India is outdated, and there is a need to modernize the mining methods to increase productivity, and efficiency and reduce environmental impact.
Suggestive Measures:
Transparency: Currently, it is not easy to obtain data or information regarding many aspects of the coal sector. This makes it difficult for citizens to demand accountability from the sector.

Therefore, complete transparency in the form of regular publication of information related to all aspects of the sector is needed.

Better policies: It is important to increase the level of public participation and inputs in decision making.

All policies must be published in draft form and must be finalised after comments are invited from citizens and the feedback is incorporated.

Local involvement: Local citizens must be involved in coal mining related activities.

Before the mine starts, there should be meaningful public hearing processes regarding environmental and social impacts, and associated compensation mechanisms.
During the mine's operation, local citizens can help to oversee the operations and ensure its compliance to existing norms.

Rehabilitation: Innovative approaches such as long-term lease of land, offering equity should be tried in rehabilitation processes.

Proper compensation must be ensured to the displaced people.

Strengthening Institutions: The capacity of the relevant institutions must be enhanced. Plans must be developed to increase capacities of coal industry.

This would help in improving the planning, operations and oversight of the sector.
India needs to address the energy issues through clean coal and take advantage of the presence of interested private players in the mining sector. Coal energy needs to transform by considering environmental factors like reducing carbon footprint, global warming, climate change, renewable and cleaner energy, etc.
Source:  The Hindu
About Coal India Limited:
CIL a state owned coal mining corporation came into existence in November, 1975.
CIL is the world's largest coal producer and one of the largest corporate employer.
CIL headquartered at Kolkata, West Bengal.
Spread over eight (8) states of India, CIL operates through its subsidiaries in 84 mining areas.
CIL is a Maharatna Company – a body privileged by the Government of India to enable State-owned enterprises to expand their operations and emerge as global giants.
CIL has ten wholly owned Indian subsidiaries.
In addition, CIL has an overseas subsidiary, Coal India Africana Limitada (CIAL), in Mozambique.
Besides this, CIL has four more joint venture companies – Hindustan Fertilizers & Chemicals Limited, Talcher Fertilizers Limited, CIL NTPC Urja Private Limited and Coal Lignite Urja Vikas Private Limited.
The mines of Assam I e North Eastern Coalfields (NEC) are directly managed by CIL.
CIL contributes 85% of the total coal production and 75% of the total coal based production in the country.
CIL contributes 55% to the total electricity generation and supplies 40% of the country's primary commercial energy requirements.
---
Practice MCQs
Daily Practice MCQs
Q.1) Consider the following statements regarding the Coal India Limited (CIL):
Coal India Limited is the world's largest coal producer and one of the largest corporate employer.
CIL is a Navratna Company.
CIL headquartered at Ranchi, Jharkhand.
CIL has an overseas subsidiary, Coal India Africana Limitada (CIAL), in Mozambique.
Which of the statements given above is/are correct?
1 and 4 only
2 and 3 only
1 and 2 only
2 and 4 only
Q.2) Which of the following statements is incorrect regarding the Shanghai Organisation Corporation (SCO)?
SCO is a permanent intergovernmental international organization,
India and Pakistan are members of SCO
SCO has observer status in the United Nations General Assembly
The SCO's official languages are Russian, English and Chinese.
Q.3) Kali Tiger Reserve is located in
West Bengal
Kerala
Karnataka
Gujrat
Comment the answers to the above questions in the comment section below!!
ANSWERS FOR ' 8th May 2023 – Daily Practice MCQs' will be updated along with tomorrow's Daily Current Affairs.st
---
ANSWERS FOR 6th May

 

– Daily Practice MCQs
Answers- Daily Practice MCQs
Q.1) – a
Q.2) – d
Q.3) – c
For a dedicated peer group, Motivation & Quick updates, Join our official telegram channel – https://t.me/IASbabaOfficialAccount
Subscribe to our YouTube Channel HERE to watch Explainer Videos, Strategy Sessions, Toppers Talks & many more…