---
(PRELIMS & MAINS Focus)
---
Climate Investment Opportunities in India's Cooling Sector report: World Bank
Syllabus
Prelims – Science and Technology
Context: According to the report, "Climate Investment Opportunities in India's Cooling Sector" which was released by the World Bank recently, from 2030 onwards, more than 160 to 200 million people could be exposed to a lethal heat wave in India every year, and around 34 million Indians will face job losses due to heat stress-related productivity decline.
Key findings of the report:
By 2037, the demand for cooling is likely to be eight times more than the current level, the World Bank has said in a report.
In this scenario, it is imperative for India to deploy alternative and innovative energy efficient technologies for keeping spaces cool.
According to the report, it could open an investment opportunity of $1.6 trillion by 2040, besides reducing greenhouse gas emissions significantly and creating 3.7 million jobs.
With the demand for cooling shooting up, there will be a demand for a new air-conditioner every 15 seconds, the report said, leading to an expected rise of 435% in annual greenhouse gas emissions over the next two decades.
About Heat Wave:
It is a period of abnormally high temperatures, more than the normal maximum temperature that occurs during the summer season.
It typically occurs between March and June, and in some rare cases even extends till July.
The extreme temperatures and resultant atmospheric conditions adversely affect people living in these regions as they cause physiological stress, sometimes resulting in death.
Criterion for declaring heat waves in India:
Heat wave is considered if the maximum temperature of a station reaches at least 40°C or more for Plains and at least 30°C or more for Hilly regions.
Based on Departure from Normal Heat Wave: Departure from normal is 4.50°C to 6.40°C.
Severe Heat Wave: Departure from normal is >6.40 degree C.
Based on Actual Maximum Temperature Heat Wave: When actual maximum temperature ≥ 45 degree C.
Very Severe Heat Wave: When actual maximum temperature ≥47 degree C.
If the above criteria met at least in 2 stations in a Meteorological subdivision for at least two consecutive days and it was declared on the second day
Suggestive measures proposed in the report:
The report proposes a road map to support New Delhi's India Cooling Action Plan (ICAP), 2019, through new investments in three major sectors: building construction, cold chains and refrigerants.
Adopting climate-responsive cooling techniques as a norm in both private and government-funded constructions can ensure that those at the bottom of the economic ladder are not disproportionately affected by rising temperatures.
The report suggests that India's affordable housing programme for the poor, the Pradhan Mantri Awas Yojana (PMAY), can adopt such changes on scale.
It proposed enacting a policy for "district cooling", which could lead to the consumption of 20-30% less power than the most efficient conventional cooling solutions.
Apart from this, guidelines for implementation of local and city-wide urban cooling measures such as cool-roofs should also be considered.

India's cooling strategy can help save lives and livelihoods and reduce carbon emissions.
Source: The Hindu
---
State of Finance for Nature report
Syllabus
Prelims – Environment and Ecology
Context: According to a new United Nations (UN) report, Financing for nature-based solutions (NbS) needs to be doubled to deal with multiple global crises of climate change, biodiversity loss and land degradation.
About the report:
The report was released by the UN Environment Programme (UNEP) along with the Economics of Land Degradation initiative of the Federal Ministry for Economic Cooperation and Development (BMZ) of Germany, the United Nations Convention to Combat Desertification (UNCCD) and the European Commission.
The report comes 10 days after the end of the UN Framework Convention on Climate Change (UNFCCC) Conference of Parties 27 (COP27) and a week before the start of the UN Conference on Biodiversity (COP15 CBD) in Montreal.
Key findings of the report:
The key focus should be on doubling finance flows to NbS and reducing it for activities that increase greenhouse gas (GHG) emissions.
According to the report, the current global investments in NbS are around $154 billion (Rs 12,49.44 crore) per year, which needs to be increased to $384 billion by 2025.
On the other hand, investments in economic activities that release GHGs into the atmosphere are currently three to seven times larger than the investments in NbS.
"Harmful subsidies are highest in the energy sector, estimated to range from $340 billion/ year to $530 billion/year and in the agriculture sector, estimated around $500 billion/year," estimated the report.

The report recommended the phase-out of these investments.

Another highlight of the report was the need for private investments in nature-based solutions, which currently stands at only 17 per cent.

Private actors can combine Net Zero with nature positive, the report suggested.
Source:  DownToEarth
Previous Year Questions
Q.1) In the context of India's preparation for Climate-smart Agriculture, consider the following statements:
The 'Climate-Smart village' approach in India is a part of a project led by climate change, Agriculture and food security (CCAFS), an international research programme.
The project of CCAFS is carried out under Consultative Group on International Agricultural Research (CGIAR) headquartered in France.
The International Crops Research Institute for the Semi-Arid Tropics (ICRISAT) in India is one of the CGIAR'S research centres.
Which of the statements given above are correct? (2021)
1 and 2 only
2 and 3 only
1 and 3 only
1,2 and 3
---
Tidal disruption event (TDE)
Syllabus
Prelims – Science and Technology
Context: A mysterious and intensely bright flash of light coming from halfway across the universe earlier this year had stunned astronomers worldwide. The source of the intense beam has now been identified — a supermassive black hole ripping apart a star, pointing directly at Earth.
About Tidal disruption event (TDE):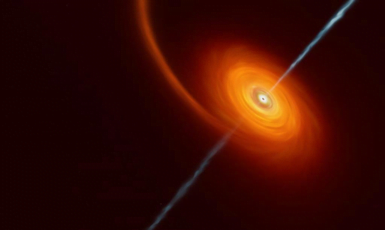 Astronomers study Blackholes by watching for their effects on nearby stars and gas. These stars are disrupted when the black hole's tidal gravity exceeds the star's self-gravity, and this phenomenon is called tidal disruption events (TDE).
The tidal disruption events are crucial and useful phenomena to detect and predict the mass of supermassive black holes in quiescent galaxies.
About Blackholes:
A black hole is a place in space where gravity pulls so much that even light cannot escape.
The gravity is so strong because matter has been squeezed into a tiny space. This can happen when a star is dying.
Visibility:

Because no light can get out, they are invisible.
Space telescopes with special tools can help find black holes.
The gasses swirling around actually help in getting their images.

Example: The supermassive black hole at the centre of the Milky Way galaxy is called Sagittarius A.

It has a mass equal to about 4 million suns and would fit inside a very large ball that could hold a few million Earths.
Do Black Holes Form?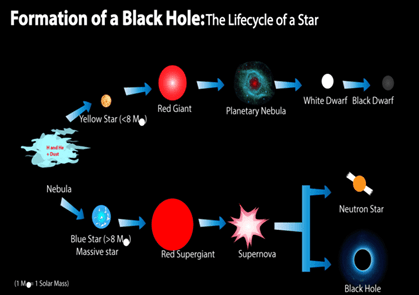 Scientists think the smallest black holes formed when the universe began.
Stellar black holes are made when the centre of a very big star falls in upon itself or collapses.
When this happens, it causes a supernova. A supernova is an exploding star that blasts part of the star into space.
Scientists think supermassive black holes were made at the same time as the galaxy they are in.
Source: DownToEarth
Previous Year Questions
Q.1) Recently, scientists observed the merger of giant 'blackholes' billions of light-years away from the earth. What is the significance of this observation? (2019)
'Higgs boson particles' were detected.
'Gravitational waves' were detected.
Possibility of intergalactic space travel through 'wormhole' was confirmed.
It enabled the scientists to understand 'singularity'.
---
Man-Animal conflict
Syllabus
In news: An eight-member team from Chinnakkanal under Munnar forest division has been instrumental in bringing down the incidents of man-animal conflict and in ensuring the protection of wild elephants in the region
The Wildlife Trust of India has selected the team for its award this year.
The award will be presented at 'Aa Aana', a month-long exhibition to be held at Fort Kochi.
42 people have lost their lives in wild elephant attacks in the Munnar wildlife division since 2010.
Human-wildlife conflict:
When encounters between humans and wildlife lead to negative results, such as loss of property, livelihoods, and even life.
Threat: Defensive and retaliatory killing may eventually drive these species to extinction
Types:
Destruction of animal habitats due to encroachment of forest land and revenge killing and poaching of carnivore animals.
Roadkill, resulting in the deaths of many small wildlife animals.
Causes
Human population growth, agricultural expansion, infrastructure development, climate change and other drivers of habitat loss.
Mitigation:
Creating barriers, deploying deterrents, or moving wildlife.
Eco-bridges
Animal corridors
Wildlife Trust of India (WTI):
It is an Indian nature conservation organisation.
Formed in 1998 in response to the many crises confronting India's wildlife and wild habitats.
It is registered as a charitable trust.
Motto: In service of nature
Source: The Hindu
---
Foreign Exchange Management Act
Syllabus
In news: Actor Vijay Devarakonda appeared before Enforcement Directorate in connection with the Foreign Exchange Management Act (FEMA) investigation for producing the recent multilingual movie, 'Liger' which had a cameo by boxing legend Mike Tyson.
Foreign Exchange Management Act (FEMA)
It is an act of Parliament of India
Introduced in 1999 to replace the draconian FERA (Foreign Exchange Regulation Act).
FEMA outlines the formalities and procedures for the dealings of all foreign exchange transactions in India.
These foreign exchange transactions have been classified into two categories — Capital Account Transactions and Current Account Transactions.
This act makes offences related to foreign exchange civil offenses.
It also paved the way for the introduction of the Prevention of Money Laundering Act 2002.
Principles – all current account transactions are permitted unless expressly prohibited and all Capital account transactions are prohibited unless expressly permitted.
To give effect to the provisions of the Act the Government of India have made Foreign Exchange Management (Current Account transactions) Rules 2000 under Section 5 read with Section 46 of the Act.
Aim
to facilitate external trade and payments
to assist orderly development and maintenance of the Indian forex market
to liberalise the Indian economy
Source: TOI
Previous Year Questions
Q.1) With reference to the 'Prohibition of Benami Property Transactions Act, 1988 (PBPT Act), consider the following statements: (2017)
A property transaction is not treated as a benami transaction if the owner of the property is not aware of the transaction.
Properties held benami are liable for confiscation by the Government.
The Act provides for three authorities for investigations but does not provide for any appellate mechanism.
Which of the statements .given above is/are correct?
1only
2 only
1 and 3 only
2 and 3 only
---
Asia-Pacific Broadcasting Union
Syllabus
Prelims – Current Affairs
In News: 59th Asia-Pacific Broadcasting Union (ABU) General Assembly & associated meetings 2022 was held
Theme – 'Serving The People-Media's Role In The Time Of Crisis'
ABU: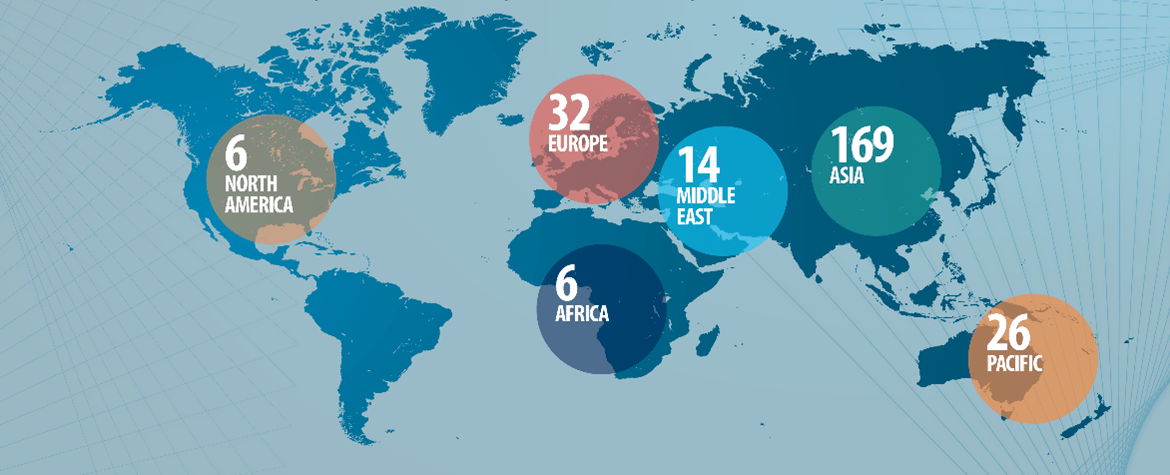 Established in 1964 as a not-for-profit, non-government, non-political, professional association
It is the biggest broadcasting union in the world.
It covers around 70 countries and 5 continents and has 250 members
It covers eight regions: the Pacific, Asia(SE, North, South, Central), Middle East, Europe, North Africa, North America.
Indian members:
All India Radio / Prasar Bharati (AIR)
Doordarshan / Prasar Bharati (DD)
Aim:
to assist the development of broadcasting in the region
promotes the collective interests of television and radio broadcasters as well as key industry players and facilitate regional and international media co-operation.
Functions:
ABU organises key industry, regional and global conferences and summits as platforms for exchanging ideas, experiences and practices.
The ABU Media Academy is a centre of excellence and learning, providing hundreds of courses and capacity building activities annually
It provides rights-free content acquisition for developing countries, negotiates rights for major sports events and organises coverage for the region.
It trains and equips media practitioners on role of media in the time of crisis.
It also discovers the latest trends and challenges, bringing together members of journalistic community and academia from this vast region and engage them into intense learning, discussions, exchange of ideas and networking.
Source: NewsOnAir
---
Prevention of Money Laundering Act (PMLA) 2002
Syllabus
In News: The Finance Ministry notified changes to the Prevention of Money Laundering Act (PMLA), 2002
Changes to PMLA 2002:
Allowed Enforcement Directorate (ED) to share incriminating information and material  about economic offenders with 15 more agencies.
These include
National Investigation Agency (NIA)
Serious Fraud Investigation Office (SFIO)
Directorate General of Foreign Trade (DGFT)
Competition Commission of India (CCI)
National Intelligence Grid
Central Vigilance Commission (CVC)
Wildlife Crime Control Bureau
MEA, State Police Department, regulators under various Acts, Defence Intelligence Agency, National Technical Research Organisation, Military Intelligence, inquiry authority under Central Civil Services Rules.
Earlier, the ED was permitted to share data with only 10 agencies, including CBI, RBI, Sebi, IRDAI, Intelligence Bureau, and Financial Intelligence Unit (FIU), among others.
Aim:
Integrate numerous State and Central government agencies
Empowering them with verified information related to an outlaw
Expedite nabbing of law-breakers
Apprehend social evils and bring them to justice in the court of law
Prevention of Money Laundering Act(PMLA):
It is a criminal law of the Parliament of India passed by the NDA government in 2002
PMLA became law and came into force on July 1, 2005.
It has blanket powers assigned to the Enforcement Directorate (ED) under PMLA for seizing, investing, searching and attaching assets.
Introduced due to India's commitment at the Vienna Convention to combat money laundering.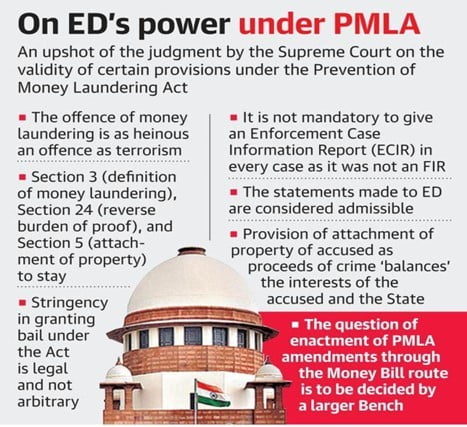 Aim:
Prevention and controlling money laundering
Confiscation and seizing of property involved in or derived from money laundering.
Providing punishment to offenders
Appointment of adjudicating authority and appellate tribunal concerning money laundering matters
 Dealing with every issue related to money laundering
MUST READ ED
Source: Indian Express
---
RBI's modified digital lending norms
Syllabus
Mains – GS 2 (Governance) and GS 3 (Economy)
Context: The modified guidelines on digital lending by the Reserve Bank of India (RBI) have come into effect from 1st December, 2022.
About Digital Lending:
Digital lending involves giving and recovering loans through web platforms or mobile apps.
It facilitates speedy disbursal and helps lower costs.
Lending Service Providers (LSPs) operate in collaboration with Non-Banking Financial Companies (NBFCs) who disburse credit to customers using the LSPs platform.
These platforms often resort to reckless practices by lending beyond a borrower's repayment capacity.
About Digital Lenders:
RBI has categorised digital lenders into three groups:
Entities which are regulated by the RBI and are allowed to carry out lending business.

Example: All Commercial Banks, Primary (Urban) Co-operative Banks, State Co-operative Banks, District Central Co-operative Banks; and Non-Banking Financial Companies.

Entities that are authorised to carry out lending as per other statutory or regulatory provisions but are not regulated by the RBI.

Example: merchant bankers, stock brokers, bankers to issues, debenture trustees, portfolio managers, DPs, registrars to issues, share transfer agents, etc.

Entities lending outside the purview of any statutory or regulatory provisions.

Example: Informal lenders
About new guidelines issued by RBI:
Objective:
The digital lending modified guidelines aim to protect customers from exorbitant interest rates and keep a check on unethical loan recovery practices.
The regulatory framework is basically focussed on the digital lending ecosystem of RBI-regulated entities and the lending service providers.
Loan disbursals and repayments:
These are to be executed only between the bank accounts of the borrowers and the regulated entities such as the banks and the NBFCs.
There will be no pass-through/pool account of the Lending Service Providers (LSPs).
Fees and Charges:
Any fees or charges payable to Lending Service Providers (LSPs) in the credit intermediation process shall be paid directly by Regulated Entities and not by the borrower.
Applicability:
Instructions are only applicable for the existing customers availing fresh loans and to new customers getting onboarded.
Data collection:
Data collected by digital lending apps must be need-based, with the borrower's prior consent, and can be audited if required.
Increase in credit limit:
Borrower's consent on the increase in the credit limit is must.
An automatic credit increase without the consent would be prohibited.
Grievance redressal officer:
A nodal grievance redressal officer will also be deployed.
Such grievance redressal officers shall also deal with complaints against their respective Digital Lending Apps (DLAs).
Digital Lending Apps (DLAs) are mobile and web-based applications with user interfaces that allow a borrower to borrow from a digital lender.
Ombudsman:
The borrower can complain to the Integrated Ombudsman Scheme of the RBI if their grievance is not resolved by the bank within 30 days.
Credit Information Companies (CICs):
Regulated Entities are required to ensure that any lending carried out through digital lending apps has to be reported to Credit Information Companies (CICs).
Lending through the Buy Now Pay Later (BNPL) mode also needs to be reported to the CICs.
Advantages of new norms:
Financial inclusion: with new innovations underway, digital lending has enabled many Financial Service Providers a way to offer much better products to the masses at a much faster rate which is even more cost-efficient.
Reaching to the remotest area: Digital lending can prove to be a tool acting towards the growth of higher quality financial services to underserved businesses and people.
Tackling concerns: The guidelines aim to tackle concerns like unscrupulous lending practices and involvement of third parties, mis-selling and data privacy.
Regulated market: Licensed and compliant players will have an advantage over fintech's with other NBFC partnerships and are likely to see rising market share in the future.
Avoiding delay: Online lending has played a pivotal role in evading cumbersome red-tapism usually involved while availing loans offline in a traditional setting.
Issues associated with the new norms:
Unregulated apps: There were about 1,100 lending apps available for Indian android users of which about 600 were illegal. They were either unregulated by the RBI or had NBFC partners with an asset size of less than 1,000 crore, prompting doubts on its operability.
The space is largely dominated by NBFCs: Its customers particularly include small borrowers without a documented credit history and thus, not served by traditional financial institutions.
LSPs often resort to reckless lending practices by endowing credit beyond a borrower's repayment capacity. The risk is mitigated by spreading it to all users by charging higher interest rates.

There is absence of standardised disclosure and regulatory norms which made it cumbersome to assess a participant's operational legitimacy.

Others: The concerns primarily relate to unbridled engagement of third parties, mis-selling, breach of data privacy, unfair business conduct, charging of exorbitant interest rates, and unethical recovery practices.
Way Forward:
The need of the hour is competent systems and processes that would further strengthen data privacy and security of confidential information shared between customers and regulated entities. This regulation would also address concerns emanating from TechFin which are companies that are primarily tech-based service providers, say e-commerce, and also offer financial services.
Source: The Hindu
Previous Year Questions
Q.1) With reference to the Indian economy, consider the following statements:
If the inflation is too high, Reserve Bank of India (RBI) is likely to buy government securities.
If the rupee is rapidly depreciating, RBI is likely to sell dollars in the market.
If interest rates in the USA or European Union were to fall, that is likely to induce RBI to buy dollars.
Which of the statements given above are correct? (2022)
1 and 2 only
2 and 3 only
1 and 3 only
1, 2 and 3
Q.2) If the RBI decides to adopt an expansionist monetary policy, which of the following would it not do? (2020)
Cut and optimize the Statutory Liquidity Ratio
Increase the Marginal Standing Facility Rate
Cut the Bank Rate and Repo Rate
Select the correct answer using the code given below:
1 and 2 only
2 only
1 and 3 only
1, 2 and 3
---
India's Youth Bulge
Syllabus
Mains – GS 2 (Governance)
Context: As global economic growth goes down well below 2 per cent in 2023, India's economic growth is expected to remain at 5 per cent. It reflects India's structural strengths and growth drivers.
For global growth a combination of transitory shocks and secular forces has created a highly uncertain future, with the potential for a medium-term global stagnation. But India is being viewed as a bright spot in this global downturn.
Factors Responsible for India's Progress:
World's Ageing Population Issues: Global population is getting older rapidly across the cohort of countries that make up more than 75 percent of global GDP fuelling pressure on wages, supply shocks, pandemics, and high debt levels associated with an aging population.

Trade and finance policies are being used to cope not only with transitory shocks but also secular forces of ageing population and climate change

Less prone to the Changes in Global Secular Forces: India is a success story on the export of services, and services tend to shrink less compared to manufacturing during global economic downturns.

Global exports of digitally delivered services have more than tripled during the last two decades, far greater than trade in goods, and India stands out as a winner.

India's Youth Bulge: India's growth will continue to benefit from demographic dividend and youth bulge.

India's demographic profile is well positioned to withstand adverse macroeconomic shocks, and there is space to borrow from residents, and build public private partnerships to finance additional spending on physical and human infrastructure.
Advantages of India's youth bulge:
Wage-price spiral – Since the labour force is expanding, young population will avoid the risks of wage-price spiralling upwards.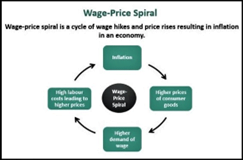 Women workforce – The rise in women's workforce activity naturally accompanies a decline in fertility.
Savings – Working ages happen to be the prime years for savings, which is key to capital accumulation, creation of infrastructure and technological innovation.
Retirement – It boosts the savings that occurs as the incentive to save for longer periods of retirement.
Emergence of middle class – Surveys show a massive shift towards a middle-class society which

Is a source of entrepreneurship
Is a major contributor to savings and human capital
Strengthen the links with education.
Relates to consumption
Major contributions of Middle Class: India is expected to emerge with a middle class that is proportionately as large as that of the US today. There are four key contributions that the middle class makes to economic growth and social progress-
Source of Entrepreneurship: A strong middle class fosters innovation and encourages entrepreneurs to start their own businesses, which in turn creates good jobs that support a growing economy and social progress.
Major Contributor to Savings and Human Capital: Savings rates and the willingness to invest in human capital are higher amongst middle class households.
Strengthening the Links with Education: They strengthen the links with democracy, free press, education and fair elections.
Favourable Consumption Pattern: The expanding demand for consumer durables—cars, motorcycles, televisions, air conditioners, mobile phones and refrigerators—is already leading to an acceleration in manufacturing in India.

The middle class is also demanding housing, shopping malls, and other infrastructure, and can afford to take an annual vacation, boosting domestic tourism.
Suggestive measures for India:
If India can expand investments in physical and human infrastructure, declare independence from the virus, spur rural vitalisation, and reduce inequality, almost a billion people will join the ranks of the middle class by 2025,
The government is unlikely to be able to provide the quantity and quality of services that will be demanded, even in areas like health, education and water that have evolved as public-sector areas in other countries.

India will have to adopt hybrid systems, with private and public service providers to improve these.

This can be achieved if India can push for an increase in lending by global and regional multilateral institutions.
There is a huge potential, for example, to push for a large issuance of Special Drawing Rights, the International Monetary Fund's reserve asset.
Way Forward:
There are many reasons to be optimistic about India's future growth that will be driven by the rapidly rising middle class, young demographics and the next wave of globalisation. By increasing the rational investment in education, skill development and health, India has the potential to fulfill its dream of developed country status by 2047 (one of Panch-Pran given by the prime minister of our country).
Source: The Hindu
---
Languages of India
Syllabus
Mains –GS 1 Indian Culture and Diversity of India
In News: The 11th volume of the Report of the Official Language Committee headed by Union Home Minister was submitted to President recently.
The committee recommended Hindi as the language of instruction and examinations in technical courses.
It has triggered angry reactions from the Chief Ministers of Tamil Nadu and Kerala, who have described the report as an attempt by the Union government to impose Hindi on non-Hindi-speaking states.
Context:
Language is an essential ingredient of identity.
The latest effort to impose Hindi raises once again the issue of cultural nationalism, quite retrogressively.
There is a need to recognize the complexity of the language landscape in India.
Languages of India:
As per 2011 Census, India has 123 major languages, of which 30 were spoken by more than a million native speakers.
Mother tongue survey of India- There are 19,500 "mother tongues" – including 103 foreign mother tongues.
English is used in higher education and in some areas of the Indian government.
Hindi is the most spoken mother tongue or primary language (43.6%) and serves as the lingua franca across much of north and central India.
Hindi is also the second most spoken language in the world, Bengali is at 7th and Punjabi at 10th.
Bengali is the second most spoken primary language (8%), with a significant number of speakers in eastern and northeaster regions.
Roughly, 12% of Indian speak local, least recognised languages
There is no official language of India.
India is home to the Indo-Aryan and Dravidian language families, two of the world's largest.
Linguistic Plurality in India:
Languages in School: 58-69 different languages
Language of mass media: 87 languages, radio programs under govt in 24 languages and 146 dialects
Administrative languages: is mostly English and Hindi
Constitutional provisions on language:
Constituent Assembly: The question of expressing national identity in a linguistically diverse society anxious was debated by the Constitution-makers and even linked to national prestige.
The Eighth Schedule consists of the 22 languages from length and breadth of the country.
Article 345 allows the States to choose their official language. Practically, many states have chosen English.
Article 348 mandates English language in all proceedings in the Supreme Court and High Court, Bills, acts, amendments, ordinances, rules, etc., until Parliament by law provides otherwise.
Article 351 provides that it shall be the duty of the Union to promote the spread of Hindi as a medium of expression for all the elements of the composite culture of India.
The Official Languages Act, 1963 and its Rules provide for the continuation of English language for official purposes of the Union and for use in Parliament.
Challenges of single language:
In Education: Implications and practicality in terms of the availability of course material and of teachers qualified to communicate it adequately.
Competence of candidates undertaking examinations in Hindi language and competing in equal measure with those whose mother tongue it is.
Lack of proper curriculum
In Unity: SK Dhar Commission set up in 1948 argued against a linguistic basis of reorganisation of states, as it could lead to further division
Linguistic chauvinism i.e. exercising power and superiority of one language over others or having excessive pride in one's own language which may breed resentment and division.
Economic implications: may reduce competitiveness in the job market since English is the global language
Suggestions for future:
National Education Policy (NEP), 2020, endorses teaching in mother tongues at least for primary classes.
PM Modi advocates medical education in mother tongue.
11th volume of report of Official Language Committee recommends Hindi as the medium of instruction in all technical and non-technical institutions, while the regional language should be used in states where official language is not Hindi.
Due consideration to 8th schedule which recognizes the linguistic diversity of India.
Recognition of article 29, 30 of Indian constitution that places importance on protection and preservation of minority languages and culture.
Upholding spirit of cooperative federalism among centre and states by duly recognizing linguistic diversities.
Zonal and Interstate Councils can provide a fantastic forum for dialogue and discussion
The use of English services pragmatic and administrative purposes while promotion of Hindi should be non-coercive in nature.
Making a tolerant society by recognizing differences and variations.
Way forward:
Indian Union is an agglomeration of ethnolinguistic nationalities that have their own languages and cultures
The unity of India would be strengthened through the acceptance of regional ambitions.
All languages and mother tongues of India are a repository of its rich cultural heritage and must be encouraged and developed equally.
Source: PIB
---
Baba's Explainer – Karnataka- Maharashtra Border Dispute
Karnataka- Maharashtra Border Dispute
Syllabus
GS-3: Money & Banking; RBI and its monetary Policy
GS-2: Government Policies and Interventions for Development in various sectors and Issues arising out of their Design and Implementation.
Context: Reserve Bank of India (RBI) has announced the launch of India's much-awaited Central Bank Digital Currency (CBDC), a sort of official cryptocurrency, for retail users from December 1.
---
Practice MCQs
Daily Practice MCQs
Q.1) Consider the following statements:
The Wildlife Trust of India was formed in 2008.
India's First Eco Bridge was built in Tadoba-Andhari Tiger Reserve.
Which of the statements given below is/are correct?
1 only
2 only
Both 1 and 2
Neither 1 nor 2
Q.2) Consider the following statements:
Under The Foreign Exchange Management (FEMA) act, offences related to foreign exchange are criminal offenses.
The offenses under the Prevention of Money Laundering Act(PMLA) are civil offenses.
The Enforcement Directorate was formed under the FEMA Act.
Which of the following statements are correct:
1 only
2 only
2 and 3 only
None of the above
Q.3) With reference to Indian economy, consider the following:
Commercial Banks
Merchant Bankers
Stock Brokers
Non-Banking Financial Companies
Which of the above are regulated by Reserve Bank of India?
1 and 3 only
2 and 4 only
1 and 4 only
All of the above
Comment the answers to the above questions in the comment section below!!
ANSWERS FOR ' 2nd December 2022 – Daily Practice MCQs' will be updated along with tomorrow's Daily Current Affairs.st
---
ANSWERS FOR 1st December

 

– Daily Practice MCQs
Answers- Daily Practice MCQs
Q.1) – b
Q.2) – d
Q.3) – b
For a dedicated peer group, Motivation & Quick updates, Join our official telegram channel – https://t.me/IASbabaOfficialAccount
Subscribe to our YouTube Channel HERE to watch Explainer Videos, Strategy Sessions, Toppers Talks & many more…