---
(PRELIMS & MAINS Focus)
---
Flue Gas Desulphurisation
Syllabus
Context: According to study conducted by Centre for Research on Energy and Clean Air (CREA), Seven years after the December 2015 emission standard notification for coal-based power stations, not one single power station in West Bengal has installed Flue Gas Desulphurisation (FGD) technology to reduce SO2 emissions.
The emission standards were notified for the first time in December 2015 in India for coal-based power stations to limit emissions of sulphur dioxide (SO2), nitrogen oxides (NOx), and mercury (Hg), along with tightening particulate matter emissions standards and setting water consumption limits.
Key findings of the report:
None of the coal-based power stations in West Bengal installed SO2 control technology over the past seven years since the emission standard notification for coal-based power stations was published in December 2015.
Private sector power generation units are the worst when it comes to retrofits to control SO2 emissions; not one of them has awarded the bids after seven years of emission norms being in force.
The coal consumption for grid-connected power generation in West Bengal has increased from 44 MT in 2015 to 54 MT in 2021.
About Flue Gas Desulphurisation (FGD):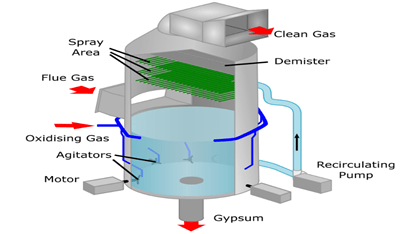 Flue-gas desulfurization(FGD) is a set of technologies used to remove Sulphur dioxide (SO2) from exhaust flue gases of fossil-fuel power plants and from the emissions of other Sulphur dioxide-emitting processes such as waste incineration.
FGD systems may involve wet scrubbing or dry scrubbing.
In wet FGD systems, flue gases are brought in contact with an absorbent, which can be either a liquid or a slurry of solid material. The Sulphur dioxide dissolves in or reacts with the absorbent and becomes trapped in it.
In dry FGD systems, the absorbent is dry pulverized lime or limestone; once absorption occurs, the solid particles are removed by means of baghouse filters.
About Sulphur dioxide:
It is an inorganic compound, heavy, colourless, and poisonous gas. It is produced in large quantities in intermediate steps of sulphuric acid manufacture.
It has a pungent, irritating odour, similar to the smell of a just-struck match.
In nature, it occurs in volcanic gases and in a solution of some water warm springs.
Usually, it is prepared industrially by the burning in air or oxygen of sulphur or such compounds of sulphur as iron pyrite or copper pyrite.
In large quantities, sulphur dioxide is formed in the combustion of sulphur-containing fuels.
It can combine in the atmosphere with water vapour to form sulphuric acid which is a major component of acid rain.
Under moderate pressures at room temperatures, sulphur dioxide can be liquified and the liquid freezes at -73 degree Celsius and boils at -10 degree Celsius under atmospheric pressure.
Sulphur Dioxide uses are:
It is used in the preparation of sulphuric acid, sulphur trioxide, and sulphites.
It is also used as a disinfectant.
It is used in a refrigerant, a reducing agent, a bleach, and food preservation mainly in dried fruits.
Sulphur Dioxide (SO2) and Air Pollution:
SO2 emissions are a significant contributor to air pollution. High concentrations of SO2 in the air generally lead to the formation of other Sulfur Oxides (SOx).
SOx can react with other compounds in the atmosphere to form small particles. These particles contribute to Particulate Matter (PM) pollution.
Small particles may penetrate deeply into the lungs and in sufficient quantity can contribute to health problems.
Air Pollution is a huge public health concern, with 91% of the world's population living in areas where outdoor air pollution exceeds guideline limits by the World Health Organization (WHO) and as a result, 4.2 million people die prematurely every year.
The greatest source of SO2 in the atmosphere is the burning of fossil fuels in power plants and other industrial facilities.
Other sources include industrial processes such as extracting metal from ore, natural sources such as volcanoes, and locomotives, ships and other vehicles and heavy equipment that burn fuel with high sulphur content.
Source: The Hindu
Previous Year Questions
Q.1) Consider the following statements:
The Climate Group is an international non-profit organisation that drives climate action by building large networks and runs them.
The International Energy Agency in partnership with the Climate Group launched a global initiative "EP100".
EP100 brings together leading companies committed to driving innovation in energy efficiency and increasing competitiveness while delivering on emission reduction goals.
Some Indian companies are members of EP100.
The International Energy Agency is the Secretariat to the "Under2 Coalition".
Which of the statements given above are correct? (2022)
1,2, 4 and 5
1,3 and 4 only
2,3 and 5 only
1,2, 3, 4 and 5
Q.2) Consider the following:
Carbon monoxide
Nitrogen oxide
Ozone
Sulphur dioxide
Excess of which of the above in the environment is/are cause(s) of acid rain? (2022)
1, 2 and 3
2 and 4 only
4 only
1, 3 and 4
---
National Statistical Commission (NSC)
Syllabus
Context: Recently the Government of India had appointed Rajeeva Laxman Karandikar, Professor Emeritus at Chennai Mathematical Institute (CMI), as the part-time chairperson of the National Statistical Commission (NSC) of India for a period of three years.
About National Statistical Commission (NSC):
The Government of India through a resolution dated 1st June, 2005 set up the National Statistical Commission (NSC).
The setting up of the NSC followed the decision of the Cabinet to accept the recommendations of the Rangarajan Commission, which reviewed the Indian Statistical System in 2001.
The NSC was constituted with effect from 12th July 2006 with a mandate to evolve policies, priorities and standards in statistical matters.
The Commission has a part-time Chairperson, four part-time Members and an ex-officio Member.
The Chief Statistician of India, the post created specifically as the Head of the National Statistical Office is the Secretary of the Commission.

He/she is also the Secretary to the Government of India in the Ministry of Statistics and Programme Implementation.

The commission has also been entrusted with the functions of the Governing Council of the National Sample Survey Office which include overseeing the conduct of National Sample Surveys (NSS) on various socioeconomic subjects through the NSSO and the State Directorate of Economics and Statistics.
It is an autonomous organization works under Ministry of Statistics and Programme Implementation.
Source:  The Hindu
---
Coastal Red Sand Dunes/Erra Matti Dibbalu
Syllabus
Prelims – Governance and Geography
Context: Recently Scientists urged Andhra Pradesh govt. to protect glacial-period coastal red sand dunes of Vizag. This site needs to be protected to study the impact of climate change as Erra Matti Dibbalu have seen both the glacial and the warm periods.
About Coastal Red Sand Dunes/Erra Matti Dibbalu:
Formation of Erra Matti Dibbalu:
Formed around 12,000 years ago due to sea-land interaction.
Comprises a mixture of sand (40-50%), silt and clay (another 50%) with oxidation imparting the unique red colour.
Significance of Erra Matti Dibbalu:
They are geologically important as they represent the geological history of the late Quaternary period and carry the imprints of the fall of sea level and its subsequent rise, the impact of climate, monsoon and geological processes on the sediments.
They are anthropologically and archeologically important as they possibly contain mesolithic and neolithic cultural materials as well.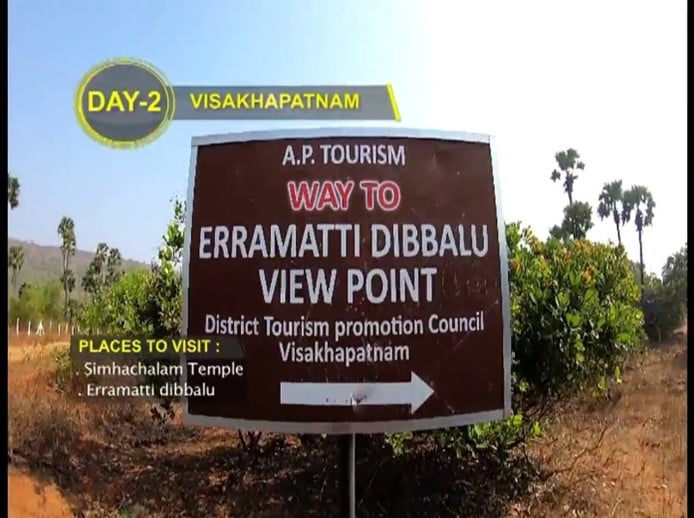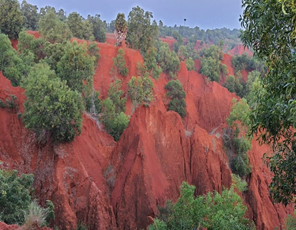 Recognition of Erra Matti Dibbalu:
It was recognised as a national geo-heritage site in 2014 and as a protected site by the Andhra Pradesh Government in 2016.
The Geological Survey of India (GSI) declares geo-heritage sites/ national geological monuments for protection and maintenance.
Other Similar Place: The only other place in the country to have a similar stretch of red sand dunes is Tamil Nadu, which has the Teri dune complex.
About Geological Survey of India:
The Geological Survey of India (GSI) is a scientific agency of India.
It was founded in 1851, is a Government of India Ministry of Mines organisation, one of the oldest of such organisations in the world and the second oldest survey in India after Survey of India (founded in 1767), for conducting geological surveys and studies of India.
The main functions of the GSI relate to creation and updating of national geo-scientific information and mineral resource assessment.
It is headquartered in Kolkata and has six regional offices located at Lucknow, Jaipur, Nagpur, Hyderabad, Shillong and Kolkata. Every state has a state unit.
John McClelland for the first time used the term Geological Survey of India in his report in 1848. He designated himself as officiating Surveyor, Geological Survey till 1st April 1850.
The Geological Survey of India (GSI) was set up in 1851 primarily to find coal deposits for the Railways.
The arrival of Sir Thomas Oldham, Professor of Geology at Trinity College Dublin and the Chief of Irish Geological Survey at Calcutta on 4th March 1851, marked the beginning of the continuous period of the Geological Survey of India.
1951 M. S. Krishnan becomes the first Indian to be a Director of the Geological survey of India.
Source:   The Hindu
Previous Year Question
Q.1) Gandikota canyon of South India was created by which one of the following rivers? (2022)
Cauvery
Manjira
Pennar
Tungabhadra
---
Hornbill Festival
Syllabus
Context: Hornbill Festival is an annual festival of Nagaland. The vibrant festival takes place mostly in the first week of December every year. The main venue of the Hornbill Festival, 2022 is Kohima, the capital of Nagaland.
The festival organized by Nagaland Government is an annual tourism promotional event to showcase the state's traditional and rich cultural heritage in all its ethnicity, diversity and grandeur.
The objective is to encourage inter-tribal interaction and to promote cultural heritage of Nagaland.
Highlights of the Hornbill Festival include witnessing the cultural performance of different tribes of Nagaland and Northeastern States, indigenous games, city tour, night carnival, art exhibition, photo-fest and many more.
One of the major highlights of this festival is the Hornbill International Rock Festival where local and international rock bands perform.
Hornbills:
India is home to nine species of hornbills: three of them, the wreathed hornbill (Aceros undulatus), the brown hornbill (Anorrhinus austeni) and the Rufous-necked hornbill (Aceros nipalensis) great hornbill is the state bird of Arunachal Pradesh and Kerala. India also has Narcondam Hornbill, found only on the island of Narcondam.
Hornbill festival celebrated in Nagaland is named after the bird – Hornbill which is the most revered and admired bird for the Nagas.
Hornbills used to be hunted for their casques — upper beak — and feathers for headgear despite being cultural symbols of some ethnic communities in the northeast, specifically the Nyishi of Arunachal Pradesh.
But a 20-year-old conservation programme entailing the use of fibreglass beaks reduced the threat to the birds to a large extent.
Important Hornbill species:
Great Hornbill:
IUCN Red List: Near threatened.
Largest of all hornbills in India.
Found in a few forest areas in Western Ghats and the forests along Himalayas.
Rufous-necked Hornbill: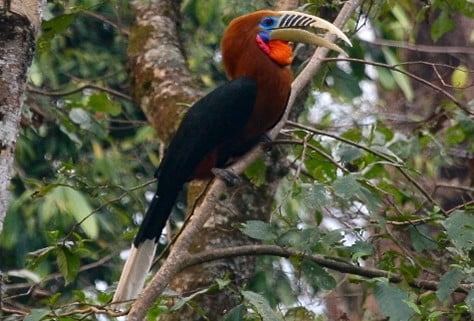 IUCN Red List: Vulnerable
Has Northern-most extent, ranging from North-eastern India to Mahananda Wildlife Sanctuary in West Bengal.
Narcondam Hornbill: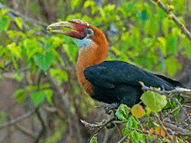 IUCN Red List: Endangered
Endemic to Indian island of Narcondam in Andamans.
Smallest home range out of all species of Asian hornbills.
Malabar Pied Hornbill: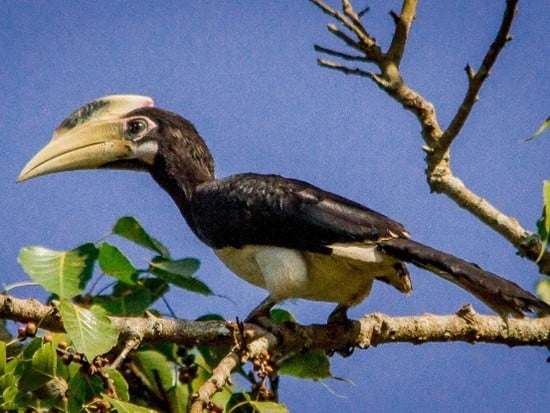 IUCN Red List: Near Threatened
Common resident breeder in India and Sri Lanka.
Habitat: Evergreen and moist deciduous forests often near human settlements.
Note:
Tsiiphie: Traditional Naga headgear
Amula kaxa: Naga shawl
In Pakke Tiger Reserve, flocks of up to 60 Great Hornbills have been seen roosting at a single site with more than 100 Wreathed Hornbills in the winter (non-breeding season).

Lies in the foothills of the eastern Himalaya in the East Kameng district of Arunachal Pradesh. It is also known as Pakhui Tiger Reserve.
Falls within the Eastern Himalaya Biodiversity Hotspot.
Known for its amazing sightings of four resident hornbill species.
India is home to nine species of hornbills. three of them, the wreathed hornbill (Aceros undulatus), the brown hornbill (Anorrhinus austeni) and the Rufous-necked hornbill (Aceros nipalensis)great hornbill is the state bird of Arunachal Pradesh and Kerala.
It is 'vulnerable' under the IUCN Red list.
Hornbill festival celebrated in Nagaland is named after the bird – Hornbill which is the most revered and admired bird for the Nagas.

India plans to showcase Nagaland's Hornbill Festival during its G20 presidency.
About the size of a turkey, the southern ground hornbill is the largest species of hornbill on Earth. It can fly up to 18 miles an hour and has an impressive wingspan that reaches about four feet across. The bird is recognizable by its jet-black feathers, yellow eyes, and bright red throat.
Source: PIB
---
Horticulture Cluster Development Programme
Syllabus
Context: The Cluster Development Programme has a great potential to transform the entire horticulture ecosystem by creating last-mile connectivity with the use of multimodal transport for efficient and timely evacuation and transportation of horticulture produce.
Nodal Agency: The National Horticulture Board (NHB)
Aim: To improve exports of targeted crops by about 20% and create cluster-specific brands to enhance the competitiveness of cluster crops.
Objectives:
To promote the Agriculture sector in the country and
to increase the income of the farmers by giving them a reasonable price for their produce.
Key Features:
CDP will support integrated interventions to enhance the competitiveness of targeted clusters.
The interventions have been classified into the following three verticals:
Pre-production and Production
Post-harvest Management and Value Addition
Logistics, Marketing and Branding
MoA&FW has identified 55 horticulture clusters.
The geographical specialization of horticulture clusters will be leveraged.
It will promote integrated and market-led development of pre-production, production, post-harvest, logistics, branding, and marketing activities.
Implementation Framework:
NHB shall provide financial assistance and supervise the overall implementation of the programme.
A government/public sector entity, recommended by state/central government, shall be appointed as a Cluster Development Agency (CDA) for each identified cluster for the implementation of CDP.
CDA will establish a Cluster Development Cell (CDC) with a dedicated team of officers within the CDA for smooth implementation of the programme.
Significance:
The CDP will benefit around 10 lakh farmers and related stakeholders along the value chain.
The interest of the farmers should be paramount in the centre of any programme/scheme.
The overall development of horticulture in the country would be focused with the help of the implementation of this Programme.
Source: PIB
---
Zombie Virus'
Syllabus
In News: European researchers have raised concerns of yet another pandemic after resurrecting a 48,500-year-old 'zombie virus' from a frozen lake in Russia.
Climate change-induced thawing of the permanent frozen land (permafrost) in the Arctic could pose a new public health threat.
About Zombie Virus: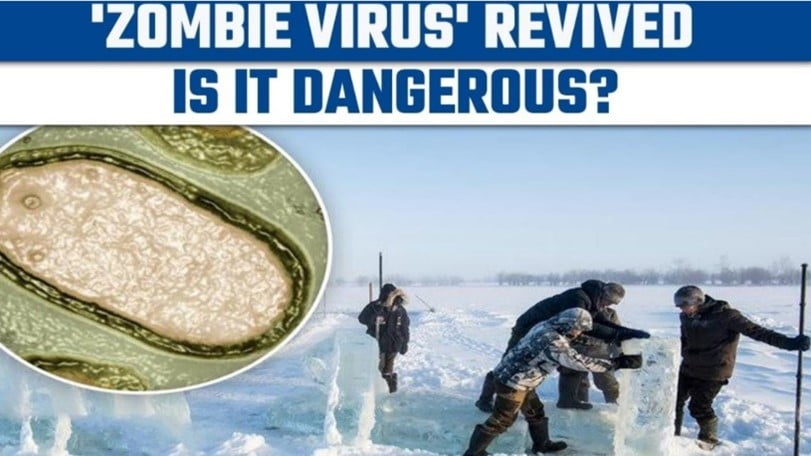 Zombie virus is the term given to a virus that is frozen in ice and therefore dormant.
The virus emerged due to the thawing of permafrost as the global temperature is rising.
It is a group of viruses which have been dormant for thousands of years.
It is dubbed Pandoravirus yedoma after the mythological character Pandora which was 48,500 years old and has the potential to infect other organisms.
It was discovered below the bottom of a lake in Yukechi Alas in Yakutia, Russia.
Major cause of Zombie Virus:
One-quarter of the Northern hemisphere is underlain by permanently frozen ground which is referred to as permafrost.
Due to climate warming, irreversibly thawing permafrost is releasing organic matter frozen for up to a million years and most of which decomposes into carbon dioxide and methane which further enhances the greenhouse effect.
Part of this organic matter also consists of revived cellular microbes (prokaryotes, unicellular eukaryotes) as well as viruses that remained dormant since prehistoric times.
Potential threats:
All of the zombie viruses have the potential to be infectious and hence pose a health danger.
It is believed that pandemics like Covid-19 will become more common in the future as melting permafrost releases long-dormant viruses.
Source: Down to Earth
---
Women in Judiciary
Syllabus
    Mains – GS 2 (Governance)
Context: Recently for the third time in the history of the Supreme Court that a bench comprising only women judges was hearing cases. The first time the Supreme Court had an all-woman bench was in 2013 & the second occasion came in 2018.
Women Judges in Supreme Court:
The apex court had its first woman judge in 1989, when Justice M Fatima Beevi was appointed after her retirement as a judge of Kerala High Court.
Since its inception, India has seen only 11 women judges in the Supreme Court and no women CJI for that matter.
The apex court currently has only three women judges: Justices Kohli, B V Nagarathna, and Trivedi.
Justice Nagarathna is set to go on to be the country's first woman Chief Justice in 2027.
Present Status of Women in Indian Judiciary: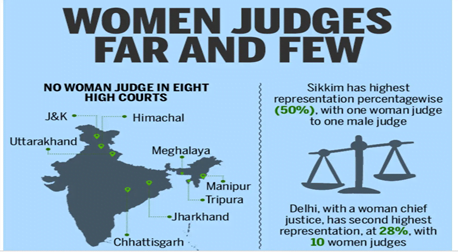 High Courts:

In High Courts, women judges constitute 11.5%.
Out of a total of 37 women candidates recommended by the Supreme Court Collegium for appointment as high court judges, only 17 have been appointed so far, while the rest of the names are pending with the central government.
For the high courts, Collegium has recommended 192 candidates so far.
Out of these, 37, that is 19 percent, were women.

Subordinate Courts:

About 30 percent are women judicial officers in the subordinate courts.

Advocates:

Of the 1.7 million advocates, only 15% are women.

Bar Council:

Only 2% of the elected representatives in the State Bar Councils are women.
There is no woman member in the Bar Council of India.
Reasons for Low Women Representatives in Judiciary:
Patriarchy in Society: The primary reason for underrepresentation of women in judiciary is deeply ingrained patriarchy in society.

Women often have to face hostile atmospheres within courtrooms. Harassment, lack of respect from members of the bar and bench, the silencing of their opinions, are some of the other traumatic experiences often recounted by many women lawyers.

Opaque Collegium System Functioning: More women tend to enter the lower judiciary at the entry level because of the method of recruitment through an entrance examination.

However, the higher judiciary has a collegium system, which has tended to be opaquer and, therefore, more likely to reflect bias.

No Women Reservation: Many states have a reservation policy for women in the lower judiciary, which is missing in the High Courts and Supreme Court.

States such as Assam, Andhra Pradesh, Telangana, Odisha and Rajasthan have benefited from such reservation as they now have 40-50% women judicial officers.

Familial Responsibilities: Factors of age and family responsibilities also affect the elevation of women judges from the subordinate judicial services to the higher courts.
Lack of Judicial Infrastructure: The lack of Judicial Infrastructure is another barrier to women in the profession.

Small courtrooms which are crowded and cramped, absence of restrooms, and childcare facilities are all barriers.

Not Enough Women in Litigation: Since lawyers elevated from the bar to the bench form a significant proportion of judges in the high courts and Supreme Court, it is worth noting that the number of women advocates is still low, reducing the pool from which women judges can be selected.
Significance of Women's participation in Judiciary:
Need for diversification: Diversification brings positive institutional changes, and the judiciary needs to be more diverse.
Balanced justice delivery system: The presence of women as judges and lawyers will substantially improve the justice delivery system.
Balanced and empathetic approach: Improving the representation of women in the judiciary could go a long way towards a more balanced and empathetic approach in cases related to sexual violence.

The issue of gender sensitization has been raised many times, especially in cases where male judges failed to show empathy for the female victims.

Legitimacy: The judiciary will not be trusted if it is viewed as a bastion of elitism, exclusivity and privilege.

Therefore, the presence of women is essential for the legitimacy of the judiciary.
Suggestive measures to be adopted to include more women judges in the Judiciary:
Suggestions by the previous Chief Justice of India N.V. Ramana:
50% representation: Previous CJI also voiced his support for 50% representation for women in judiciary.
Legal Education: He has highlighted the need to increase gender diversity in legal education.

There should be a fixed number of seats, reserved for women candidates, in all colleges and universities providing law courses.
states such as Assam, Andhra Pradesh, Telangana, Odisha and Rajasthan have benefited from such reservation as they now have 40-50% women judicial officers.

Availing basic facilities: He said the need for basic facilities, especially for women, need to be addressed immediately.
Need of separate entity: He repeatedly pressed for the need to form a separate entity — National Judicial Infrastructure Corporation — to introduce inclusive designs for court complexes and create a more welcoming environment in them.
Apart from these, the following points to be noted to increase women representation in the Judiciary:
There is a need to maintain and promote Gender Diversity in Higher Judiciary with a fixed percentage of its members as women judges that will lead to the evolution of a gender-neutral judicial system of India.
There is a need to bring about institutional, social and behavioural change among India's populace by systematising and giving emphasis on inclusivity.
Changing the long-established demographics of a court can make the institution more amenable to consider itself in a new light, and potentially lead to further modernization and reform.
More in corporate than in decision making: Women are outnumbering men in law school classrooms and are increasingly joining the corporate sector, but their underrepresentation in such decision-making institutions is deplorable.
Source:  Indian Express
Previous Year Questions
Q.1) Consider the following statements:
Pursuant to the report of H.N. Sanyal Committee, the Contempt of Courts Act, 1971 was passed.
The Constitution of India empowers the Supreme Court and the High Courts to punish for contempt of themselves.
The Constitution of India defines Civil Contempt and Criminal Contempt.
In India, the Parliament is vested with the powers to make laws on Contempt of Court.
Which of the statements given above is/are correct?
1 and 2 only
1, 2 and 4 only
3 and 4 only
3 only
Q.2) Consider the following statements:
The- motion to impeach a Judge of the Supreme Court of India cannot be rejected by the Speaker of the Lok Sabha as per the Judges (Inquiry) Act, 1968.
The Constitution of India defines and gives details of what Constitutes 'incapacity and proved misbehaviour' of the Judges of the Supreme Court of India.
The details of the process of impeachment of the Judges of the Supreme Court of India are given in the Judges (Inquiry) Act, 1968.
If the motion for the impeachment of a Judge is taken up for voting, the law requires the motion to be backed by each House of the Parliament and supported by a majority of total membership of that House and by not less than two-thirds of total members of that House present and voting.
Which of the statements given above is/are correct? (2019)
1 and 2
3 only
3 and 4 only
1, 3 and 4
---
Cyber Attacks in India
Syllabus
Context: Recently, the premier medical institute in the country, the All India Institute of Medical Sciences New Delhi (AIIMS) was crippled by a major cyberattack.
About Cyberattacks: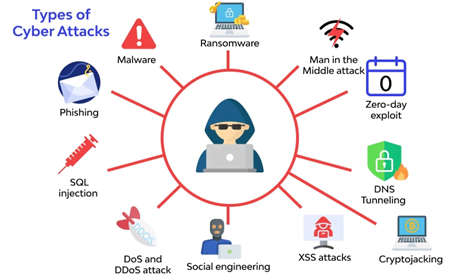 Cyberattacks are unwelcome attempts to steal, expose, alter, disable or destroy information through unauthorized access to computer systems.
Typically, such forms of attacks to keep networks from functioning after encrypting data, are carried out by ransomware-seeking entities and organisations are sent demands which are often negotiated and paid without informing law enforcement.
Cyberterrorism: It is often defined as any premeditated, politically motivated attack against information systems, programs and data that threatens violence or results in violence.
Reasons for increasing Cyber Attacks in India
Increasing dependency on technology: As we grow faster, more and more systems are being shifted to virtual space to promote access and ease of use.

However, the downside to this trend is the increased vulnerability of such systems to cyber-attacks.
For e.g., there is a concern of widespread damage and huge loss if hackers are able to intrude into the nuclear, financial or energy systems of a country.
Growing digital reliance in the post-COVID era has exposed digital disparities which must be bridged through capacity building.

There's a sophisticated use of cyberspace by terrorists to broaden their propaganda and incite hatred.
Lack of robust law enforcement mechanisms: India's approach to cyber security has so far been ad hoc and unsystematic.

Despite a number of agencies, policies and initiatives, their implementation has been far from satisfactory.

Adverse relations with China: China is considered one of the world leaders in information technology. Therefore, it is expected to have capabilities to disable or partially interrupt the information technology services in another country.

Combined with the recent border standoff and violent incidents between the armies of the two countries, the adversity in relations is expected to spill over to attacking each other's critical information infrastructure.

Asymmetric and covert warfare: Unlike conventional warfare with loss of lives and eyeball to eyeball situations, cyber warfare is covert warfare with the scope of plausible deniability, i.e., the governments can deny their involvement even when they are caught.

Similarly, even a small nation with advanced systems and skilled resources can launch an attack on a bigger power, without the fear of heavy losses.
Therefore, cyber warfare has increasingly become the chosen space for conflict between nations.

Lack of International Coordination: International cooperation and consensus is missing in this field.

Low digital literacy among the general public and digital gaps amongst nations create an unsustainable environment in the cyber domain.
It is often reported that people are duped easily by click-baiting them into clicking interesting content, which often has malware attached to itself.
Suggestive measures to mitigate cyberattacks:
Cyber readiness: That strategy will be a guiding document to motivate and monitor the preparedness of cyber readiness of institutes and also enhance capacity on many fronts including forensics, accurate attribution and cooperation.
Budgetary preference: Significant budgets have to be allocated by various ministries to ensure that cyber security measures don't remain the last priority.
Need of the national cyber security strategy: This incident is a wake-up call for organisations across sectors to shore up cyber security measures, it is also important to push and announce the national cyber security strategy.
Capacity enhancement: The capacity enhancement for the National Critical Information Infrastructure Centre (NCIIPC) and CERTIn has to be undertaken to address the emerging sophisticated nature of threats and attacks and sectoral CERTs have to be set up for many areas including health.
International cooperation: International cooperation on countering cyber-attacks has to gain more teeth beyond the Group of Governmental Experts (GGE) meetings and the US-led Counter Ransomware Initiative (CRI) of 37 countries and the European Union.
Major Government Initiatives for Cyber Security:
CERT-In: It is an organisation of the Ministry of Electronics and Information Technology with the objective of securing Indian cyberspace.
Cyber Surakshit Bharat Initiative: It is an initiative from the Ministry of Electronics and Information Technology (MeitY) that aims at creating a robust cybersecurity ecosystem in India. This program was in association with the National e-Governance Division (NeGD).
National Critical Information Infrastructure Protection Centre: NCIIPC is a central government establishment, formed to protect critical information of our country, which has an enormous impact on national security, economic growth, or public healthcare.
Indian Cyber Crime Coordination Centre (I4C): The MHA launched this I4C Indian Cyber Crime Coordination Centre program to combat cybercrime in the country, through a coordinated and efficient method.
Cyber Swachhta Kendra (Botnet Cleaning and Malware Analysis Centre): It is an installation under the Ministry of Electronics and Information Technology (MeitY).
Information Technology Act, 2000: IT Act of 2000 came into effect in India on 09 June 2000. IT Act states in its preamble that the purpose of the legislation is to provide legal recognition to electronic transactions.
Way Forward:
Human resource is crucial and there is an urgent need to create an informal Indian team of Cyber Warriors. The critical infrastructure managers should also be well trained in cyber warfare and well equipped with all the technologies for isolating viruses and attacks.
There should be a reward for white hackers who can highlight their shortcomings. The managers and Common mass must be made aware. There is also a need to enhance the general awareness levels of the government installations as well as the general public to counter such threats.
Separate wing under Army or Navy as Cyber Command on lines of US is required to establish along with a futuristic National Cyber-Security Policy which allocates adequate resources and addresses the concerns of the stakeholders. Similarly, there is a need for quicker up-gradation of the existing infrastructure as information technology is a fast-evolving field and there is a need to stay ahead of the competition.
Source: Indian Express
---
Practice MCQs
Daily Practice MCQs
Q.1) Consider the following:
Sulphur Dioxide
Nitrogen Dioxide
Mercury
Particulate matter
Which of the above pollutants can be released by the coal based power plants?
1 2 and 3 only
2 3 and 4 only
1 3 and 4 only
All of the above
Q.2) Consider the following statements regarding National Statistical Commission (NSC):
It is an autonomous organization works under Ministry of Statistics and Programme Implementation.
It was established on the recommendations of the Raghu Ram Rajan Commission.
The Commission has a part-time Chairperson, four part-time Members and an ex-officio Member.
Which of the above are correct?
1 and 2 only
1 and 3 only
2 and 3 only
1 2 and 3
Q.3) Consider the following statements regarding Geological Survey of India:
It was set up in 1851 primarily to find coal deposits for the Railways.
It works under the Ministry of Earth Sciences
It is headquartered in Delhi
Which of the statements given above is/are correct?
1 only
2 and 3 only
2 only
1 and 3 only
Comment the answers to the above questions in the comment section below!!
ANSWERS FOR ' 3rd December 2022 – Daily Practice MCQs' will be updated along with tomorrow's Daily Current Affairs.st
---
ANSWERS FOR 2nd December

 

– Daily Practice MCQs
Answers- Daily Practice MCQs
Q.1) – b
Q.2) – d
Q.3) – c
For a dedicated peer group, Motivation & Quick updates, Join our official telegram channel – https://t.me/IASbabaOfficialAccount
Subscribe to our YouTube Channel HERE to watch Explainer Videos, Strategy Sessions, Toppers Talks & many more…