---
(PRELIMS & MAINS Focus)
---
Uttaramerur inscription
Syllabus
Prelims – Art and Culture
Context: Recently, Prime Minister Narendra Modi referred to the Uttaramerur inscription in Kanchipuram, Tamil Nadu, while discussing India's democratic history.
About Uttaramerur inscription:-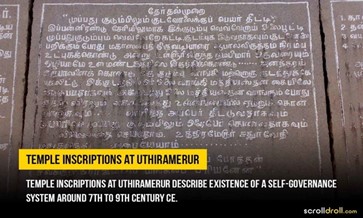 IMAGE SOURCE: What are the less known facts about Tamil Nadu? – Quora
The Uttaramerur inscription, dated around 920 A.D. in the reign of Parantaka Chola [907-955 A.D.].

Uttaramerur: it is situated in the Kancheepuram district, about 90 km from Chennai.
The Pallava king Nandivarman II established it around 750 A.D.

The Uttaramerur inscription testifies to the historical fact that nearly 1,100 years ago, a village had an elaborate and highly refined electoral system and even a written constitution prescribing the mode of elections.
The details of this system of elective village democracy are inscribed on the walls of the village assembly (grama sabha mandapa), a rectangular structure made of granite slabs.
The inscription gives astonishing details about the constitution of wards, the qualification of candidates standing for elections, the disqualification norms, the mode of election, the constitution of committees with elected members, the functions of those committees, the power to remove the wrongdoer, etc.
The villagers even had the right to recall the elected representatives if they failed in their duty.
In fact, inscriptions on temple walls in several parts of Tamil Nadu refer to village assemblies.
MUST READ: Sittanavasal Jain Heritage Site
SOURCE: THE INDIAN EXPRESS
PREVIOUS YEAR QUESTIONS
Q.1) which one of the following statements about Sangam literature in ancient South India is correct?(2022)
Sangam poems are devoid of any reference to material culture.
The social classification of Varna was known to Sangam poets.
Sangam poems have no reference to warrior ethics.
Sangam literature refers to magical forces as irrational.
Q.2) Who among the following rulers advised his subjects through this inscription? (2020)
"Whosoever praises his religious sect or blames other sects out of excessive devotion to his own sect, with the view of glorifying his own sect, he rather injures his own sect very severely."
Ashoka
Samudragupta
Harshavardhana
Krishnadeva Raya
---
A-HELP(Accredited Agent for Health and Extension of Livestock Production) programme
Syllabus
Context: Recently, the Uttarakhand government launched 'A-HELP'(Accredited Agent for Health and Extension of Livestock Production) programme.
About A-HELP (Accredited Agent for Health and Extension of Livestock Production) programme:-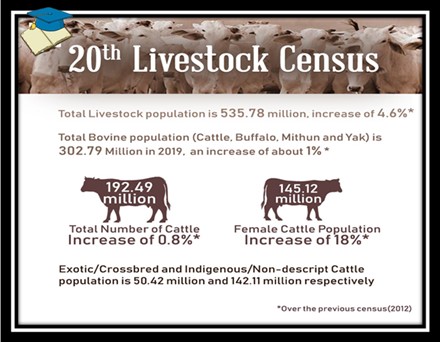 IMAGE SOURCE: 20th Livestock Census of India 2019 Highlights – Paper Tyari
A-HELP Program is launched in the State of Uttarakhand.
The 'A-HELP' training programme is being run jointly by the Union Ministry of Rural Development and the Ministry of Fisheries, Animal Husbandry and Dairying.
The program aims to address the healthcare needs of the livestock population in a village.
In the programme, members of women self-help groups registered under the State Rural Livelihood Mission, who are helping in various animal husbandry activities in the form of Pashu Sakhi, will be trained.
A-HELPs will help in artificial insemination under Rashtriya Gokul Mission (RGM), and in preventing the livestock from infectious diseases.
Significance:-
A-HELP is community-based women activists, who assist veterinarians in local departmental activities, help livestock farmers to take loans for entrepreneurship development, fill out applications, mark the ear tagging of animals and register them in the INAF portal and help with insurance etc.
'A-HELP' assistance can be taken in the implementation of various schemes and in providing information to the farmers at the grassroots level.
MUST READ: Improving Livestock Breeding
SOURCE: PIB
PREVIOUS YEAR QUESTIONS
Q.1) Atal Innovation Mission is set up under the
Department of Science and Technology
Ministry of Labour and Employment
NITI Aayog
Ministry of Skill Development and Entrepreneurship
Q.2) With reference to organic farming in India, consider the following statements: (2018)
The National 'Programme for Organic Production' (NPOP) is operated under the guidelines and 'directions of the Union Ministry of Rural Development.
The Agricultural and Processed Food Product Export Development Authority '(APEDA) functions as the Secretariat for the implementation of NPOP.
Sikkim has become India's first fully organic State.
Which of the statements given above is/are correct?
1 and 2 only
2 and 3 only
3 only
1, 2 and 3
---
Exercise Orion
Syllabus
Context: Recently, four Rafales departed to France to take part in multilateral exercise Orion.
About Exercise Orion:-
It is a multinational exercise hosted by the French government.
It is reportedly the largest ever multinational exercise being carried out by the French defence forces which have involved their Army, Navy and Air Force.
It includes ground troops, warships, aircraft carriers and combat aircraft.
It is meant to boost military cooperation and interoperability among participating nations.
Participants: Besides the IAF and the FASF, Air Forces from Germany, Greece, Italy, Netherlands, Spain, U.K. and U.S. would also be flying in this multilateral exercise.
The IAF contingent will include four Rafale aircraft, two C-17, two IL-78 aircraft and 165 air warriors.
MUST READ:  India and France relations
SOURCE: THE HINDU
PREVIOUS YEAR QUESTIONS
Q.1) Which of the following adopted a law on data protection and privacy for its citizens known as 'General Data Protection Regulation' in April 2016 and started implementation of its from 25th May, 2018? (2019)
Australia
Canada
The European Union
The United States of America
Q.2) Consider the following in respect of Indian Ocean Naval Symposium (IONS): (2017)
Inaugural IONS was held in India in 2015 under the chairmanship of the Indian Navy.
IONS is a voluntary initiative that seeks to increase maritime co-operation among navies of the littoral states of the Indian Ocean Region.
Which of the above statements is/are correct?
1 only
2 only
Both 1 and 2
Neither 1 nor 2
---
Justice Ranganath Mishra Commission
Syllabus
Context: Recently, the Supreme Court stated that the government may need to "re-check" report of the Justice Ranganath Mishra Commission.
About Justice Ranganath Mishra Commission:-
IMAGE SOURCE: Protecting Interest of Minorities From The Glass of Constitutional Armour (ipleaders.in)
Ranganath Misra Commission is also called National Commission for Religious and Linguistic Minorities.
It was constituted by the Government of India in
Objective: to look into various issues related to Linguistic and Religious minorities in India.
Important recommendations:-

One of the recommendations of the commission was to permit Dalits who convert to Islam or Christianity to avail of reservation benefits under the Scheduled Caste reservation quota.

Current status:-

Rejecting the Mishra report, the government had recently constituted a new Commission headed by a former Chief Justice of India K.G. Balakrishnan.
It is given two years to prepare a report on the question of granting SC status to "new persons who have historically belonged to the Scheduled Castes but have converted to religions other than Hinduism, Buddhism and Sikhism".
MUST READ: National Commission for Minorities
SOURCE: THE HINDU
PREVIOUS YEAR QUESTIONS
Q.1) With reference to Indian Judiciary, consider the following statements.
Any retired judge of the Supreme Court of India can be called back to sit by the Chief Justice of India with prior permission of the President of India.
A High court in India has the power to review its own judgement as the Supreme Court does.
Which of the statements given above is/are correct?
1 only
2 only
Both 1 and 2
Neither 1 nor 2
Q.2) With reference to the Constitution of India, consider the following statements: (2019)
No High Court shall have the jurisdiction to declare any central law to be constitutionally invalid.
An amendment to the Constitution of India cannot be called into question by the Supreme Court of India.
Which of the statements given above is / are correct?
1 only
2 only
Both 1 and 2
Neither 1 nor 2
---
Dabba trading
Syllabus
Context: Recently, the National Stock Exchange (NSE) issued a string of notices naming entities involved in 'dabba trading'.
About Dabba trading:-
Dabba (box) trading refers to informal trading that takes place outside the purview of the stock exchanges.
Traders bet on stock price movements without incurring a real transaction to take physical ownership of a particular stock as is done in an exchange.
In simple words, it is gambling centred around stock price movements.

For example, an investor places a bet on a stock at a price point, say ₹1,000.
If the price point rose to ₹1,500, he/she would make a gain of ₹500.
However, if the price point falls to ₹900, the investor would have to pay the difference to the dabba broker.
Thus, it could be concluded that the broker's profit equates the investor's loss and vice-versa.

The primary purpose of such trades is to stay outside the purview of the regulatory mechanism.
The transactions therefore are facilitated using cash and the mechanism is operated using unrecognised software terminals.

It could also be facilitated using informal or kaccha (rough) records, sauda (transaction) books, challans, DD receipts, cash receipts alongside bills/contract notes as proof of trading.
Issues:-
Since there are no proper records of income or gain, it helps dabba traders escape taxation.
They would not have to pay the Commodity Transaction Tax (CTT) or the Securities Transaction Tax (STT) on their transactions.
The use of cash also means that they are outside the purview of the formal banking system.
It results in a loss to the government exchequer. 
In 'dabba trading', the primary risk entails the possibility that the broker defaults in paying the investor or the entity becomes insolvent or bankrupt.
Being outside the regulatory purview implies that investors are without formal provisions for investor protection, dispute resolution mechanisms and grievance redressal mechanisms that are available within an exchange.
Since all activities are facilitated using cash, and without any auditable records, it could potentially encourage the growth of 'black money' alongside perpetuating a parallel economy.
This could potentially translate to risks entailing money laundering and criminal activities.
MUST READ: Social Stock Exchange
SOURCE: THE HINDU
PREVIOUS YEAR QUESTIONS
Q.1) With reference to the India economy, what are the advantages of "Inflation-Indexed Bonds (IIBs)"? (2022)
Government can reduce the coupon rates on its borrowing by way of IIBs.
IIGs provide protection to the investors from uncertainty regarding inflation.
The interest received as well as capital gains on IIBs are not taxable.
Which of the statements given above are correct?
1 and 2 only
2 and 3 only
1 and 3 only
1, 2 and 3
Q.2) With reference to the Indian economy, consider the following statements: (2022)
A share of the household financial savings goes towards government borrowings.
Dated securities issued at market-related rates in auctions form a large component of internal debt.
Which of the above statements is/are correct?
1 only
2 only
Both 1 and 2
Neither 1 nor 2
---
Section 5(4) of the Maternity Benefit Act
Syllabus
Context: Recently, a bench led by CJI Chandrachud has agreed to hear the PIL challenging Section 5(4) of the Maternity Benefit Act (provisions for adoptive mothers).
About Section 5(4) of the Maternity Benefit Act:-
The 2017 amendment introduced Section 5(4).
The original 1961 Maternity Benefit Act did not have these provisions for adoptive mothers.
These provisions are for maternity benefits for women who adopt or act as commissioning mothers.
Adoptive mothers of children below three months are entitled to 12 weeks of maternity leave.
A woman adopting a child older than three months is not eligible for maternity benefits.
Maternity Benefit Act, 1961:-
It was passed in, 1961, to regulate the employment of women in "certain establishments" for the period before and after childbirth.
It originally applied to factories, mines, plantations and extended later in 1973 to government-owned establishments and establishments for exhibitions.
Section 4 of the Act prohibited the employment of or work by women during the six weeks immediately following delivery or miscarriage.
Section 5 granted paid maternity leave for up to 12 weeks if the woman had worked for at least 160 days in the preceding 12 months.
Violations could result in three months' punishment, with or without a fine.
Key Changes in the 2017 Amendment:-
It amended Section 5 to allow for 26 weeks of paid leave after childbirth for biological mothers.
It inserted Section 5(4) to allow adoptive or surrogate mothers to have a 12-week maternity benefit period from the date the child is handed over.
It inserted Section 5(5) to allow for working from home if mutually agreed upon after availing of maternity benefits.
It inserted Section 11 to mandate the availability of a creche facility for establishments with 50 or more employees, with four visits a day allowed for the mother and rest intervals provided.
It does not apply to the unorganised sector, which has been a criticized aspect of the amendment.
MUST READ: Union Budget: Umbrella Schemes of Ministry of Women & Child Development
SOURCE: THE INDIAN EXPRESS
PREVIOUS YEAR QUESTIONS
Q.1) Which of the following statements is/are correct regarding the Maternity Benefit Amendment Act, 2017? (2019)
Pregnant women are entitled for three months pre-delivery and three months post-delivery paid leave.
Enterprises with creches must allow the mother minimum six creche visits daily.
Women with two children get reduced entitlements.
Select the correct answer using the code given below.
1 and 2 only
2 only
3 only
1, 2 and 3
Q.2) Which of the following are the objectives of 'National Nutrition Mission'? (2017)
To create awareness relating to malnutrition among pregnant women and lactating mothers.
To reduce the incidence of anaemia among young children, adolescent girls and women.
To promote the consumption of millets, coarse cereals and unpolished rice.
To promote the consumption of poultry eggs.
Select the correct answer using the code given below:
1 and 2 only
1, 2 and 3 only
1, 2 and 4 only
3 and 4 only
---
Large Hadron Collider
Syllabus
Prelims –Science and Technology
Context: Recently, engineers are warming up the Large Hadron Collider for its third season of operations.
About Large Hadron Collider:-
The Large Hadron Collider is a giant, complex machine built to study particles that are the smallest known building blocks of all things.
It is a collider that accelerates two beams of particles in opposite directions and smashes them head-on.

These beams of particles are

Hadron is a subatomic particle made of quarks, gluons and anti-quarks.
Hadrons are the heaviest particles and are composed of two or more quarks that are held strongly by electromagnetic force.

LHC is built by the European Organization for Nuclear Research (CERN).
Findings:-
The ATLAS and CMS detectors discovered the Higgs boson in 2012 and confirmed their findings in 2013.
Using the data from collisions, scientists have tested the predictions of the Standard Model of particle physics, observed exotic particles, and pieced together information about extreme natural conditions.
MUST READ: India based Neutrino Observatory
SOURCE: THE HINDU
PREVIOUS YEAR QUESTIONS
Q.1) Consider the following statements: (2022)
Other than those made by humans, nanoparticles do not exist in nature.
Nanoparticles of some metallic oxides are used in the manufacture of some cosmetics.
Nanoparticles of some commercial products which enter the environment are unsafe for humans.
Which of the statements given above is/are correct?
1 only
3 only
1 and 2
2 and 3
Q.2) Which one of the following is a reason why astronomical distances are measured in light-years? (2021)
Distance among stellar bodies do not change
Gravity of stellar bodies does not change
Light always travels in straight line
Speed of light is always same
---
ONE HEALTH' APPROACH
Syllabus
Mains – GS 2 (Governance)
Context: The government launched the " Animal Pandemic Preparedness Initiative (APPI)" as well as the World Bank-funded Animal Health System Support for One Health (AHSSOH) project under the aegis of the National One Health Mission.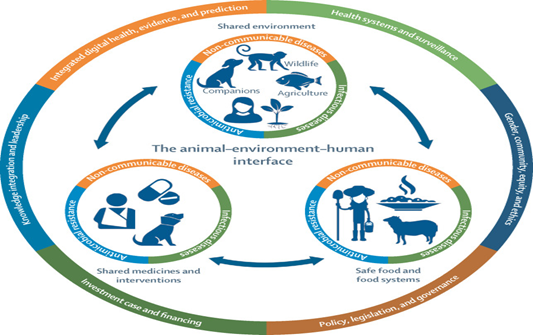 About One Health:
One Health is an integrating idea that brings different sectors together to solve the health, productivity, and conservation challenges and has major implications for India.
WHO formed a One Health Initiative to integrate work on human, animal, and environmental health across the Organization.
WHO is also working with the Food and Agriculture Organization of the United Nations (FAO), the United Nations Environment Programme (UNEP), and the World Organisation for Animal Health (WOAH) as a One Health Quadripartite.
Present Scenario In India:
The Prime Minister's Science, Technology, and Innovation Advisory Council (PM-STIAC) approved to set up of a National One Health Mission with a cross-ministerial effort that will serve to coordinate, support, and integrate all the existing One Health activities in the country and fill gaps where it is appropriate.

The Mission aims to coordinate across achieving overall pandemic preparedness and integrated disease control against priority diseases of both human and animal sectors, with early warning systems built on integrated surveillance systems and response readiness for endemic as well as an emerging epidemic or pandemic threats.

The Integrated Disease Surveillance Project, launched in 2004 for disease outbreak detection and rapid response functions, has generated information on the flow of certain disease outbreaks but the program has been unable to integrate human and animal (livestock and wildlife) surveillance.
A multi-disciplinary Road Map to Combat Zoonoses (2008) was laid to create an integrated mechanism for the surveillance, detection, and treatment of zoonoses.
Benefits of One Health:
Reduce potential threats at the human-animal-environment interface to control diseases that spread between animals and humans
Tackle antimicrobial resistance (AMR)
Ensure food safety
Prevent environment-related health threats to humans and animals
Protect biodiversity.
Challenges:
Spread of disease: About 60 per cent of the known infectious diseases in humans and 75 percent of all emerging infectious diseases are caused by pathogens that originate in animals.
Antibiotic-resistant microbes also can effectively be transmitted from animals to humans and cause diseases in humans which may not respond to affordable antibiotics.
Extensive and irrational use of antibiotics especially in the livestock sector for increasing yield and preventing diseases causes emergence and selection of resistant pathogens. These spread through animal-human interaction or food chain.
Absence of standardized methods to measure the complexity of the benefits achieved from the holistic approach.
Lack of systematic methodology to prove the nature of health impacts across the animal and human health sectors.
Lack of agreement in leadership issues, resource allocation, and work distribution.
Steps taken globally and by the India
Collaboration: Institutes like the Indian Council of Medical Research (ICMR) and the Indian Council of Agricultural Research (ICAR) have collaborated for joint research priorities, mostly to control disease outbreaks and also at individual levels between human and animal health researchers as well as practitioners.
The Integrated Disease Surveillance Project: launched in 2004 for disease outbreak detection and rapid response functions, has generated several information on flow of certain disease outbreaks but the programme has been unable to integrate human and animal (livestock and wildlife) surveillance.
A multi-disciplinary Road Map to Combat Zoonoses: was laid to create an integrated mechanism for surveillance, detection and treatment of zoonoses.
The National Mission on Biodiversity and Human Well-being built on a framework that integrates biodiversity, ecosystem services, climate change, agriculture, health, bio-economy and capacity-building in the realm of biodiversity science has one mission component that explicitly links biodiversity to human health through the One Health approach.
The Government of India decided to set up a dedicated centre under ICMR to contain zoonotic diseases: the Centre for One Health at Nagpur, and also constituted a 'National Expert Group on One Health' to promote multi-sectoral, transdisciplinary, collaboration and co-operation to adopt and implement a One Health framework in India.
National Framework for One Health 2021 by FAO: Improving the capacity for public health actions in major stakeholders human health, animal health and environment management.
Way Forward:
India has combatted several zoonotic diseases and has a robust institutional network for biomedical research, which can lead and operationalize the One Health approach. For One Health Science, it is important to develop databases and models with a consolidated approach of ecologists, field biologists, epidemiologists, and other scientists.
Understanding and responding to the drivers that threaten health; optimising the effectiveness of public health systems in achieving these goals within each sector. Therefore, a nexus of science, social science, indigenous knowledge, and policy at national, state, and local levels can put forward strategies and institutions for the implementation of One Health.
Source: PIB
---
Cooperatives in India
Syllabus
Mains – GS 2 (Governance) and GS 3 (Economy)
Context: The Central Government has recently introduced Bill to amend the Multi-State Co-operative Societies Act, 2002.
The key features of this Bill are:
The Central Government will establish the Cooperative Election Authority to conduct the election of board members;
Provision for amalgamation of UCBs with other multi-State UCBs as decided by general meeting with two-thirds of its members present and voting;
The Central Government will prepare a scheme and create a fund, to be contributed by profit-making multi-State UCBs, for rehabilitation of sick multi-State UCBs;
There are restrictions on the redemption of government shareholding; and
One or more Co-operative Ombudsman with territorial jurisdiction to be appointed by the Central Government for the redress of complaints.
About the Cooperative Societies:
According to International Labour Organization, a cooperative is an autonomous association of persons united voluntarily to meet their common economic, social and cultural needs and aspirations through a jointly owned and democratically controlled enterprise.
A co-operative society is a voluntary association of individuals having common needs who join hands for the achievement of common economic interest.
Its aim is to serve the interest of the poorer sections of society through the principle of self-help and mutual help.
The cooperative movement is as old as India's Independence.
Cooperative evolution in India:
Cooperatives were first started in Europe and the British Government replicated it in India to mitigate the miseries of the poor farmers.
First credit cooperative society was formed in Banking in 1903 with the support of the Government of Bengal
Enactment of the Cooperative Credit Societies Act, 1904 gave Cooperative a definite structure and shape.
In 1919, cooperation became a provincial subject and the provinces were authorised to make their own cooperative laws under the Montague-Chelmsford Reforms.
National Cooperative Development Corporation (NCDC), a statutory corporation, was set up under National Cooperative Development Corporation Act, 1962.
The Government of India announced a National Policy on Co-operatives in 2002.
Current status in India:
The country has 1,94,195 cooperative dairy societies and 330 cooperative sugar mill operations.
Constitution (97th Amendment) Act, 2011 added a new Part IXB right after Part IXA (Municipals) regarding the cooperatives working in India.
Village-level primary agricultural credit societies (PACSs) formed by farmer associations are the best example of grassroots-level credit flow
Central Government recently established a distinct 'Ministry of Co-operation' to realize the aim of 'Sahakar se Samriddhi' (Prosperity via Cooperation) and to revitalize the cooperative movement.
Cooperative Societies is in Item No. 32 in the State List.
Benefits of Cooperative Societies;
Easy setup, less legal implications: Any ten members who have acquired the majority can form a cooperative society with few legal formalities.
Promote equality and transparency: A cooperative society is based on the principle of 'one man, one vote'.

All members have equal rights in handling the internal affairs. The surplus generated by these societies is dispensed equally among the members.

Limited Liability: The member's liability in a cooperative society is confined to the extent of their capital contribution.
Eliminate Middlemen: Consumer cooperative societies are set up to attain a seamless supply of essential commodities.

These societies purchase commodities directly from the producers & wholesalers and sell them to the end-users at affordable prices.

Fosters Habit of Saving: Cooperative societies cultivate the habit of saving among their members. They render credit facilities generally for productive purposes only.
Social Benefits: Cooperative societies have played a significant role in modulating social customs and controlling irrelevant expenses.

The profits reaped by the cooperatives can be used for facilitating fundamental amenities of the society.

Access to Credit: Cooperative societies have helped in reducing the influencing of private money lenders in rural areas. Cooperatives facilitate credit at the nominal interest rate.
Support Agriculture: Cooperative societies have supported the government's effort to improve agricultural production.

They act as a bridge between the government and farmers e.g., the government disburses High-Yielding Variety (HYV) seeds and fertilizers via Cooperatives.

Reserve Funds: Cooperative societies are under the legal obligation to transfer their 25% of profit to the general reserve. Thus, it reduces the need for external funding.
Challenges:
Non-accountability:
The government gave too many benefits to cooperatives, but then there was no further accountability which led to these cooperatives becoming more and more lethargic.
Besides as there was no competition, they became more and more costly they were not at all efficient and the worst part was that the government allowed them to function like this and pass on the burden of costs to consumers.
Vested interest of some people:
A lot of times people who are in position in control of cooperatives are actually people who have joined cooperatives for personal gains.
Lack of coordination:
Generally what happens in cooperatives is that different cooperatives at different level don't coordinate this makes the work of cooperatives difficult.
The Internal Free Rider Problem:
New members who provide very little capital enjoy the same benefits as long-standing or founding members who have major investments in the cooperative
New members get a "free ride" on the investments and other efforts of existing members, thereby diluting the returns to existing members.
No Balanced Growth:
The cooperatives in northeast areas and in areas like West Bengal, Bihar, Orissa are not as well developed as the ones in Maharashtra and the ones in Gujarat.
Political Interference:
This is the biggest problem faced by Sugar cooperatives in Maharashtra.
Mismanagement and Manipulation:
A hugely large membership turns out to be mismanaged unless some secure methods are employed to manage such co-operatives.
In the elections to the governing bodies, money became such a powerful tool that the top posts of chairman and vice-chairman usually went to the richest farmers who manipulated the organization for their benefits.
Lack of Awareness and Restricted Coverage:
People are not well informed about the objectives of the Movement, rules and regulations of co-operative institutions.
Most of these societies are confined to a few members and their operations extended to only one or two villages.
Way Forward:
The Cooperative societies can play a vital role in the rural transformation. Provision of adequate financial and technical assistance can enable them to address rural challenges and contribute to India's growth story. Government should take all possible steps to facilitate growth ecosystem for the Cooperatives.
Source:  The Hindu
---
Practice MCQs
Daily Practice MCQs
Q.1) Justice Ranganath Mishra Commission often mentioned in the news related to
Linguistic and Religious minorities
Economic Weaker Section
Identification of Other Backward Classes
To study the status of scheduled tribes
Q.2) which of the following countries are participants of the Exercise Orion?
Netherlands
Spain
The USA
China
Q.3) Consider the following statements regarding Uttaramerur inscription:
It was established by the Pallava king Nandiverman II
The inscription gives astonishing details about the constitution of wards, the qualification of candidates standing for elections, the disqualification norms, the mode of election.
Which of the statements given above is/are correct?
1 only
2 only
Both 1 and 2
Neither 1 nor 2
Comment the answers to the above questions in the comment section below!!
ANSWERS FOR ' 15th April 2023 – Daily Practice MCQs' will be updated along with tomorrow's Daily Current Affairs.st
---
ANSWERS FOR 14th April

 

– Daily Practice MCQs
Answers- Daily Practice MCQs
Q.1) – a
Q.2) – b
Q.3) – c
For a dedicated peer group, Motivation & Quick updates, Join our official telegram channel – https://t.me/IASbabaOfficialAccount
Subscribe to our YouTube Channel HERE to watch Explainer Videos, Strategy Sessions, Toppers Talks & many more…