---
(PRELIMS & MAINS Focus)
---
Global Hunger Index - 2022
Syllabus
Prelims – Current Affairs
In News: India ranks 107th out of 121 countries on Global Hunger Index.
About the Global Hunger Index:
The Global Hunger Index (GHI) is a tool for comprehensively measuring and tracking hunger at global, regional, and national levels.
Annual Report: Jointly published by Concern Worldwide and Welthungerhilfe.
It was first produced in 2006. It is published every October. The 2022 edition marks the 17th edition of the GHI.
Aim: To comprehensively measure and track hunger at the global, regional, and country levels.
Calculation: It is calculated on the basis of four indicators:
Undernourishment: Share of the population with insufficient caloric intake.
Child Wasting: Share of children under age five who have low weight for their height, reflecting acute undernutrition.
Child Stunting: Share of children under age five who have low height for their age, reflecting chronic undernutrition.
Child Mortality: The mortality rate of children under the age of five.
Scoring:
Based on the values of the four indicators, the GHI determines hunger on a 100-point scale where 0 is the best possible score (no hunger) and 100 is the worst.
Each country's GHI score is classified by severity, from low to extremely alarming.
Indian Scenario:
India also ranks below Sri Lanka (64), Nepal (81), Bangladesh (84), and Pakistan (99). Afghanistan (109) is the only country in South Asia that performs worse than India on the index.
India's score of 29.1 places it in the 'serious' category.
India's child wasting rate, at 3%, is worse than the levels recorded in 2014 (15.1%) and even 2000 (17.15%), and is the highest for any country in the world and drives up the region's average owing to India's large population.
Prevalence of undernourishment, has also risen in the country from 14.6% in 2018-2020 to 16.3% in 2019-2021. This translates into 3 million people in India considered undernourished out of the total 828 million people undernourished globally.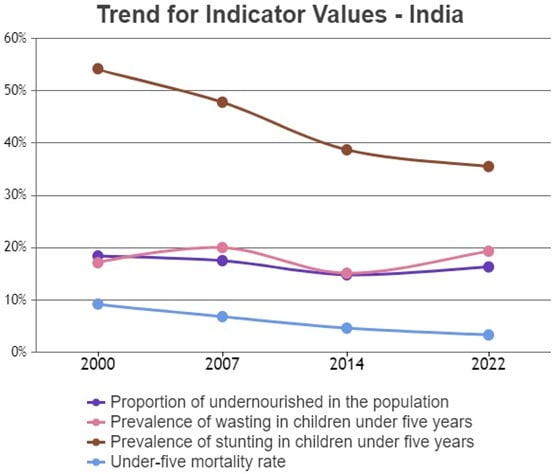 India has shown improvement in the other two indicators – child stunting has declined from 38.7% to 35.5% between 2014 and 2022 and child mortality has also dropped from 4.6% to 3.3% in the same comparative period.
On the whole, India has shown a slight worsening with its GHI score increasing from 28.2 in 2014 to 29.1 in 2022.
Global Scenario
Globally, progress against hunger has largely stagnated in recent years.
The 2022 GHI score for the world is considered "moderate", but 18.2 in 2022 is only a slight improvement from 19.1 in 2014.
This is due to overlapping crises such as conflict, climate change, the economic fallout of the COVID-19 pandemic as well as the Ukraine war, which has increased global food, fuel, and fertiliser prices and is expected to "worsen hunger in 2023 and beyond."
There are 44 countries that currently have "serious" or "alarming" hunger levels and "without a major shift, neither the world as a whole nor approximately 46 countries are projected to achieve even low hunger as measured by the GHI by 2030".
Initiatives taken by the government
Must Read: Malnutrition
Source: The Hindu
Previous Year Question
Q.1) The Global Competitiveness Report is published by the (2019)
International Monetary Fund
United Nations Conference on Trade and Development
World Economic Forum
World Bank
Q.2) Rule of Law Index" is released by which of the following? (2018)
Amnesty International
International Court of Justice
The office of UN Commissioner for Human Rights
World Justice Project
---
Paddy Straw Torrefaction
Syllabus
Prelims – Environment – Current Affairs
In News: Centre to help set up paddy straw pellet units to arrest stubble burning.
The Union Environment Ministry announced a ₹50 crore scheme to incentivise industrialists and entrepreneurs to set up paddy straw pelletisation and torrefaction plants.
Stubble Burning
Paddy stubble burning is practised mainly in the Indo-Gangetic plains of Punjab, Haryana, and UP.
The farmers clear their fields for sowing the winter crop, burns straw stubble after harvesting paddy.
Every year, about 27 million tonne of paddy straw is generated in Punjab and Haryana.
The problem is that about 75% or 20 million tonne is from non-basmati rice, which cannot be fed to cattle as fodder because of its high silica content.
About 11 million tonne can be managed in the field and the rest is usually burnt which adds to the air pollution crisis in Delhi.
The government has attempted to dissuade farmers from burning straw through penalising them as well as incentivising them.
The present scheme:
The Central Pollution Control Boards (CPCB) released guidelines for an incentive scheme for promoting establishment of paddy straw based pelletisation and torrefaction plants.
Paddy straw made into pellets or torrefied can be mixed along with coal in thermal power plants. This saves coal as well as reduces carbon emissions that would otherwise have been emitted were the straw burnt in the fields.
New units set up would be eligible for government funding in the form of capital to set up such plants.
Under the scheme, the Centre will fund such plants to a maximum of ₹70 lakh subject to capacity.
Torrefaction is costlier but can deliver a product whose energy content is much higher and theoretically substitute for more coal in a power plant.
This would be a "one-time only" scheme and regular pellet plants would be eligible for ₹40 crore of the overall pie.
Note: Torrefaction is the thermochemical conversion method to produce coal fuel (bio char) from biomass.
The Central Pollution Control Board (CPCB)
It is a statutory organisation under the Ministry of Environment, Forest and Climate Change (Mo.E.F.C).
It was established in 1974 under the Water (Prevention and Control of pollution) Act, 1974.
It is also entrusted with the powers and functions under the Air (Prevention and Control of Pollution) Act, 1981.
It provides technical services to the Ministry of Environment and Forests under the provisions of the Environment (Protection) Act, 1986.
It Co-ordinates the activities of the State Pollution Control Boards by providing technical assistance and guidance and also resolves disputes among them.
It is the apex organisation in country in the field of pollution control.
Must Read: Stubble burning – In Depth
Source: The Hindu
---
Share Buyback
Syllabus
Tech companies, which are sitting on a cash pile, usually prefer buybacks instead of bonus issues as the latter bloat the equity capital.
A share buyback, also known as share repurchase, is a corporate action to buy back its own outstanding shares from its existing shareholders usually at a premium to the prevailing market price.
It is seen as an alternative, tax-efficient way to return money to shareholders.
Shares bought back by the company will be extinguished, leading to a higher earning per share.
Reducing the number of shares means earnings per share (EPS) can grow more quickly as revenue and cash flow increase.
It will also boost the share price of the company as the reduction in the capital will lead to a fall in the equity capital.
Companies tend to repurchase shares when they have cash on hand and the stock market is on an upswing.
Few Disadvantages:
May lead to drop in price, which means company isn't healthy
Market may believe the company doesn't have growth opportunities
Can create challenges during economic downturn
News Source: Indian Express
Previous Year Question
Q.1) Which one of the following situations best reflects "Indirect Transfers" often talked about in media recently with reference to India? (2022)
An Indian company investing in a foreign enterprise and paying taxes to the foreign country on the profits arising out of its investment
A foreign company investing in India and paying taxes to the country of its base on the profits arising out of its investment
An Indian company purchases tangible assets in a foreign country and sells such assets after their value increases and transfers the proceeds to India
A foreign company transfers shares and such shares derive their substantial value from assets located in India
---
Carbon Dating
Syllabus
Prelims – Science & Technology
In News: A court in Varanasi rejected a plea asking for a scientific investigation into the structure found inside the Gyanvapi Mosque that the Hindu side has claimed is a Shivling.
If Carbon Dating or Ground Penetrating Radar is permitted and if any damage is caused to the 'Shiva Linga' then it would be a violation of the Supreme Court order to protect it and it might also hurt the religious sentiments of the general public.
What is carbon dating?
Of Living things
A widely-used method to establish the age of organic materials, things that were once living. Living things have carbon in them in various forms. The dating method is based on the fact that Carbon-14 (C-14), an isotope of carbon with an atomic mass of 14, is radioactive, and decays at a well-known rate. This is how it works:
The most abundant isotope of carbon in the atmosphere is C-12. A very small amount of C-14 is also present. The ratio of C-12 to C-14 in the atmosphere is almost static, and is known.
Plants get their carbon through photosynthesis; animals get it mainly through food. Because plants and animals get their carbon from the atmosphere, they too acquire C-12 and C-14 in roughly the same proportion as is available in the atmosphere.
When they die, their interactions with the atmosphere stops. While C-12 is stable, the radioactive C-14 reduces to one-half of itself in about 5,730 years — known as its 'half-life'.
The changing ratio of C-12 to C-14 in the remains of a plant or animal after it dies can be measured, and can be used to deduce the approximate time when the organism died.
Of Non-living things
Why is Carbon dating not used: Though extremely effective, carbon dating cannot be applied in all circumstances. It cannot be used to determine the age of non-living things like rocks, for example. Also, the age of things that are more than 40,000-50,000 years old cannot be arrived at through carbon dating. This is because after 8-10 cycles of half-lives, the amount of C-14 becomes almost very small and is almost undetectable.
Usage of radiometric dating methods
Many of these involve elements with half-lives of billions of years, which enable scientists to reliably estimate the age of very old objects. Two commonly employed methods for dating rocks are potassium-argon dating and uranium-thorium-lead dating.
The radioactive isotope of potassium decays into argon, and their ratios can give a clue about the age of rocks.
Uranium and thorium have several radioactive isotopes, and all of them decay into the stable lead atom. The ratios of these elements present in the material can be measured and used to make estimates about age.
Useful in studying buried objects or changes in topology: Cosmogenic nuclide dating, or CRN, and is regularly applied to study the age of ice cores in polar regions.
In some situations, carbon dating can be used indirectly as well. For example, a way in which the age of ice cores in glaciers and polar regions is determined by studying carbon dioxide molecules trapped inside large ice sheets. The trapped molecules have no interaction with the outside atmosphere, and are found in the same state as when they were trapped. Determining their age gives a rough estimate of the time when the ice sheets were formed.
How long a rock has been at a particular place can also be determined similarly — organic materials like dead plants or insects trapped underneath can give an indication of when that rock reached that place.
Must Read: Gyanvapi case
Source: Indian Express
---
Conference on Interaction and Confidence Building Measures in Asia
Syllabus
Prelims – International Relations (Important Organizations, forum etc.)
In News: The 6th Summit meeting of the Conference on Interaction and Confidence Building Measures in Asia (CICA) held in Astana, Kazakhstan.
About CICA
The Conference on Interaction and Confidence Building Measures in Asia (CICA) is a multi-national forum for enhancing cooperation towards promoting peace, security and stability in Asia.
The CICA was convened in 1992, at the 47th Session of the United Nations General Assembly.
Members and Observers – To be a member of CICA, a state must have at least a part of its territory in Asia.
Currently, CICA has 27 Member States and 14 observers.
The CICA Secretariat – It is an administrative body of CICA and is located in Nur-Sultan, Kazakhstan.
Summit – The highest decision making organ of CICA is the Meeting of the CICA Heads of State and Government (Summit).
The CICA Summit is convened every four years in order to conduct consultations, review the progress of, and set priorities for CICA activities.
India and CICA – India is a founding member of CICA.
India is the coordinator of CICA's confidence building measures in combating terrorism.
Source: The Hindu
---
Just Energy Transition Partnership
Syllabus
In News: The Union Ministry of Power has opposed the G7 nations' plan of persuading India to start negotiations on a Just Energy Transition Partnership.
About Just Energy Transition Partnership (JETP)
JETP, an initiative of the rich nations to accelerate phasing out of coal and reducing emissions.
The JETP initiative is modelled for the South Africa, to support South Africa's decarbonisation efforts.
It aims to reduce emissions in the energy sector and accelerate the coal phase-out process.
JETP makes various funding options available for this purpose in identified developing countries.
The JETP was launched at the COP26 in Glasgow with the support of the United Kingdom (UK), the United States (US), France, Germany, and the European Union (EU)
Following that G7 has announced for a similar partnership in India, Indonesia, Senegal, and Vietnam.
India's stand – India argues that coal cannot be singled out as a polluting fuel, and energy transition talks need to take place on equal terms.
Must Read: G7 – covered comprehensively
Source: The Hindu
Previous Year Question
Q.1) Consider the following statements: (2022)
"The Climate Group" is an international non-profit organization that drives climate action by building large networks and running them.
The International Energy Agency in partnership with the Climate Group launched a global initiative "EP100".
EP100 brings together leading companies committed to driving innovation in energy efficiency and increasing competitiveness while delivering on emission reduction goals.
Some Indian companies are members of EP100.
The International Energy Agency is the Secretariat to the "Under2 Coalition".
Which of the statements given above are correct?
1, 2, 4 and 5
1, 3 and 4 only
2,3 and 5 only
1, 2, 3, 4 and 5
---
NASA's Double Asteroid Redirection Test DART Mission
Syllabus
Prelims – Space, Science & Tech
In News: NASA's DART gives hope that science can ward off extraterrestrial threats. For the very first time, NASA scientists have succeeded in slightly altering the trajectory of an asteroid by using a spacecraft to slam into it.
The Testing
DART (Double Asteroid Redirection Test) was aimed at a 160-metre-wide asteroid Dimorphos, which was orbiting a larger asteroid Didymos, both of which were circling the Sun, 11.2 million kilometres from the earth.
Since neither body would have come closer than about 6.4 million km of the earth in their lifetime, they did not pose any threat.
However, DART was a test mission to see if this technique, known as kinetic impactor, would give the necessary 'nudge' to an asteroid and alter its course by a desired amount.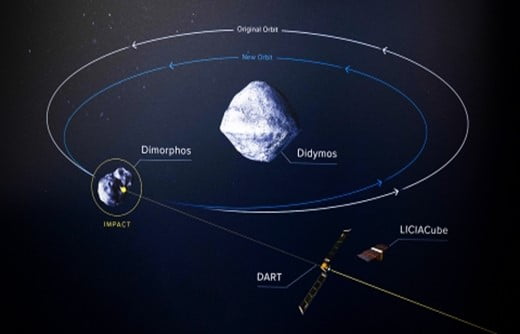 After studying the two bodies for nearly 10 days, NASA announced that the course of the smaller asteroid has indeed been altered a little: initially, the orbit of Dimorphos around Didymos took 11 hours and 55 minutes. After the impact, a 32-minute alteration in its orbital period has taken place — it is now 11 hours and 23 minutes only.
The reason for this test is to learn how to use the kinetic impactor technique to 'nudge' earth-bound asteroids out of the way, years before impact. This is not a last-minute effort.
Way Forward: Since all asteroids are not similar, more tests have to be done to perfect this technique.
The Utility of this Effort
There is a need to develop this technique because an impact with even a small asteroid can have serious consequences.
The Chicxulub crater is a reminder of the impact of a 10 km wide large asteroid that fell on the earth 66 million years ago and wiped out nearly 75% of plant and animal life. An impact with an asteroid even about 100 m wide can destroy a city the size of Chennai.
The other question is whether this technique can be used to deflect asteroids bearing rich bounties of minerals and moving them to closer locations from where these can be harvested. No country has made this an explicit aim till now.
News Source: The Hindu
Previous Year Question
Q.1) The experiment will employ a trio of spacecraft flying in formation in the shape of an equilateral triangle that has sides one million kilometres long, with lasers shining between the craft". The experiment in question refers to (2020)
Voyager
New Horizons
LISA Pathfinder
Evolved LISA
---
Indian Deep Tech and a case for a strategic fund
Syllabus
Mains – GS 3 (Science & Technology)
Context: In order to become a developed country in 25 years, India will need to build world-class deep tech capabilities in certain sectors.
Government of India is making a concerted push for self-reliance in military technology, semiconductors and science-based businesses.
However, there is a market failure where typical venture capital will not invest in this asset class, and government money is not nearly enough or is not fast enough.
To solve this market inefficiency, India should focus on "India Strategic Fund".
Certain innovations in the existing corporate social responsibility (CSR) budgets and high net worth (HNI) tax breaks will incentivise capital flowing into strategic tech.
Importance of Self reliance
Our way of life, economic and national security are underpinned to certain general purpose technologies (GPTs).
Today, four technology battlegrounds exist, i.e. semiconductors, 5G, revolutions in biology and autonomy. Each of these is vulnerable to military conflict, health emergencies and natural disasters.
They are areas where India is still at the base of the ladder.
Self-reliance is not just a 'feel good' slogan. It is a survival imperative.
Crucial role of funding
In the United States, Israel and North Atlantic Treaty Organization countries, government is still the largest source of funds for Deep Tech — a cutting-edge, quantum jump in capability that creates an intellectual property moat.
This funding becomes the oxygen that small businesses survive on.
This has allowed start-ups to emerge as a bridge between bench top prototypes of academia and production-hungry large industry. In India, this bridge remains unbuilt.
This is because Indian Venture capital ecosystem is not willing to invest in it or even to discuss it.
While the western rhetoric is now beginning to shift towards increasing the military utility of commercially available technology, India need to be cognisant of the fact that strategic technology cannot become the burden of commercial industry alone.
India Strategic Fund – Redirecting CSR and tax incentives
While there are schemes like Indian Semiconductor Mission and the Ministry of Defence's flagship iDEX and TDF schemes, depending solely on an already stretched pool of funding is not the solution to galvanise the ecosystem.
There are two avenues to build a movement of patriotic capital.
CSR budgets:
By some estimates, the annual CSR budget is ₹15,000 crore, of which a substantial portion goes unutilised.
CSR has traditionally been utilised for the social sector. However, this growing corpus should also be used for the development of strategic technology.
Large corporations can be incentivised to use some of this budget to serve the strategic needs of the nation.
High Net Worth (HNI)
HNIs can also be offered tax incentives to make equity investment in the same critical technology startups
This would help mitigate the pinch felt with lower short-term returns.
The corpus of investment should be tax deductible and no more than a certain percentage of annual income.
Staying the course
India will remain a net importer of critical technology in the foreseeable future. While the Prime Minister's vision for an Atmanirbhar Bharat has created the right momentum, it will take close to a decade or more to fructify. If correctly aligned with the programmes launched by the Government, CSR funds and the right tax incentives to HNIs can create an almost self-fulfilling prophecy in the nascent Indian Deep Tech ecosystem.
Source: The Hindu
---
Livestock sector - Role of Women
Syllabus
Mains – G3 1 (Society); GS 3 (Agriculture)
Context: On the International Day of Rural Women (October 15), we need to recognise the role of women in livestock rearing, and to include women in all facets of livestock development, be it breeding, veterinary care, extension services, training or access to credit and markets.
The livestock sector is one of the most rapidly growing components of the rural economy of India, accounting for 5% of national income and 28% of agricultural GDP in 2018-19.
In the last six years, the livestock sector grew at 7.9% (at constant prices) while crop farming grew by 2%.
Studies show that in rural households that own livestock, women are invariably engaged in animal rearing.
It is widely recognised that the majority of women workers in rural areas (72%) are engaged in agricultural activities.
An underestimation
To illustrate, 12 million rural women were workers in livestock-raising, an estimate based on the Employment and Unemployment Survey of 2011-12. However, with the augmented definition, it was estimated that around 49 million rural women were engaged in livestock raising.
The National Livestock Policy (NLP) of 2013, aimed at increasing livestock production and productivity in a sustainable manner, rightly states that around 70% of the labour for the livestock sector comes from women.
One of the goals of this policy was the empowerment of women.
However, the NLM does not propose any schemes or programmes specific to women livestock farmers. The policy proposes that the State government allocates 30% of funds from centrally-sponsored schemes for women.
Core problems
The problem clearly is that women livestock farmers are not visible to policymakers, and one reason is the lack of gender-disaggregated data.
First, recent employment surveys such as the Periodic Labour Force Survey fail to collect data on specific activities of persons engaged primarily in domestic duties. So, the undercounting of women in the livestock economy continues.
Second, the reach of extension services to women livestock farmers remains scarce. According to official reports, 80,000 livestock farmers were trained across the country in 2021, but we have no idea how many were women farmers.
Around 15 lakh new Kisan Credit Cards (KCC) were provided to livestock farmers under the KCC scheme during 2020-22. There is no information on how many of them were women farmers.
Fourth, women livestock farmers lacked technical knowledge on choice of animals (breeding) and veterinary care.
Fifth, village studies showed that women were not aware of the composition and functions of dairy boards and that men exercised decisions even in women-only dairy cooperatives. Further, the voice of women from landless or poor peasant Scheduled Caste households was rarely heard.
Way Forward
Efforts are needed to correct gender biasness, increase the capacity of women to meet their strategic needs and to document systematically their inputs and outputs.
They should be promoted to participate in outside exposure activities like marketing, selling and purchasing of animals.
Seven important pillars of women empowerment are: decision making, access to knowledge, self-esteem, credit facility, livestock services, social support, market accessibility and asset ownership.
Trainings should be organised for women farmers to remove their knowledge gaps regarding specific animal husbandry activities.
Women's labour is critical to the livestock economy. It follows then that women should be included in every stage of decision-making and development of the livestock sector.
Source: The Hindu
---
Bio Age
Syllabus
Context: The report titled  'Law in the Emerging Bio Age', have proposed giving legal rights to plants, animals, and non-living entities is crucial to building meaningful human-environment relationships in the future.
The report focused on rapid developments in biotechnology and the need to understand its ethical consequences on humanity's relationship with the environment.
What is the "bio age"?
As per the report, the increased integration of biotechnology in human life will bring in the bio age.
Integration of life sciences with modern technology through the production of genetically modified organisms (GMOs), engineering of genes to enhance disease resistance, gene editing, and more, indicate that biotechnology is most likely to pervade our lives in the future.
This era will require legal intervention to hold researchers accountable for the impact of their work on the environment.
This is where the question of nature as a "juristic person" or an entity recognized in law as a person, which otherwise is not, comes in.
Granting legal rights and protection to non-human systems – flora, fauna, rivers, ecosystems and landscapes – would recalibrate human-environment relationships and bring ethical conduct to the field.
Recognising the rights of Nature
At a time when the world is battling climate change and exploitation of natural resources, countries like Ecuador, Bolivia, and New Zealand have taken some significant steps in bringing laws into the natural world, for a variety of reasons.
Ecuador: The first country in the world to recognise the rights of nature
Ecuador, in 2008, approved a Constitution that grants tropical forests, islands, rivers and air, legal rights to "exist, flourish and evolve".
The country's courts now recognize the rights of "Pacha Mama" or nature, to maintain and regenerate its cycles, structure, functions and evolutionary processes, as highlighted by Article 71 of the Ecuadorian Constitution.
More recently, in April 2022 Ecuador became the first country to grant legal rights to individual wild animals.
Bolivia: Establishing the Law of Mother Earth
Bolivia granted all nature rights equal to that of humans in 2011.
It established the Law of the Rights of Mother Earth, which redefined Mother Earth as "an indivisible community of all living systems and living organisms, interrelated, interdependent and complementary, which share a common destiny."
New Zealand's Whanganui river: First in the world to be given legal status
The Maori people had been fighting for the river to be recognized as a living entity for about 160 years. The New Zealand parliament, on March 15, 2017, passed the Whanganui River Claims Settlement Bill, which granted legal personhood to river Whanganui and its surrounding ecosystem.
Where does India stand?
Article 51-A (g) of the Constitution of India lays down that it is the fundamental duty of every citizen to protect wildlife and have compassion for all living creatures. However, such duties are not enforceable by law.
The Uttarakhand High Court, on March 20, 2017, granted the river Ganga and its longest tributary Yamuna the legal right to be protected and not be harmed.
How does granting legal rights help?
Just granting the rights is not sufficient. There should be proper implementation and strict monitoring from the respective agency.
Ecuador's courts have since held more than three dozen lawsuits in the name of nature. Many have been successful but verdicts have not always been enforced on the ground.
A compelling shift from competition to cooperation between humans and living systems for future survival is currently an underexplored area, with the question of how India is preparing for the "bio age" still remaining.
Source: Indian Express
---
Daily Practice MCQs
Daily Practice MCQs
Q.1) Consider the following statements about Global Hunger Index – 2022
It is an annual report jointly published by Concern Worldwide and Welthungerhilfe.
It is calculated on the basis of three indicators – child wasting, child stunting and child mortality.
India ranked 107 out of 121 countries on Global Hunger Index, 2022.
Choose the correct statements:
1 only
1 and 3
1, 2 and 3
2 and 3
Q.2) Consider the following statements about Conference on Interaction and Confidence Building Measures in Asia (CICA)
It is a multi-national forum for enhancing cooperation towards promoting peace, security and stability in Asia.
To be a member of CICA, a state must have at least a part of its territory in Asia.
India is a founding member of CICA.
Choose the incorrect statements:
3 only
2 only
2 and 3
None
Q.3) DART mission, recently seen in news is an initiative of?
National Aeronautics and Space Administration
Indian Space Research Organisation
Japan Aerospace Exploration Agency
European Space Agency
---
Comment the answers to the above questions in the comment section below!!
ANSWERS FOR '15th October 2022 – Daily Practice MCQs' will be updated along with tomorrow's Daily Current Affairs.
---
ANSWERS FOR 14th October

 

– Daily Practice MCQs
Answers- Daily Practice MCQs
Q.1) –  c
Q.2) – c
Q.3) – a
For a dedicated peer group, Motivation & Quick updates, Join our official telegram channel – https://t.me/IASbabaOfficialAccount
Subscribe to our YouTube Channel HERE to watch Explainer Videos, Strategy Sessions, Toppers Talks & many more…