---
(PRELIMS & MAINS Focus)
---
State Finances: A Study of Budgets of 2022-23
Syllabus
Context: Recently, the State Finances: A Study of Budgets of 2022-23 report suggested that States' gross fiscal deficit is set to fall in 2022-23.
About State Finances: A Study of Budgets of 2022-23:-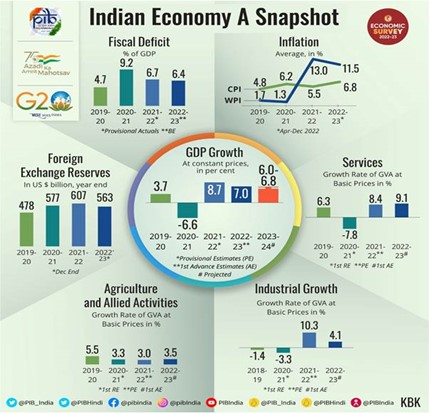 IMAGE SOURCE: Summary of the Economic Survey 2022-23 | A2Z Taxcorp LLP
State Finances: A Study of Budgets of 2022-23″ is a report by RBI.
It is a comprehensive analysis of the financial position of the Indian states, including the trends and challenges in their revenue and expenditure.
Key Findings of the Report:-
According to the RBI report, states' debt is expected to decrease to 29.5% of GDP in 2022-23, compared to 31.1% in 2020-21.
The report also highlights that this is still higher than the 20% recommended by the Fiscal Responsibility and Budget Management (FRBM) Review Committee in 2018.
States are anticipating an increase in non-tax revenue, which is generated from sources such as fees, fines, and royalties.
This increase is likely to be driven by revenue from industries and general services.
The report notes that states are expecting to see an increase in revenue from various sources such as State GST, excise taxes, and sales taxes in the 2022-2023 fiscal year.
Measures Suggested in the Report:-
The report suggests that debt consolidation should be a priority for state governments.

Debt consolidation: the process of combining multiple debts into a single, more manageable debt.

By allocating more resources to key sectors such as healthcare, education, infrastructure, and green energy, the states can promote economic growth and development.
The report is proposing that it would be beneficial to establish a fund that would be used to buffer capital expenditure during periods of strong revenue growth.
In order to attract private investment, state governments should focus on creating a favourable environment for the private sector to operate and grow.
States also need to encourage and facilitate higher inter-state trade and commerce to realize the full benefit of spillover effects of state capex across the country.
MUST READ: RBI- Integrated Ombudsman Scheme
SOURCE: THE INDIAN EXPRESS
PREVIOUS YEAR QUESTIONS
Q.1) Consider the following statements (2021)
The Governor of the Reserve Bank of India (RBI) is appointed by the Central Government.
Certain provisions in the Constitution of India give the Central Government the right to issue directions to the RBI in the public interest.
The Governor of the RBI draws his power from the RBI Act.
Which of the above statements is correct?
1 and 2 only
2 and 3 only
1 and 3 only
1, 2 and 3
Q.2) Which among the following steps is most likely to be taken at the time of an economic recession?(2021)
Cut in tax rates accompanied by an increase in interest rate
Increase in expenditure on public projects
Increase in tax rates accompanied by reduction of interest rate
Reduction of expenditure on public projects
---
State Wide Attention on Grievances by Application of Technology (SWAGAT)
Syllabus
Context: PM Modi is to attend the 20th anniversary of SWAGAT initiative in Gujarat via video conferencing soon.
About State Wide Attention on Grievances by Application of Technology (SWAGAT):-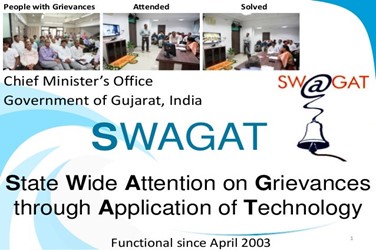 IMAGE SOURCE: State Wide Attention on Grievances by Application of Technology (SWAGAT), India (slideshare.net)
The SWAGAT initiative of the Government of Gujarat was started in 2003.
It is an innovative concept that enables direct communication between the citizens and the Chief Minister, as also between the citizens and other functionaries of the Government.
The fourth Thursday of every month is designated as SWAGAT day, wherein the highest office in administration attends to the grievances of the common man.
There is a three-tier grievance redressal system under SWAGAT – at State, District andTaluka levels.

It is now extended to the village level also.

Grievances submitted at the taluka and district levels are first resolved by the authorities at the respective levels and, thereafter, all pending grievances are reviewed by the Chief Minister himself.
An applicant under SWAGAT is given a unique ID through which he/she can access the case details and status online.
Complaints are divided into three categories

Policy Matters-where a gap in the policy requires attention
Long Pending -where the case has remained unresolved for at least 6 months after initial application.
First Timer – cases are first referred to the concerned subordinate office for attention.
The focus in SWAGAT is primarily on the long pending issues.
SWAGAT program up to the village level, named as GRAM SWAGAT, was launched on 1st February 2011.
SWAGAT Online program going rural has helped the rural people living even in the remotest corner of the state to get their problems solved quickly.
Following impacts have been noticed of the SWAGAT initiative:-
Public accountability has been strengthened
Citizen satisfaction increased as grievances were attended at the highest level
Monitoring system focuses attention on unresolved cases
Transparency is brought about as all stakeholders are present during the interaction with Chief Minister
Inputs from all – citizens, officers and elected representatives- leads to fair decisions
Activates local level administration by requiring local level grievance to be resolved to the extent possible before they escalate to state level.
MUST READ: Grievance Appellate Committees (GACs)
SOURCE: AIR
PREVIOUS YEAR QUESTIONS
Q.1) Consider the following statements : (2020)
Aadhaar metadata cannot be stored for more than three months.
State cannot enter into any contract with private corporations for sharing of Aadhaar data.
Aadhaar is mandatory for obtaining insurance products.
Aadhaar is mandatory for getting benefits funded out of the Consolidated Fund of India.
Which of the statements given above is/are correct?
1 and 4 only
2 and 4 only
3 only
1, 2 and 3 only
Q.2) In India under cyber insurance for individuals, which of the following benefits are generally covered, in addition to payment for the loss of funds and other benefits? (2020)
Cost of restoration of the computer system in case of malware disrupting access to one's computer
Cost of a new computer if some miscreant wilfully damages it, if proved so
Cost of hiring a specialized consultant to minimize the loss in case of cyber extortion
Cost of defence in the Court of Law if any third party files a suit
Select the correct answer using the code given below:
1, 2 and 4 only
1, 3 and 4 only
2 and 3 only
1, 2, 3 and 4
---
LockBit ransomware
Syllabus
Prelims –Science and Technology
Context: Recently, the LockBit ransomware was found to be targeting Mac devices.
About LockBit ransomware:-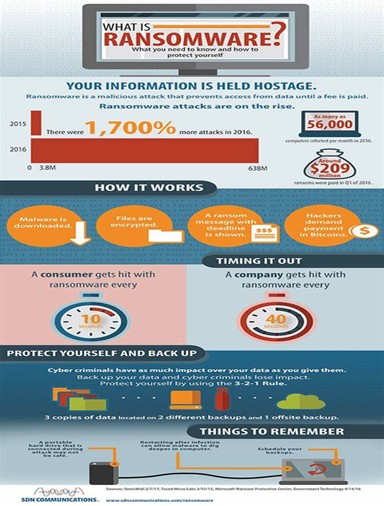 IMAGE SOURCE: ransomware INFO – Bing images
It was first reported in September 2019 and dubbed the "abcd" virus, due to the file extension used when encrypting victims' files.
 The LockBit ransomware is designed to infiltrate victims' systems and encrypt important files.
The virus is categorized as a "cryptovirus" due to its requests for payment in cryptocurrency to decrypt files on the victim's device.
The ransomware is therefore typically deployed against victims who feel hindered enough by the disruption to pay heavy sums in exchange for access to the files and can afford to do so.
The gang behind the LockBit ransomware reportedly maintains a dark web portal to recruit members and release data of victims who refuse to meet their demands, as part of their business model.
In the past, LockBit ransomware has been used to target enterprises and organizations in the U.S., China, India, Ukraine, and Indonesia.
 Attacks have also been recorded throughout Europe, including France, Germany, and the U.K.
Working:-
It works as a self-spreading malware, not requiring additional instructions once it has successfully infiltrated a single device with access to an organisational intranet.
It also known to hide executable encryption files by disguising them in the PNG format, thereby avoiding detection by system defences.
Attackers use phishing tactics and other social engineering methods to impersonate trusted personnel or authorities to lure victims into sharing credentials.
 Once it has gained access, the ransomware prepares the system to release its encryption payload across as many devices as possible.
 It then disables security programs and other infrastructures that could permit system data recovery.
The goal is to ensure that data recovery without assistance from the LockBit gang is impossible.
Once this is ensured, the ransomware places an encryption lock on all system files, which can only be unlocked via a custom key created by the LockBit gang.
The process leaves behind a ransom note, with instructions to restore the system, and has reportedly also included threatening blackmail messages.
Victims are then left with no choice but to contact the LockBit gang and pay up for the data.
MUST READ: India's cyber infrastructure
SOURCE: THE HINDU
PREVIOUS YEAR QUESTIONS
Q.1) With reference to Web 3.0, consider the following statements: (2022)
Web 3.0 technology enables people to control their own data.
In Web 3.0 world, there can be blockchain based social networks.
Web 3.0 is operated by users collectively rather than a corporation
Which of the following given above are correct?
1 and 2 only
2 and 3 only
1 and 3 only
1, 2 and 3
Q.2) The terms 'Wanna Cry, Petya and Eternal Blue' sometimes mentioned in the news recently are related to (2018)
Exo-planets
Crypto-currency
Cyber attacks
Mini satellites
---
Misinformation Combat Alliance (MCA)
Syllabus
Context: Recently, the Misinformation Combat Alliance mooted multi-stakeholder consultative approach for the self-regulatory organisation (SRO).
About Misinformation Combat Alliance:-
MCA is an alliance of media companies set up in March 2022.
It was set up to combat misinformation and build tools to aid fact-checking.
It is a cross-industry alliance bringing companies, organizations, institutions, industry associations and government entities together to combat misinformation and fake news and create an enlightened and informed society.
Objective: combatting and limiting the spread of misinformation through targeted interventions and activities.
It is currently a network of 14 digital publishers which includes publications such as Boom Live, Factly, The Logical Indian, Vishwas News and The Quint.
Membership in the MCA is open to any organization that applies.
MUST READ: Fake News on social media
SOURCE: THE ECONOMICS TIMES
PREVIOUS YEAR QUESTIONS
Q.1) With reference to "Software as a Service (SaaS)", consider the following statements: (2022)
SaaS buyers can customise the user interface and can change data fields.
SaaS users can access their data through their mobile devices.
Outlook, Hotmail and Yahoo! Mail are forms of SaaS.
Which of the statements given above are correct?
1 and 2 only
2 and 3 only
1 and 3 only
1, 2 and 3
Q.2) In India, the term "Public Key Infrastructure" is used in the context of (2020)
Digital security infrastructure
Food security infrastructure
Health care and education infrastructure
Telecommunication and transportation infrastructure
---
Operation Kaveri
Syllabus
Prelims –International Relations
Context: Recently, the first batch under Operation Kaveri was sent.
About Operation Kaveri:-
India has initiated an operation to evacuate its nationals from conflict-hit Sudan.
The operation was launched in response to the conflict and breakdown of essential services in Sudan that had brought the country to a standstill.
Stranded Indian citizens are being evacuated from Port Sudan.
India has positioned two transport aircraft of the IAF in the Saudi Arabian city of Jeddah and a naval ship at a key port in Sudan as part of its contingency plans to evacuate its stranded nationals.
The choice of naming this operation as 'Operation Kaveri' has a lot of significance.
Kaveri is sacred to the people of the region and is worshipped as the Goddess Kaveriamma (mother Kaveri).
It's like a mother who will ensure she will bring her children back to safety.
MUST READ: Operation Sadbhavana
SOURCE: THE INDIAN EXPRESS
PREVIOUS YEAR QUESTIONS
Q.1) Consider the following statements: (2019)
The United Nations Convention against Corruption (UNCAC) has a 'Protocol against the Smuggling of Migrants by Land, Sea and Air'.
The UNCAC is the ever-first legally binding global anti-corruption instrument.
A highlight of the United Nations Convention against Transnational Organized Crime (UNTOC) is the inclusion of a specific chapter aimed at returning assets to their rightful owners from whom they had been taken illicitly.
The United Nations Office on Drugs and Crime (UNODC) is mandated by its members States to assist in the implementation of both UNCAC and UNTOC.
Which of the statements given above are correct?
1 and 3 only
2, 3 and 4 only
2 and 4 only
1, 2, 3 and 4
Q.2) With reference to 'Indian Ocean Rim Association for Regional Cooperation (IOR-ARC)', Consider the following statements: (2015)
It was established very recently in response to incidents of piracy and accidents of oil spills
It is an alliance meant for maritime security only
Which of the following statements given above is/are correct?
1 only
2 only
Both 1 and 2
Neither 1 nor 2
---
Exercise INIOCHOS-23
Syllabus
Prelims –International Relations
Context: Recently, the Indian Air Force (IAF) will be participating in Exercise INIOCHOS-23.
About Exercise INIOCHOS-23:-
It is a multi-national air exercise hosted by the Hellenic Air Force.
 The exercise will be conducted at the Andravida Air Base in Greece from 24 Apr 2023 to 04 May 2023.
The Indian Air Force will be participating with four Su-30 MKI and two C-17 aircraft.
The objective of the exercise is to enhance international cooperation, synergy and interoperability amongst the participating Air Forces.
The exercise will be conducted in a realistic combat scenario involving multiple types of air and surface assets.
 It will also enable the participating contingents to engage in professional interactions, providing valuable insight into each other's best practices.
MUST READ: Dunagiri, a Project 17A Frigate
SOURCE: PIB
PREVIOUS YEAR QUESTIONS
Q.1) The term 'West Taxes Intermediate', sometimes found in news to a grade of (2019)
Crude oil
Bullion
Rare earth elements
Uranium
Q.2) The term "two-state solution" is sometimes mentioned in the news in the context of the affairs of (2018)
China
Israel
Iraq
Yemen
---
Relative humidity
Syllabus
Context: Recent climate brings to surface importance of the phenomenon of Relative humidity.
About Relative humidity:-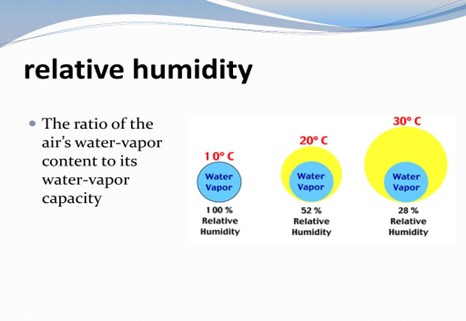 IMAGE SOURCE: PPT – Earth Science Chapter 18.1 – Water in the Atmosphere PowerPoint Presentation – ID:2253354 (slideserve.com)
Humidity is the amount of moisture in the air around us.
There are three ways to track it:-

Absolute humidity: the mass of water vapour in a given volume of the air and water vapour mixture, expressed as kg/m3.
Specific humidity: equal to the mass of the moisture divided by the mass of air.

 It is expressed as a dimensionless number (but sometimes also as grams per kilogram, among other similar units.)
Relative humidity: it factors in the amount of vapour that air can hold at different temperatures.
The percentage of moisture present in the atmosphere as compared to its full capacity at a given temperature is known as the relative humidity.
Relative Humidity = [Actual amount of water vapor in air (absolute humidity)/humidity at saturation point (the maximum water vapor air can hold at a given temperature)] X 100
With the change of air temperature, the capacity to retain moisture increases or decreases and the relative humidity is also affected.
Relative humidity is greater over the oceans and least over the continents (absolute humidity is greater over oceans because of greater availability of water for evaporation).
The relative humidity determines the amount and rate of evaporation and hence it is an important climatic factor.
Air containing moisture to its full capacity at a given temperature is said to be 'saturated'.
At this temperature, the air cannot hold any additional amount of moisture. Thus, relative humidity of the saturated air is 100%.
If the air has half the amount of moisture that it can carry, then it is unsaturated and its relative humidity is only 50%.
MUST READ: Cloudbursts
SOURCE: THE HINDU
PREVIOUS YEAR QUESTIONS
Q.1) Consider the following statements: (2022)
High clouds primarily reflect solar radiation and cool the surface of the Earth.
Low clouds have a high absorption of infrared radiation emanating from the Earth's surface and thus cause warming effect.
Which of the statements given above is/are correct?
1 only
2 only
Both 1 and 2
Neither 1 nor 2
Q.2) In the northern hemisphere, the longest day of the year normally occurs in the: (2022)
First half of the month of June
Second half of the month of June
First half of the month of July
Second half of the month of July
---
Safe City Project
Syllabus
Context: Recently, Delhi Lieutenant Governor has asked the Delhi Police to implement the ambitious Safe City Project in the city by August.
About Safe City Project:-
The project aims to curb crime against women and address safety issues sensitively.
 It aims to use technology and ensure the prompt availability of professionally equipped police personnel to reach women in distress.
Key features :-
 10,582 CCTV cameras will be installed in places frequented by women.
A command and control centre will be set up with facilities like video analytics, artificial intelligence, machine learning, facial recognition system, etc. at police headquarters, district headquarters and police stations.
Integration of various data sets (32) and CCTV projects under various schemes of Delhi Police, with the Safe City Project platform.
2 mobile command and control vehicles to be deployed.
88 Prakhar Vans equipped with MDT (mobile data terminal), communication devices, body worn cameras, vehicle mounted cameras, GPS, etc.
Provision for collaborative monitoring by integration of CCTV projects of other departments, in future.
GIS Mapping of CCTV cameras under Safe City Project as well as other schemes of Delhi Police for installation of CCTV cameras, to avoid duplication.
Integration of location-based services and crime and criminal databases with CCTV feeds for prompt and effective resolution of women's safety issues at public places.
Analysis of video and creation of actionable warnings or alerts for preventive and curative actions.
The cost of the project is Rs 798 crore and is being funded by the Centre under the Nirbhaya fund.
MUST READ: Mission Shakti
SOURCE: THE INDIAN EXPRESS
PREVIOUS YEAR QUESTIONS
Q.1) Which of the following statements is/are correct regarding the Maternity Benefit Amendment Act, 2017? (2019)
Pregnant women are entitled for three months pre-delivery and three months post-delivery paid leave.
Enterprises with creches must allow the mother minimum six creche visits daily.
Women with two children get reduced entitlements.
Select the correct answer using the code given below.
1 and 2 only
2 only
3 only
1, 2 and 3
Q.2) Consider the following statements about Particularly Vulnerable Tribal (2019)
Groups (PVTGs) in India:
PVTGs reside in 18 States and one Union Territory.
A stagnant or declining population is one of the criteria for determining PVTG status.
There are 95 PVTGs officially notified in the country so far.
Irular and Konda Reddi tribes are included in the list of PVTGs.
Which of the statements given above are correct?
1, 2 and 3
2, 3 and 4
1, 2 and 4
1, 3 and 4
---
Criminalization of Politics
Syllabus
Mains – GS 2 (Polity and Governance)
Context: Citizens have reconciled to a failed criminal justice system and thus not only do they elect MPs and MLAs with criminal records but also applaud extra judicial killings.
About criminalisation of politics:
The criminalisation of politics means the rising participation of criminals and people facing criminal charges in politics.
The term indicates people with criminal backgrounds becoming politicians and elected representatives.
Criminalisation of politics in India:
It has been observed that over the last four general elections, there has been an alarming increase in the incidence of criminals in politics.
In 2004, 24% of the Members of Parliament had criminal cases pending against them; in 2009, that went up to 30%; in 2014 to 34%; and in 2019 as many as 43% of MPs had criminal cases pending against them.
According to the Association of Democratic Reforms (ADR), Nearly half of the recently elected Lok Sabha members have criminal charges against them. This is a 26% increase as compared to 2014.
In November 2017, the Supreme Court had ordered the setting-up of Special Courts in each state to try the pending cases.

Accordingly, 12 such courts were set up across the country.
Reasons for Criminalisation of Politics:
Lack of Political Will: It remains the most persistent problem.

Till date most efforts to reform the electoral system have been taken by EC and the Supreme Court (SC) only.
It is parliament's responsibility to amend the Representation of People Act 1951, which deals with disqualification of candidates against whom charges have been proved in court for serious offences.

Muscle Power and Corruption: Use of muscle power by politicians to collect votes in their favour.

Also, the use of money and other freebies in form of cash and kind both affect the final results of the election to a large extent.

Model Code of Conduct: Its blatant violation is seen in almost all elections.
Limited Awareness: Making voters aware of candidates with criminal antecedents has its limitations.
Lack of Governance: The SC's orders or other legal mechanisms are not fully followed thereby creating an anarchic environment in the country.

Law breakers end up becoming law makers.

Polarisation Towards Caste/Religions: People still go by the caste system and favour candidates on its basis instead of considering the actual background of the candidate.
Issues of Criminalization of Politics:
Elected members with criminal records:
Nearly 40 percent of members of the current Parliament have criminal cases pending against them.
Most of them do not feel vulnerable or threatened as they are aware that it will take years for trials to conclude.
Question of safety and security:
The main purpose of governance is to provide safety and security to citizens who elect their representatives for this role.
But if the elected members themselves have criminal records, would they be interested in a criminal justice system that is prompt and efficient?

This is the major issue associated with it, needs to be addressed.
Low conviction rate:
As per the National Crime Records Bureau's 2021 report, only 10,416 cases of murder were disposed of during the year with just a 42.4 percent conviction rate.
The Law minister has admitted to more than 4.7 crore cases pending in various courts.
Situation in police stations:
Politicians play a very powerful role at police stations, compromising both integrity and impartiality of field staff.
In due course, ordinary criminals graduate to be dreaded ones and form gangs extorting money, grabbing land, threatening witnesses in criminal cases, etc.
Law Commission Reports:
The Law commission in its 179th report recommended an amendment to the Representation of people act 1951.
It suggested the people with criminal backgrounds should be disqualified for five years or until acquittal.
It also recommended that the person who wants to contest the election must furnish details regarding any pending case, with the copy of the FIR/complaint, and also furnish details of all assets.
But no action was taken on the recommendation by the government due to a lack of consensus amongst the political parties.
Supreme Court's Observations:
It is mandatory for all political parties to publish all details regarding pending criminal cases against their chosen candidates, not only in local newspapers, but also on party websites and social media handles.
Directions to ensure the asset disclosure and criminal records of candidates.
Establishment of special courts in all States for the quick disposal of cases involving elected representatives.
Measures to Curb Criminalization of Politics:
Section 125A of the Representation of Peoples Act: The Act should be amended, in order to provide more stringent punishment for concealing or providing wrong information in Form 26 under the Conduct of Election Rules, 1961 to a minimum term of two years' imprisonment.
Law Commission 244th Report recommended:
Completion of trials against a sitting MP and MLA within one year.
With the retroactive application, all persons with pending criminal charges that are punishable by more than 5 years to be disqualified subject to certain safeguards.
Punishment of 2 years for filing a false affidavit under section 125A.
A conviction under this should be made a ground for disqualification.
Supreme Court Landmark Judgements:
Union of India vs. Association for Democratic Reforms and Anr case, 2002: Supreme Court ruled that every candidate contesting election has to declare his criminal and financial records along with educational qualification.
Ramesh Dalal vs. Union of India case, 2005: Supreme Court ruled that a sitting Member of Parliament or any Member of state legislative assembly will be disqualified from contesting the election if convicted and sentenced for imprisonment for two years or more by a court of law.
Lily Thomas vs. Union of India case, 2013: Supreme court declared the Section 8(4) of the Representation of People Act, 1951 as unconstitutional that allowed the convicted MLAs and MPs to continue in office till the appeal against those convictions is disposed of.
Accordingly, MLAs and MPs would be disqualified immediately if convicted and sentenced for two or more years.
However, in 2017, the union government informed the supreme court that if the appellate court stays the conviction, the MLAs and MPs would be allowed to continue.
Way Forward:
State sponsorship of elections has been advocated by a number of committees (including Dinesh Goswami and the Inderjeet Committee) looking into electoral reforms. This will significantly reduce the use of black money in elections and, as a result, the criminalization of politics.
Increasing the effectiveness of the Election Commission is necessary to ensure a more transparent electoral process. Strengthening the Indian Election Commission is therefore essential. Voters must exercise caution when it comes to the improper use of gifts, money, and other inducements during elections.
Source:   Indian Express
---
India's Growing Logistics Sector
Syllabus
Context: According to World Bank's Logistic Performance Index (LPI) 2023, India has climbed six places, now ranking 38th in the 139 countries index, as a result of significant investments in both soft and hard infrastructure as well as technology.
India's performance has drastically improved from 2014 when it was ranked 54th on the LPI.
About Logistics Sector:
The logistics industry comprises all supply chain activities, mainly transportation, inventory management, the flow of information, and customer service.
It pertains to the general method of controlling how resources are obtained, housed, and delivered to their ultimate location.
It is a differentiating sector that can largely affect any country's exports, thereby adding a significant competitive edge, with the underlying assumption of a robust logistics sector.
It determines the success of not only the country's supply chain but also influences it on a global scale.
India's Potential: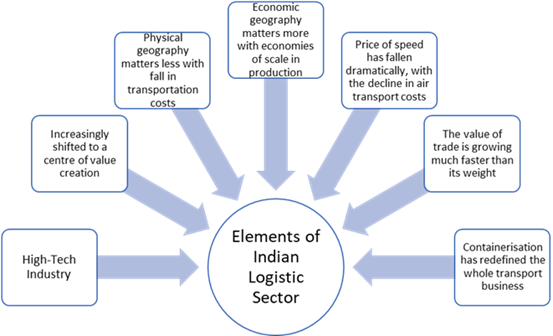 The logistics industry in India is witnessing rapid growth owing to infrastructure, technology, and the emergence of new types of service providers that are reshaping the sector by reducing logistics costs and providing effective services.
Moreover, government policies on taxation and regulation play a huge role in the improvisation of the sector.
The government is going by certain estimates which suggest that logistics cost in India stands at about 13-14 percent of the country's GDP.
The Economic Survey 2022-23 pointed out that logistics costs in India have been in the range of 14-18 percent of GDP against the global benchmark of 8 percent.
Issues with India's Logistics System
Skewed Modal Mix:
The modal mix in India's freight movement is heavily skewed towards road transport, with 65% of freight being moved by road.
This has led to increased congestion, pollution, and logistics cost escalation on roads.
Loss of Rail Freight Share:
Despite being a more cost-effective mode of transportation, railways have been losing freight share to more flexible modes, due to the convenience of road transport.
The Indian Railways face infrastructural challenges such as the lack of necessary terminal infrastructure, maintenance of good sheds and warehouses, and uncertain supply of wagons, absence of all-weather roads as a substantial part of the country is out of reach for railways.
This results in high network congestion, lower service levels, and increased transit time.
Dominance of Bulk Commodities:
Coal, iron ore, cement, food grains, and fertilizers account for a significant share of India's freight movement, while non-bulk commodities have a very small share in rail freight movement.
In 2020-21, coal constituted 44% of the total freight movement of 1.2 billion tonnes, followed by iron ore (13%), cement (10%), food grains (5%), fertilizers (4%), iron and steel (4%),
Transportation of non-bulk commodities accounts for a very small share in the rail freight movement.
Operational and Connectivity Challenges:
Increased transit time by rail, pre-movement and post-movement procedural delays, multi-modal handling, and the absence of integrated first and last-mile connectivity by rail are some of the operational and connectivity challenges faced by India's logistics system.
Lack of Skilled & Specialist Personnel:
It has emerged as one of the most prominent concerns, especially in the face of increasing volumes, complex operations, and increasing work pressure with multi-tasking.
Availability of experienced human resources for mostly labour-intensive processes, demanding higher skills and expertise is a challenge for logistics companies.
Warehousing and Taxation Discrepancies:
Logistics companies generally opt for warehousing because it enables them to store goods and move them closer to the customer when demand occurs. It helps to reduce the transit time.
However, warehousing is not free of cost and needs proper planning for optimum use.
Fragmentation:
The logistics industry in India is highly fragmented, with many small and medium-sized players operating independently, leading to suboptimal utilization of resources and higher costs.
Inefficient Supply Chain Management:
The lack of coordination between various players in the supply chain, including manufacturers, distributors, and retailers, leads to inefficiencies, delays, and increased costs.
Government Initiatives
Prime Minister Narendra Modi-led government announced the PM Gati Shakti's initiative, a National Master Plan for multimodal connectivity, in October 2021 to reduce logistics costs and boost the economy by 2024-25.
In 2022, the Prime Minister launched the National Logistics Policy (NLP) to ensure quick last-mile delivery, end transport-related challenges, save time and money for the manufacturing sector and ensure desired speed in the logistics sector.
Logistics Master Plan: This initiative takes a geographical strategy as opposed to an industry approach. Several projects and activities will be integrated into the plan to expand the mix of intermodal and/or multimodal transportation.

Coordinated construction of relevant infrastructure (gas and utility pipelines, optical fiber cable networks) is accordingly planned.

National Logistics Law: A national logistics law has been drafted and is under consultation. Through a unified legal framework for the paradigm of One Nation, One Contract, it would support the One Nation, One Market objective and provide a flexible regulatory environment (single bill of lading across modes).

The law's provisions will make it possible to assign a distinct logistics account number in place of cumbersome registration processes.

National Multimodal Facilities and Warehousing: In order to promote intermodal and Multimodal Logistics Parks (MMLPs) as a separate class of infrastructure, the National Grid of Logistics Parks and Terminals is being planned.
National Logistics Workforce Strategy: For the integrated skill development of professionals in the logistics sector, the government is developing a national logistics workforce strategy.
Source:  The Hindu
---
Practice MCQs
Daily Practice MCQs
Q.1) Consider the following statements regarding the State Wide Attention on Grievances by Application of Technology (SWAGAT):
The SWAGAT initiative of the Government of Gujarat was started in 2003.
It is an innovative concept that enables direct communication between the citizens and the Chief Minister.
Which of the statements given above is/are correct?
1 only
2 only
Both 1 and 2
Neither 1 nor 2
Q.2) Recently, the State Finances: A Study of Budgets of 2022-23 report was launched by
Reserve Bank of India
Ministry of Finance
NITI Aayog
None of the above
Q.3) Consider the following statements regarding the Misinformation Combat Alliance (MCA):
MCA is an alliance of media companies set up in March 2022.
It was set up to combat misinformation and build tools to aid fact-checking.
Membership in the MCA is open to any organization that applies.
Which of the statements given above are correct?
1 and 2 only
2 and 3 only
1 and 3 only
1 2 and 3
Comment the answers to the above questions in the comment section below!!
ANSWERS FOR ' 26th April 2023 – Daily Practice MCQs' will be updated along with tomorrow's Daily Current Affairs.st
---
ANSWERS FOR 25th April

 

– Daily Practice MCQs
Answers- Daily Practice MCQs
Q.1) – b
Q.2) – d
Q.3) – c
For a dedicated peer group, Motivation & Quick updates, Join our official telegram channel – https://t.me/IASbabaOfficialAccount
Subscribe to our YouTube Channel HERE to watch Explainer Videos, Strategy Sessions, Toppers Talks & many more…