---
(PRELIMS + MAINS FOCUS)
---
Part of: Prelims and GS III – Defence and security 
Context The helicopter-launched Nag Anti-Tank Guided Missile (ATGM), Helina, being developed indigenously, has completed all trials. 
About Helina
Helina is a third-generation, Lock on Before Launch (LOBL) fire and forget class anti-tank guided missile (ATGM) system. 

It has all- weather day and night operational capabilities. 

It can defeat battle tanks with conventional and explosive reactive armour (ERA). 

It can engage targets both in direct hit mode as well as top attack mode.
About Nag Missile
Nag is a third-generation, fire-and-forget, anti-tank guided missile developed by DRDO to support both mechanized infantry and airborne forces of the Indian Army.

It is an all-weather condition with day and night capabilities and with a minimum range of 500m and a

maximum range of 4 km.

Nag can be

launched from land and air-based platforms.

The land version is currently available for integration on the Nag missile carrier (NAMICA).

DRDO has developed nag Missiles under the Integrated Guided Missile Development Program. The five missiles (P-A-T-N-A) developed under this program are:

Prithvi

: Short-range surface to surface ballistic missile.

Agni

: Ballistic missiles with different ranges, i.e., Agni (I, II, III, IV, V).

Trishul

: Short-range low-level surface to air missile.

Nag

: 3rd generation anti-tank missile.

Akash

: Medium range surface to air missile.
News Source: TH 
---
Part of: Prelims and GS III – Conservation 
Context Two new Humboldt penguin chicks, join seven adult Humboldt penguins at Mumbai's Byculla Zoo.
About Humboldt penguins
Humboldt penguin is named after the cold ocean current, known as

Humboldt current

.

Humboldt Current

, also called the Peru Current, is a cold, low-salinity ocean current that flows north along the

western coast of South America.

Habitat

: Humboldt penguin is a South American penguin that breeds in coastal Chile and Peru.

When not raising chicks, these penguins have been known to travel long distances at sea to find food.

Humboldt penguins can breed at any time of year.

IUCN status:

Vulnerable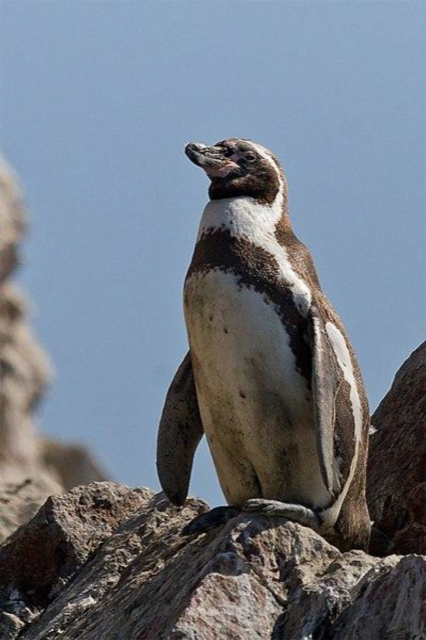 ---
Part of: Prelims and GS-III- Sci and Tech
Context Researchers have developed a technology to produce energy-efficient walling materials using construction and demolition waste and alkali-activated binders.
Key takeaways
The researchers developed low embodied carbon bricks

from construction and demolition waste

through an alkali activation process using fly ash and ground slag. 

Called Low-C bricks, they

do not require high-temperature firing

and avoid the use of high-energy material such as Portland cement. 

The technology will also solve the disposal problems associated with construction and demolition waste mitigation.
What is fly ash?
Fly ash

is a fine powder that is a byproduct of burning pulverized coal in electric generation power plants.

When mixed with lime and water, fly ash forms a compound similar to Portland cement.

It is used in concrete and cement products, road base, metal recovery, and mineral filler among others.

Fly ash particles are toxic air pollutants. They can trigger heart disease, cancer, respiratory diseases and stroke.
---
Part of: Prelims and GS – I – History
Context  Recently, Archeologists of Archaeological Survey of India (ASI) have found 'Shankhalipi' inscriptions on the stairs on an ancient temple dating back to the Gupta period in Uttar Pradesh's Etah district.
Bilsarh, in Etah-Uttar Pradesh, where the remains were found has been a protected site from the colonial times and is a known Gupta period settlement.
Key findings
The 'shankhalipi' inscriptions were deciphered by the archaeologists as saying,

'Sri Mahendraditya', the title of Kumaragupta I

of the Gupta dynasty.

The discovery becomes significant since only two other structural temples from the Gupta age have been found so far — Dashavatara Temple (Deogarh) and Bhitargaon Temple (Kanpur Dehat).
About the Shankhalipi script
This script is assumed to be Brahmi derivatives that look like conch shells or shankhas. 

They are found in inscriptions across North-Central India and date to between the 4th and 8th centuries. 

The inscriptions consist of a small number of characters, suggesting that the shell inscriptions are names or auspicious symbols or a combination of the two.

The script was discovered in 1836 on a brass trident in Uttarakhand's Barahat by English scholar

James Prinsep.

Prominent sites with shell inscriptions include the Mundeshwari Temple in Bihar, the Udayagiri Caves in Madhya Pradesh, Mansar in Maharashtra and some of the cave sites of Gujarat and Maharashtra. 

The shell inscriptions are also

reported in Indonesia's Java

and Borneo.
Kumaragupta I of the Gupta dynasty
The Guptas were the first to build structural temples, distinctly different from the ancient rock-cut temples.

Kumaragupta I was the son of Chandragupta II and grandson of the Great Samudragupta of Gupta dynasty. 

He built the world famous ancient Nalanda University.

Among the Gupta kings, he issued the largest varieties of coins.
---
Part of: Prelims and GS II – International relations
Context The World Bank would discontinue the practice of issuing 'Doing Business report' following an investigation reported "data irregularities" in its 2018 and 2020 editions (released in 2017 and 2019, respectively) and possible "ethical matters" involving bank staff.
It will be working on a new approach to assessing the business and investment climate.
About Ease of Doing Business Report
The report was introduced in 2003 to provide an assessment of objective measures of business regulations and their enforcement across 190 economies on ten parameters affecting a business through its life cycle.

Notably, in three reports, released in 2017, 2018 and 2019, India ranked among the top 10 economies showing "the most notable improvement".
About World Bank
It was created in 1944, as the International Bank for Reconstruction and Development (IBRD) along with the International Monetary Fund (IMF). 

The IBRD later became the World Bank.

It works for sustainable solutions that reduce poverty and build shared prosperity in developing countries.

Major reports:

Human Capital Index.

World Development Report.

Its

Five development institutions

:

International Bank for Reconstruction and Development (IBRD)

: provides loans, credits, and grants.

International Development Association (IDA)

: provides low- or no-interest loans to low-income countries.

International Finance Corporation (IFC)

: provides investment, advice, and asset management to companies and governments.

Multilateral Guarantee Agency (MIGA):

insures lenders and investors against political risk such as war.

International Centre for the Settlement of Investment Disputes (ICSID)

: settles investment-disputes between investors and countries.
---
Part of: Prelims and GS III – Awareness in space 
Context: In the continued search for the hypothetical ninth planet in our Solar System, Michael Brown, the astronomer who led the demotion of Pluto to a dwarf planet in 2006, has co-written a new study that claims to have narrowed the region the potential new planet could be located.
Key takeaways
The study proposes "Planet Nine" exists beyond Neptune and is six times the mass of Earth.

The new study also includes a "treasure map" of the planet's likely orbit that the scientists said lasts around 7,400 Earth years and is closer to the Sun than the 2016 study found.

A closer orbit to the Sun would make the planet brighter and easier to see.

Planet Nine would probably be a cold gas giant like Neptune, the farthest known planet in a Solar System from the Sun.

Neptune has a nonsolid surface made up mostly of hydrogen, helium, and methane, according to NASA.
---
(News from PIB)
---
Part of: GS-Prelims 
Context: Agriculture is contributing to the three biggest challenges of the 21st century – achieving food security, adapting to climate change and mitigating climate change. Important resources like water, energy and land are depleting rapidly. There is a need for sustainability in agriculture along with increasing production and income simultaneously, adapting to climate change by balancing crop, livestock, fisheries and agroforestry systems, increasing resource efficiency, protecting the environment and maintaining ecosystem services.
Agricultural research 
Has played an important role in tackling the problem of food security, improving the income of

farmers and agriculturists

and sustainable use of natural resources for the subsistence of the people. 

Research

contributes significantly to the three aspects of food security –

availability, access and affordability

.

Integrated research efforts can develop a package of techniques and methodologies for improving soil productivity, water management for storage, expansion and

efficiency

. 
Efforts by India
Presidency of G20: Italy
News Source: PIB
---
Part of: GS-Prelims 
In News: Registration of Unorganized Workers has picked up pace across the country. More than 1 crore have been registered on e-shram portal.
States of Bihar, Odisha, Uttar Pradesh and West Bengal at the fore front

Common Service Centre's playing crucial role in facilitating registrations, nearly 68 percent registration done via CSC's

First ever concentrate step towards generating a comprehensive database of the unorganized workers from different sectors like construction, apparel manufacturing, fishing, gig and platform work, street vending, domestic work, agriculture and allied, transport sector and so on

As per Economic Survey 2019-20, there are an estimated 38 crore unorganised workers (UW) in the country, which would be targeted to register on this portal. 
e-shram portal:
e-Shram portal

is a portal through which the government aims to register 38 crore

unorganised workers

, such as construction labourers,

migrant workforce

, street vendors and domestic workers, among others. 

The workers will be issued an e-Shram card containing a 12-digit unique number, which, going ahead, will help in including them in social security schemes.

National Database on Unorganized Workers (NDUW)
Targeted identification

of the unorganized workers was a much-needed step and the portal which will be the national database of our nation builders will help take welfare schemes to their doorstep, who are the builders of our Nation.

Targeted delivery

and last mile delivery, has been a major focus of the schemes of government of India and the National Database of Unorganised workers (E-Shram portal) is another key step towards that.
News Source: PIB
---
(Mains Focus)
---
AGRICULTURE/ GOVERNANCE/ ECONOMY
GS-2: Government policies and interventions for development in various sectors and issues arising out of their design and implementation.
GS-3: Issues related to direct and indirect farm subsidies and minimum support prics and food security
Context: Recently, Union government announced higher Minimum Support Price (MSP) for rabi crops to boost their production. 
Notably, crops such as oilseeds and pulses have witnessed a higher percentage rise in their MSP when compared to major crops such as wheat.
Is the move aimed at ending dependence on imports?
The prices of edible oils such as palm oil, sunflower oil, mustard oil etc. have

increased by well over 50%

in the last one year. 

This price rise has been attributed mainly to

labour shortages

and

crop failures

in major edible

oil-producing nations

such as Indonesia, Malaysia, Argentina, and Ukraine. 

The government thus hopes to

cut down India's dependence

on foreign oil imports by boosting domestic production. At the moment, over 60% of India's edible oil needs are met through imports

The government also aims to protect Indian consumers from price shocks due to global factors. 

In order to boost domestic production, the MSP for rapeseed and mustard seed has been increased by as much as 8% in contrast to a mere 2% increase in the MSP for a major crop like wheat. 

It is also worth noting that the Centre had last month announced the

National Edible Oil mission

worth ₹11,040 crore to encourage the domestic production of palm oil. 
Will it offer immediate benefits?
The greater percentage increase in the support prices for oil seeds when compared to that of other crops could increase the amount of land and other resources used to cultivate oil seeds. 

But it is unlikely to offer immediate benefits in terms of higher domestic production of oil seeds and lower edible oil prices for consumers.

Farmers say that it

takes at least four years

for certain freshly sown oil crops such as the palm oil crop to yield increased output. 

However, if these measures can help improve oilseed supply in the long run, they can indeed benefit consumers. 

There could also be other crucial factors that might play a role in the success of the Centre's plan. 

For one, the price that farmers get paid for their crops is often well below the MSP. So the actual implementation of the MSP programme will be the key. 

Further, the cost of producing oil seeds may vary significantly from that of other crops, so production will depend not just on the MSP but on the expected returns from different crops.
Is a higher MSP necessary to boost oil seed production?
A higher support price for any crop can potentially increase its production as it offers farmers more financial incentive to cultivate it. 

However, many believe that the price and supply of edible oils is adversely affected by factors beyond just the lack of sufficient domestic supply. 

Import taxes

are considered a major culprit behind the high edible oil prices. Oils such as soya bean oil and sunflower oil are taxed at around 30% today while their refined varieties are taxed at around 40% even after the Centre slashed import taxes last week. 

So the increase in the support price for oil seeds and the National Edible Oil Mission are seen more as efforts to encourage domestic production under the Atma Nirbhar plan to attain self-sufficiency. 

It should also be noted that there may be genuine economic reasons for edible oils to be produced predominantly in certain countries and not in others. 

If so, the mere volatility in the price of imported edible oils may not be a good enough reason to subsidise domestic production.
Connecting the dots:
Ashok Dalwai Committee on Doubling Farmer's income
---
INTERNATIONAL/ SECURITY
GS-2: India and its neighborhood- relations. 
GS-2: Effect of policies and politics of developed and developing countries on India's interests
Context: After the September 11, 2001, terrorist attacks, the U.S. went to Afghanistan to defeat al-Qaeda and topple the Taliban regime. 
Critical Analysis of USA's actions post 9/11
Unmet US Objectives:

Twenty years later after 2001, when the U.S. exited Afghanistan, the Taliban, which never fully severed its ties with al-Qaeda, was back in power in Afghanistan.

Diminished Presence in the region:

US has not only lost its base in Afghanistan but its alliance with Pakistan, which goes back to the Cold War, is over.  Afghanistan's neighbouring countries also refuse to host an American base. This diminished presence of US in the region will impact its intelligence operations.

War on Terror weakened:

US says that its war on terror will continue. Howeever, if U.S. wants to carry out a drone strike against terror groups in Afghanistan, it will have to fly the machines from the Gulf, which is not an effective counter-terrorism strategy.

Misuse of Global Support for regime change:

After the 9/11 attacks, with global support and sympathy, there was a legal and moral argument in favour of its military action against al-Qaeda. However, US launched regime change wars to remake the Muslim world. 
Iraq war provided a new base for al-Qaeda:

The invasion of Iraq, based on false intelligence that Iraq's President Saddam Hussein had weapons of mass destruction, diffused the U.S.'s focus in Afghanistan. This war in Iraq created condition for growth of Al-Qaeda's branch in Iraq.
US Clueless on Instability caused:

In subsequent years, US brought down regimes in Afghanistan, Iraq, Libya and Syria. However, it remained clueless about how to tackle the instability that followed. The chaos and lawlessness that followed these regime change created conditions for Jihadists to thrive.

US actions indirectly spread terrorism:

The repeated attacks on Muslim-majority countries by US and the deaths of hundreds of thousands of locals, mostly Muslims, in these wars helped strengthen the jihadist narrative that the 'Christian West' is launching 'a crusade' against Muslims. This helped in recruiting young Muslims into terror groups & spread of terrorism

Divided World

: On one hand, Anti-Americanism emerged as a dominant political theme across Muslim-majority countries. On the other hand, terror attacks in different parts of world led to the strengthening of Islamophobic politics in West.

Humanitarian Crisis:

The wars by US also triggered a massive outflow of refugees from the affected countries to neighbouring nations.

Rise of China:

The most unexpected setback that the U.S. suffered was in geopolitics. When the U.S. was busy in the Muslim world, China was steadily rising. America's withdrawal and the perception of its weakness has also emboldened its rivals like Iran, Russia and China. 
Conclusion
This doesn't mean that the global hegemony of the U.S. is over. The U.S. suffered setbacks in the past and bounced back. 

The 1970s were particularly a bad decade for the U.S. during the Cold War – US withdrawal from Vietnam in 1975, Communists assumed control of Afghanistan in 1978 and US lost Iran in 1979. 

Yet, by 1980 US was back in action, thanks to the USSR intervention in Afghanistan.

Currently, the U.S. might wait for its rivals, especially China, to commit blunders — like the Soviets did in 1979 with Afghanistan — or it might grab other strategic opportunities.
Connecting the dots:
---
(AIR Spotlight)
---
Spotlight Sep 16: Production Linked Incentives in Key Sectors: A Boost To Make In India – https://youtu.be/NzQ2DH_6vEU 
ECONOMY
Context: Production linked incentive (PLI) scheme aims at boosting domestic manufacturing and exports, is expected to –
Increase the country's production by USD 520 billion in the next five years

Make India self-reliant in manufacturing goods for local and export markets, positioning it as a global manufacturing hub

Make domestic manufacturing competitive and efficient, build capacity, and benefit from economies of scale, enhance exports, attract investment and create jobs. 
Click here for Part-1
F. For Specialty Steel: With a budgetary outlay of Rs 6,322 crore over a period of five years from 2023-24.
It 

is value-added steel,

 which is made by processing normal finished steel.

It is done by converting normal finished steel into high value-added steel by way of 

coating, plating and heat treatment.

Apart from the automobile sector and specialised capital goods, they can be used in various strategic applications such as 

defence, space, power etc.

SS are

 categorized in various types

 such as, coated/plated steel products, high strength/wear resistant steel, speciality rails, alloy steel products and steel wires, electrical steel etc.
G. For India's textile sector: To help India regain its historical dominant status in global textiles trade.
The incentives shall encourage investment in new capacities in man-made fibre (MMF) apparel, MMF fabrics, and 10 segments or products of technical textiles. 

The scheme shall help attract investment of more than Rs. 19,000 crore, creating an additional 7.5 lakh direct jobs.

There will be two levels of investment with different sets of incentives. 

In the first category, any person or firm can invest a minimum Rs. 300 crore in plant, machinery, and civil works to produce the identified products to ensure eligibility for the PLI.

In the second category a minimum investment of Rs. 100 crore would make an individual or firm eligible to apply for the incentives.

Priority would be given for investment in aspirational districts, tier-three, tier-four towns and rural areas. 

The scheme is expected to benefit States such as Gujarat, U.P., Maharashtra, Tamil Nadu, Punjab, Andhra, Telangana and Odisha.

Applicants would have two years as investment period and 2024-2025 would be the 'performance' year. The incentive flow would start in 2025-2026 and extend for five years.
H. For auto sector: Approved a Rs. 26,058 crore production-linked incentive (PLI) scheme to enhance manufacture of advanced technology and green vehicles, auto parts and drones.
Benefits: It will attract Rs. 42,500 crore in fresh investment into the automobile and auto components industry over five years

It will help create more than 7.5 lakh jobs.

The scheme has been devised for both existing automotive firms and new investors.

The 'sales value linked' scheme includes a 'champion OEM' incentive applicable on battery electric vehicles and hydrogen fuel cell vehicles.

A 'component champion' incentive is for advanced automotive technology components.
I. For Drone Industry:
Will incentivize emergence of Advanced Automotive Technologies global supply chain in India

Help create additional employment of over 7.6 lakh people

Incentives worth ₹ 26,058 crore will be provided to industry over five years

It will bring fresh investments of over₹5,000 crore in three years and incremental production of over ₹ 1,500 crore
J. For The Advanced Chemistry Cell (ACC) Battery Storage
Aim: 

To achieve a manufacturing capacity of 50 GigaWatt Hour of ACC and five Giga Watt Hour of Niche ACC with an outlay of 18,100 crore.

ACCs are the new generation of advanced storage technologies that can store electric energy either as electrochemical or as chemical energy and convert it back to electric energy as and when required. 

It will also give a big push to electric mobility, benefiting three-wheelers, four-wheelers and heavy vehicles.

India is currently importing Battery Storage Equipment 
K. National Programme on High Efficiency Solar PV Modules: For achieving manufacturing capacity of Giga Watt (GW) scale in high efficiency solar PV modules with an outlay of Rs.4,500 crore.
Solar PV

 manufacturers will be selected through a transparent competitive bidding process.

PLI will be disbursed for 5 years after commissioning of solar PV manufacturing plants, on sales of high efficiency solar PV modules.
The outcomes/ benefits expected from the scheme:
Additional 10,000 MW capacity of integrated solar PV manufacturing plants

Direct investment of around Rs.17,200 crore in solar PV manufacturing projects

Demand of Rs.17,500 crore over 5 years for 'Balance of Materials'

Direct employment of about 30,000 and Indirect employment of about 1,20,000 persons

Import substitution of around Rs.17,500 crore every year

Impetus to Research & Development to achieve higher efficiency in solar PV modules.
L. For White Goods (Air Conditioners and LED Lights) – with a budgetary outlay of Rs. 6,238 crore.
Shall extend an incentive of 4% to 6% on incremental sales of goods manufactured in India for a period of five years to companies engaged in manufacturing of Air Conditioners and LED Lights.

An entity availing benefits under any other PLI Scheme of Govt. India will not be eligible under this scheme. 

It will be implemented as a pan India scheme. 

A number of global and domestic companies, including a number of MSMEs are likely to benefit from the Scheme.

It is estimated that over the period of five years, the PLI Scheme will lead to incremental investment of Rs. 7,920 Crore, incremental Production worth Rs. 1,68,000 Crore, exports worth Rs 64,400 Crore, earn direct and indirect revenues of Rs 49,300 crore and create additional four lakh direct and indirect employment opportunities.
---
(TEST YOUR KNOWLEDGE)
---
Model questions: (You can now post your answers in comment section)
Note:
Correct answers of today's questions will be provided in next day's DNA section. Kindly refer to it and update your answers.
Q.1 Which of the following are correctly matched?
Prithvi: Short-range surface to surface ballistic missile.

Agni: Ballistic missiles with different ranges 

Trishul: Short-range low-level surface to air missile.

Nag: 3rd generation anti-tank missile.

Akash: Medium range surface to air missile.
Select the correct answer from the quotes given below:
1 and 2 only

1, 2 and 5 only

1, 2, 3, 4 and 5

2 and 4 only
---
Q.2 Human capital index is published by Which of the following?
World economic forum

World Bank

ASEAN

International monetary fund
---
Q.3 Where are Udayagiri caves located?
Maharashtra 

Uttar Pradesh

Madhya Pradesh 

Rajasthan
---
ANSWERS FOR 18th Sept 2021 TEST YOUR KNOWLEDGE (TYK)
---
Must Read
On Social and Educational Learning:
On Urbanisation:
On Urbanisation and Agriculture:
For a dedicated peer group, Motivation & Quick updates, Join our official telegram channel – https://t.me/IASbabaOfficialAccount
Subscribe to our YouTube Channel HERE to watch Explainer Videos, Strategy Sessions, Toppers Talks & many more…